This is not the first time Nitecore h as made compact and bright flashlight. And I like most of results, like TM10K or Concept2. Lets check what turns out of attempt to combine 21700 battery and high brightness.
You can buy Nitecore E4K at:
➤ ALIEXPRESS
➤ BANGGOOD
➤ AMAZON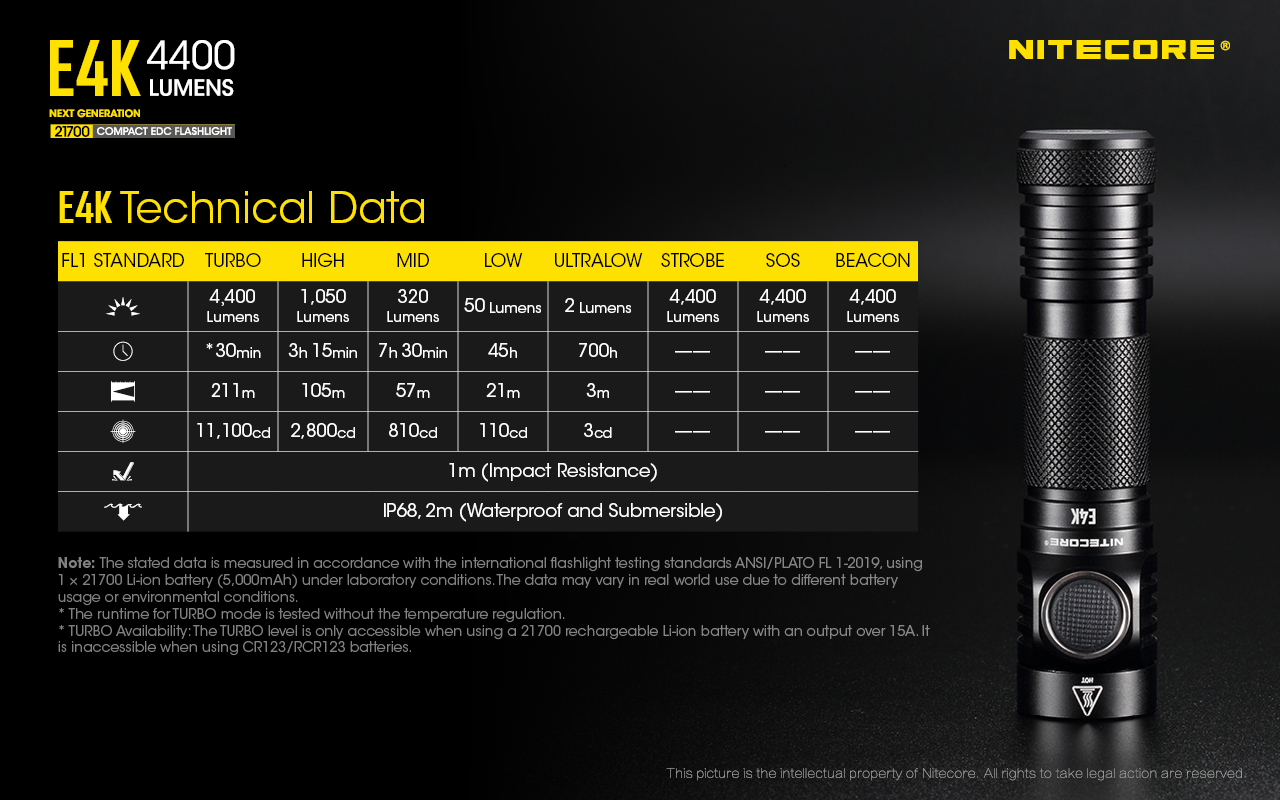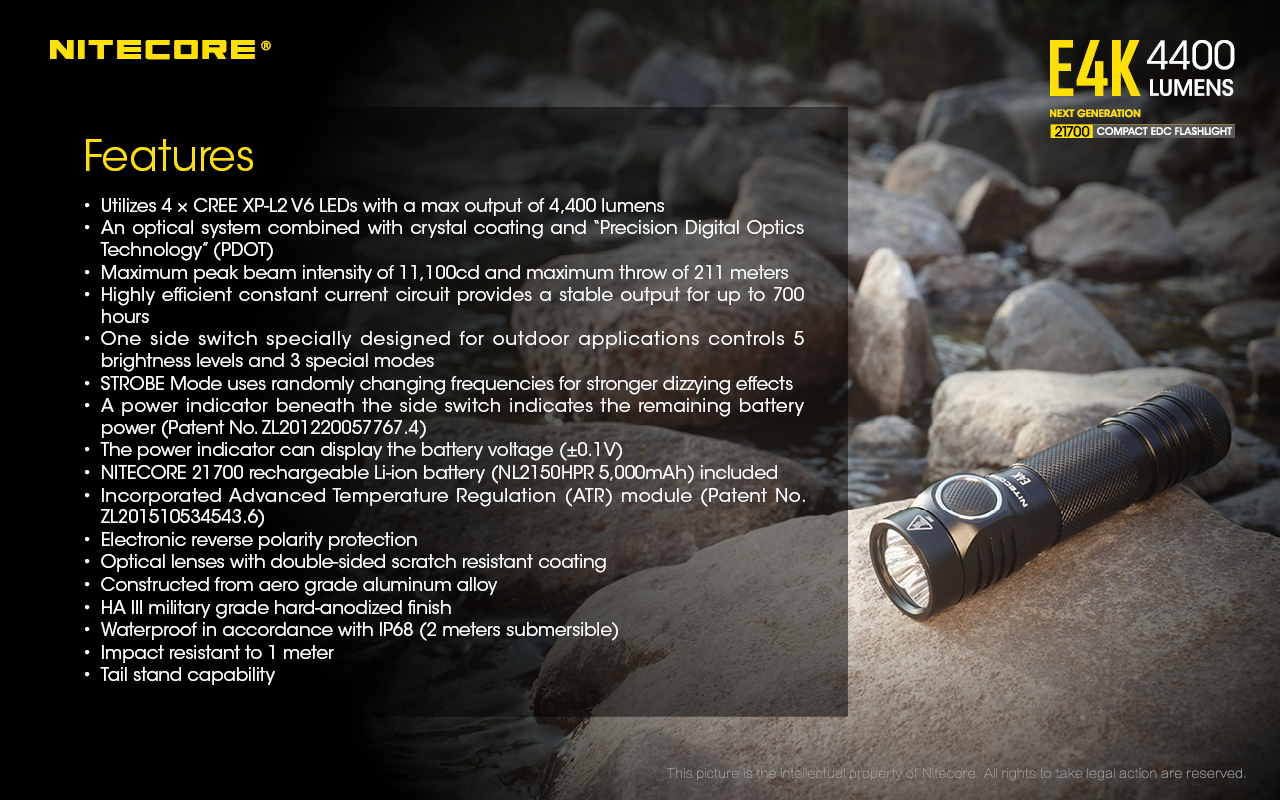 PACKAGE AND APPEARANCE
Standard black and yellow package, regular for the mid-range product line.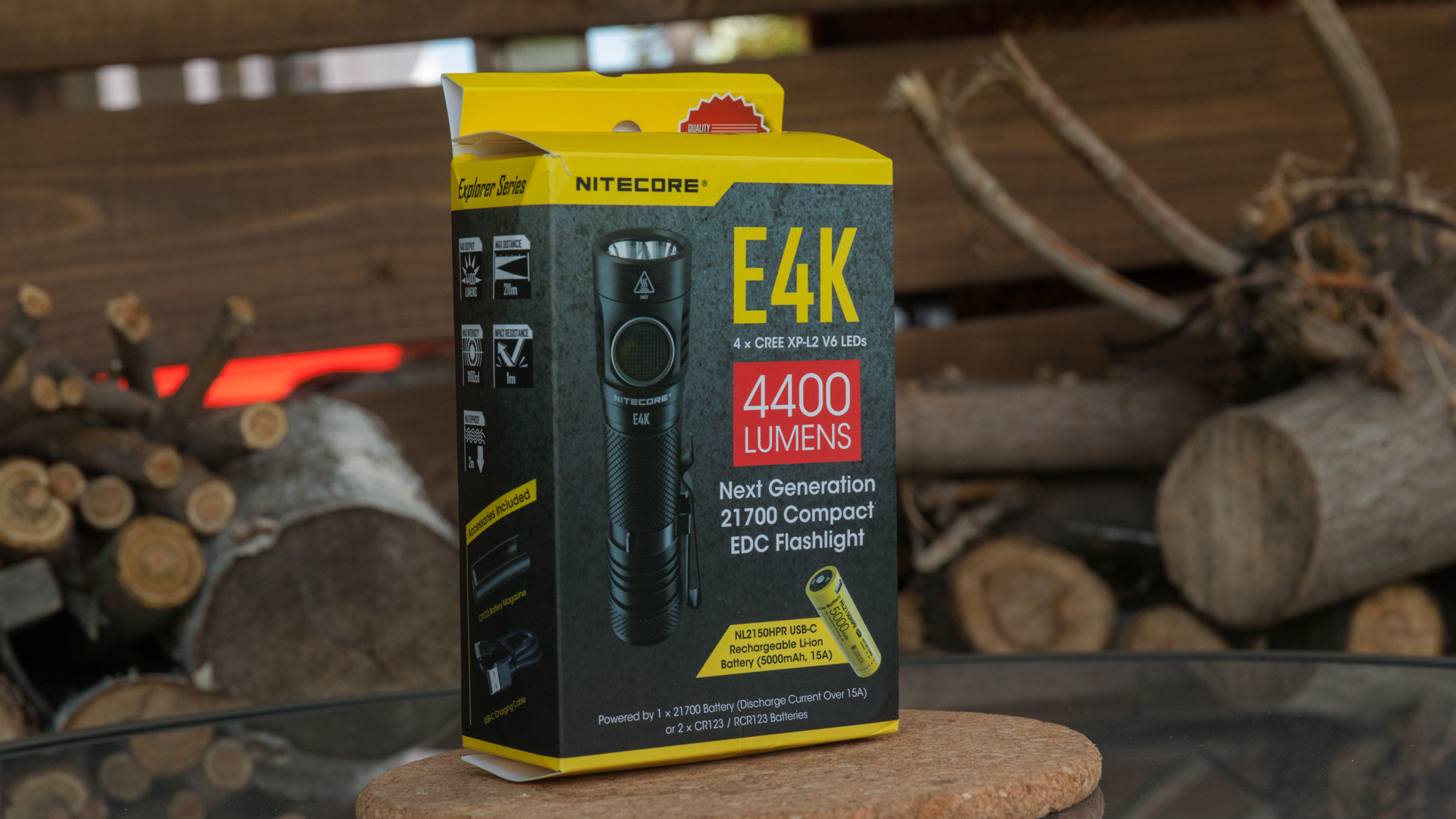 Inside: flashlight, 18650-> 21700 conversion tube, holster, lanyard, 21700 battery, type-C charging cable, clip, O-ring. All that is need.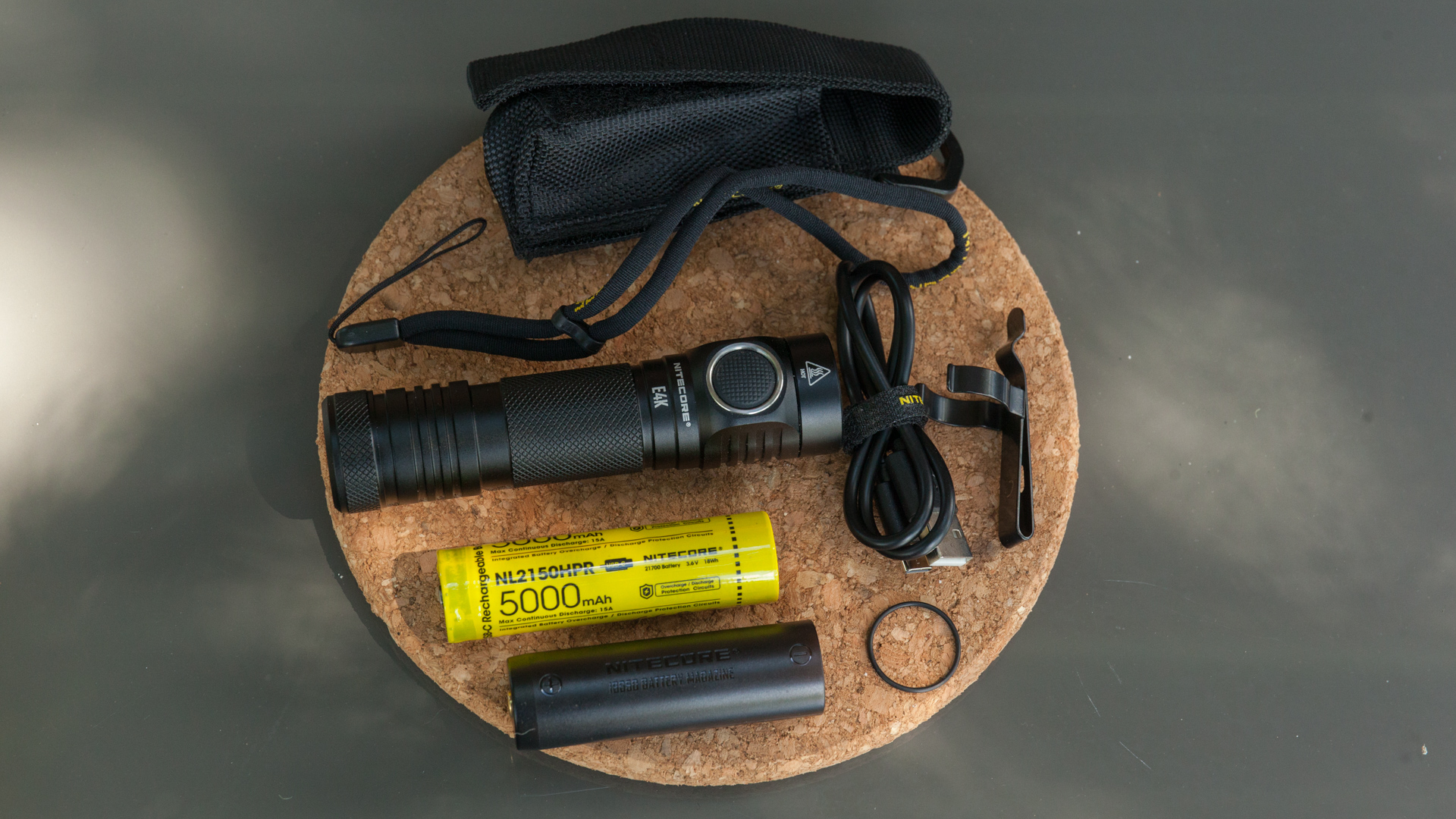 Holster is not bad, but, in general, quite ordinary. Given the brightness of the flashlight, it would be reasonable to make a hole directly under the glass, to prevent accidentally burning through the fabric.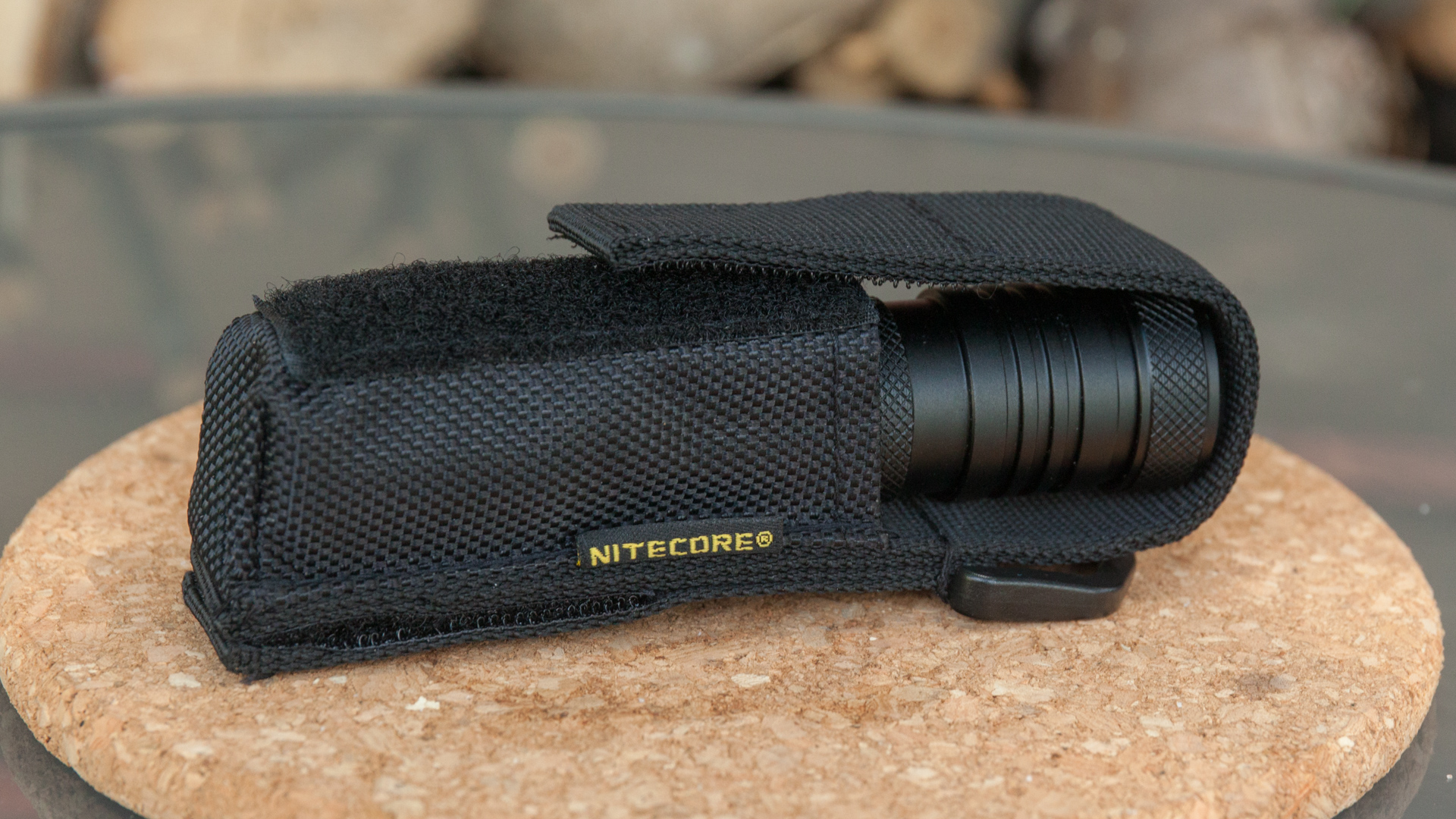 With its 117mm, Nitecore E4K, despite its great brightness,is quite comparable to the widely known and radically less bright Convoy S2 +
this new Nitecore flashlight is only symbolically wider. That's what I like about 21700 batteries - with a millimeter difference in size, it stores almost 50% more energy.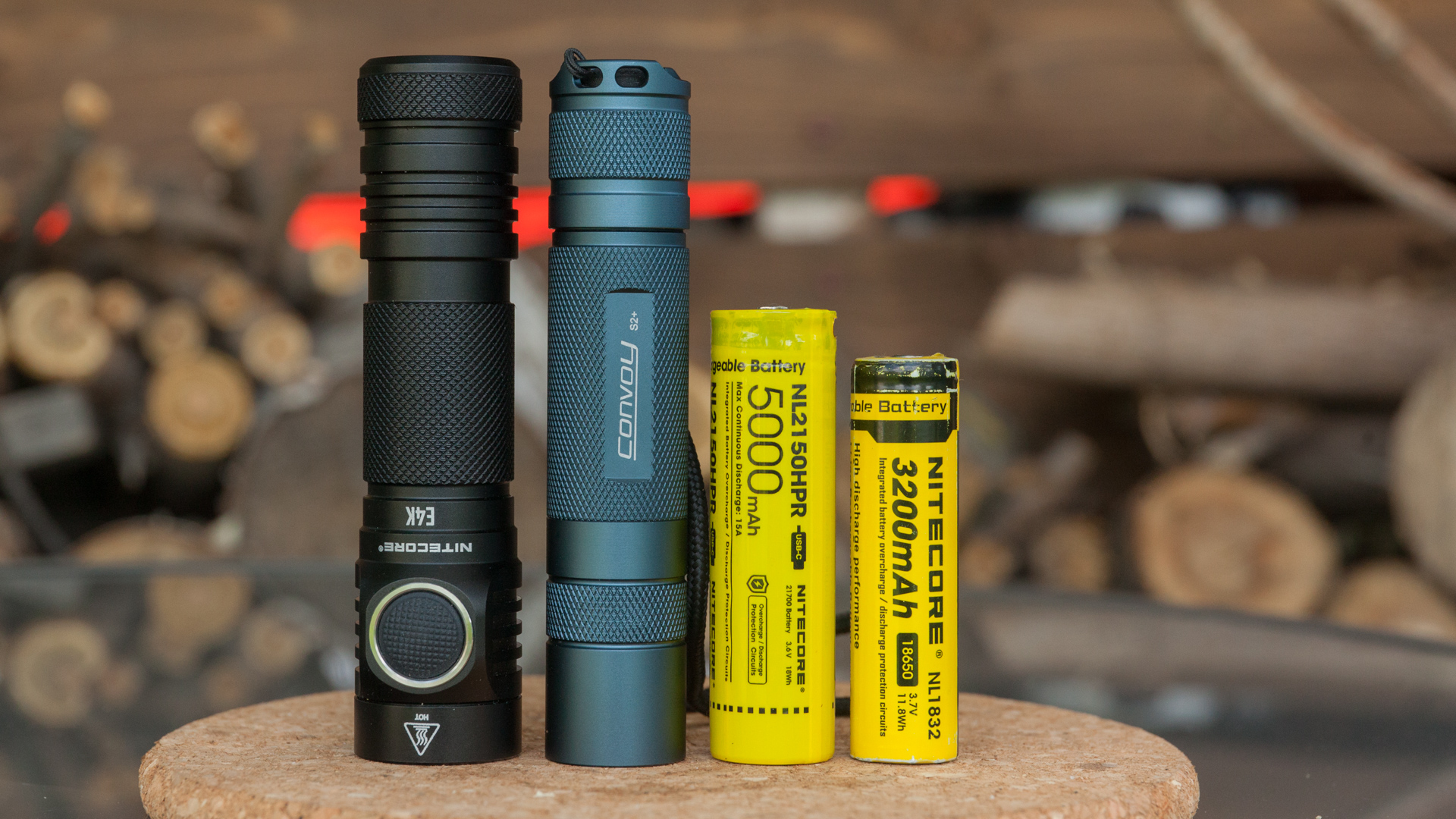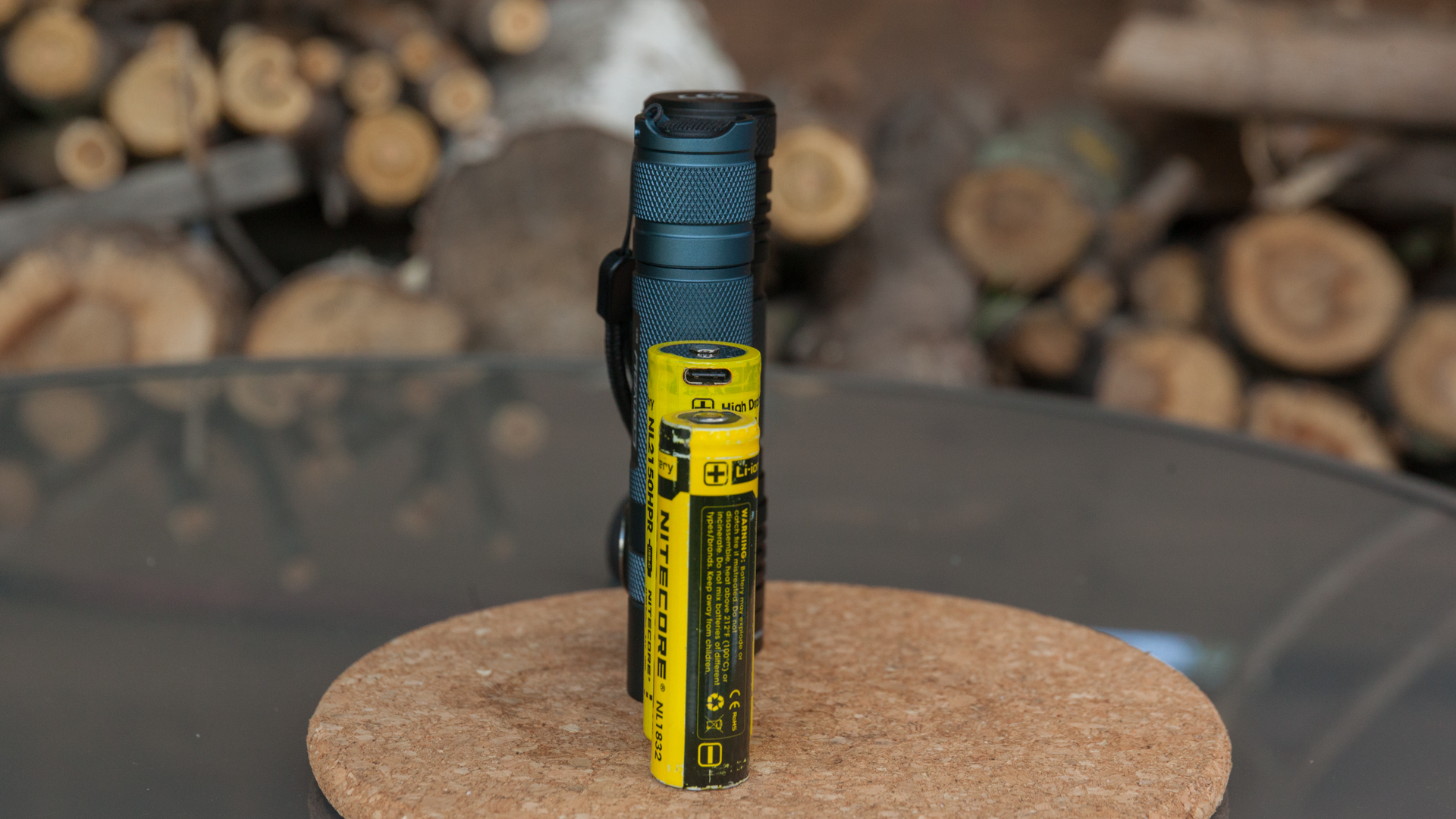 Included battery has built-in Type-C charging. Super! The charging current reaches 0.9A, the battery fully charges in about 6 hours. The battery has a standard red-green indication of the charging process.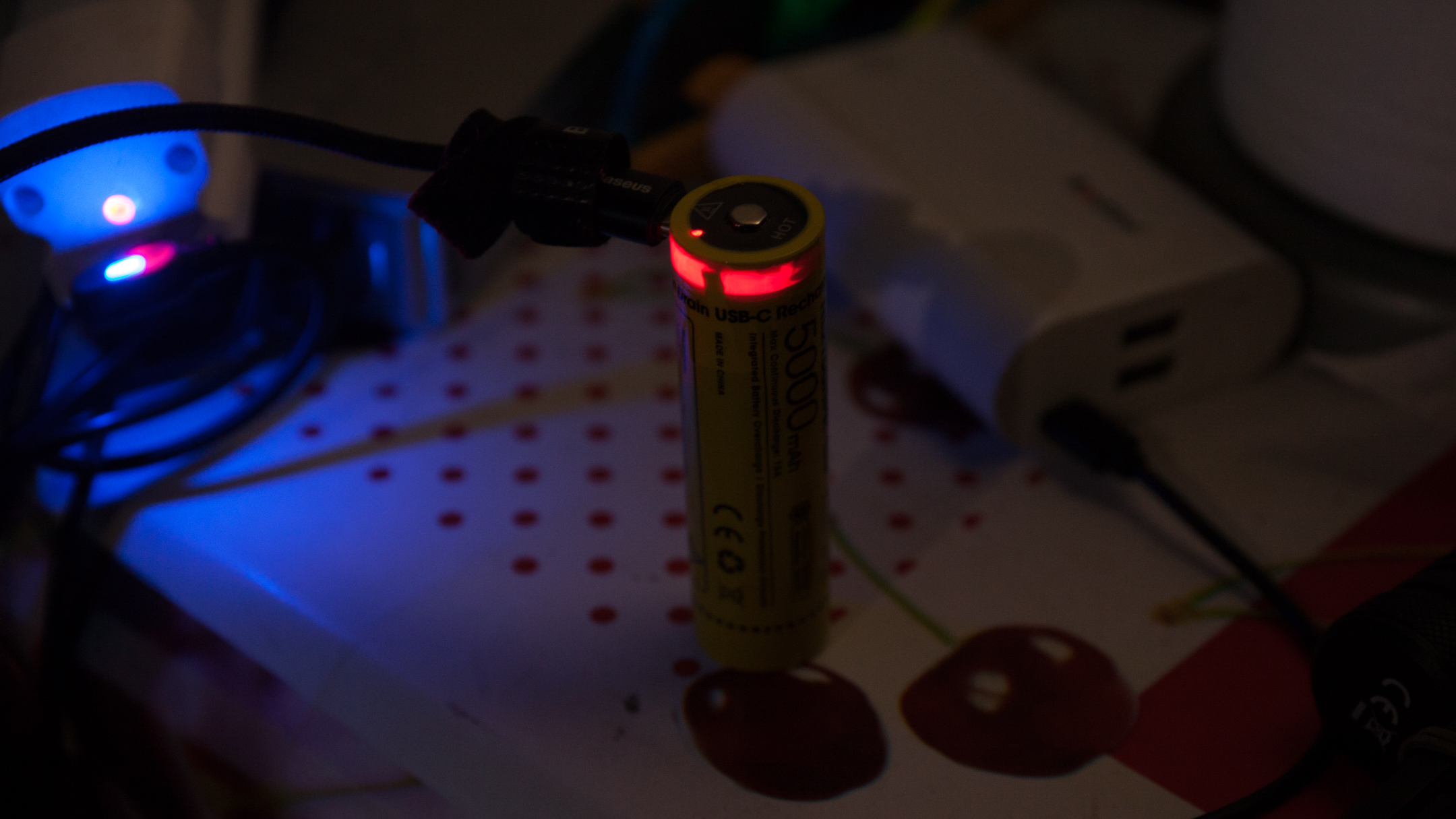 Well, here's the Nitecore E4K from all angles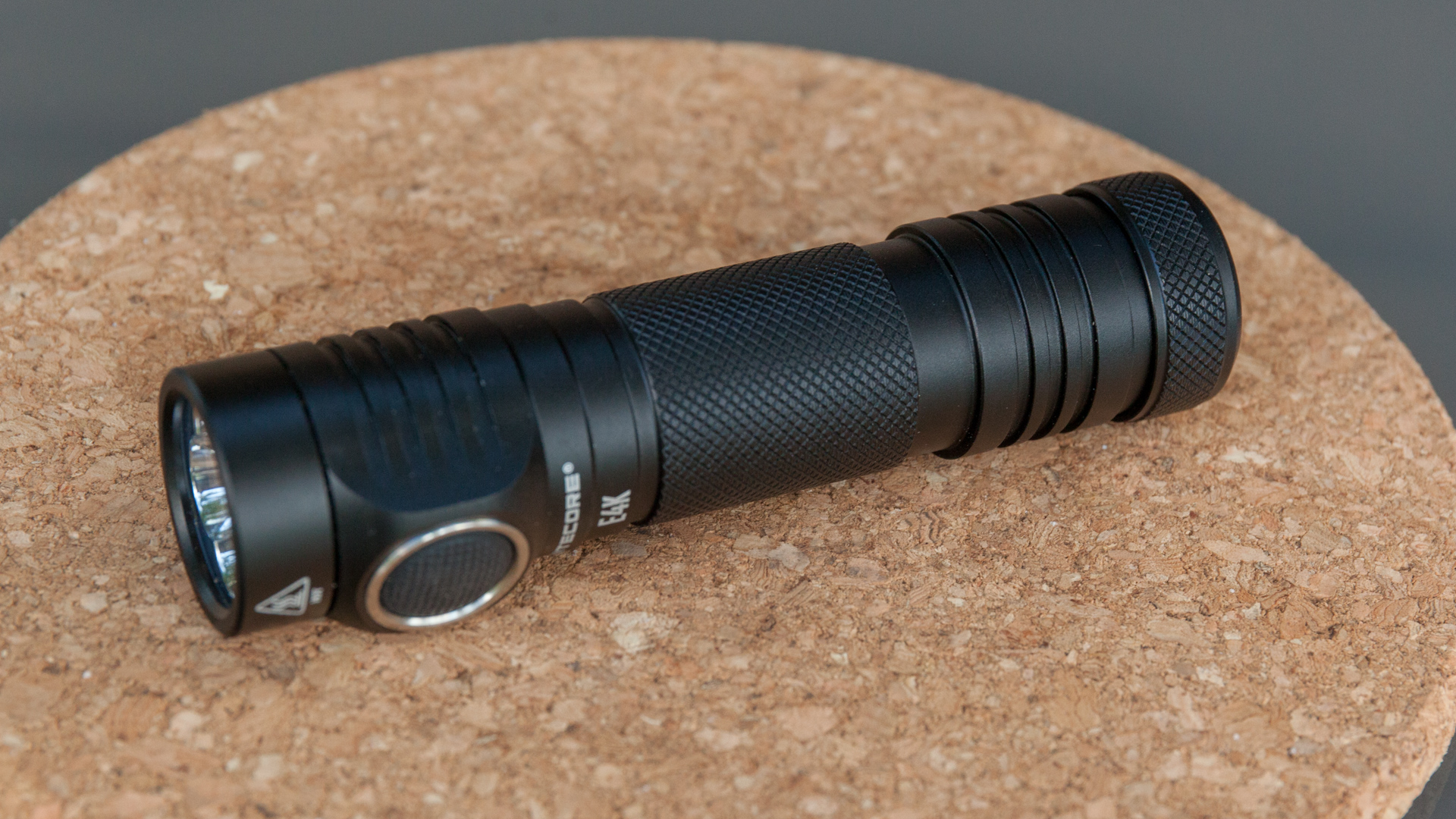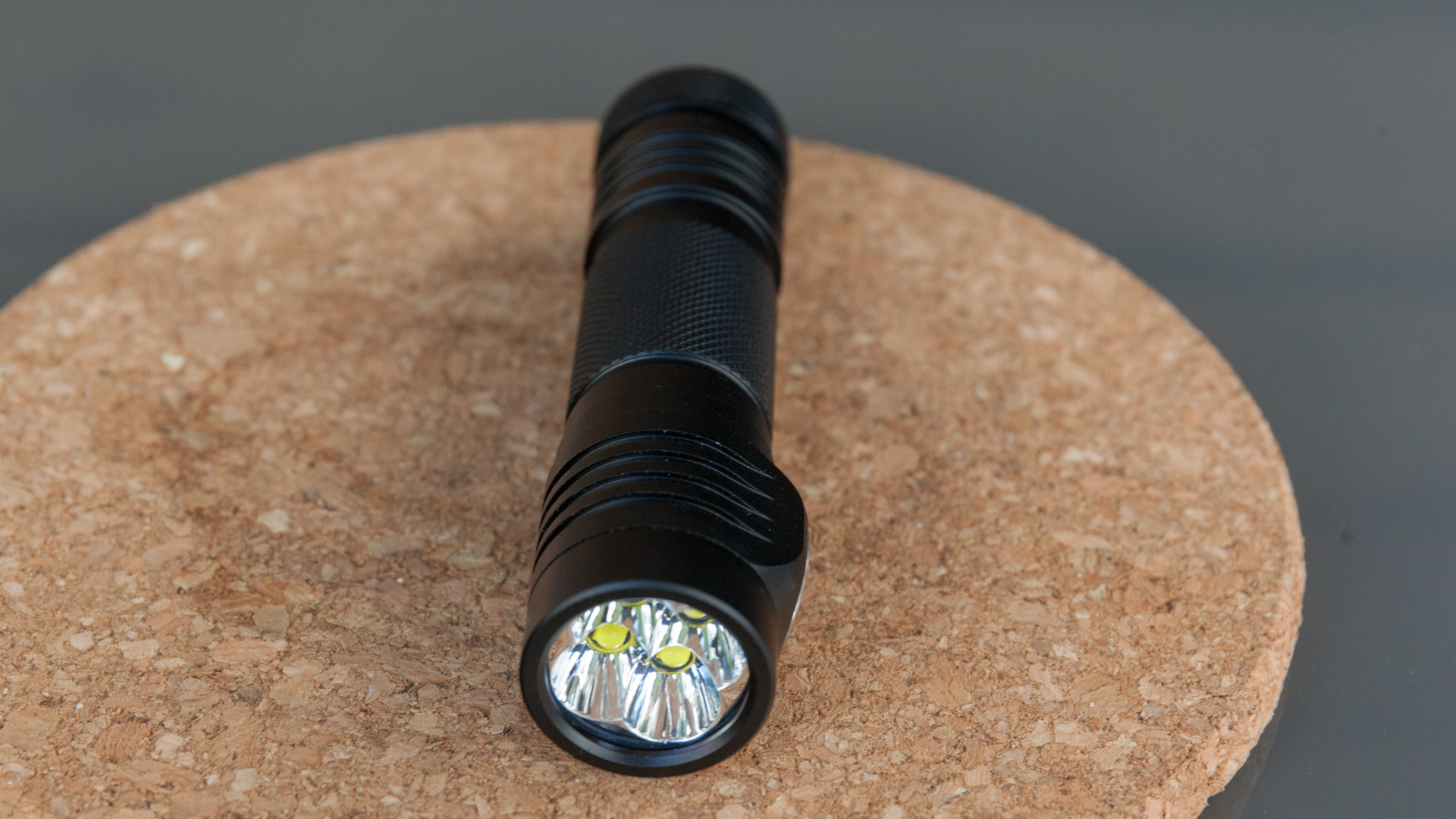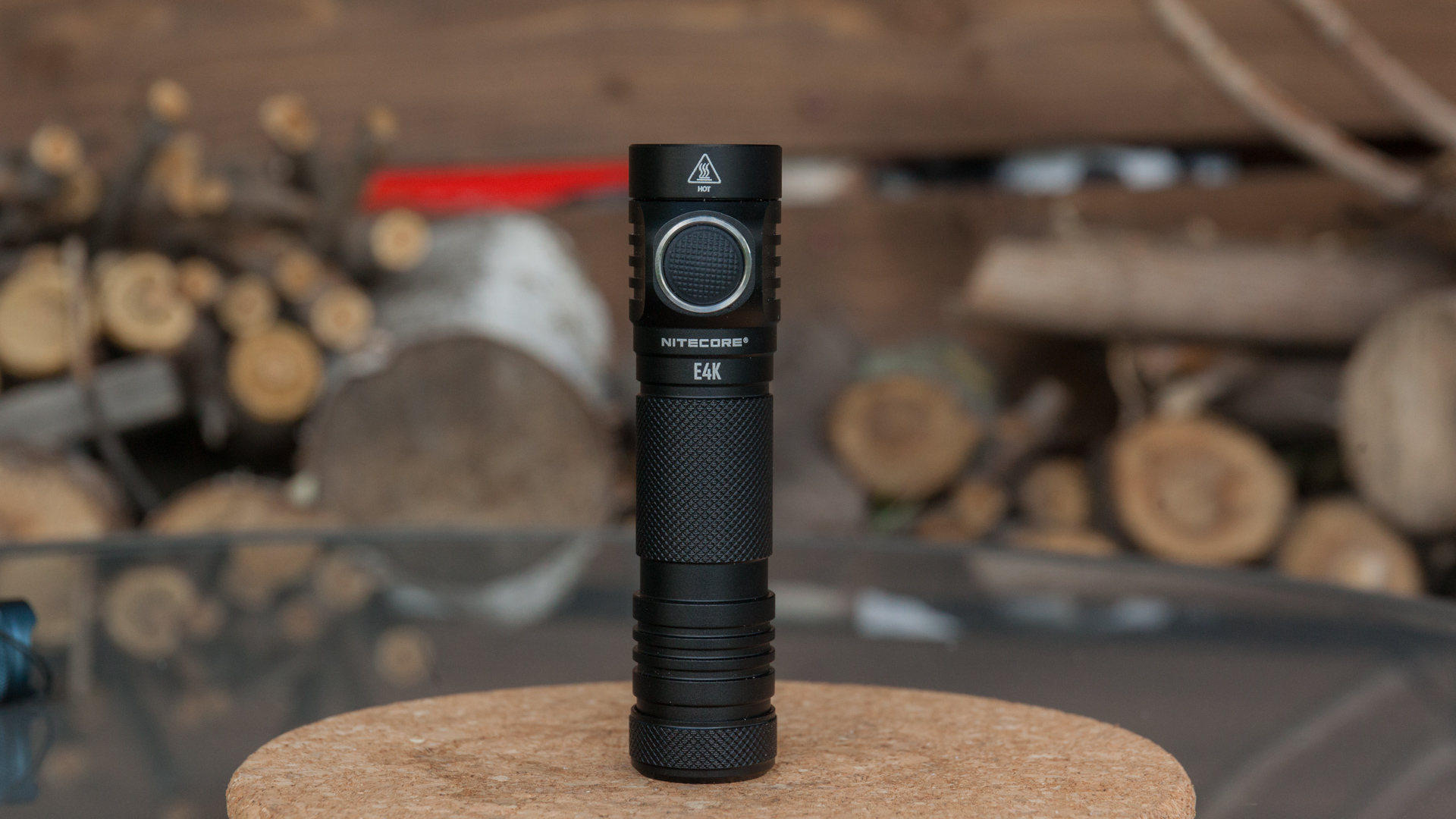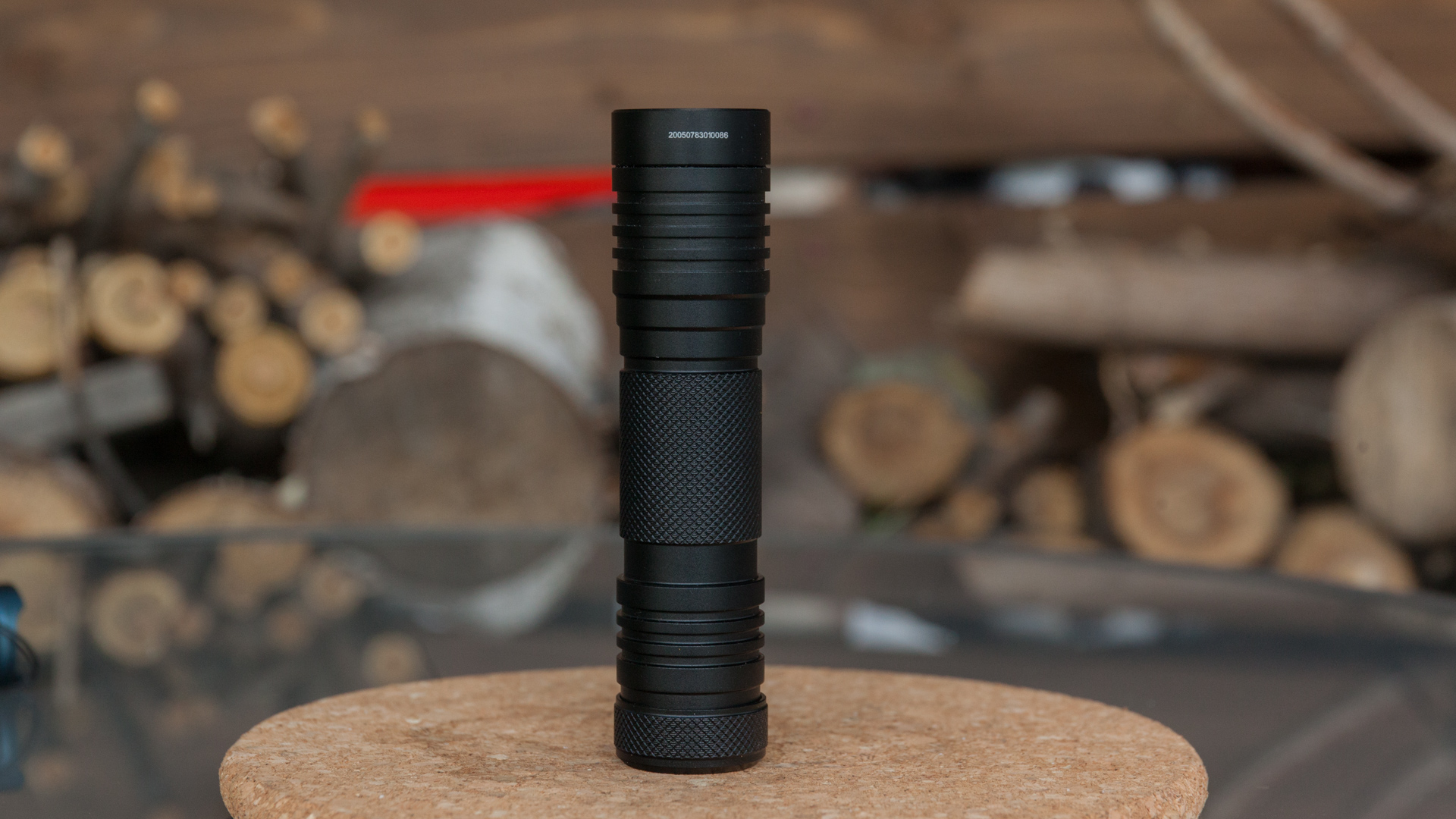 Magnet would fit perfectly under a good thick spring.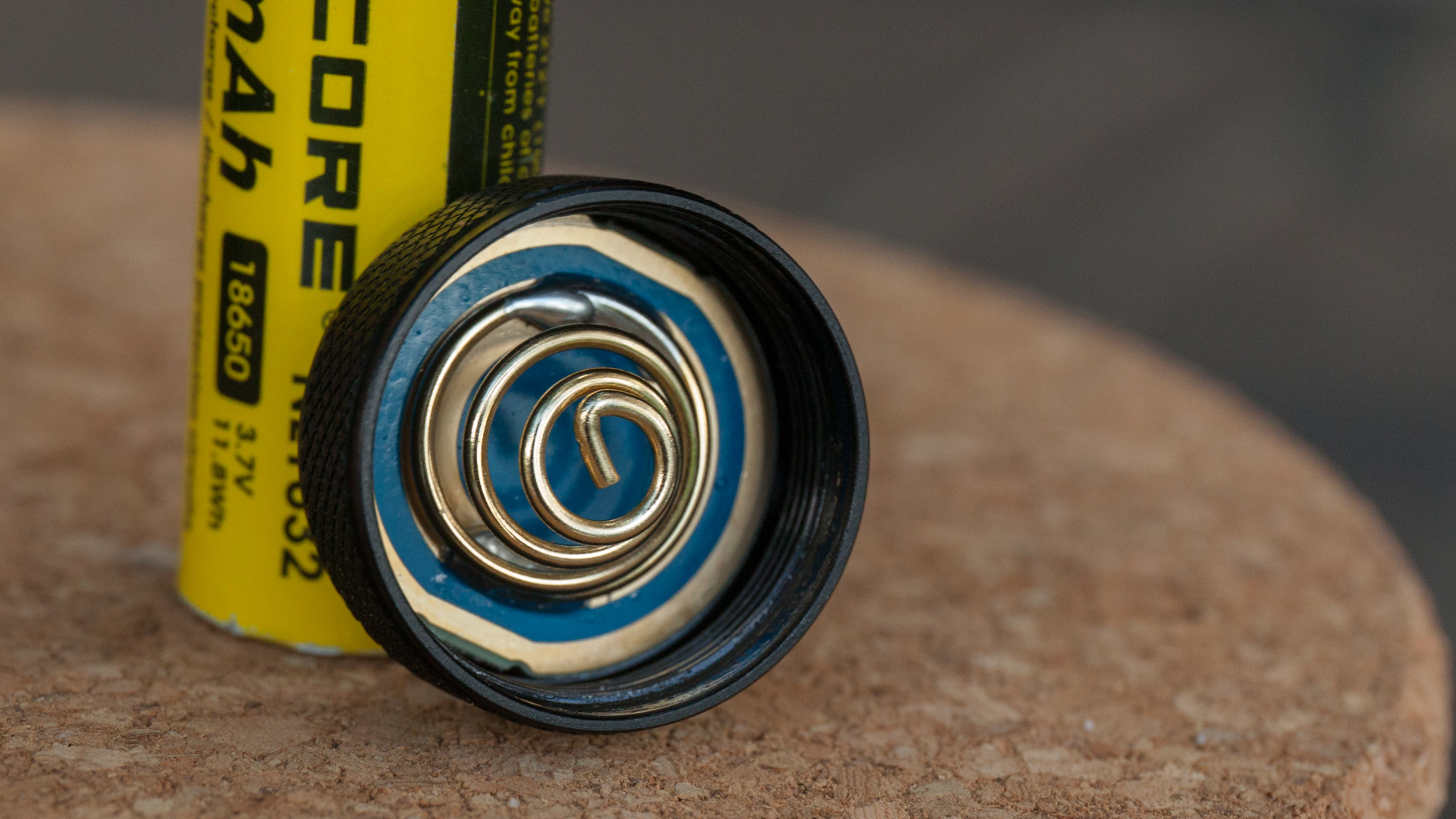 There is a spring-loaded platform instead of the spring at the head. The contact does not stick out, so you will need to use a magnet to use flat-top batteries.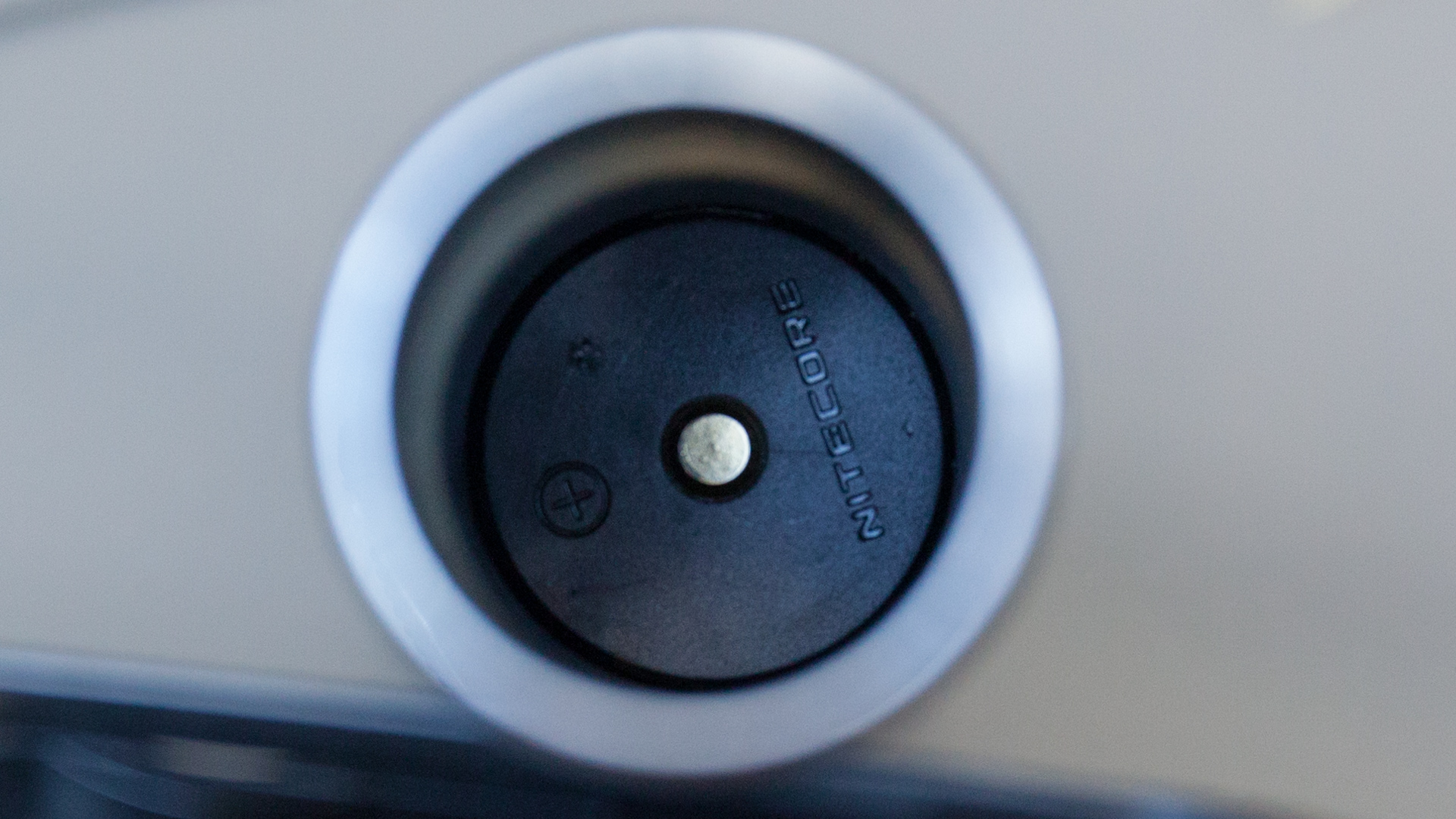 The thread is small, long and well-oiled.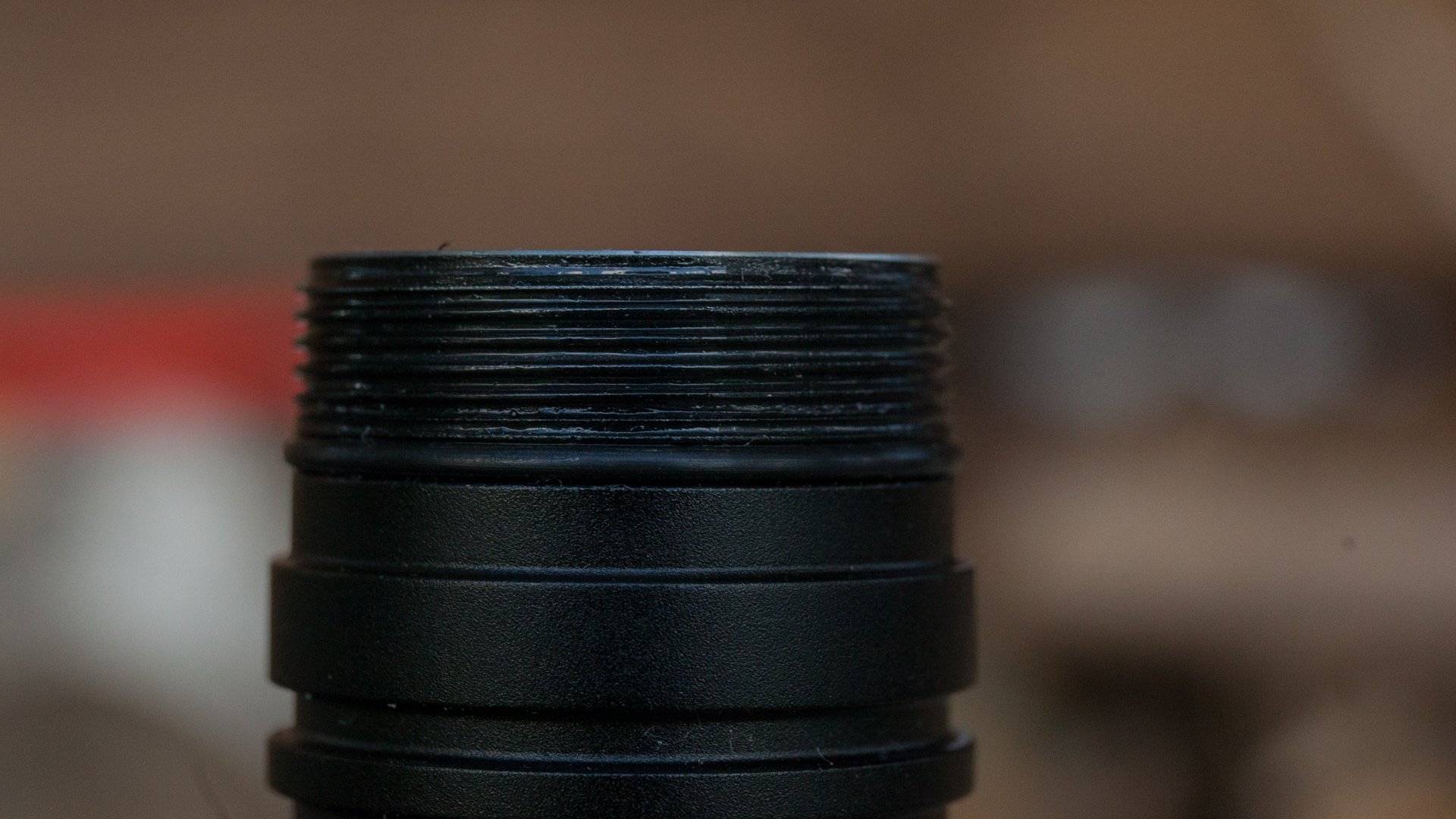 Knurling is very simple, but extremely embossed and tenacious even without a clip.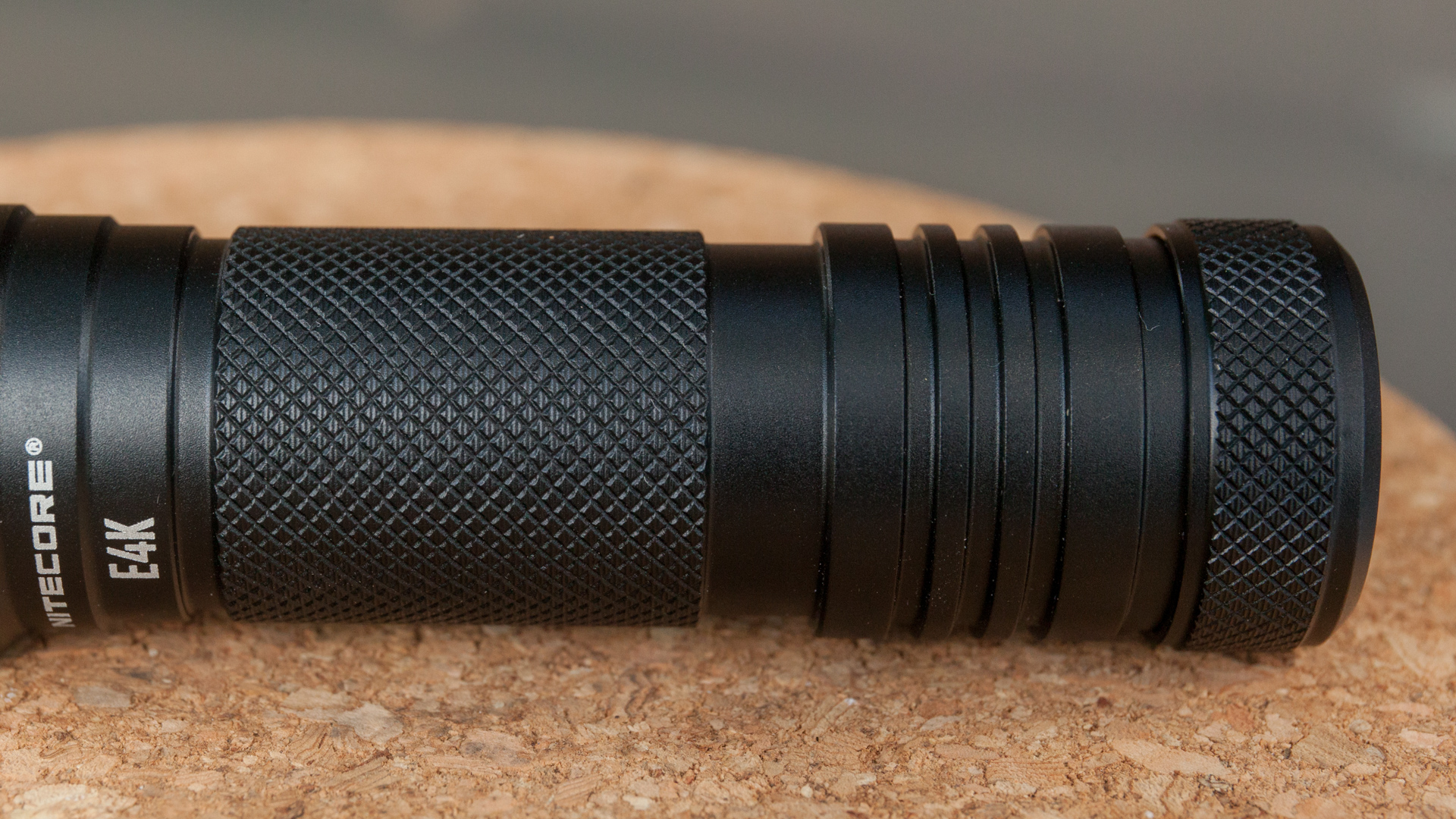 Nitecore E4K sits perfectly in the hand, the grip is definetely comfortable.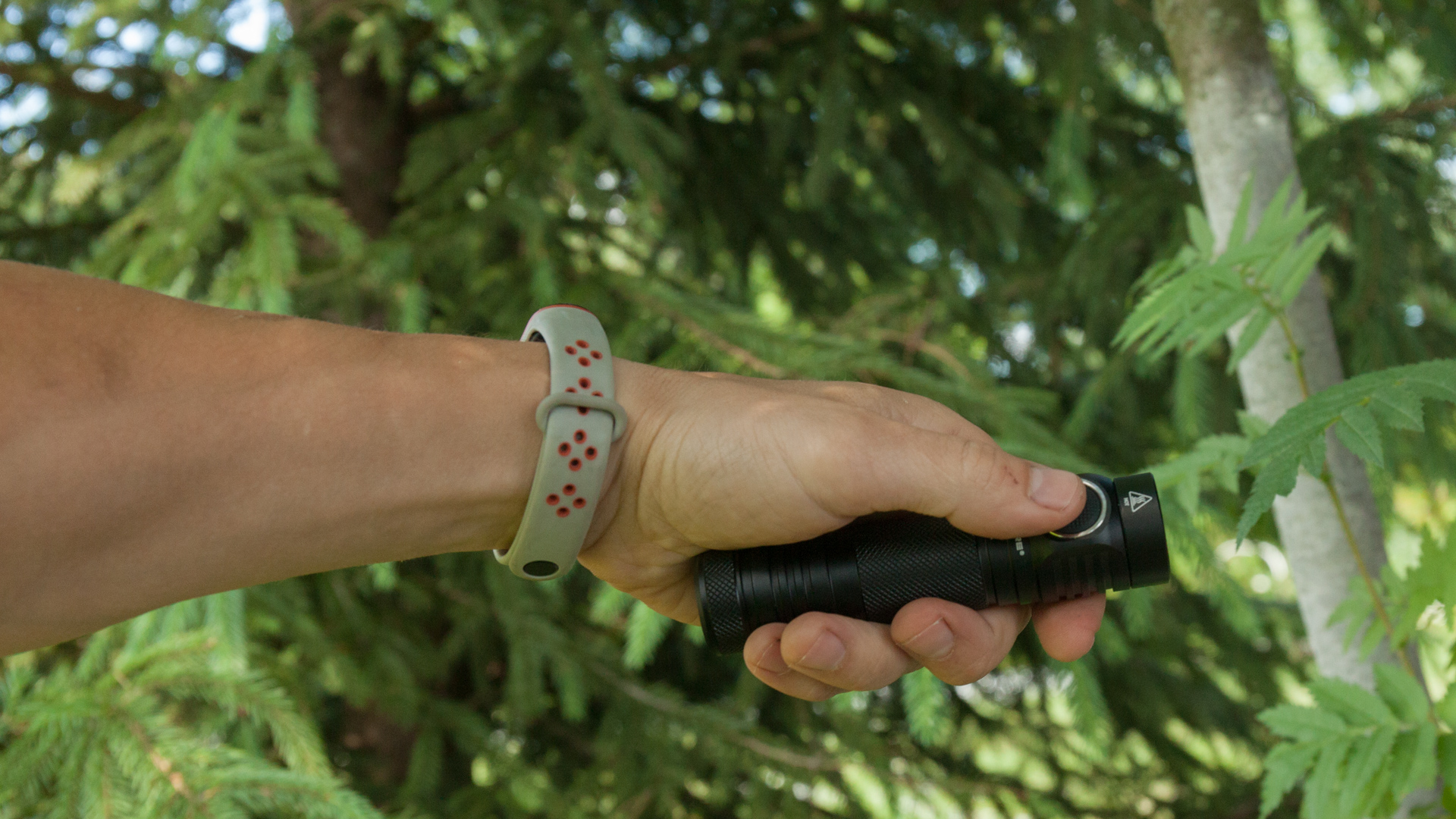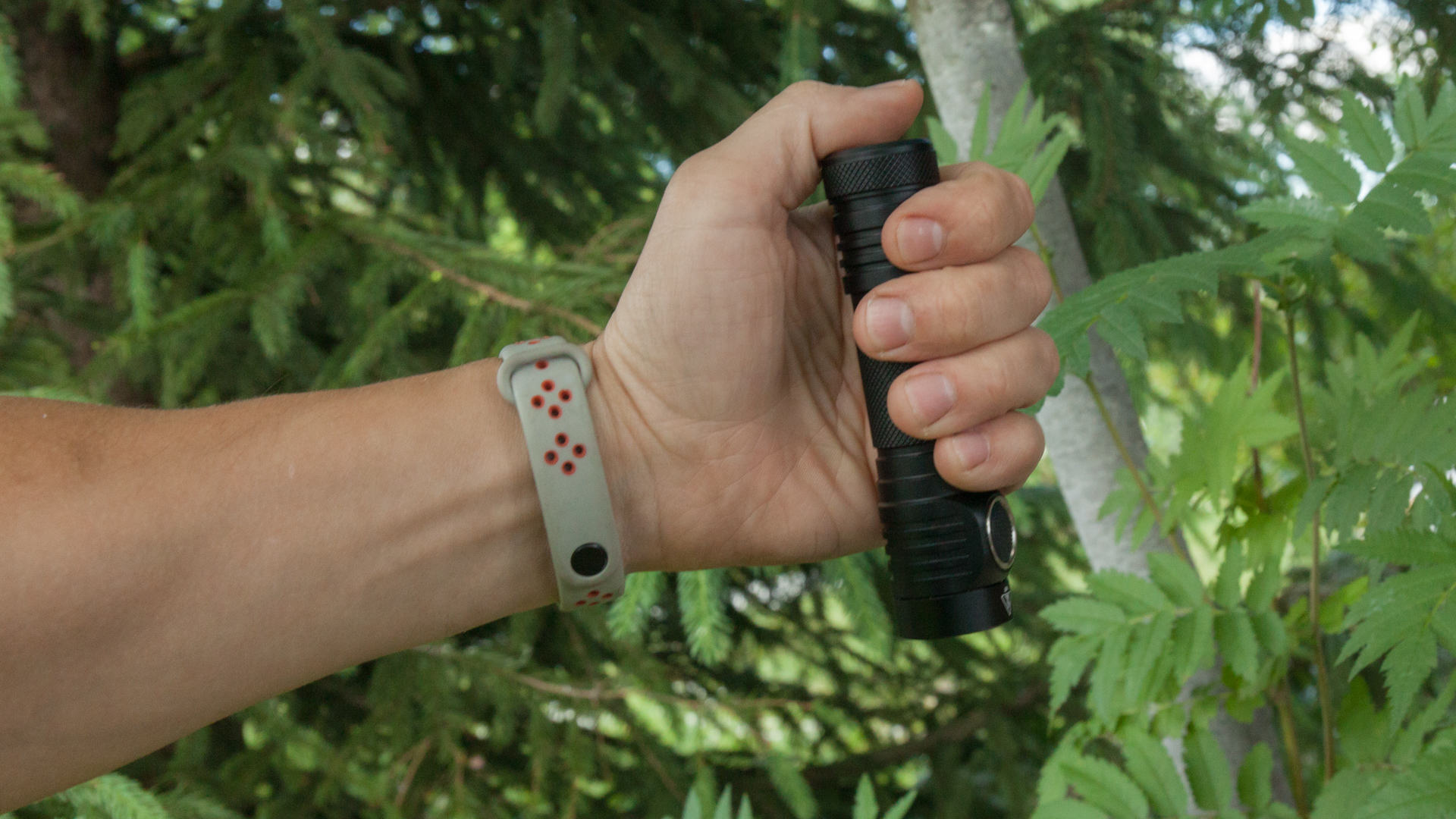 I really like the button. Due to its size, it is easy to find and it is conveniently pressed. The blue backlight, as usually for nitecore, helps to check the remaining charge - unscrew and tighten the cover, the button will lighten the voltage.
For example 3 and 2 flashes mean 3.2v.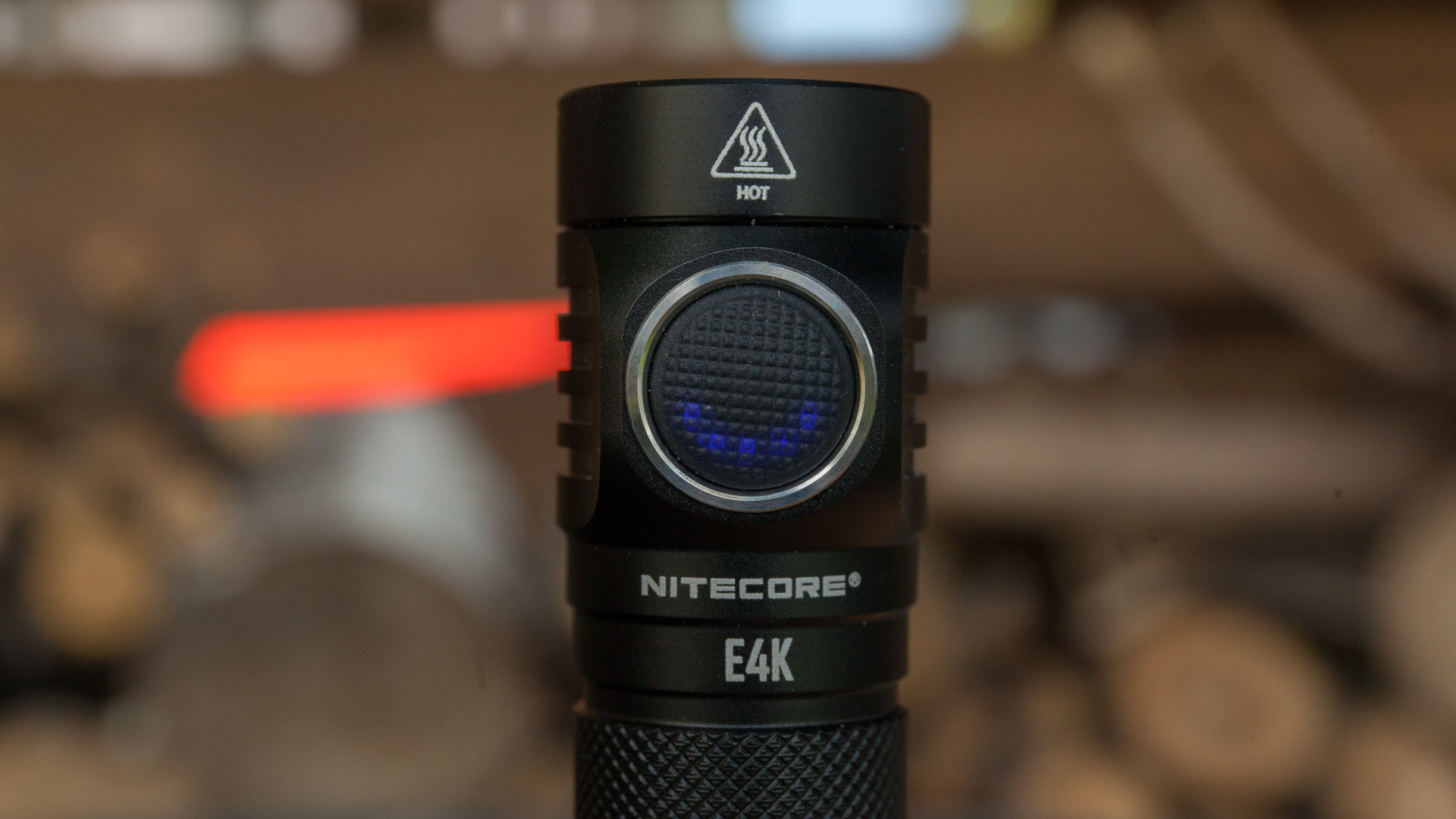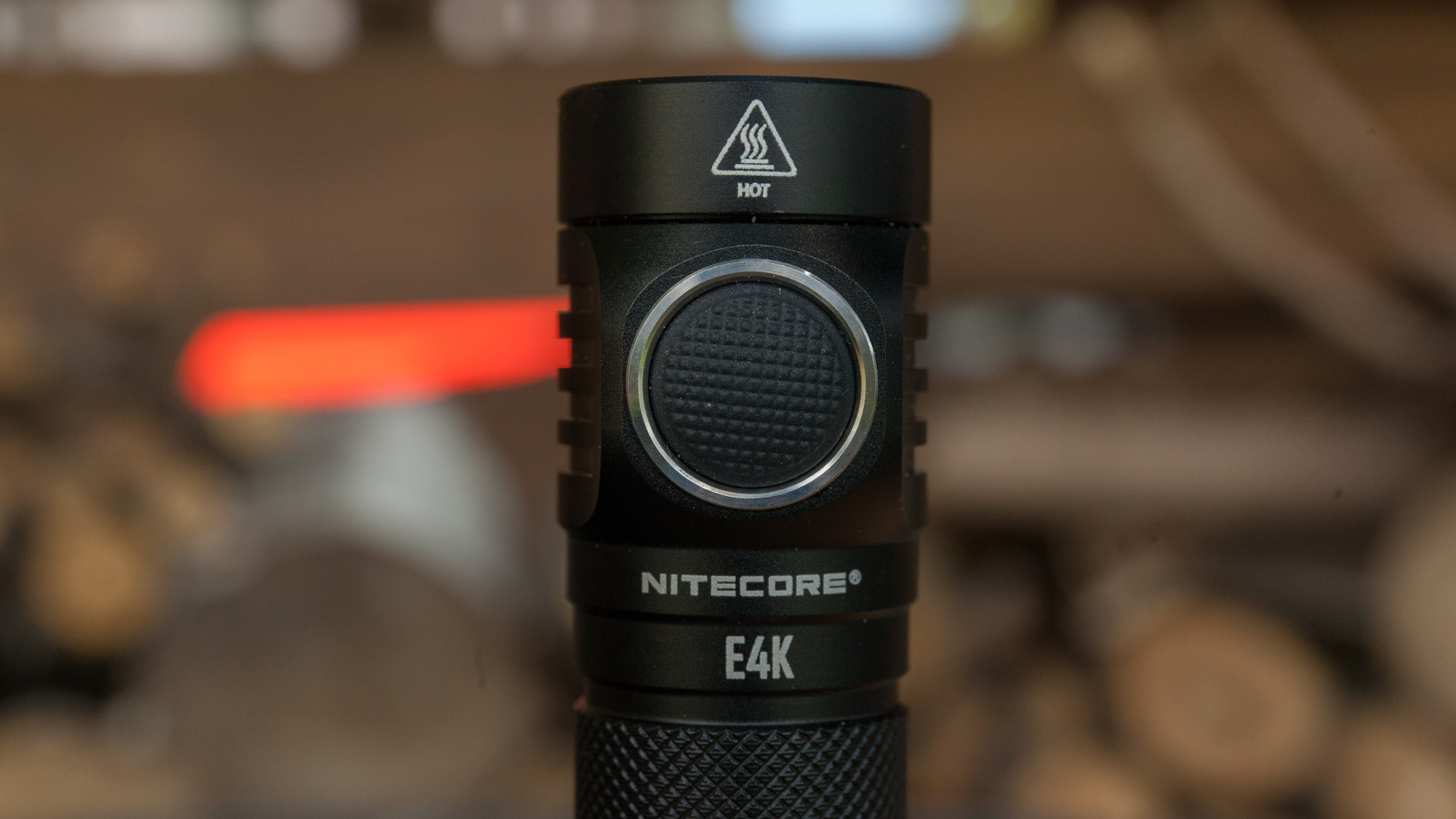 The head is quite compact and for this size cooling fins are good. In order to cope with the turbo, in any case, it would require a much larger body.
The head, of course, is not disassembleable.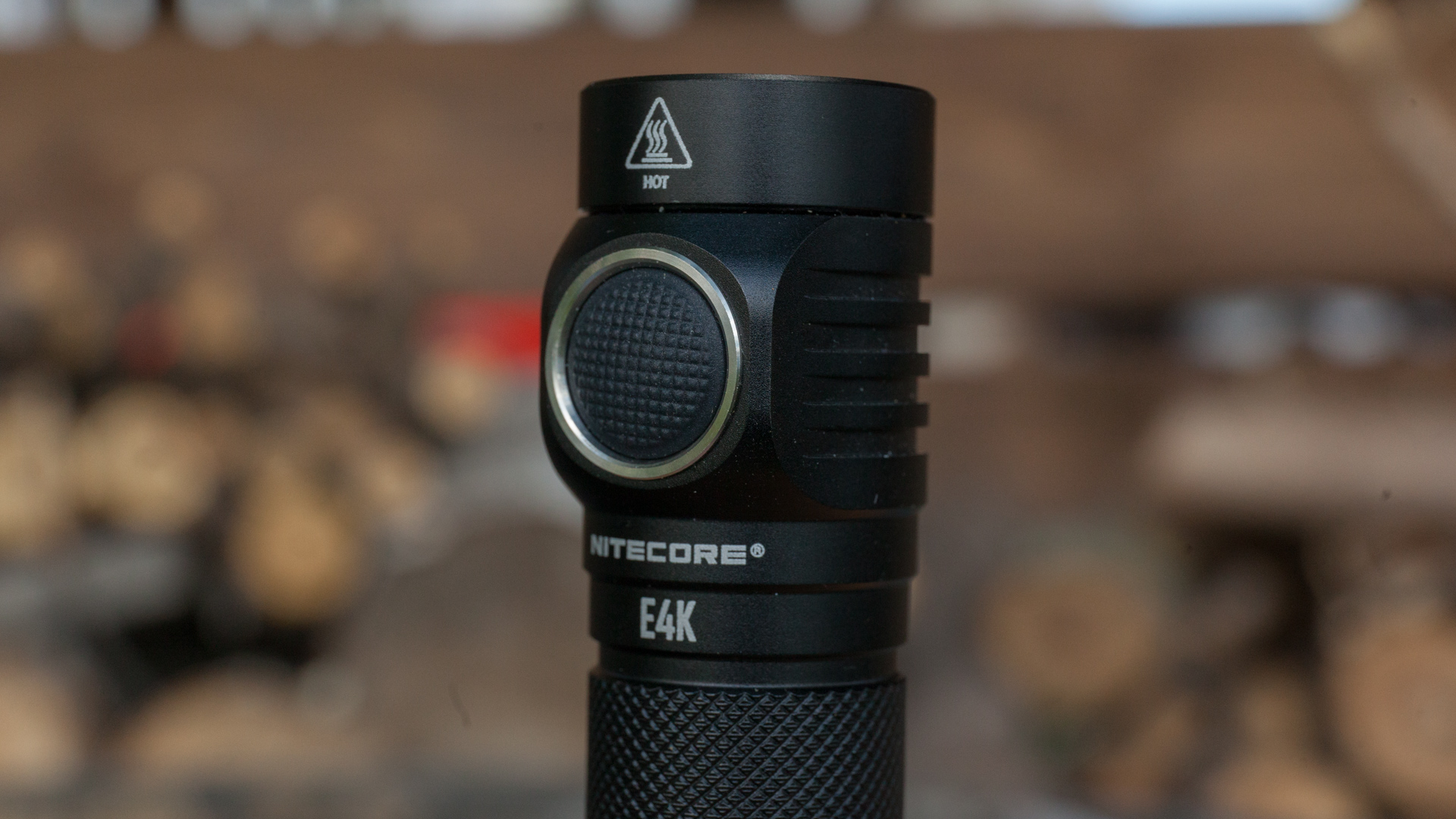 4 XPL-HD LEDs are responsible for the light. Reflectors are very small, so it's clear that the light here will be floody without any hint of throw.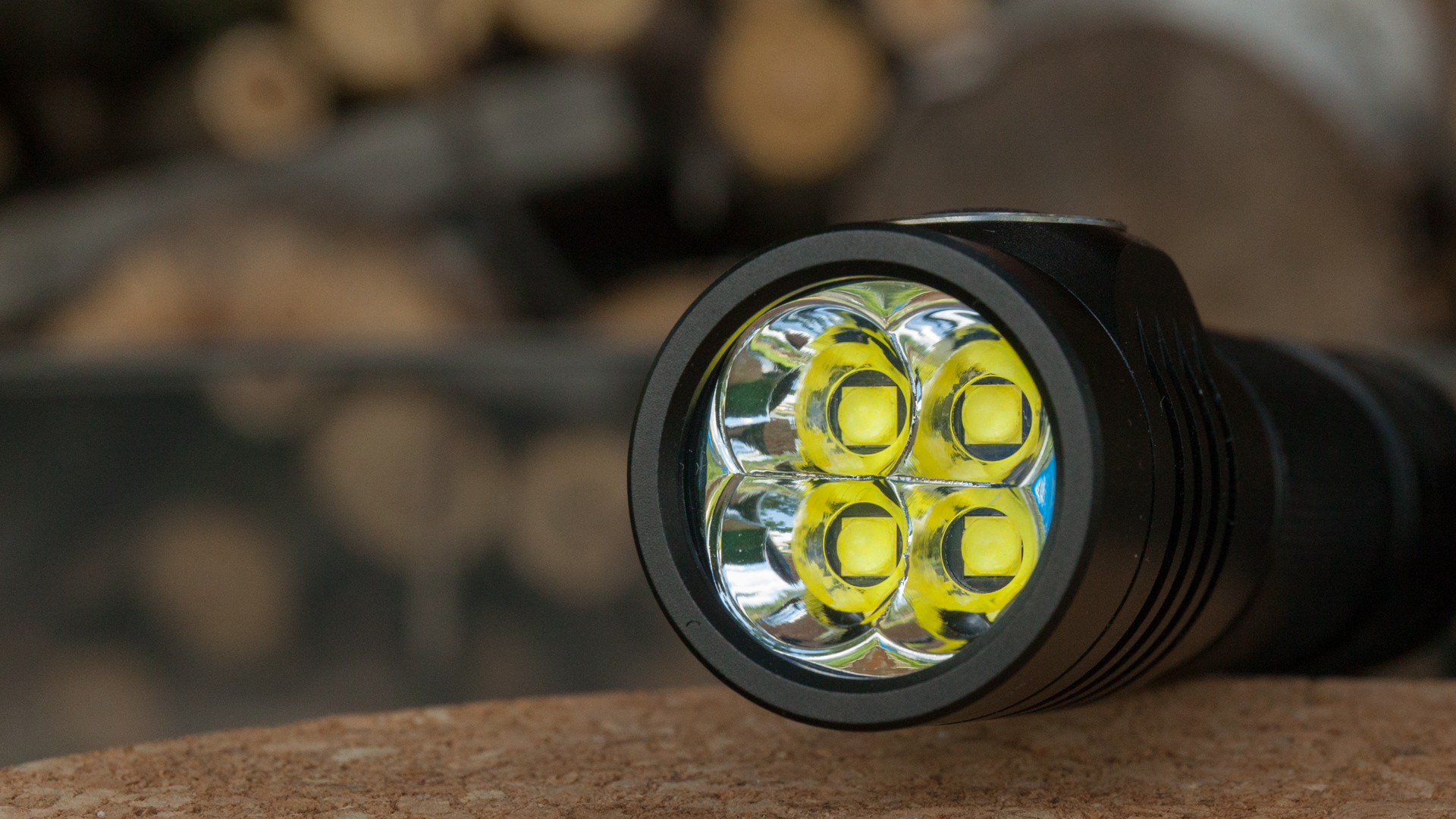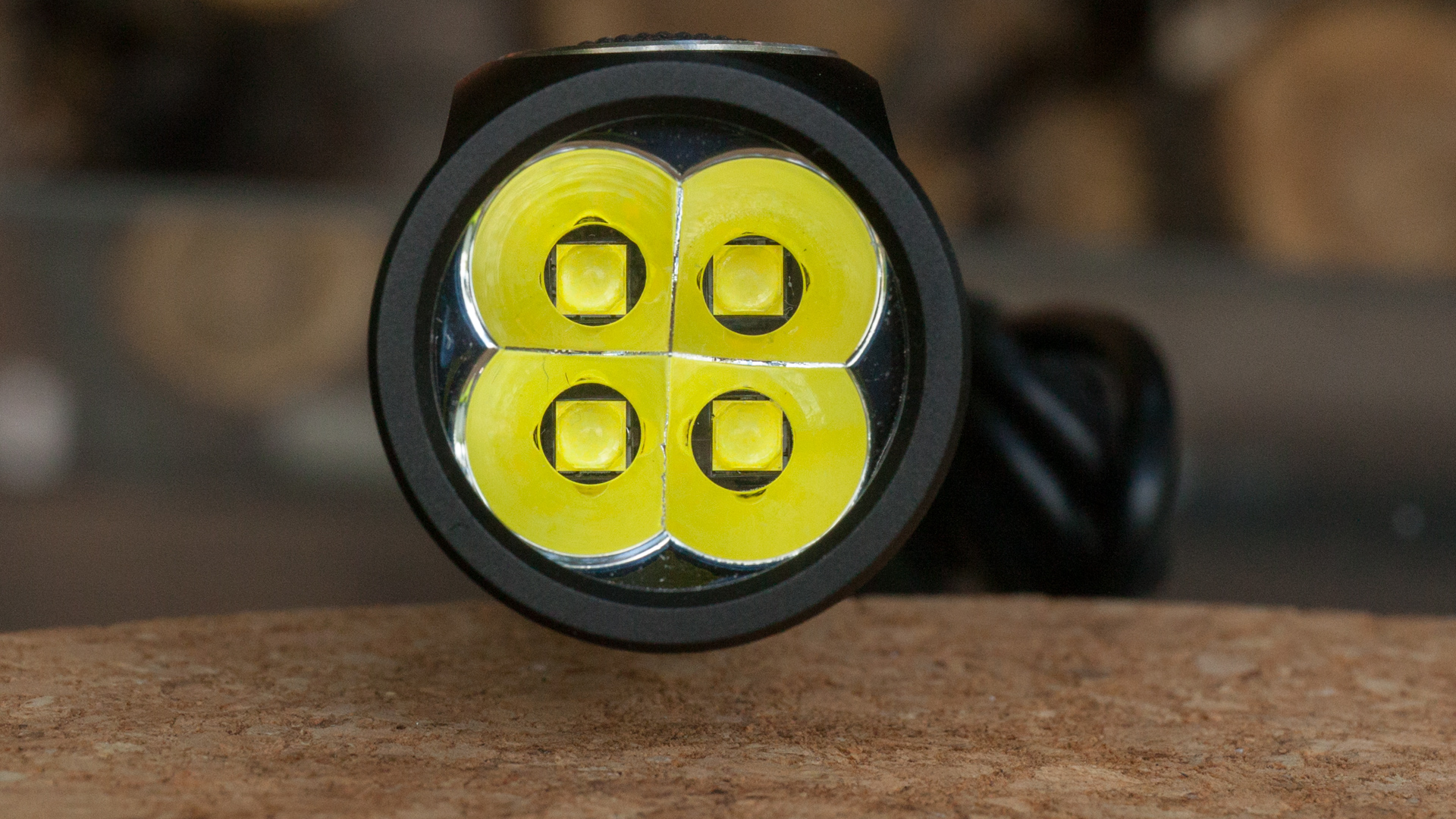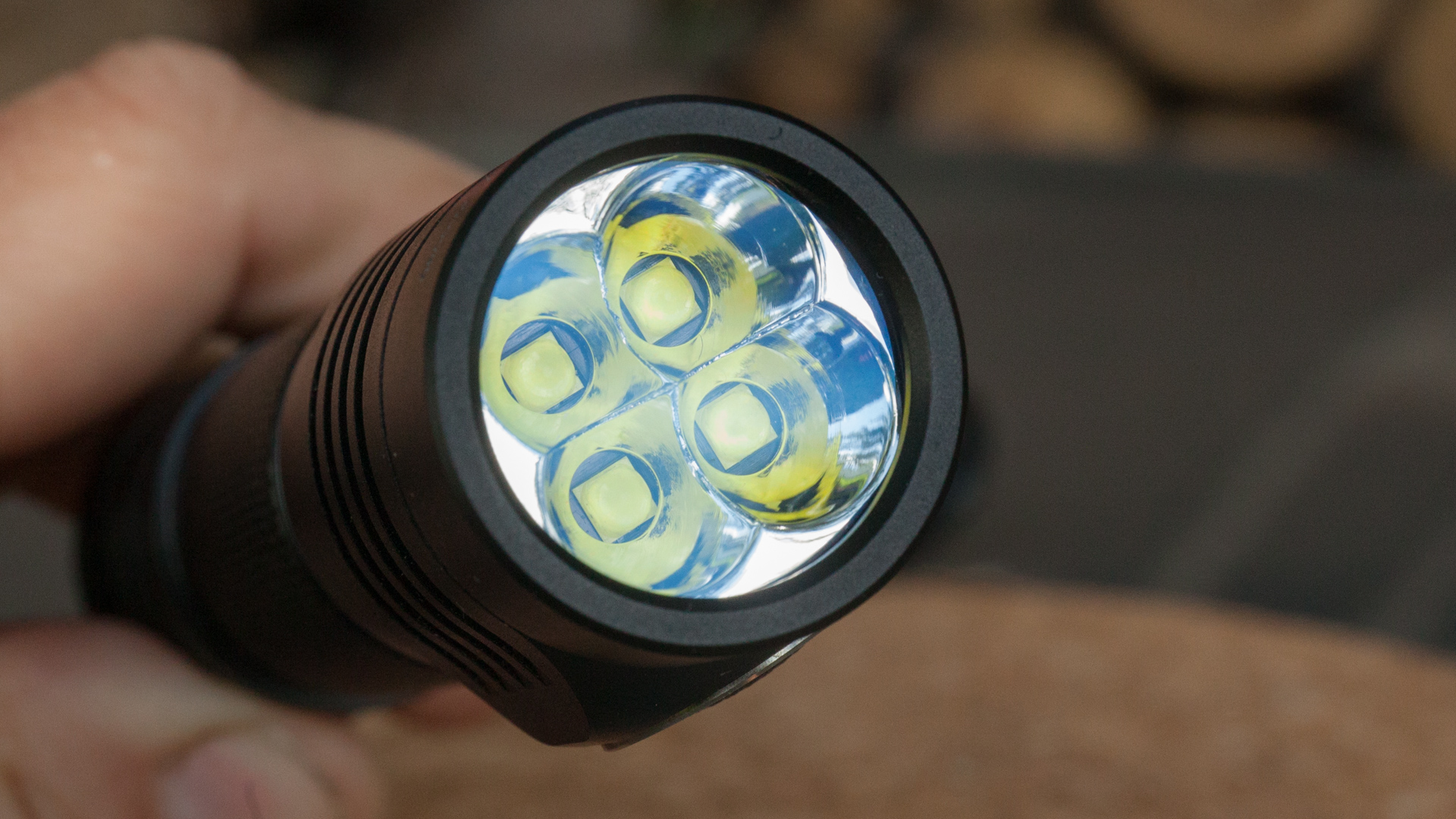 As a result, the flashlight looks attractive and not corny. It sits comfortably in the hand. At this stage, the impressions are positive.
UI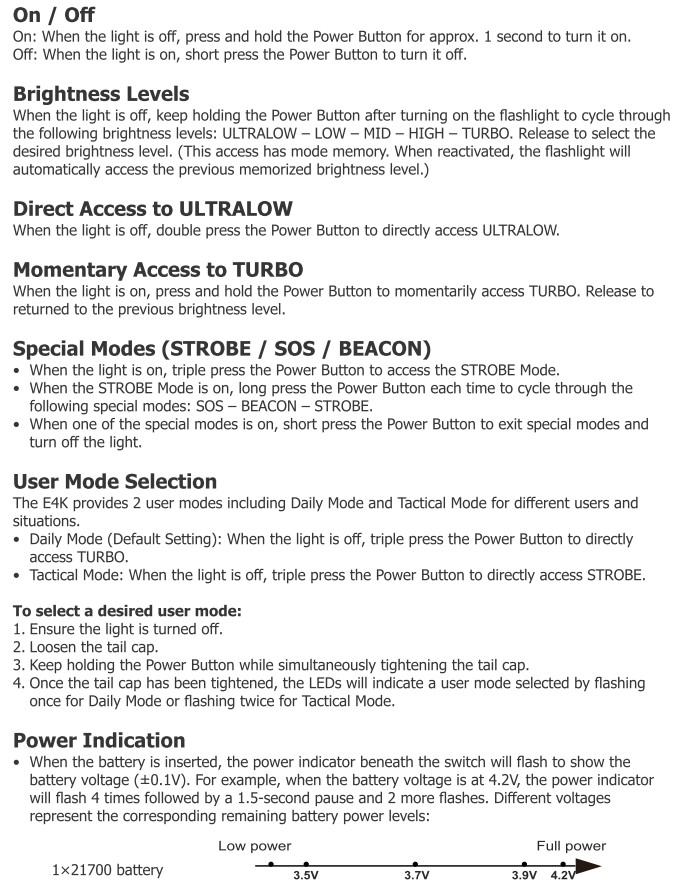 And here the impressions are completely different. Nitecore could have used some familiar UI, but decided to experiment here too. And in fact, you REALLY need to get used to this UI .
In general, if you need to turn on the flashlight and shine - this will not cause problems.
An obvious CON for me is here is that it is impossible to switch to a mode other than turbo from a shortcut to moonlight. Therefore, if you turn off the flashlight, then you should do it in LOW. Then, turning it on at night, you will not get blinded. And you can choose either this mode (and the ability to go to a brightness higher) or moonlight (and do not go anywhere from it).
The second important point - i would be nice to get button lock , as E4K has such powerfull output. But, of course, you can simply twist off tailcap.
How the Nitecore E4K shines
Floody and bright light. Cold of course. In general, mod set is OK, although I would do something like 50-200-500. But this is purely a matter of taste, you can use flashlight as is.
Of course, claimed 4,400 lumens raise a reasonable question - "how long". Not that long, of course - you cannot deny physics, and here runtime what u may expect from such size\brightness ratio. But these 20 seconds is time that is quite good enough for a seriously bright light, which highlight all the details around you. Cooling, of course, with such dimensions does not have affect turbo at all.
But! as you can see, even when thermal regulation steps in , you can re-activate turbo and get the same brightness. So after initial 20 seconds you can also get some time, even 1 minute which is damn long for such size\brightness ration. Of course, you have to consider overheating in this case. But for urgent need - that is great.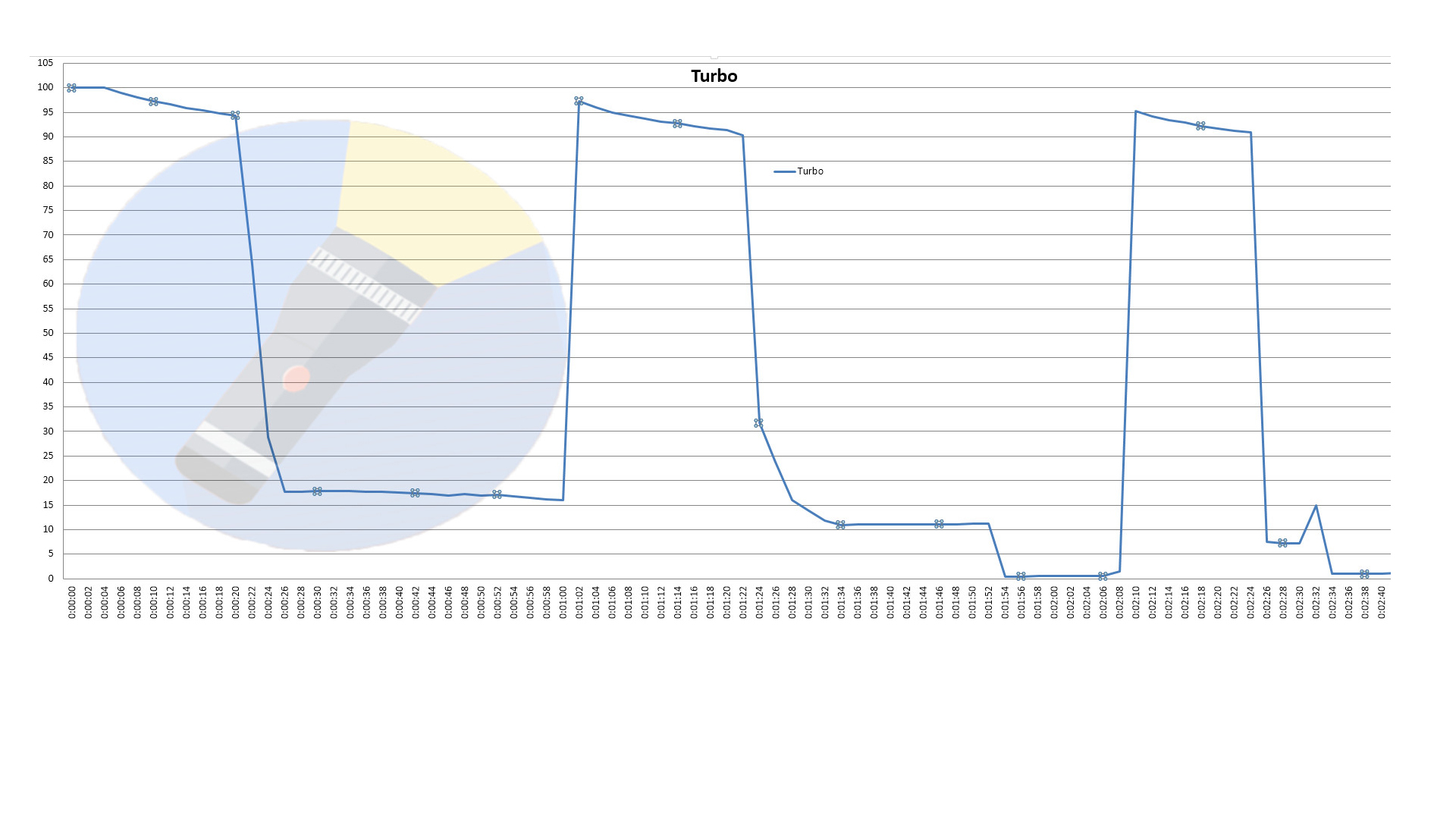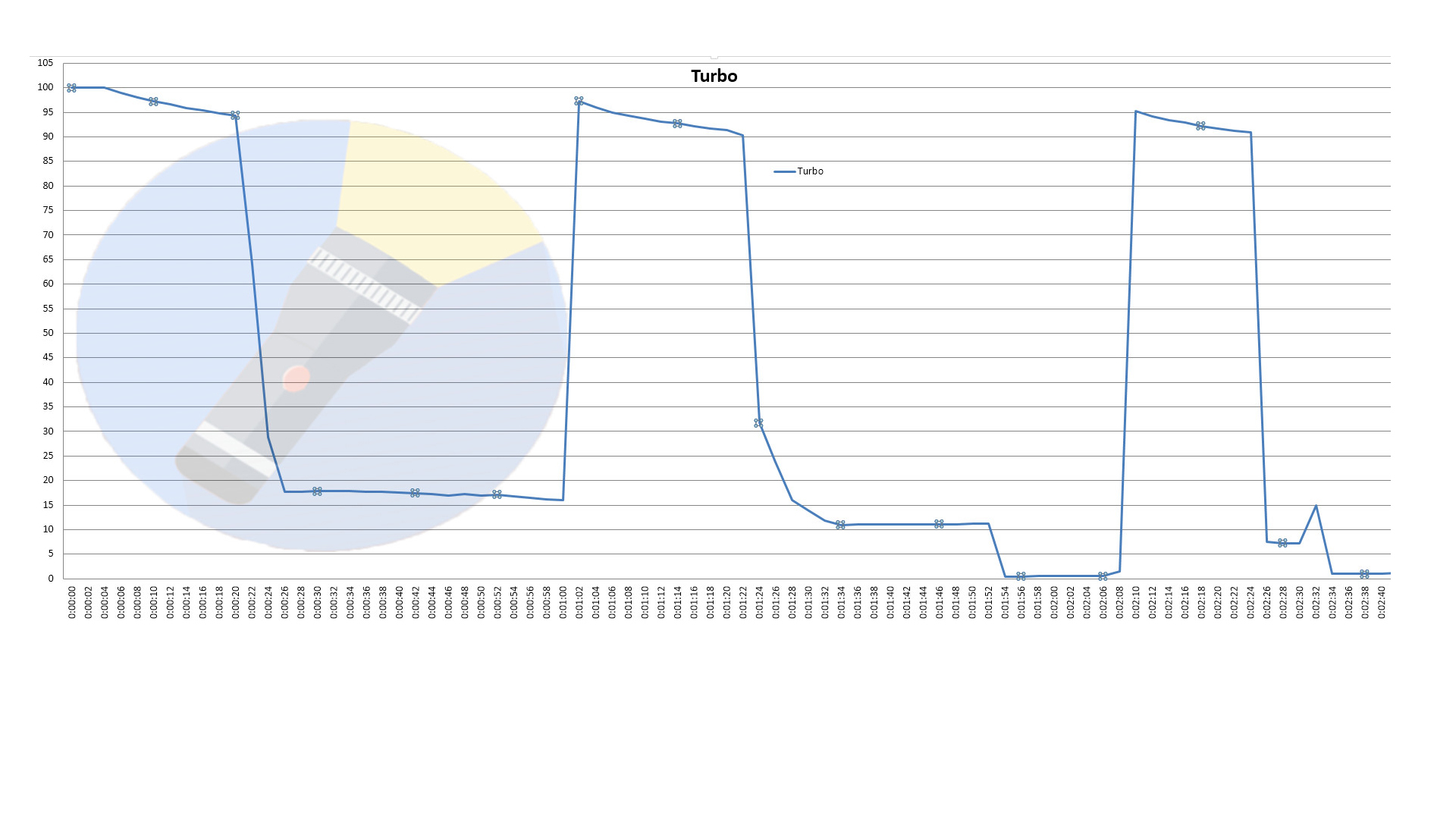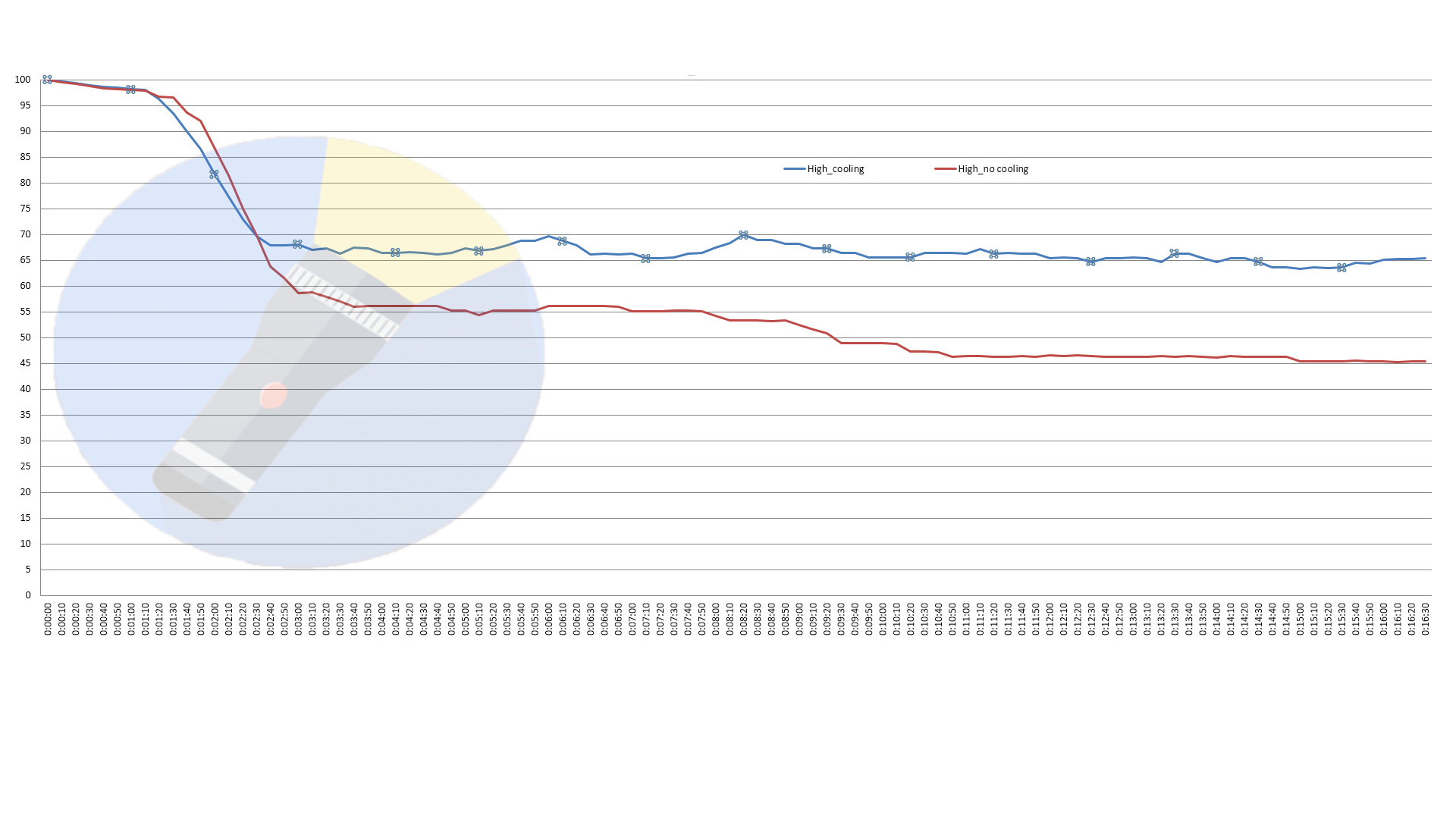 At high mode, you get extra 20% with cooling on, that is enough for most of simple outdoor needs. But, actually, i expected HIGH to be fully stabilized at initial level, at least with cooling on.
Mid (350lums) is 100% stabilized, and lasts really long (thanx for 21700). 350 lumens, actually, is really convenient mode for most of simple needs.
You get a really bright light with a good battery life. Indoors and for the mass of household needs, such brightness is quite possible that it will even be excessive. For years, my EDC flashlight the same maximum brightness and i rarely used it.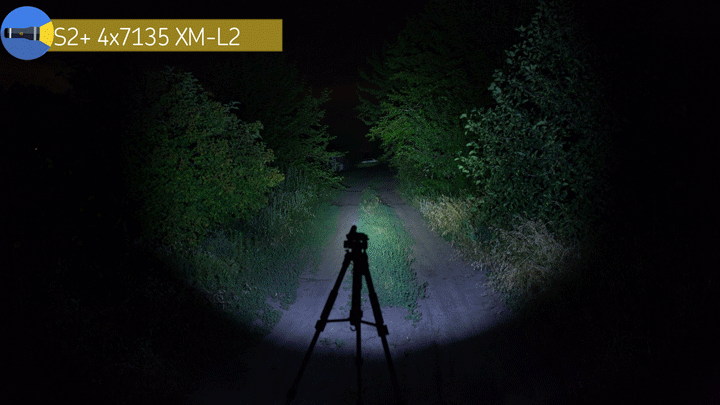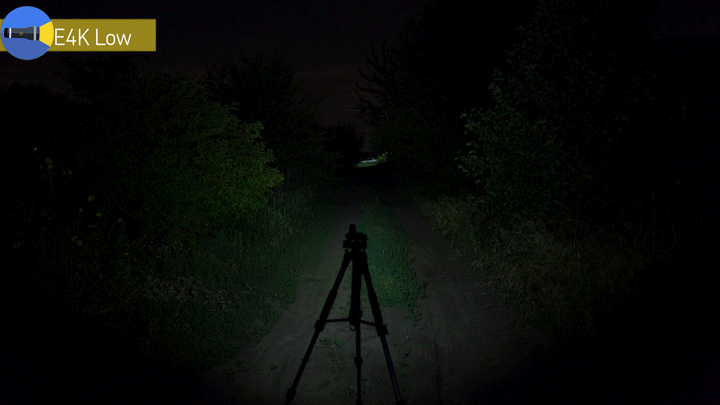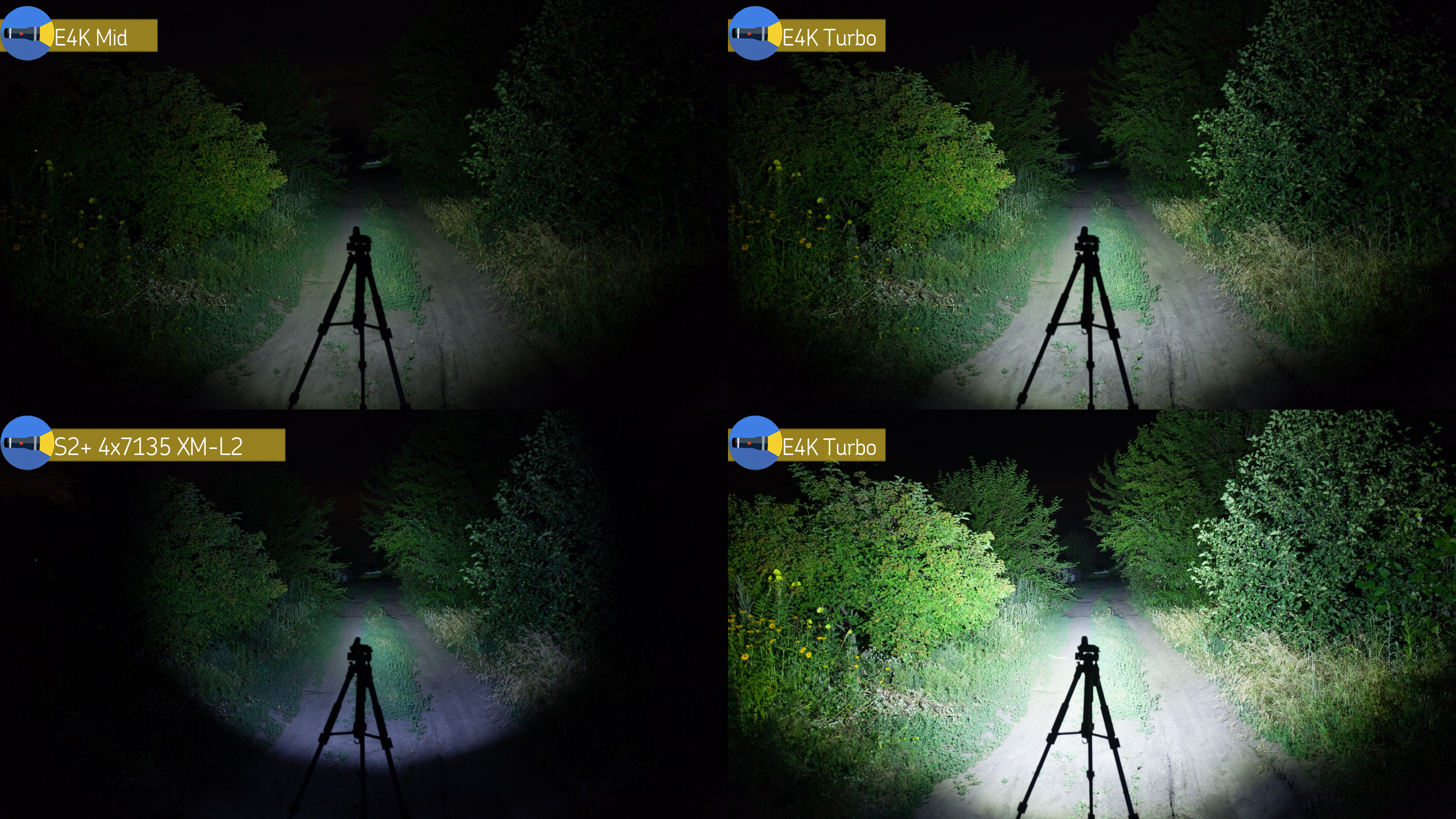 Of course, video review contains way more examples of how the Nitecore E4K shines.
Overall impressions
If you do not pay attention to specific UI, then the Nitecore E4K is a pretty good pocket rocket for regular user. That is flashlight in which Nitecore used all the strengths of the 21700 battery, leaving the flashlight in the usual dimensions of a EDC model.
The user gets even a short, but impressive maximum brightness in a turbo (with ability in reactivate tubro). For constant light, u have a stable and long-playing (thanks to a capacious battery) High, which in itself is very bright.
The light itself is floody and comfortable for working near. Appearance is attractive and is quite suitable as a gift. Built-in battery charging allows you to charge it anywhere without the need for a separate external charge.