Nitecore has a new addition to their keychain/small EDC lights with the TUP. It is capable of delivering 1000 lumens briefly, and has a small OLED screen to let you know what mode you are in, lumens, and how long the light will run in that mode. Thanks to Nitecore Store for sending this to me to take a look at.
Full Image Gallery: Nitecore TUP - Album on Imgur
YouTube Version of this Review: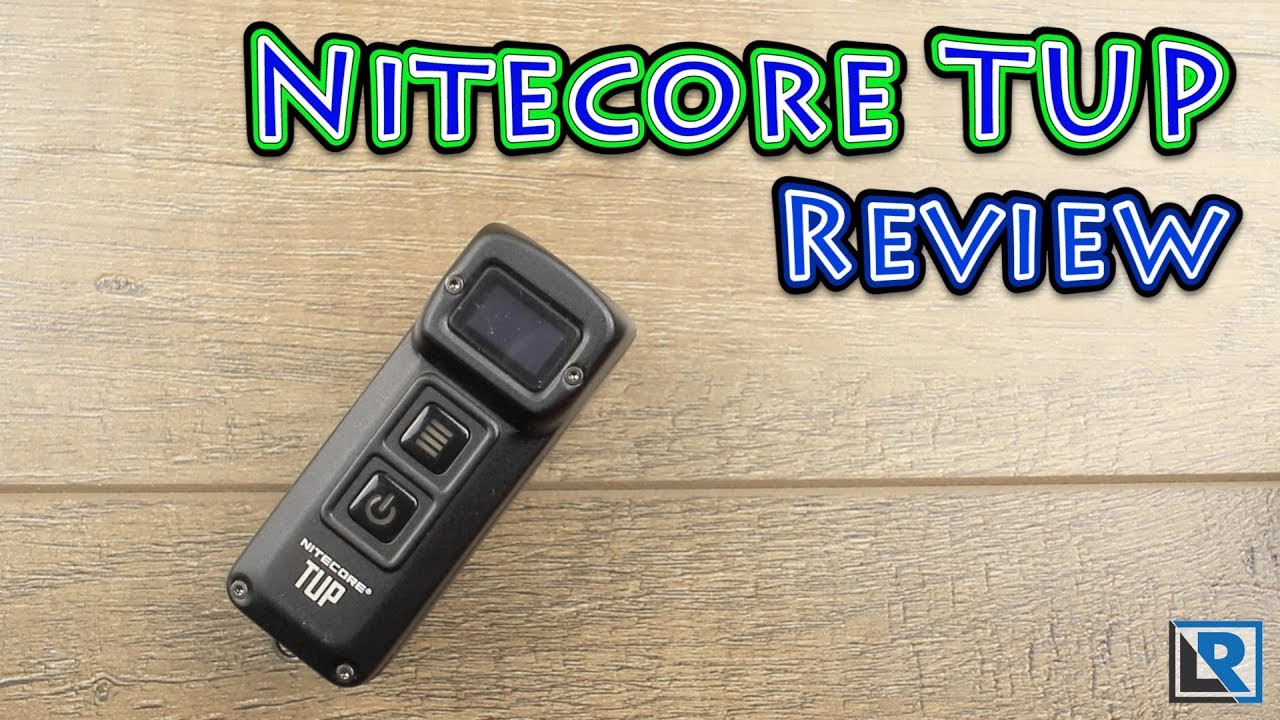 Packaging
Packaging is a little different from the black and yellow Nitecore boxes many lights come in. Instead it's a black box featuring the light on the front with some stats on the back. Inside the light is held in place with a clear plastic shell with accessories below. Accessories include the light itself, the pocket clip comes pre attached, a micro USB cable a manual and associated paperwork and a quick keychain attachment. Nitecore store nicely includes a quick start guide which I find helpful, especially when exiting the "demo mode" the light comes in.

Construction
The TUP features a construction similar to the other keychain lights Nitecore has come out with in the last few years. It's a 2 piece aluminum clam shell that's anodized black. It's held together with T3 Torx screws. I didn't do a disassembly as it's been done before by others. In the hand it feels pretty solid, the buttons have a nice click to them and the OLED screen is mounted flush with the body body. The buttons are almost too easy to press, so using lockout mode is a good idea. I would expect the aluminum and screen will scratch if you did decide to put this on your keys as that's a pretty rough environment. On the back of the light there are 2 small rings where you can attach a ring to then attach it to your keychain via your favorite method. The clip is large and substantial on the back side of the light. It allows for a deep carry if you desire to use carry this in your pocket. Overall it feels pretty solid for a clamshell type light.

Size and Weights
Length is 70.3mm, width is 26mm and thickness is 25mm at the head without the clip. Weight is 53.2 grams. The light is IP54 rated meaning it can withstand dust, and splashes of water.
Nitecore says this is a keychain light, and while you could use it for that I feel it's thickness makes it less then Ideal for that in my opinion. I would use this more as an EDC then a keychain light. Compared with the Nitecore TIP you can see how much thicker the TUP is by at least 50%. Even the TIP is larger then I want to carry on my keys. For the last several months the Olight i1R has been my keychain light because of it's small size. Comparing it to a normal household key it's just a little longer in length but it's the depth that sets this apart.

LED/Heat/Runtime
The Nitecore TUP uses a Cree XP-L HD V6 LED in cool white. It's reflector provides for a hot center and minimal spill, kind of similar to a TIR style optic. The front lens is plastic which I would have some concerns about scratching if used on a keychain. Since Turbo only lasts for 30 second heat isn't a factor here.

Runtime I measured on high, at 200 lumens which was pretty consistent for 3.5 hours starting on high of 200 modes and having it step down as the 1200mAh battery depleted. LVP kicked in at 2.9V according to the voltage on the OLED display. I didn't do a runtime test on turbo because you can't lock it on, it's basically a momentary mode only and only for a max of 30 second at a time. You can retrigger this several times but the output will decrease as the light heats up and battery loses voltage.

UI
This light ships with 2 UI, the default being "Demo" mode. Given the package is a sealed box without a window, I can't think of a legit reason why the light has a demo mode, and why it would be the default. Nitecore says this is for EDC use, but I would prefer to manually turn the light off, if my task takes longer than 30 seconds. For practical use the user needs to switch it into normal mode by pressing both buttons at the same time while the light is off.

Normal mode is more straightforward and what you would expect. The light starts in moon light mode and linearly goes up. Moon mode is 1 lumen, then 15 lumens, 65 lumens, 200 lumens, and momentary turbo of 1000 lumens. The light has memory in this mode and will remember where you were last at. It has 2 buttons, basically a power and a mode button.
The light has direct access to low and Turbo. To access low, when the light is off (and not locked) press and hold the power button to access 1 lumen mode. To access tubo press and hold the mode button, and this is in momentary.
The light also has 2 lockout modes. Lock 1 is half lockout mode. It locks the power button but if you press and hold (about 1 second) the mode button you get access to turbo. To exit lockout you have to hold both buttons at the same time. In lockout mode 2 the light won't turn on until unlocked.
Recharging
Recharging was accomplished with the included MicroUSB cable. The internal non replaceable cell is rated at 1200mAh by Nitecore. Charging speed from the LVP at 2.9V was right at 3.5 hours at a rate of 0.5A. This is an appropriate charging speed for a small capacity non replaceable pouch style battery like this. The light is able to turn on while charging or being powered from a USB power source.

Carry
The TUP is a bit of a fatty, It's really not that much larger then a lot of the CR123 based lights such as the Olight S1R II, or my 4Sevens MiniMK Turbo, but I just don't like it as well for a front pocket EDC. I think it's the square vs rounded shape. The Clip on the TUP is substantial and should hold up pretty well. As a keychain light in my opinion it's too thick. Length is ok, but it's just more bulk then I want on my keys that sometimes end up in my front pocket. I think the size would be ok if you always put your keys in a jacket pocket or purse where overall size isn't as important.
Pro's
Is able to power on while charging/running off a USB power source.
I like the OLED screen that shows lumens and estimated runtime. If this proves to be durable more lights should have it.
Nice beam pattern that throws quite a ways for a small light.
Great clip and construction, makes for a great hat light.
Con's
Buttons are too easy to press meaning lock mode is recommended highly.
I would prefer having to hold lock mode a little longer so it's not triggered accidentally.
Turbo of 1000 lumens that works in momentary only isn't quite the same as one you can lock on
It's too large for a keychain light, at least on my keys.
Conclusion
The Nitecore TUP is the largest of the keychain style lights from Nitecore and for me it moves out of that keychain style light into the gray area between categories. You could use it as an EDC, it's similar in thickness to some CR123 based lights but the square ish edges makes it seem a little larger. The clip is good and allows for a deep carry in a pocket or it makes it easy to clip on to a hat. It provides a solid runtime for this and a variety of modes. I just find myself reaching for a dedicated headlamp most of the time though.
We saw on the TIP Nitecore offered a high CRI version with a warm tint, my hope would be they offer the TUP with this as well in the future because I have a personal preference to high CRI. The screen makes the UI easy to use on the TUP and I think it would make a nice complete gift as you know what's going on by looking at the screen vs knowing a blink pattern for lockout mode or low battery indicator.
---
This might be my last review & Video of 2018 (or I might get one more done next week). It's been a good year, a busy year too. I made a total of 65 videos and reviews (Not all were flashlights, but most were). Let's see what 2019 holds.