The light was supplied by Nitefox and can be bought on Amazon, no compensation other than the light itself was received for this review
They have a website http://www.nite-fox.com/ which is loading a bit slowly
Manufactory specification:
LED: CREE XM-L2 with 50 000 hours life span
Battery: one 18650 Li-Ion battery
Reflector: aluminum alloy smooth reflector
Lens: Anti-reflection coating tempered optical lens
Body: Aerospace grade aluminum alloy with durable Type Ⅲ hard anodize coating
Mode: Outdoor mode 4 output levels(moon-low-medium-high-strobe), tactical mode 2 output levels(High-Strobe-low)
Circuit: High efficient constant current circuit, constant output, more brightness and longer run time
Reverser polarity protection to prevent damage from improper battery installation
Waterproof: IPX8 waterproof, works in rain or shallow water
Included accessory: 1* Tactical Flashlight, 1* USB Charging Cable, 1* Charging Port Cover, 1* Tactical Ring, 1* Clip, 1* Lanyard, 2* O Ring, 1* Switch Cover
Size: 139 mm (length) *25mm (body diameter)
Net weight: 93 gram, light weight and easy carry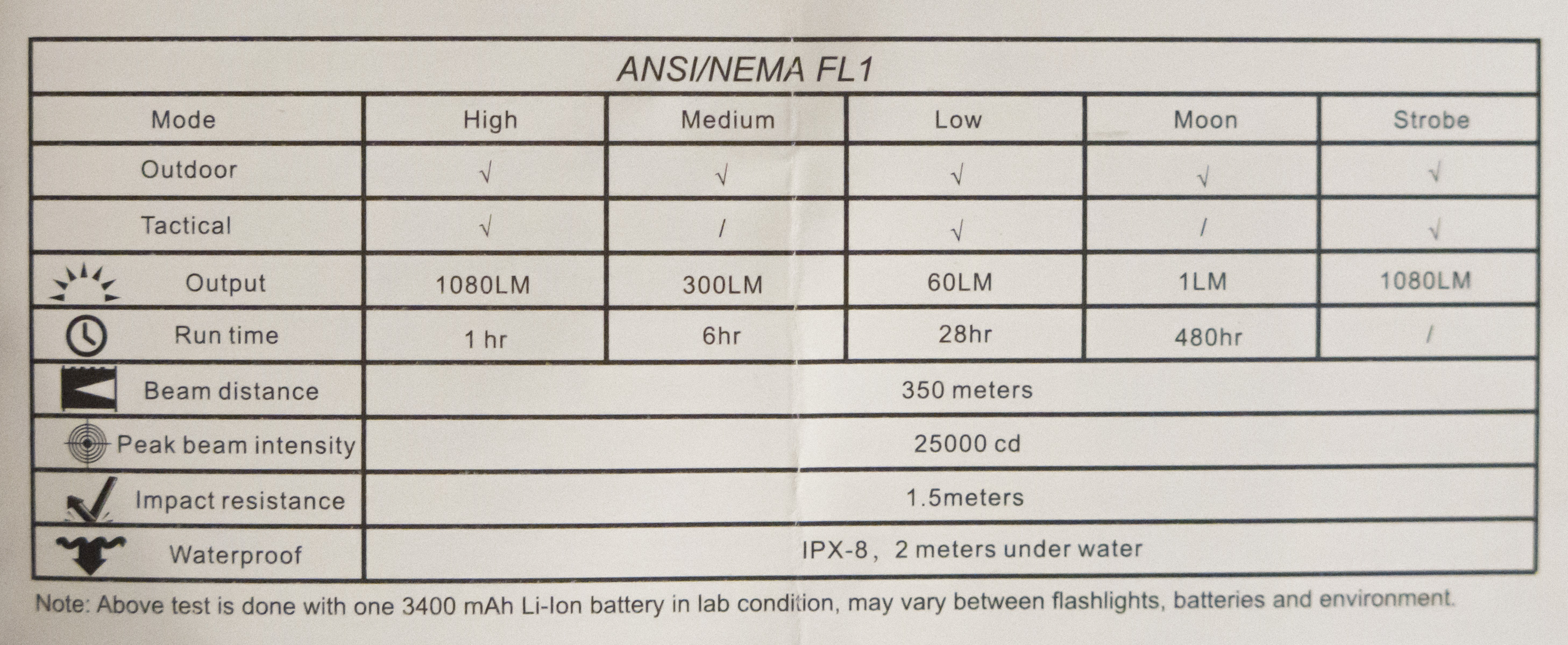 NITEFOX UT20 is a max output 1080 LM USB rechargeable flashlight which have tactical and outdoor two modes. Outdoor mode can access by side switch and have 5 output levels while fast change to tactical mode of strobe, turbo and low output by one hand click tail switch. It is easy, flexible to provide different illumination for law enforcement like soldiers, policemen and outdoor enthusiasts. Besides this, UT20 also comes with build in smart remaining power indicator and pocket clip, lanyard for convenient use and carry. UT20 is a compact but powerful all round lighting tool for outdoor activities and law enforcement in most environments.
.
Package and content:
The lights box came in a bubble wrap envelope

The light comes in a package of thick card box
In the box is a foam inlay with the light and accessories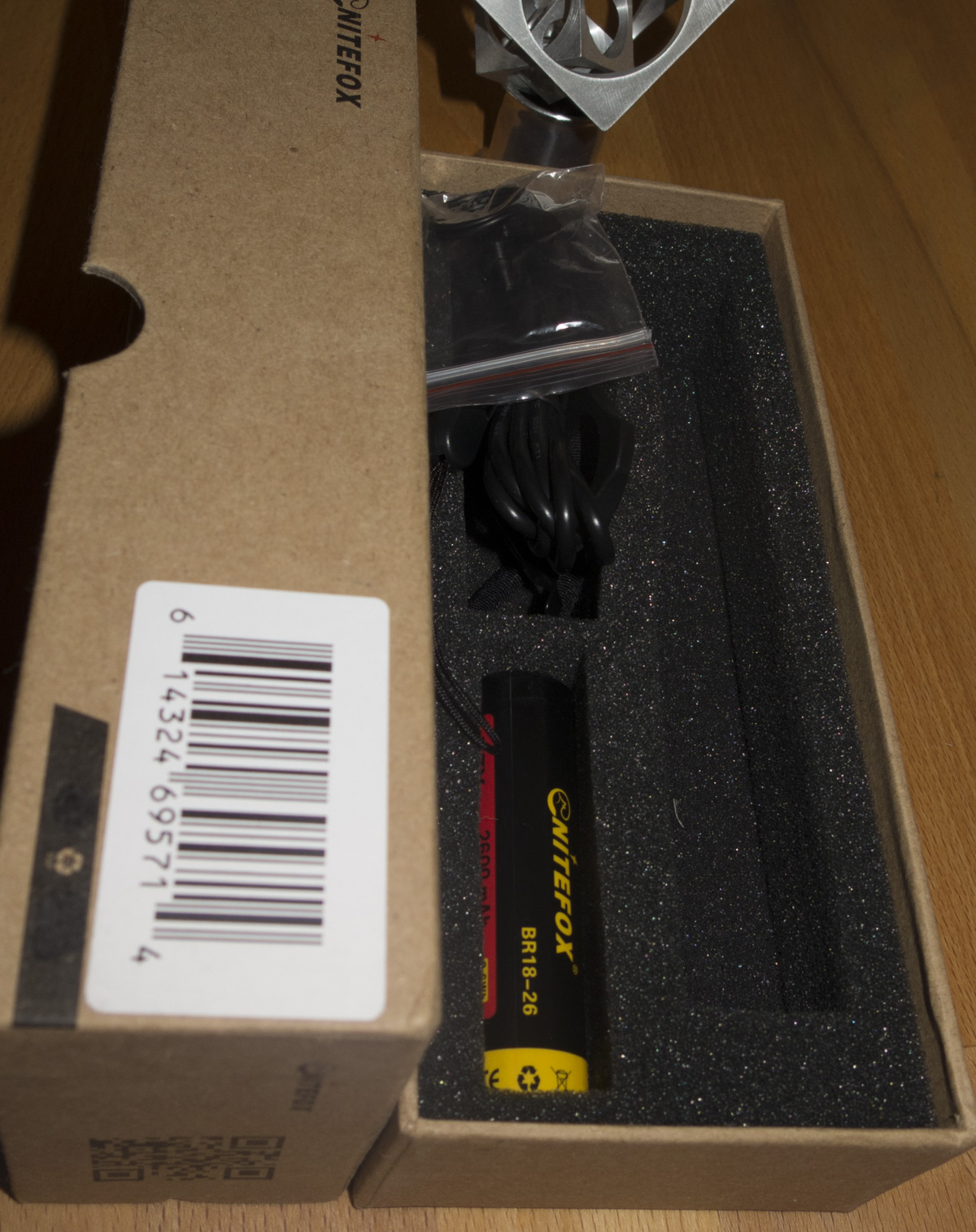 It comes with:
- 2600mA protected battery
- 2 spare o-rings
- lanyard
- pocket clip
- USB cable
- tactical ring
- tail switch cover
- spare charge port cover
manual and extra special note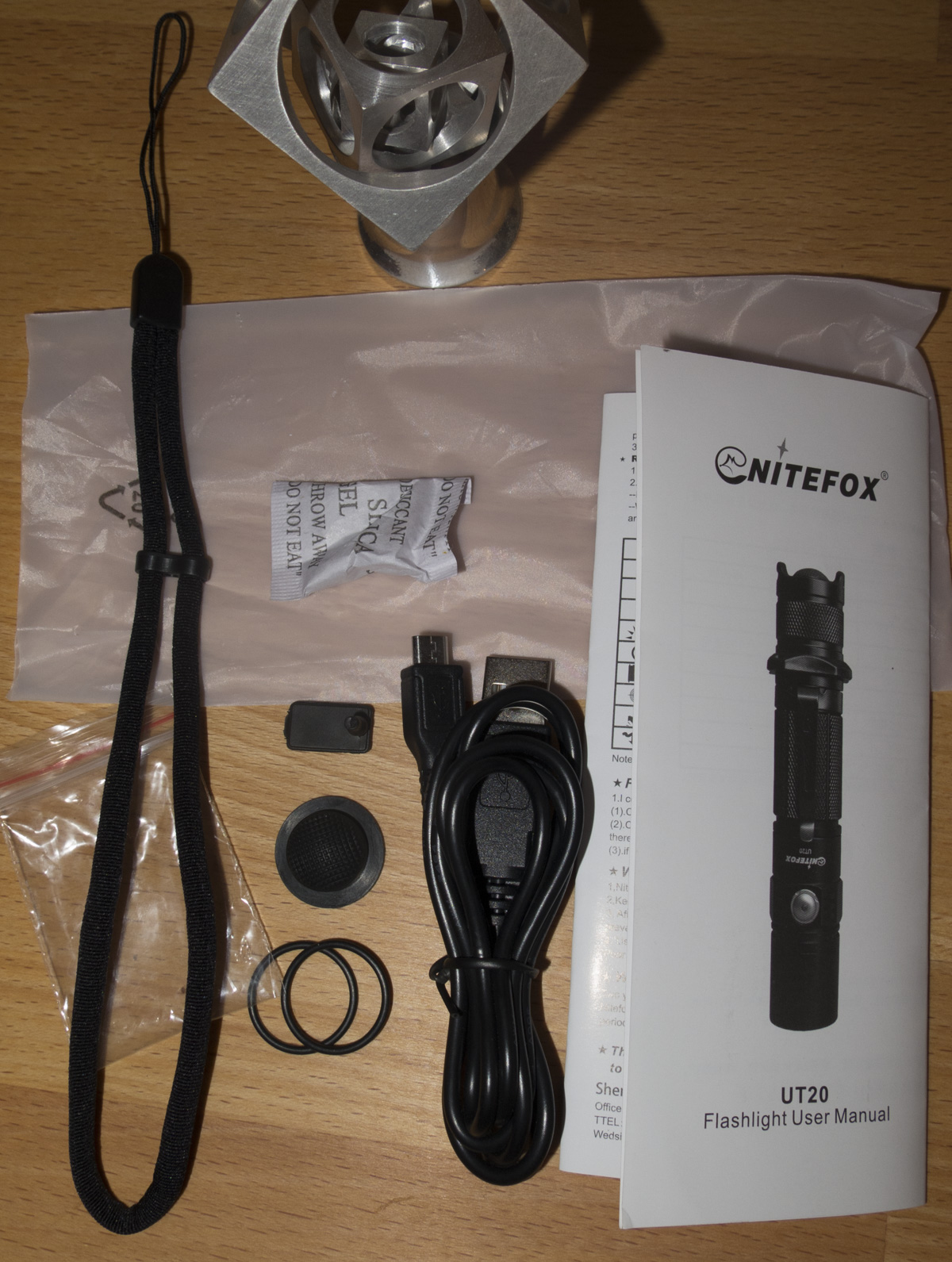 .
Photos of the light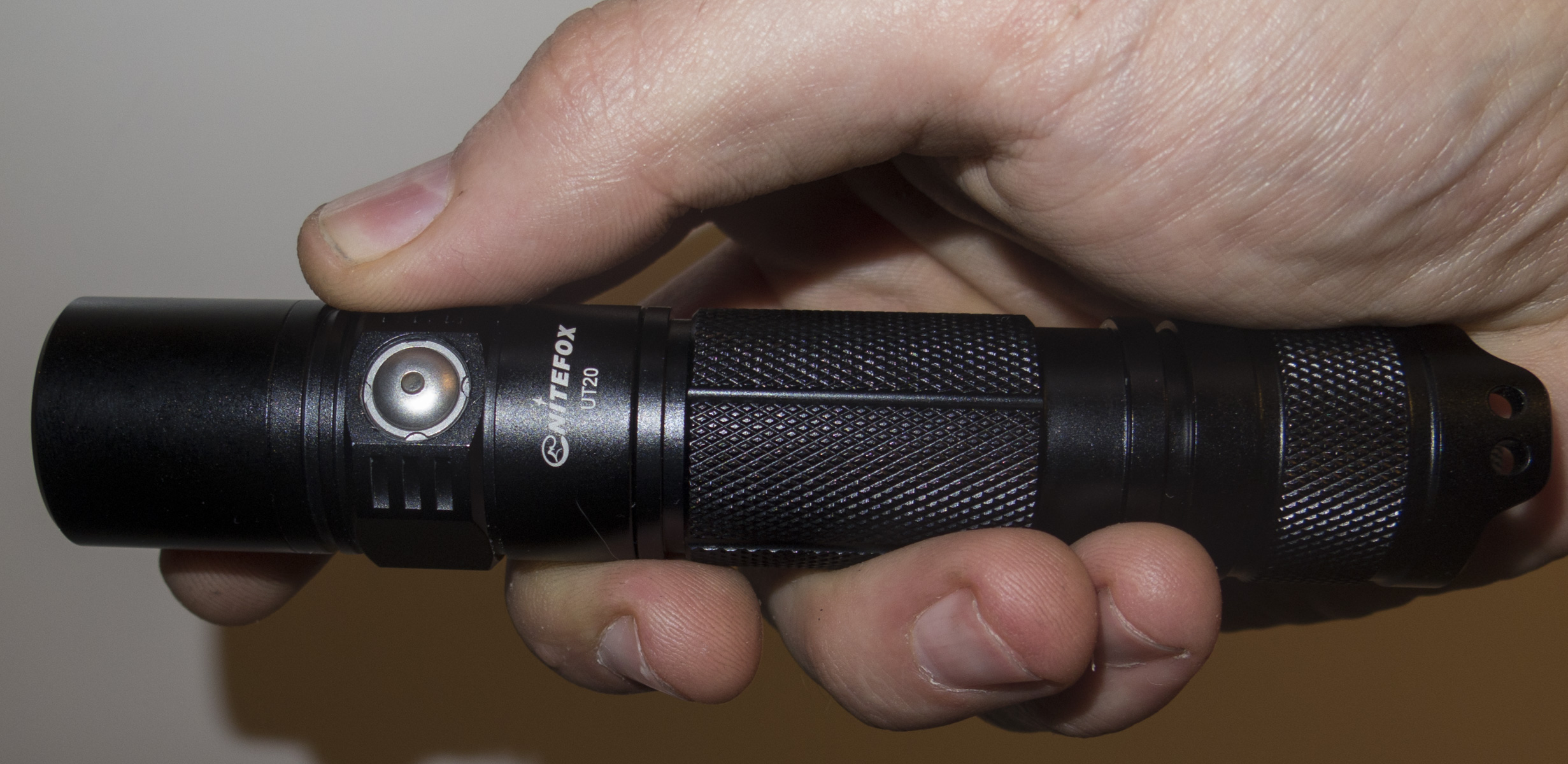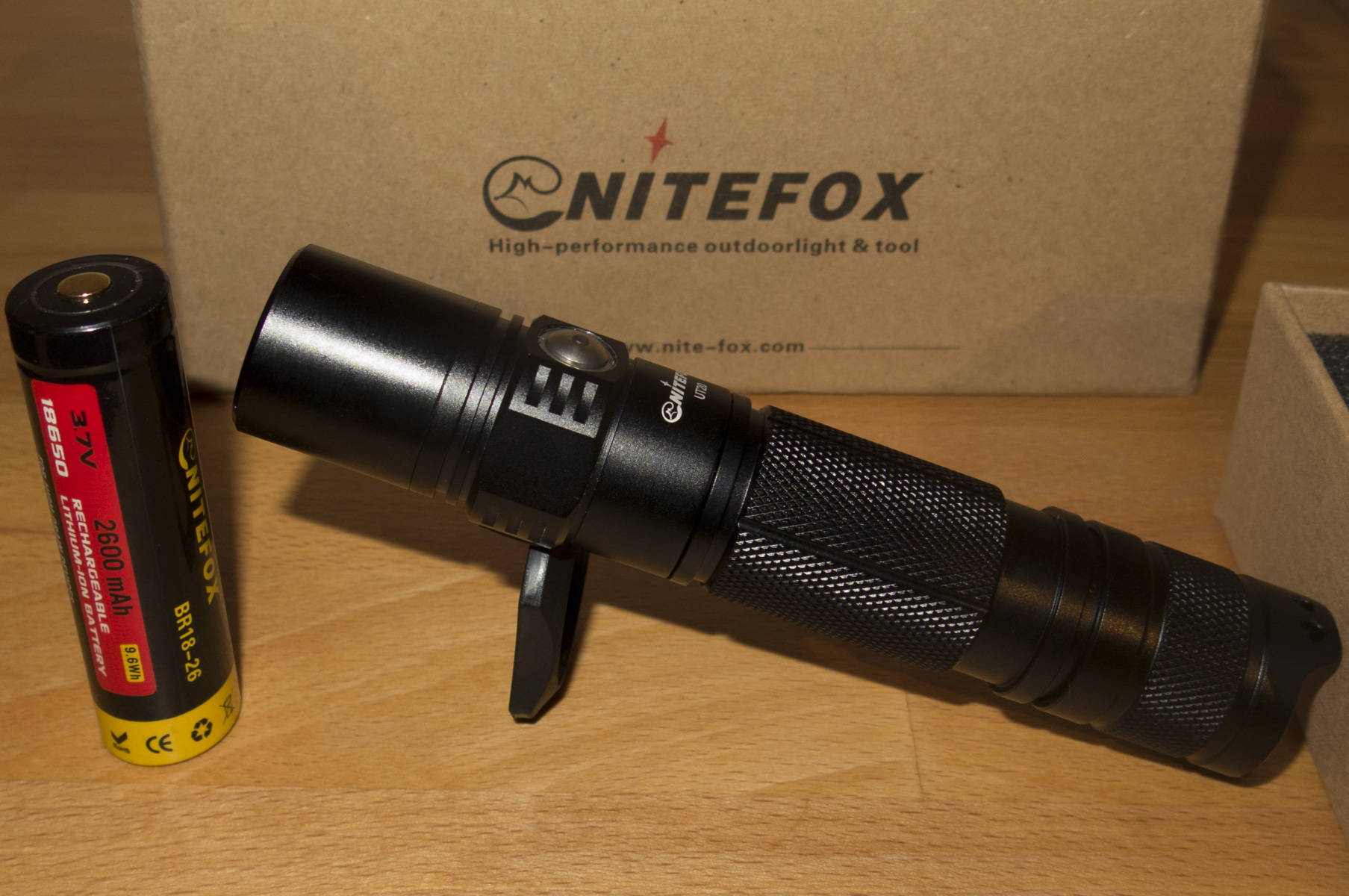 The anodisation of this light is shiny and smooth it has no visible defects
The knurling is not too agressive.
Comparism and teardown:
Size compared to other 18650 lights the UT20 looks quite similar sized like other tail and side switch lights
Nitefox UT20, Nitecore P12, Imalent DM21TW, Klarus XT11GT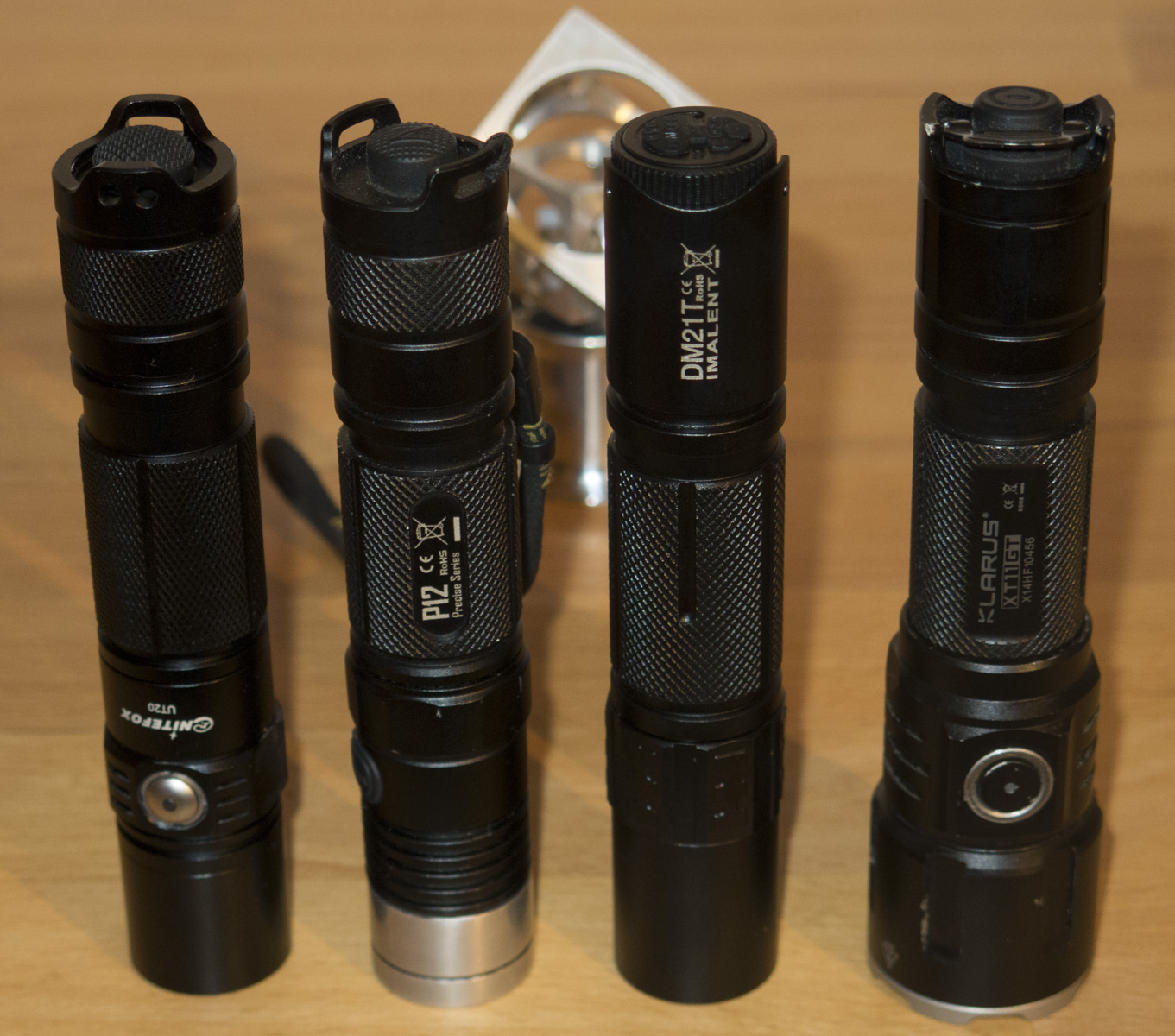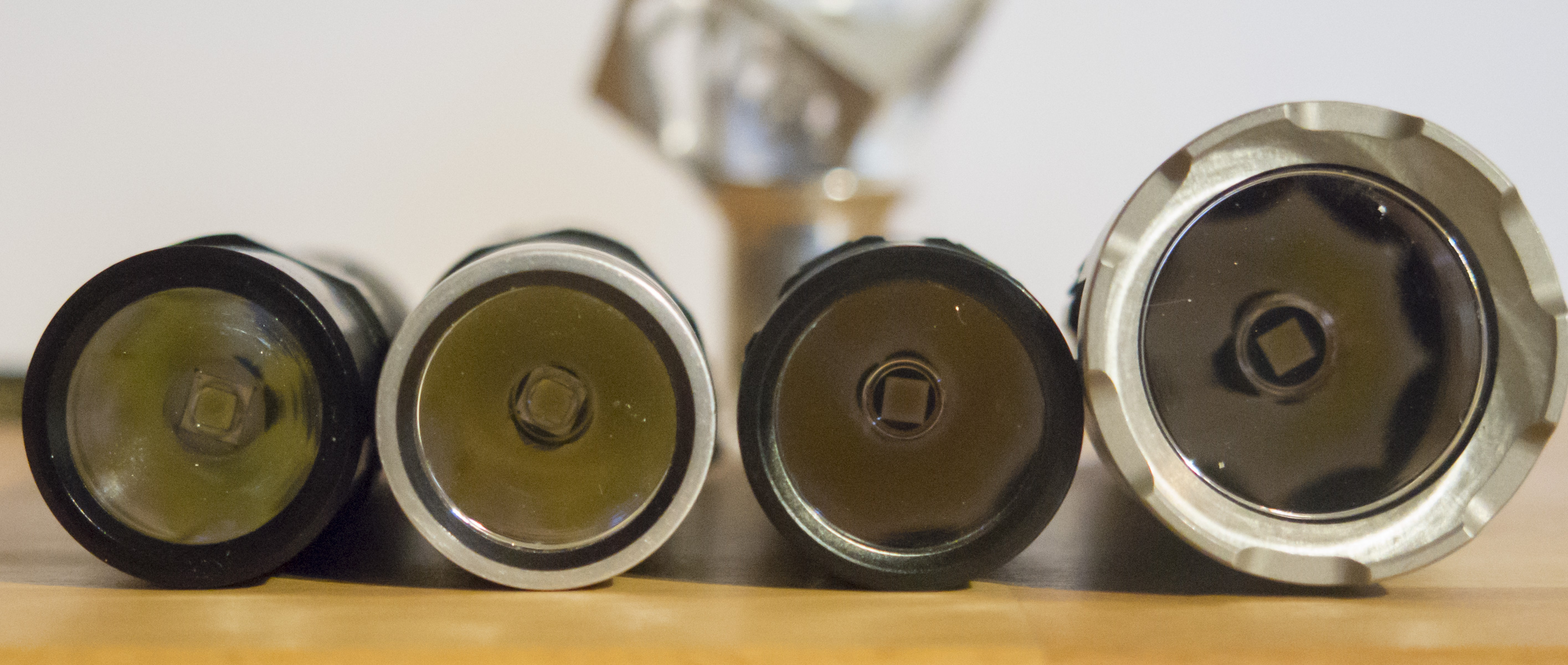 Beam color is cool around 6500K with a Cree XM-L2 , the beam has no artifacts and a good hotspot and some spill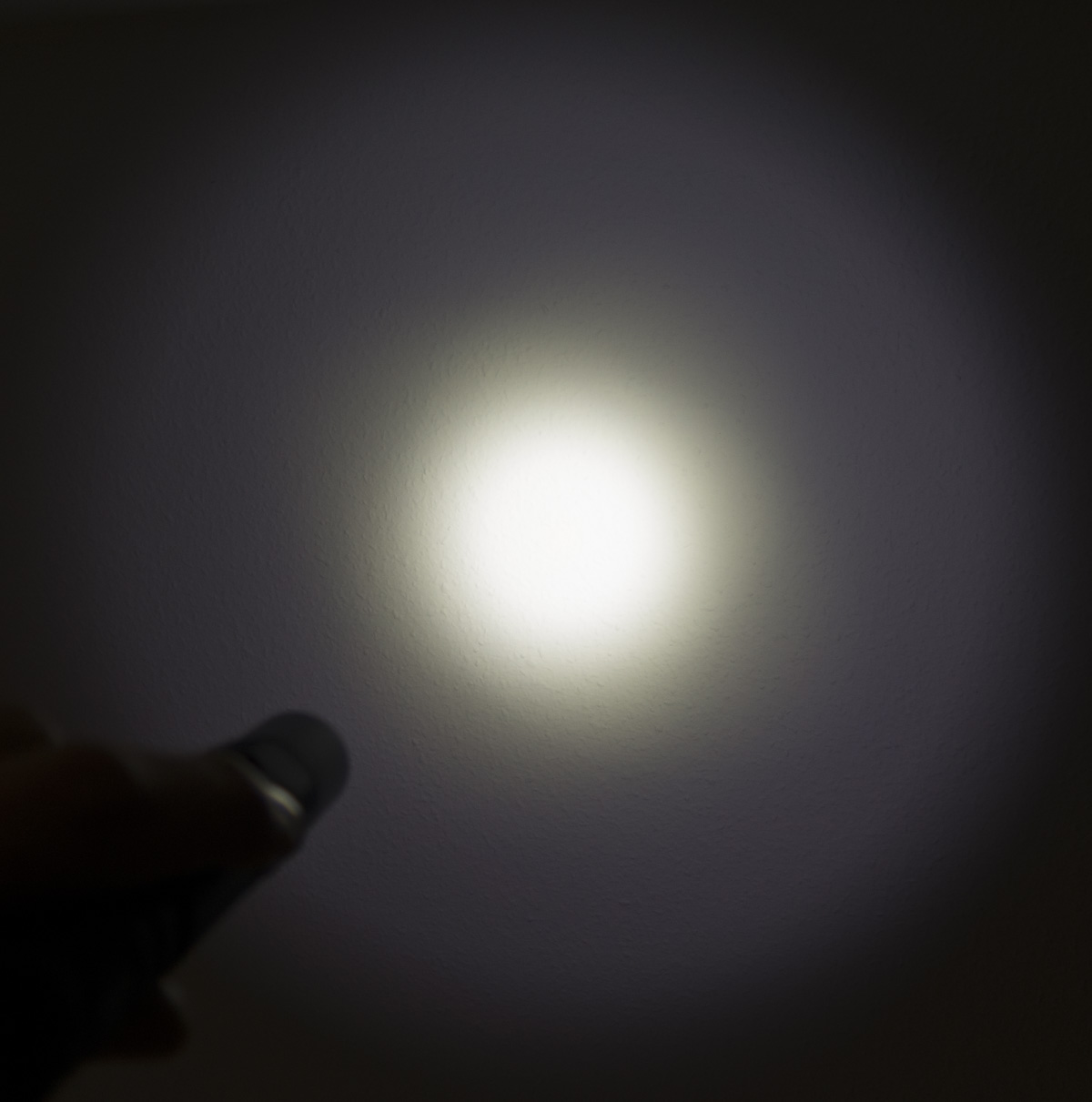 The LED is very good reflowed and the MCPCB is perfectly flat, but not polished or gold plated
The heat paste is applied in a good amount and squeezed in an uniform thin layer
The MCPCB is tested to be DTP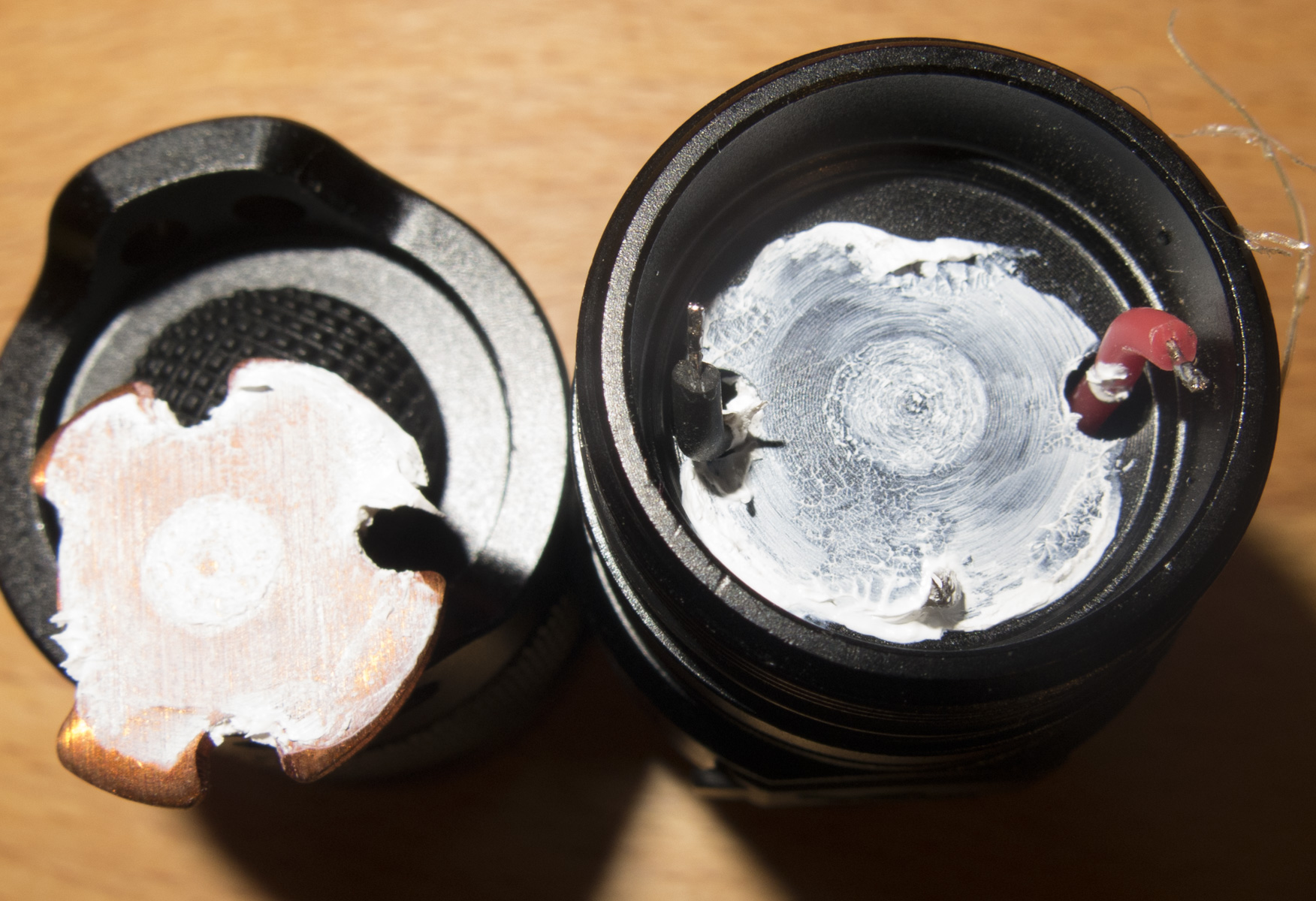 The reflector is well machined and is perfectly coated with no flakes
It is almost free of dust particles that can be seen when the light is off, just one tiny dust particle that I could remove with compressed air
from left to right the lights get warmer, picture taken @5000K camera setting
left Imalent DM21tW XPL-HI 4500K, Jetbeam Jet1-MK Nichia 5000K, Klarus XT11GT XPL HI V3-3C 5000K, Nitecore P12 XML2 U3-3D 5000K, Nitefox UT20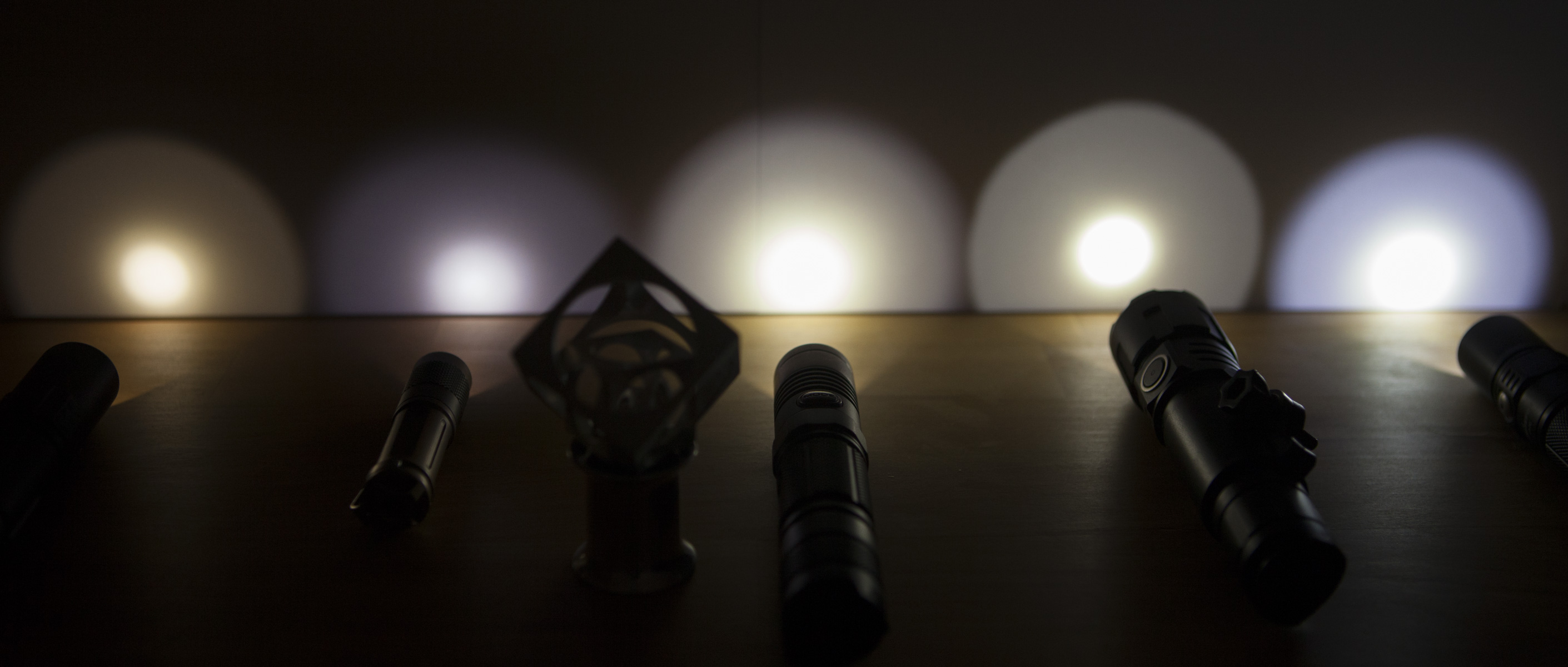 LEDs luminance under 365nm UV light
left Nitefox 6500K, XPL W2-2B 5700K, Nichia 219C 5000K, XPL HI V3-3C, XML U3-3C, XPL HI 4300K

The light is partially glued with white epoxy and the Bezel came loose with no tools, but to get the driver out a little more force was necessary sticking a rod through the LED wire hole and pocking on it
The light has a tail cap with holes for a lanyard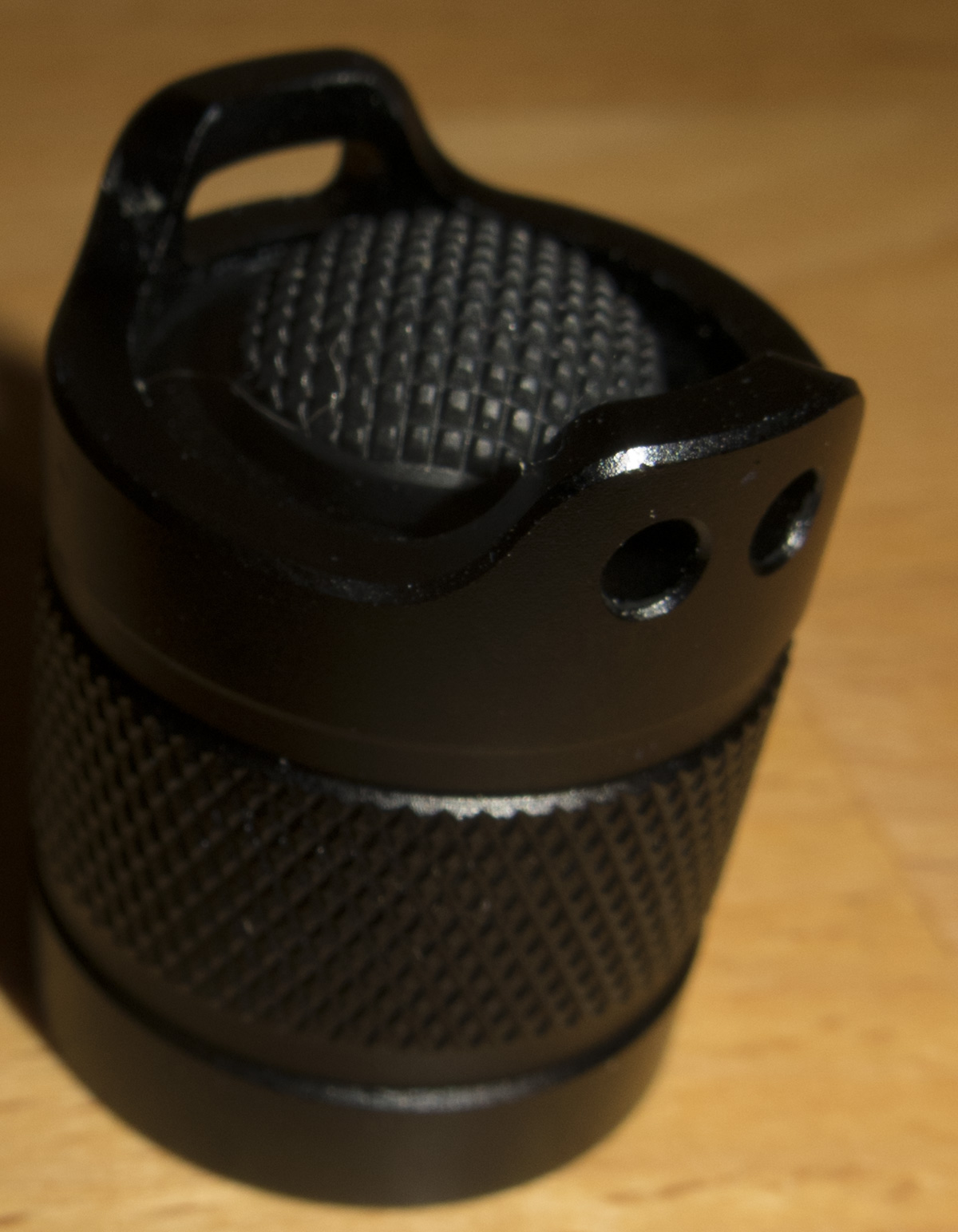 The light stands on the tail, but the surface is small so it is not very stable
The lens is well AR coated and is perfectly clear, you may think they missed the lens
The light runs with one 18650 battery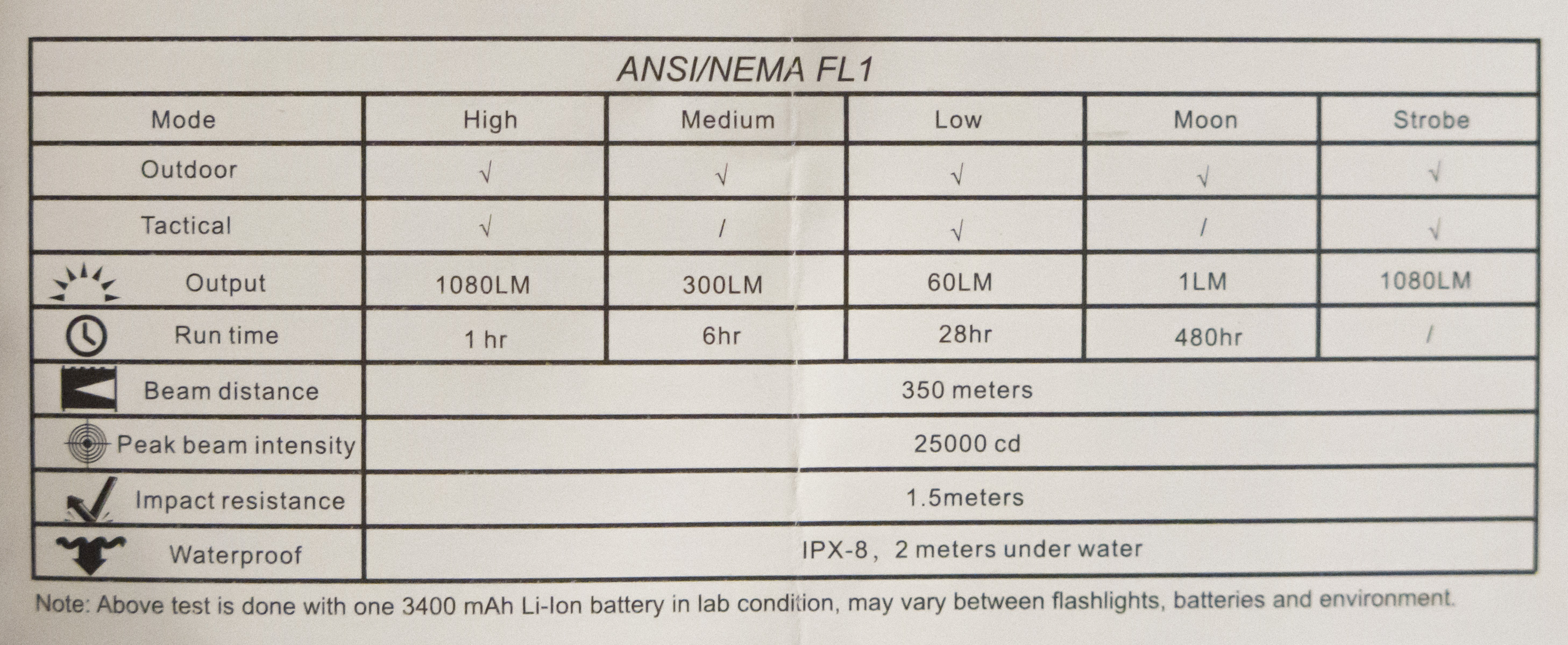 The driver is the hardest thing to get to, it is glued at the bottom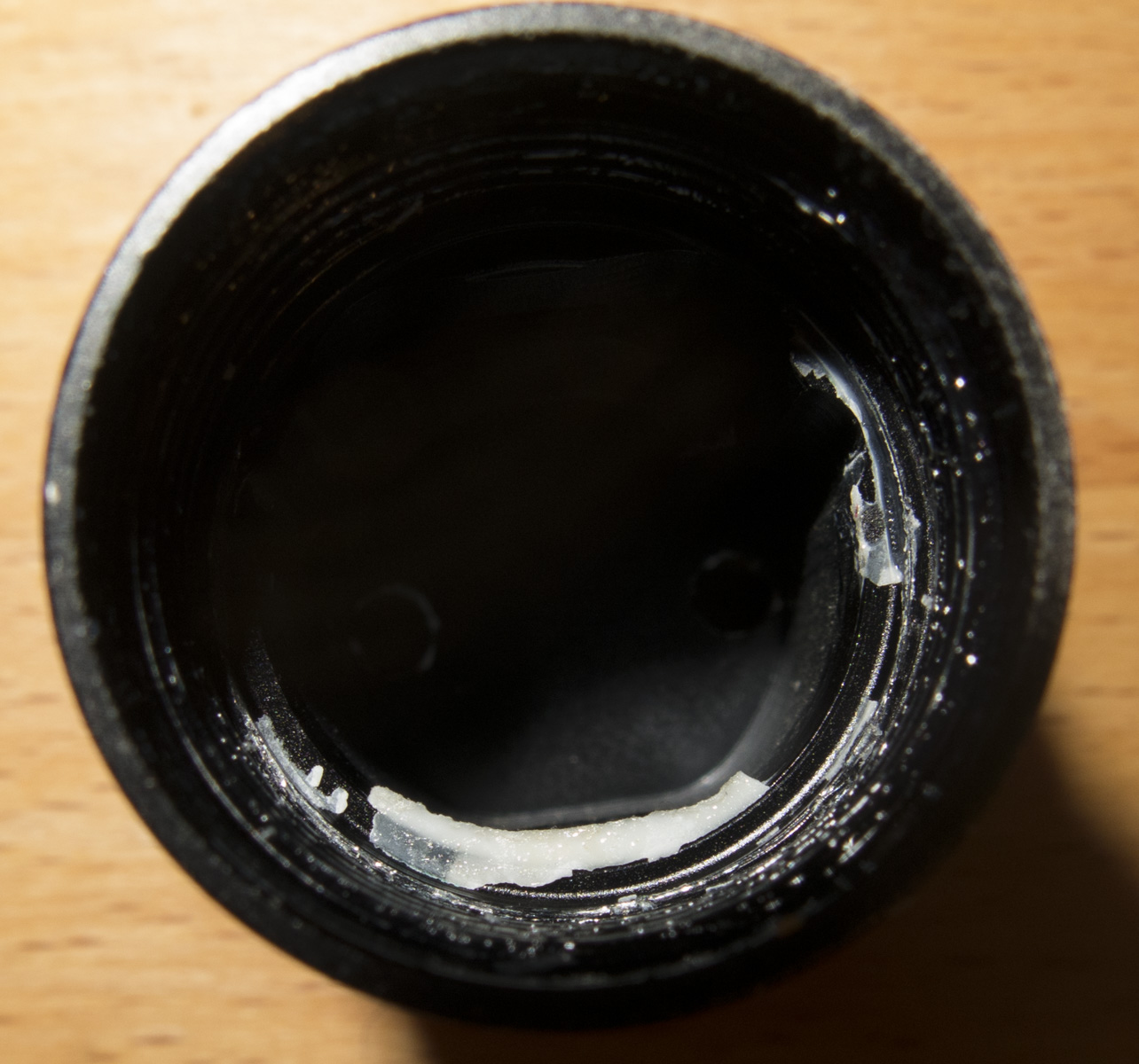 The driver has a charge circuit and a buck driver on separate boards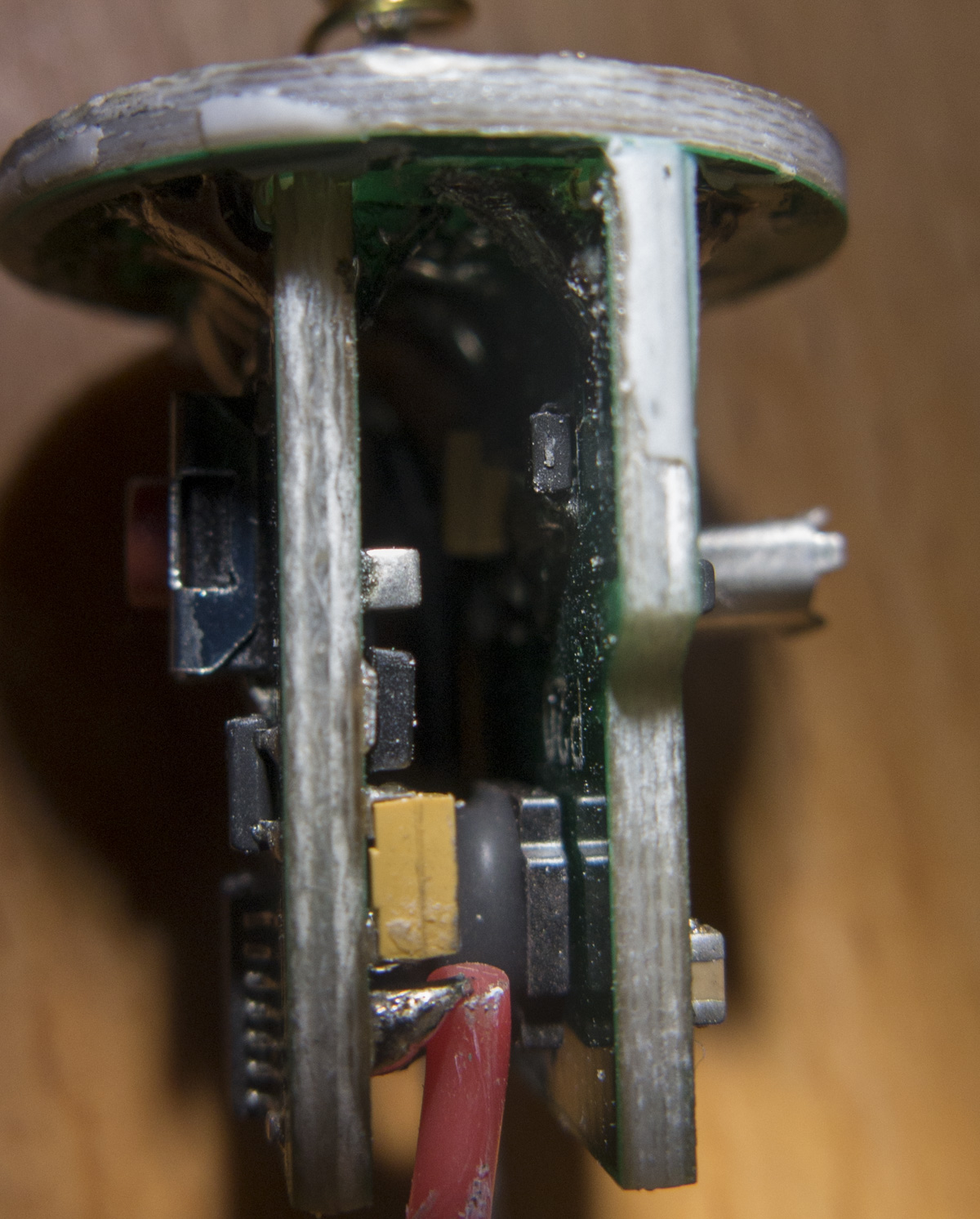 .
The Head
The light has a typical 1 inch head diameter and 18mm visible reflector, so the throw with a domed XML2 is not very high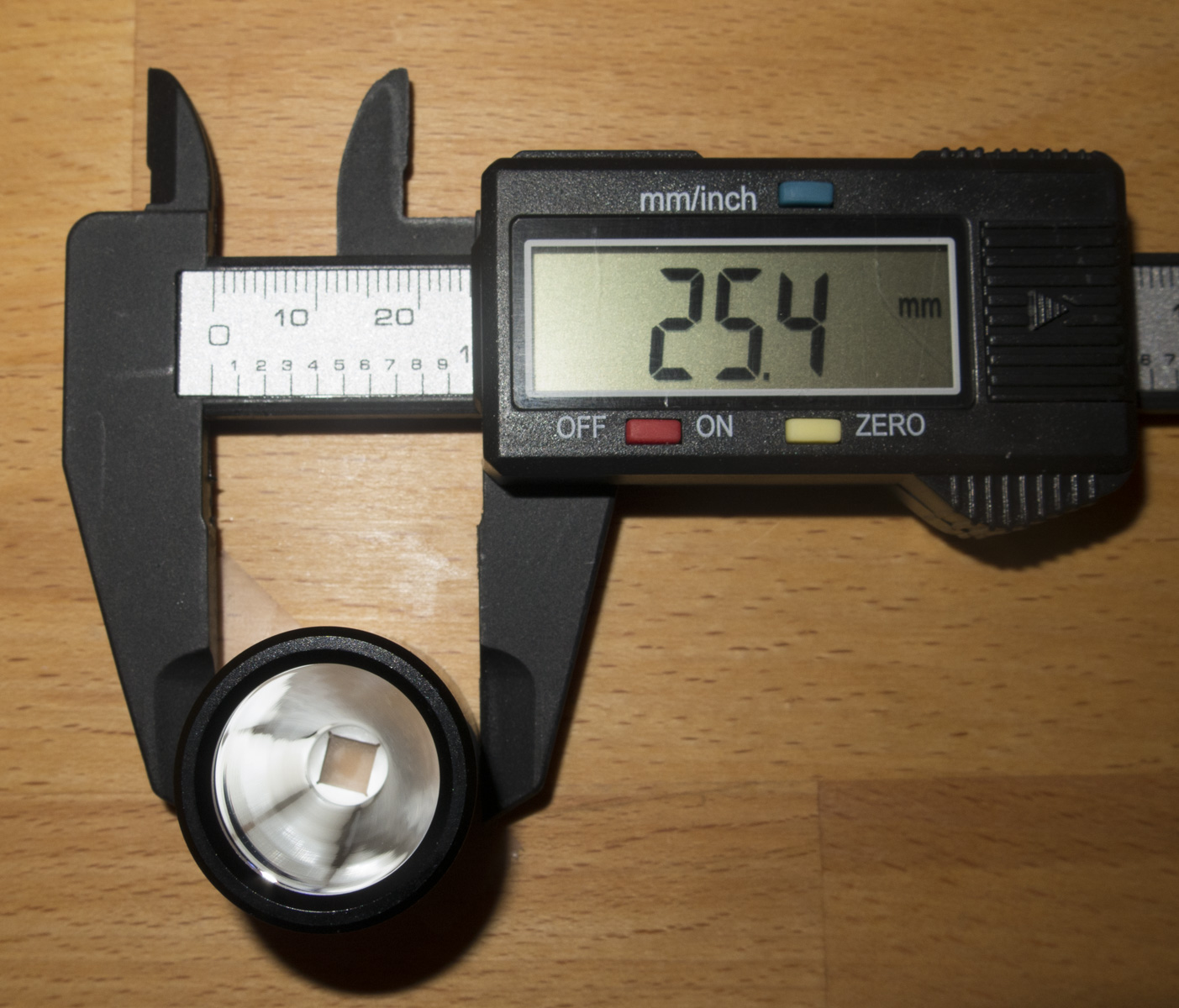 The reflector is screwed in the head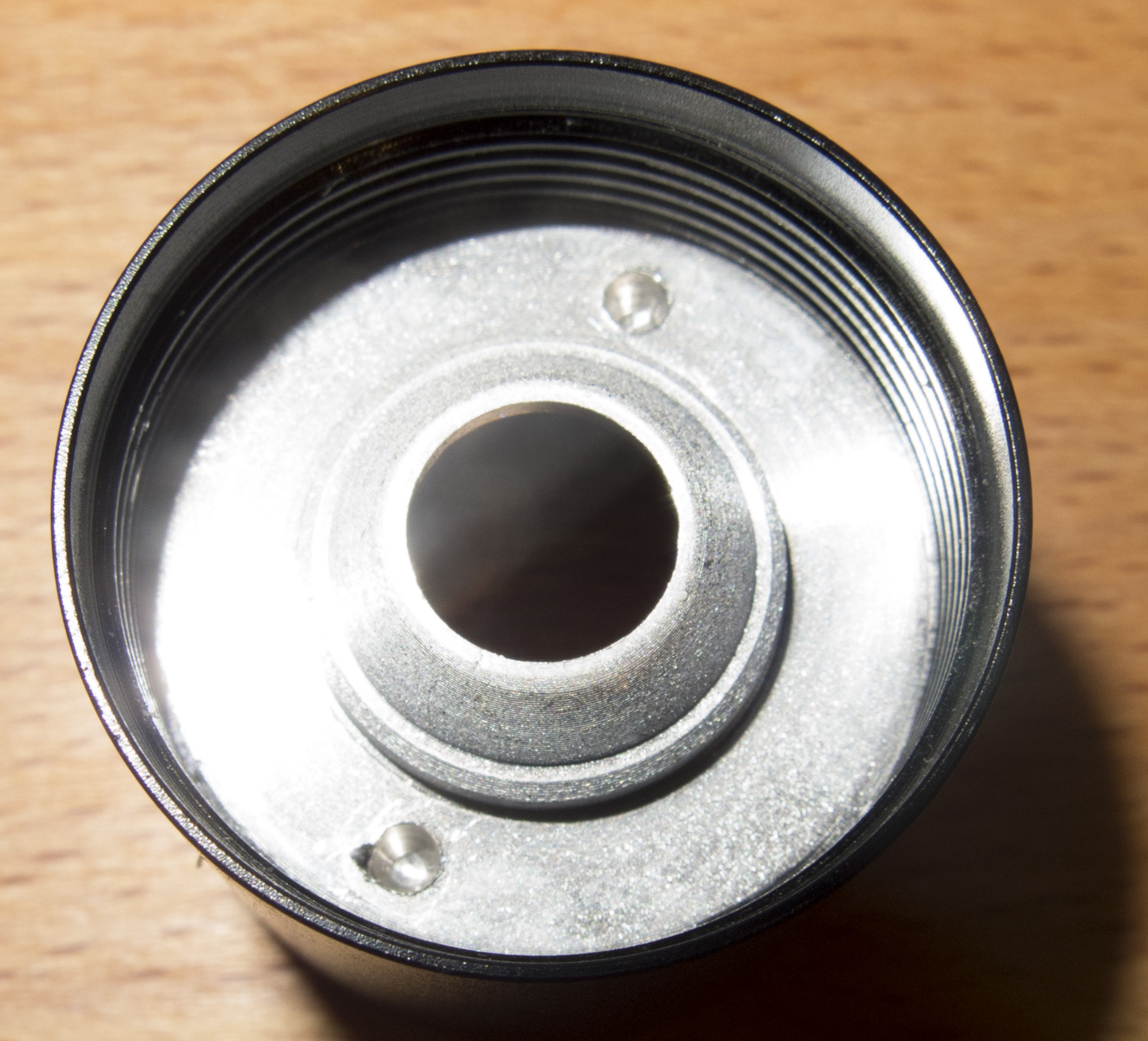 The driver board has a switch has a green and red LED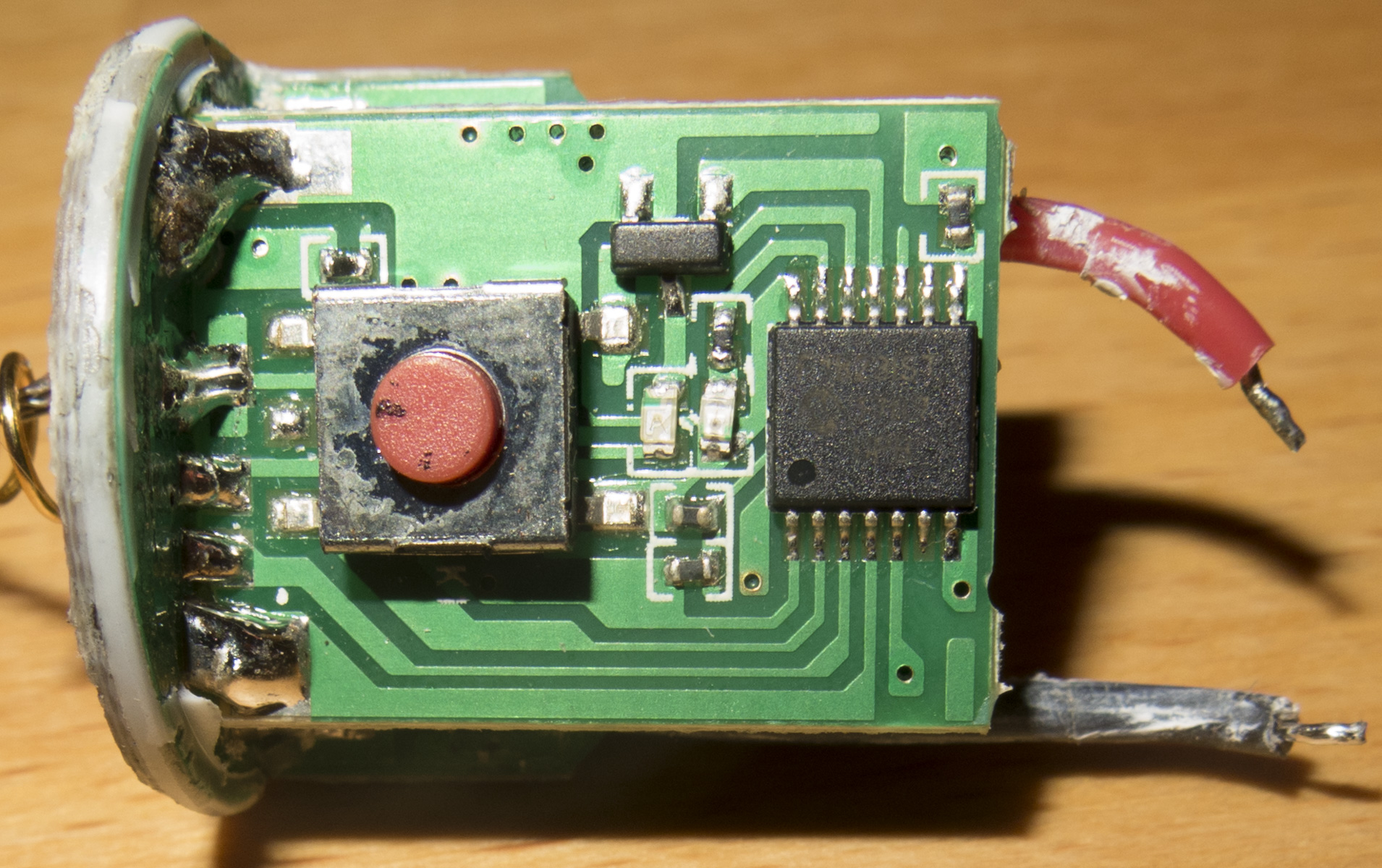 The shelf is 1.8mm thick and the 16mm big 1.8mm thick DTP copper MCPCB does a good job spreading the heat
.
The MCPCB is s true copper DTP, the back of it is bare copper
The LED is perfectly centered, but it has a big dirt particle on it most likely from burned flux on it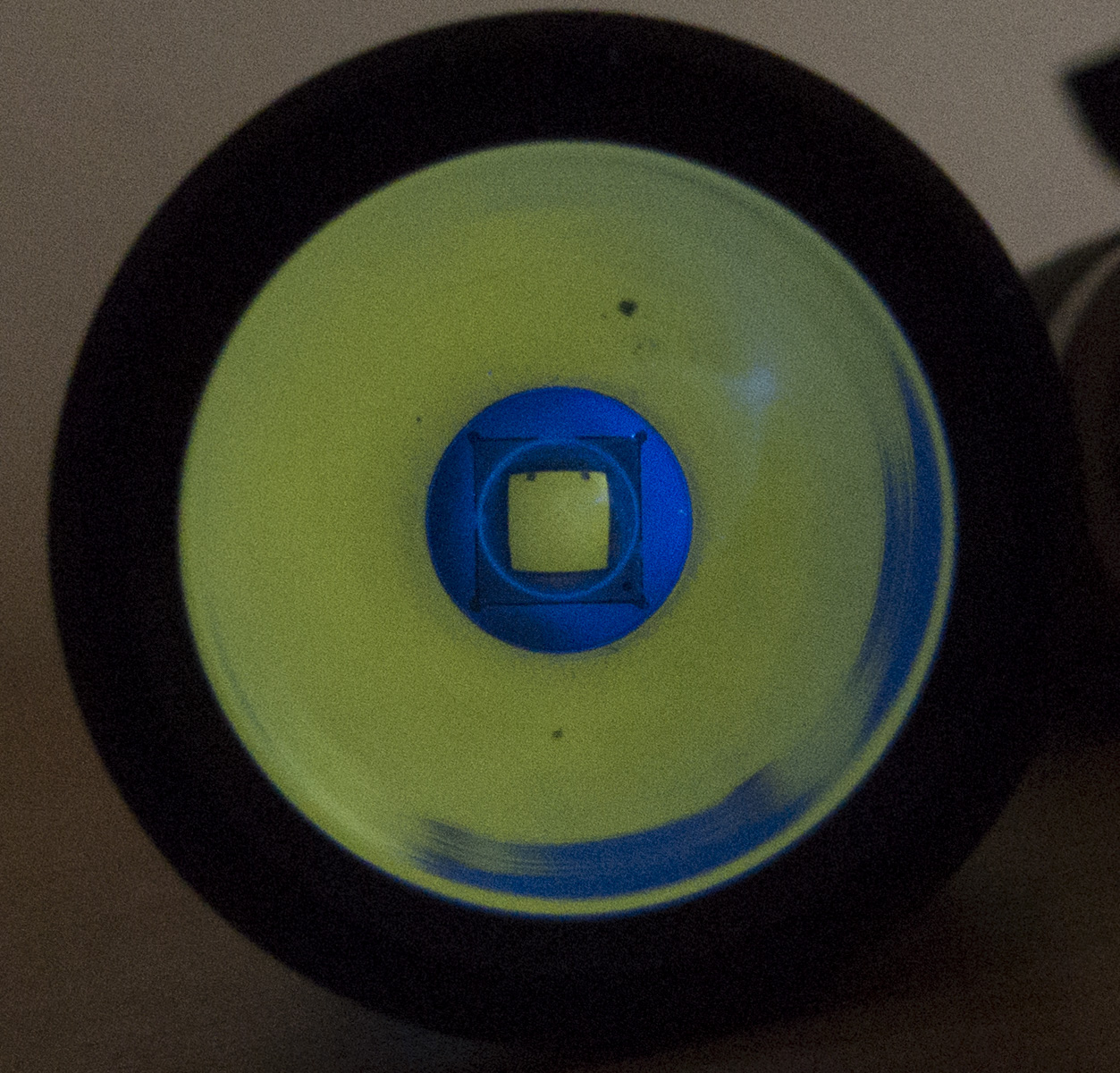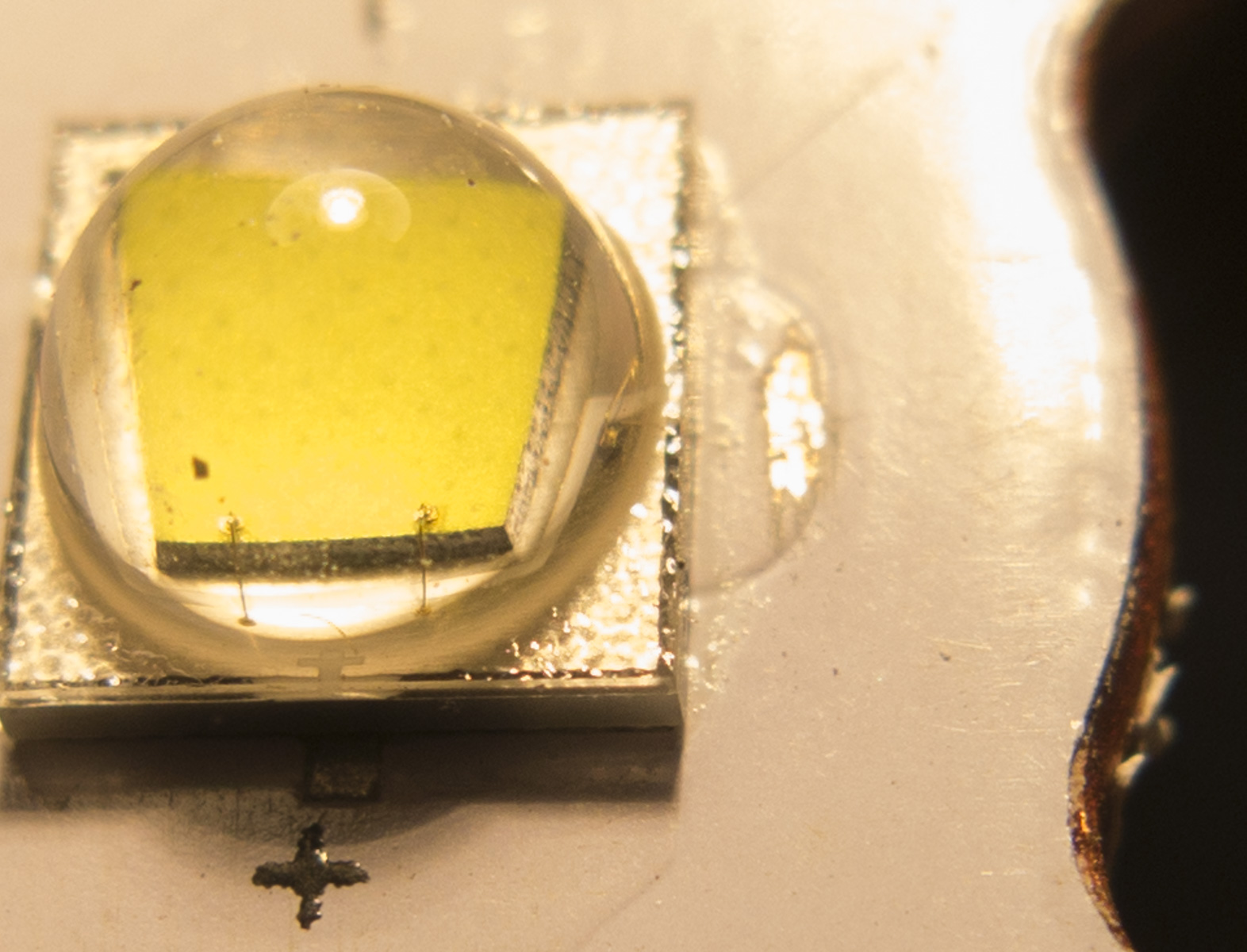 The light is waterproof, the tail cap, head and bezel threads are lubed with a good amount of lubricant and have o-rings
Only thing is they could have added some lubricant to the bezel o-ring

The lens is hardened AR coated glass
The USB cover sits pretty tight and seals the light, it can't come loose by accident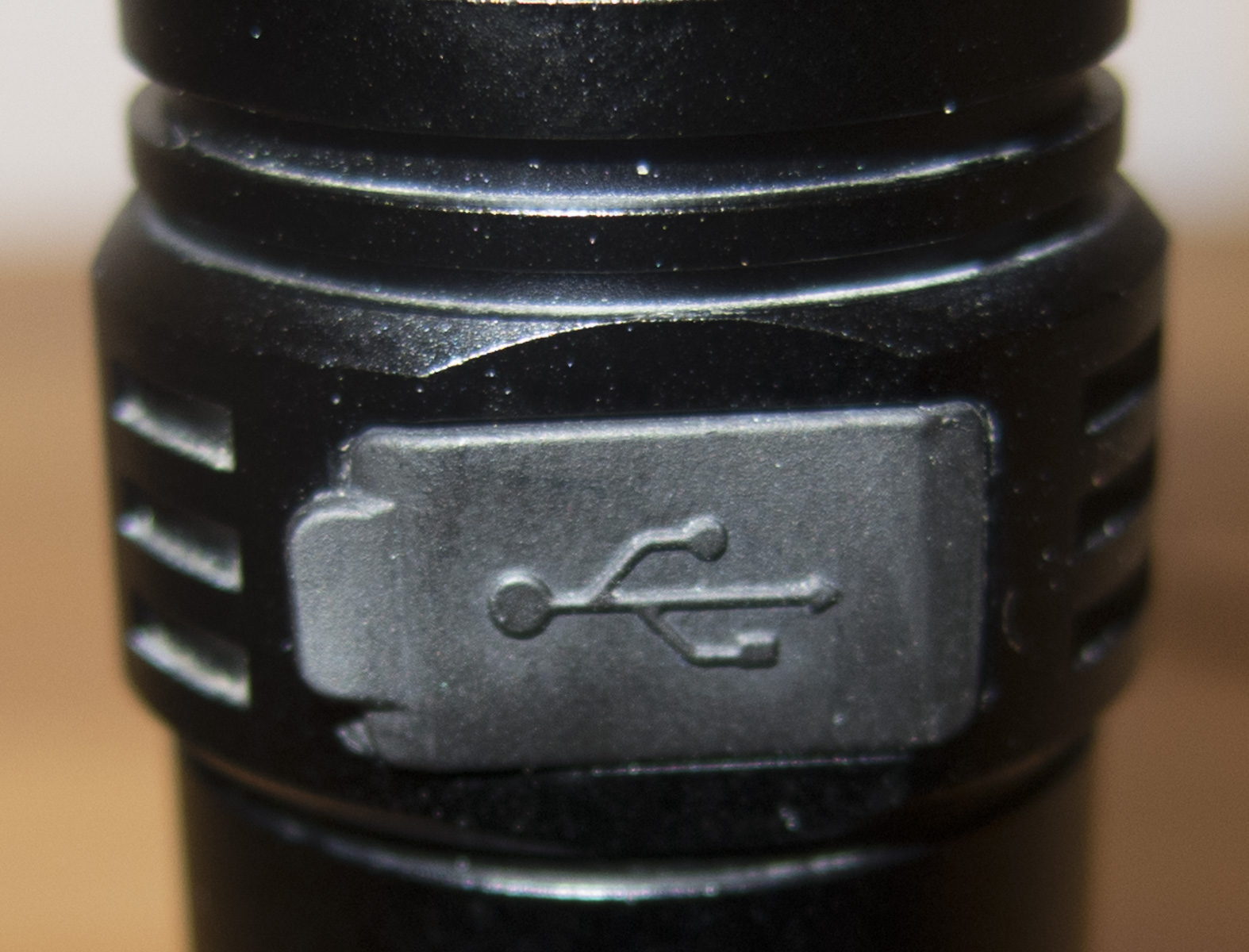 The switch is kind of annoying you press it over 1mm and nothing happens, press it further then it clicks, it's a bit strange the retaining ring can be screwed in deeper then the switch feeling gets better, but still the button does not sit centered on the switch so the switch tilts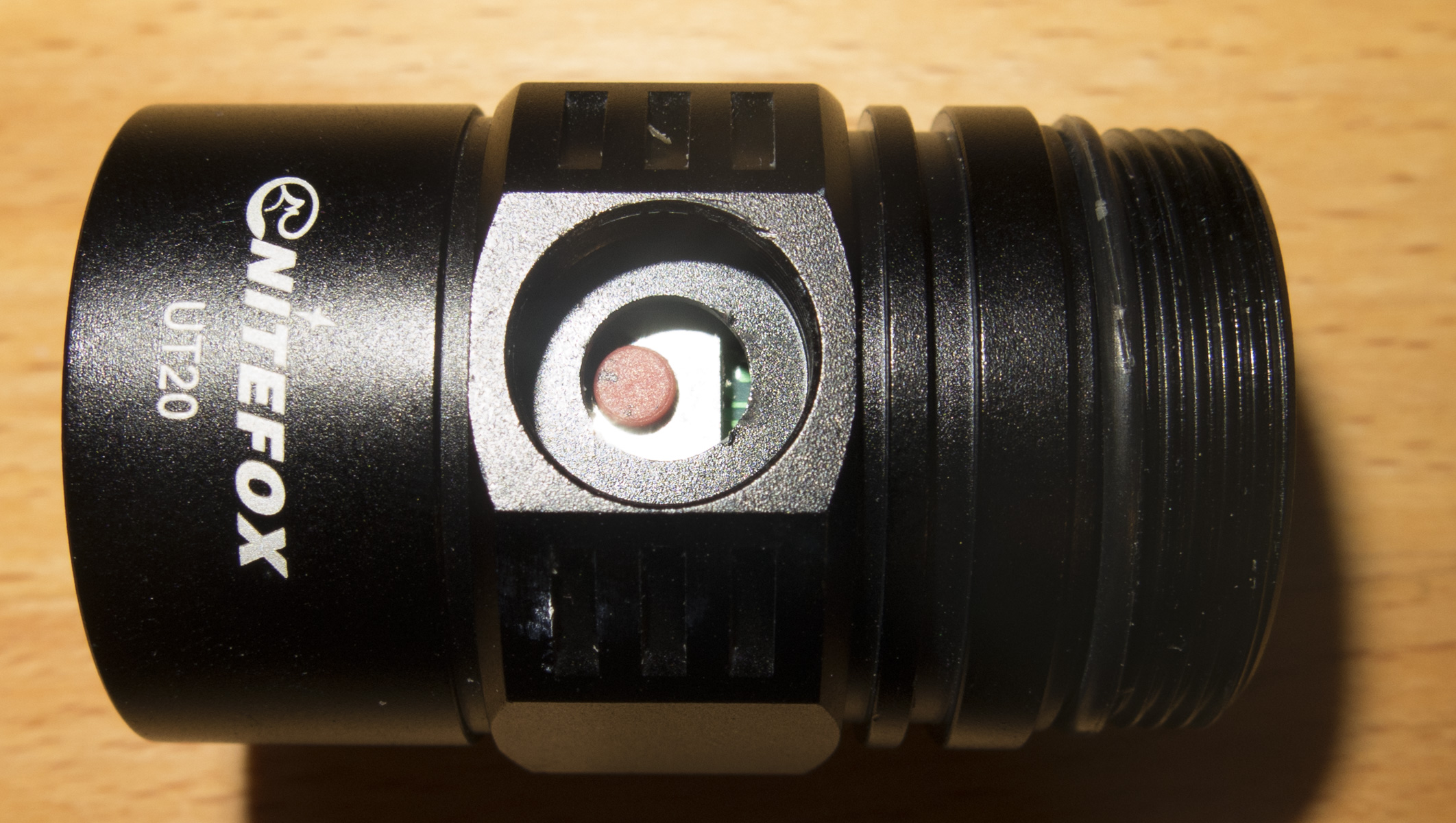 .
Tube and Tail
The tail cap is anodized and the inner section is machined, the tail PBC contains a switch and stiff thick steel spring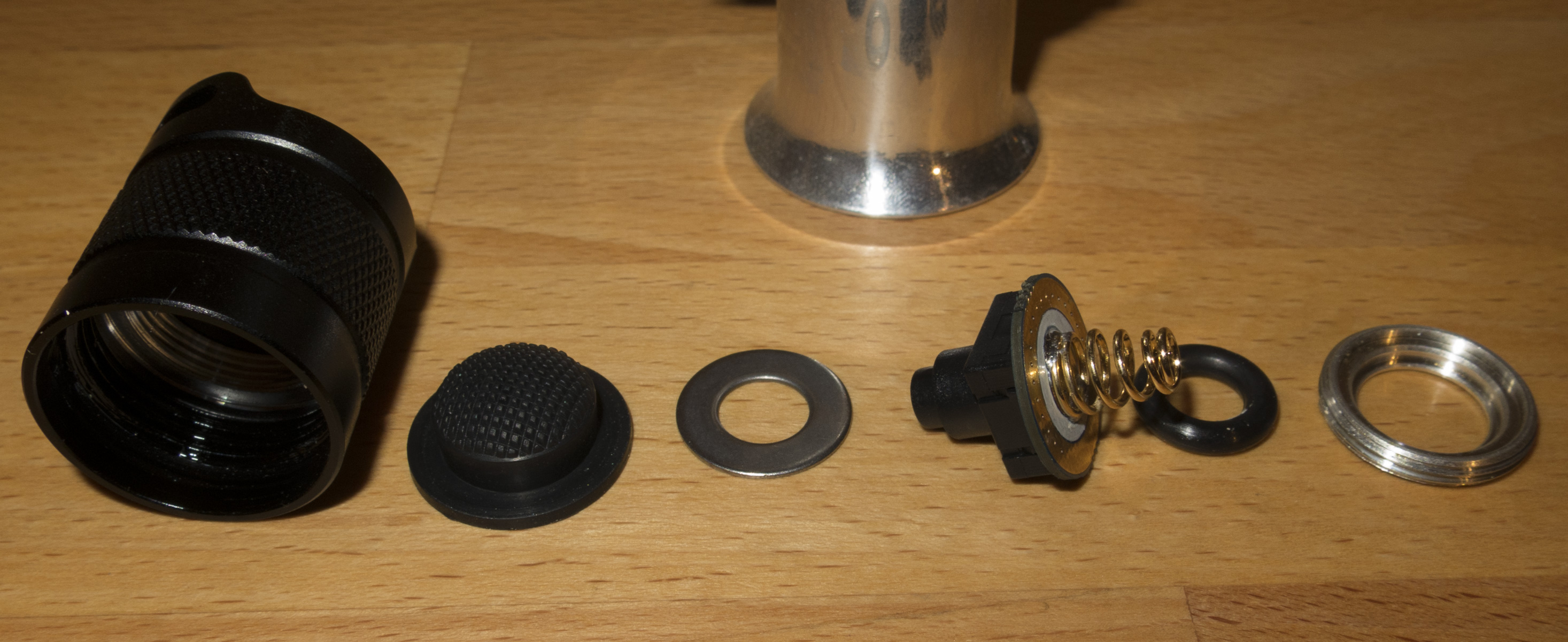 The retaining ring is smaller that the tube, so it can't get loose when you screw the tail cap often loose and tight, to prevent from accidently shorts with the spring there is a o-ring around it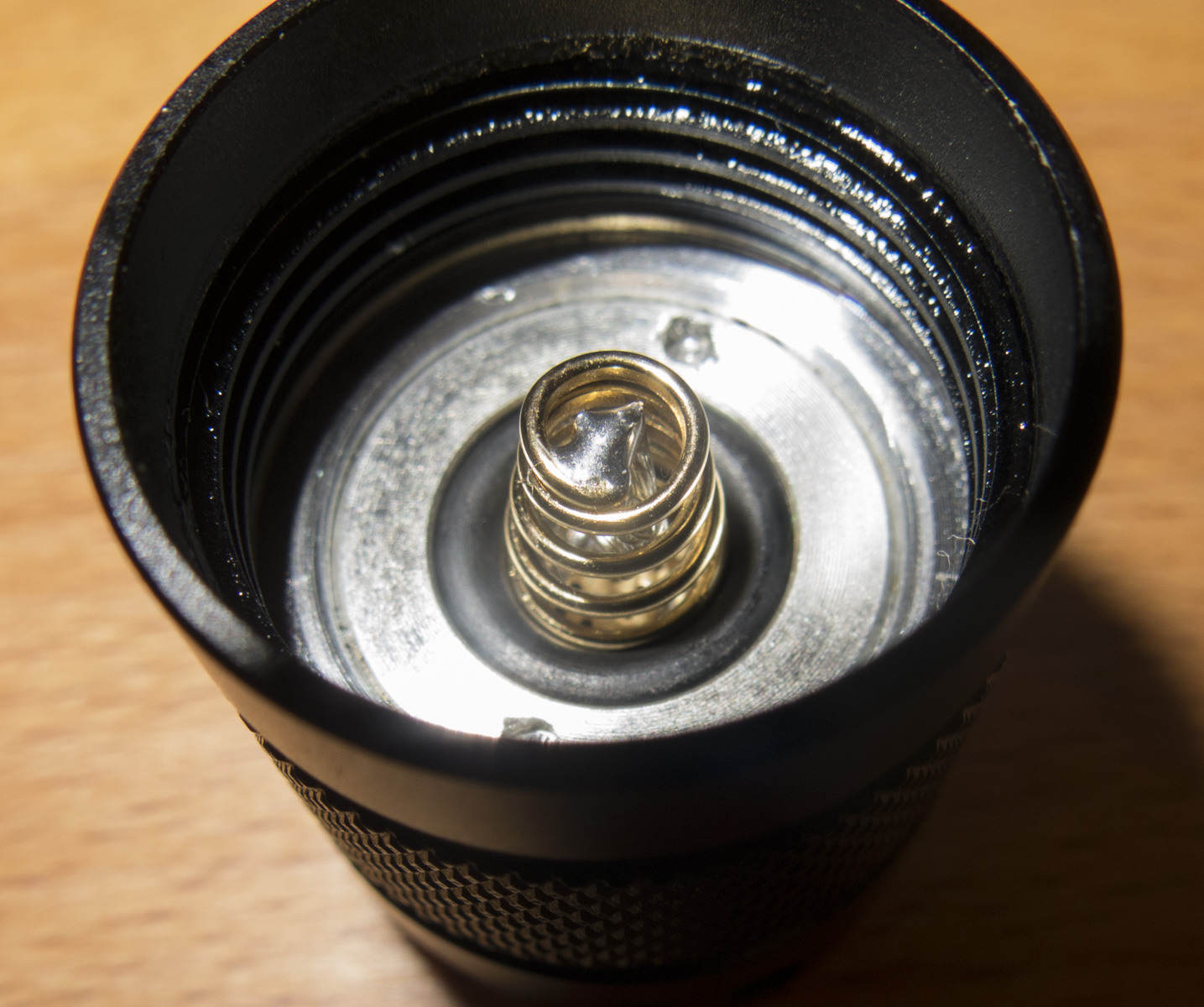 Both ends have a spring made from steel and gold plated
the light uses a short soft spring on the driver and a long stiff in the tail cap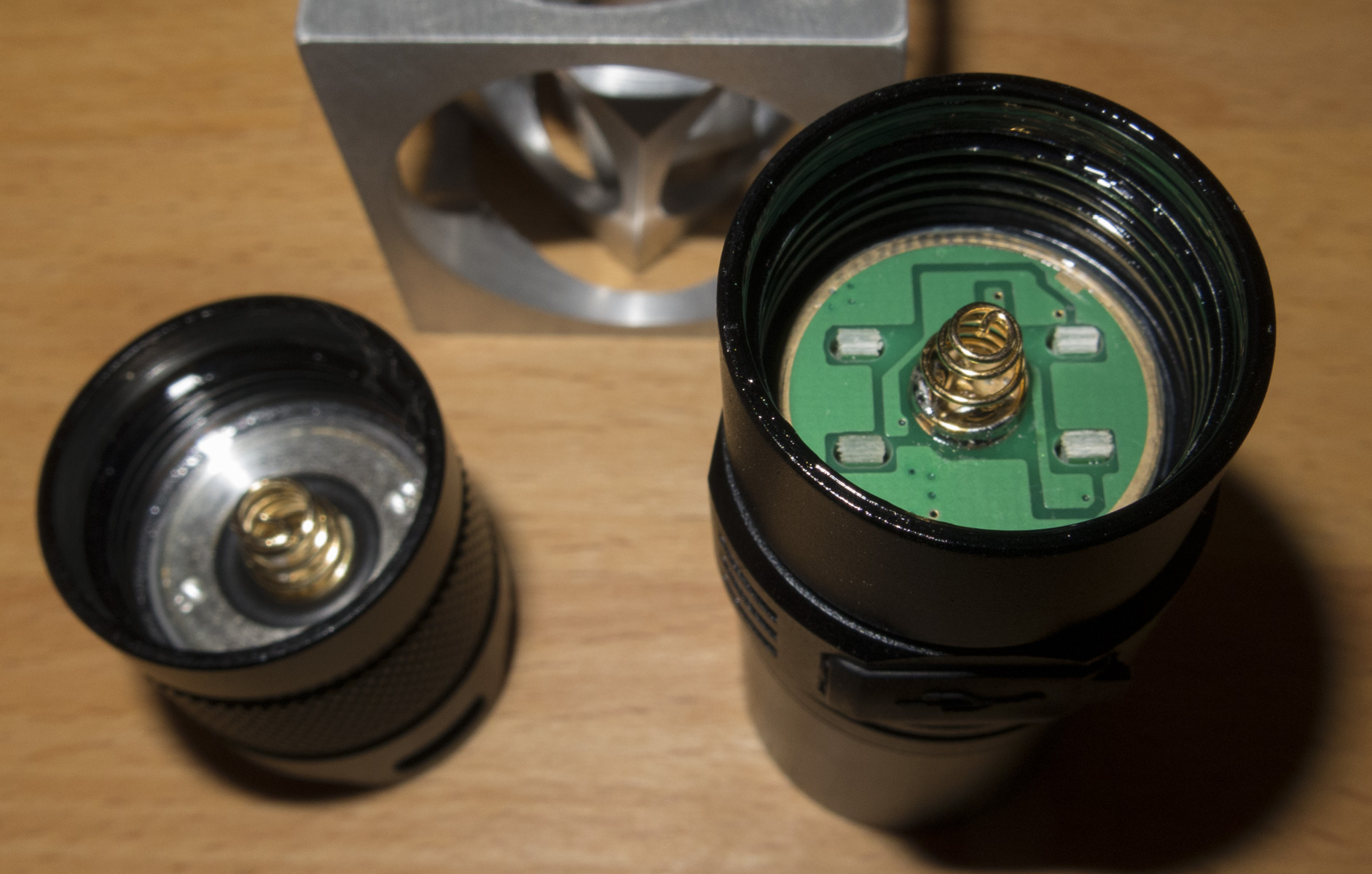 the tube is build for 1 18650 battery protected or unprotected
with unprotected flat tops the spring force is good, no rattling
The tube threads are square cut and fit nicely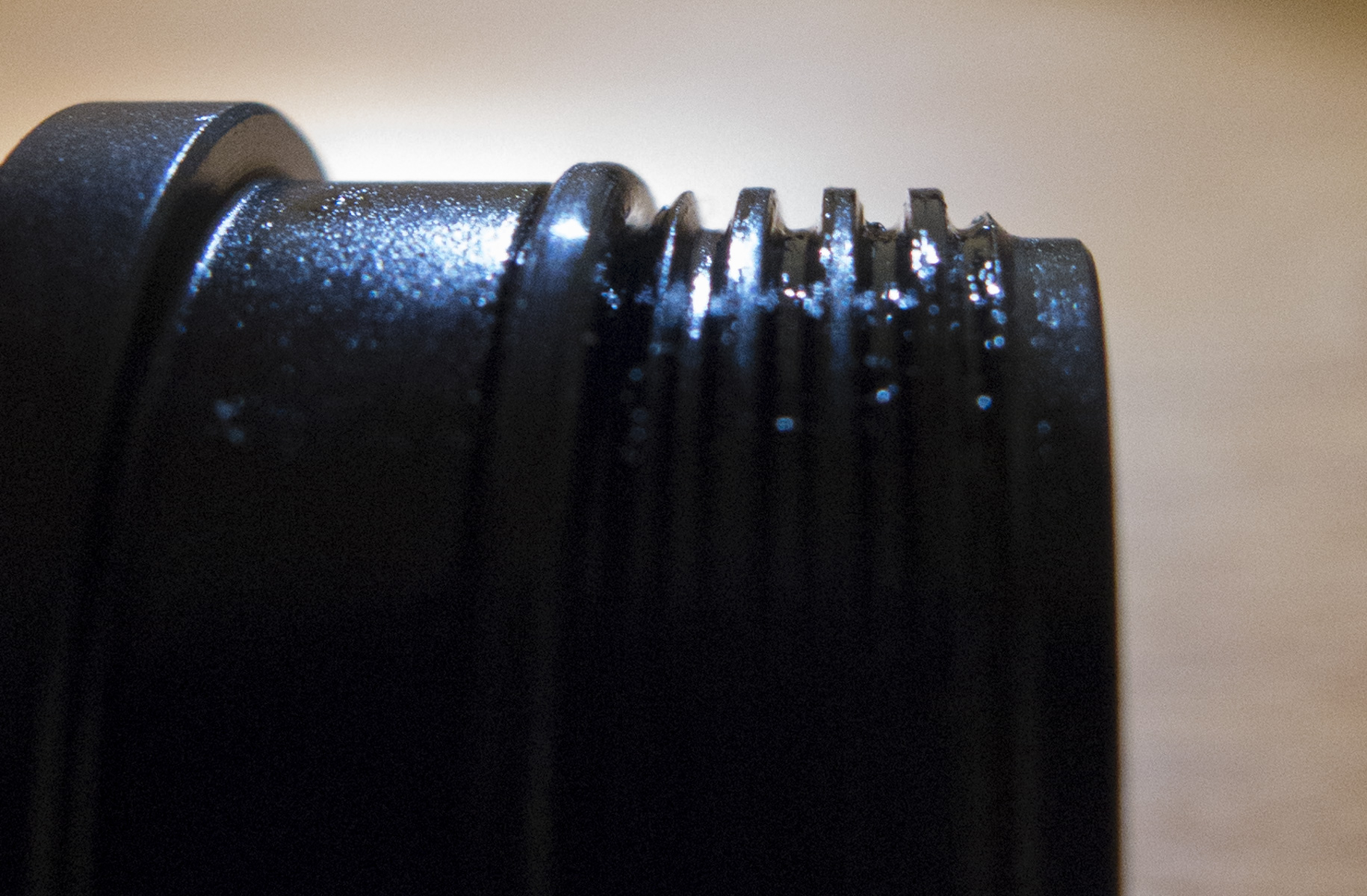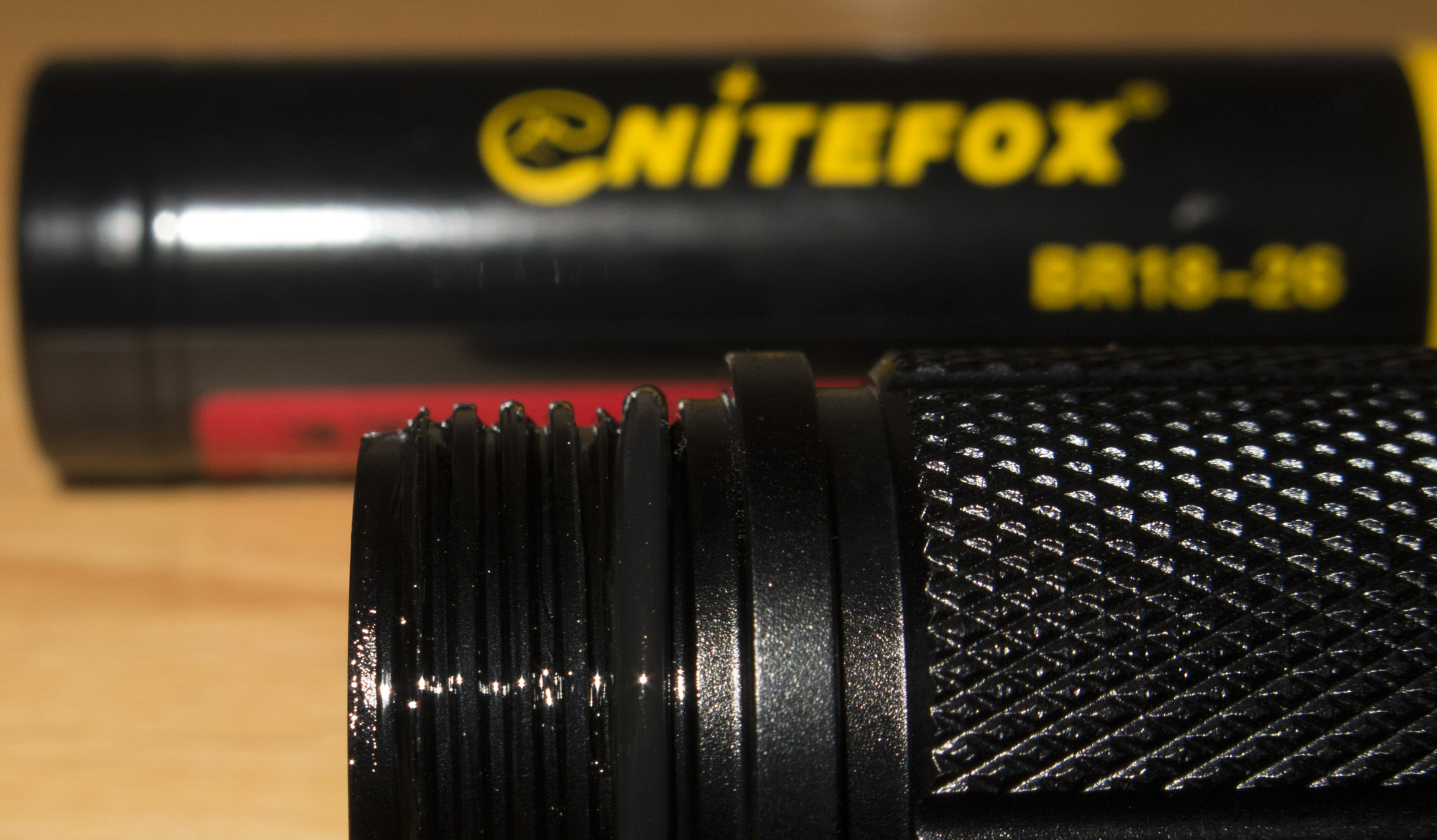 When reassembling the light it sheared the LED wires off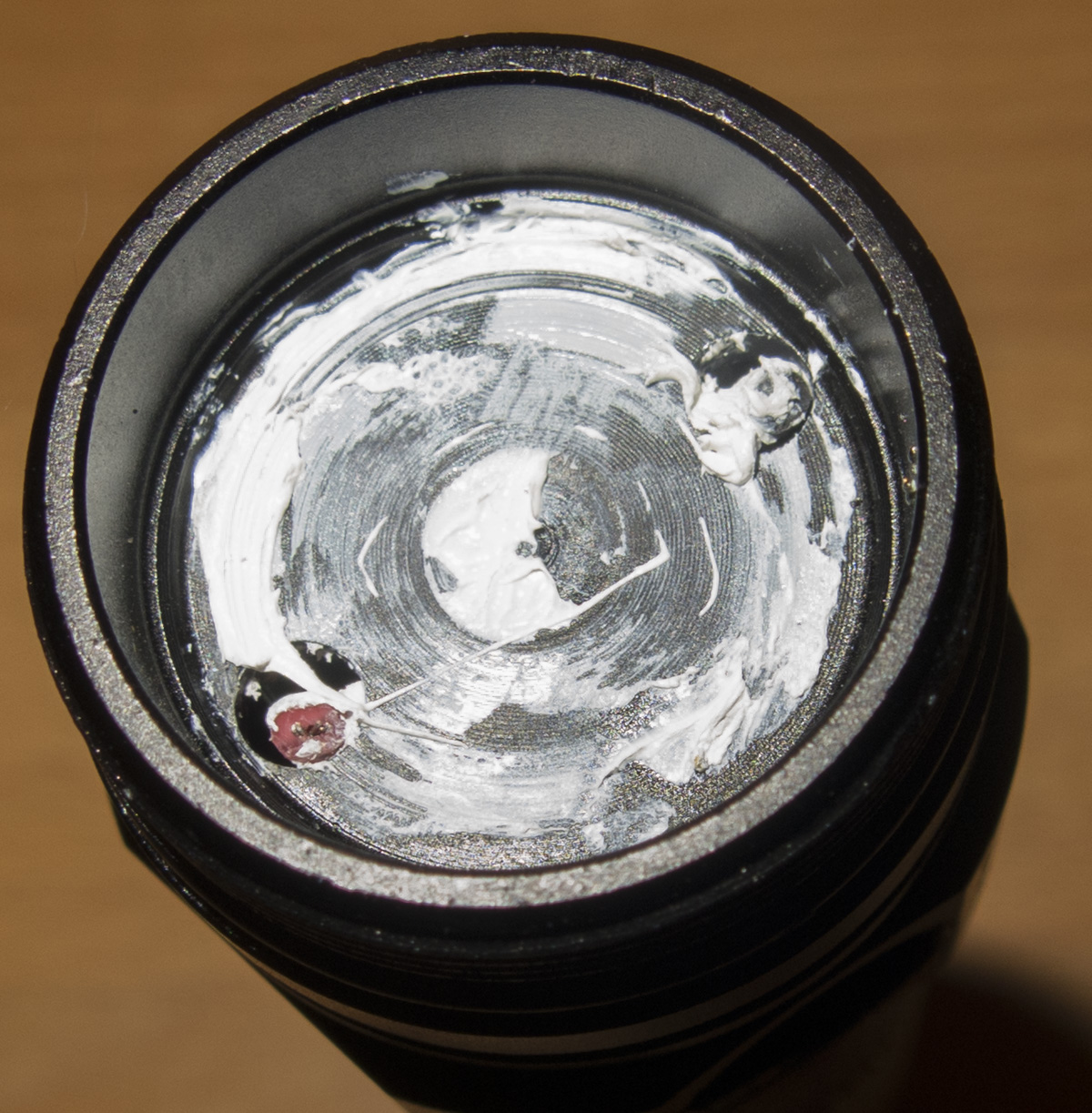 .
Driver and Battery
MCU switch and green+red LEDs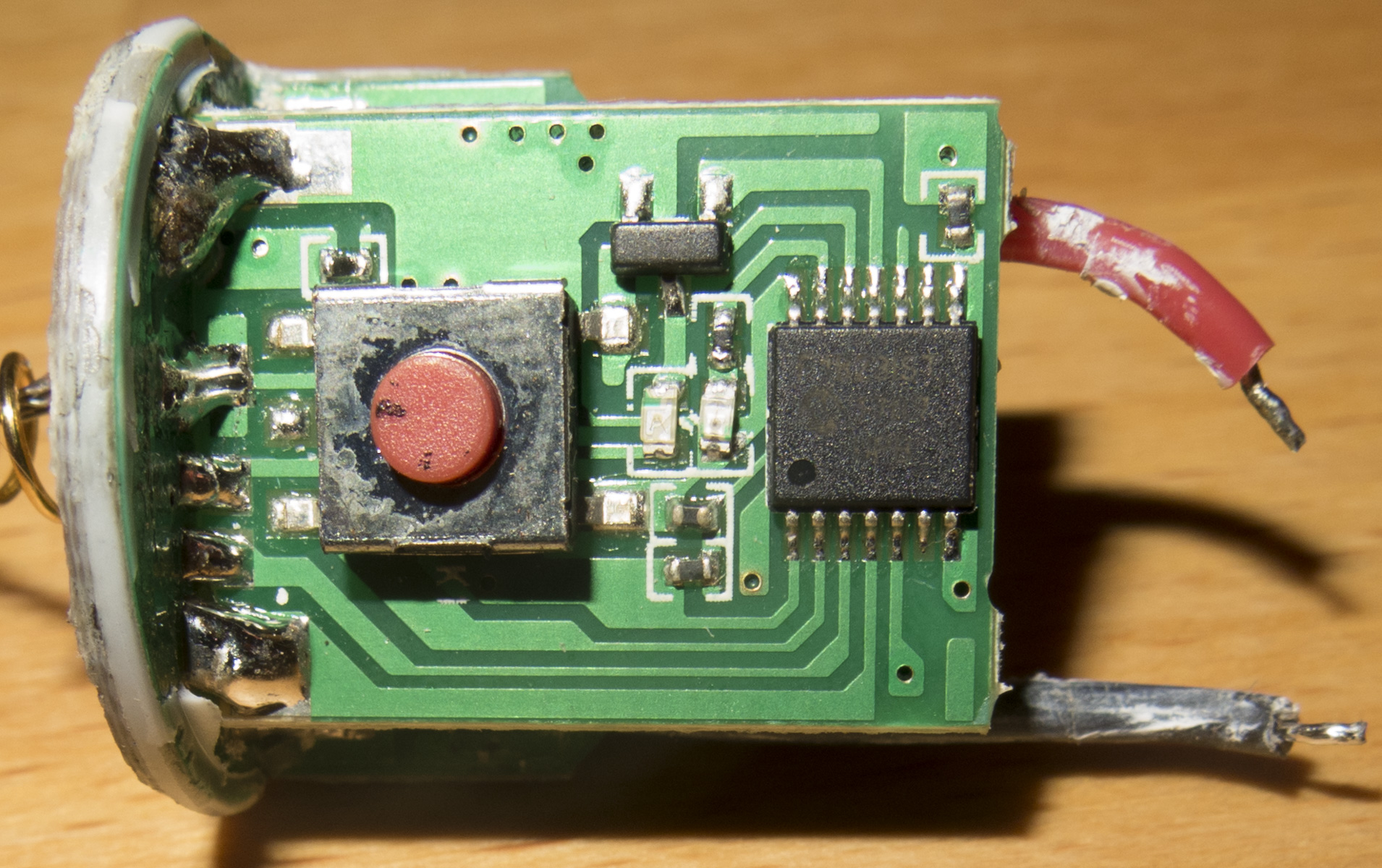 The inductor of the buck converter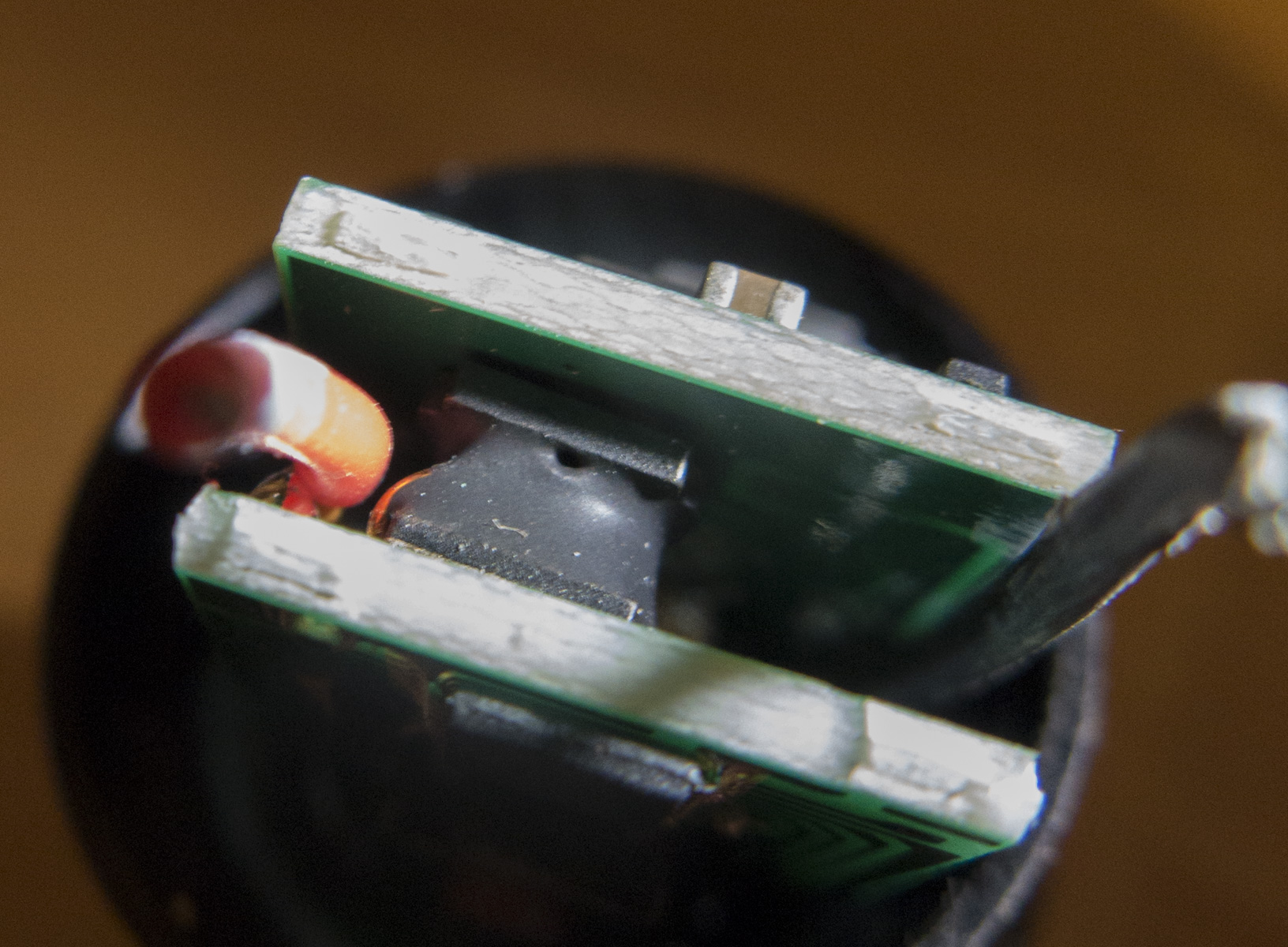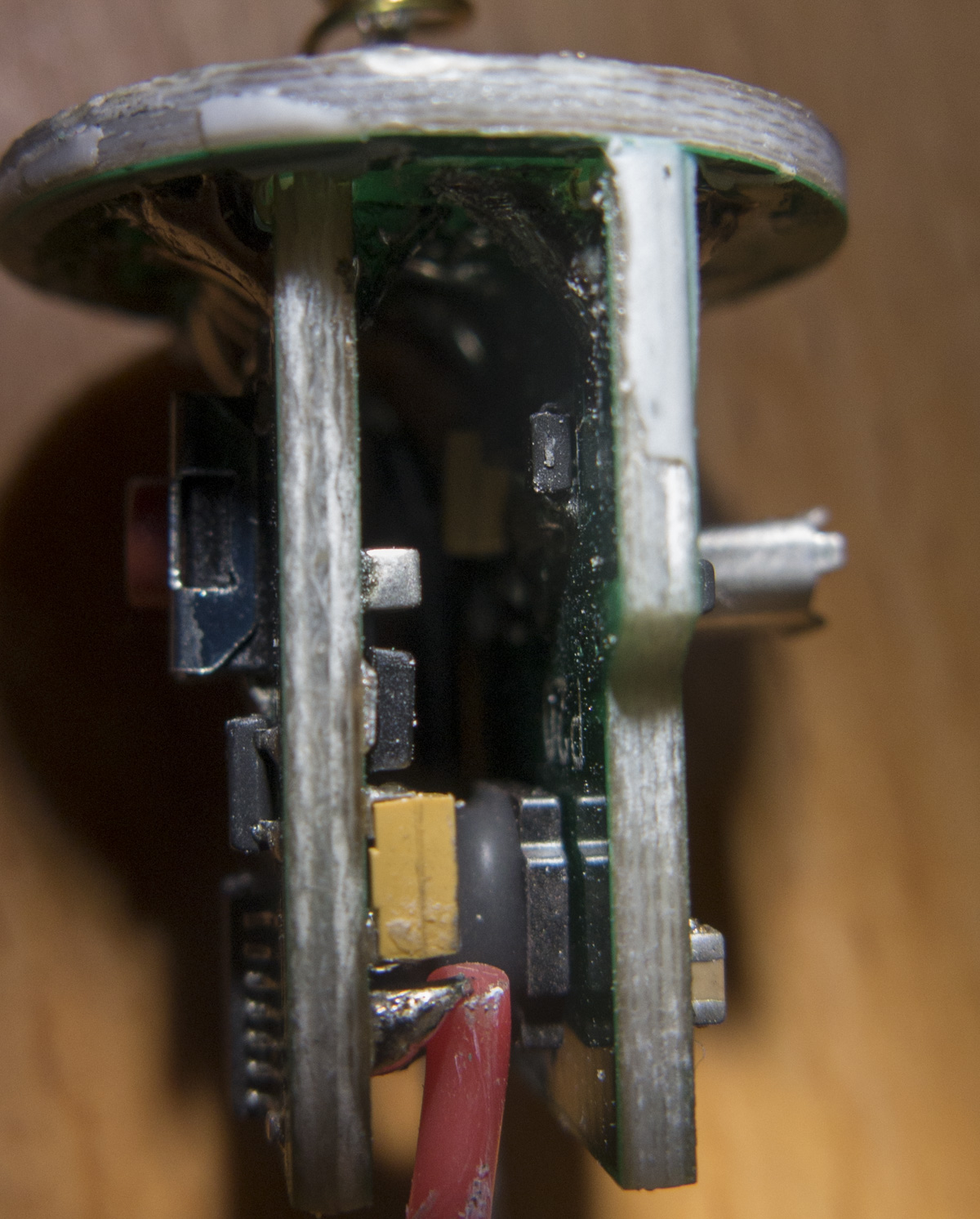 The light has a some mass to absorb and spread heat, it gets 46°C hot when turned on at highest mode, it has unfortionately a timed stepdown, which ramps the brightness down to medium mode
with DTP star this light could run constantly on highest level without a problem
The mode spacing is good, the moonlight has about 0.25 lumen
.
Battery current and lux measurement
measured 480 Lux @5m
12000 Lux @1m
Moonlight 10mA 25 Lux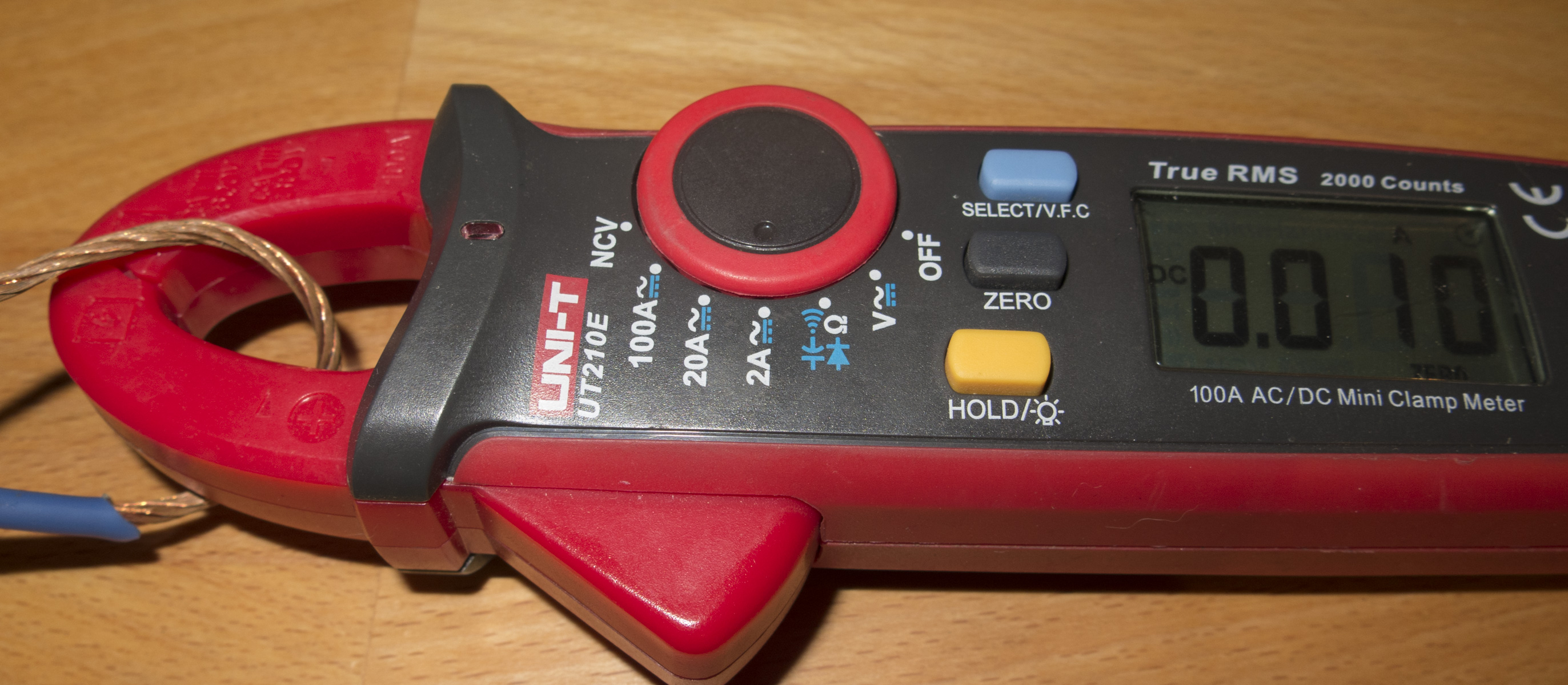 10mA is with the green side switch LED on, if its turned off it goes down to 7mA, still that is not a very accurate measurement with a clamp meter
low 163mA 10,600 Lux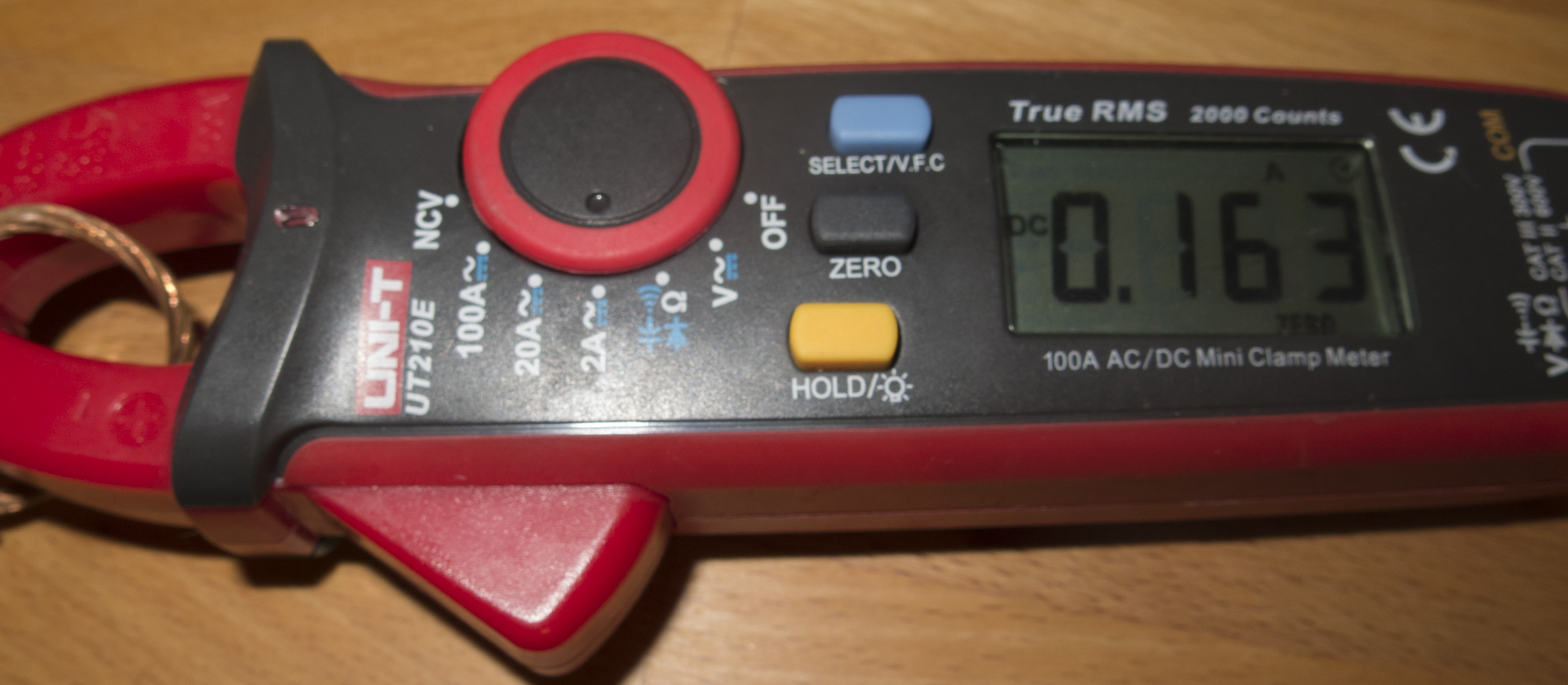 mid 0.8A 34,400 Lux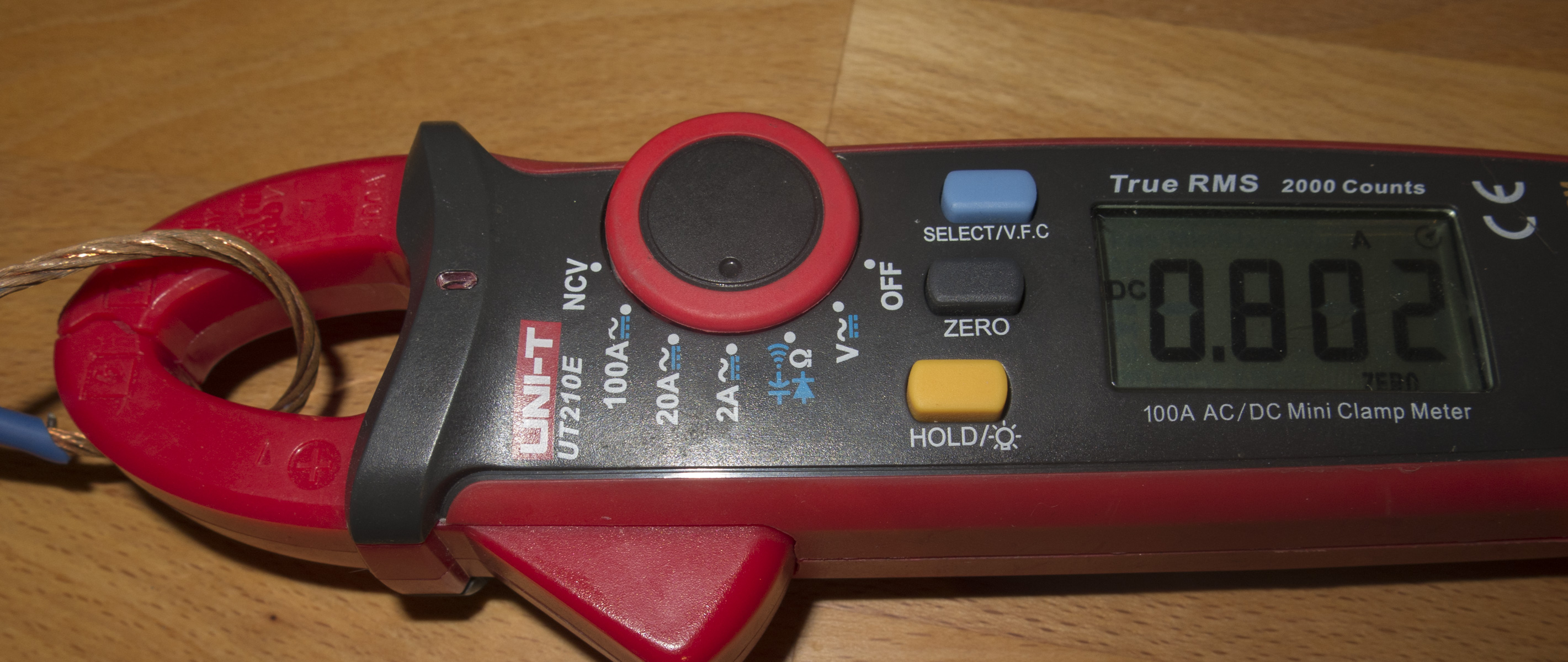 high 3.25A 109,400 Lux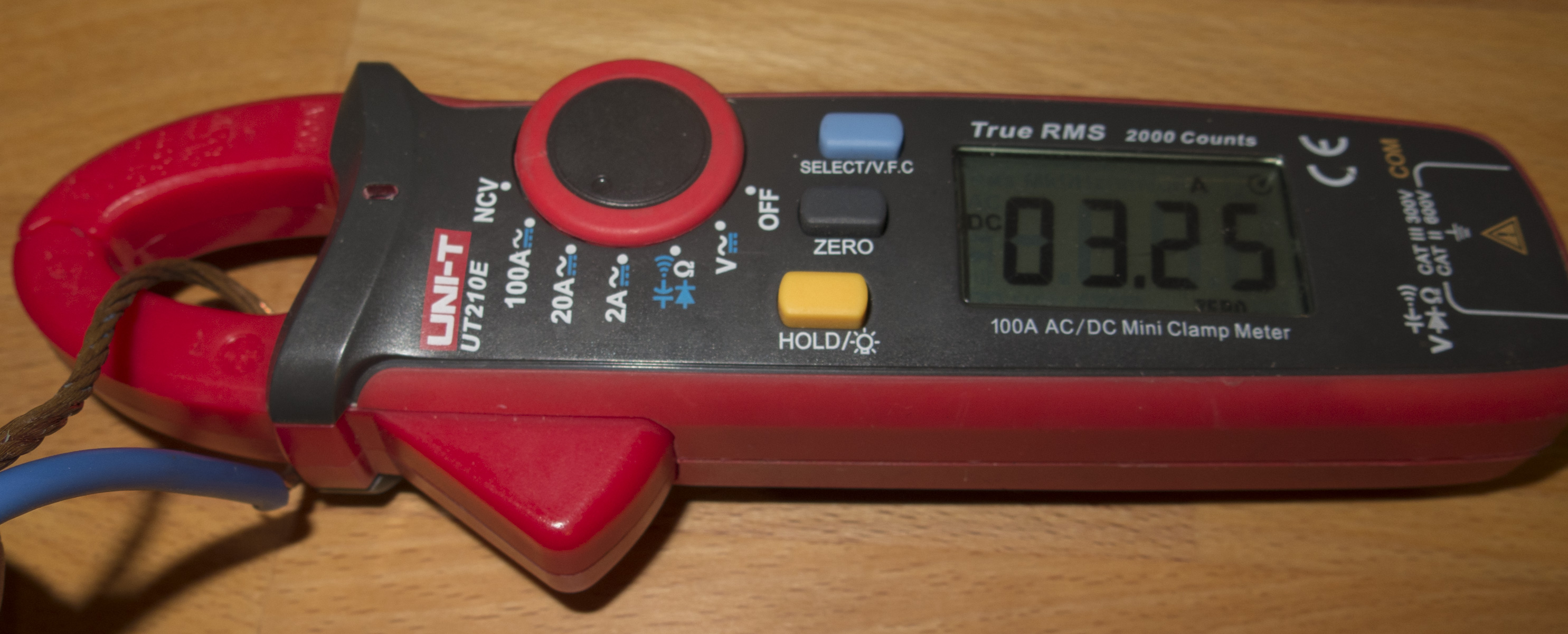 LED current:
Moon 1mA
Low 200mA
Med 0.98A
High 3.25A
The side switch status LED shows the battery level greater than 20%
red when 10-20%
flash red below10%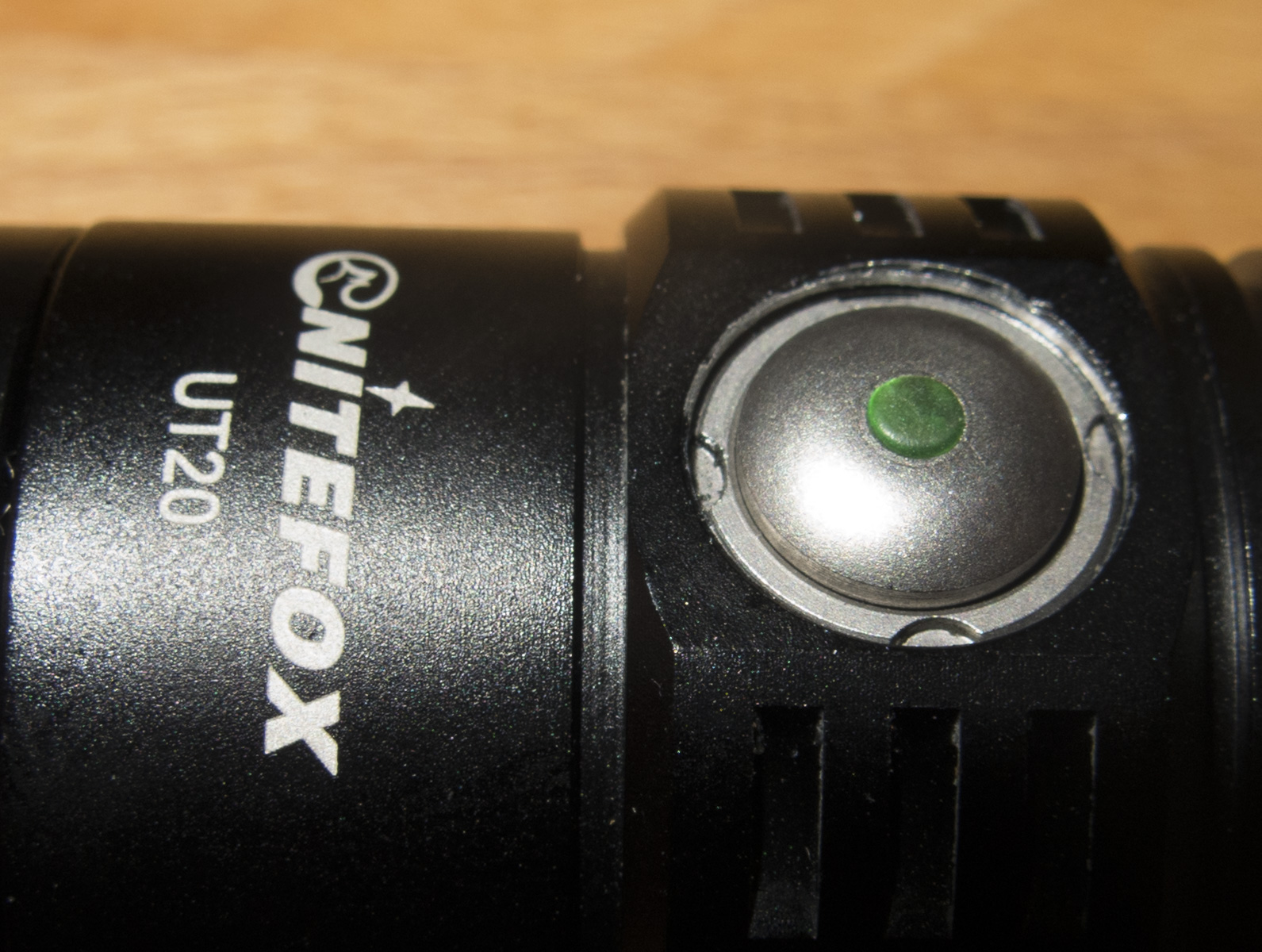 The battery has a PCB on the positive end, so no conductor needed to go at the side of the battery

the positive button top is gold plated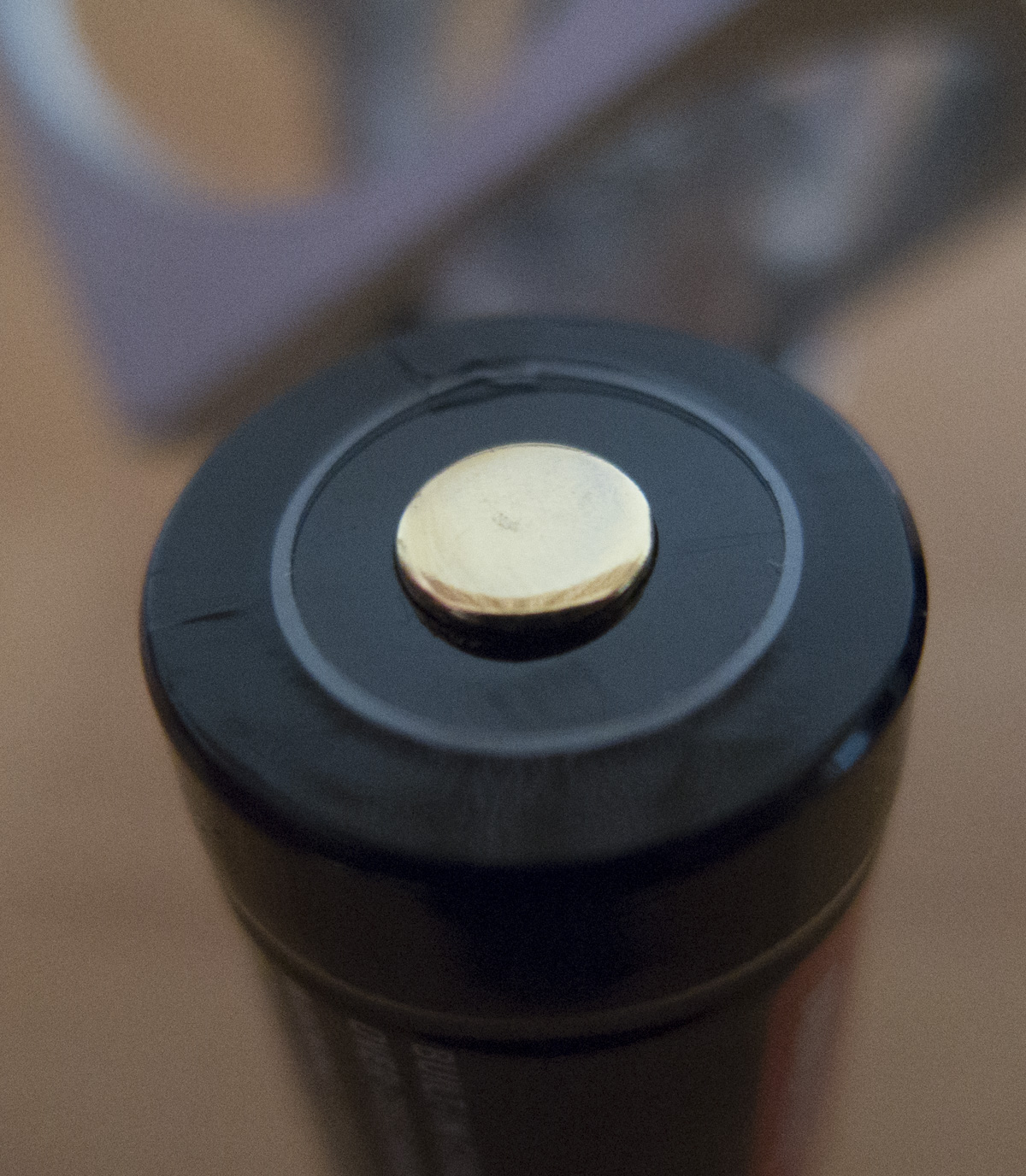 the PCBs LVP trips at 2.65V
The supplied battery has 2626mAh with 1.5A discharge to 3V and shows 117mOhms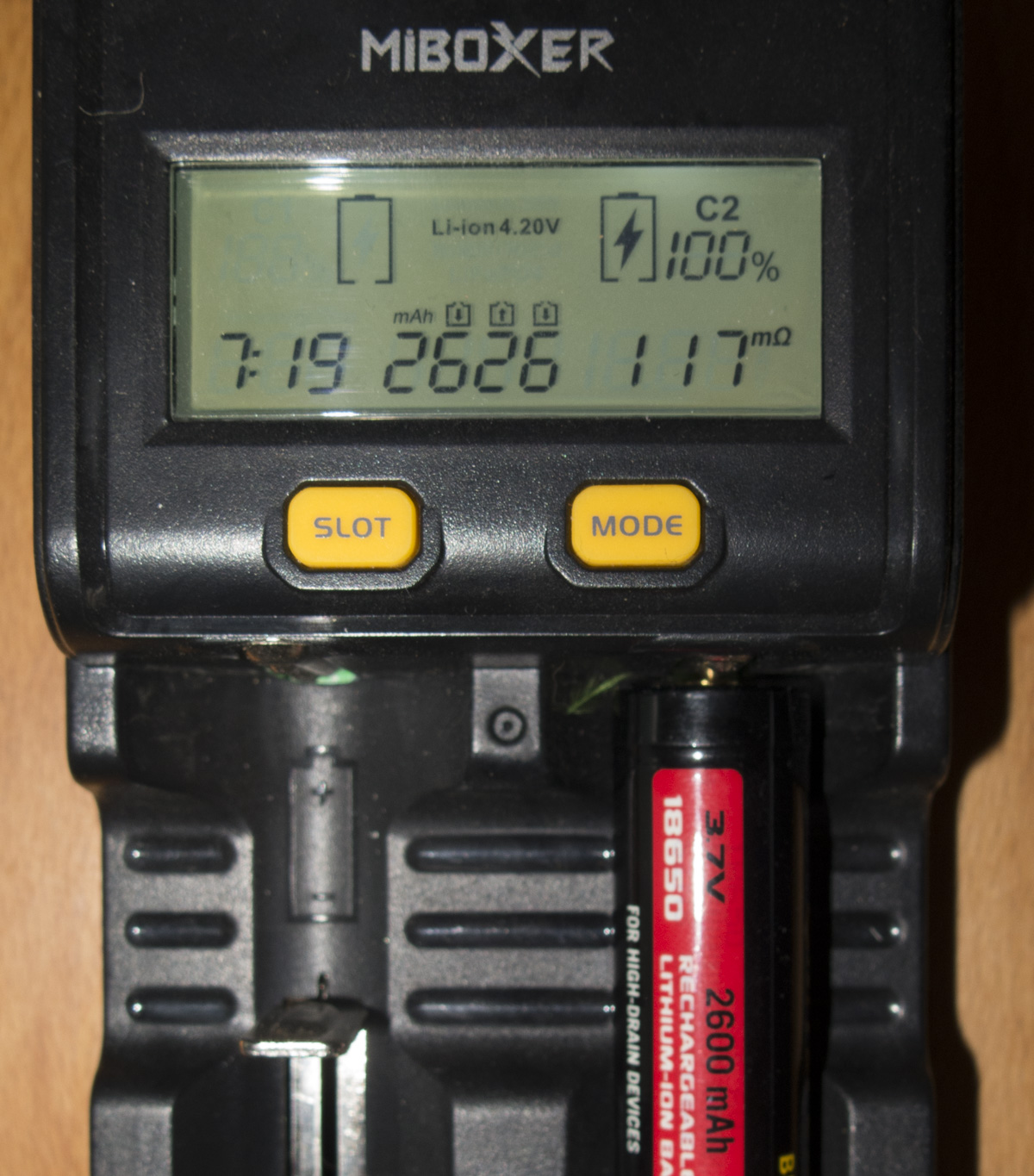 Modding:
First thing was to bypass the springs on the driver and tail cap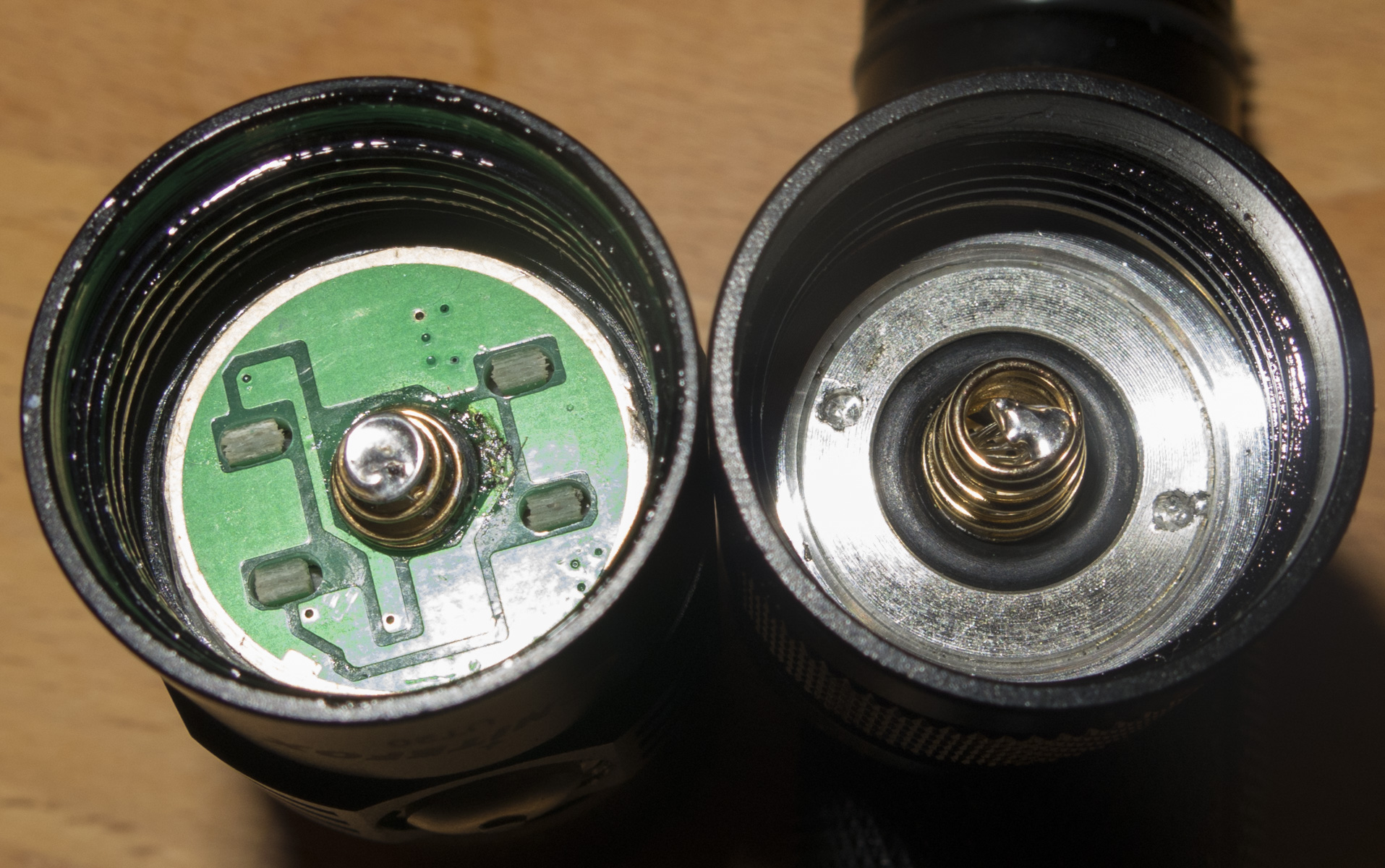 After the LED wires sheared off assembling the light again I cut a thread and used a screw to stop the MCPCB from rotating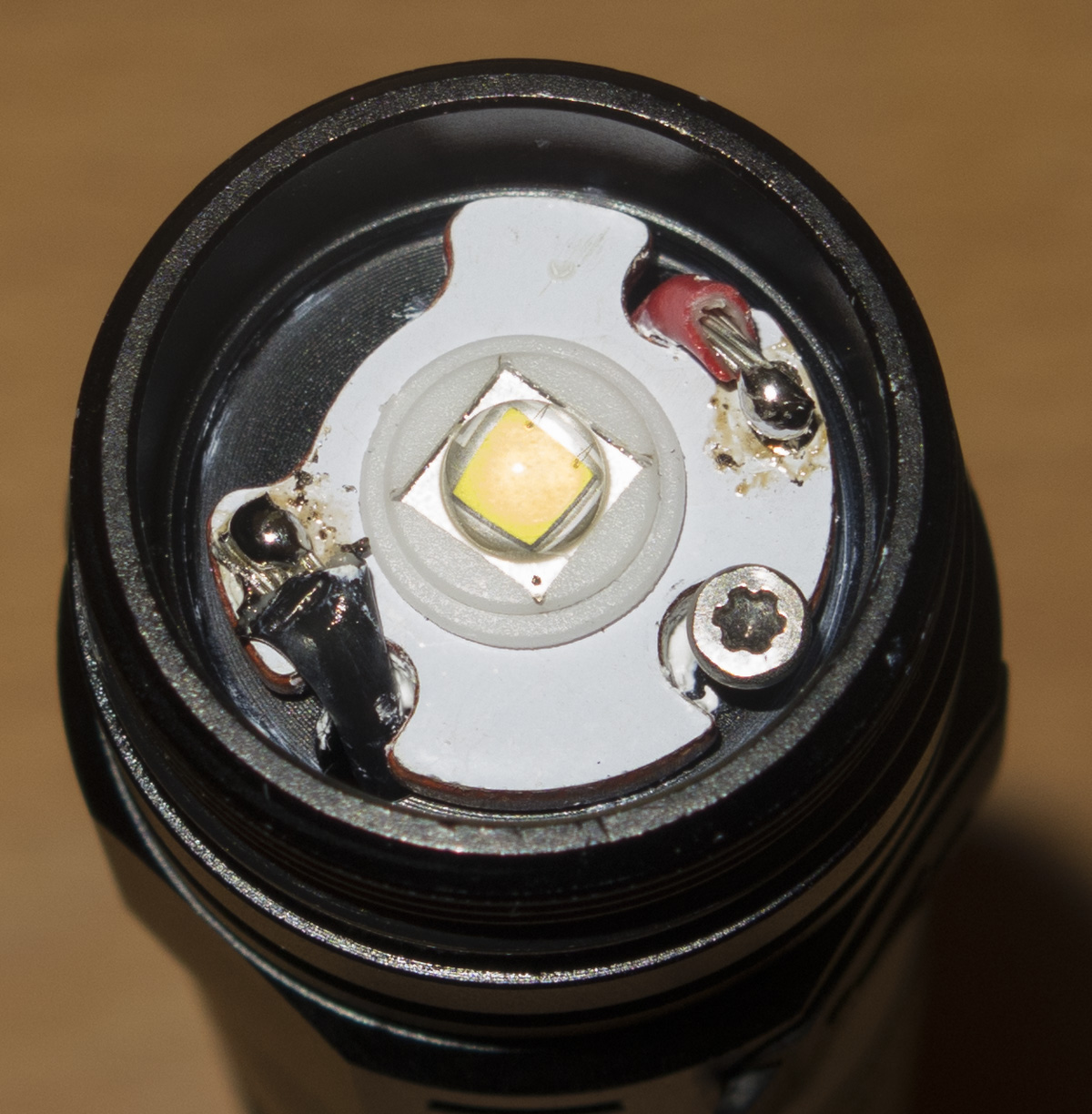 Beam shots
about 2m from Light to ceiling
Nitefox UT20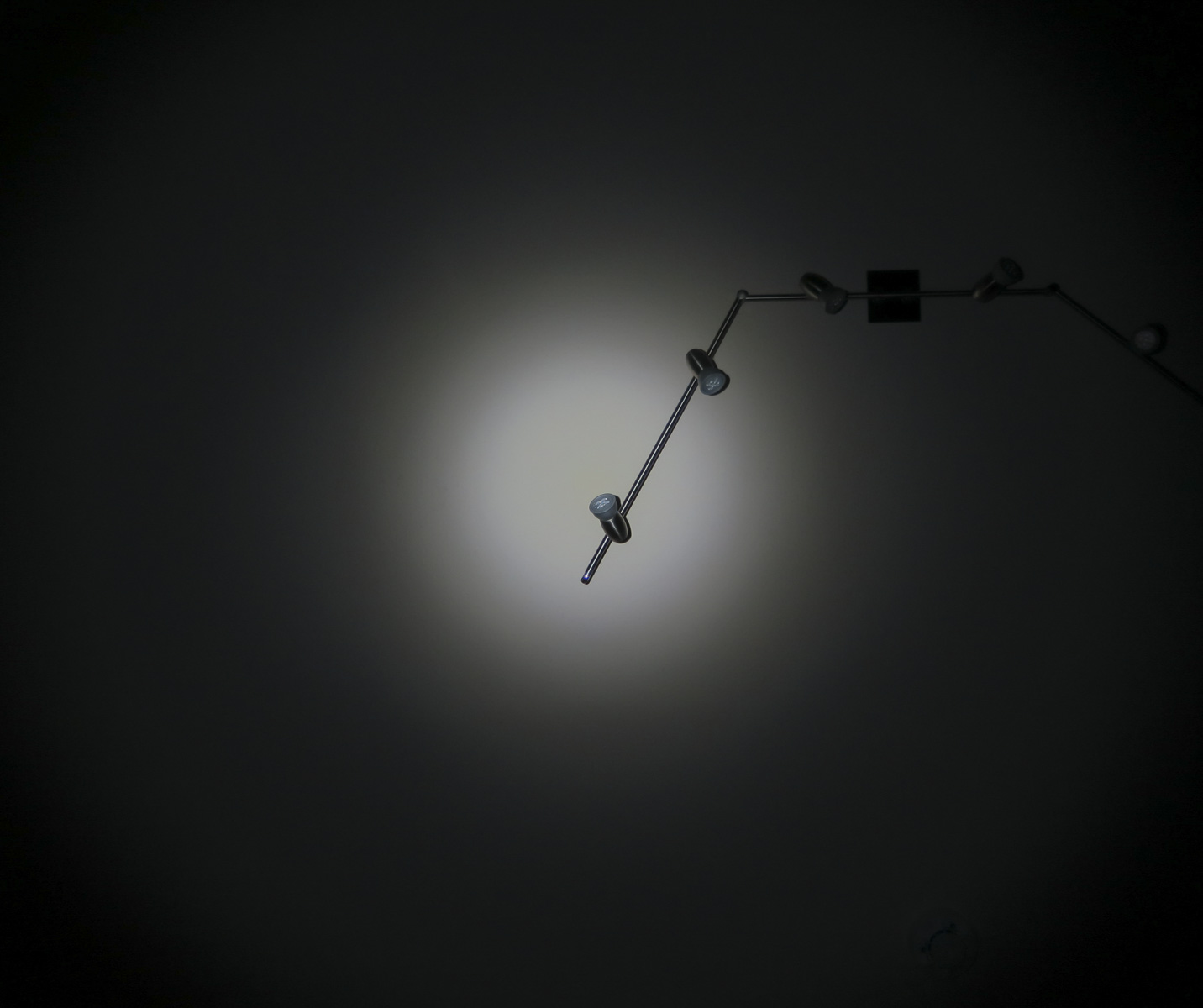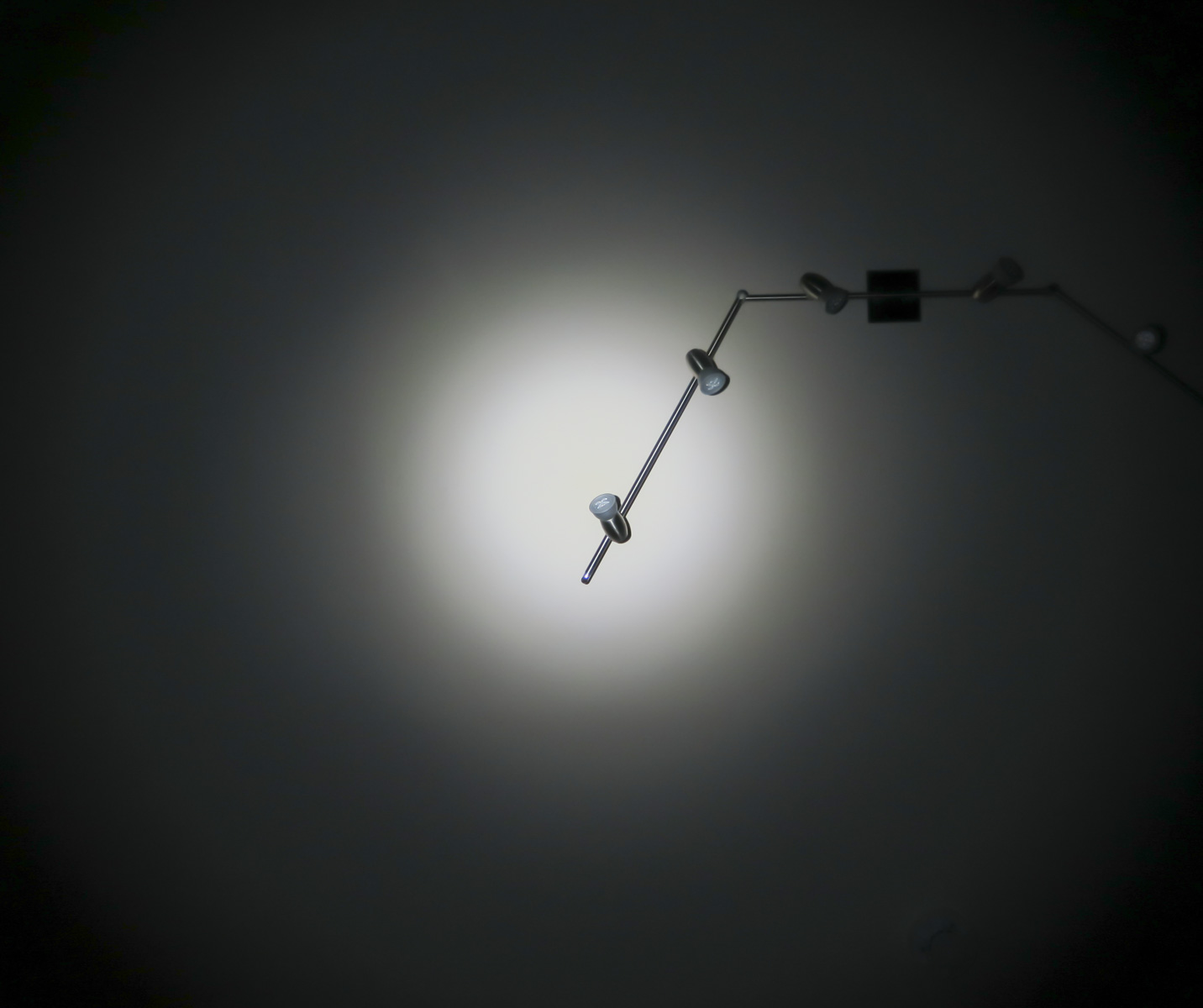 Nitecore P12 XML U3-3D NW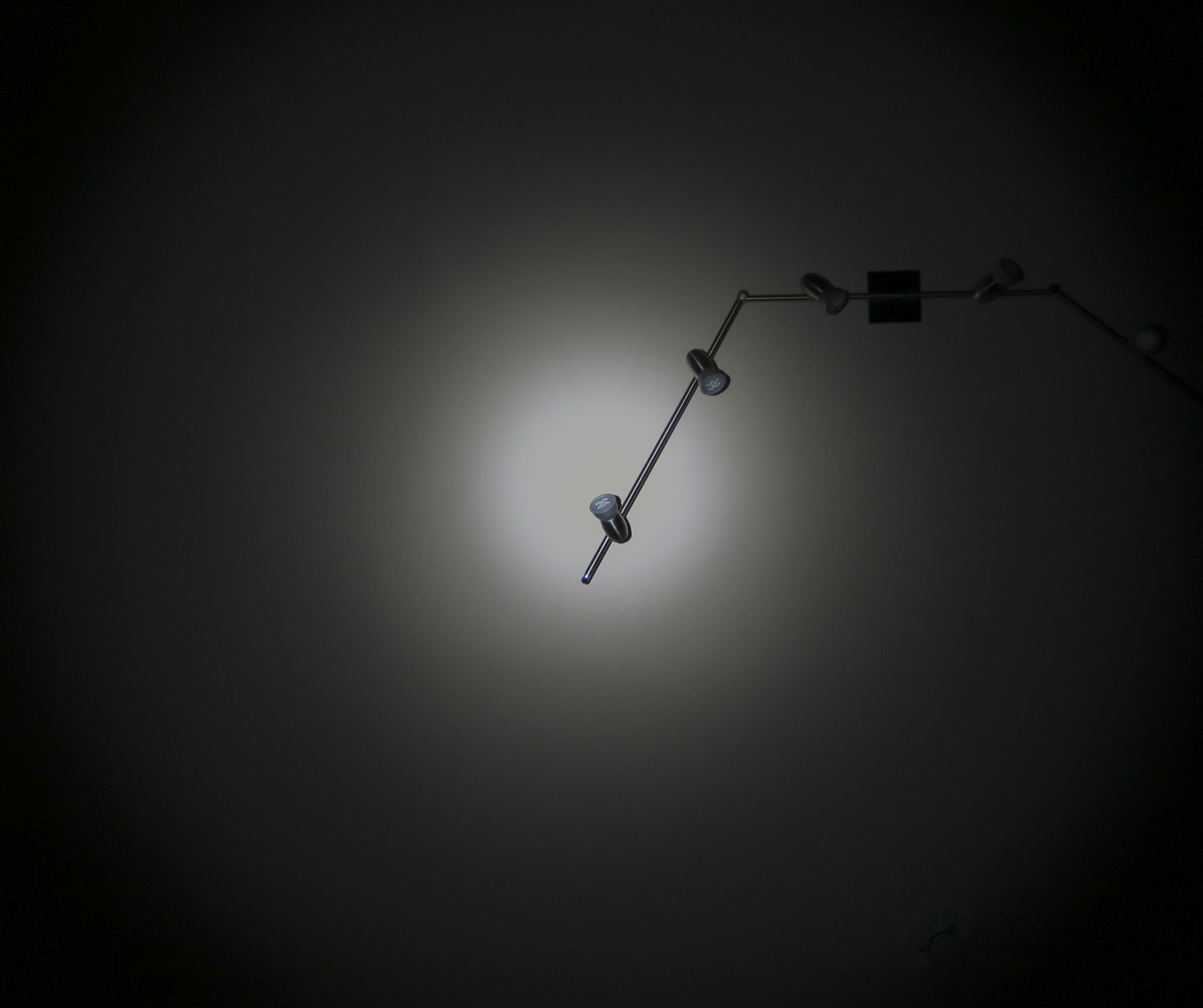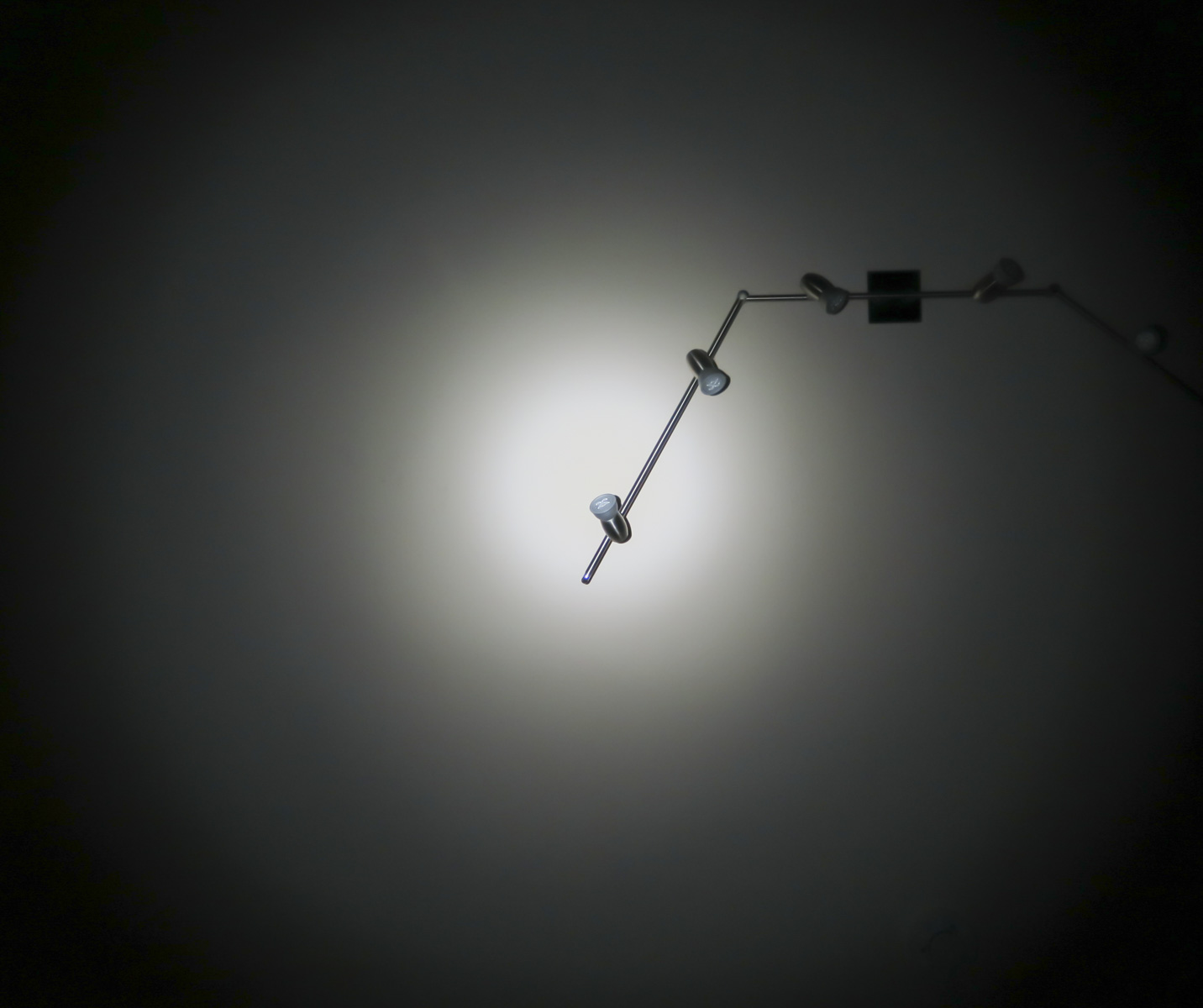 Imalent DM21TW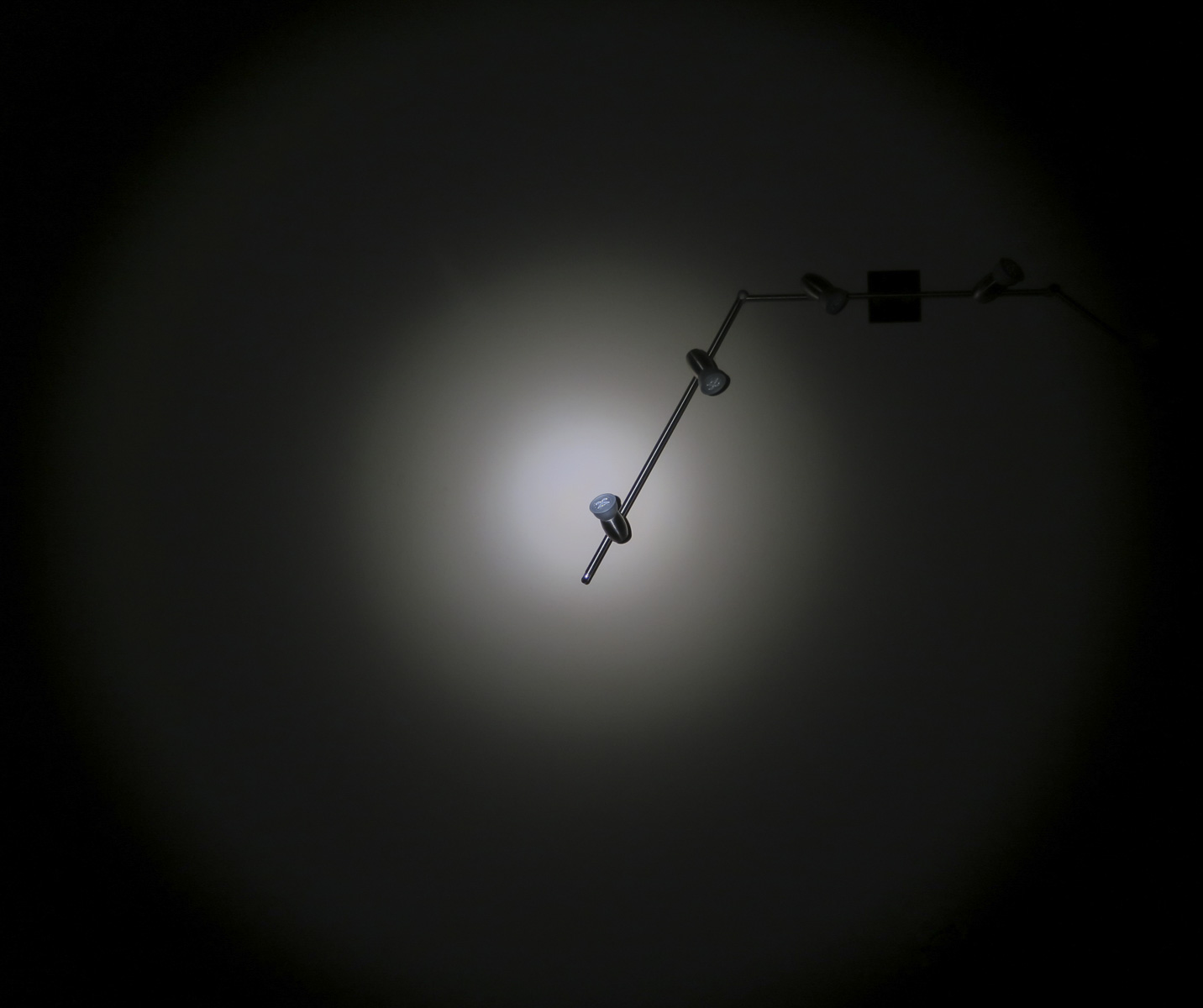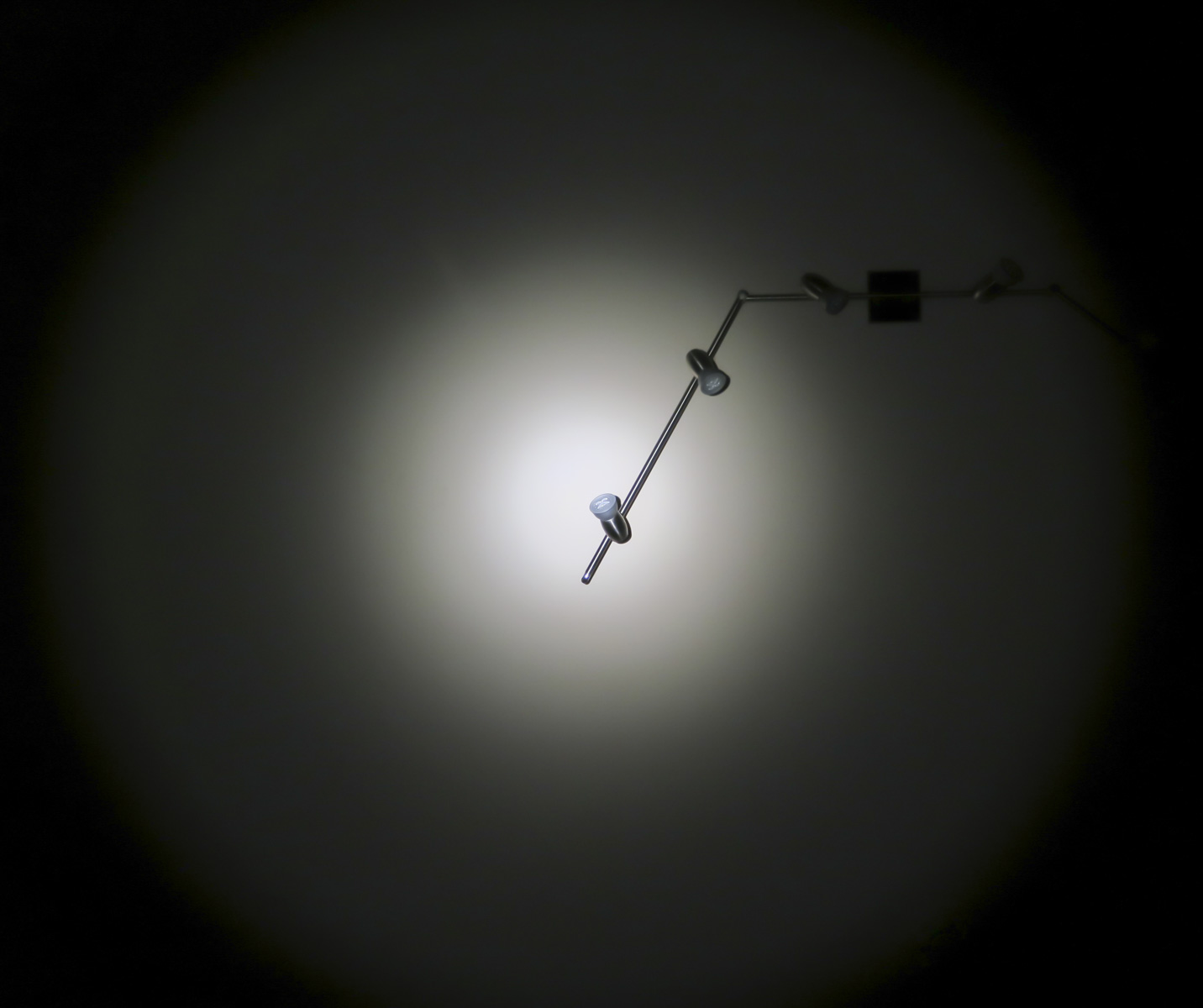 Klarus XT11GT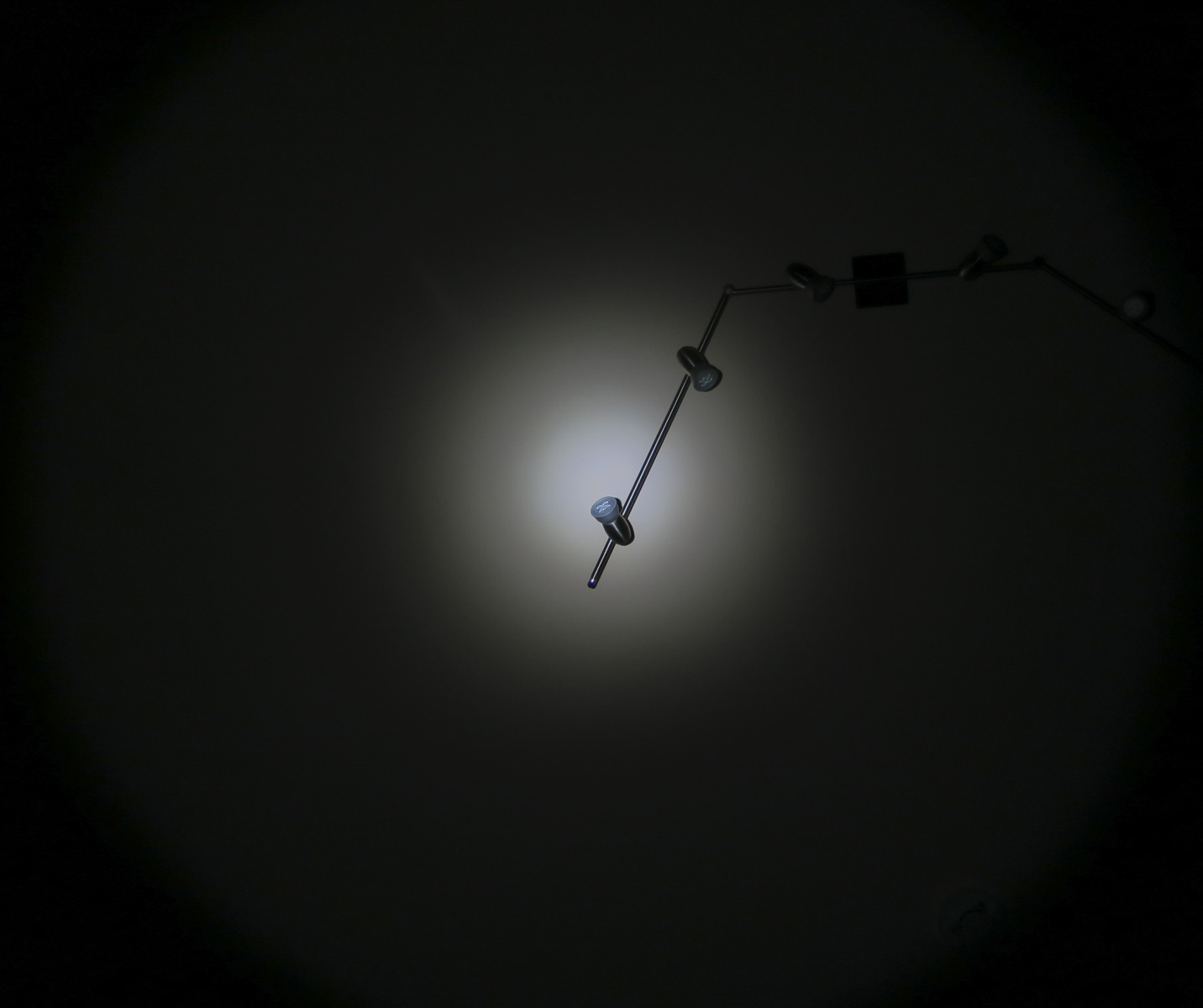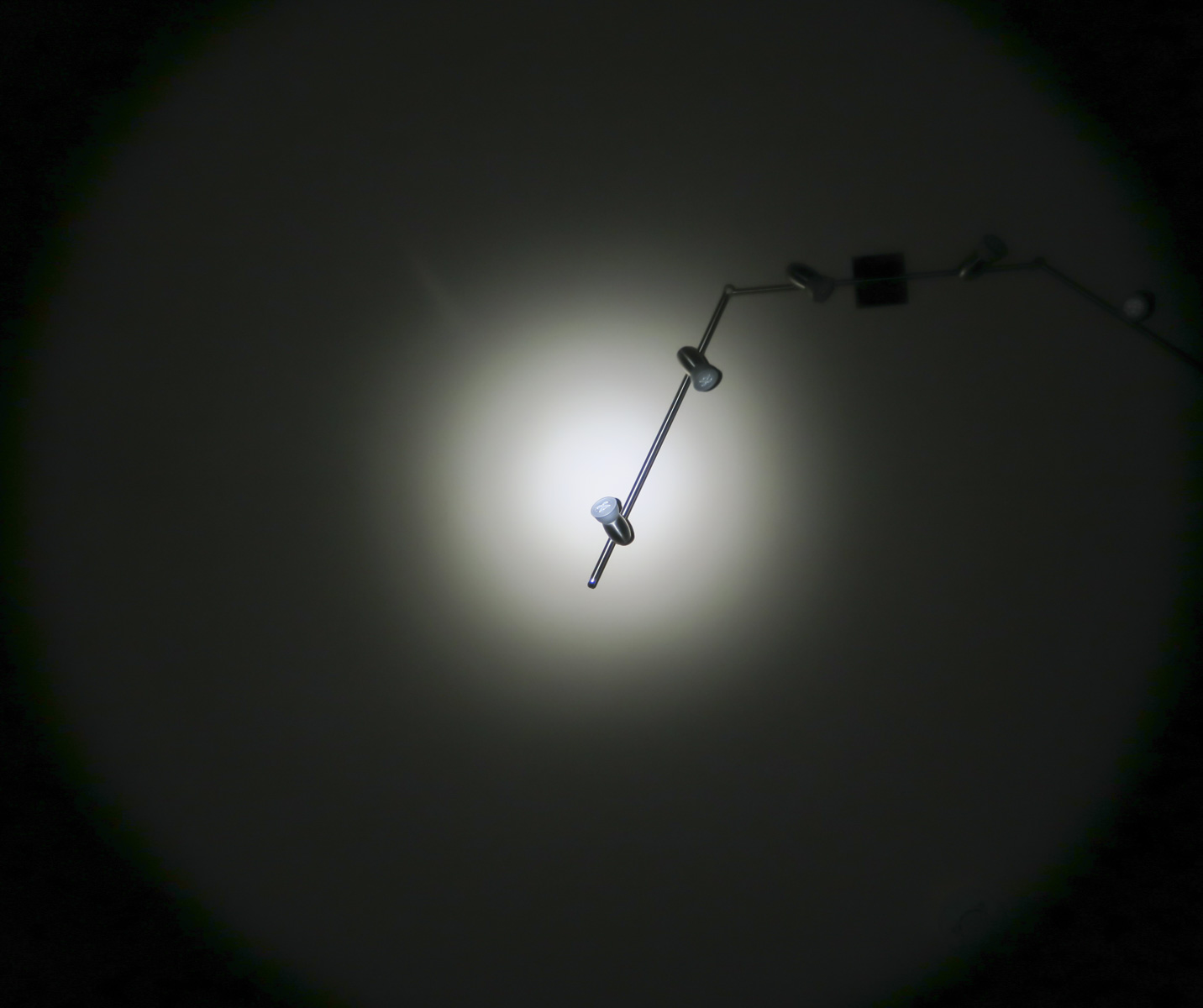 User Interface
The light has 2 different settings, hold side switch 3 seconds to switch between them
1. is tactical, you operate the light only with the tail switch
the light came with this setting active and I thought it has some error, but when read the special note I changed the light to normal operation
the light always come on in high mode, half press the switch changes modes
High —> strobe —> low
2. is outdoor mode
Tail switch turns the light on
it has 4 modes with hidden strobe
Moon —> low —> med —> High
Strobe is activated press and hold 2 seconds, but it starts to strobe in the lower modes with low strobe, only after you release the button the strobe turns to max brightness, if you hold 1 sec longer it changes between the 2 major settings
Conclusion
The light is build well, and the supplied battery is a good one.
Positive:
- mechanical very good production and engineering
- solid head, DTP MCPCB on 1.8mm shelf
- AR coated glass lens
- good hotspot and beam profile
- proper LVP and low battery warnings
Neutral:
- the side button has an odd feeling, gets better when the retaining ring screwed in more
QC should see such a large dark spot on the LED dome, that can be cleaned before assembly
Negative:
- the throw rating in the manual is way off it is more than double what I have measured
steps down after a minute