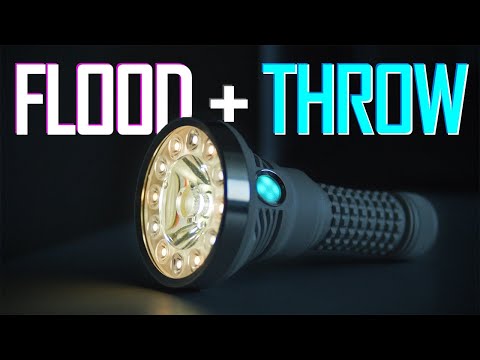 Here it is, the most expensive light yet from Noctigon - the DM1.12! This particular model features the stone white finish and is equipped with a Luminus SBT90.2 for the throw channel, and a mix of high-CRI Luminus SST20s in 4000K and 2700K for the flood channel. Total price for this light came out to $188, though I did recieve a reviewer discount. All opinions and test results here are my own.
TLDW: It's a great light. I love using it, but it does not compare favoriably to two seperate lights, and I would not recommend this unless you are really set on having one single flashlight with both a throw and a flood beam.
The DM1.12 is arguably the best dual-channel light you can get right now. Great build quality and high outputs, very compact and fun to use. It features the always-awesome Anduril 2, with flashing pads for updating firmware! Build quality is excellent, especially for the price as this light certainly takes a lot of work to put together.
However, it is not as bright as I would have hoped, with a maxmimum 4,900 lumens for the FET-driven SBT90.2 and 2,950 lumens for the flood channel, which has just 12A to work with - this means it's actually dimmer than the SST20 D4V2!
Beam quality is excellent, one of the best features on this light. In particular, I am very impressed with the SBT90.2 throw channel. This is of course the same exact throw setup found in the DM11, so ultimately my takeaway from this is that the DM11 with SBT90.2 is an awesome light


(Also worth noting is the extra manual labor put into this config: this already expensive LED is delensed, and the optic modified to fit it better - this justifiably adds an extra $50)
SBT90.2 produces 25.5 cd/l and a peak of 124,925 cd
The flood channel is very pretty, but not as floody as I would have liked unfortunately. It IS floodier, in particular the hotspot is much wider, but the surrounding spill is only slightly floodier than the throw channel, which means that is doesn't really illuminate more area than the throw channel. I think this would have been better served by using frosted optics instead.
SST20 flood channel (hotspot) produces 3.97 cd/l and a peak of 11,753 cd
Unfortunately, the optics used in this light restrict the emitter options for the flood channel, meaning LH531D and 519A cannot be used here - a big letdown for me. 219b is available, and is floodier than the SST20s I have, but I don't think the reduction in output is worth it for a light this large (just my own opinion, I also happen to love the golden hue of these particular SST20s in this tint mix)
Another restriction is the linear driver used - there are no boost drivers available, so no XHP35 HI or B35AM. I don't think those LEDs would make much sense here, but the reduction in efficiency is definitely noticeable with this driver.
All tests performed with Molicel P42A 21700 (4200 mAh, 42A CDC)
DM1.12 Runtime (Turbo) - First 5 Minutes:

Naturally we see a pretty quick drop from Turbo, but the curve is pretty smooth which is good to see. The flood channel has a more noticeable drop over the first 30 seconds.
DM1.12 Runtime (Turbo) - First 15 Minutes:

After just 8 minutes or so were are at around 20% output, and the light is quite warm in the hand, but not at all uncomfortable. This level is still plenty bright, but I would hope to see a bit better sustainability with this large head. This is more due to thermal limit, which is discussed further down.
DM1.12 Total Runtime (Turbo):

Total runtimes are a bit under 3 hours on average, a bit longer for the flood channel on turbo. This is fine in use, to be expected from this driver.
DM1.12 Total Runtime (Turbo) - Y-axis set to 1,000 lumens:

This was at the default limit of 45C - sustainability for the SBT90.2 is very solid, with ~550 lumens sustained for about 2 and a half hours. The flood channel however is a bit weak, with just 300+ lumens for most of the run. This is not good, I would have liked to see at least double that…
DM1.12 45C vs 60C Thermal Limit (Turbo, Flood Channel):

As it turns out, raising the thermal limit to 60C will give us just that! We are now sustaining 600+ lumens from the flood channel (and getting about half the runtime, please note the time compression in these graphs…)
DM1.12 45C vs 60C Thermal Limit (Turbo, Flood Channel) - Y-axis set to 1,000 lumens:

I am much happier with these results, as now there is a mimnum of 600 lumens during the run, and as the battery voltage drops and drive becomes more efficient, it climbs all the way up to 800 lumens before dying out. Unfortunately, there is a pretty severe penalty to battery life as a result. The light is also much hotter in the hand, to the point of being uncomfortable.
I am somewhat disappointed in this flood channel. Output is either fairly low, with decent battery life, or pretty high, with poor battery life and a lot of heat. Note that maximum output will be substantially greater if you do not get the SBT90.2 version, as now the flood channel gets the full FET drive instead of the throw… but efficiency will not improve. Other reviewers measure about 4,000 lumens on turbo with this configuration.
I have mixed feelings about this light. It's good, but not nearly enough to replace two seperate lights for my uses. I would much rather have a DW4 + DM11 for throw/flood duties.
While the price is justified in terms of build quality, from a functionality standpoint it's a big miss, as the DM1.12 will cost more than a D4SV2 and a DM11 with the same LED options. I understand why that's the case (and let's be real, these aren't the most practical lights anyways so that's not exactly a huge factor here), but it's still a hard pill to swallow.
So ultimately, here is my recommendation: If you want the DM1.12, get a W2 or SFT40 (or even XP-L HI) for the throw channel, and SST20 for the flood ring; that will give you better separation of the throw and the flood beams, will give you a brighter flood, a throwier throw, and will come in at a more reasonable price.
---
UPDATE: The DM1.12 has dropped in price (it is now "on sale" for $88 starting price) and has Nichia 519a dedomed as an option for the flood ring. I think it is a batter value at that price and a more compelling option, but my recommendations remain the same. I do thikn the dd 519a are probably a batter flood ring option, but they raise the price by $50 which is not worthwhile in my opinion.
---
Alright, that's my review, thanks for watching/reading. Thanks also to Hank Wang for offering me a reviewer discount on this light. If you have any questions please feel free to ask!