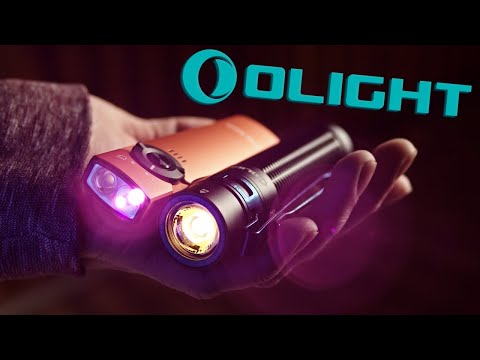 Olight sent me a couple lights to review, and here are my thoughts. The lights were sent free of charge, but this is not a paid review, and there is no affiliate partnership here.
TLDW:
Arkfeld (both the UV and the laser version) is a great light with excellent performance for its size; however, the built-in battery is a major issue for me that prevents a recommendation, unless a slim form factor is a priority.
The Baton 3 Pro Max is overall a very good flashlight, but again requires Olight's proprietary battery which is a major downside.
If you want to purchase these lights after this review, here are some tracking links Olight wanted me to give you:
Arkfeld UV: Arkfeld UV Flashlight-Up to 40% Off - Olight Store
Arkfeld UV Bundle: Arkfeld UV Flashlight Bundle-Up to 40% Off - Olight Store
Baton 3 Po Max: Baton 3 Pro Max Powerful EDC Flashlight - Olight Store
Olightstore (Get the Free Gober): Flashlights, Tactical Light, Outdoor Tools - Olight Official Store (I forgot to put this one into the video but it's actually a pretty cool little safety light)
PERFORMANCE:
BATON 3 PRO MAX: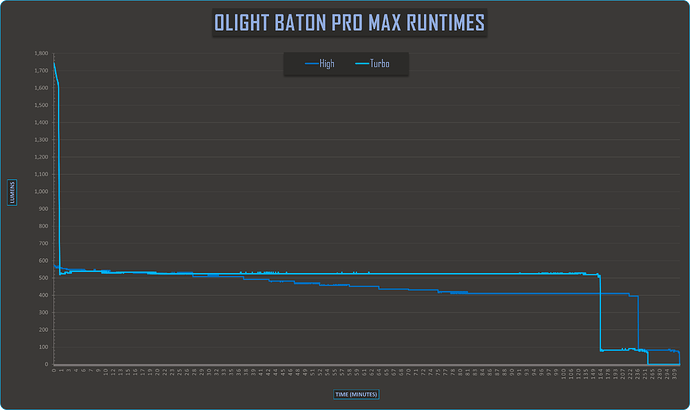 The B3PM offers really solid performance, with this 3000K emitter producing 1,750 lumens on Turbo @ startup, which drops down after about a minute to 530 lumens, which is held flat for the remaining 165 minutes of the run.
This is about half of some other 21700 lights I've reviewed (such as the Acebeam E70), but is actually quite good for the size; this is the smallest 21700 light I've used, with minimal thermal mass and no heatsinking to work with, yet it still sustained plenty of light without getting uncomfortably warm in the hand.
ARKFELD: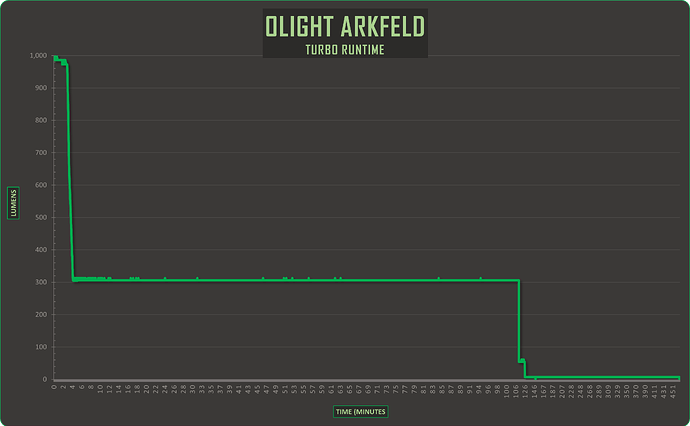 *Measurements are for CW version of the Arkfeld
The Arkfeld puts out an even 1,000 lumens on turbo, which falls over 5 minutes, at which points it drops down to just over 300 lumens. This is then held flat for 115 minutes while barely heating up in the hand - excellent performance considering the small size of this light. I am very impressed.
DESIGN
The Arkfeld is a unique rectangular light with two different channels that are toggled using a rotary switch at the front of the light. The slim form factor is very nice for pocket carry, and is made possible by a built-in pouch battery, which cannot be removed and replaced.
The new UV model has a revised clip that has a second bend for use in either direction, but I prefer the older, sturdier clip on my laser-pointer model.
The Baton 3 Pro Max is a scaled-up version of the 18650 Baton 3 Pro, which in turn is the longer version of the 16340 Baton 3 (video review here). I haven't used the B3Pro, but it's essentially an updated S2R Baton 2 (video review here, it's an older and less useful video) - the "Max" version is a larger 21700 model and offers the proximity sensor.
In my opinion this light has an awesome form factor, it fits very well in the hand, is still very pocketable, but offers much improved runtimes over the 18650 models. The knurling on the body is a bit aggressive but I find it very functional, and the button is very clicky and nice to use (a dramatic improvement over my older Baton S2R, and the best Olight switch I have yet used). However I still dislike the bezel-up clip, which has a two-way bend that is strained with the size of this light.
Of course, Olight had to use a proprietary cell for this light, which cannot be easily charged in other chargers, and the light will not operate without it. Olight charges a whopping $26 for their modified battery: Rechargeable 21700, 5000mAh 3.6v battery - Olight Store
I would strongly recommend this light were it not for the battery issue; as-is, it's fine if you're not concerned with rapid battery swaps or very long-term usage of this light.
Both lights charge with the Olight universal magnetic charging system, which is convenient, compact, and durable, but it's quite slow to charge the high-capacity 21700 cell in the Baton.
BEAM QUALITY
Both lights offer excellent beam patterns, wide and floody for general use, and very clean with no artifacts or color shifts thanks to the TIR optics used here.
I have both NW (~4500K) and CW (~6000K) Arkfelds, and I much prefer the neutral, though neither are high-CRI or particularly pretty. Still, it's great that Olight offers both emitters.
My B3PM is the Warm White LE, which is about 3000K and appears to be low-medium CRI. Tint is just a bit greenish, but overall I find it rather pleasant, and a again a dramatic improvement over my other Olights. I really wish this was a standard offering and not a limited edition however

USER INTERFACE
These lights both use the standard Olight interface, which is good, but the lockout system is bad, and the light always resets to High after using Turbo, which is annoying.
The Arkfeld switch is super easy to use, the light sees a very slight delay when switching channels but is otherwise seamless.
OTHER FEATURES
The Arkfeld has two channels, one with either a weak laser pointer or a 365nm UV emitter, depending on the version you get. I don't have much to say about these, you know if you want them. They work as advertised.
The B3PM has a proximity sensor, this time the output fades when dropping instead of instantly switching. The sensor exposure is a thin ring around the light's optic, which is really cool to see. I am a big fan of this feature, it goes a long way towards giving me peace of mind and worry-free operation when I use these lights on Turbo, and I'm happy to see the concept being refined over time.
However, the Baton does not have a lens over its optic, which is stupid.
---
THE END
Well, it's 2am as I upload the video and write this review, so that's all. I hope it was helpful. Thanks for reading/watching!