!EXTRA PIC HEAVY!
The SFT40 is a very tempting LED that can give you both brightness and throw. That is exactly what the average user is looking for. Of course, Sofirn did not pass it by and released two versions of the long-range flashlight with SFT40. As usual, inexpensive, with a capacious battery and fast built-in charging. Let's see what came of it.
*you can buy Sofirn IF22(a) at:
*➤ ALIEXPRESS
➤ AMAZON
Specifications
1x Luminus SFT40 LED Operating voltage: 2.8-4.5 V
1x Li-ion 21700 battery
IF22 Size: 136.7mm (length) × 42mm (head diameter) Weight: 132 grams (without battery)
IF22A Size: 127.1mm (length) × 42mm (head diameter) Weight: 120 grams (without battery)
Flashlight body:6061 grade aluminum alloy with anti-abrasive coating
Tempered mineral glass
IPX-8 waterproof (up to 2 meters underwater, not for diving)
Mode memory: remembers the last brightness level used in common modes (Low / Medium / High)
Reverse polarity protection
Low voltage warning: When the battery voltage is too low, the LED on the side switch starts flashing quickly. Please charge the battery.
Low voltage protection: The flashlight will automatically shut off when the voltage is below 3.0V. It will also shut off automatically if the voltage gets too low. Please charge the battery.
Advanced Temperature Control (ATR) Technology: When the temperature rises (above 55 ℃), the IF22 / IF22A are programmed to automatically dim and brighten to prevent overheating.
Packaging and appearance
The most common beige cardboard box, nothing new. Not very good in terms of a gift

The kit contains absolutely everything you need: a flashlight, a 21700 5000 mAh battery, a lanyard, O-rings, a charging cable, a manual, an adapter for 18650. No holster, but, well, that is what u expect for this price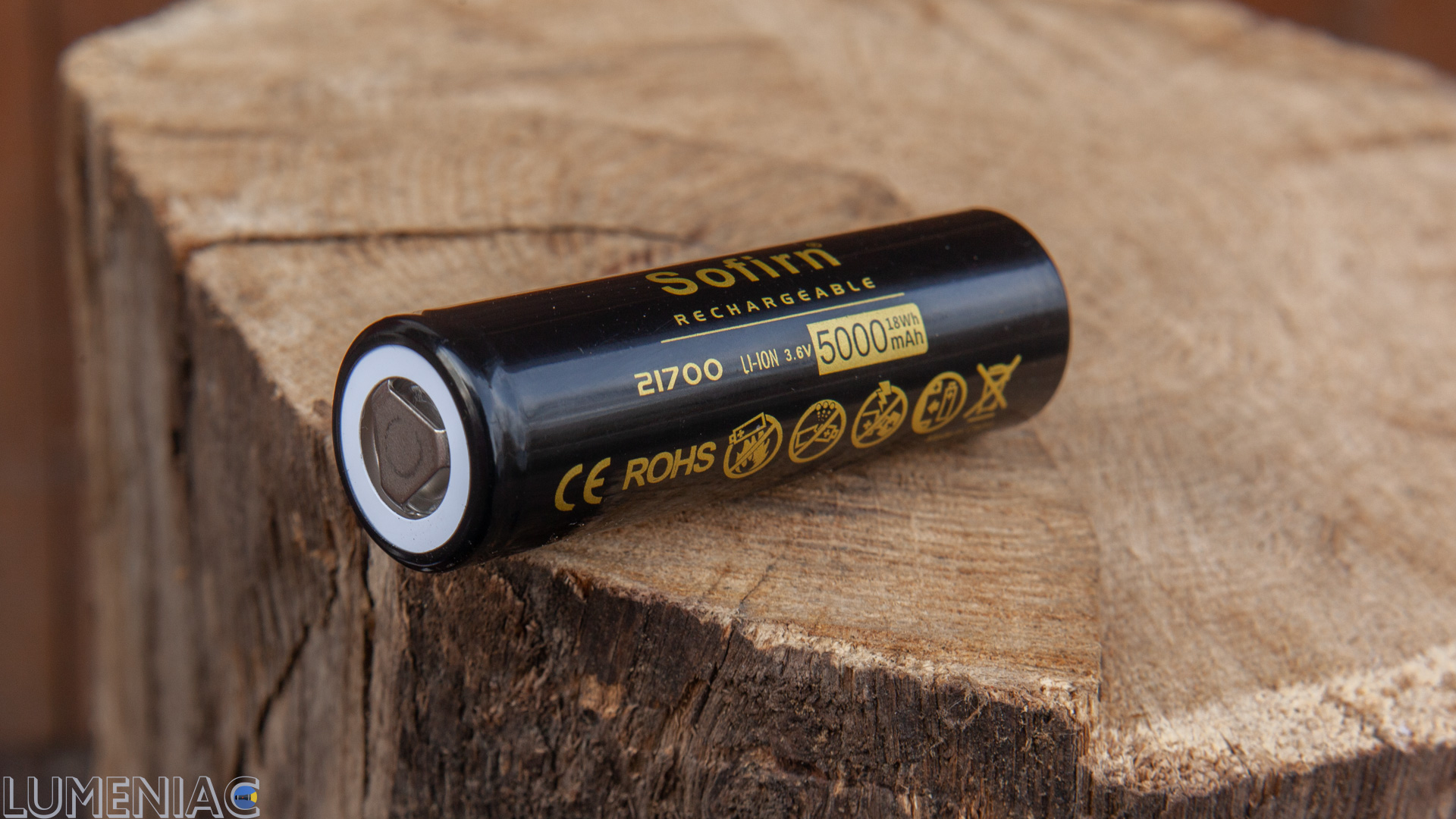 Both flashlights are quite compact for a 21700 battery long range model. 126 and 137mm are not that much. In the case of the short If22a, the length is actually EDC`ish.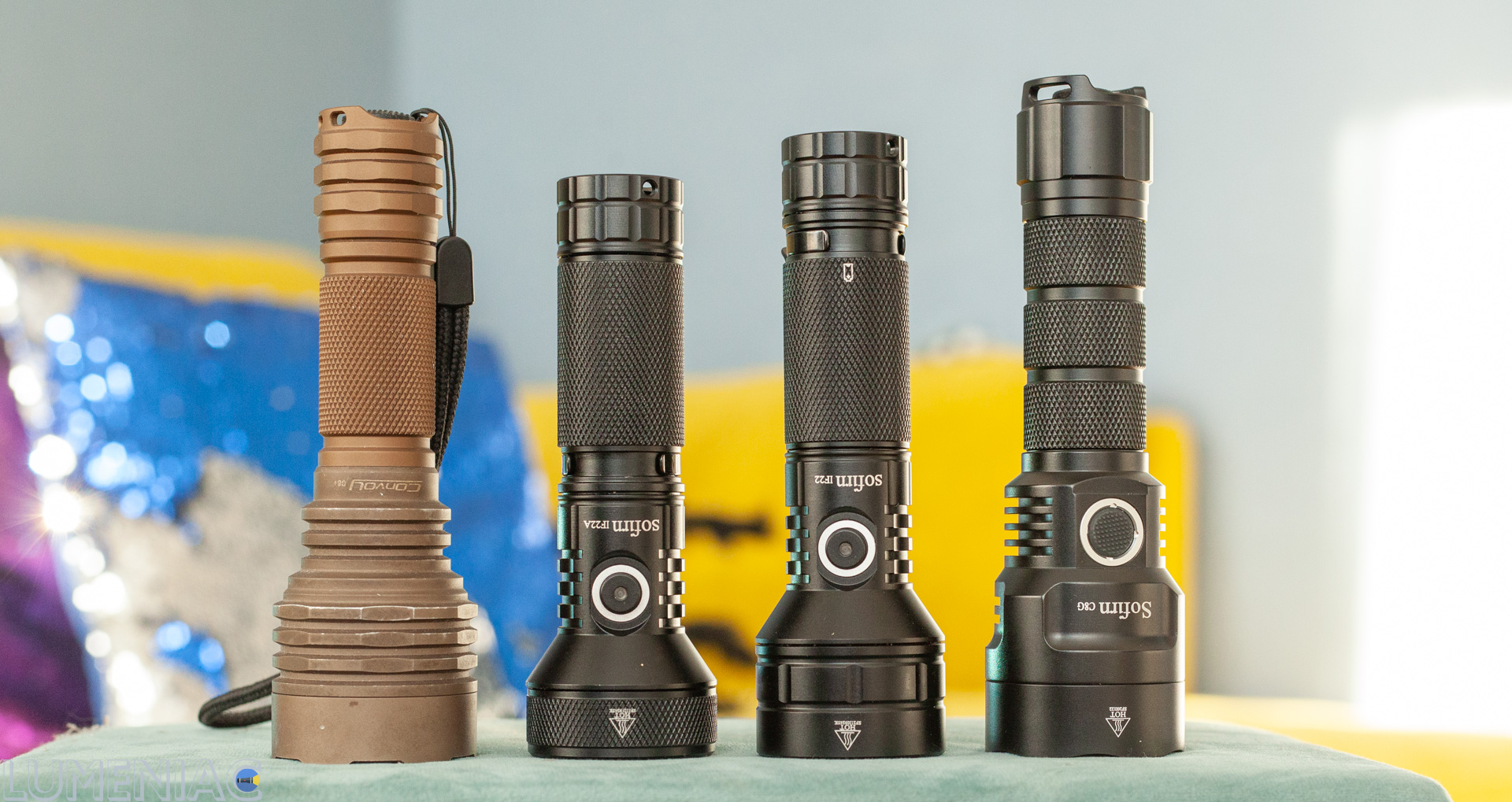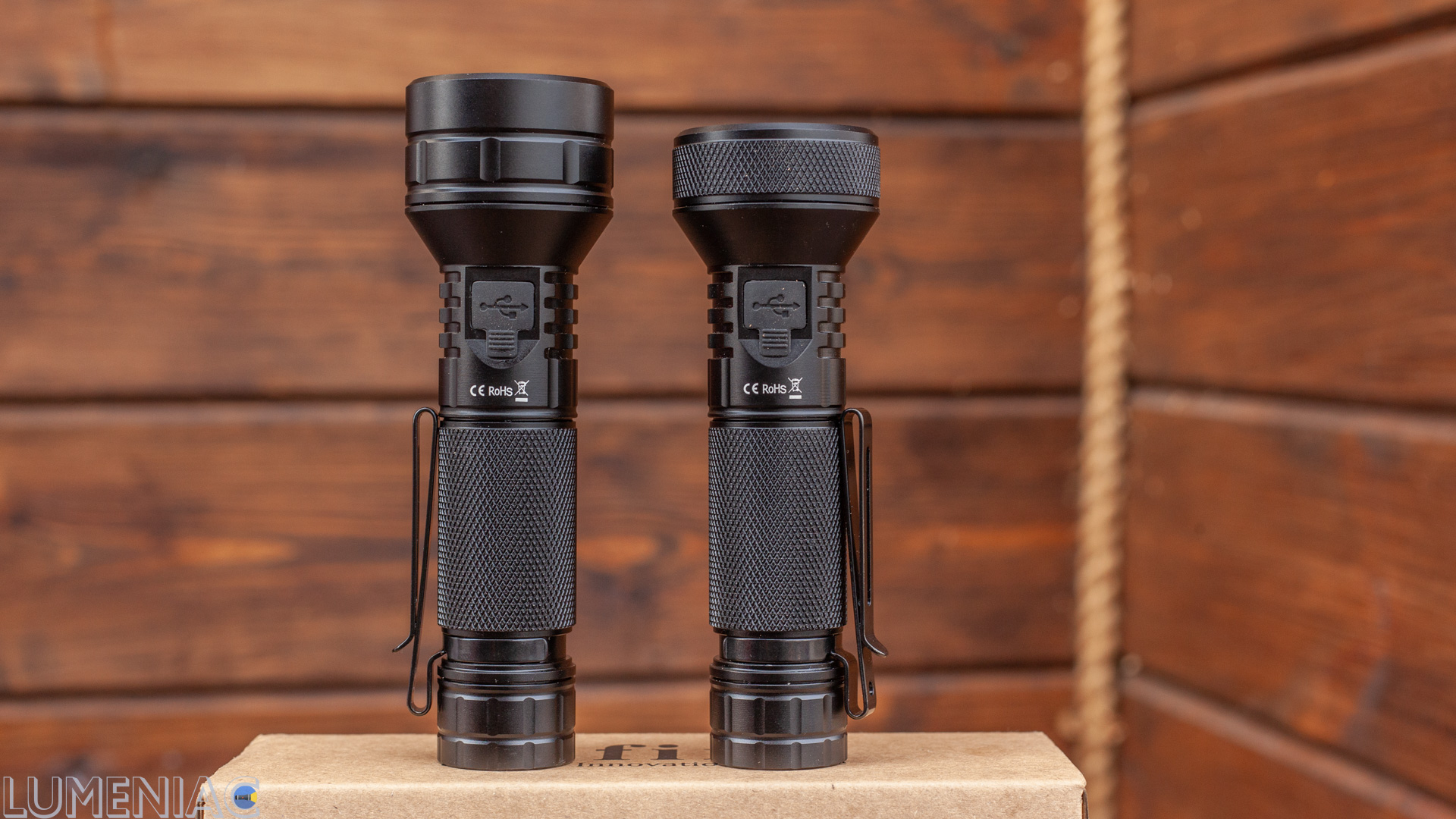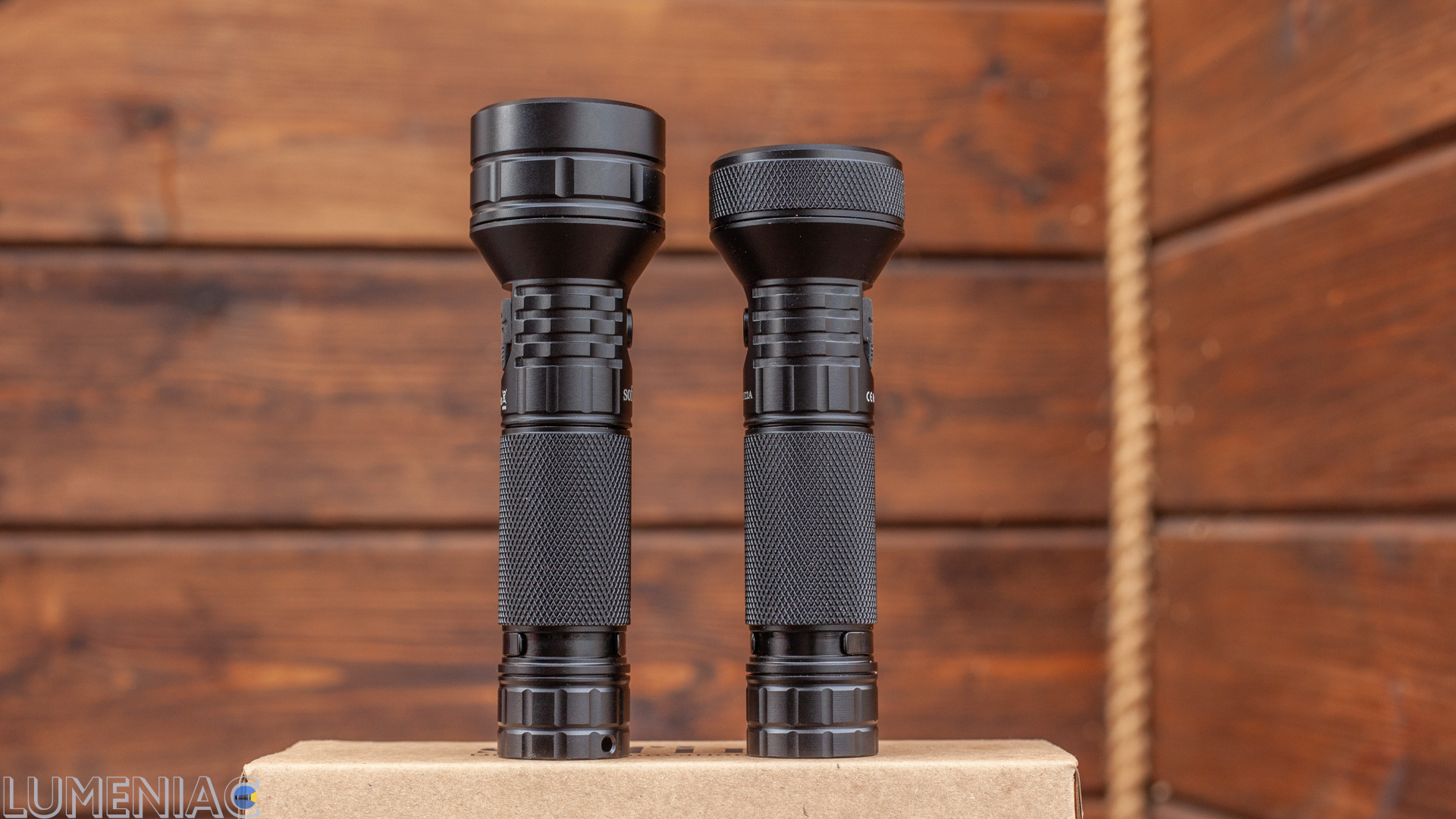 Sofirn IF22 (a) is made accodring to general Sofirn design concept (if they have one -) )
I mean inexpensive, but neat. They are devoid of any obvious individuality and outwardly it is more likely just a "flashlight-flashlight". In general, nothing new.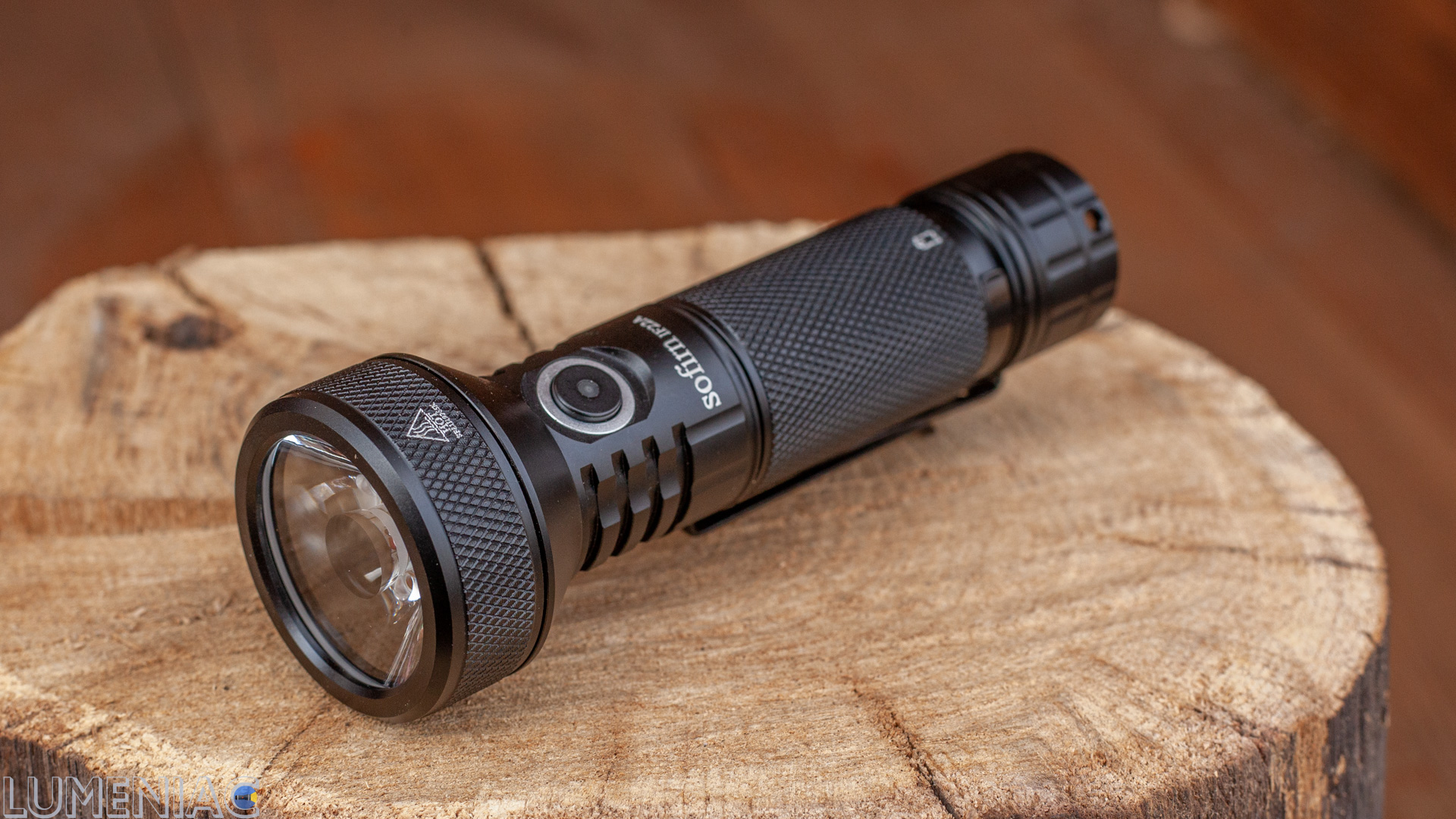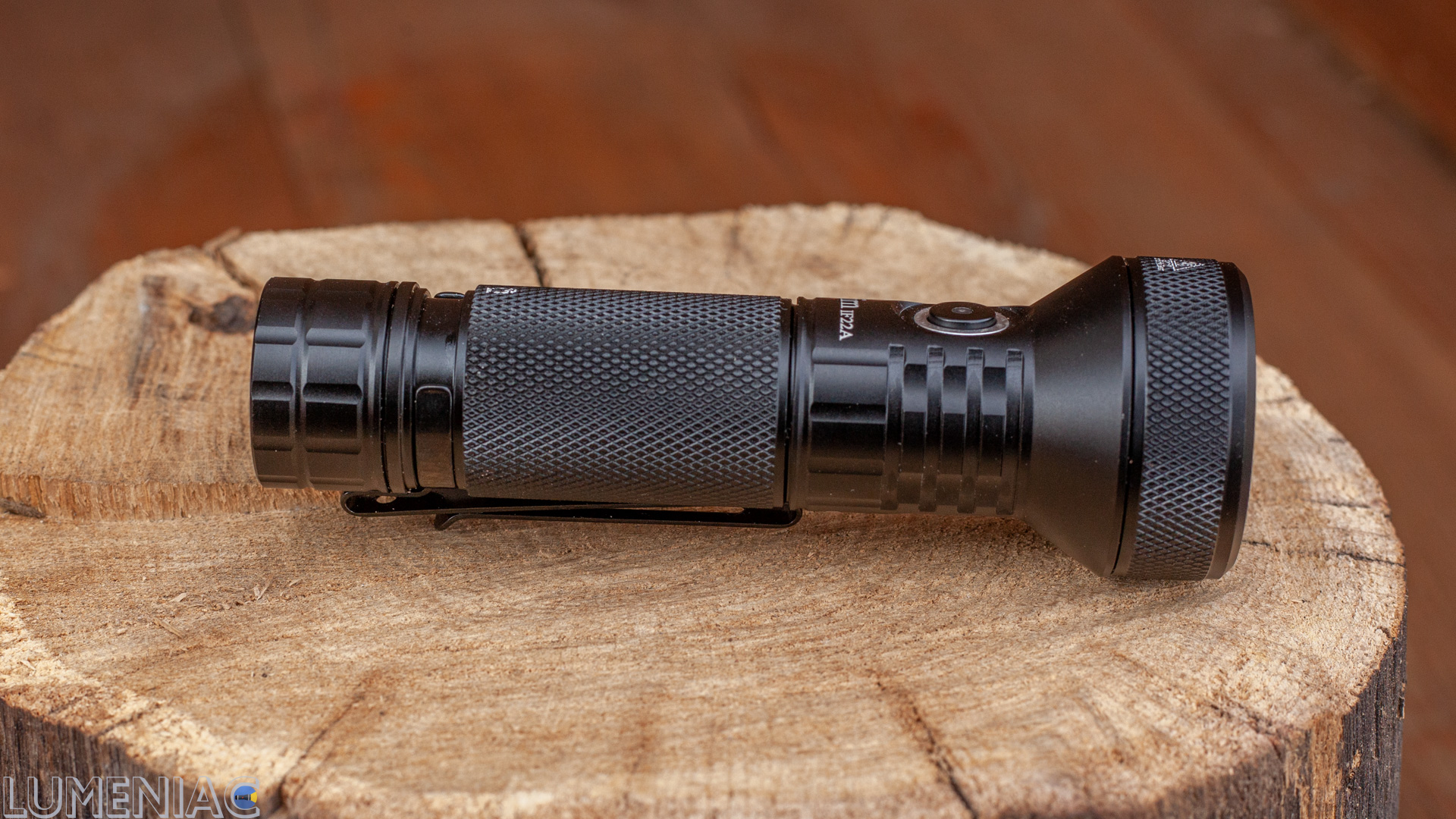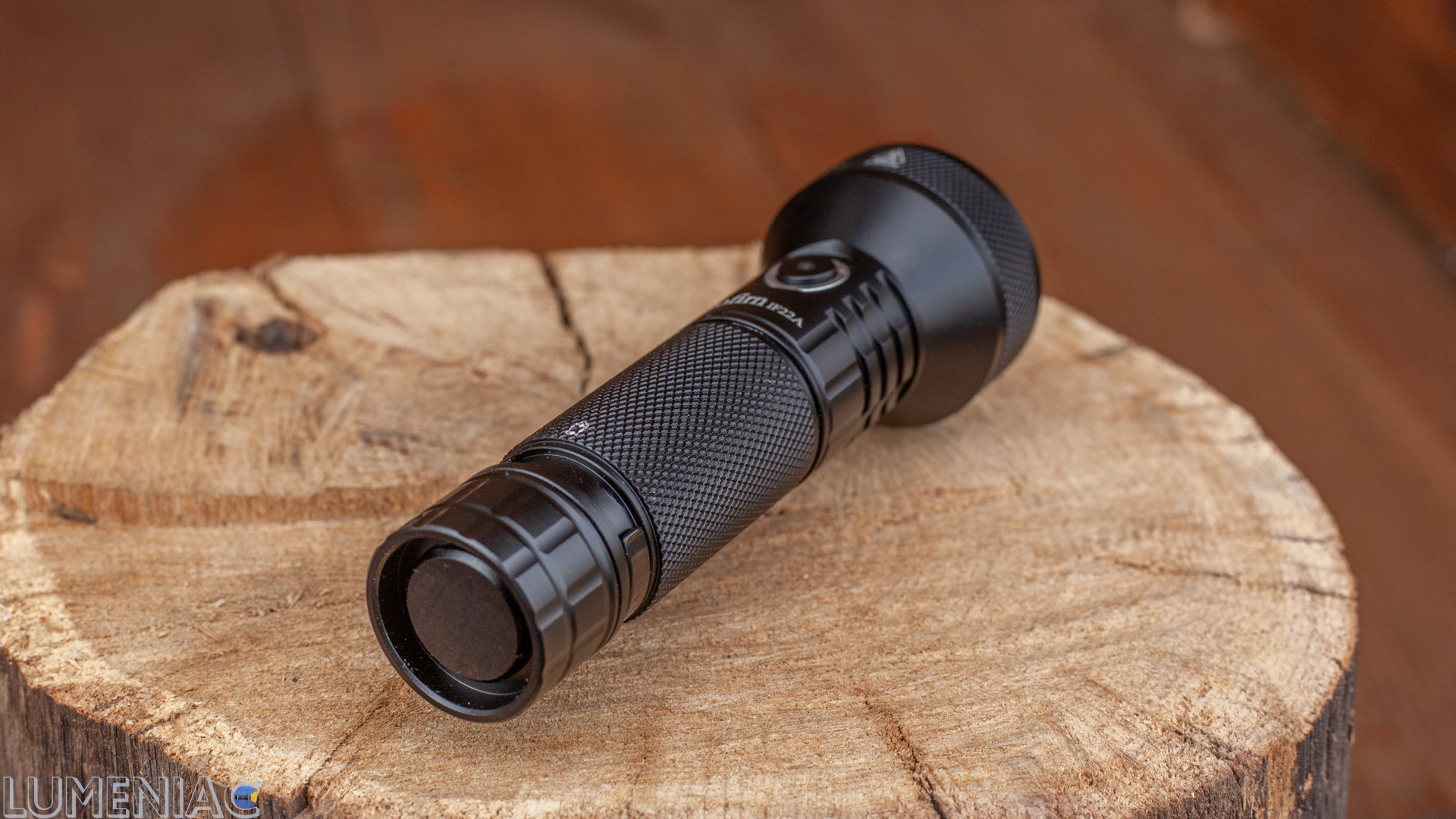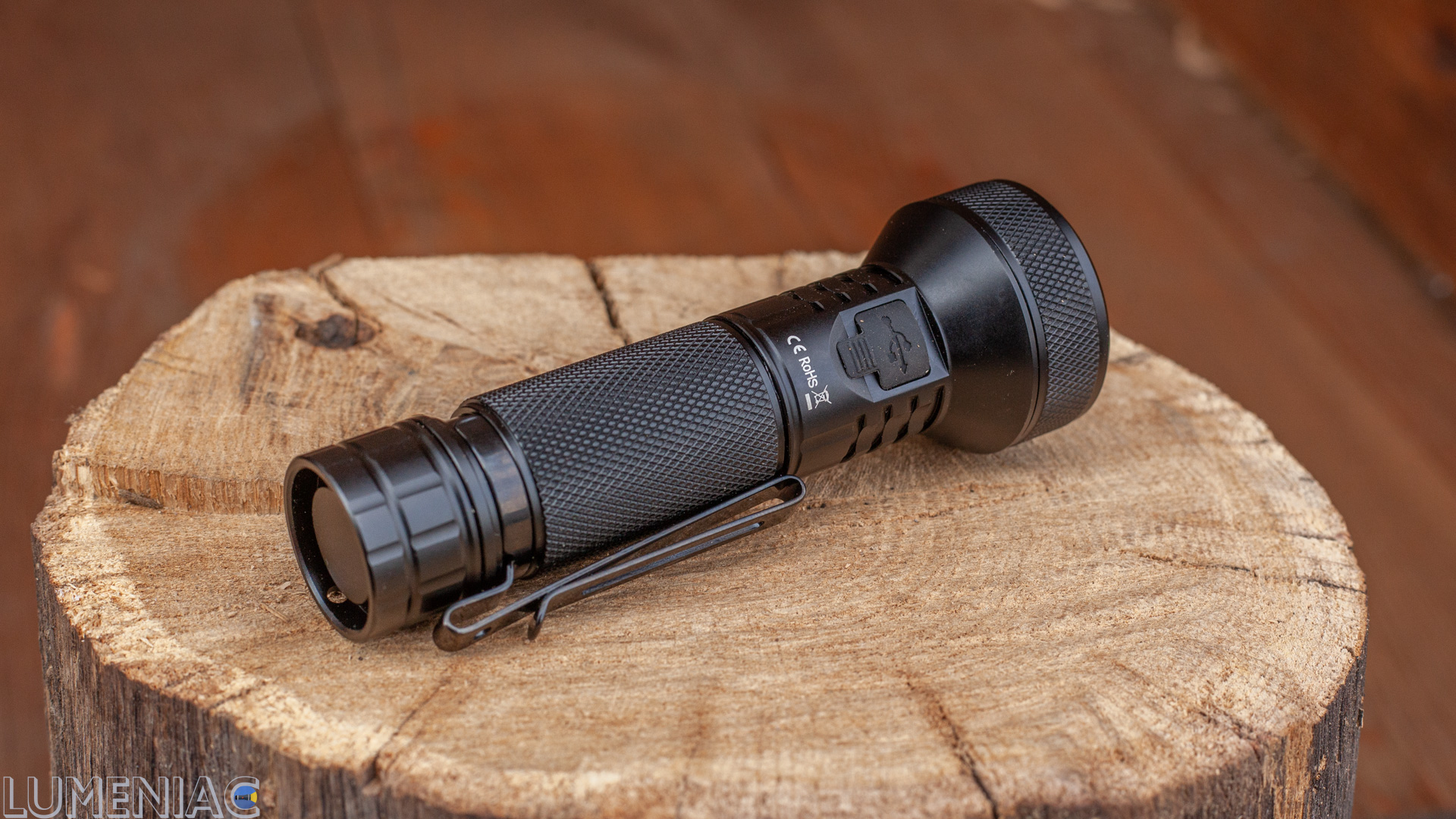 The flashlight can be disassembled in three parts. The middle part can be installed in any direction, there will still be contact and the flashlight will work.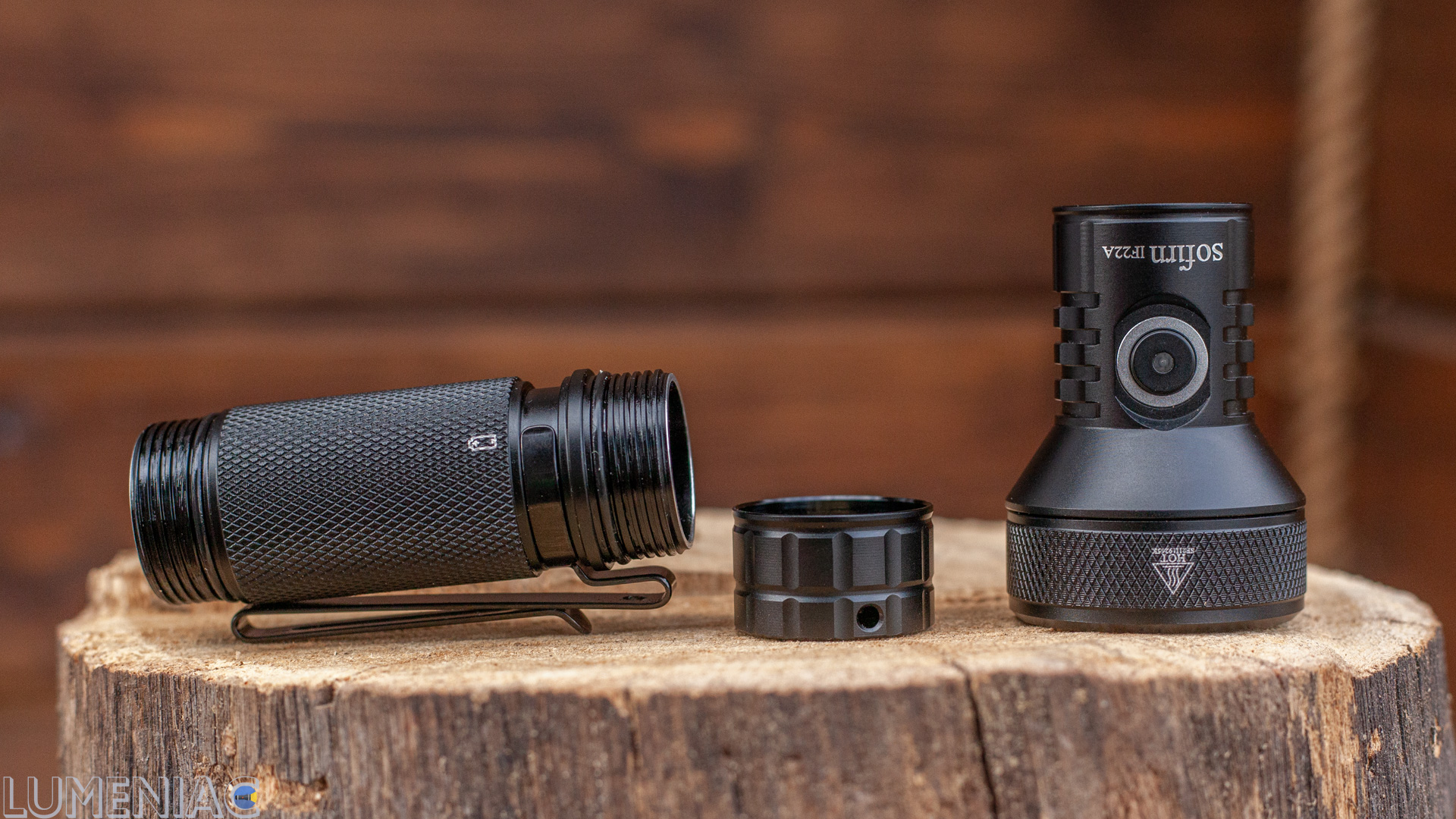 The clip is double-sided. Removable with reasonable effort without scratching the anodizing.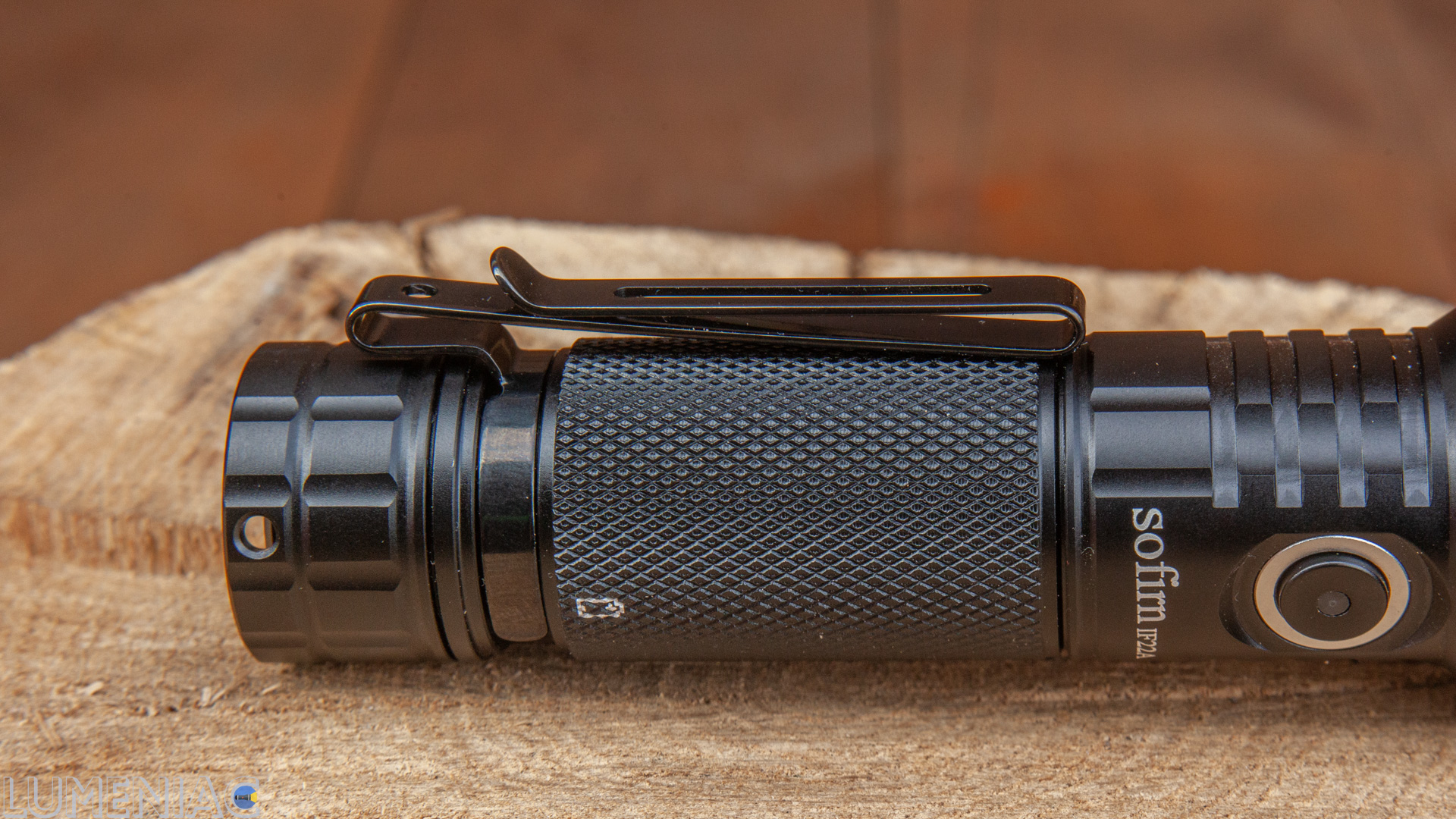 a lanyard eyelet in the flat tailcap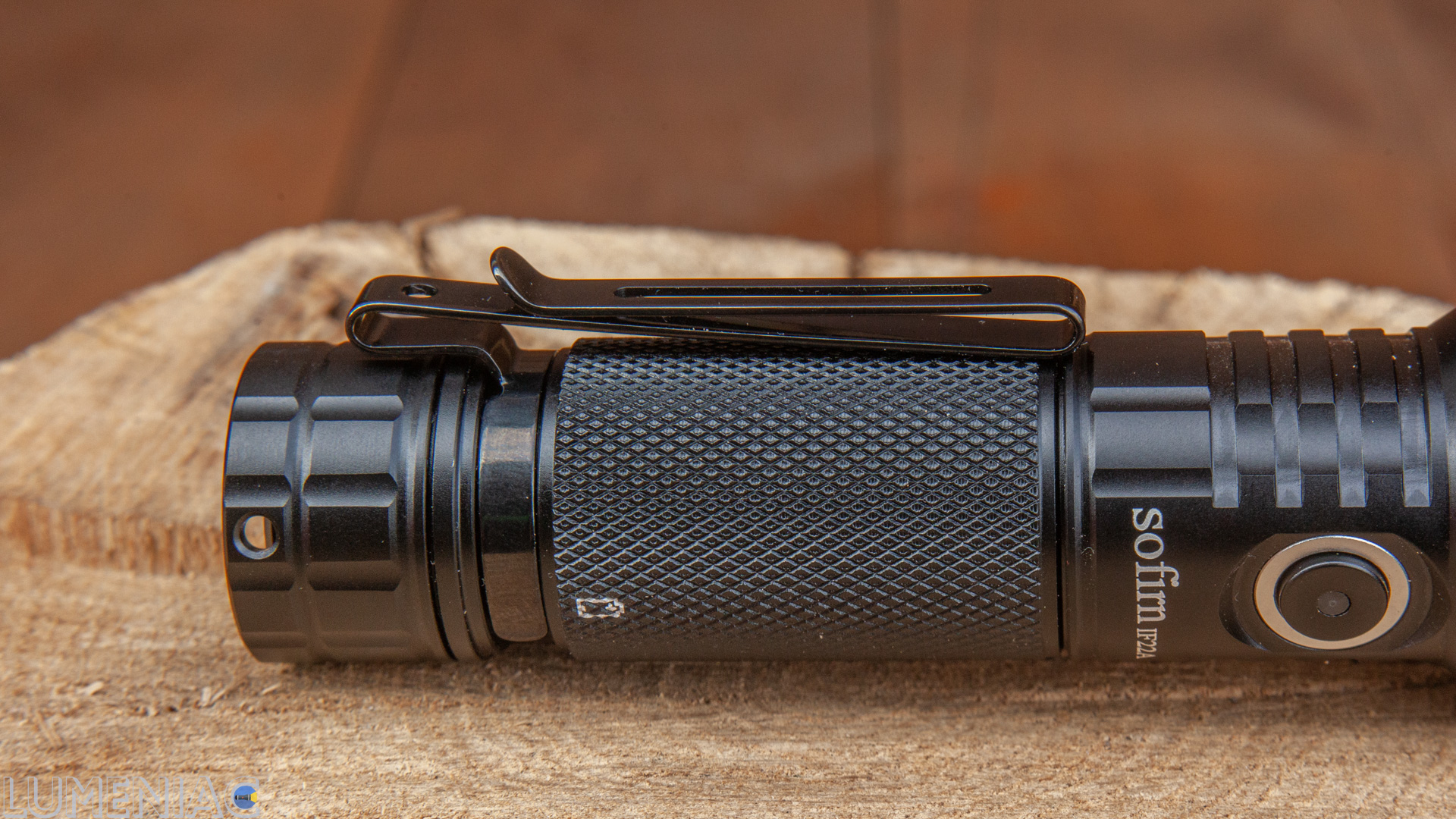 The spring is of medium thickness. Despite the fact that there is a pin of the contact pad on the head, contact is not interrupted upon impact. I struck on the wooden table with effort - the flashlight shone without turning off. The threads are well lubricated.
But, still, i`m not sure Sofirn IF22 will withstand gun recoil like the same Sofirn C8G does.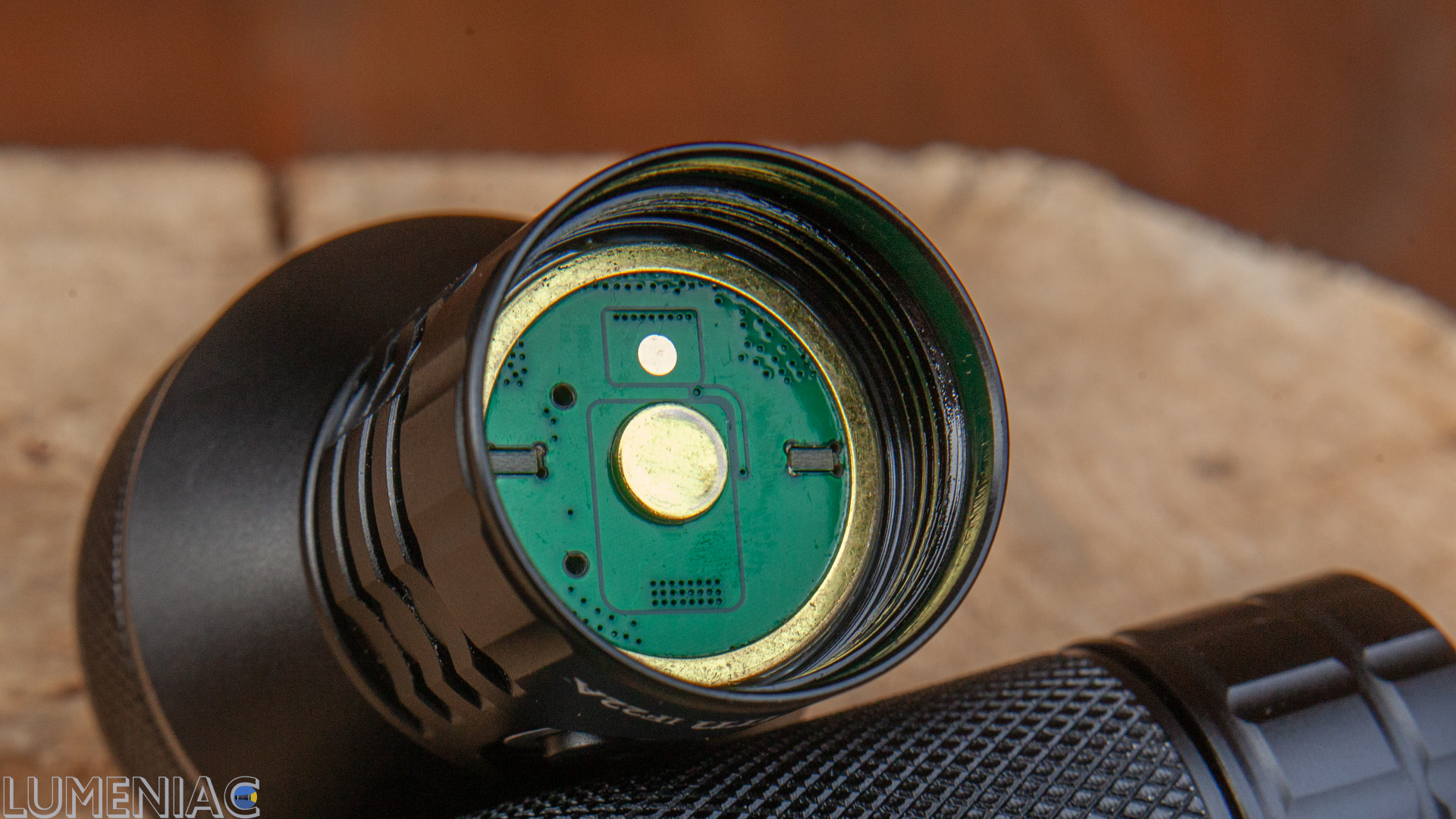 The knurling is the simplest, the flashlight is quite comfortable to grip, especially with the clip on.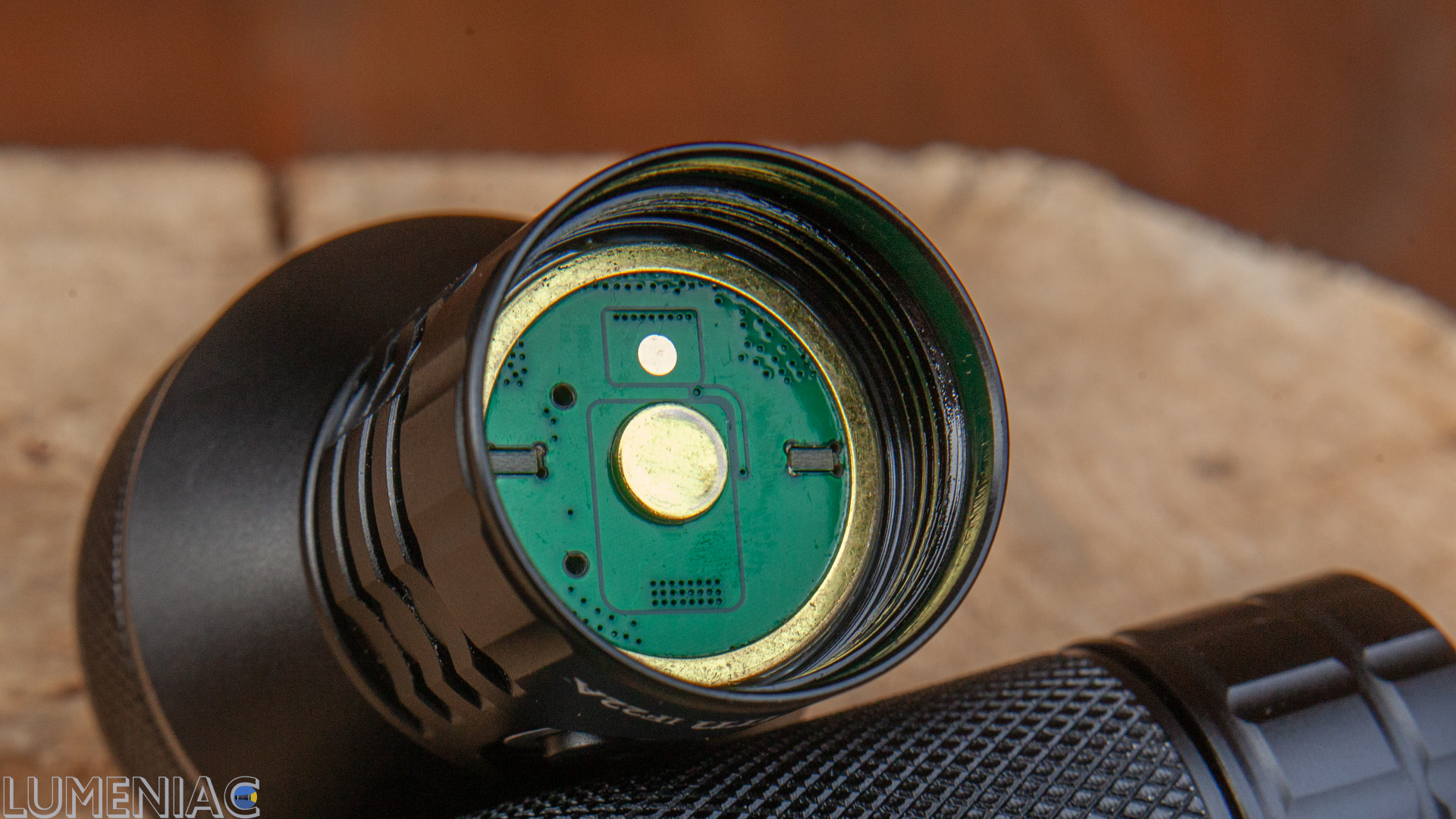 The head occupies more than half of the body in length. On its opposite sides are a charging connector and a button, closed with a thick, tight type-c cover. Charging is excellent - 3A is very good.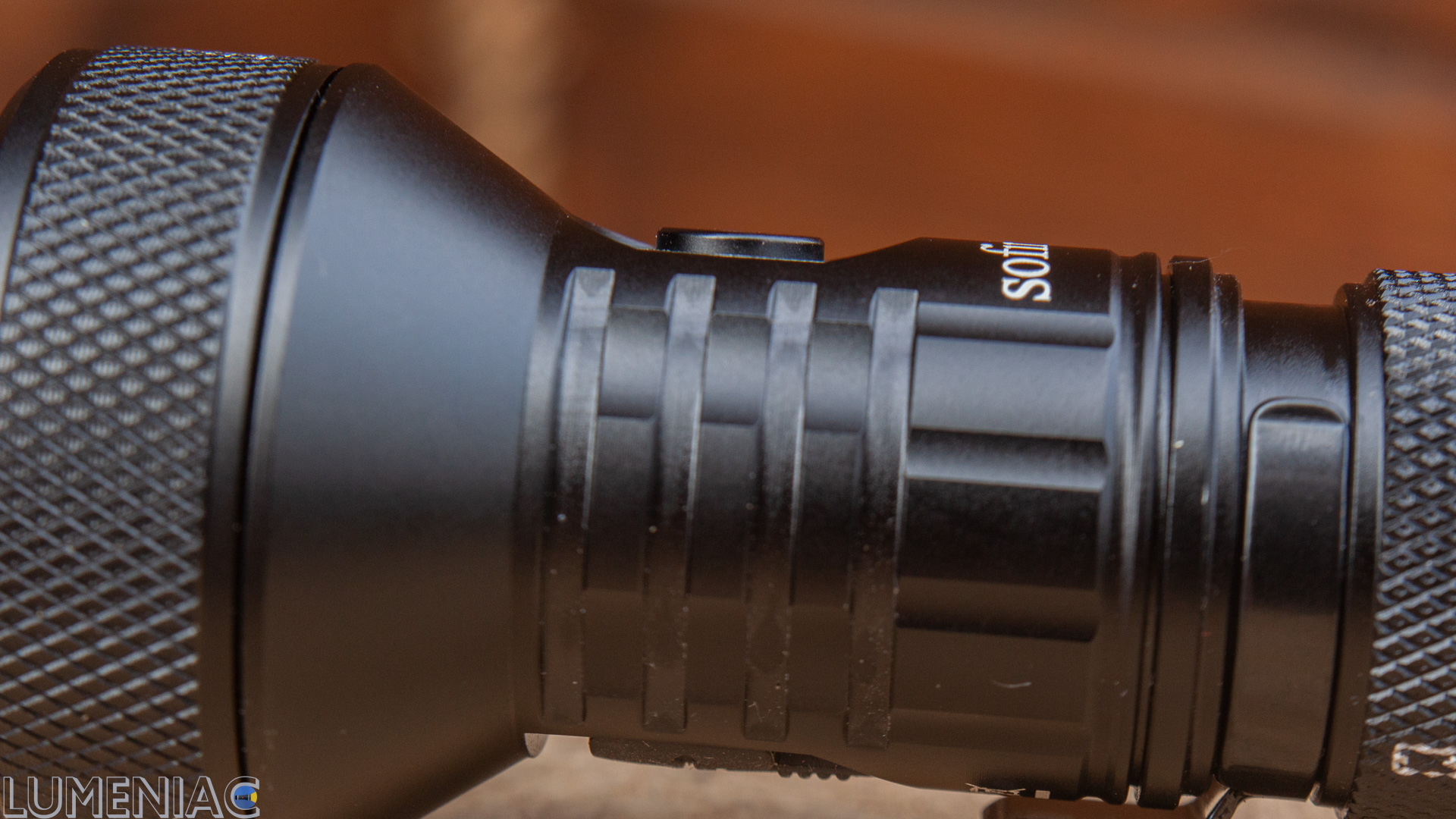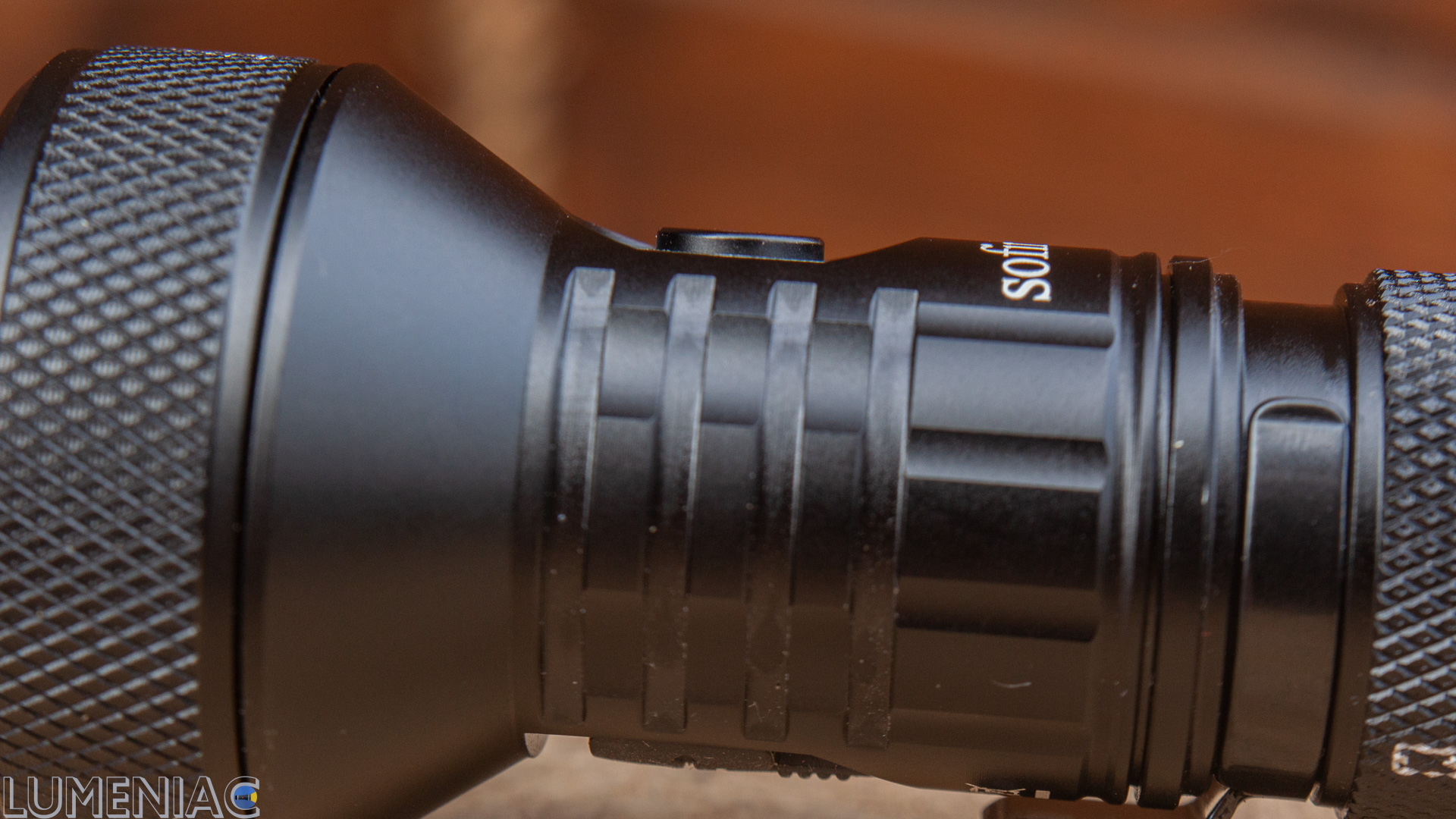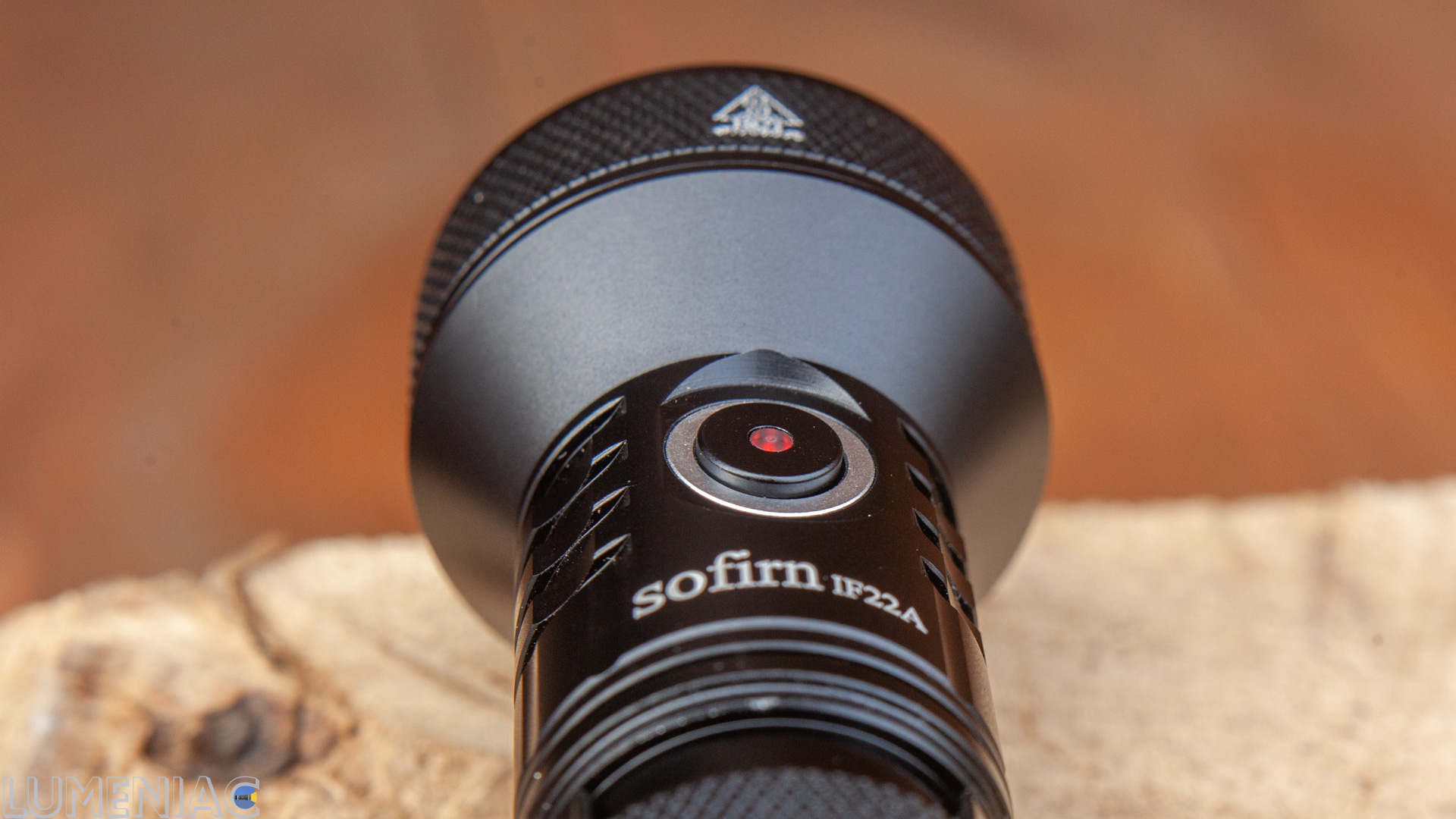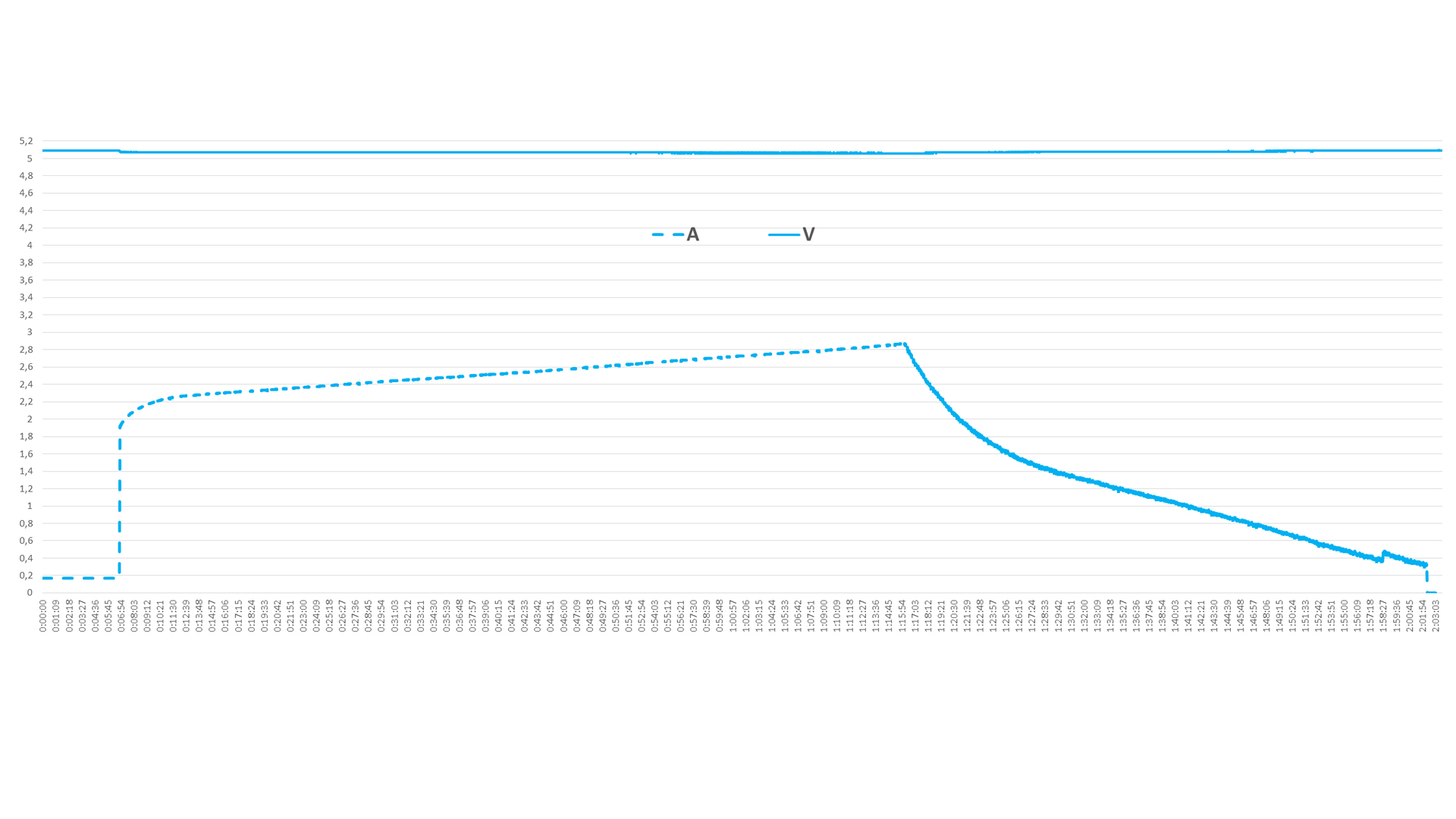 The button is no worse. It has no backlash, it is located in a small depression and due to this it is easy to find it blindly. There is a small indicator in the center of the button. Everything is convenient here.
Head is sealed. We have a classic reflector in IF22 and a TIR lens in IF22A.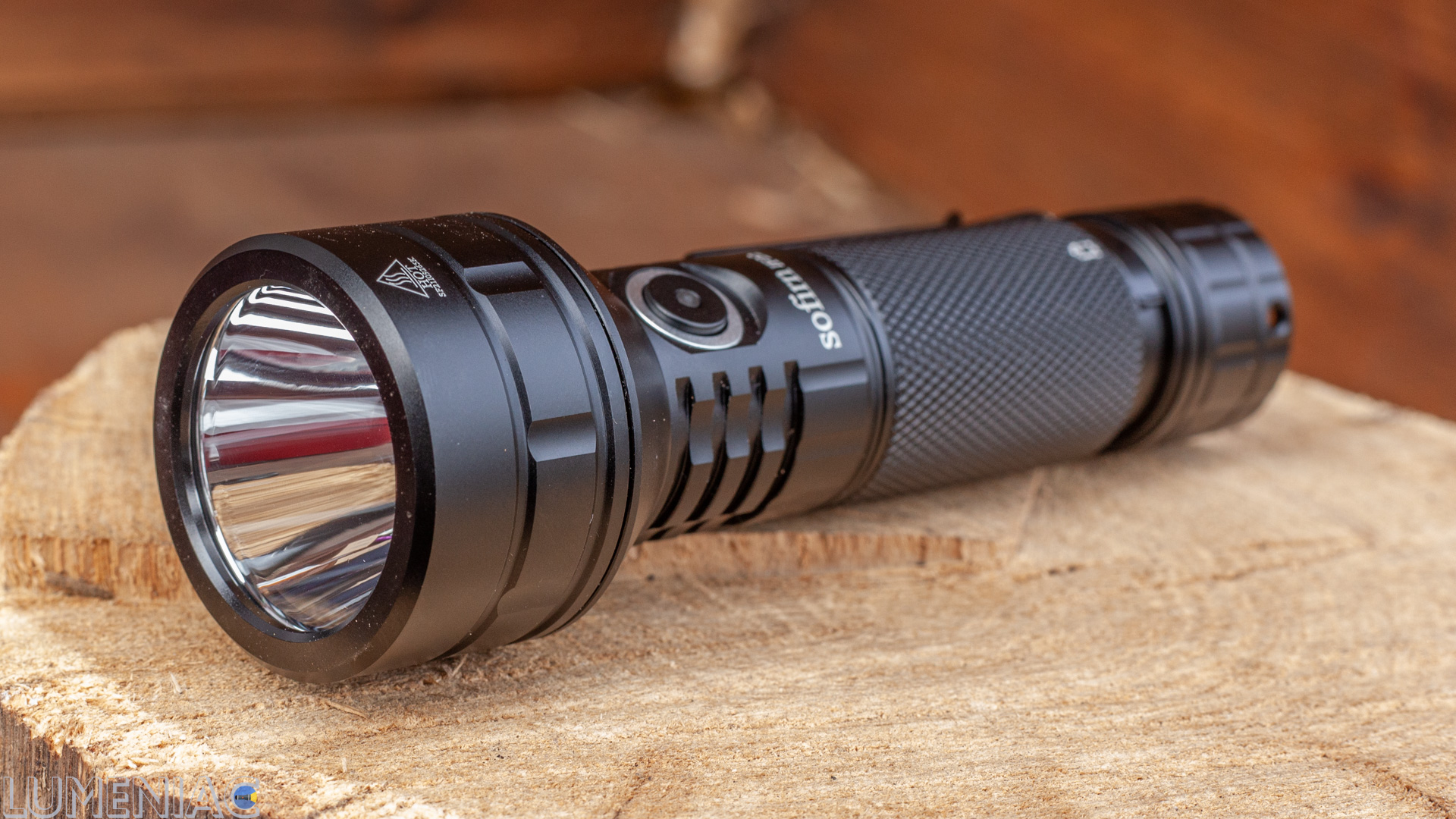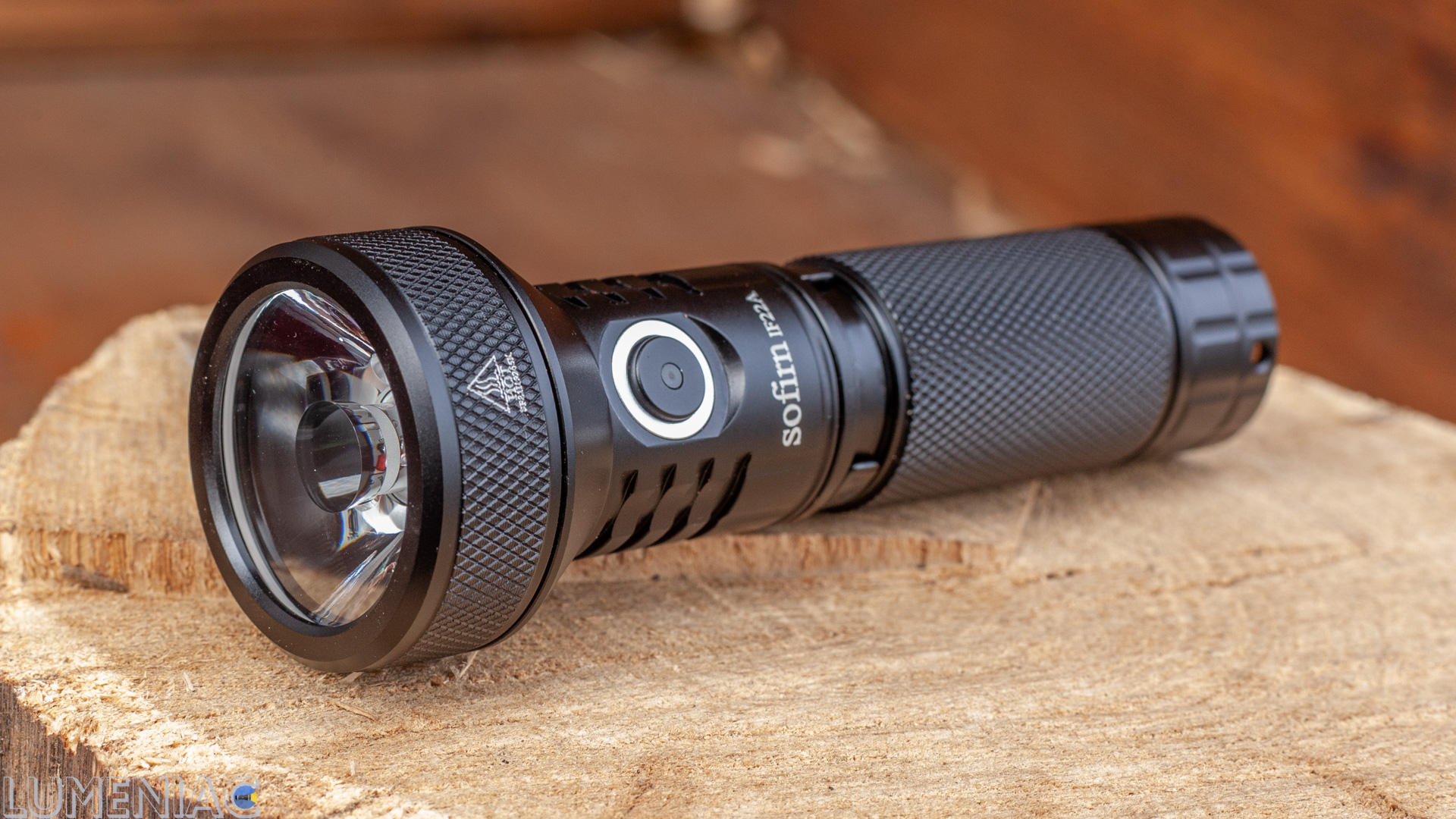 TIR is a cool thing for a long-range flashlight , I have already met this in the excellent line of Acebeam long-range flashlights (here you can see all three of its representatives)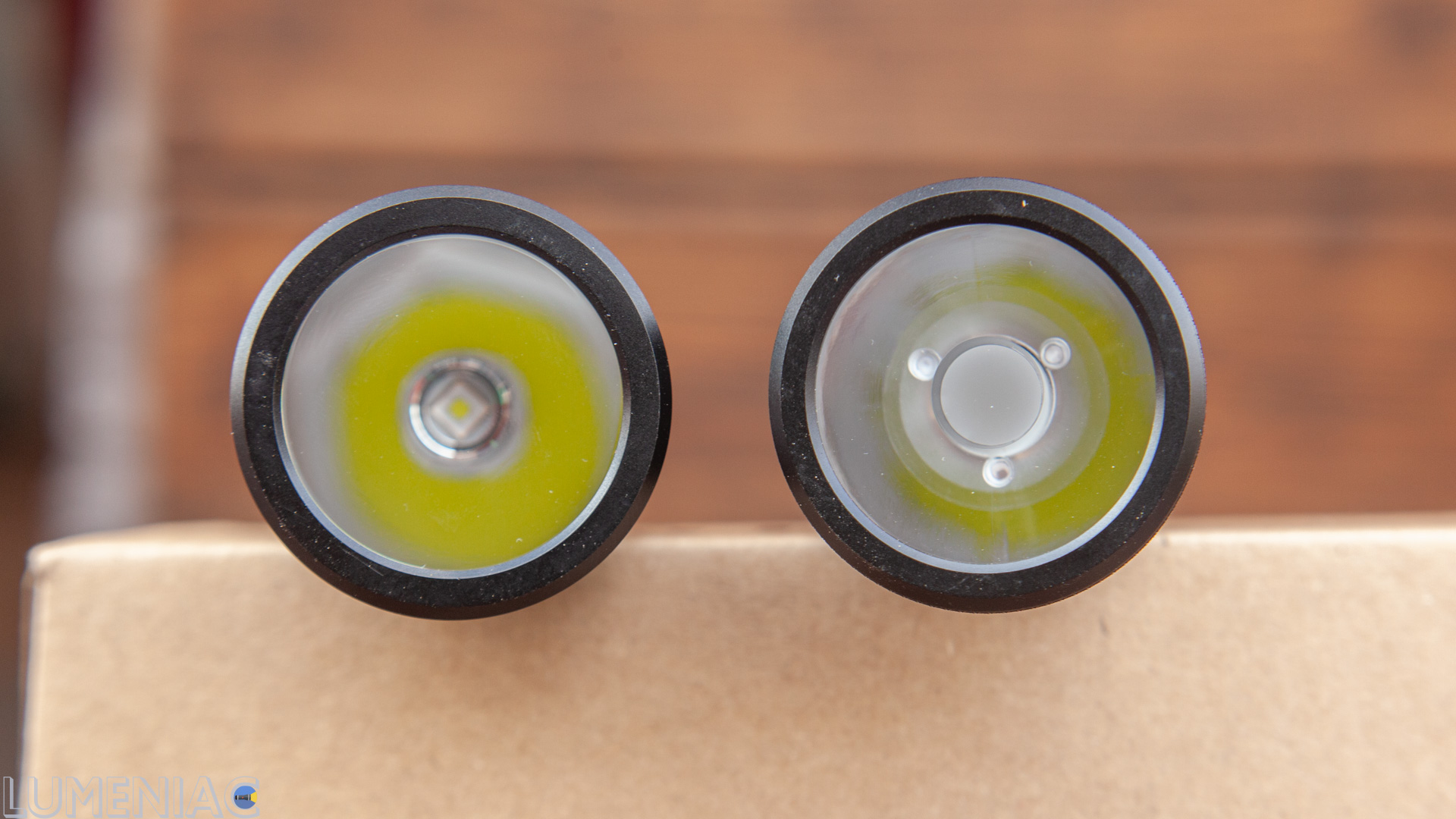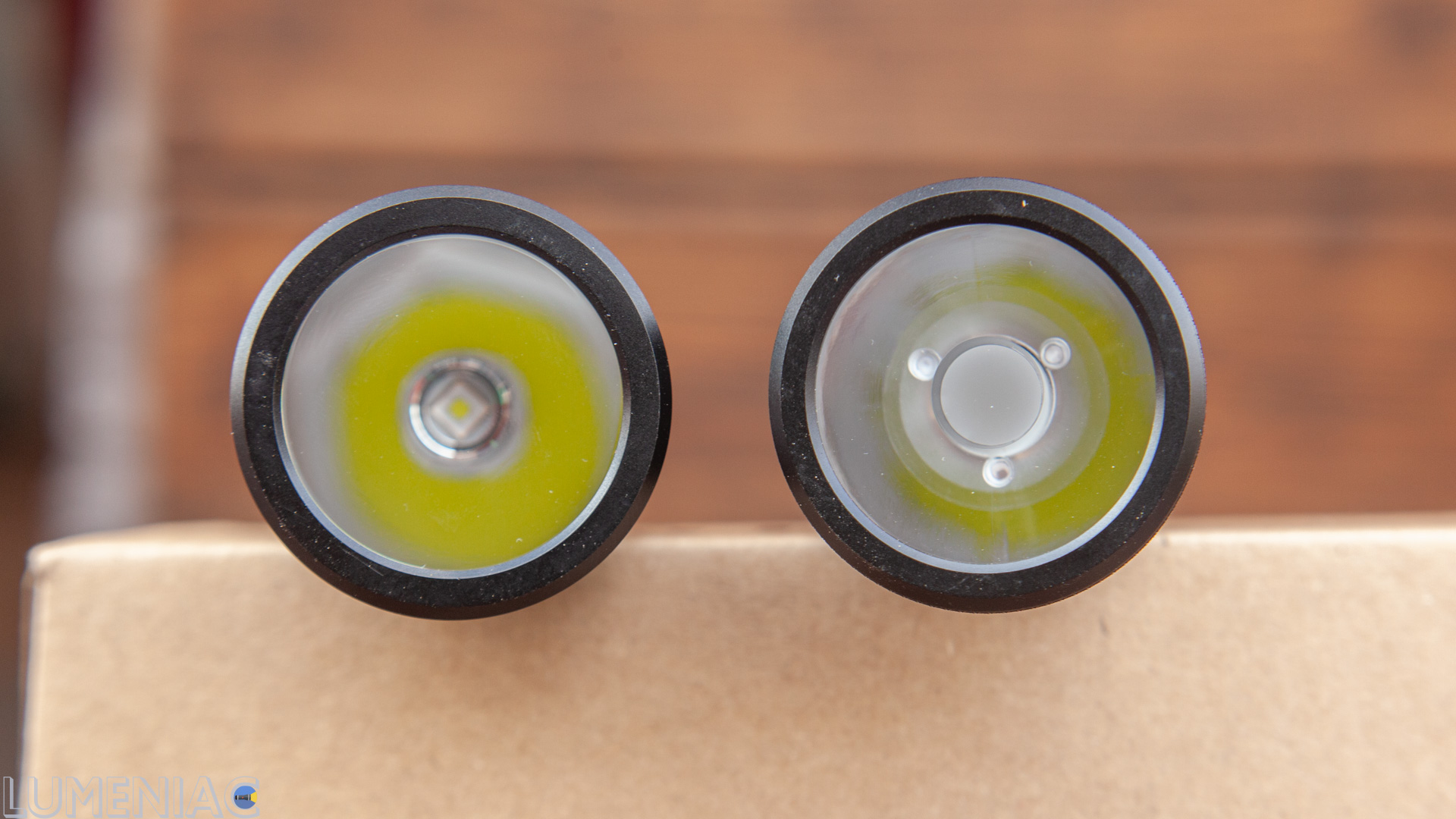 So far so good. The flashlight looks simple, but it is recognizable. But fast charging, 21700, a convenient button and a choice of optics are great.
UI
Again, Sofirn as a budget manufacturer offers you what way more expensive and well known brands dont. UI is great. There is a group with classic preset modes and a group with smooth brightness control.
There is a mode memory.
Preset Modes:
On / Off - 1 click
Brightness Level Change - Hold (Lo-Med-Hi ascending)
Turbo - 2 clicks from any mode (by clicking in Turbo - return back)
Strobe - 3 clicks
Instant access to Eco - hold from OFF.
(un)lock - 4 clicks
Keeping the button locked gives access to the ECO. I once stole this wildly handy trick from Lumintop and advised it to Sofirn. Proud of this -)
Switching between groups is four clicks from ON.
Stepless brightness control (ramping)
Similar to group 1, only the brightness goes smoothly all the way up to turbo. Those. if you screw it up to the maximum, 2 clicks will do nothing, you are already in turbo.
As for me, it is very convenient.
HOW SOFIRN IF22(a) ILLUMINATES
And here is the trouble. Well, not that it's a disaster, but there is a reason to grievely sign "well,why…?". There is a bulk of active thermoregulation, but there is no stabilization. What is the difficulty? Even Fenix ​​was able to make it in another SFT40 model, i mean PD35 V3, which is both light and functionally more primitive…
I understand if Sofirn as Imalent would not do stabilization at all. But they either have it or not. Can You use it IF22a as is? You can. Would you like the brightness to be stabilized? I bet you would!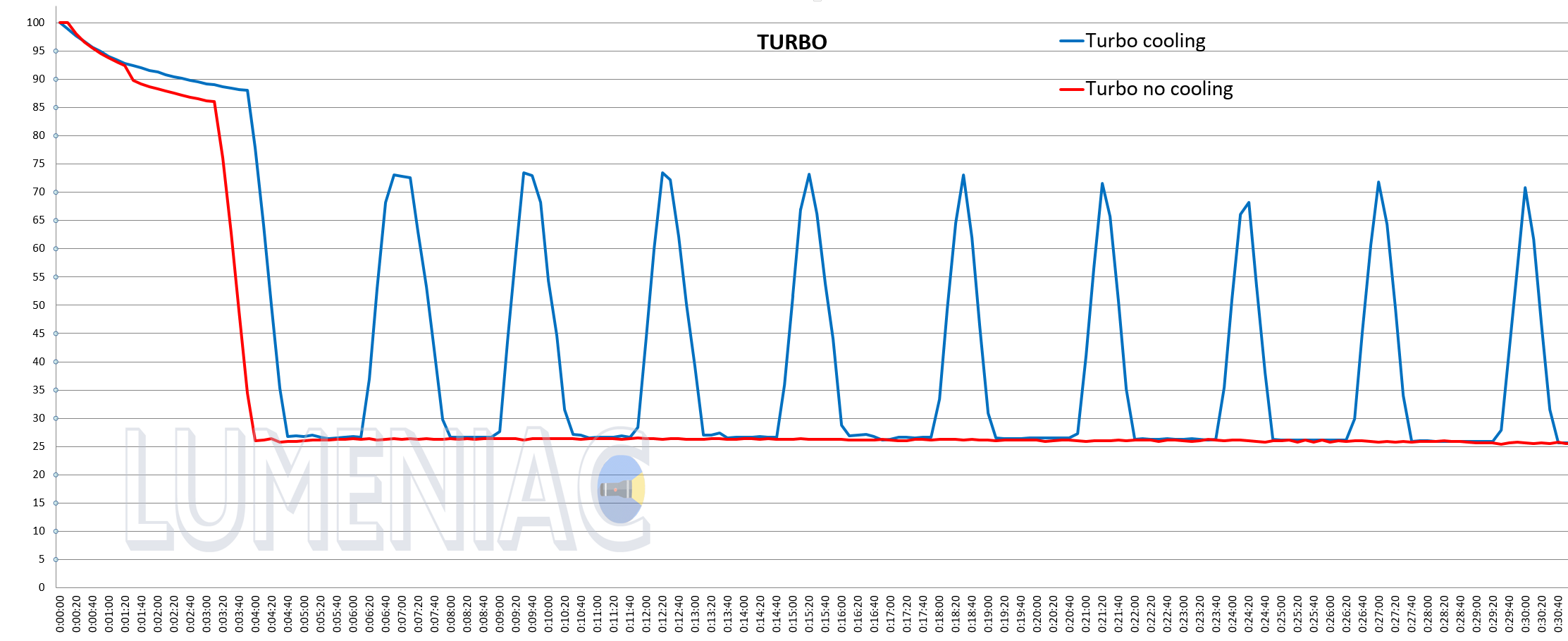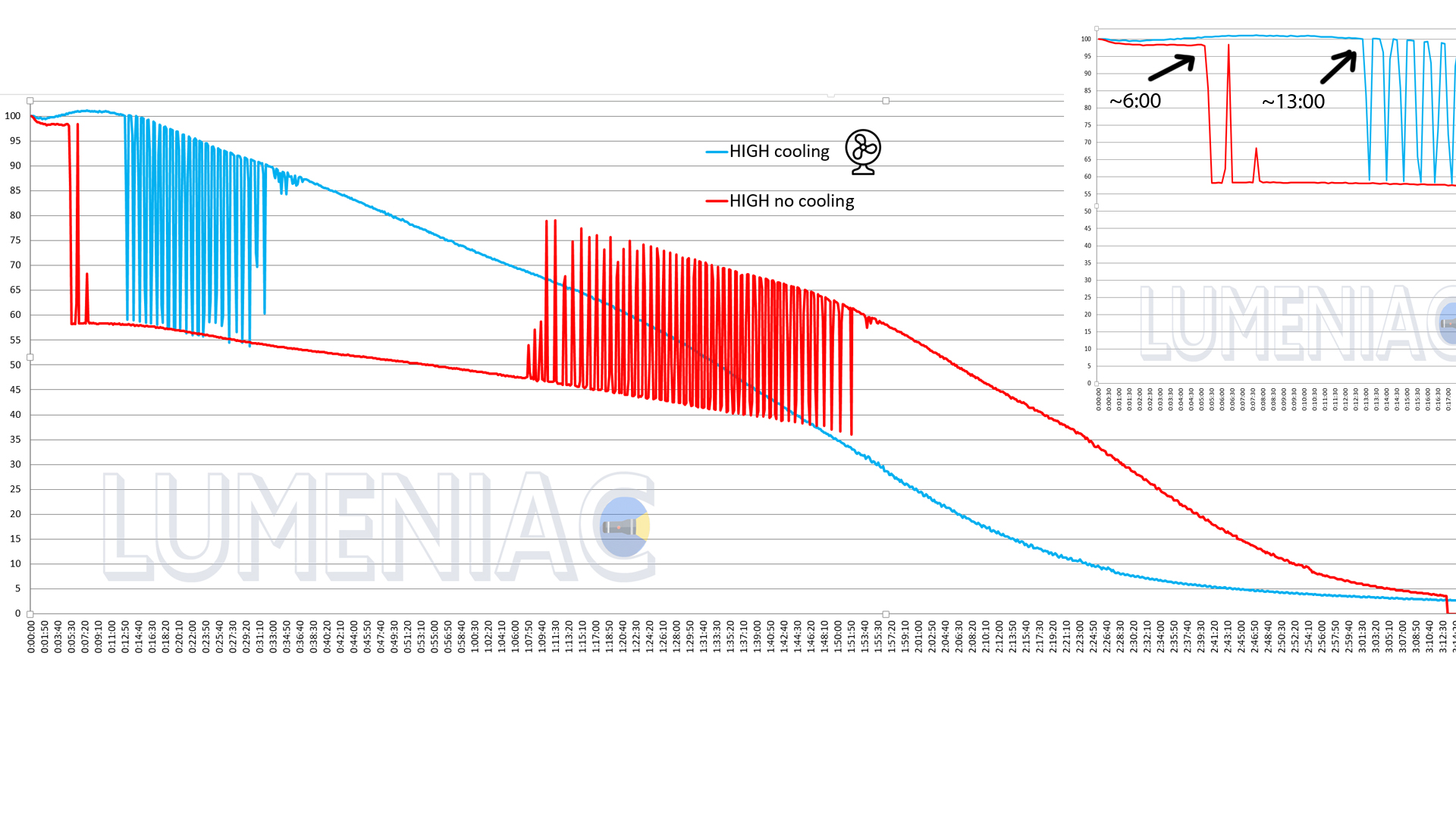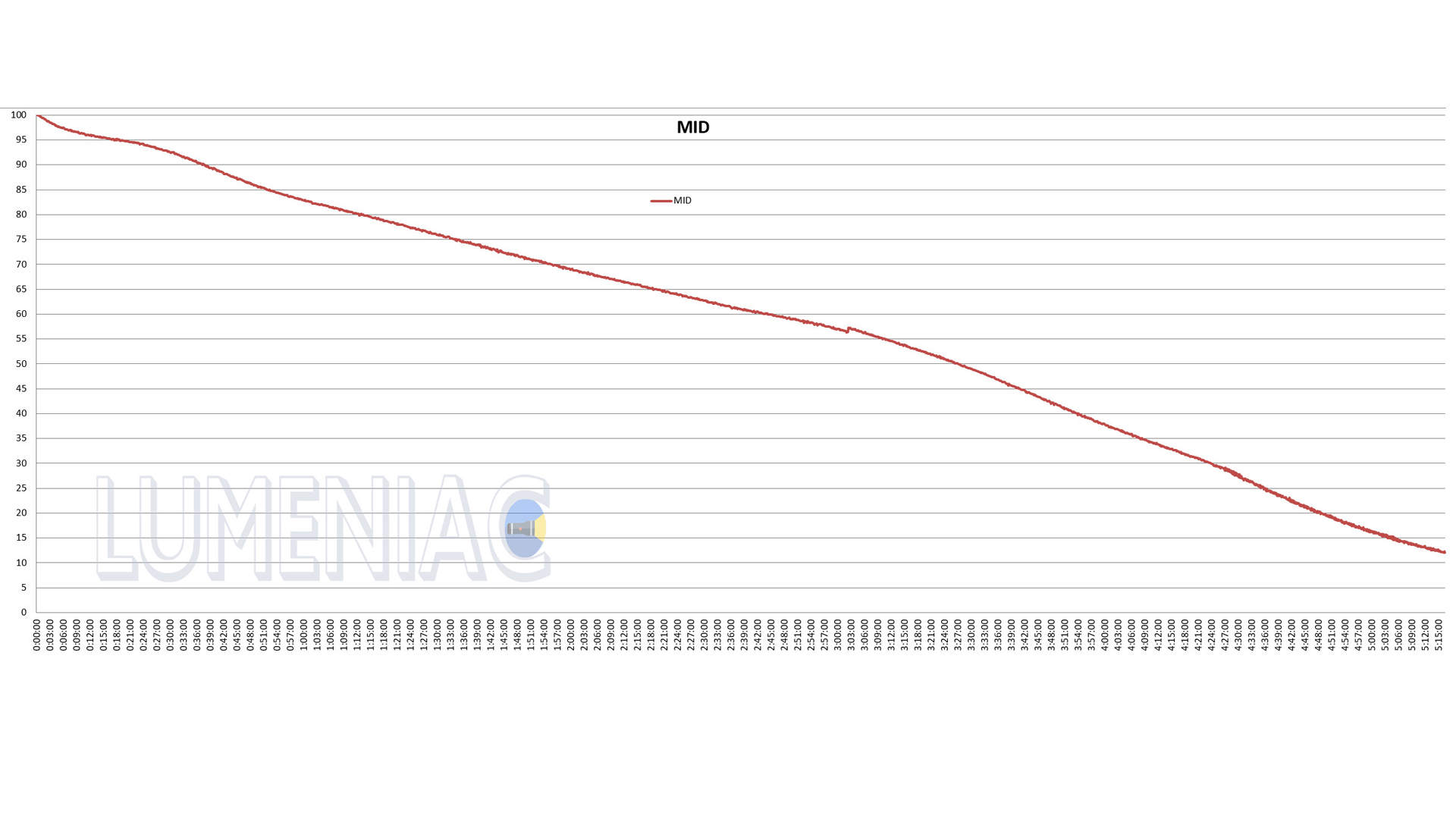 As for the "saw" in thermoregulation. In general, this is unpleasant. This is what ruined my once big respect for Klarus (dont even consider them to buy or recommend now).
But what I categorically dislike in the $ 70-80 model is already tolerable in the $30 model. You get 12 minutes of "no saw" light, and, it seems, you just go to a lower brightness before the onset of this "swing". In most cases, Mid will actually be sufficient. 4 minutes for a turbo is also really great. It is worth understanding that the numbers here are relative and will change depending on the windiness and outside temperature. In winter, you may not see this saw at all.
But light…it is really good here. Before putting my hand on Sofirn IF22 I faced SFT40 twice (in Fenix ​​PD35 v3 and some other, I forgot). In both cases, the flashlight gave a nasty green light and I could not understand why this LED was praised here at BLF. And so I got Sofirn IF22 (a) and everything fell into place. The budget Sofirn was equipped with a normal tint LED.
Cold, of course, but this is a normal cold light. There is simply not warmer choice for SFT40 LED.
I will clearly show this difference in color temperature in the next review of the Wurkos FC12. By the way, I suspect that the situation will be the same with the SST70, which I already came across in expensive branded models and it also was hell green in the lower modes. Interestingly, these big brands stupidly do not understand what exactly they are doing there at all, or is it a combo of conscious penny savings and a disregard for the user?
For me personally, a review of the Sofirn IF22 \ IF22a compact long-range flashlight showed that the slight advantage in range of the reflector version is compensated by the less convenient overall light distribution. I (and, according to the reviews I saw, other users) definitely liked the Sofirn IF22a with its TIR optics. Although, however, this is a matter of taste and my opinion here is nothing more than my opinion.
Attention! composite photographs have FHD resolution and do not give a clear picture when enlarged. Here is the album that contains all the materials with the highest possible resolution.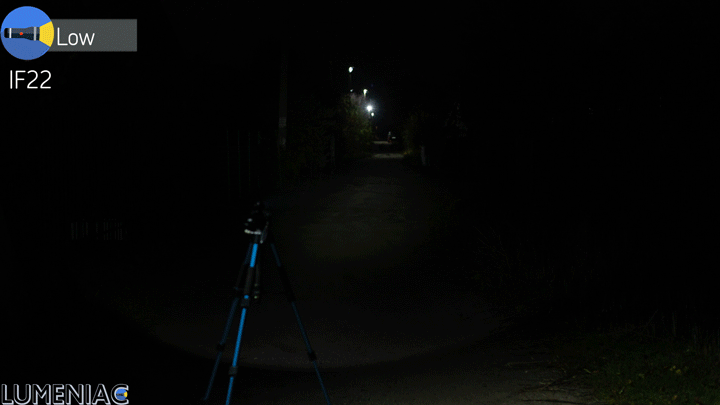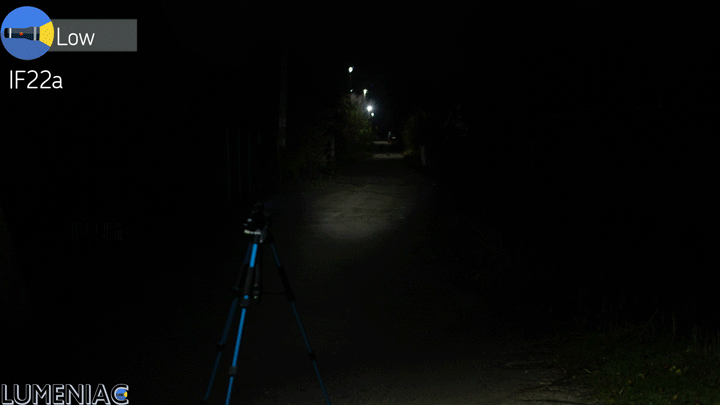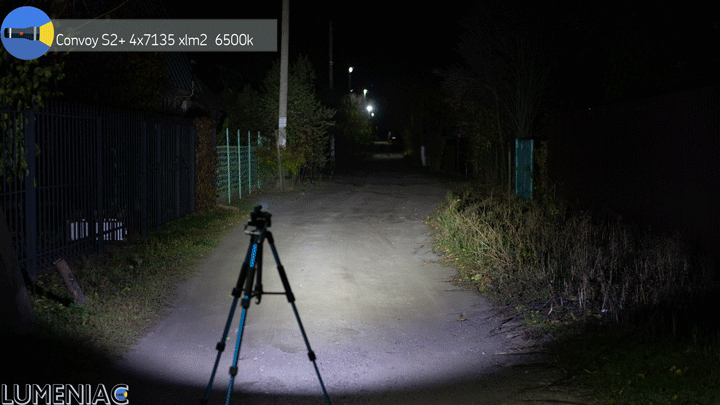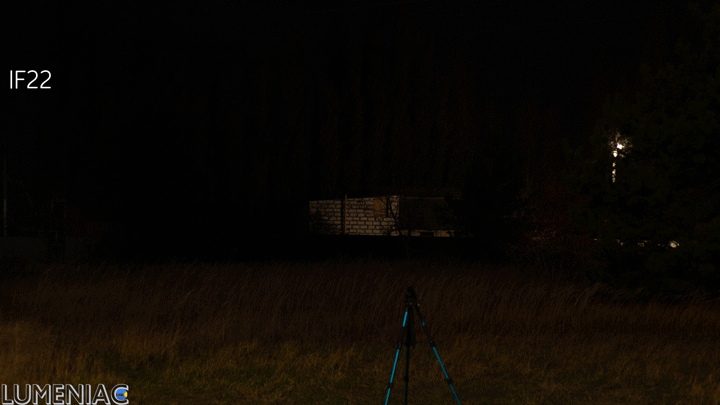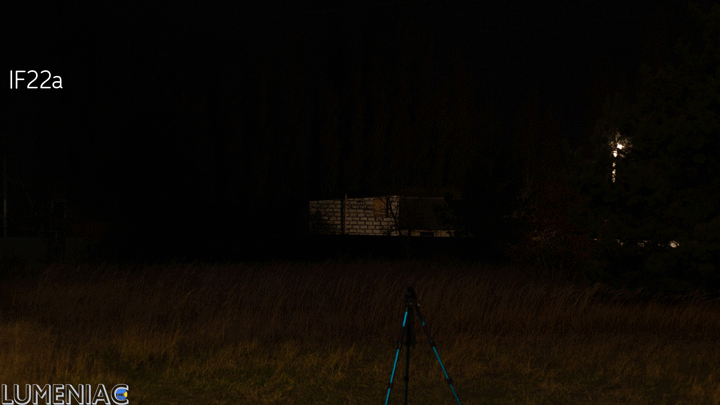 50m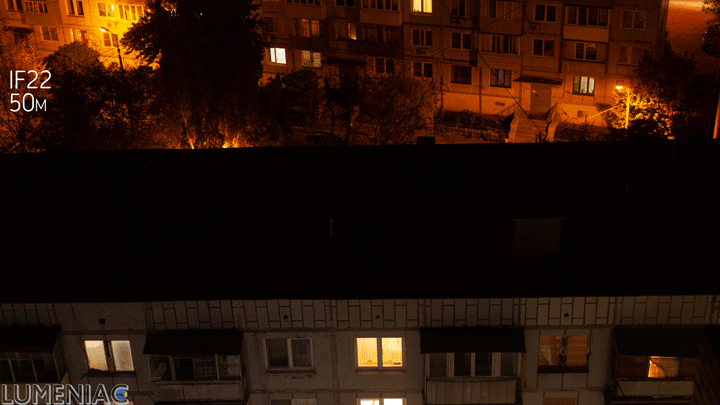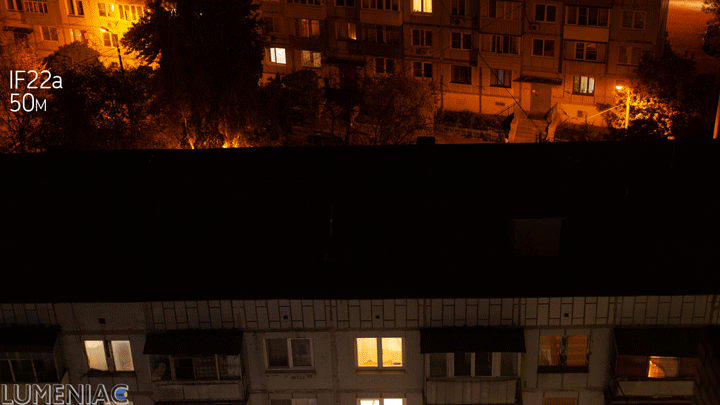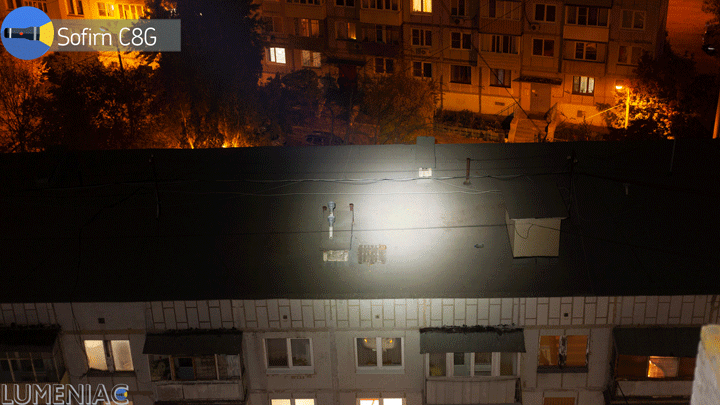 200m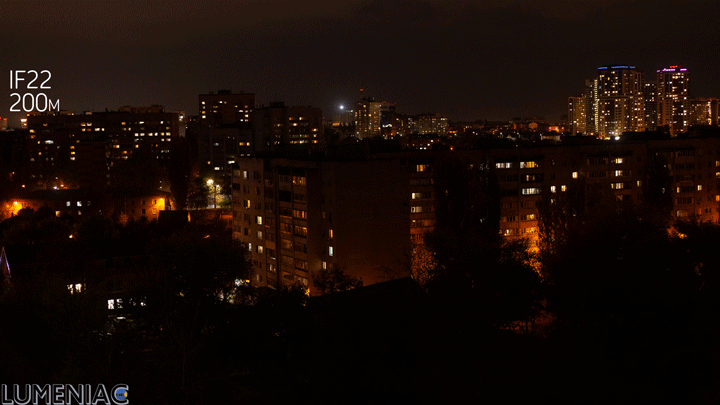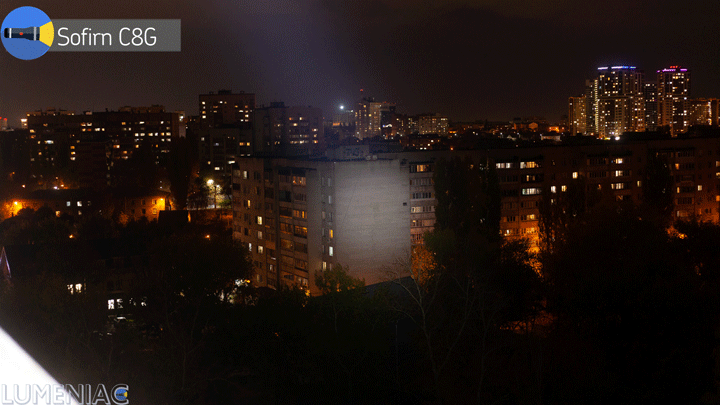 250m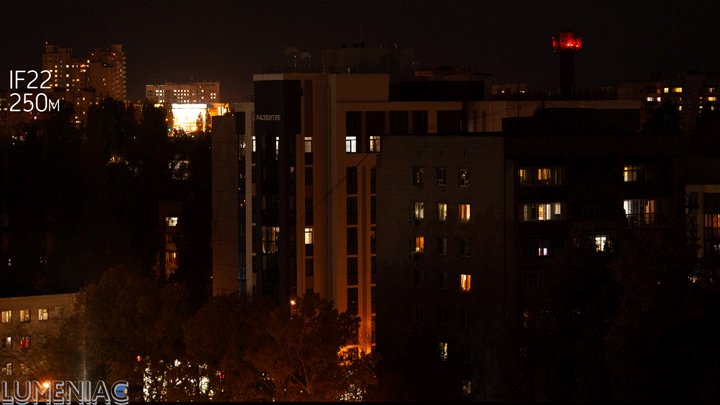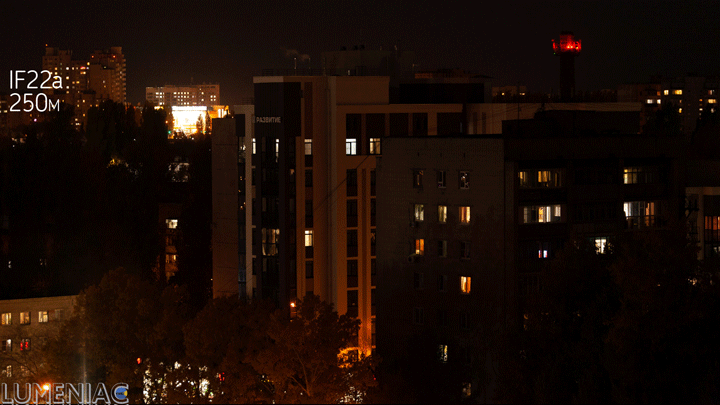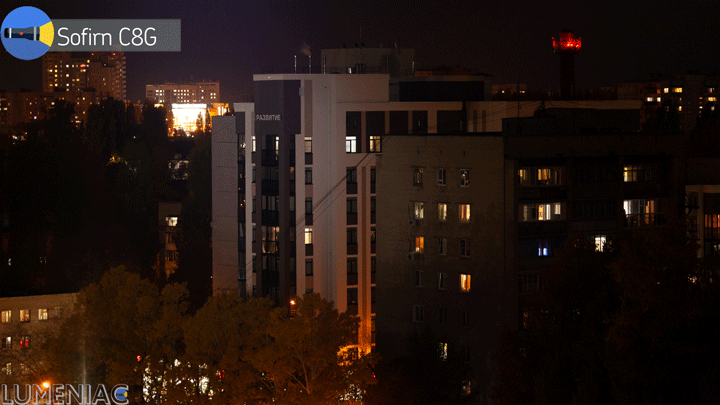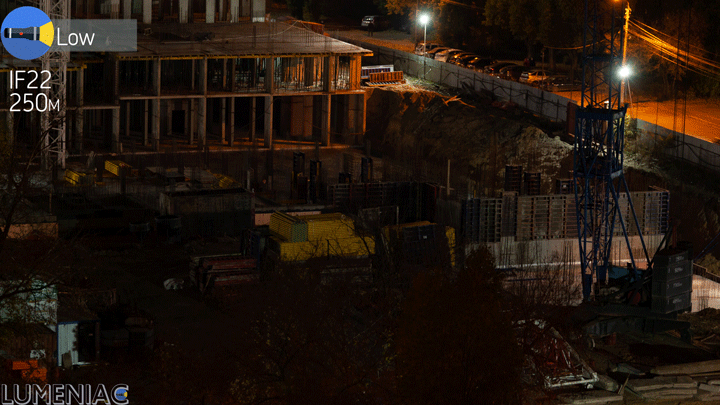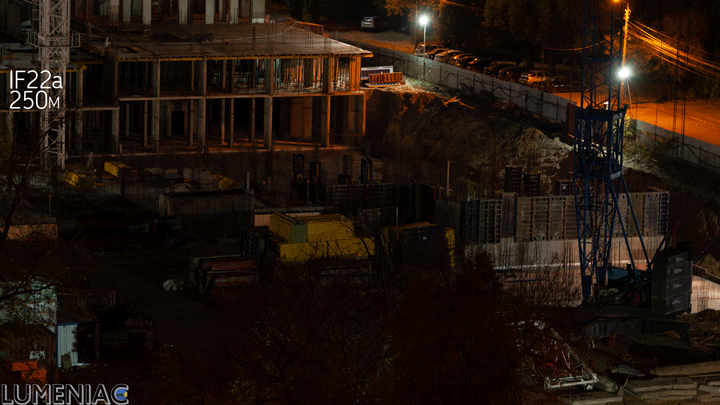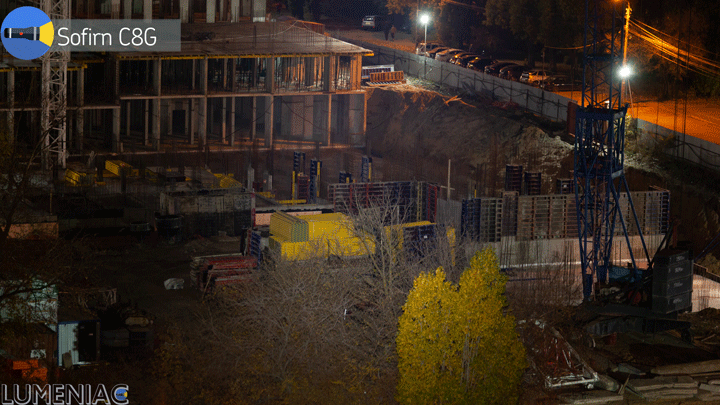 I wonder where the 600m+ stated range came from, if any of the flashlights here already closes 400m somehow. It's not that frankly there was no sense at such a distance, but nothing serious as well.
400m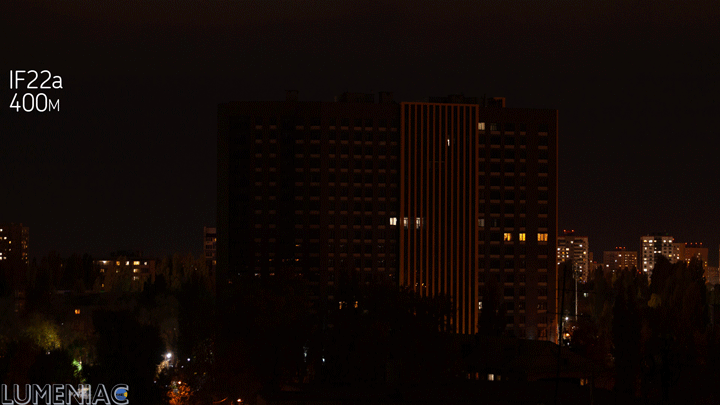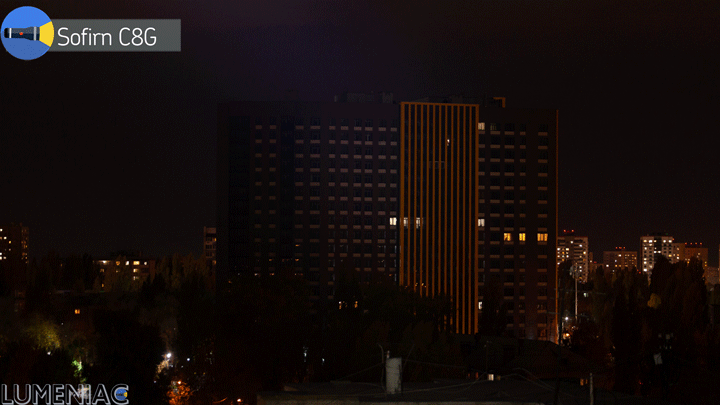 This Sofirn IF22a review has a comparison with Sofirn C8G (review). Only after shooting these pics and I realized that this is no longer existing 5000k xhp35 version , not SST40 one. With the current sst40 version, I'm sure there will be no significant difference in color temperature and range. I think that then I will take a photo at 200m distance.
Video review Sofirn IF22 (a) contains other interesting materials
OVERALL IMPRESSIONS
Sofirn, have done what they have done well more than once. What I mean, actually … so they decided to make a compact long-range flashlight, with the most convenient UI and fast built-in Type-C charging. With a nice bright modern LED. Not super-piercer like some kind of trendy Osram LEDs, but covering almost all the needs of ordinary users. They decided to power it from a capacious 21700 battery and ask for all this traditionally low price. Here's honey and sugar.
And, bam…suddenly they do the same trick as in the potentially hit Sofirn SP33 v3 - namely, they deprived them of stabilization and added active thermoregulation with jumps in brightness during cooling (however, I don't think there is a chance to just get to them in the warmth and calm).
Ok, ok… The same wurkkos ts21 has no stabilization and i I liked it wildly
And IF 22 (a) can certainly be used as well . The question is that it could be much better,so damn good in terms of price and functionality. And now it is just a very good and convenient compact long-range flashlight. After all, the advantages listed at the beginning cannot be discounted. Isn't that enough for a flashlight?
I'm quite sure that for an ordinary person who does not bother about stabilization and active thermoregulation, this will be enough. For Dad,uncle,neighbor,friend - there are no Anduril's tricks in UI but there is a built-in charging and a good combination of brightness and range. And taking into account the low price, it will be a good gift.
But now an experienced user, having seen these graphs, will already begin weighing all the pros and cons. For ease of understanding, here is a list of them as I see it.
+ kit includes everything
21700 battery
choice of optics
pleasant light distribution in the TIR lens model
good brightness and range
excellent, without nasty greens, a kind of SFT40 LED
the very fact of installing this bright and long-range modern LED
fast type-c charging
excellent UI
frankly affordable price
- no stabilization
In short, if you want to opt for an inexpensive all-in-one thrower for general use, then Sofirn IF22a will delight you. If you need a slightly longer range, or 5 bucks of savings are critical for you, or you need a long-range flashlight for a gun, then you should look at the Sofirn C8G. I would prefer IF22a, choosing from these two for ordinary needs - it has more convenient light, built-in charging and it is more compact.
If we talk about other brands, now (from what was in my hands and the same price segment) I see Lumintop D2 (review) as its closest competitor in terms of the combination of power, range, 21700 and sane UI. But it is a third more expensive ($ 47 without a 21700 battery versus $ 33 for a complete set for the IF22) and worse in green in low modes, it has easier control. But it has full stabilization. In general, the difference in only the latter, I do not consider to justify the dramatic difference in price. I admit that there is another model with the same set of characteristics, my memory is far from ideal.
Well, that's probably all.