mouse over for how it came packaged...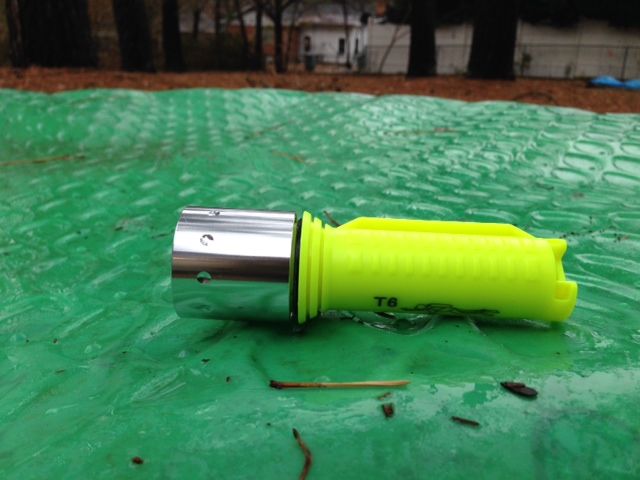 T6 Plastic Dive Light

Specifications:
Cost: $8-14 depending on seller

Construction: plastic body. aluminum head with orange peel reflector (pic: OP)

Size: 120 x 37 x 28mm (length x head width x body width).
Imperial units: 4.7'' x 1.5'' x 1.1''

Weight: 87g / 3.1 ounces (without battery). 132g / 4.66oz (with battery)

UI (User Interface): Twisty (turn the head to turn ON/Off)

Powered by: (1) 18650 Li-ion cell
LED: (1) Cree XM-L T6
Burn Time: 5+ hours with 3400mAh Panasonic cell
Amp Draw: 1.45A & 1.5A (2nd light)

Working Voltage: 2.7-4.2V
Depth rating: 30 or 60 meters (~100 or 200 ft) - I see different depths from sellers

Recommended Seller: etectonic1127 on eBay & maybe ELB
the light has several model names depending on seller...
sold by others as: C42 (Ali), 608 DX, 607 (LT), SF-604 (Ali), Q5 (Yezl)
Each Category gets a 1-5 star rating (*****)

*** UI (User Interface): Single mode Twisty. To turn ON you simply twist the light head clockwise. I really like this type of simple interface. However many users find it hard to twist on. More on this below.
*** Design: The light uses the popular P60 drop-in. This makes it very versatile. You can buy or build your own drop-in using any combination of LEDs and drivers that support 18650 voltage. Perhaps a potted P60 drop-in would make more sense should you happen to flood the light. - Very modder friendly
At times the light can be hard to turn on. I think this is because it uses plastic threads. I found traditional silicone grease to not work very well. The best lubricate I found was also in my scuba bag »» Tribolube71 (from DGE).
And max recommended depth is probably around 100 feet. Because of these reasons I can't give it 5 stars in design.
Therefore I recommend this light for non-technical dives/recreational use.

The build quality may differ between sellers...
(1) The quality of the drop-ins may be different. All of the ones I seen came with an XM-L emitter, but color temperature (tint) and brightness MAY differ.

(2) another variety may have a removable inner aluminum tube (see pic below). I don't recommend that light because the tube completes the circuit. Over time the ends can get slight corrosion compromising the electrical circuit (like maybe this seller - see pic).


Disassembled - note detachable inner tube

The build is also very light weight and compact. A diver can stow this away just about anywhere. This is one of my smallest dive lights.

Like any decent back-up dive light this has a rear attachment point to tie a bolt snap and connect to a D-ring.
***** Burn Time & Brightness: Depends on driver & battery. With the stock light and a 3400mAh Panasonic cell I got over 5 hours, but @ 5.7 hours the output was so weak that I could look straight at the LED. I suggest to change out the battery after about 1.5 hours if you want it to stay bright.
Stock Light: 5.5+ hrs. very low output after 3hrs. But stayed brighter longer than my drop-in ↓.

Cree XP-G2 with 2.8A driver: 5.5+ hrs. @2 hrs about 1/3 original output. @ 3 hrs weak light, but still on.


OTF lumen estimate: OTF = out-the-front. In the specs above I mention the stock light draws ~1.5 amps with a tailcap reading. This can give us an general idea of how much lumen output the light produces.
We know that it's a Cree XM-L T6 with ~1.5 amps. Looking at the chart & referencing T6 & 1500mA (= 1.5A) → gives us an low lumen output of 546 lm. Then taking in account lumen loss from the driver, reflector, and lens (using a 30% deduction). Maybe 382 OTF lumens with fresh battery?
***** Value: At $9 this is a super inexpensive dive light. I dive this at 100ft depth with no issues.
If you decide to buy this light I recommend to purchase it without the battery/charger package, because they will send you a cheap xxx-Fire battery when you can buy a quality 18650 elsewhere (e.g. mtn)
Beamshots:

Mouse Over: Stock Cree XM-L (@1.45A) vs. XP-G2 with 2.8A driver (Nanjg 105C)

In actual use you would find that this XP-G2 will easily out throw the stock XM-L by a considerable distance. A bright & tight hotspot is preferred for penetrating murky waters.

Conclusion: This is a dive light primarily for recreational divers. It is a highly moddable light because of the P60 drop-in design - meaning you could use a variety of different LEDs. For more "throw" maybe go with a Cree XP-G2 emitter & smooth reflector (SMO). Or you could replace the driver to add multiple modes like Hi/Medium.

For BLFers and flashaholics I can recommend this dive light. However for non-flashaholics I do not suggest it because...
(1) the light will be hard to turn on without regular lubrication.

(2) the output is "meh" with stock P60 drop-in.
(3) the user must pay more attention to regular maintenance (re-greasing o-rings) or the light may flood.

Overall rating is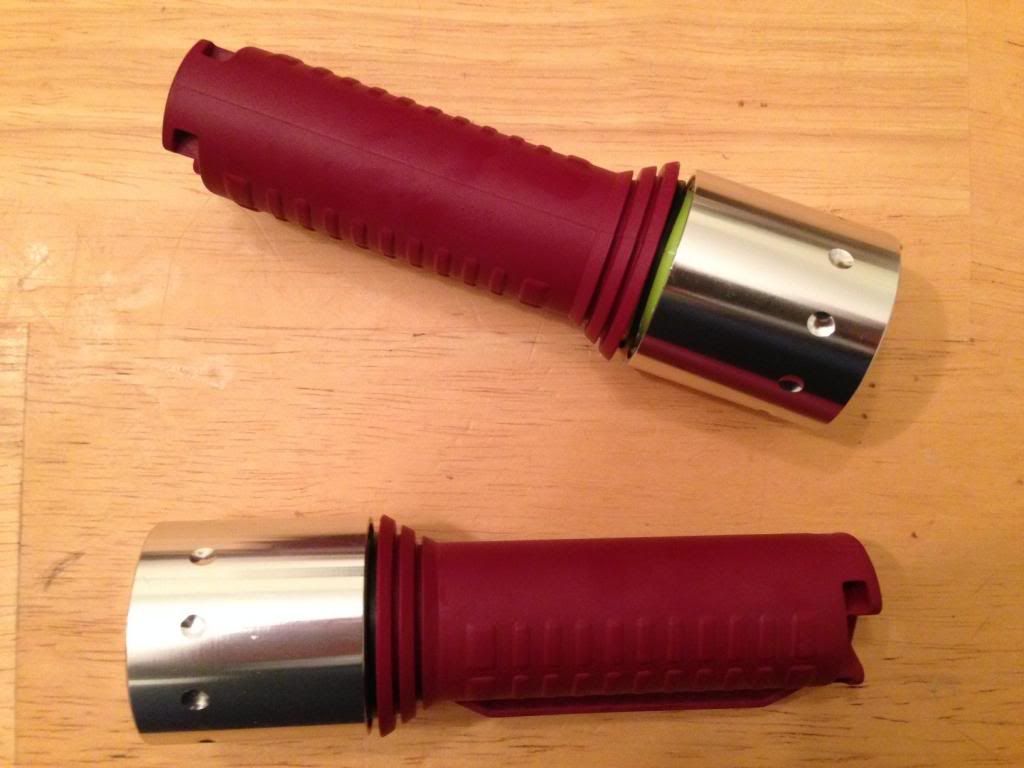 I painted the pair Burgundy.
Ok, I may not have chose the best color, my bad
But I wanted to see if a paint over would work. And I think it's better than fluorescent yellow, which is the only color the T6 comes in. I'll have to see how the paint wears when it's actually used diving.
I used Dupli-Color Adhesion Promoter then the Vinyl & Fabric Coating for color. Where to buy.