Although it's on the market since 2019, the ThruNite T1 is still a great little flashlight. Many of you might already know it, but I'd like to show it anyway because I got one from ThruNite for a review and because it looks like it got some small updates over the years.
With the T1S there's also a modern successor/alternative with USB-C charging and TIR optic.
This review is also available in German on my website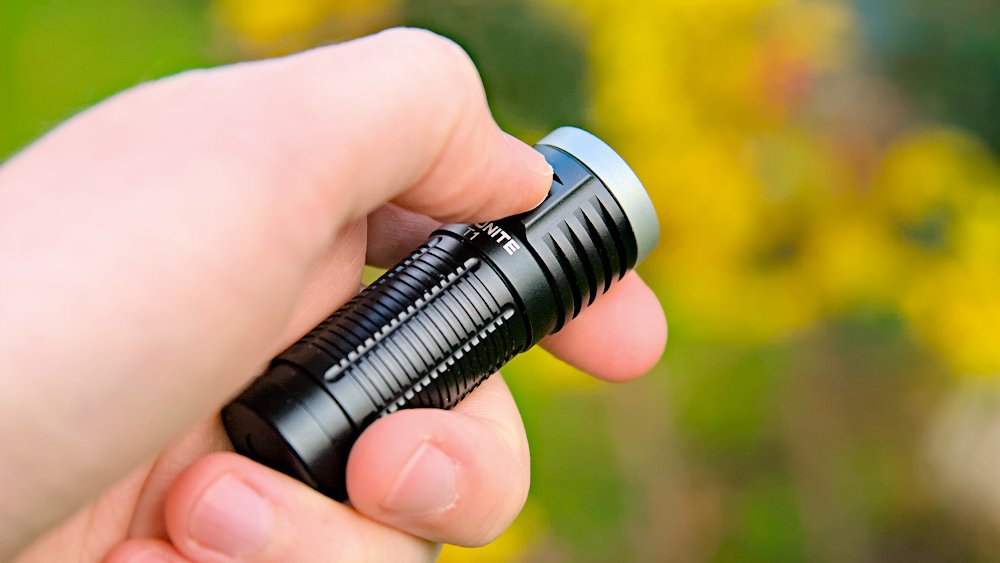 Supplied parts and hardware
18350 Li-ion battery with 1100 mAh (3.67 V on delivery, button-top, protected)
Dual-way clip (already attached)
Micro-USB cable
Replacement O-ring (2x)
Replacement USB port cover (2x)
Lanyard
Manual (EN, DE, CN, JP)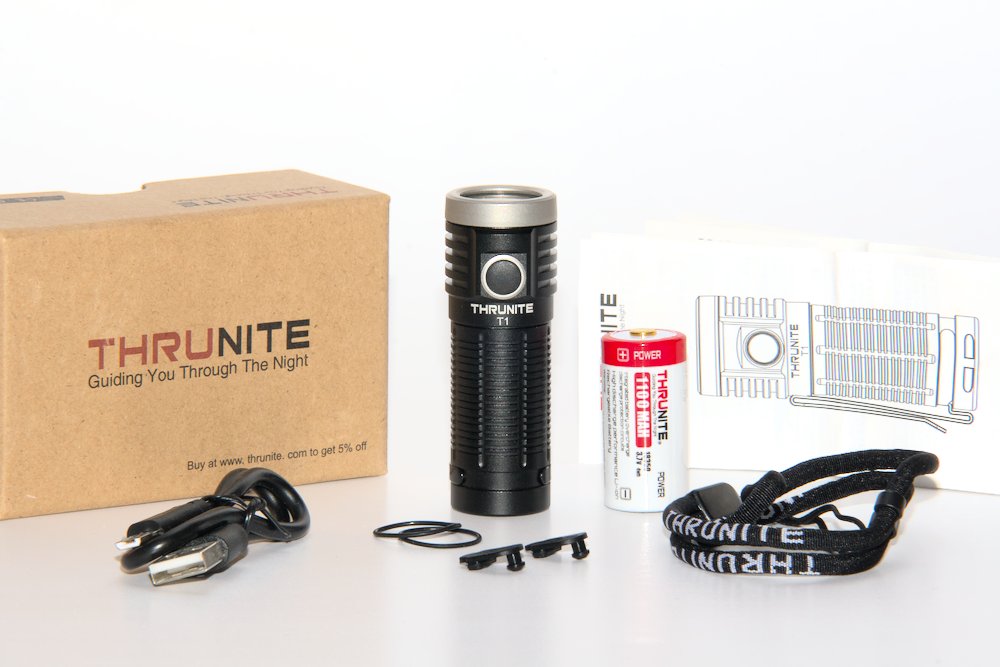 The T1 appears like nothing special, until you turn it on. Classic design with a ribbed battery tube. The only accent is the silver bezel, most probably aluminum.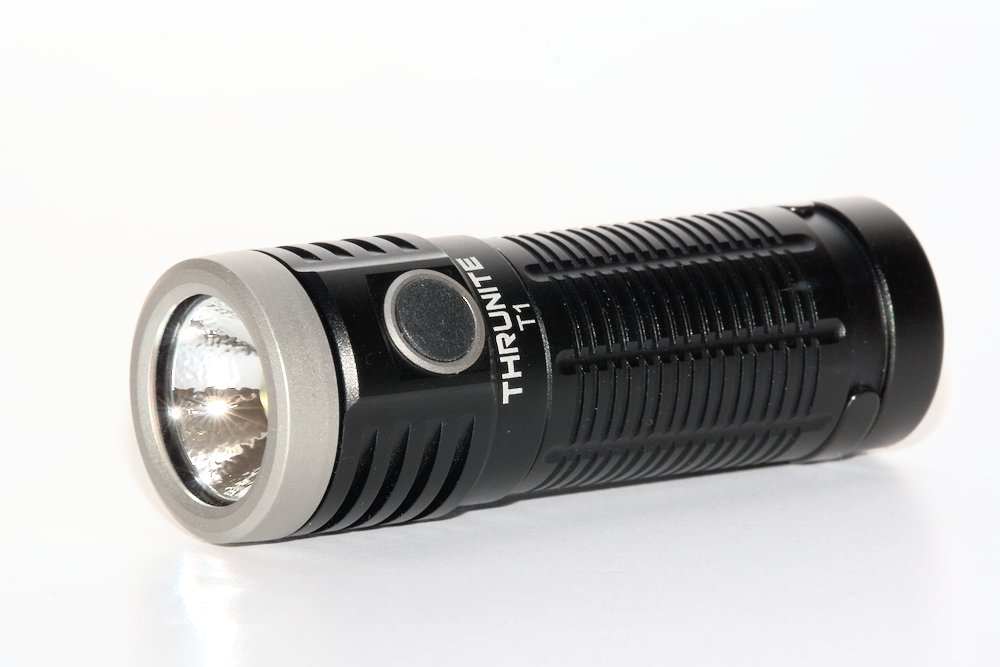 The small size of the T1 comes from its 18350 battery first of all. In direct comparison with other 18350 flashlights it's no longer that short with 70 mm length, but with a diameter of 24.5 mm it is still comparatively thin. It weighs only 40 g (plus 26 g for the battery).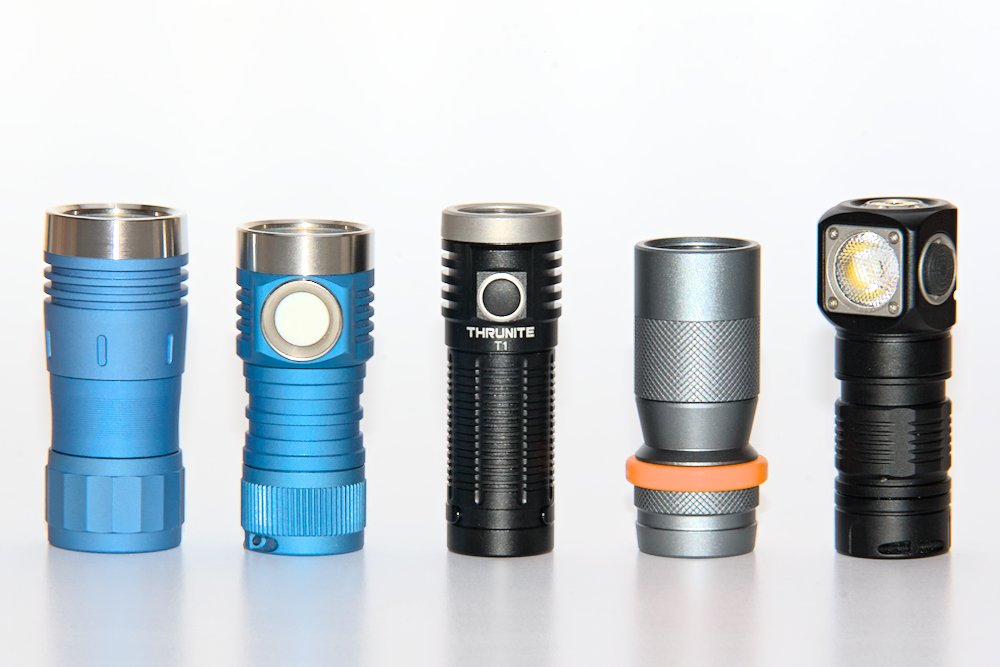 Maybe it appears so compact because it looks like a miniature version of normal-sized flashlights. Here in comparison with the Sofirn SP33S with 26650 battery: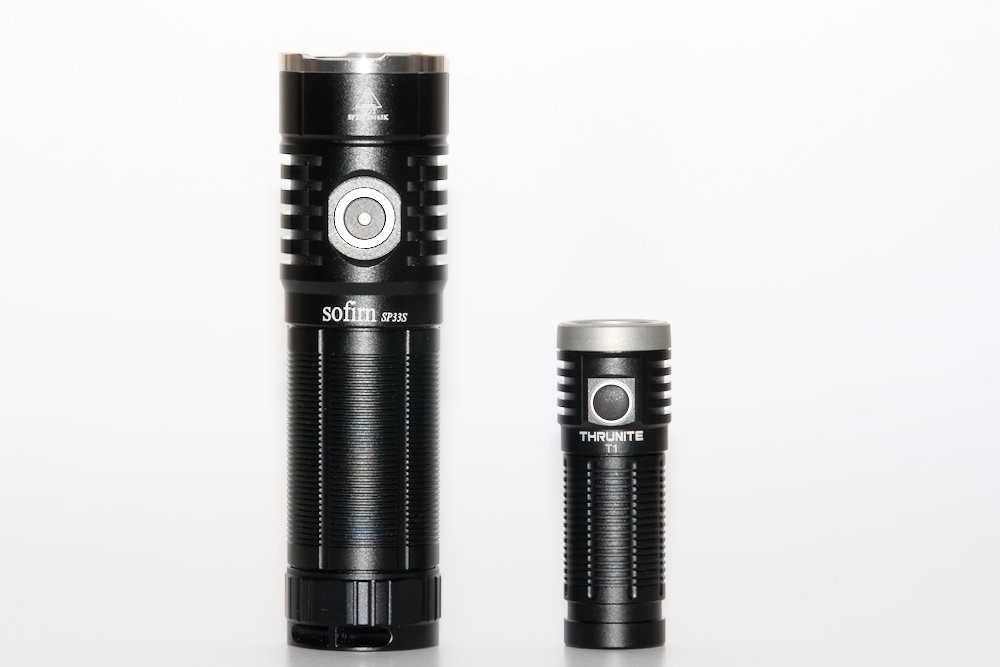 The dual-way clip is long enough to allow "deep carry" usage. Due to the light and small flashlight it works also great clipped to a cap.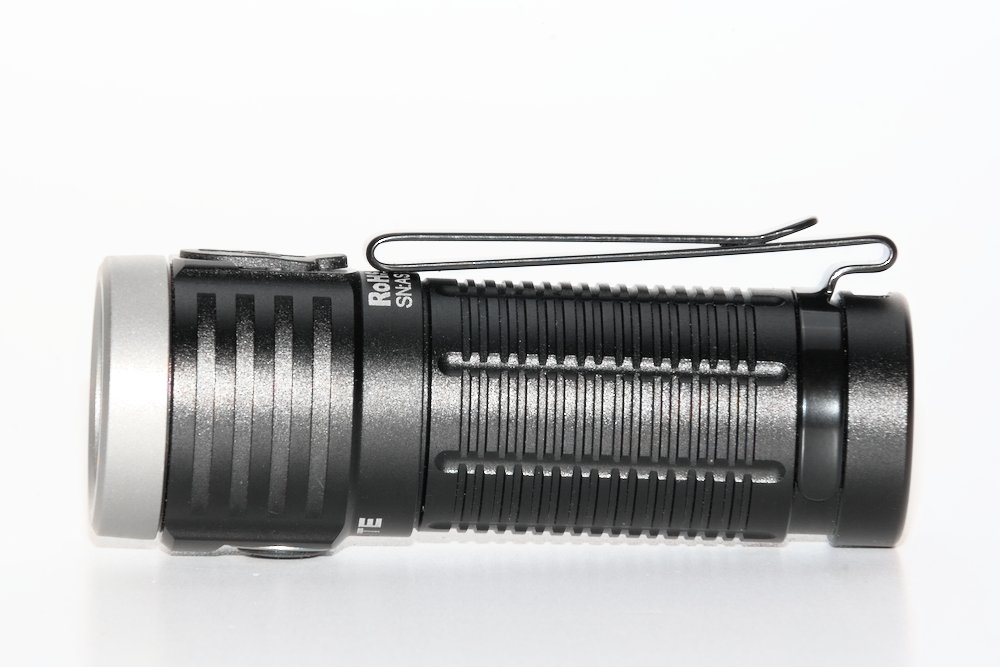 It has a "hidden" hole for a lanyard at the tail. No spiky point hurting your hand.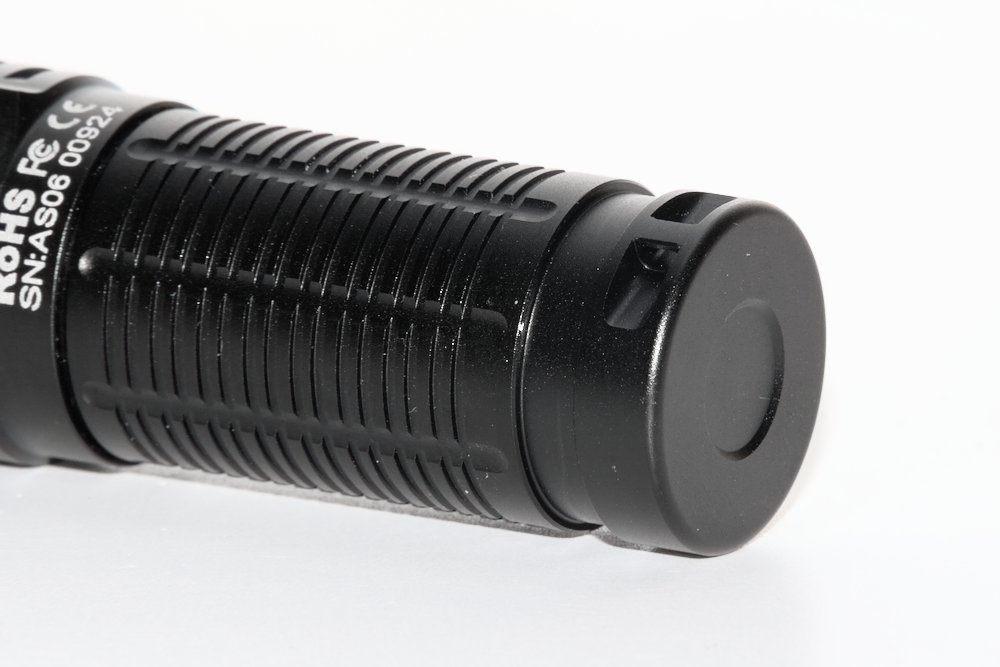 The tail includes a magnet to attach the flashlight to magnetic surfaces.
A Micro-USB port allows you to charge the battery internally. Some might prefer USB-C, which is available with the T1S.
Charging is done at 500 mA to 4.18 V, so that the battery is full after about 2.5 h. During charging the flashlight can be used in firefly and low modes. The status LED in the switch is red while charging and blue when finished.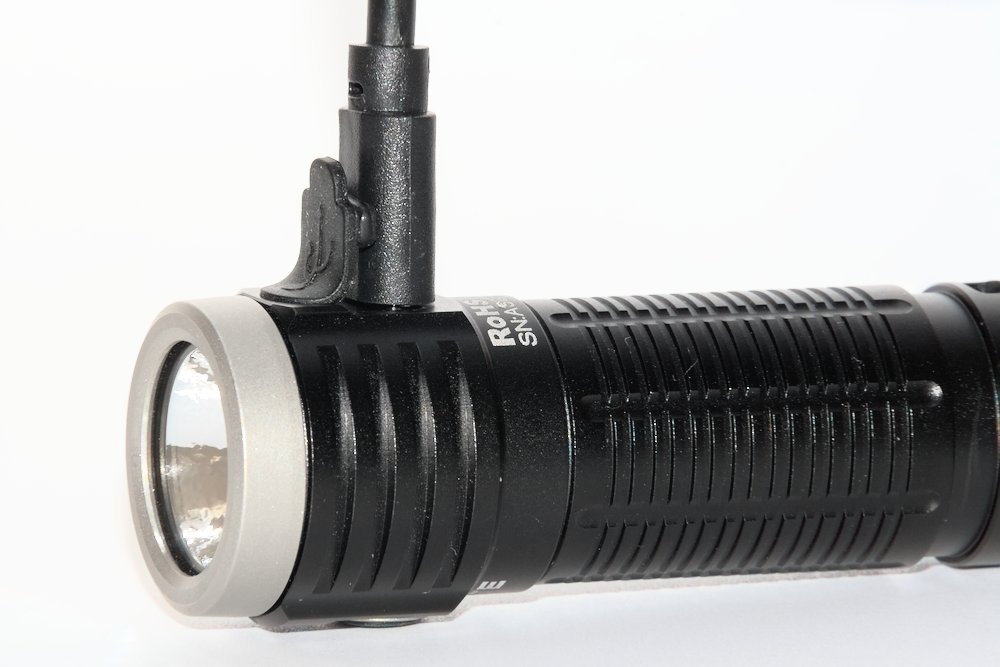 The USB port is protected with a silicone cover against dirt and water. The flashlight is rated IPX8 (2 m depth). It sits slightly protruding, but firm.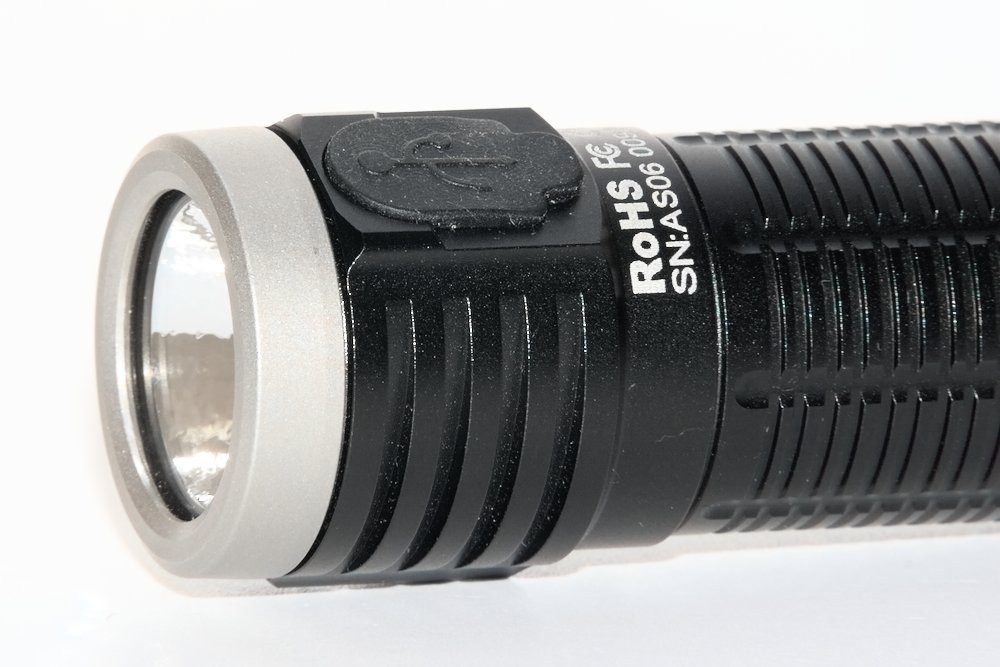 Only the head can be screwed off. With long pliers the thick spring in the tail can be pulled out to remove the magnet.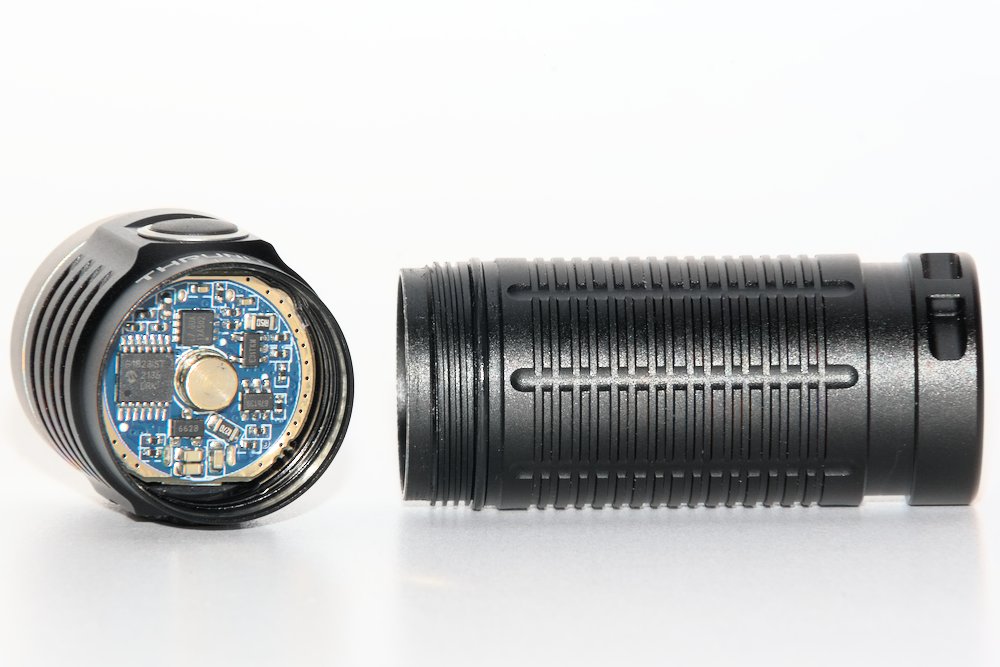 Clean machining, not defects in the anodization, sharp edges only in the hole for the lanyard (use a keyring!).
User interface and features
The flashlight is controlled by an electronic side switch. It is flat and only slightly protruding, thus not easy to find. But accidental pocket activation is unlikely.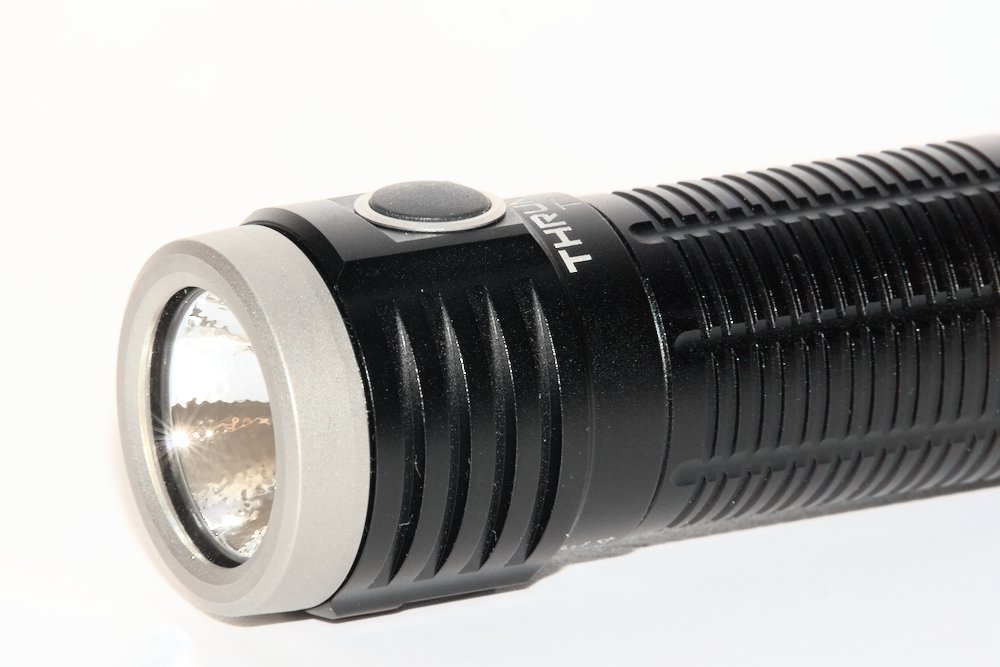 Mode

Action

Function

Off

1C

Turn on (last used brightness of ramping)

Hold

Firefly

On

1C

Turn off

Hold

Change brightness
(smooth ramping with direction change after releasing the button and at the end)

All

2C

Turbo

3C

Strobe

Firefly

Hold (3 s)

Lockout

Lockout

Hold (3 s)

Firefly
Unfortunately you can't ramp up from firefly (because it enters lockout). I would have preferred to have lockout on four clicks and use hold in firefly to increase the brightness.
Ramping is visually linear, but takes rather long with 3s. In my opinion three well spaced levels would be enough for such a small light.
After reaching the lowest/highest brightness, the flashlight blinks three times and reverses the ramping direction. It is also reversed each time you release the switch.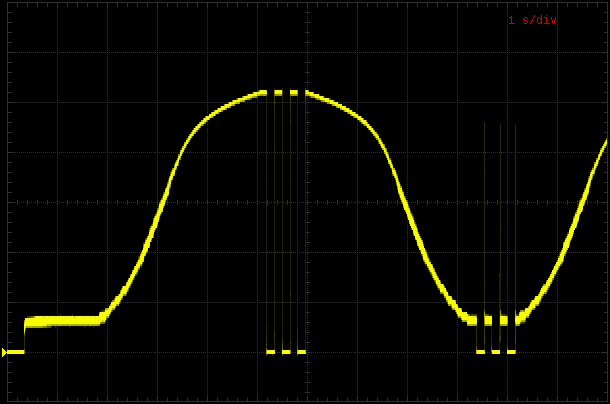 An indicator LED behind the black silicone switch cover shows the approximate state of charge:
Color

State of charge

Voltage

Blue

21% – 100%

3.0 – 4.2 V

Red

11% – 20%

2.8 – 3.0 V

Red blinking

1 – 10%

2.7 – 2.8 V

–––

Turns off at 2.7 V
Despite its small size, the T1 is comfortable to hold. Although the ribbed battery tube allows a secure grip, I noticed that I mostly hold the light between my thumb and index finger where the rubbery switch and USB port cover are.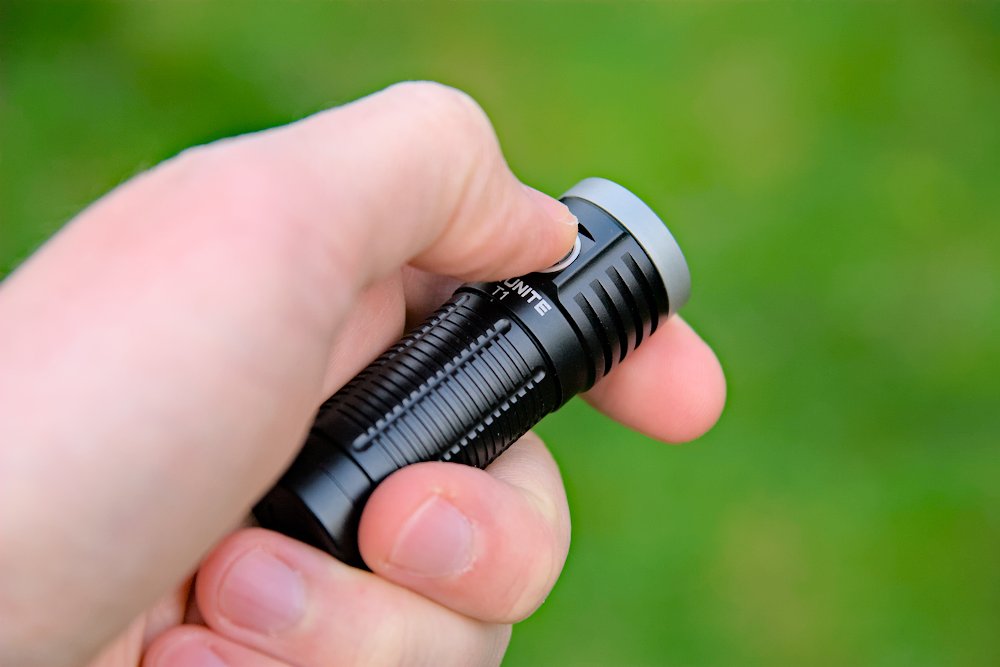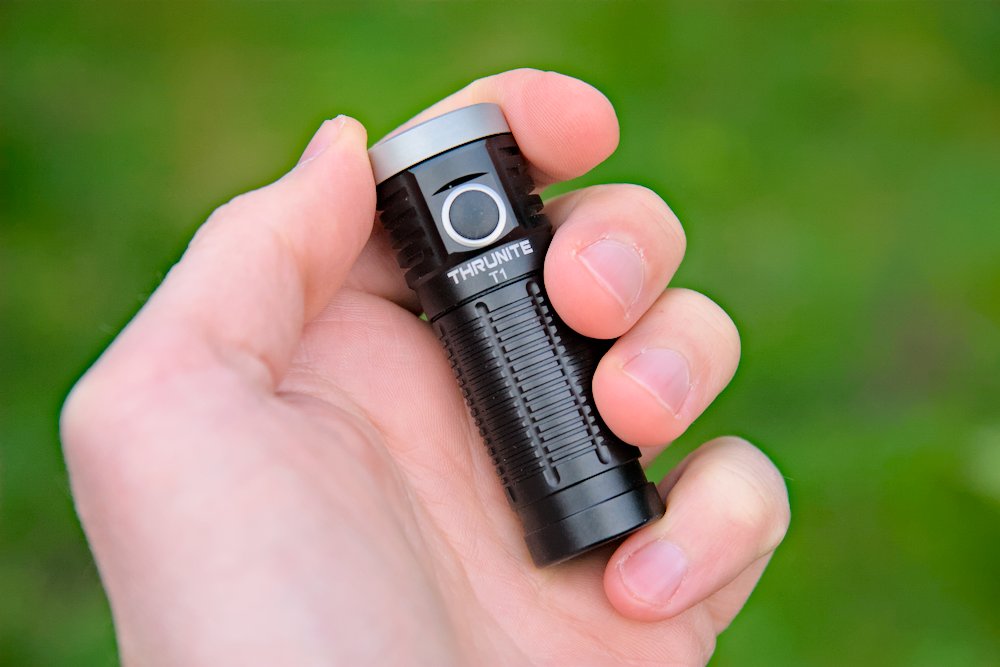 Illumination
The T1 is available in a cold white and a neutral white version. Both have a Cree XHP50.2 LED in a tiny orange peel reflector. I've tested the neutral white version in this review.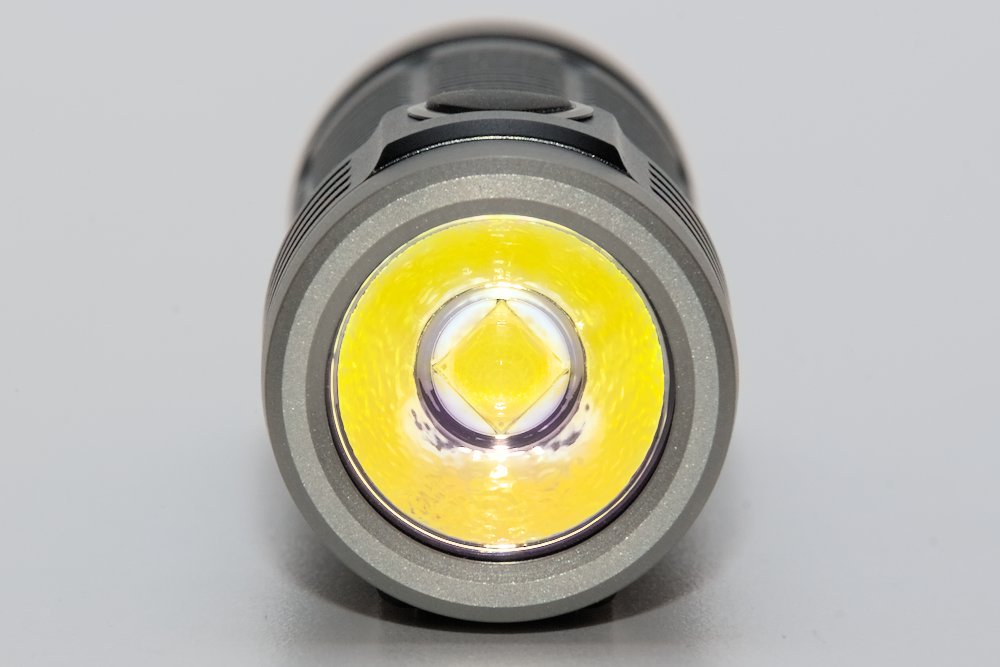 Such a big LED in a small reflector can only be floody. Surprisingly it still creates a good, but smooth spot. As expected there is a tint shift from green/yellow in the center to a more magenta and cold spill. I've explicitly requested the neutral white version in the hope it is better than the CW version. Nope, it's not better.
Usually the problem can be mitigated by applying d-c-fix milky foil, but not in this case. It's already floody and d-c-fix doesn't mix spot and spill in the T1.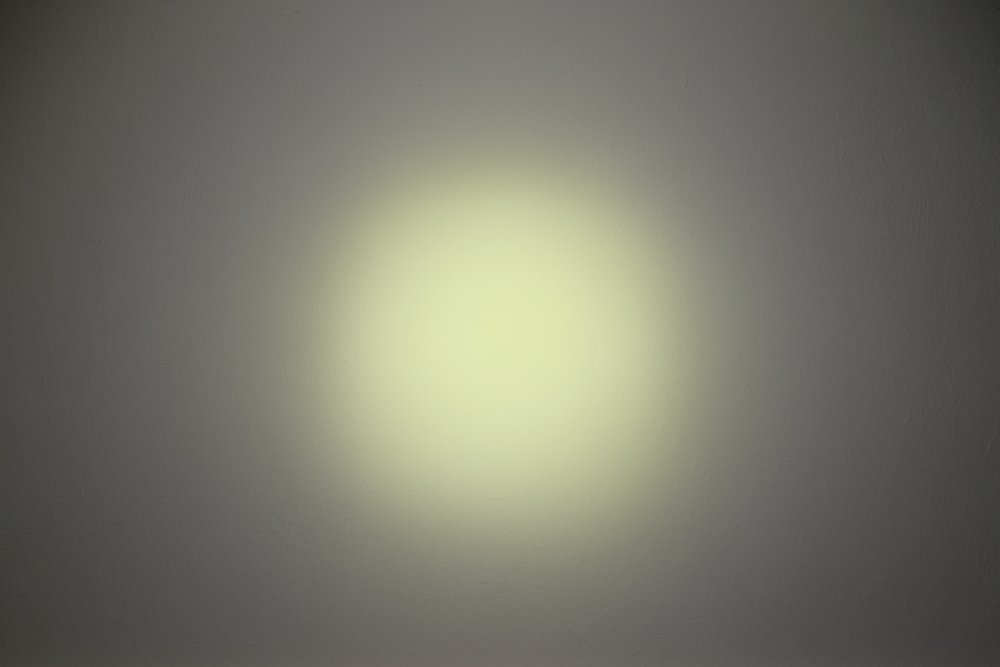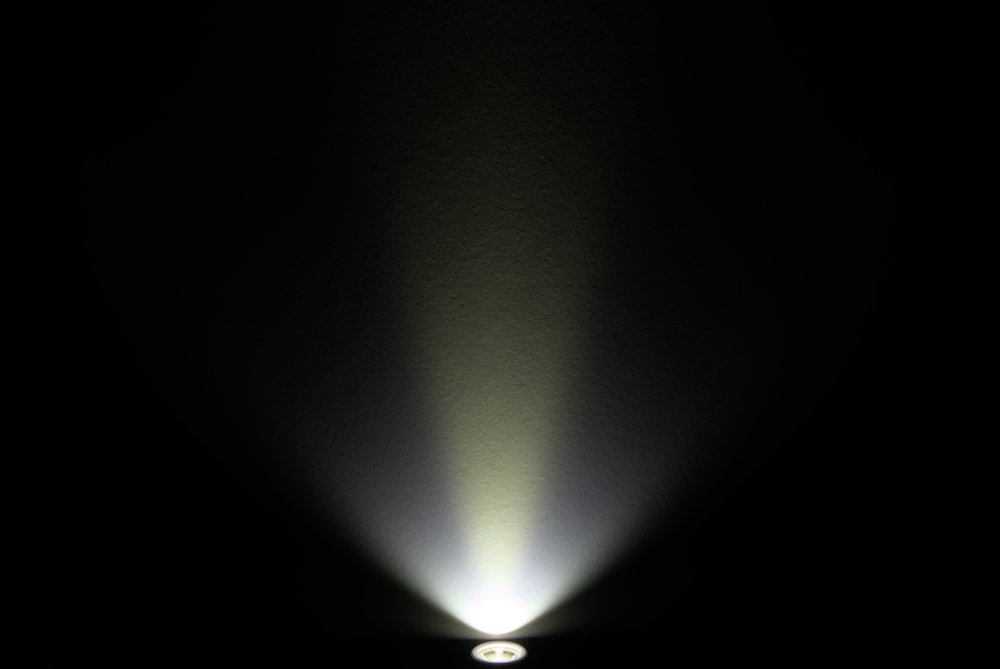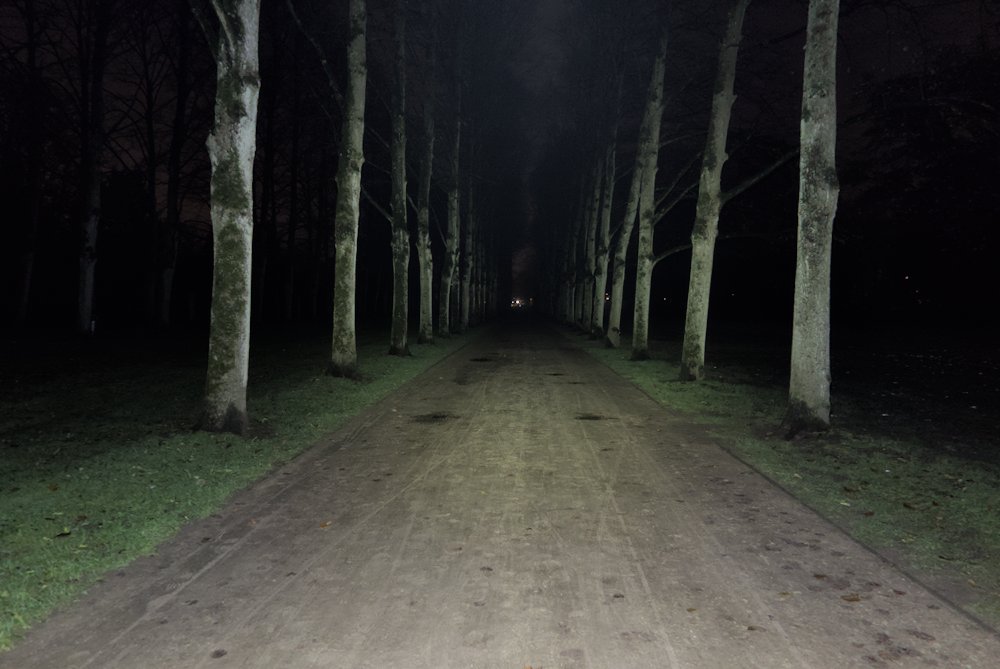 Driver and runtime
A boost driver is used to power the LED in 12 V configuration. This allows a well regulated output mostly independent of the battery voltage. There's no PWM in any level.
¹ According to manufacturer ² ANSI FL1 ³ Measured
| Mode | Brightness¹ | Runtime¹ | Intensity¹ (throw²) | Current³ |
| --- | --- | --- | --- | --- |
| Turbo | 1500/408 lm | 3 + 52 min | 2600 cd (102 m) | ––– |
| High | 685 lm | 65 min | ––– | ––– |
| Low | 15 lm | 35 h | ––– | ––– |
| Moonlight | 0.5 lm | 12 d | ––– | ––– |
| Off | ––– | ––– | ––– | 36 µA |
The manufacturer states honestly that output is reduced in turbo after three minutes. Indeed the test shows a timed step down exactly after three minutes to about 50%. The flashlight reached about 50 °C at that point. Awesome, this uses most of the potential of the flashlight host.
Turbo is only available until the battery reaches 3.8 V, though.
Previous reviews show multiple smaller and earlier step downs, so there seems to be an improvement.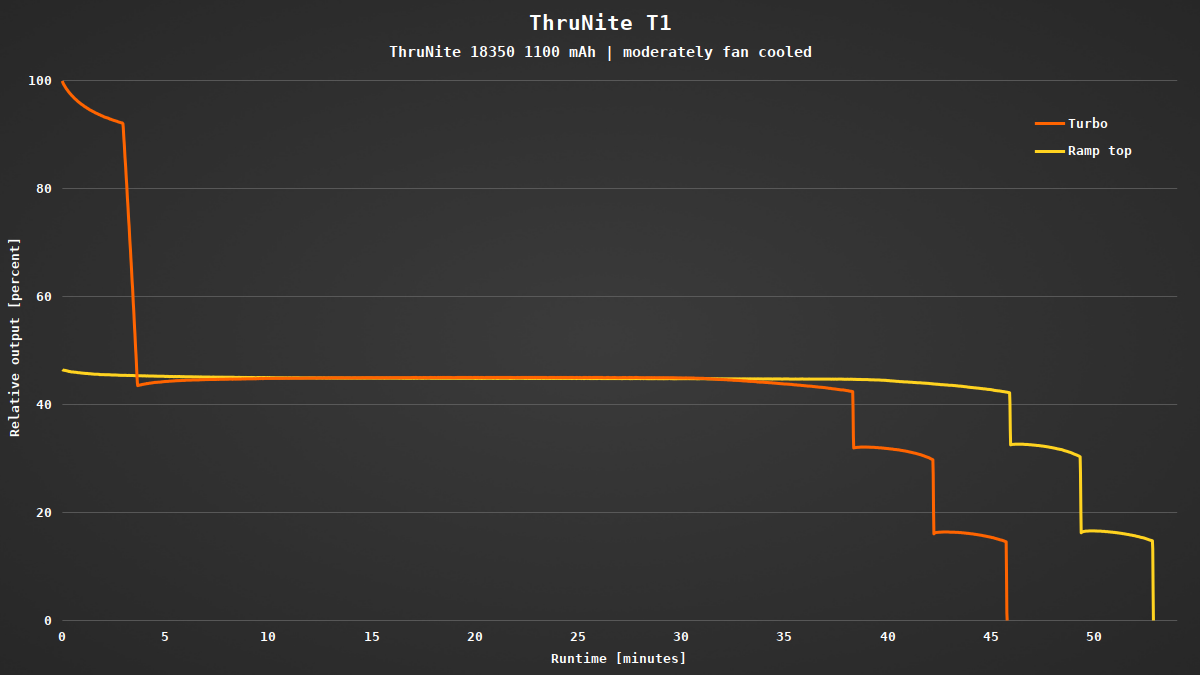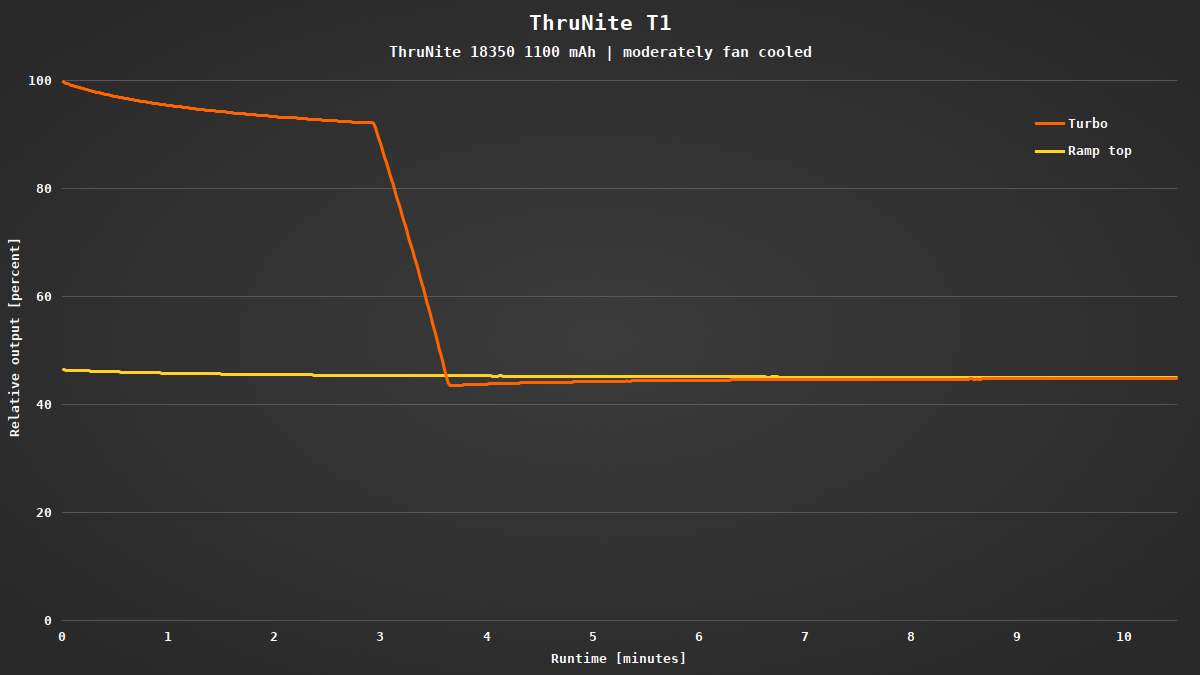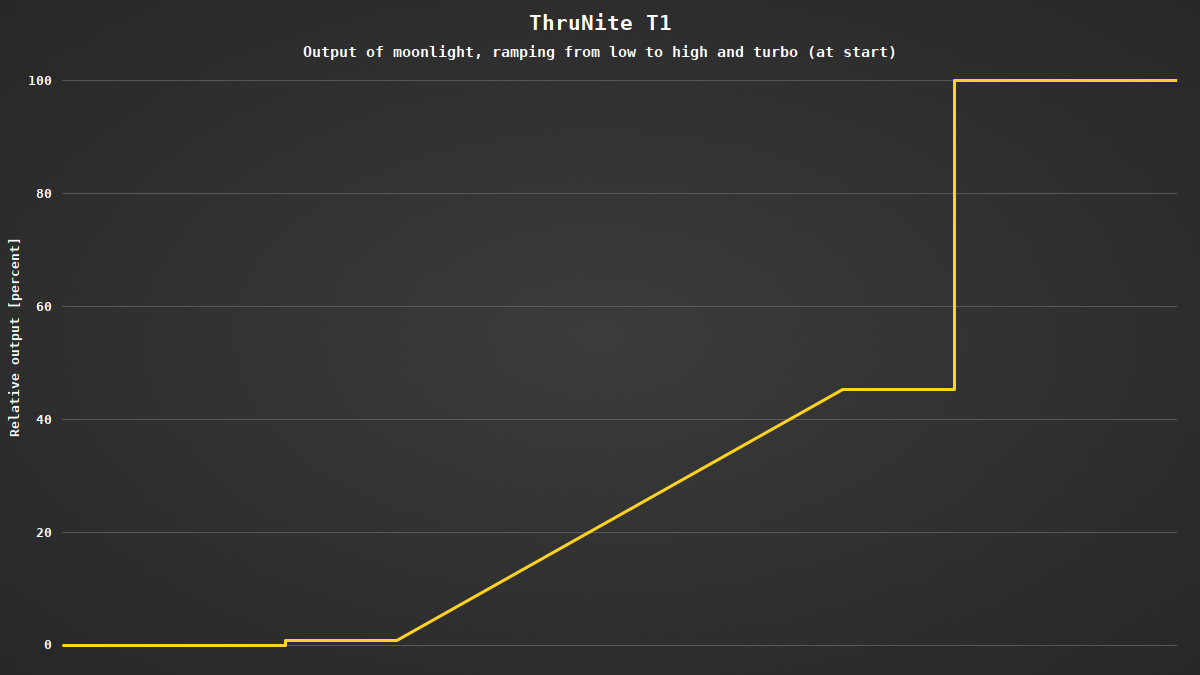 thefreeman made an awesome efficiency test for this (and other) flashlight. The driver of the T1 achieves about 90% efficiency!
Conclusion
A cute pocket EDC flooder. While it can't replace a "proper" big flashlight, it's more than enough for EDC with its brightness and runtime.
Unfortunately the LED is slightly ugly. There are better alternatives nowadays. I'd like to see the comparison with the newer T1S, which comes with USB-C charging and a TIR optic.