TrustFire F15-T6
Reviewer's Overall Rating:
★★★★★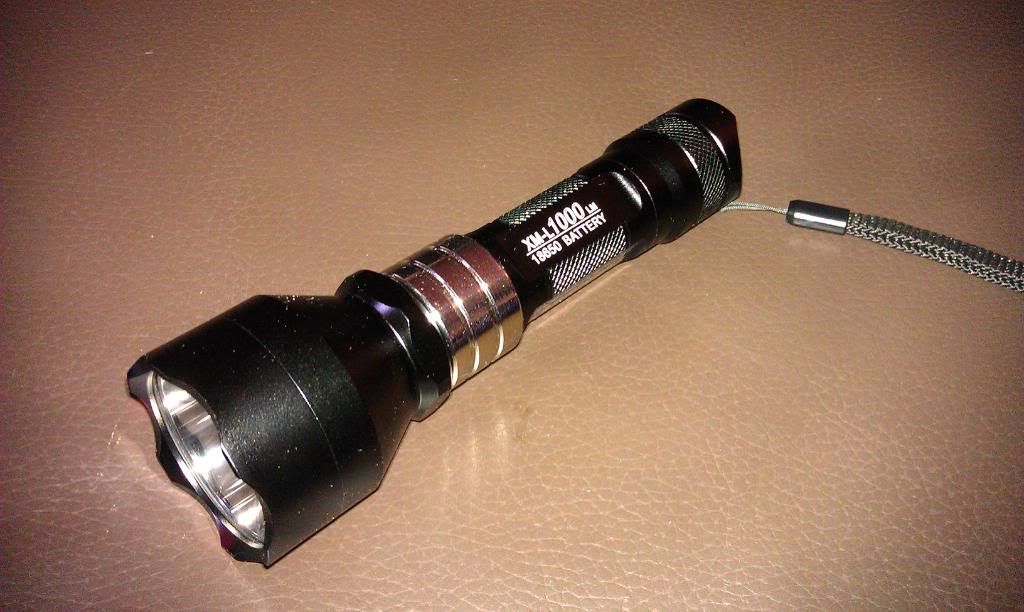 Summary:
Battery:
18650
Switch:
Reverse-clicky tail switch
Modes:
High>Low>Strobe - 17mm driver
LED Type:
Cree XML-T6 on 20mm star
Lens:
Coated Glass
Tailstands:
Yes but shaky
Price Payed:
$24.5 USD
From:

M

anafont
Date Ordered:
2011/05/11
Pros:
Extremely bright and throwy with decent spill
Solid build quality. Feels like it's machined form one solid block of billet aluminum.
Flawless finish and anodizing.
Emitter perfectly centered.
Excellent switch quality.
Fast delivery from Manafont. Received in roughly 9 days from placing order.
Comes with OP reflector.
Did I mention it is insanely bright?
Cons:
Brightness at the price of heat. This baby generates BTUs like it generates photons...excessively!
Comes with OP reflector.
With the way the tail piece is machined there is a small area on which to tail-stand. Switch rubber also protrudes just enough to make it somewhat unstable on all but the smoothest, level surfaces.
Features / Value:
★★★★★
To start with it came with the usual promptness from Manafont. It arrived in our favorite envelope wrapped in bubble bag and inside a white cardboard box. My first impression was amazement and awe at the quality and feel of this torch. Feels very solid and well banced in teh hand especially with the 18650 battery installed.
This light has 3 modes: High > Low> Fast Strobe. The low is good enough for everyday tasks and the high mode will light up a football field and the one behind that one, etc... The strobe will please those who appreciate a disabilitating strobe and annoy those who hate all strobes. Thankfully having only one blinky mode means there is only one blinky mode to switch past if you don't want it. Might have been nice to have a slightly brighter medium mode and one really low low mode to go with the insanely driven high mode. Overall though I feel that the chosen modes are a nice compromise that will satisfy most operators.
For the price this light offers an unbeatable value in both quality and performance. I am willing to bet that it will stand toe to toe with the likes of the 980L and other heavy hitting hotrod torches. For what little money this baby costs you couldn't build one yourself for less and you couldn't build it any better or brighter.
Design / Build Quality:
★★★★★
The quality of this light is outstanding. There are no scratches in the finish nor any dents or dings to be seen. The anodizing is flawless and even through and through. The external heatsink and pill is stainless steel while the remainder of the light is aluminum. THe torch is balanced in the hand and comfortable to hold without any slipping should they be wet or sweaty.
Threads are all pretty even in number and quality, deep and clean, and came lubricated. There is no play in any of the threading and the o-rings are thick and should provide great waterproofing for all conditions with the possible exception of divers who go greater than 10 meters. I do not know what waterproof rating this torch has but I would not hesitate to drop it in the water or swim with it.
The battery fits with little play. There is a spring at the driver side and a spring-loaded brass button at the switch end. Shaking the light reveals no rattling or connection issues and lends only to the feel that the entire light is made of one machined piece of billet aluminum.
The lens is glass and appears to be AR coated and amply thick. The reflector is aluminum and is perfectly chromed with zero flaws or blemishes.
Heatsink is stainless steel on the outside but judging from the driver side of it the main part appears to be brass or copper. I did not remove the emitter to see if there is a copper slug in the center of the heatsink but I would not be surprised to find one even if only brass.
Cosmetically it is a very handsome torch in the "plunger" style. The polished stainless steel heatsink in the middle is proportioned such that is breaks up the monochrome black finish and makes for a ruggedly elegant air about it.
Crenelation of the bezel is not too deep. I normally don't care much for crenelated bezels but this light will never be a pocket torch and as such I don't worry about it tearing up my pockets or cutting my leg. It looks good on this particular torch.
Tailstanding with the small footprint of the tail can be shaky business. While definitely possible, it needs to be done on a smooth and level surface. The fact that the rubber switch boot protrudes ever so little makes it even shakier business. This can be resolved easily enough with an oring placed between the boot and the tail housing to draw the cap just a bit deeper into the tail piece.
Battery Life:
★★★★

☆

I haven't done any testing with a DMM at this point but will attempt to do so over the weekend. As it stands I would say that battery life is not going to be as long on high mode as it might be on other torches in it's class due to it appearing to be slightly over driven. On low mode I'm sure it will last several hours. Once I am able to get some DMM readings from it we can do our own calculations and see exactly what kind of life one can expect to get in each mode. Right now I'm going to give it a 4-star rating i this area due to it being overdriven.
Light Output:
★★★★★
Light output is where this torch excels. In fact, if this were a drag race between hot rodders, I would not hesitate to put it up against the Ultrafire UF-980L. I replaced the OP reflector with an SMO reflector from Manafont for $3.89 USD. I actually prefer it with the SMO which is unusual for me as I generally prefer OP to smooth out the hotspot and rings. This light is a throw monster and once I find a suitable place to take good night shots I will update this review with the pictures. In the mean time I will show you the one I took today showing the F15 next to an UltraFire WF-501B with the Manafont 3-mode XML drop-in. In this pic the 501B with the Manafont XM-L drop-in and SMO reflector is on the left and the Trustfire F15 is on the right. Not only does it kick it's ass in brightness, it gives it a parting kick to the nuts while it lays beaten and unconcious.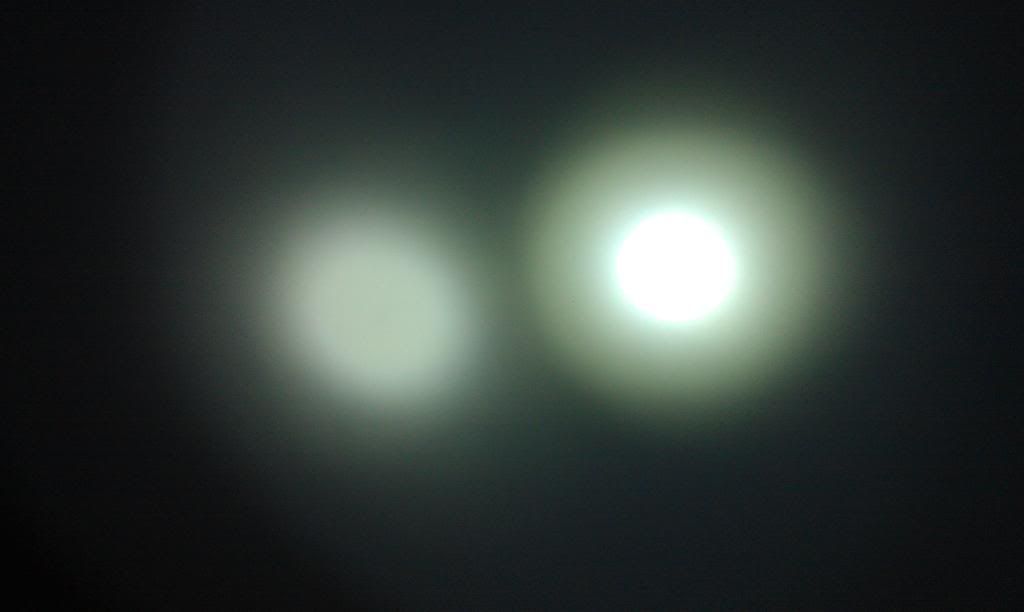 The drawback to all that brightness is that nothing comes without a price and in the case of this much light that price is heat. As long as one uses it responsibly it really shouldn't be an issue. I certainly wouldn't leave this torch in highmode unattended for long unless it was in front of/under a fan. While in the hand and under the benefits of blood cooling it should be just fine as long as it is still warm enough to be held. In low mode I wouldn't hesitate to leave it tailstanding until the bettery was drained.
I took some temperature readings while the F15 was in high mode and tailstanding. I stopped the test after 13 minutes because I frankly got a little nervous and didn't want to damage my new baby.
After 5 minutes (in degrees farenheit)

Tail: 103
Heatsink: 123
Head: 119

After 10 minutes

Tail: 115
Heatsink: 133
Head: 127

After 13 minutes

Tail: 122
Heatsink: 138
Head: 134
Battery: 125f/52c
Other measurements:
| | |
| --- | --- |
| Head width | 45mm |
| Head length | 50.6mm |
| Reflector width | 41.58 |
| Reflector length | 31.68 |
| Overall length | 155mm |
| Body width at heatsink | 29mm |
| Maximum Emitter diam. | 20mm |
| Driver diameter | 17mm |
| | |
Summary:
★★★★★
While not for a novice user, this torch would be perfect for the outdoorsman and hunter. The build and quality of it is exceptional, especially at it's price point. Exceptionally attractive, bright, waterproof and durable makes it a great choice for anyone in the market for an outstanding value. Personally if this was not already in my collection I would run out and buy it imediately. You honestly can't go wrong with this one and it gets Johnny Mac's 5-star seal of approval!
Enjoy the pictures to follow (please excuse all the dust particles on the parts)! These pics and more are available here.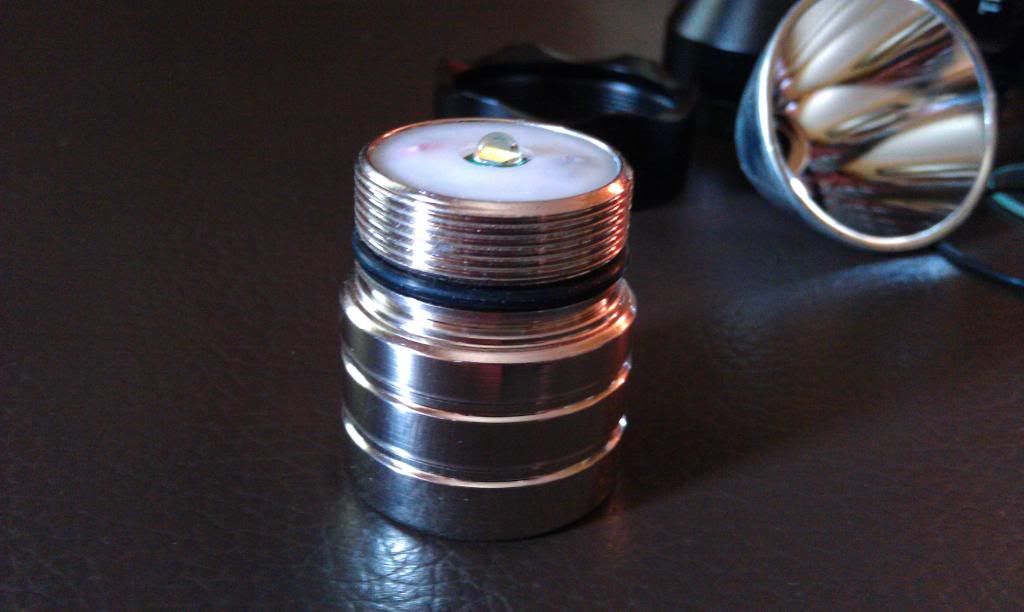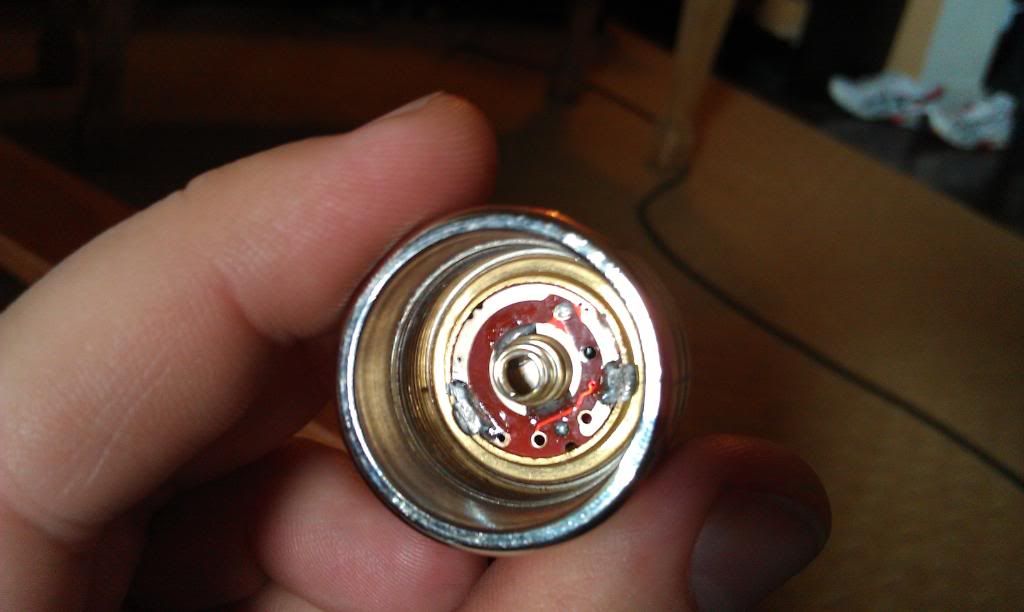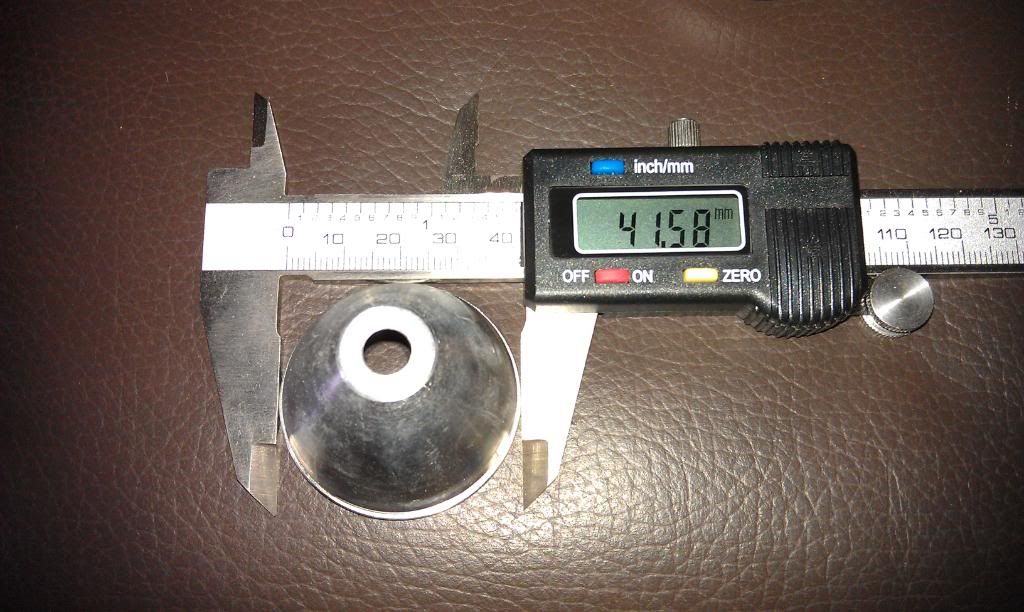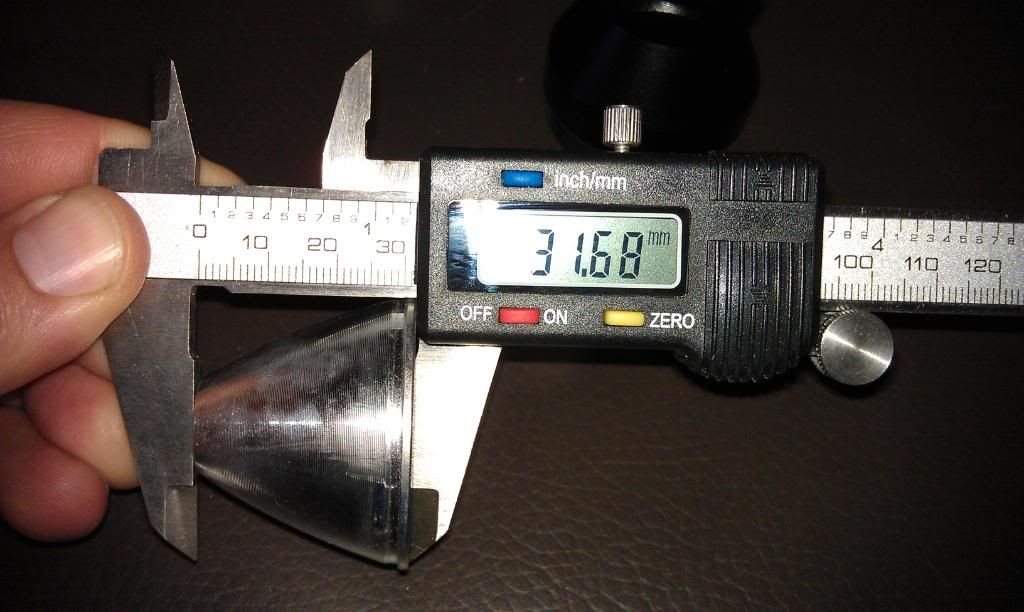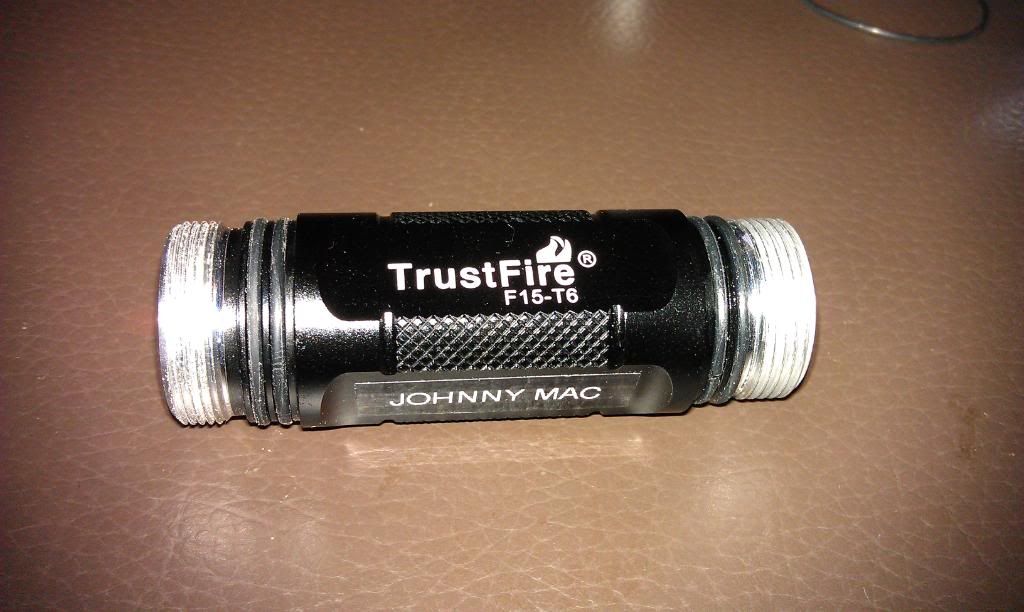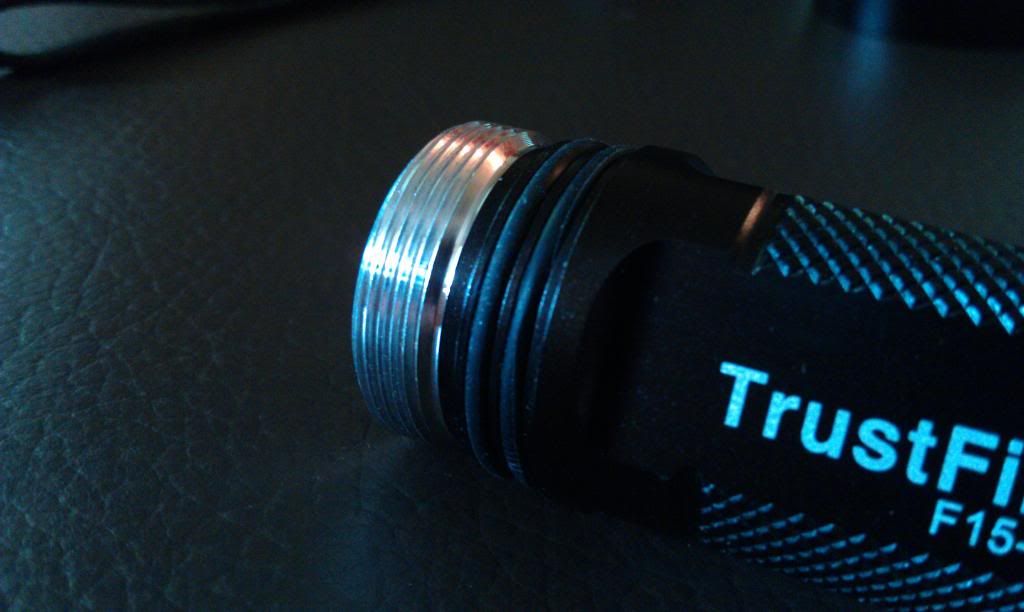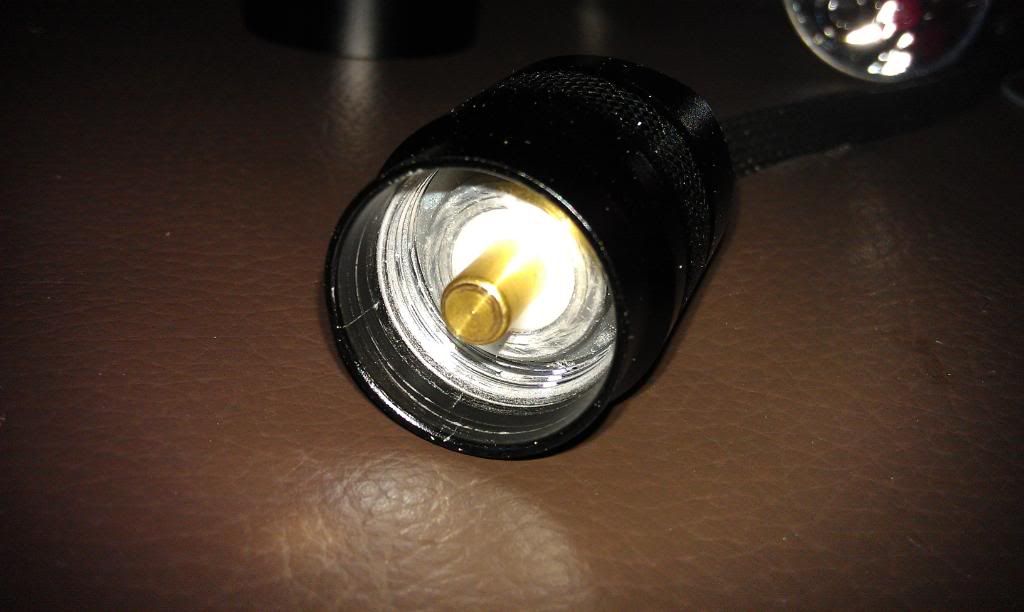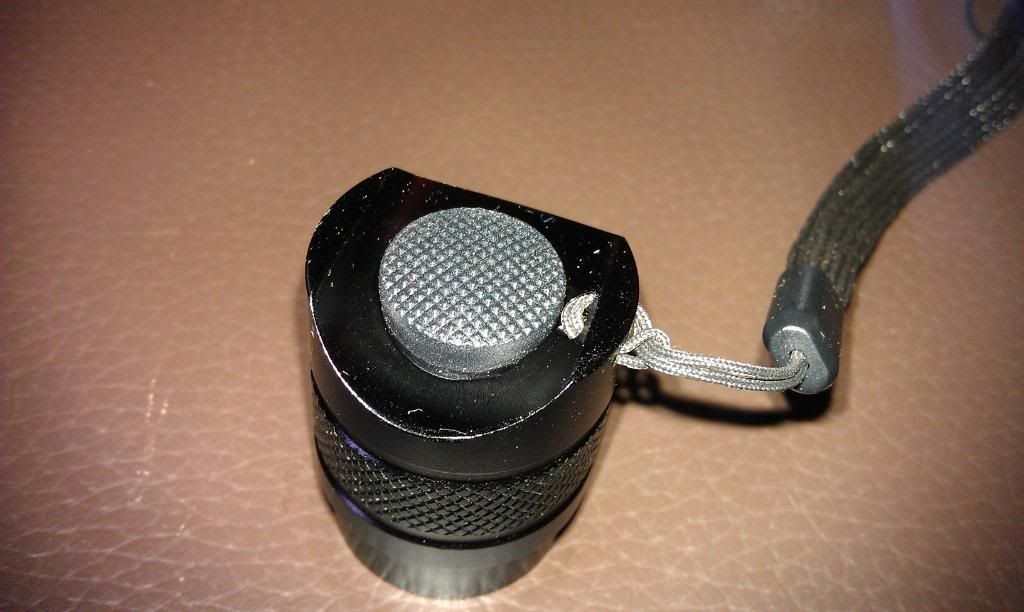 I hope you have enjoyed my little review. I am sure there will be others to follow.
Gentlemen, start your PayPal triggers!!