Wuben E05
I was kindly offered this light for review by Wuben. And umm… I'm blown away. This light is a BEAST.
Edit: it is now listed on Amazon. The list price (as of Nov 5, 2018) is $39.95. Given the brightness, excellent construction, and everything that comes in the box, I feel like that's a pretty fair price.
Packaging: the E05 arrived in a nicely presentable box with a bunch of goodies: 750 mAh 14500 with built-in micro-USB charging, a micro-USB cable, fabric pouch, silicone diffuser, lanyard, spare o-rings, intro cards, and instructions.
My youngest was anxious to help me with the unboxing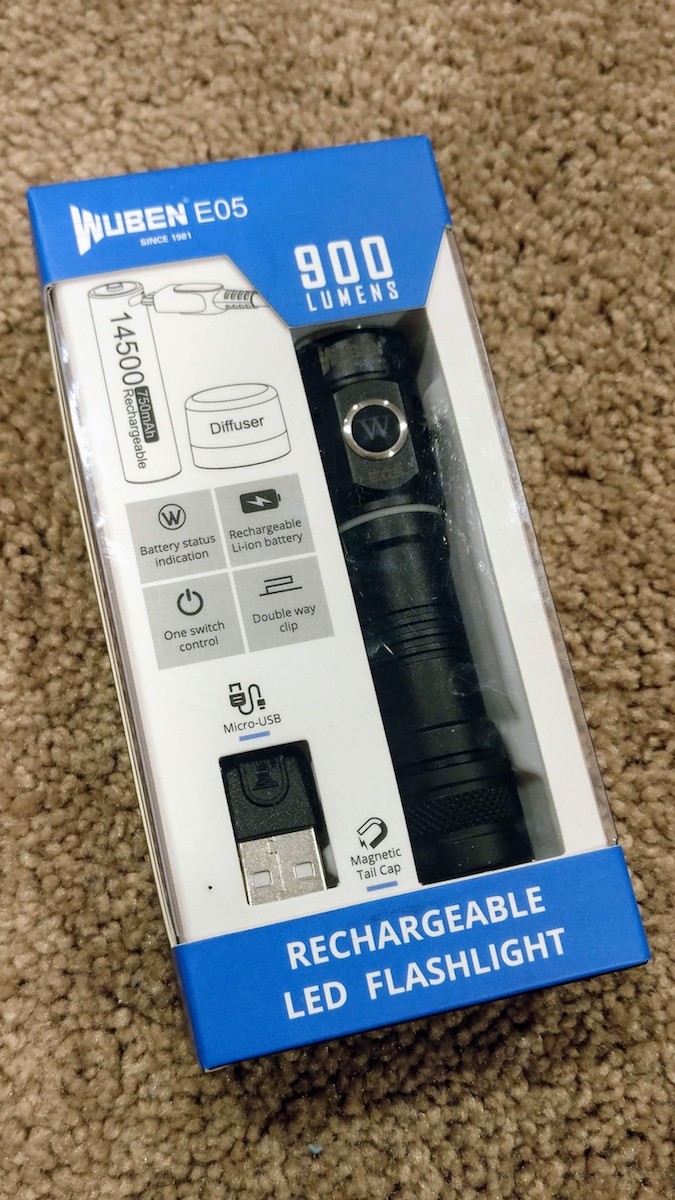 .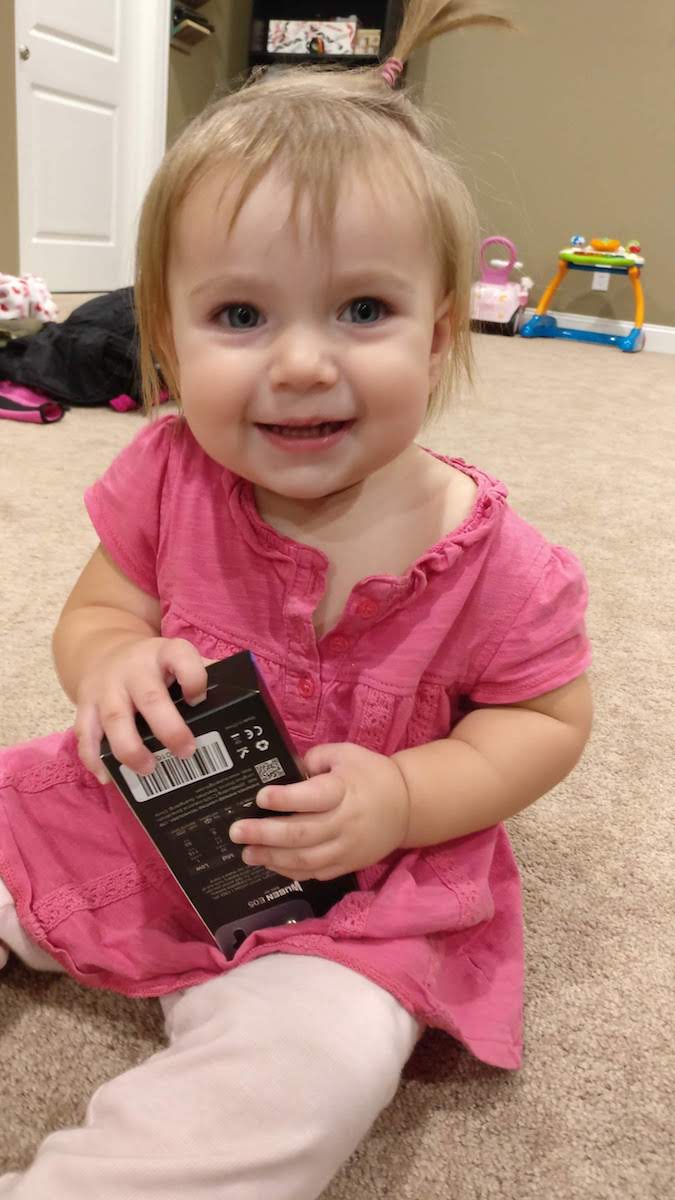 .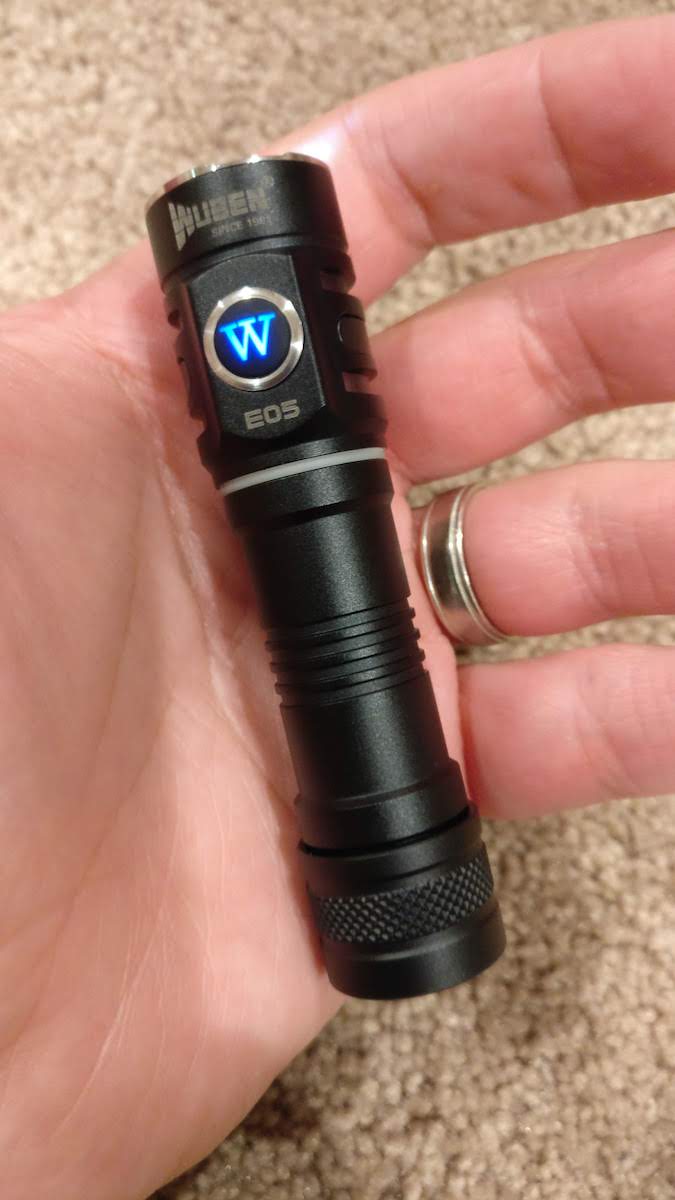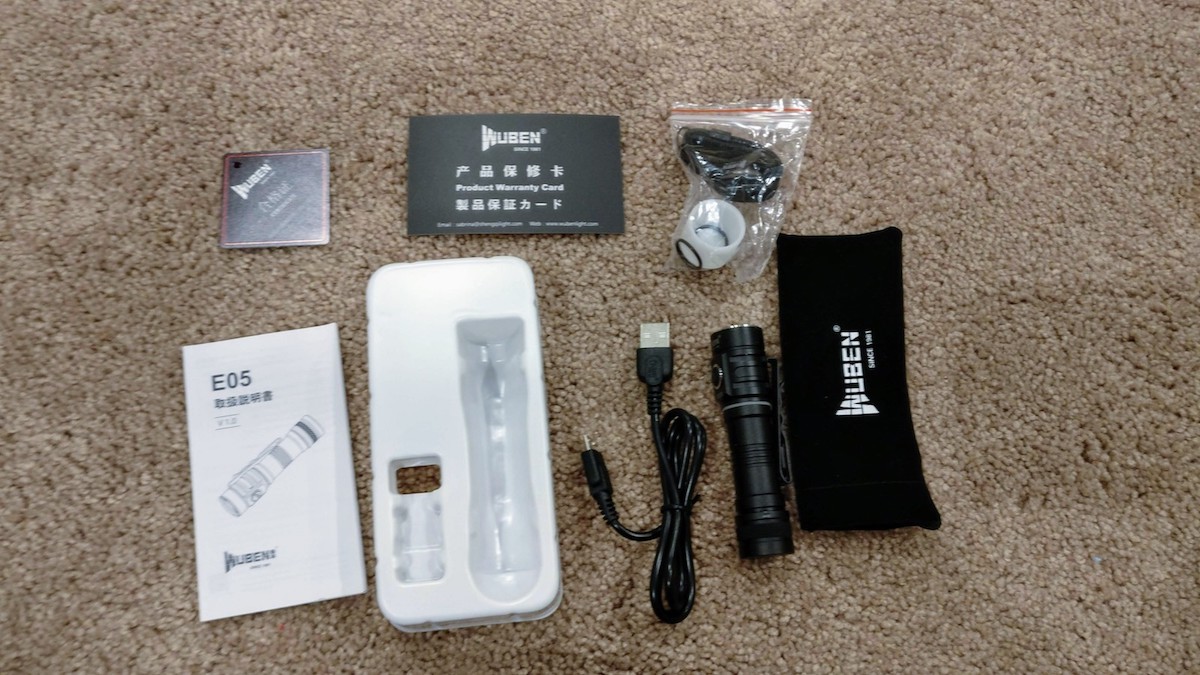 LED Tint: I'll just start with my least favorite part of this flashlight. The LED is a cold white (think 1A-ish) XP-L2. Some people like cold white. I'm not a fan. So I've got a 4000K 80-CRI XP-L2 being delivered today that'll be swapped in (see post #2).
Modes & UI: the E05 has four well-spaced modes that go L > M > H > T > L > M … with memory. The UI is pretty good: click to turn on. Click again to change modes. Long-press for off. There's direct access to Turbo from Off via a long-press. Double-click for strobe, another double for SOS. There's also electronic lock-out (in addition to physical).
Specifications:
table(table#posts).
||Low|Med|High|Turbo|
|Measured Lumens|2|42|181|1058 → 414|
|Measured Runtime|?|?|181min|63min|
|Spec Lumens|1|30|150|900 → 300 (14500 only)|
|Spec Runtime (14500)|115hr|11hr|3hr|3+60min|
|Spec Runtime (Alkaline)|50hr|6hr|2.5hr|n/a|
Styling & Build Quality: The E05 has a nice, elegant style to it. No aggressive knurling or crazy designs. Even the stainless crenelated bezel is pleasantly understated - the crenelations are only ~0.3mm tall. The glass is AR coated and the LED is perfectly centered. Due to how the (removable) clip mounts, it's always perfectly opposite the switch. Speaking of the clip, it's of the rare S-shape (double loop) style that can be used either direction. The signature Wuben "W" switch is set into a stainless surround and covers a blue LED that is used as a battery indicator. There's also a subtle GITD (glow in the dark) ring at the base of the head. The tailcap houses a strong magnet that easily supports the weight of the light.
Runtime Measurements: The E05 appears to be VERY well regulated. Beautiful flat output. And my estimation of turbo (1058 lumens) is even higher than spec'ed (900 lumens). That's impressive for a flashlight of this size. When LVP kicked in, the flashlight completely turned off. At that point, I measured voltage at 3.14V. Perhaps a bit on the conservative side, but (in my opinion) better safe than sorry with LVP.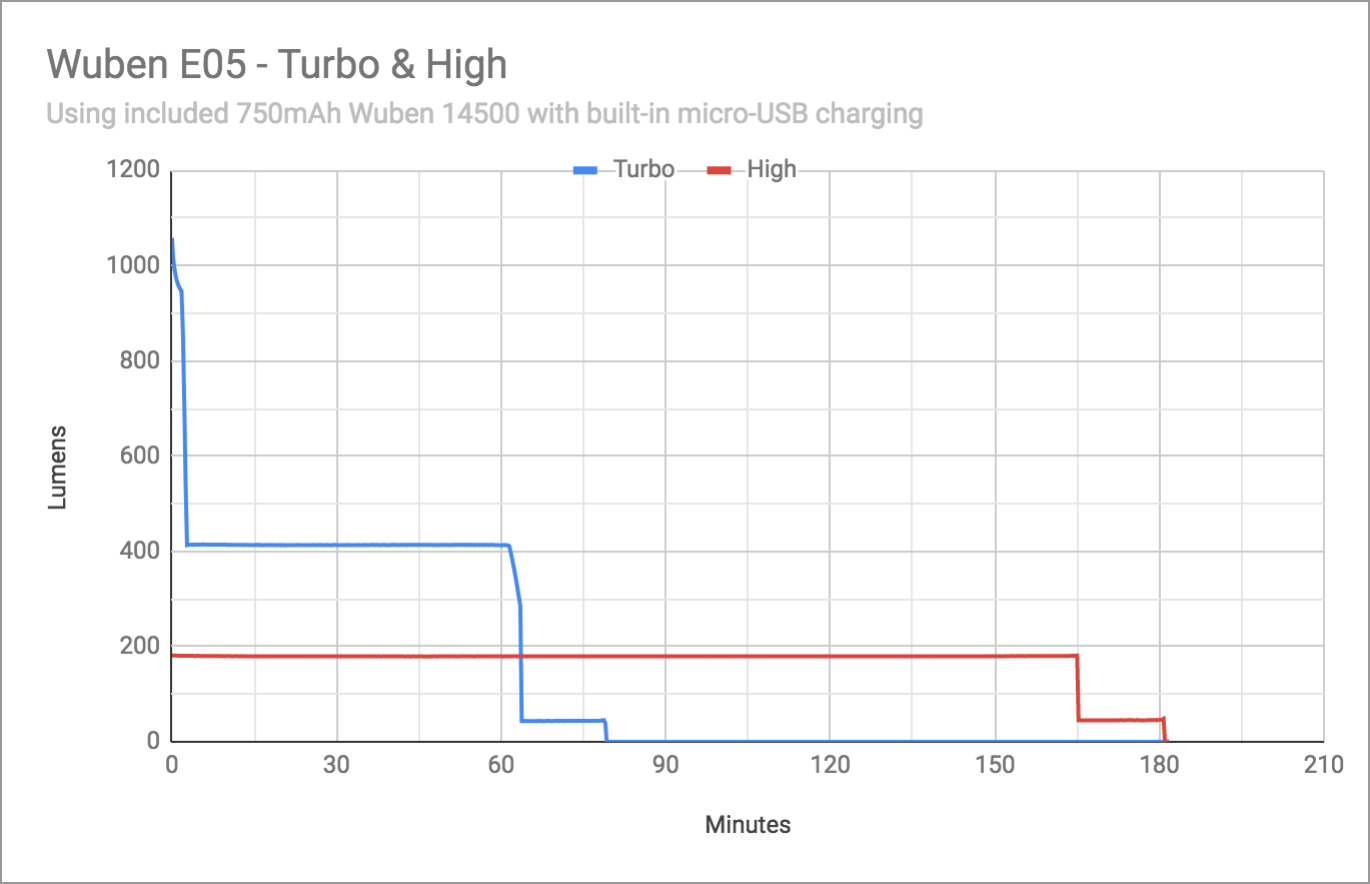 Conclusion: the Wuben E05 is a little powerhouse! 1000+ lumens from a tiny 145000 flashlight? Color me impressed. I really don't know what this will sell for when it hits the market, but if I were in the market for an e-switch 14500 light, this would definitely be in consideration. Pro's: great output, decent UI, nice styling, lots of extras in the kit. Con's: cold white LED with smooth reflector (doesn't help the XP-L2 any), slightly too long of a long-press for Off in my opinion.
With the included battery; square-cut smooth lubed threads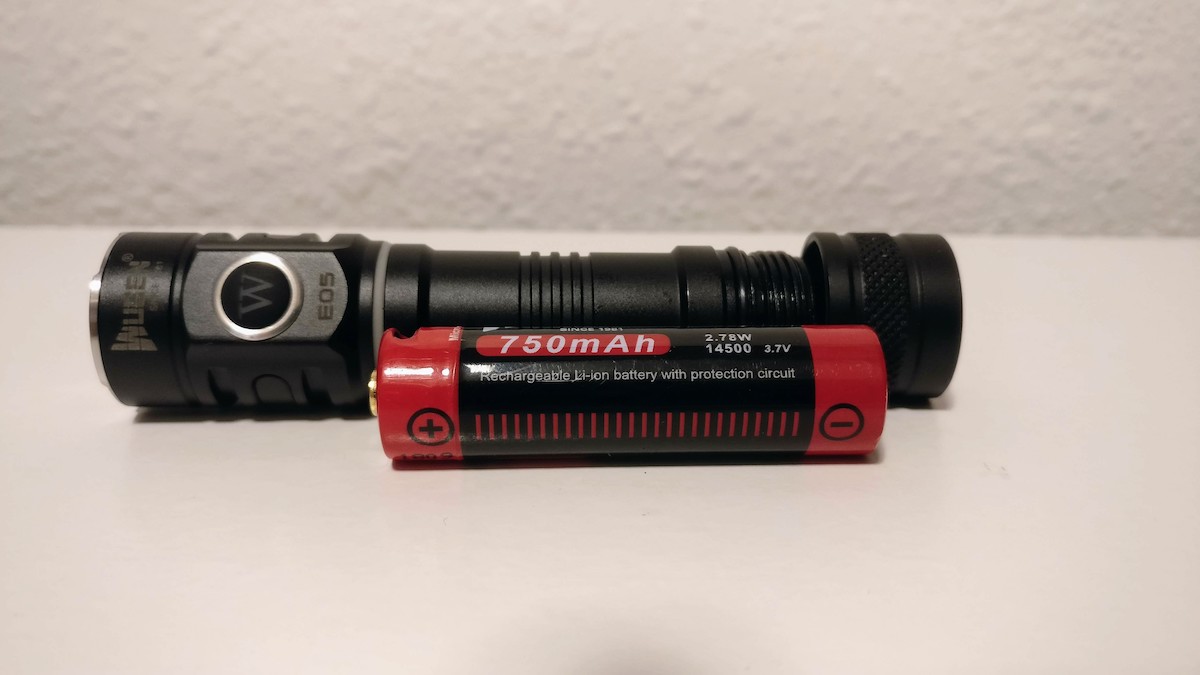 The head… looking good, non-aggressive crenelations on stainless bezel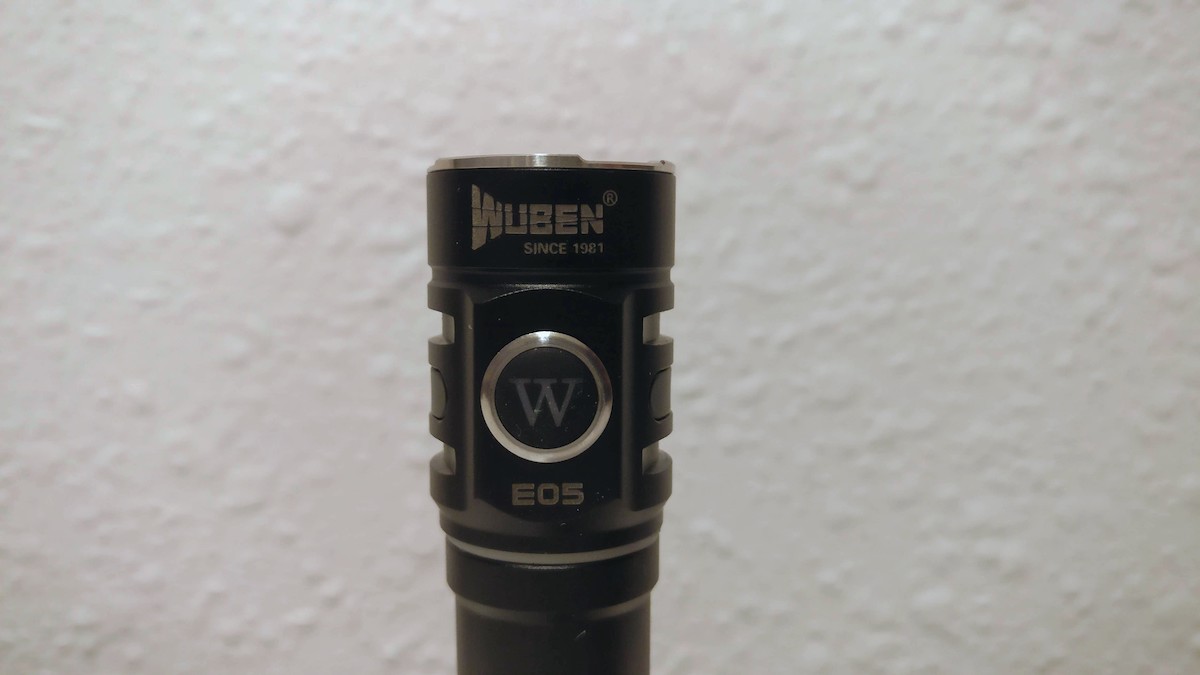 The blue indicator light used for monitoring battery levels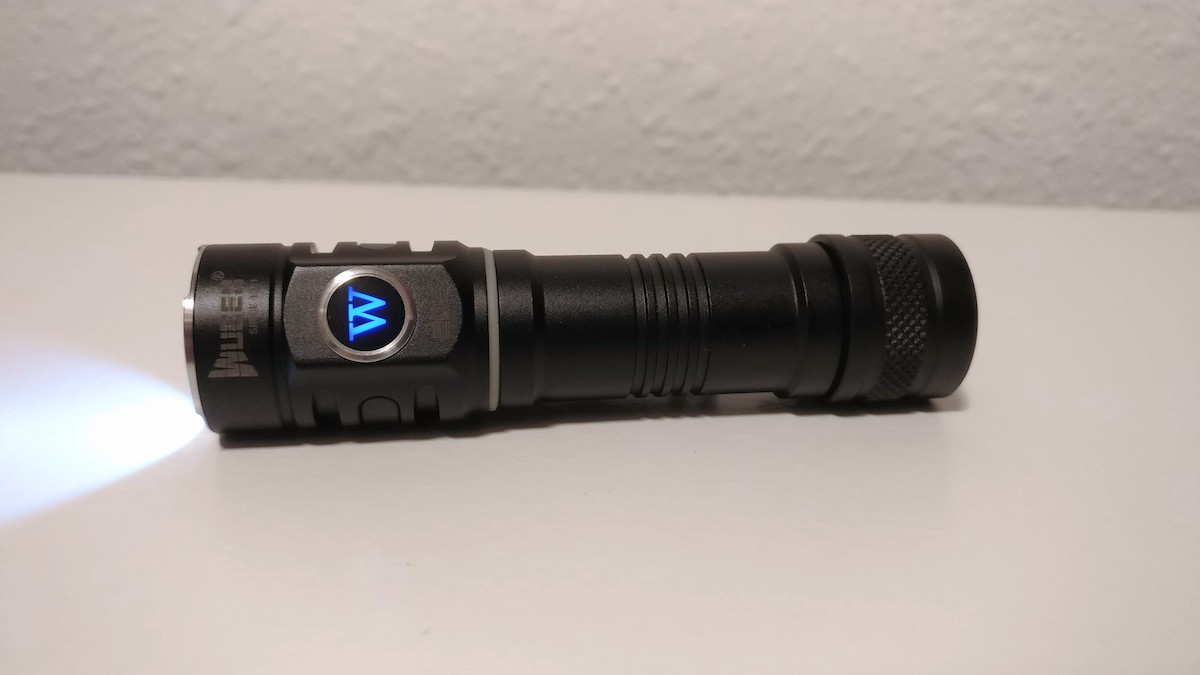 Just hanging around with the tail magnet (and showing off that double-loop clip!)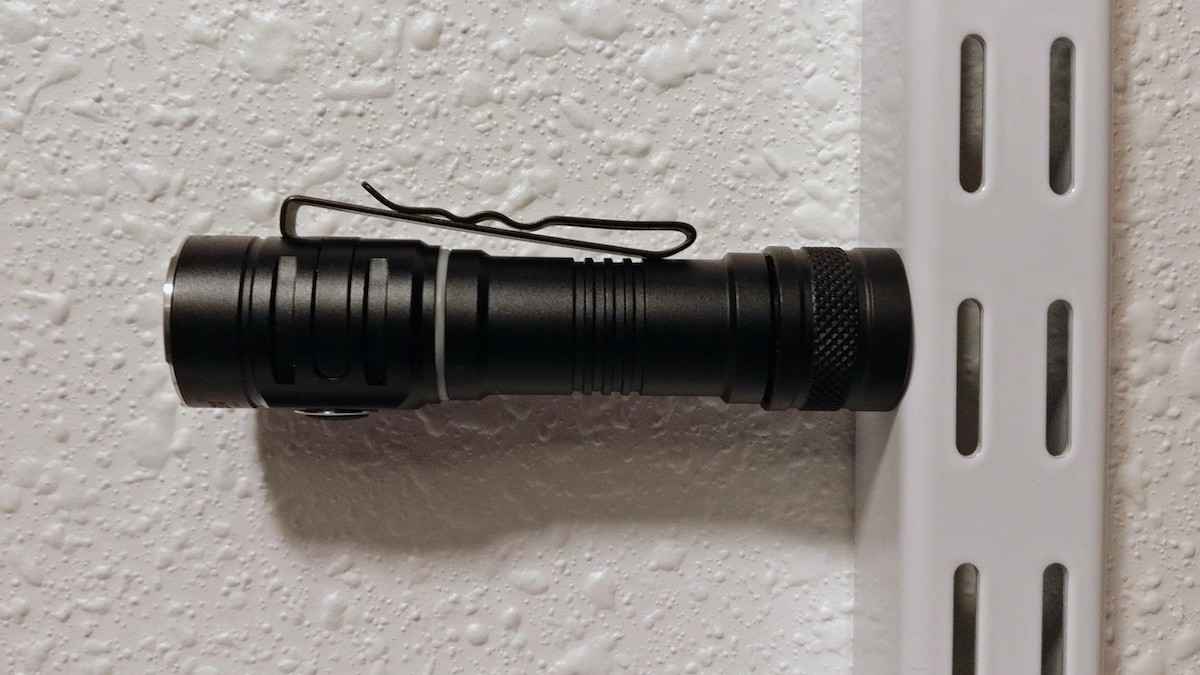 .
.
And now for some comparison shots:
.
Left to right: UltraTac A1, Klarus Mi7, Wuben E05, ThorFire TK05, Sofirn SF14 V2.0, Sofirn SF14