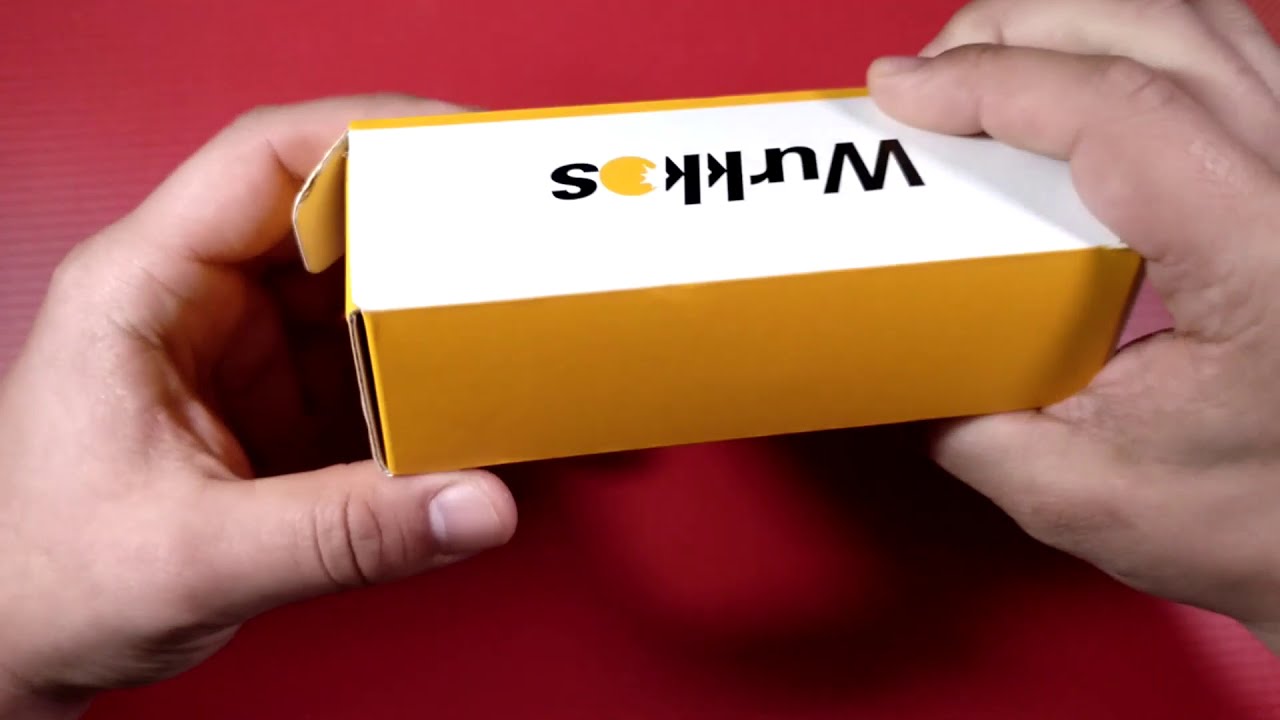 DISCLAIMER: As English is not my first language, I take a little longer than I'd like, to make sure I don't do many mistakes

Not successful most of the times! Eheheh
——/////——
Hi BLF!
Recently I bought a Wurkkos FC11 flashlight to give it as a gift to my aunts.
It costed 19,76€ and took almost a month to arrive.
Some years ago I bought them one of those cheappo 3xAAA zoomies, and now I thought it was time to give them a better flashlight.
Given the "simple" UI of the Wurkkos FC11, it seemed a plausible and logic option. Also being a USB-C rechargeable flashlight (no mistakes when putting the cable in), it was a good option.
I can tell that they got a bit "WOWed" when I gave it to them. Now they will be able to go for an evening walk with some more safety and they will also be able to walk around the house, check the cats, and other stuff around them with better visibility

Always good to make someone happy with a flashlight

Obviously, this is not a new flashlight so you'll be able to find several reviews out there. I'll list some below, both on YT and here on BLF:
gchart - [Review] Wurkkos FC11 - 18650 EDC with USB-C / https://www.youtube.com/watch?v=BRnM4xUZRDI
liquidretro - [Review + Video] Wurkkos FC11 (Samsung LH351D 5000k 90 CRI, USB-C, 18650, $30) / https://www.youtube.com/watch?v=cxd1KoxSUFE
Lightbringer - [review] Wurkkos FC11 tubelight
Markus - Wurkkos FC11 Review: A Quality Light for the People / https://www.youtube.com/watch?v=XO3M1mbpahk&t
Luxwad - https://www.youtube.com/watch?v=Dro_Myh-FSY
BullFrog Reviews - https://www.youtube.com/watch?v=78uxo4Ccgkw
Piercing the Darkness (Funtastic) - https://www.youtube.com/watch?v=wC1TSm-xAOQ
Below I'll put some specs and some other stuff about this light and its' usability!
NOTE: Click the images to be in bigger format!
---
GENERAL SPECIFICATIONS
Body Colour: Black
Material: 6061 aluminium alloy, hard anodized type III
Emitter: Samsung LH351D 5000K 90CRI
Lens: Glass, non AR Coated
Battery: 1 x 18650
Switch: Electronic Side Switch
Reverse Polarity Protection: Yes
Low Voltage Protection: Yes, at 2.7V shuts down
Max runtime: 275 hours
Max beam distance: 144m
Max output: 1300lumens
Candela: 5183 candela
Waterproofness: IPX-7 (1m under water)
Impact resistance: 1m
OTHERS:
- FET Circuit Driver
- Automatic stepdown on turbo after 90 seconds (can be reactivated with double click)
---
First of all, I bought the FC11 set, which means that the package brought a Wurkkos FC11 flashlight, an unprotected Wurkkos branded 18650 3000mAh battery, lanyard, USB to UCB-C cable, user manual, 2 spare o-rings.
Why? Because I thought it would be a better option to gift to my aunts. But, as they are not used to work with this kind of charging nor this kind of cells, I replaced the included battery for a protected Odepro 18650 3000mAh battery I had in use in another flashlight. So, "safety" first

Starting by the ACCESSORIES, the lanyard is a…regular one (well, my aunts will use it for sure, specially when they go for the evening walks on the road

). It can be attached to the lanyard hole in the tailcap, or to the holes in the pocket clip.
Mention to the o-rings …they can be used to replace the battery tube o-rings. Nothing more to say about this

As for the charging cable, as I mentioned, this is a USB to USB-C cable. It has about 1m length, which is plenty to use in different conditions (wired to a powerbank, to electricicty…). I am not sure if the flashlight can be charged in USB-C to USB-C mode. Maybe some of the other reviews focus that.
The USB-C tip is to be plugged in the "back" of the flashlight, in the opposite direction of the switch.
As I knew that my aunts didn't have a charger, I bought one in a local store, and it is able to do fast charging. This way they really have the complete kit/set. I explained them the charging process too, both the physical process and the warnings in the switch

Inside the flashlight there was the unprotected button top 18650 3.7V Li-Ion 3000mAh Wurkkos battery, in a white wrapping. There is no information about the Wh capability. There was a plastic piece hindering the contact on the negative pole, to avoid accidental activation or draining during shipping.
For some € extra, it was worth it. Although this was not the cell I have to my aunts, as explained above, to those in need of a cell to operate the flashlight, it is a good option to have the full set.
Last but not least, the User Manual. Well, on this I wanna say thanks to Lux Perpetua, who put some parts (at least) of this UM together. It can be found here on the [Info-Thread] Wurkkos FC11
Well written and explains most of what someone needs to operate the flashlight. It is written in 6 different languages (English, Deutsch, French, Spanish, Russian, and Chinese (or Japanese, I'm sorry I don't know and can't confirm it anymore)).
---
Well I guess you didn't come here to see the accessories, so let's jump to the Wurkkos FC11 flashligtht itself!
This is a relatively small and elegant flashlight! The anodizing is shinny and smooth (on touch), but it seems to be hard anodized. Time will tell and my aunts will "test it"

The flashlight fits well in the hand, with a very ergonomic design, at least for my experience. The big switch button is a big plus in this flashlight, making it usable with gloves too (well, winter is here already), and allowing it to be easily located. The "wavy" knurling is also a plus for a better and more comfortable grip.
There are no visible imperfections in the knurling, grooves, threads or other any visible part of the flashlight.
Speaking of grooves and threads, the head has some cooling fins on the sides. As for the tube threads, they are square, arrived slightly lubbed, and thread in/out pretty well without squeaks. They are anodized, except on the edge of the tube (to make proper conductive contact).
Going further down, the pocket clip can be used only in the lower part of the battery tube and it can be easily rotated within its' groove. It is not a deep carry clip, but has good retention.
As for the tailcap, it is magnetic, has a lanyard hole, and some vertical knurling all around. It is flat and allows tailstanding without issues. Inside there is thick but "flexible enough" spring, that allows a good accommodation for protected and unprotected cells.
Back to the head, from the top we see a non AR Coated lens, an Orange Peel reflector over a white gasket and a Samsung LH351D 5000K 90CRI Led. The bezel is glued, and outside we see "HOT" signal and the serial number right below it. In my sample, these engravings are aligned with the switch.
On the lower part of the head, inside, the driver can be seen, and it has a spring for the contact with the positive pole of the battery.
Below the rubber switch - that has a blue metal ring around it - , there is another engraving, this time with the brand logo. On the back side, there is the USB-C port, covered by a rubber cap (which can be displaced and put back in place without being removed). Below, there is ths ROHS and CE engraving on white.
The flashlight can be dismantled in 3 main parts: head, battery tube and tailcap.
I said this was a small flashlight and it is, and also "lightweight". I forgot to measure the diameter but it is around 27mm in the head.
---
About the User Interface, the Wurkkos FC11 has 2 group modes: 1 with stepped modes, 1 with ramping.
The flashlight arrived configured in ramping mode (Group 2). I changed it to stepped modes before giving it to my aunts

GROUP 1 – Stepped modes
Regular Modes - ECO > LOW > MEDIUM > HIGH
Extra Modes – TURBO & STROBE
Operation:
FROM OFF:
Single click: Turns ON in the last regular mode used
Short press (1s): Turns ON in ECO
Double click: Enters TURBO
Triple click: Enters STROBE
FROM ON:
Single click: Turns OFF
Double click: Enters TURBO
Triple click: Enters STROBE
——/////——
GROUP 2 – Ramping
Ramping – from ECO to TURBO
Extra Modes – TURBO & STROBE
Operation:
FROM OFF:
Single click: Turns ON in the last used level
Long press (1s): Turns ON in ECO
Double click: Enters TURBO
Triple click: Enters STROBE
FROM ON:
Single click: Turns OFF
Double click: Enters TURBO (if it is not in the max of the ramping "scale")
Triple click: Enters STROBE
Click & Hold: ramps up or down depending on the sense it was going, and depending on the "break time" before stop ramping up or down
——/////——
TO ALTERNATE BETWEEN GROUP 1 and GROUP 2
From OFF, press & hold the switch for 3 seconds until the flashlight blinks 2 times. Then you'll be in the other group. Check the video I did (minute 10.40)
TO LOCK/UNLOCK
From OFF, click 4 times until the flashlight blinks 2 times. While locked, the flashlight blinks 2 times.
---
As for OUTPUT vs RUNTIME vs BEAM DISTANCE, I'll present the manufacturer specs for the Stepped modes:
ECO: 2 lumens for 275hours (- meters)
LOW: 50 lumens for 45hours (28m)
MEDIUM: 300 lumens for 9 hours (67m)
HIGH: 700 lumens for 2h45m (104m)
TURBO: 1300 lumens for 1h20m (144m) - *remember that after 90seconds the light steps down, but can be re-engaged in Turbo again through double click.
---
About CHARGING, BATTERY LEVEL & SWITCH INDICATOR, what can be said?
Well, when the flashlight is switched ON, the led indicator in the switch will also turn ON for a few (5) seconds in:
GREEN: battery level above 30%
CONSTANT RED: battery level below 30%
BLINKING RED: critical battery level , needs charging.
I'll remind that when the battery level is at 2.7V the flashlight will shut down to prevent battery damage.
While charging, the led indicator will blink red while charging and stay green when the charge is complete. I didn't check the ending voltage when the charging process ended as I didn't have any measurement tool or any flashlight with battery level indication at hand :person_facepalming:
While charging, the flashlight can still be used in single mode (ON/OFF, Low or Medium, I can't tell exactly)
---
As usual, lets do some size comparison with other flashlights.
It is slightly taller than some of its' competitors, but it is not that much big. Also, the other lights use magnetic charging with can be a factor in the size difference (not sure, but…why not?).

Vs Olight Warrior Mini and Skilhunt M200

A smaller light, for the comparison…
Vs Sofirn C01

And a robust flashlight (my modded S6, my pocket rocket)
Vs Convoy S6

And because a flashlight is nothing if it doesn't has the "light", lets see some tint comparison and some beamshots.
I have to say that there is no visible PWM, which is great.
About the beam, it doesn't throw a great distance, but for an "all around" flashlight, it acts pretty well, and it renders the colours well, too. When against a white wall, given the Samsung leds characteristics, and despite the OP reflector, it has some slight tint shift, not being completely uniform. It is not a bad beam, though.
FC11 Vs Olight Warrior Mini (SST-40 & TIR, Cool White)

FC11 Vs Convoy S6 (Triple Luxeon V 4000K)

FC11 Vs Skilhunt M200 (Samsung LH351D 5000K )

FC11 Vs Sofirn C01 (Sophia LED, 3400K)

And taking a look at different distances:
Random distances

At 15m

At 60m

---
My overall appreciation about the Wurkkos FC11 is quite good! Being a compact flashlight, easy to use even for people not used to "flashaholics' flashlights", having an ergonomic shape and "feeling",having a non Cool White Led, and being USB-C rechargeable, makes it a great gift for someone "outside" the flashlight enthusiastic world.

After teaching my aunts about the operation and charging, I felt they would be safe using it, and they will surely use it well.
This is a well built flashlight, with very few cons in terms of operation and construction. Definitely recommended if you want a easy to use and easy to carry flashlight!
Thanks for reading