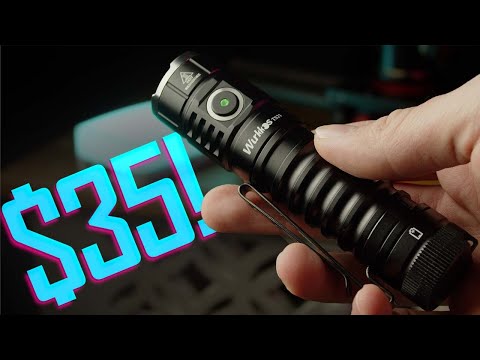 This review is for the Anduril 1 version of the light, which has been superseded by a newer version offering Anduril 2 and powerbank functionality:
The lastest versions (late 2022 - 2023) of this light now feature flashing pads! The MCU is now the ATTINY1616 which has a different flashing process than the older model, some changes were also made to the button indicator behaviour
---
So you guys have all seen several (great) reviews of this light already, I'll just share some thoughts and opinions in this written portion here.
First, test results (all done with the included 5,000mAh cell):
High & Turbo Step-down:


High & Turbo: first 30 minutes


High & Turbo: First 30 minutes (zoomed y-axis)


High & Turbo Total Runtime


High & Turbo Total Runtime (zoomed y-axis)


Turbo Temp Regulation (% Relative Output) - 45C, 50C, 55C, 60C


Max Regulated Output (1 hour run)

OUTPUT:
Turbo Max Output (Startup): 2,237 Lumens
High (Default Ceiling): 1,096 Lumens
Max Regulated Level: 126 Lumens
1/150: 0.24 Lumens
cd/lumen: 3.7 (8,277 max cd)
AUX LED current draw:
High: 3 mA
Low: 0.08 mA
Off: 0.03 mA
Moonlight (1/150) Current Draw: 2 mA
One of the most talked-about issues with this light is the thermal step-down. It is very aggressive, and I tested four different target temps (configurable in the UI): 45C, 50C, and 55C.
Note that in the graph, 50C actually performed a bit worse than 45C, which I suspect is due to ambient temperatures, as I don't have a very well-controlled environment… as always, my measurements are not super accurate, so take them for what they're worth.
I found that 60C made for a significant improvement, and while normally I would not set my lights this high, I don't find it to be a problem here - it still steps down quickly enough that it doesn't get too hot to hold.
This light uses the 4000K 95CRI SST20s, which I think are the perfect match for value, performance and color rendering. They're not the most accurate, but I still find them very pleasant to use.
Even better, the TS21 uses a custom optic (as stated by Wurkkos) which provides a very clean and very nicely-shaped beam. This is my favorite part of the TS21, the actual light quality is very nice and highly functional.
Pros:
CHEAP
Excellent beam quality
Anduril!
21700!
USB C charging port (with a great cover!)
AUX light in the switch
Small enough to carry with ease
Cons:
Sharp thermal stepdown
No flashing pads
Mediocre efficiency


My thoughts:
The TS21 is a fantastic budget option for those looking to get into enthusiast lights, those interested in Anduril, and/or those wanting a very functional light with all the fun features. It also makes a great gift for flashlight nerds. It comes very highly recommended from me.
Note that Wurkkos did send this light (free of charge) for review, at my request. All test results and opinions are my own. Thanks for reading/watching!