The light was supplied by Banggood , no compensation other than the light itself was received for this review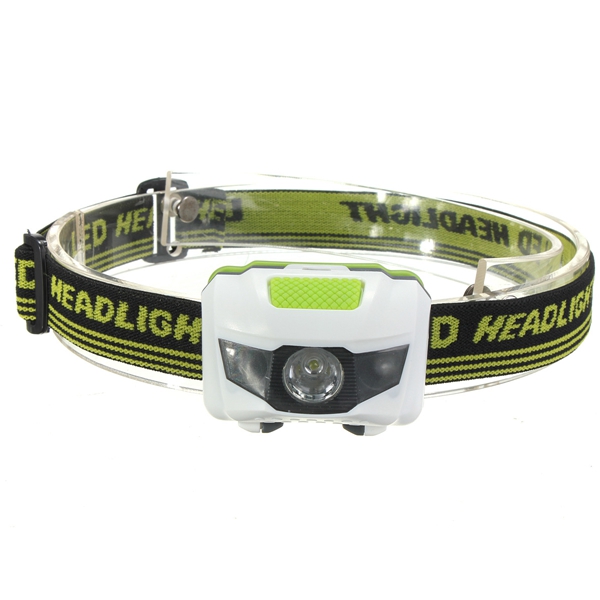 The price is 3.19$
This is my 7. light that was supplied by Banggood for a review, I am honest and will judge the light as it is with its pros and cons
Manufactory specification:
Specifications:
Brand: XANES
LED: R3+2 LED
Lumen: 1200 Lumen
Mode: 4 modes White Light Strong/ White Light Weak/ Red LED Bright/Red LED SOS
LED lifespan: 100,000 hours
Light distance: 80 meters
Power supply: 3xAAA Batery ( Not Included)
Color: White + Green
Size: Approx. 60x40x35mm
Weight: 52g
Package weight: 63g
Features:
Can be used as headlight.
With adjustable headband, you can use more comfortable.
Easy and convenient to apply and remove.
Waterproof but don't put it into water.
Great for outdoor activities, such as camping , hiking, fishing,etc.
Package includes:
1 x Headlight
1 x Headband
There are some errors in the original specs
on the package is written max 120 lumens and 3W
The parcel arrived after 8 days shipping with to Germany which is very fast from China.
Package and content:
The lights box came packed in a plastic bag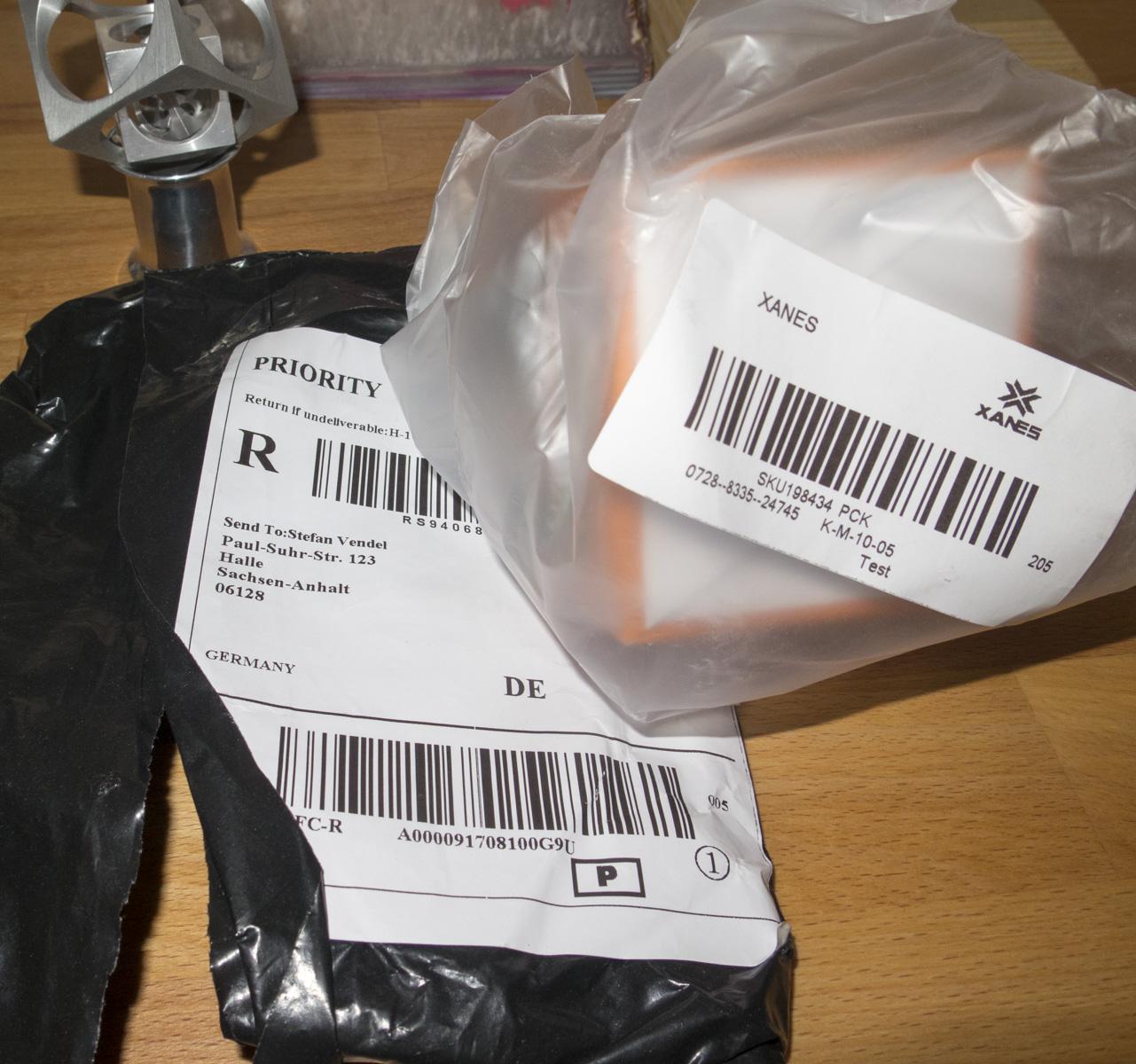 The light comes in a small box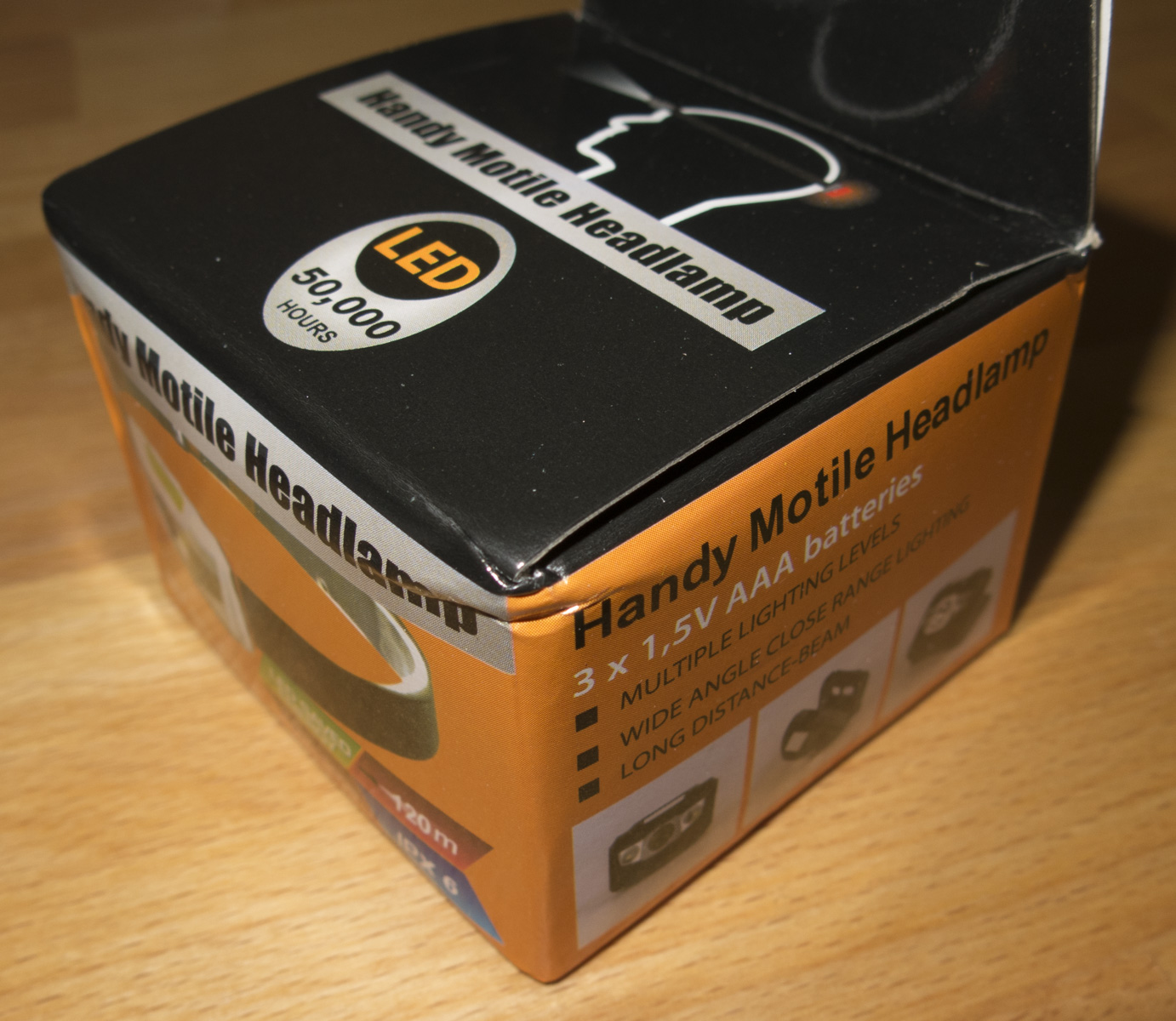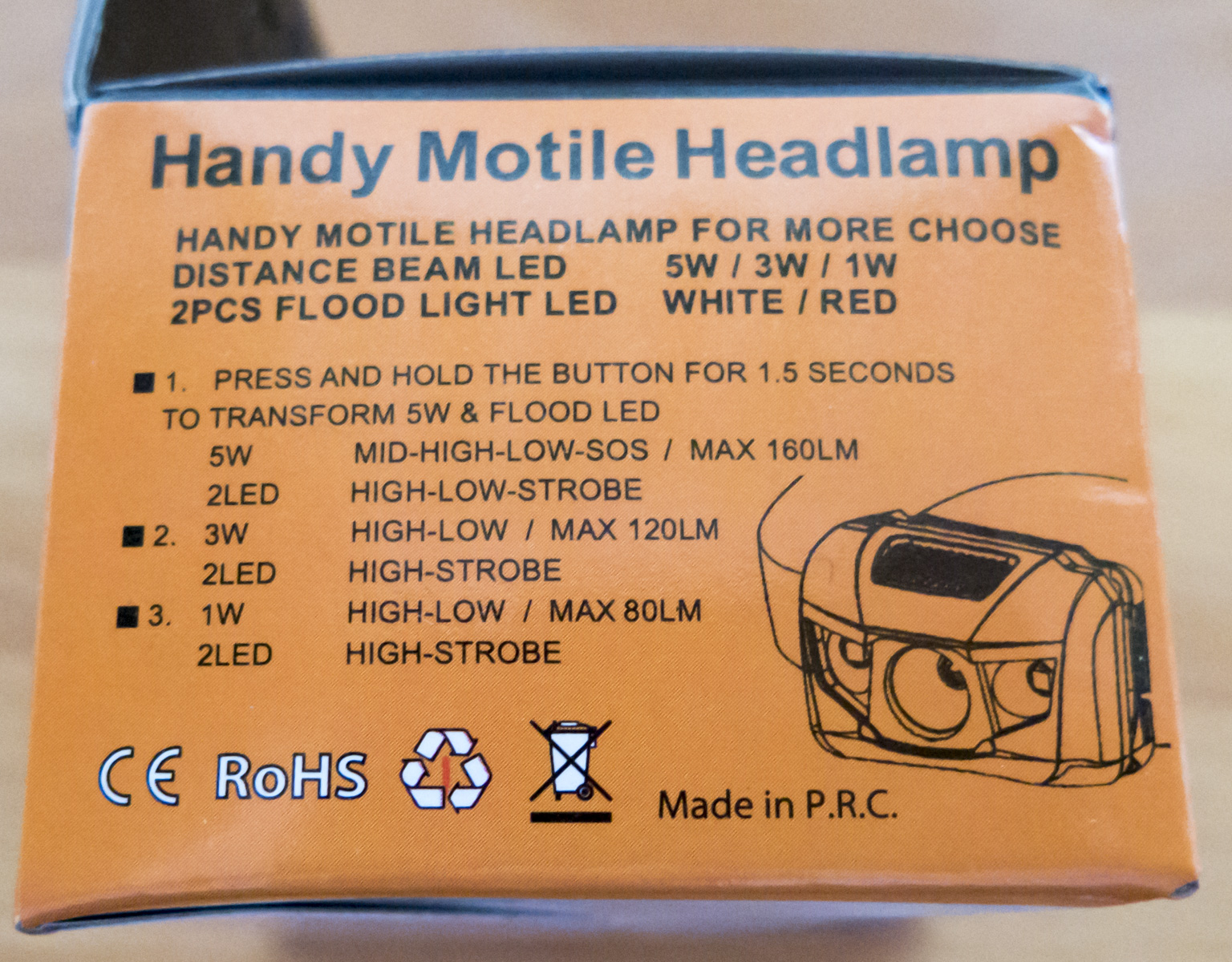 It comes with headband and light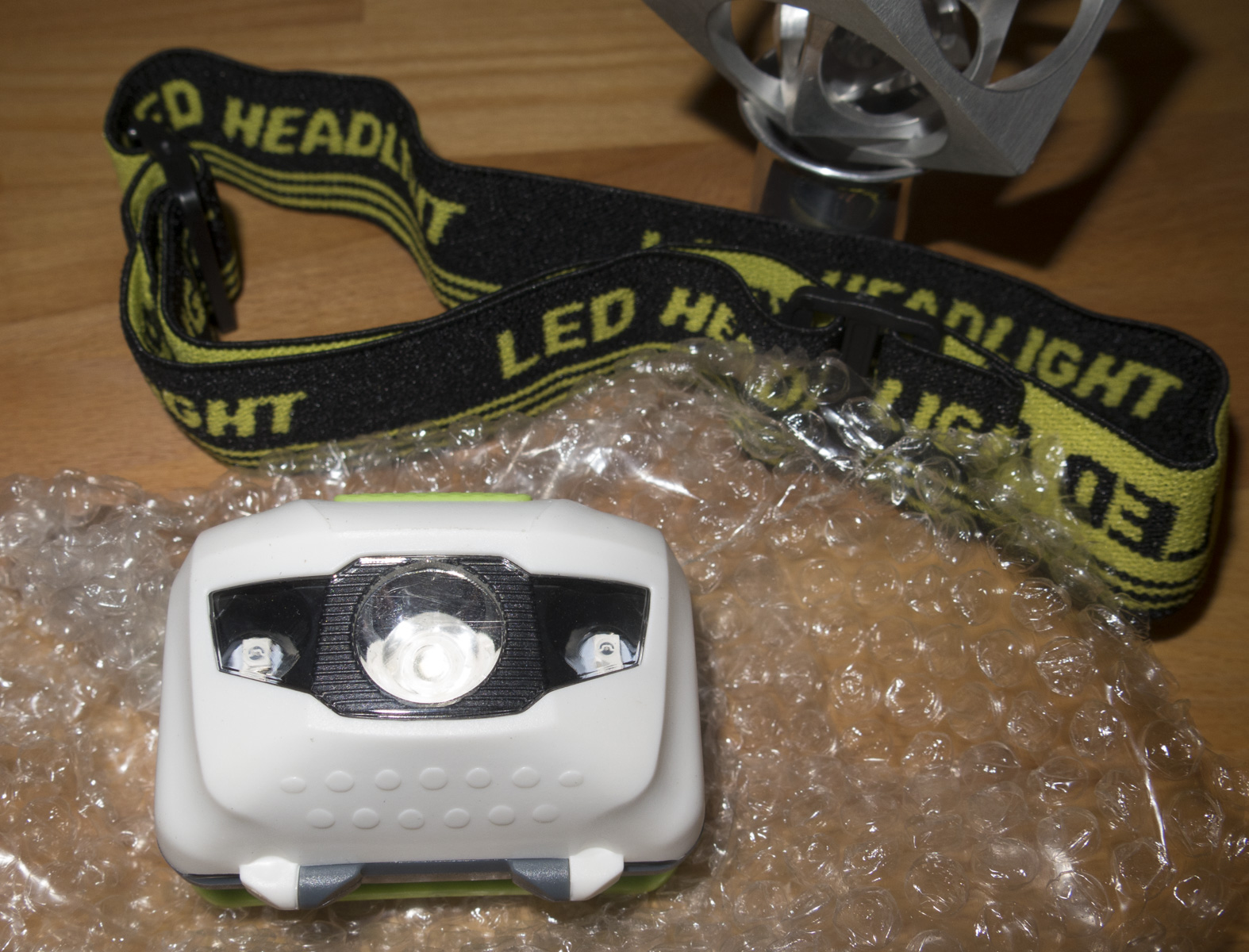 Teardown:
The LED is on a thin aluminum stat which floats inside the light, no heatsinking at all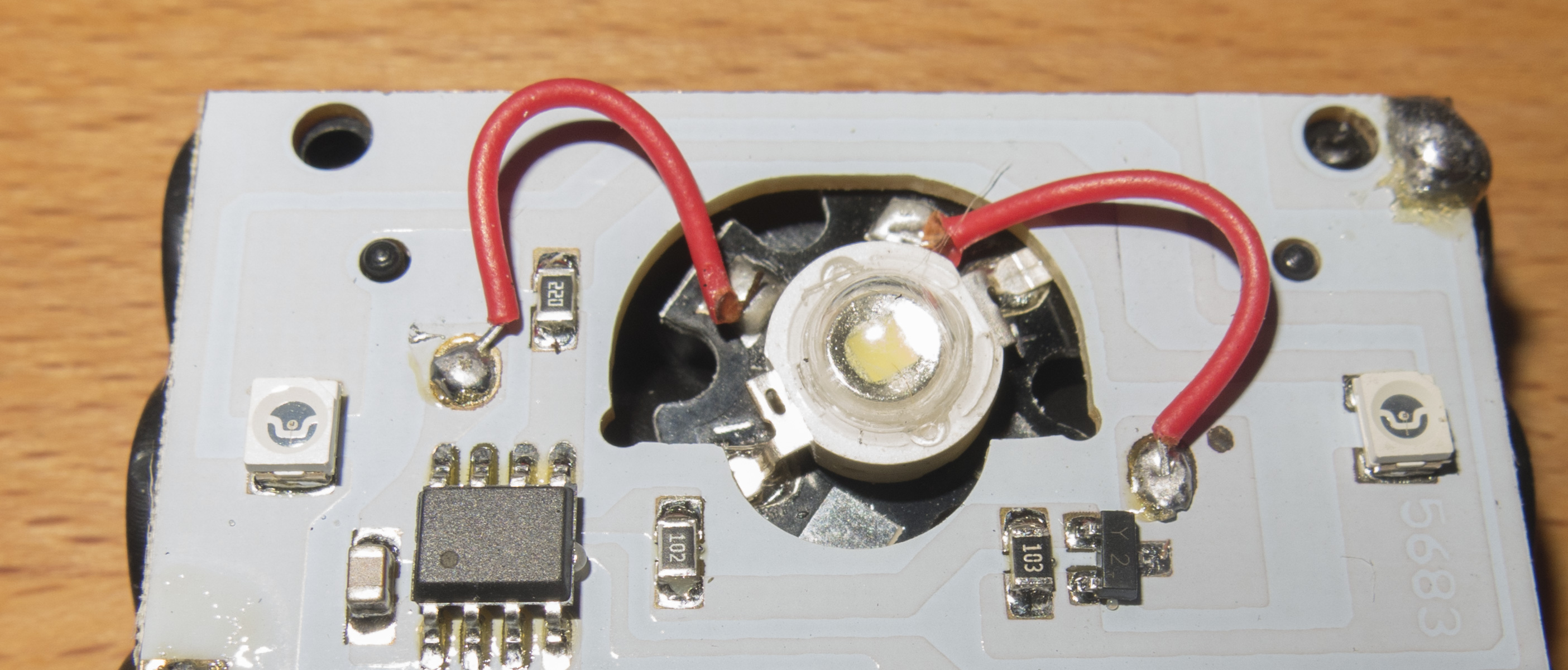 The reflector is plastic, the lens is plastic as well and no sealing there so it wont be watertight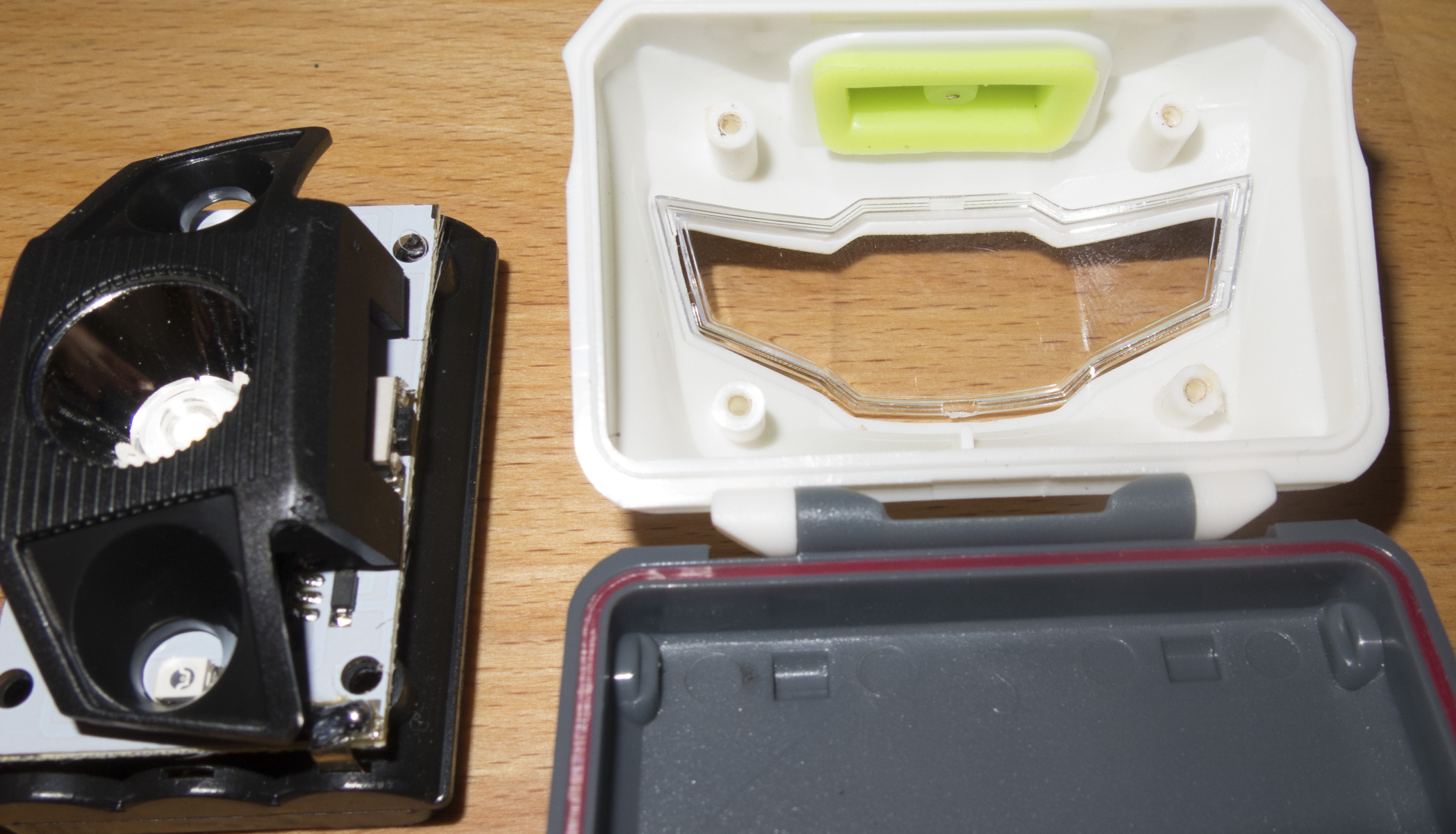 compared the light to a Cree 3C 5000K and 2B 6000K LEDs in lower modes
Klarus XT12 Cree XHP35 5000K, Eagle Eye XPL HD W2-2B 6000K, Xanes headlight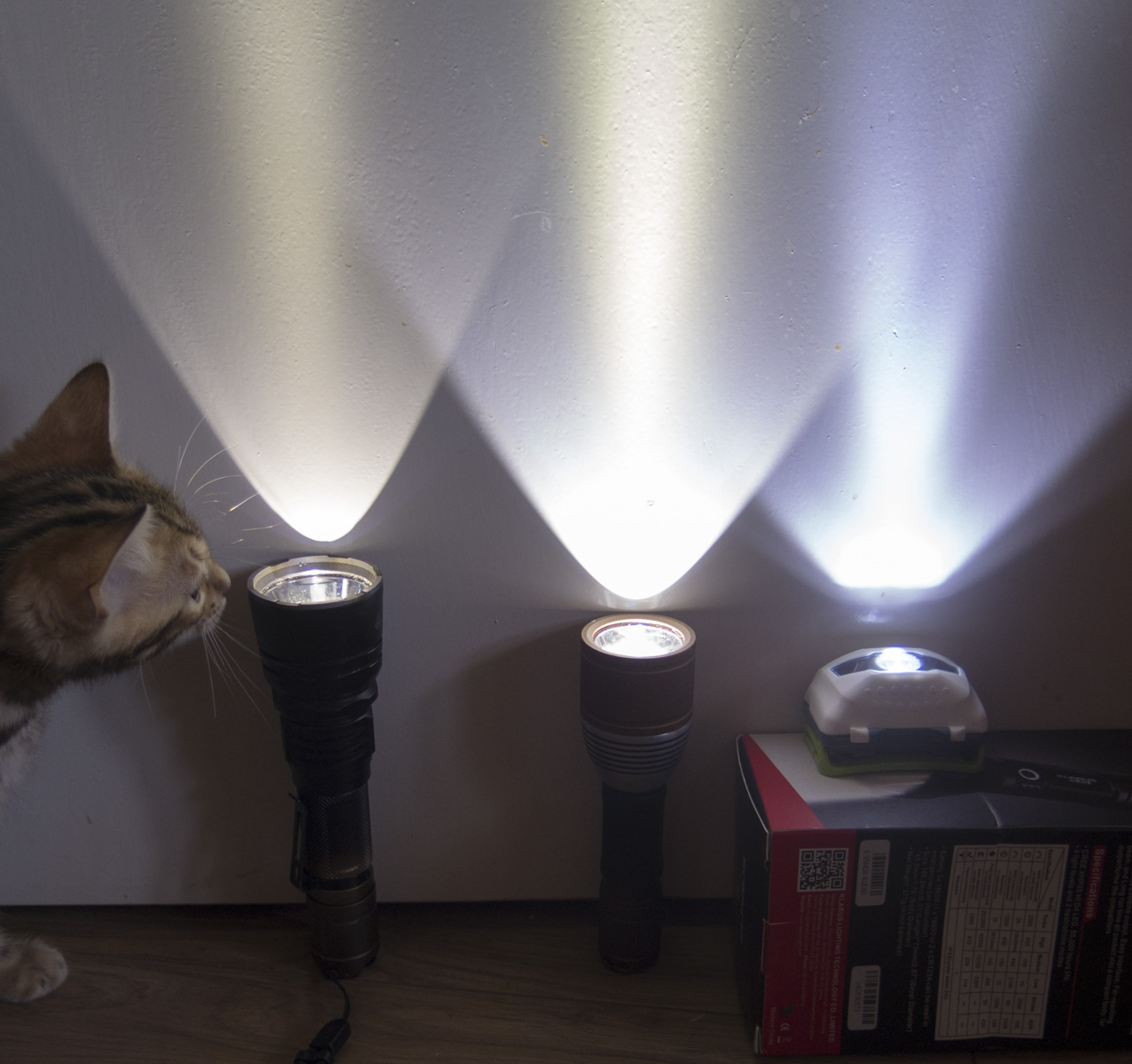 Beam color is above 7000K with a very aggresive purple blue tint
The light can be easily taken apart only 4 screws, the battery compartment got an o-ring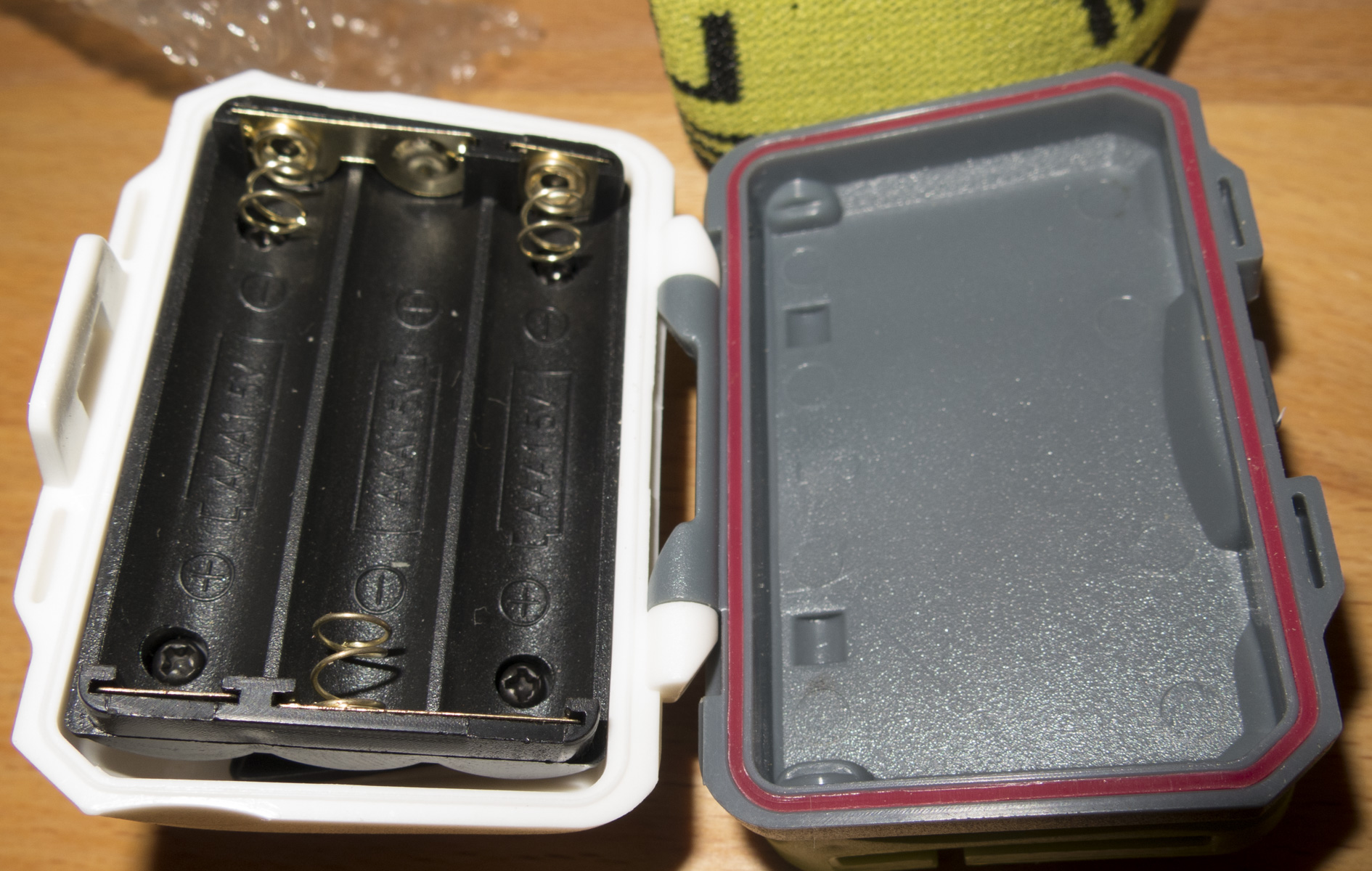 The light can be run with 3 AAA sized batteries
The driver is basically a MCU a transistor and some resistors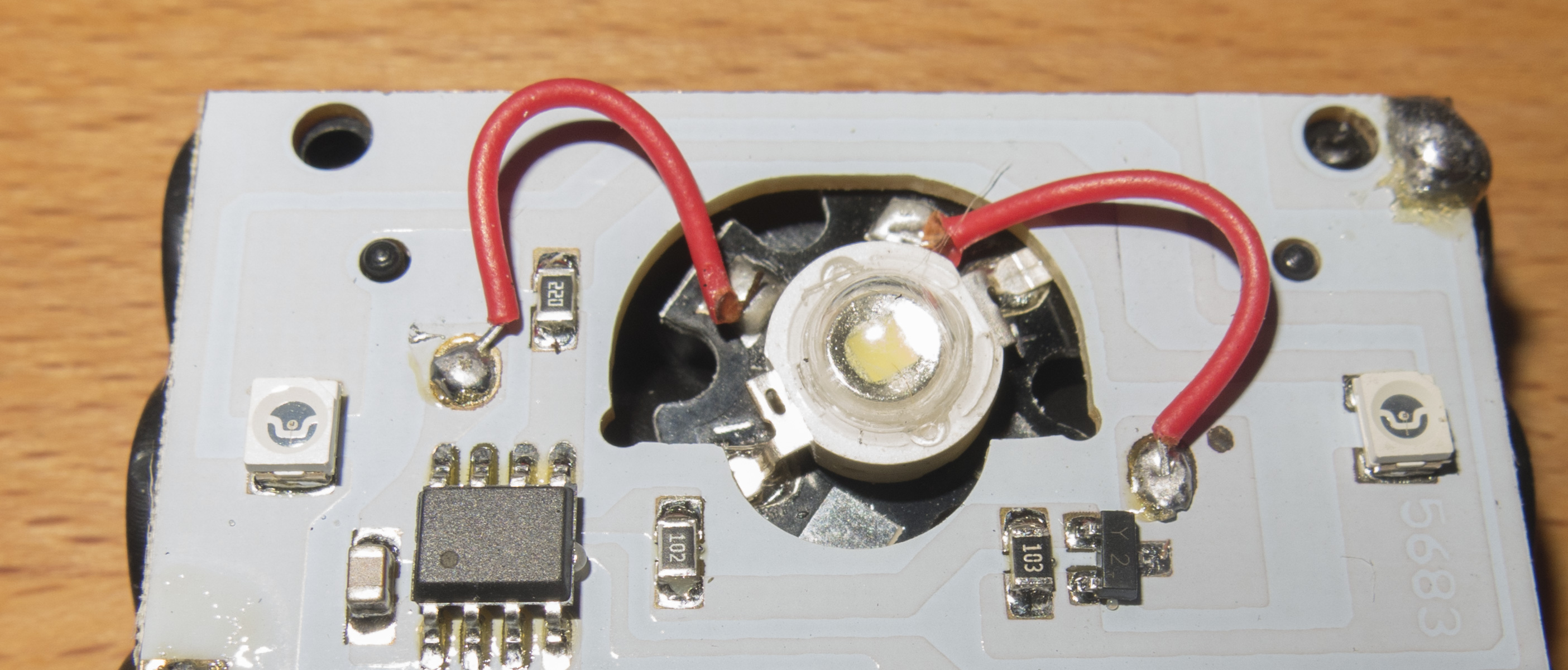 The light draws 340mA on fresh NiMh on highest mode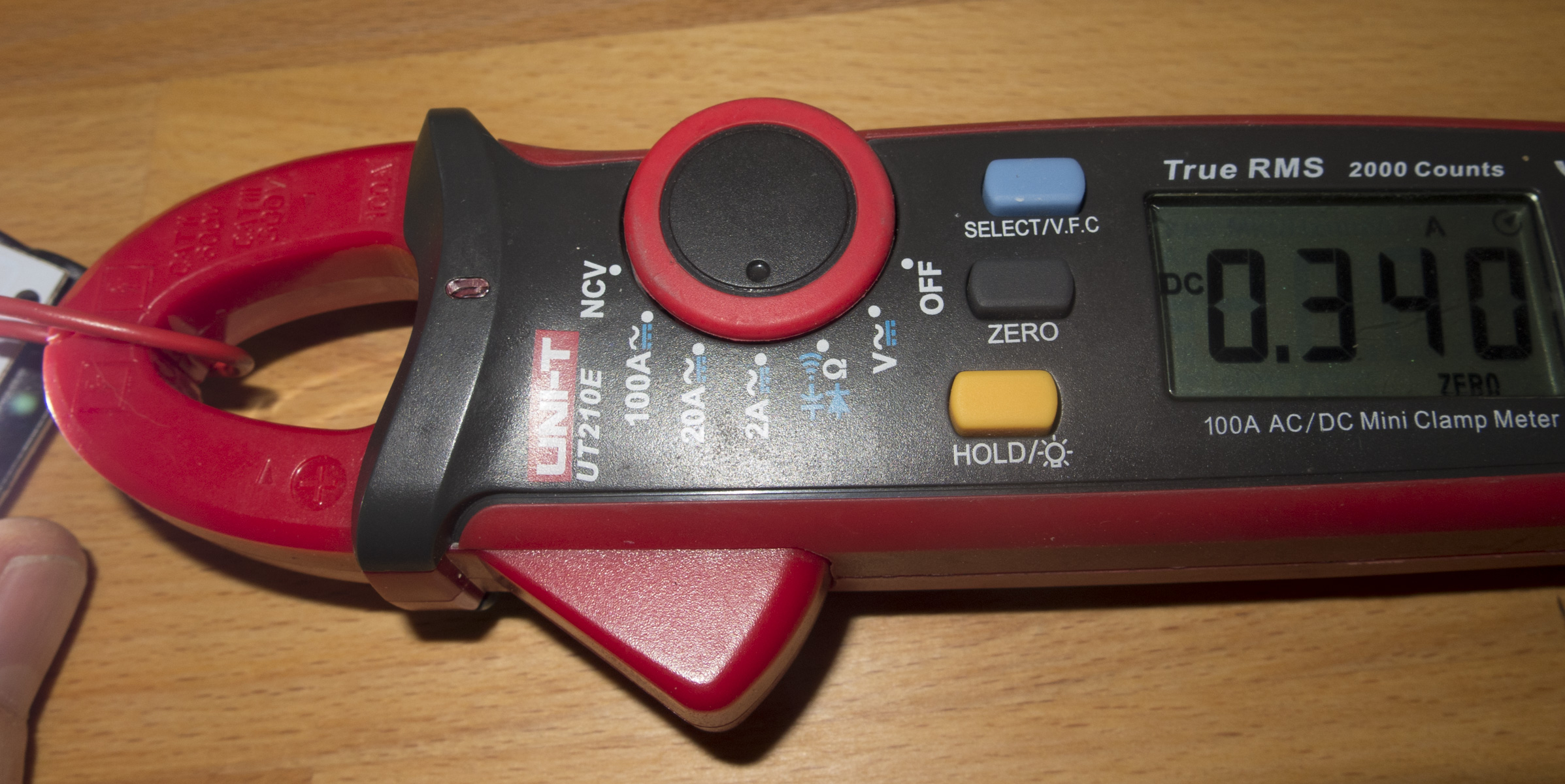 110mA on medium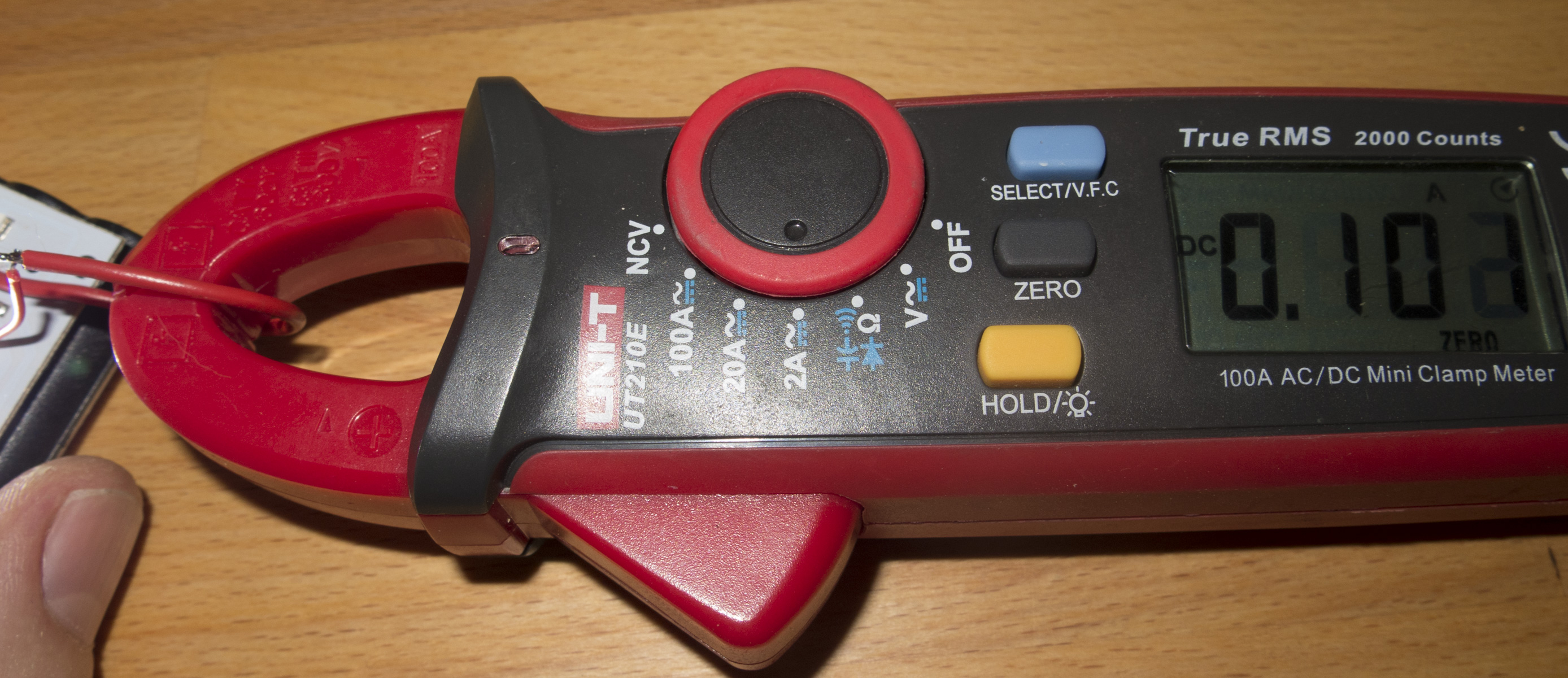 red light 65mA
UI
The light had high/low, red and red blinking
you have to cycle through all 4 modes to shut it off
the switch is pretty stiff, not easy to click
The light remembers last mode when batteries are inserted
Modding:
First thing was to replace the LED, I had a dedomed XPG2 laying araund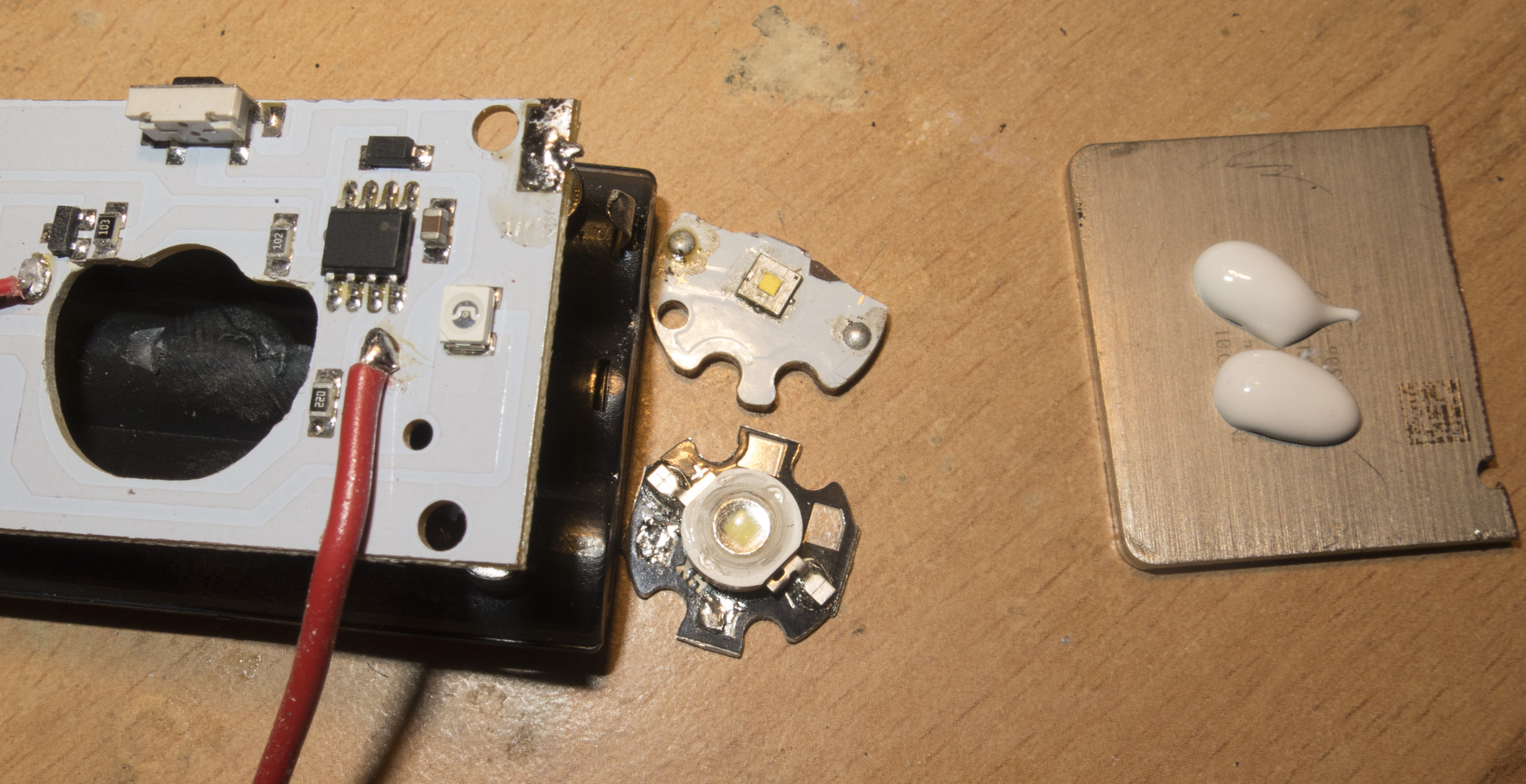 I enhanced the heatsinking
I used an old copper MCPCB and a heatspreader from a CPU
Cut the LED board and driver PCB to fit
Then used thermal epoxy to glue the driver PCB, star and heatspreader together
The current and light output has increased
The light draws 620mA on fresh NiMh on highest mode
180mA on medium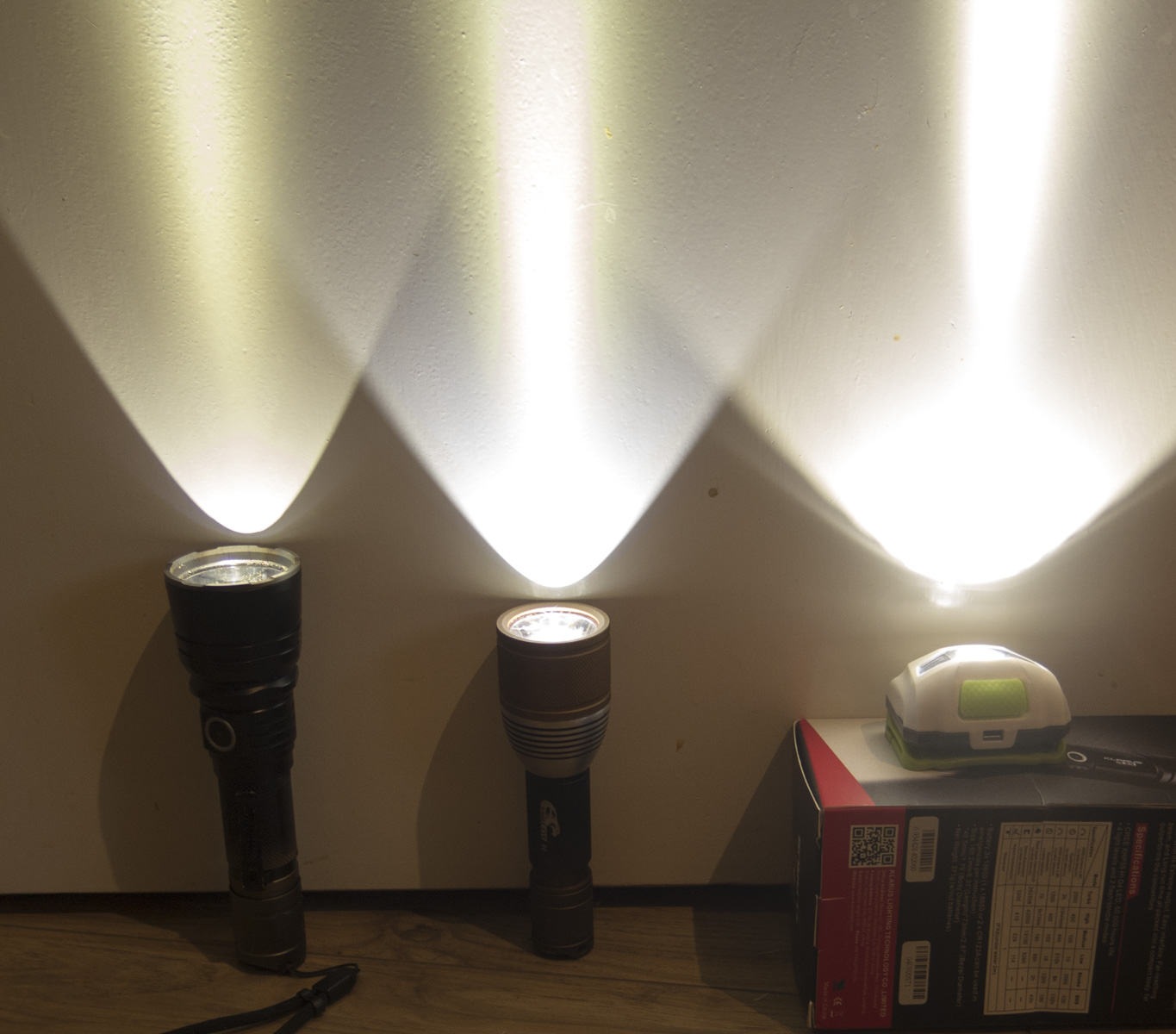 compared to the original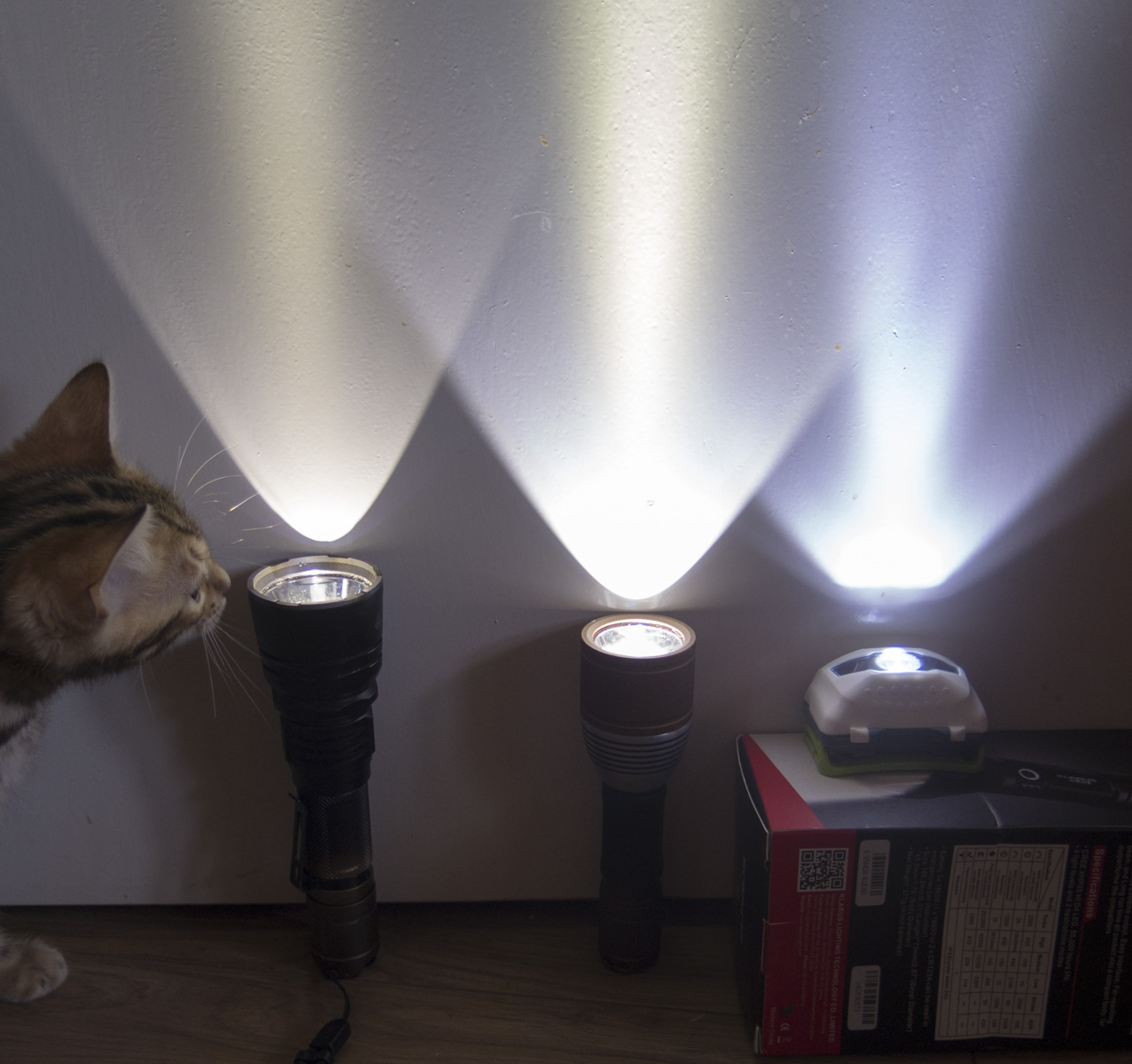 Conclusion
Cheap but angry blue LED, build quality for the price OK, but you get what you pay
just the LED and heatsinking of it is very poor
Positive:
- the plastic case seems durable
- runs on normal batteries
gives with a modded LED a decent light
Negative:
- angry blue light color
- no sealing of the lens
- lens plastic is very soft and gets easily scratched
- absolutely no heat sinking
- cheap LED which is not bright and has a very agressive angry blue