I asked Zebralight for a testing sample. They never replied. So I bought this light with my own money.
Zebralight Specs
LED: Cree XM-L2 EasyWhite (Typical CRI: 83-85, Nominal CCT 4000K)
User Selectable Levels: 3 main levels (High, Medium and Low). Each main level can be programmed to one of its two sub-levels. The second sub-level of the each main levels can be further programmed to different brightness levels.
Light Output (runtimes)
High: H1 830 Lm (PID, approx 2 hr) or H2 531 Lm (PID, approx 2.5 hrs) / 242 Lm (3.9 hrs) / 110 Lm (11 hrs)
Medium: M1 59 Lm (30 hrs) or M2 25 Lm (66 hrs) / 9 Lm (172 hrs)
Low: L1 2.5 Lm (16 days) or L2 0.34 Lm (2.5 months) / 0.05 Lm (4.6 months) / 0.01 Lm (5.5 months)
Beacon Strobe Mode: 0.2Hz Beacon at Low / 0.2Hz Beacon at H1 / 4Hz Strobe at H1 / 19Hz Strobe at H1
Light output are ANSI out the front (OTF) values. Runtimes tested (and parasitic drain estimated) using ZL634 batteries. Runtimes of the two PID controlled levels (830Lm and 531Lm) vary greatly with ambient temperature and air circulation.
Operating Voltage Range: 2.7V - 6.0V
Battery: One 18650 size (up to 69mm long) 3.6V-4.35V li-ion rechargeable. Batteries are not included in the package.
Parasitic Drain: Negligible (much less than the self discharging of a battery)
Beam Type
120 degree flood
Dimensions
Head Diameter: 0.95 inch (24.2 mm)
Length: 3.85 inch (97.8 mm)
Weight
1.4 oz (39 gram)
3.0 oz (84.6 gram) with ZL634 battery
4.4 oz (124.6 gram) with ZL634 battery and headband
Features
PID thermal regulated outputs (830Lm and 531Lm)
Battery capacity indicator (LED flashes 1-4 times, 4 short clicks to start)
Automatic stepping down from High to Medium, and from Medium to Low when battery capacity is low
Builtin over-discharging protection (2.7V cutoff)
Durable electronic soft-touch switch
Smart user interface provides fast and easy access to all brightness levels and beacon-strobes.
Precision machined unibody casing from premium grade aluminum bar stocks
Proprietary heat sinking design bonds the LED board directly to the unibody aluminum casing
Durable natural hard anodized finish (Type III Class I)
Sealed and potted LED driver circuitry
Battery reverse polarity protection
Tempered optical grade glass
Waterproof to IPX7 (2 meters, 30 minutes)
The H603C comes in this cardboard box.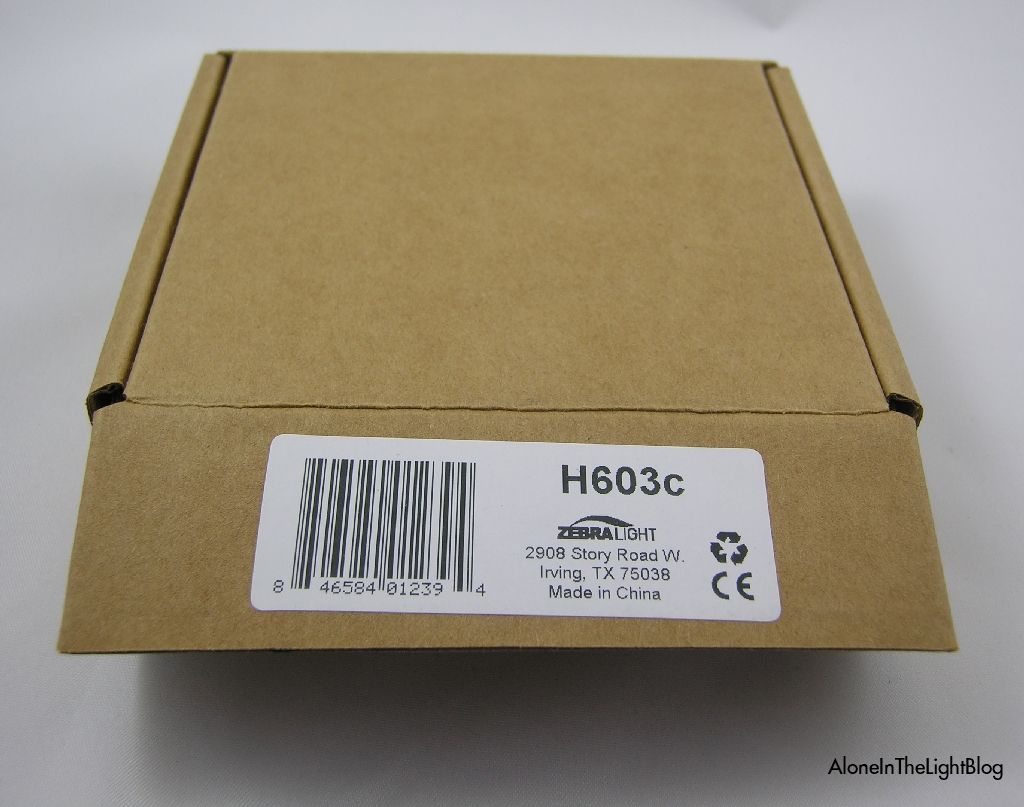 Don't worry Zebralight I'm not a xxxfire guy.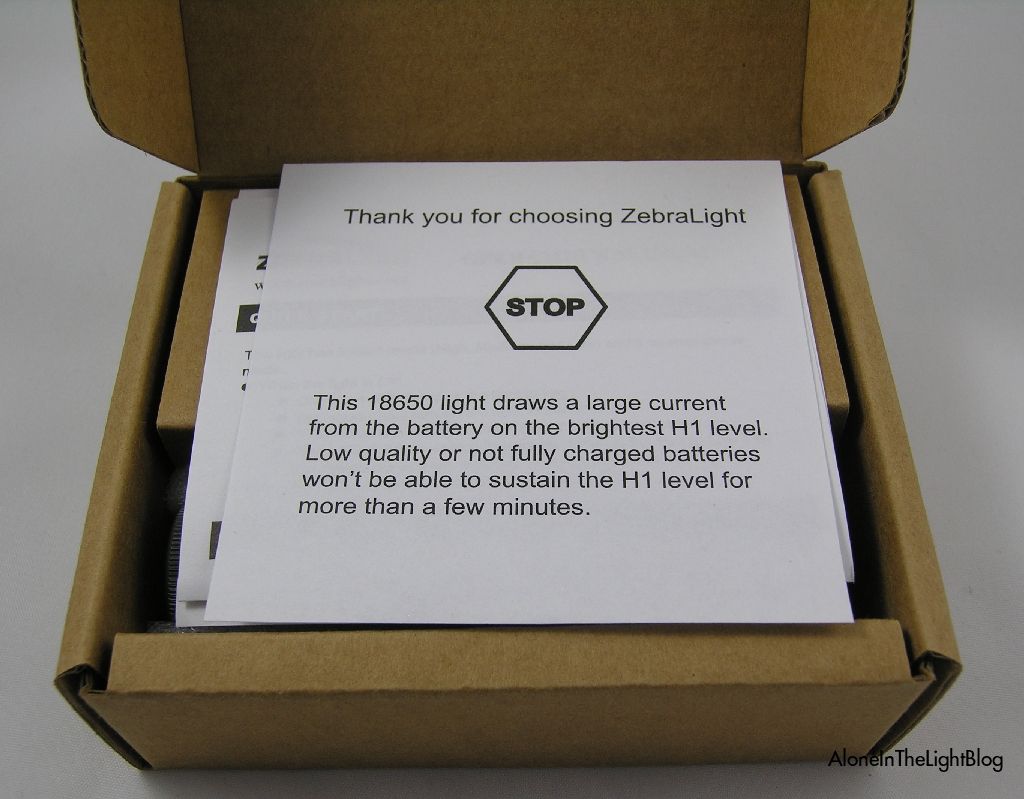 The H603C comes with a headband, spare o-rings and a couple of papers. No manual, though.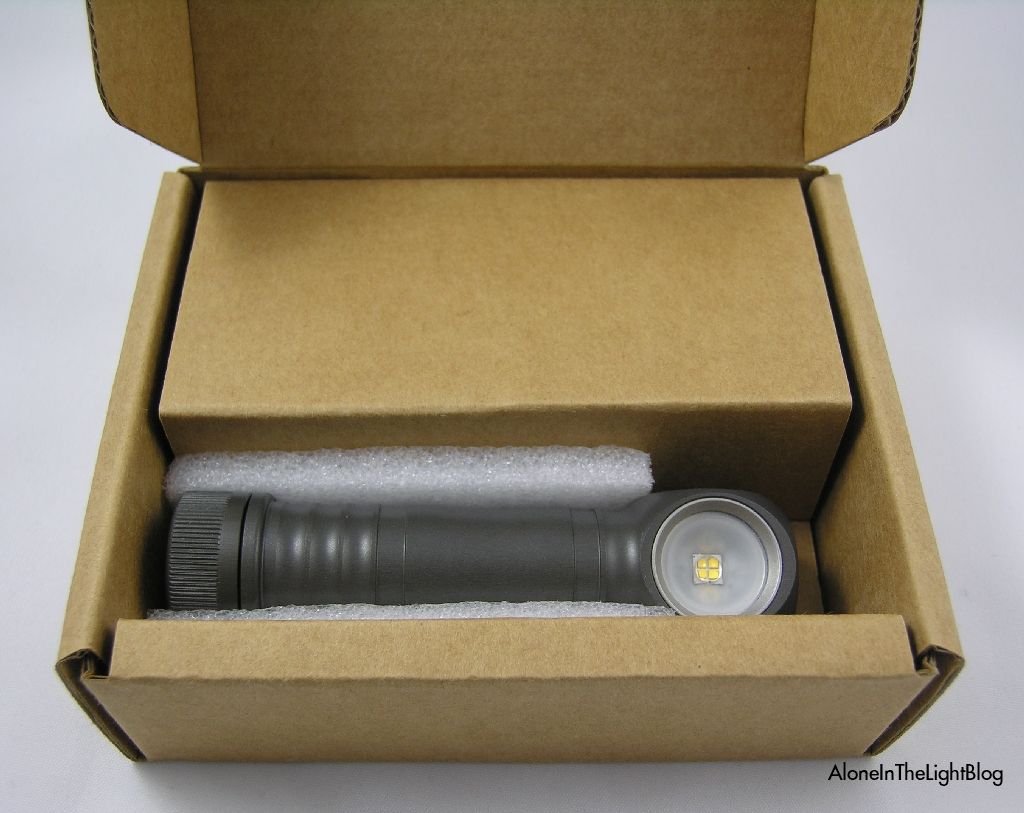 It is a small compact headlamp, working with 18650 cells.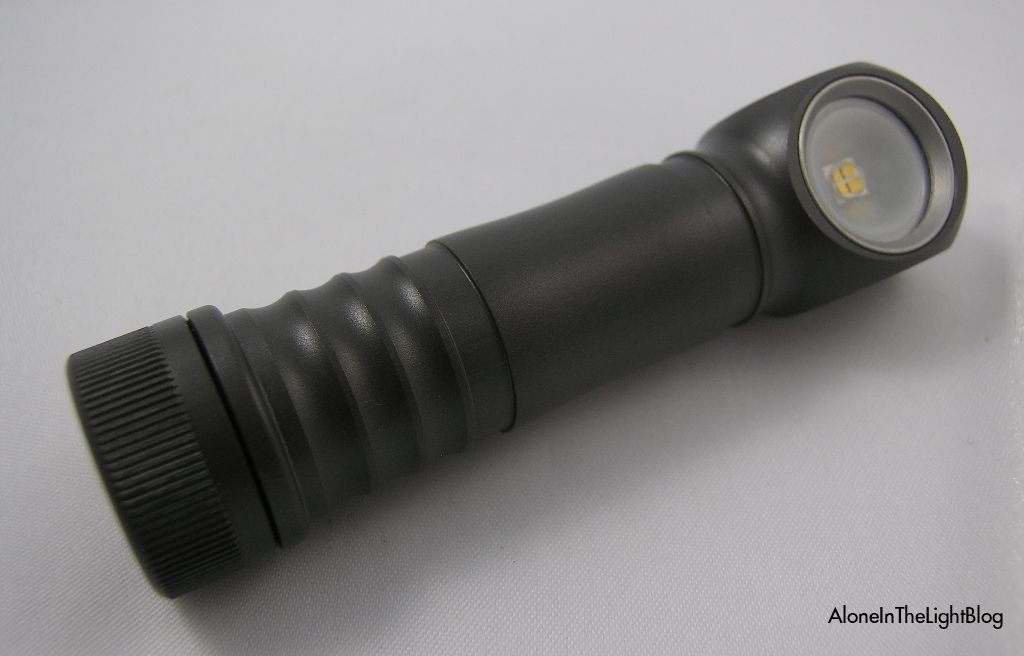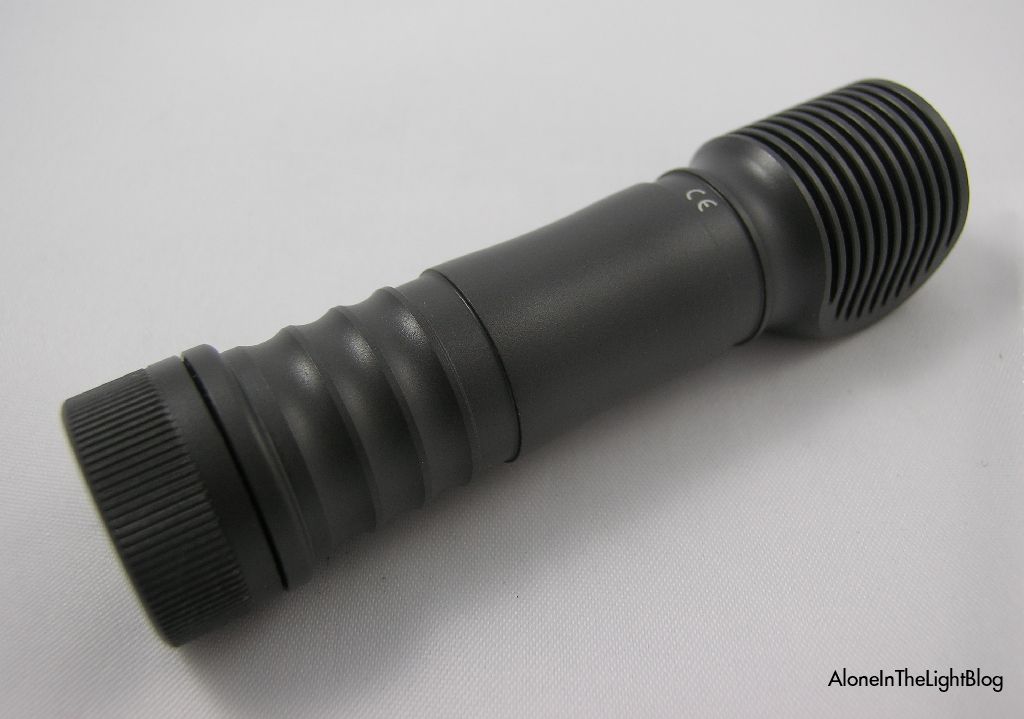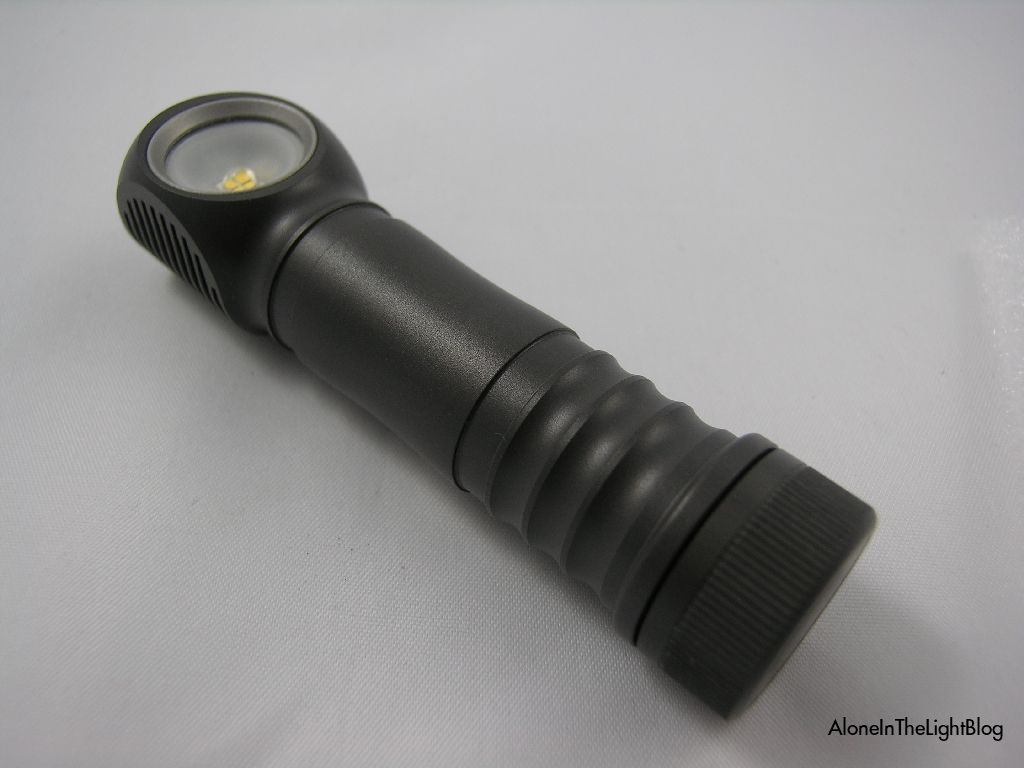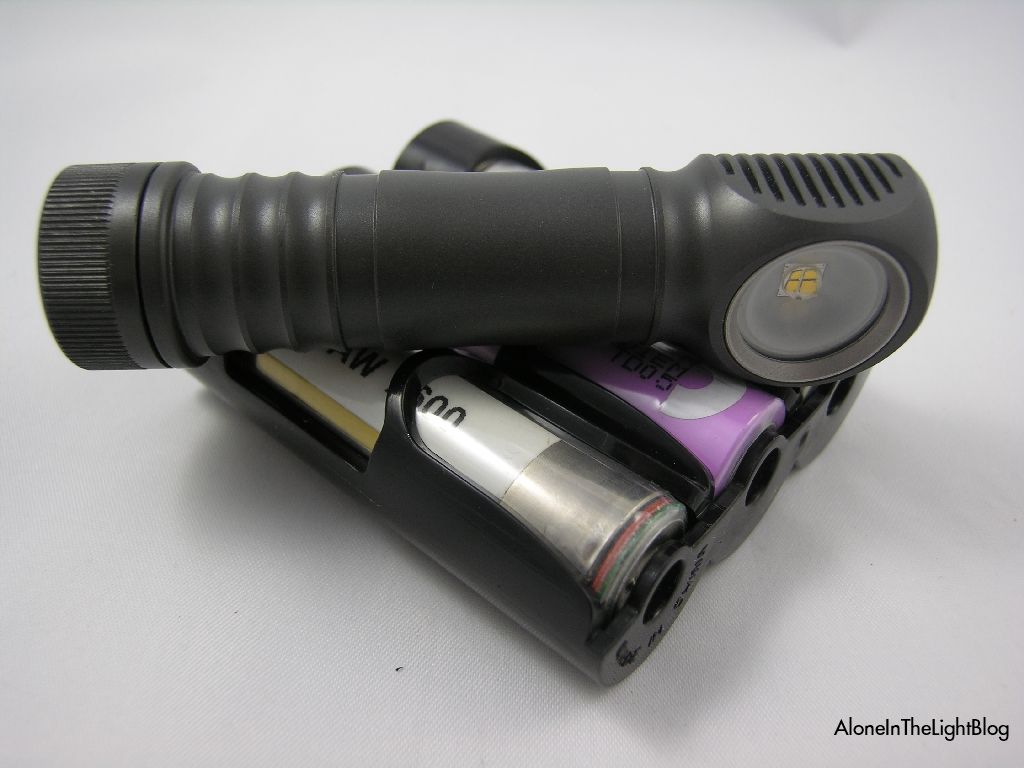 The electronic switch is at the head (the ding on the lamp was caused by me).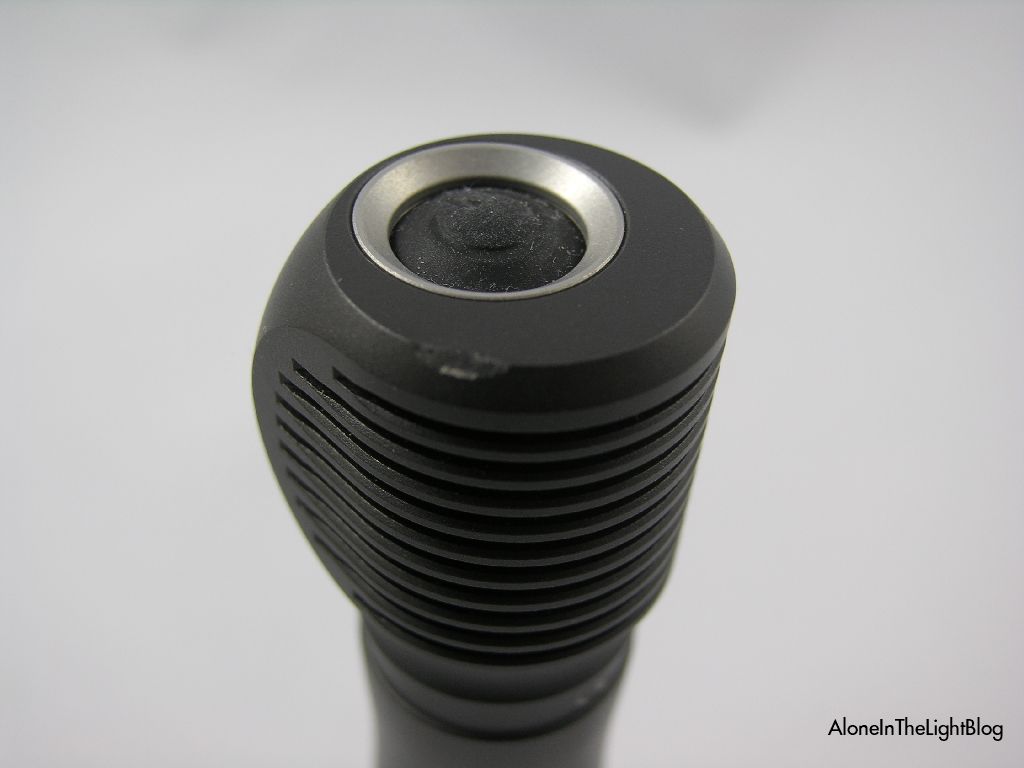 The threads at the tailcap are anodized, so you can physically lockout the light.

The only element of grip is the milling on the tailcap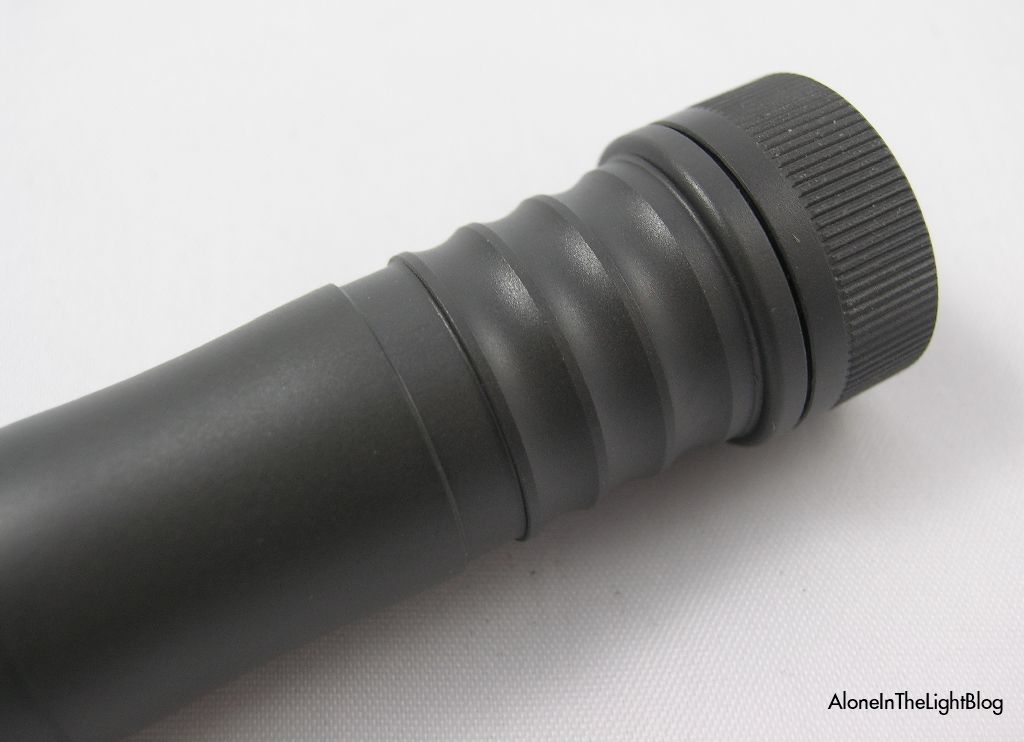 The emitter is a XM-L2 Easywhite emitter, Typical CRI: 83-85, Nominal CCT 4000K.
As you can see, this light does not possess a real reflector or an optic.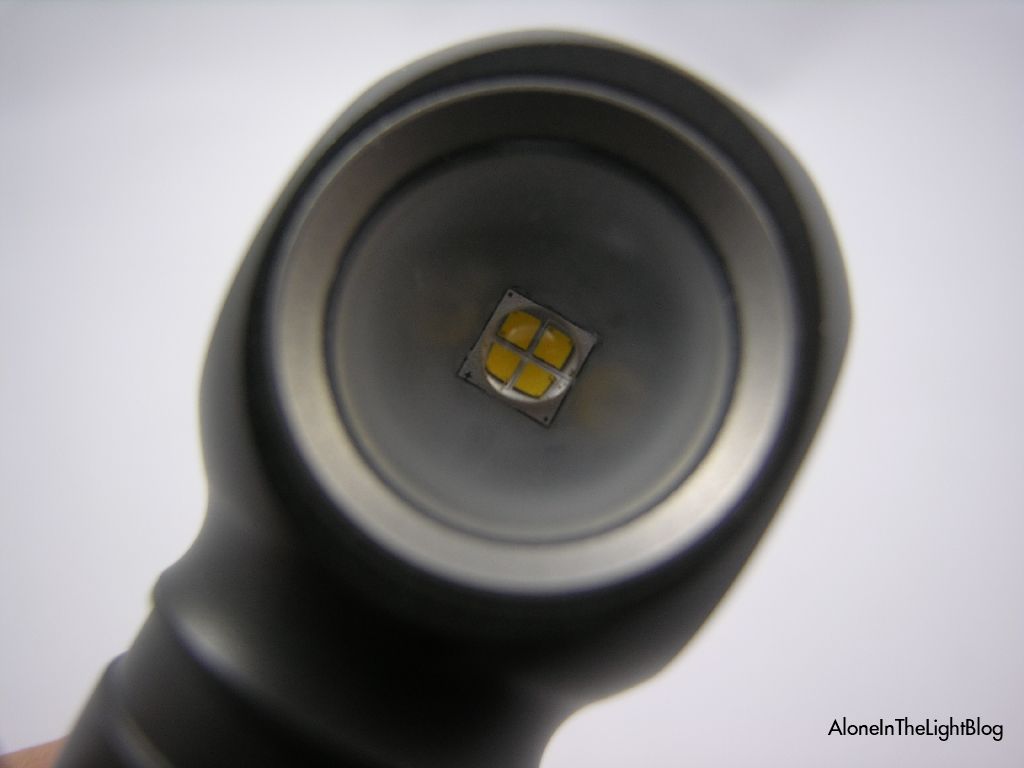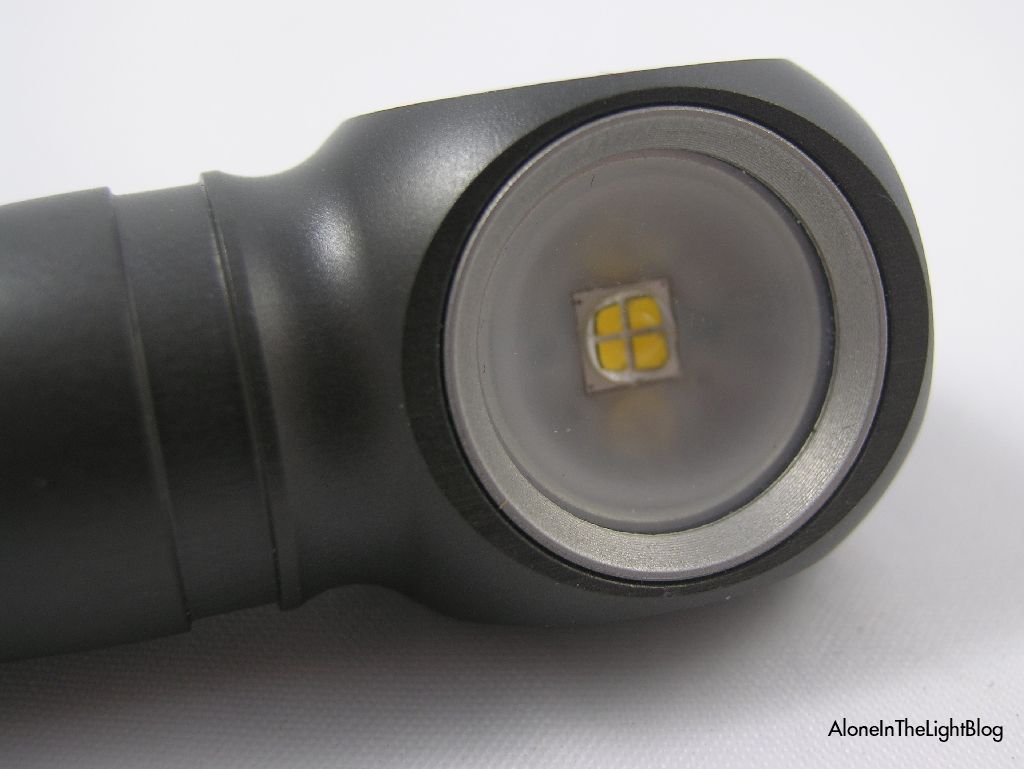 Around the LED there is a very big gasket that is GITD. Despite what you can see, if you tilt one H603 and look closely, the emitter appears really close to the glass.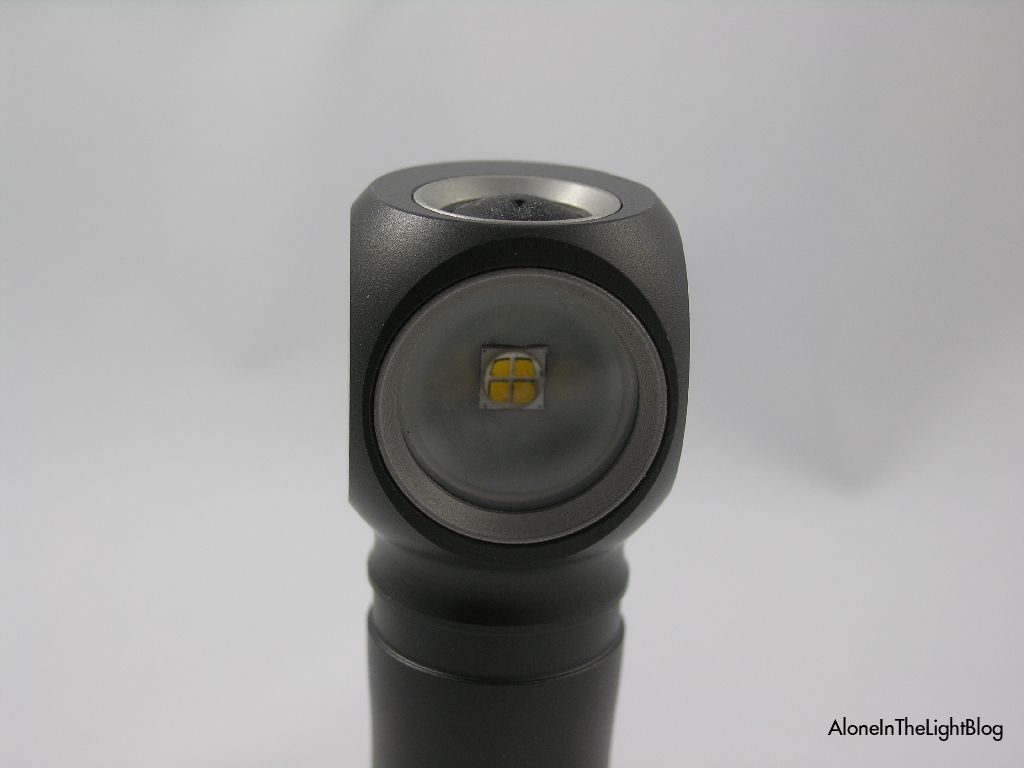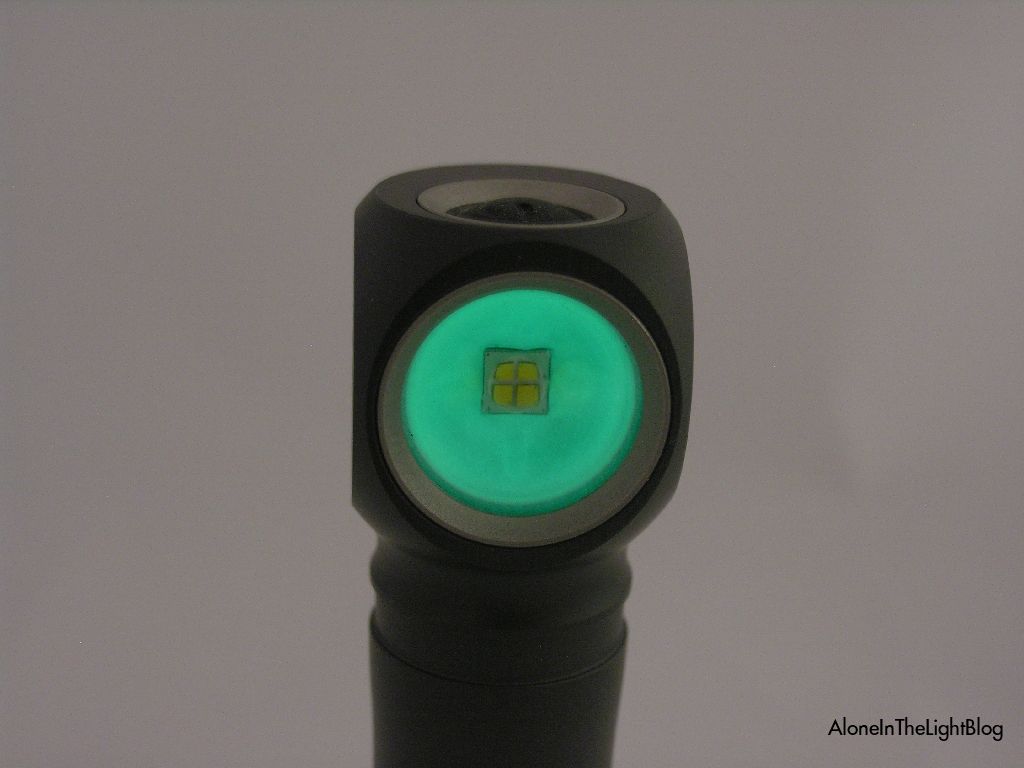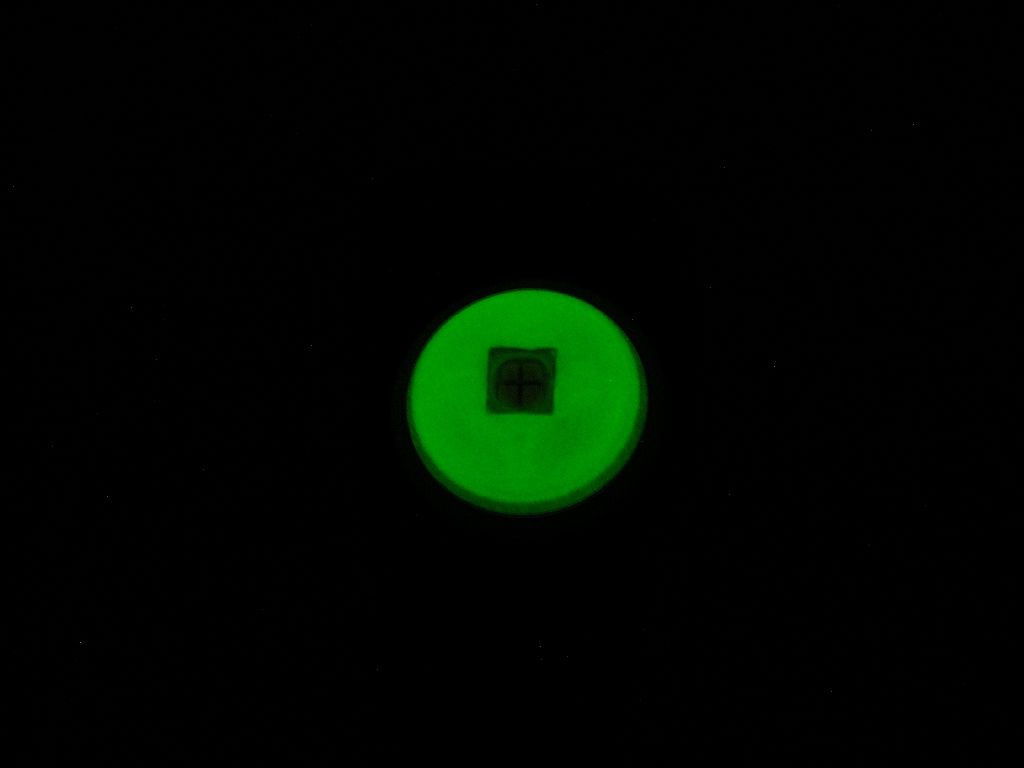 When the light is turned on, even at the lowest levels, the GITDness is not visible
The highest of the low levels, 2.5 lumens.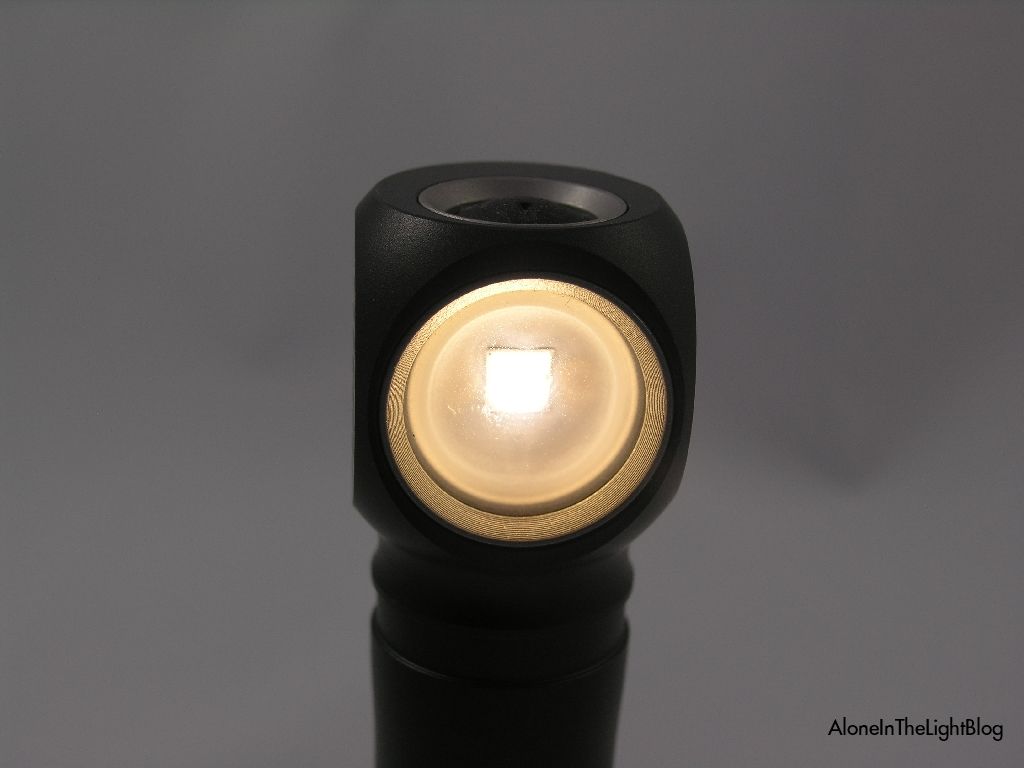 The lowest setting, rated 0.01 lumen.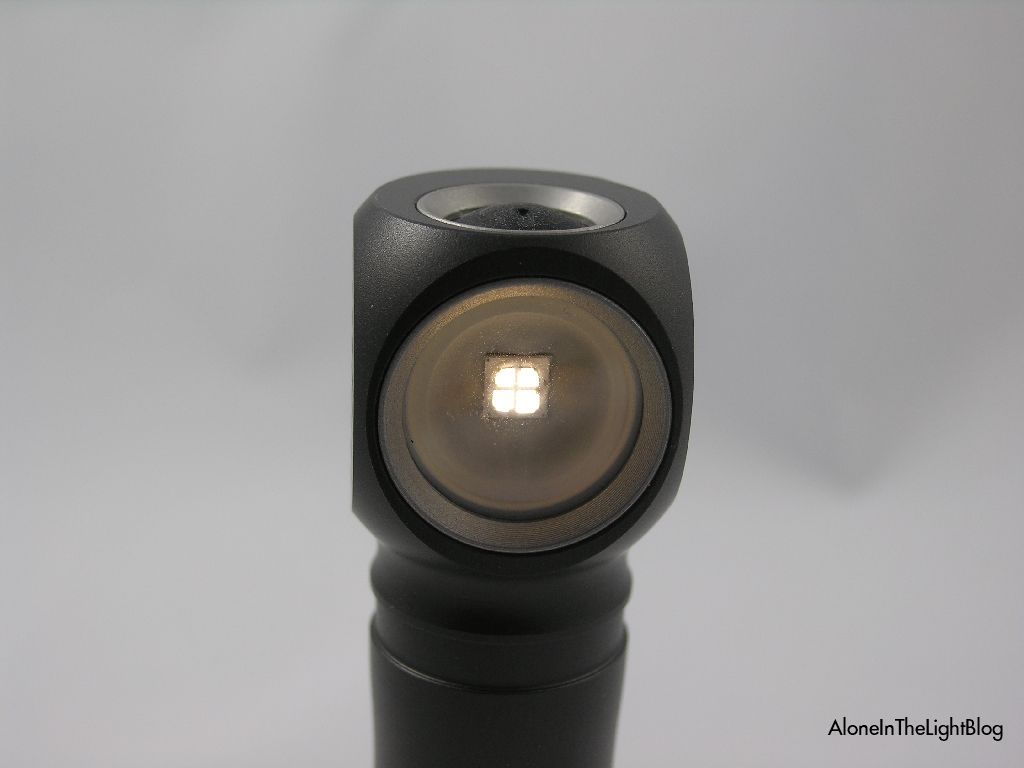 A dumb GIF!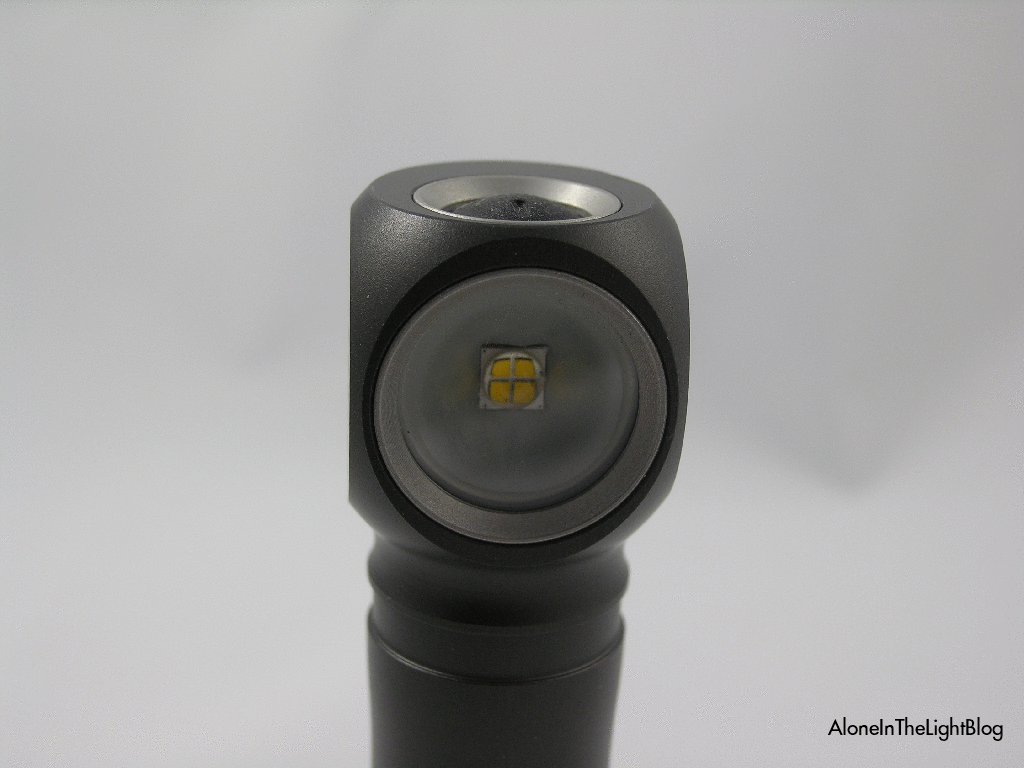 Behind the LED some cooling fins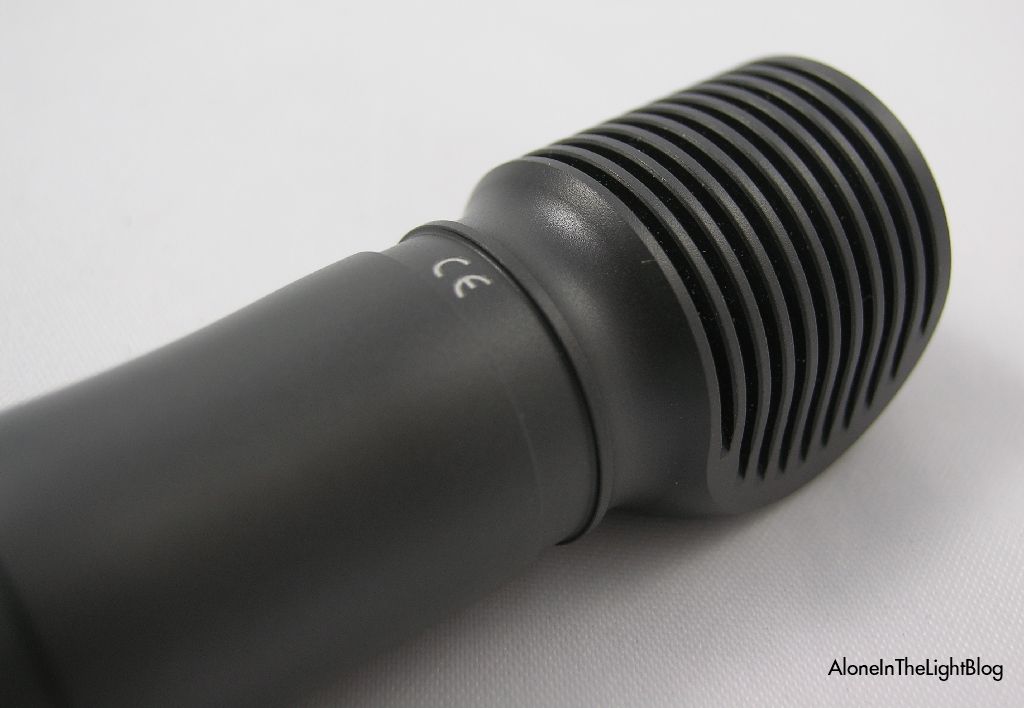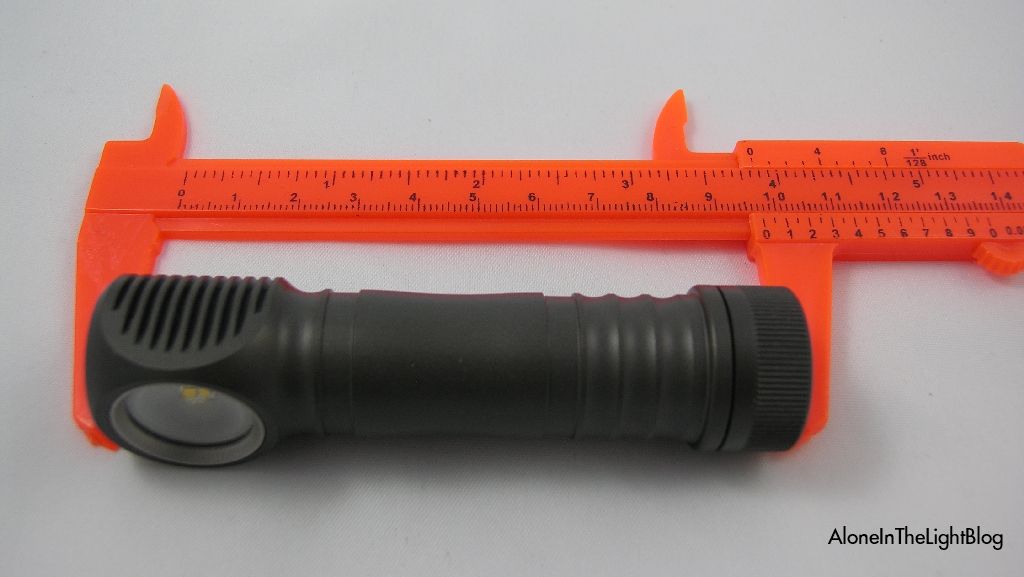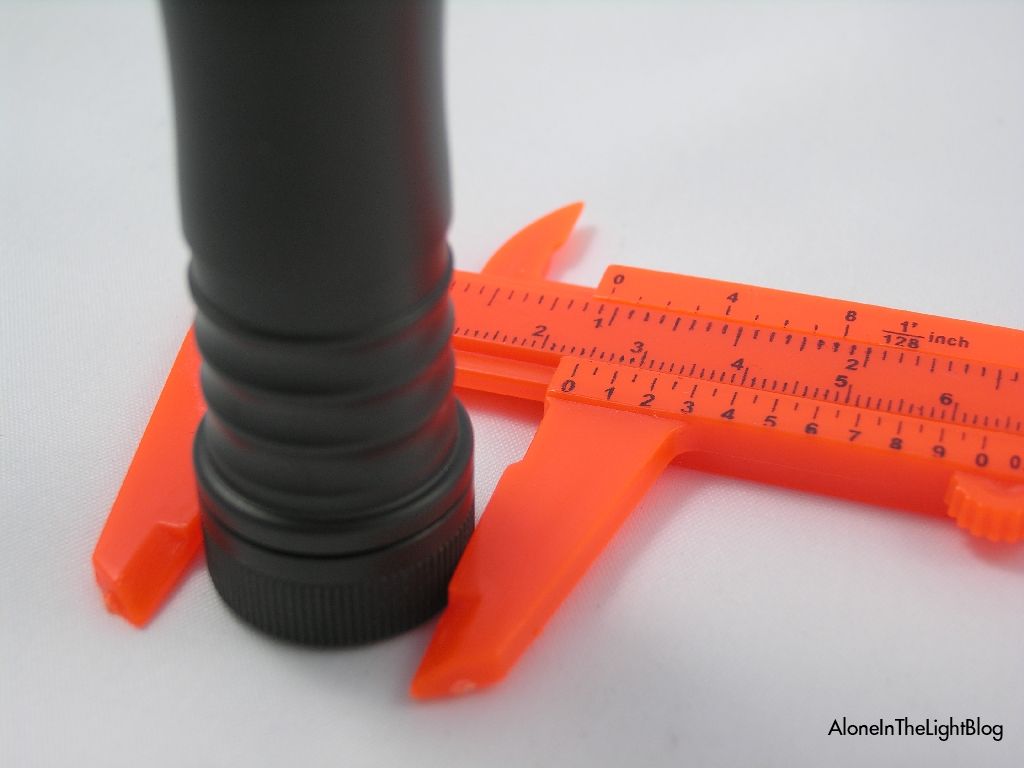 Some pics with an Armytek Wizard Pro Warm HICRI.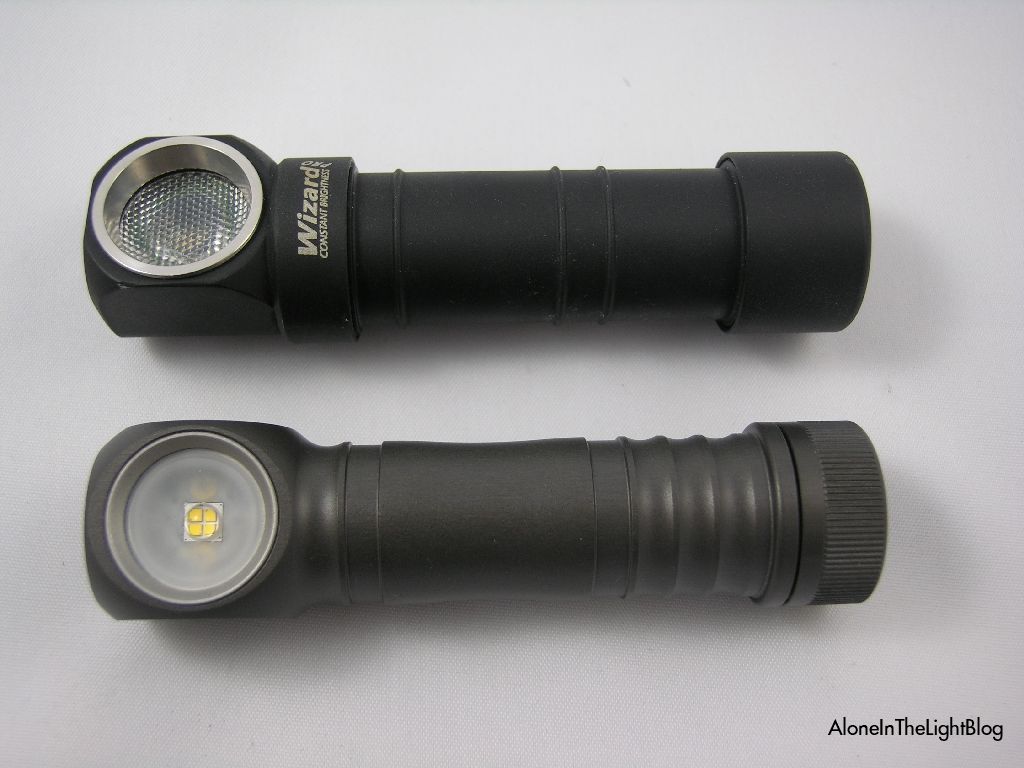 UI
I'll just copy and paste Zebralight description
This light has 3 main levels (High, Medium, and Low) and a beacon-strobe mode. Each main level can be programmed to one of its two sub-levels. The second sub-level of each main levels can be further programmed to different brightness levels.
Basic Operation
One short-click turns on the light to High or turns off the light.
Two short-click turns on the light to Medium.
Three short-click turns on the light to the beacon-strobe mode.
Press and hold (for over 0.6 seconds) turns on the light to Low and then Medium and High. Release at the desired level.
Advanced Operation and Configuration
Press and hold to cycle from Low, Medium and High, release at the desired level to set. When press and hold, the light always cycle from Low to High regardless which level you are currently in.
Double click to toggle and select between the two sub-levels for that main level. Sub-level selections for the 3 main levels are memorized after the light is turned off and through battery changes.
The second sub-level (H2, M2 and L2) of each main levels can be further programmed to different brightness levels. At a main level, double-click 6 times to start configuration. On subsequent double-clicks the light will cycle through different brightness levels. Short click to turn off the light when finishing configurations. The selections for the second sub-levels are memorized after the light is turned off and through battery changes.
This light uses the main LED (flashing 1 to 4 times) to indicate the estimated remaining capacity of the battery. To start the battery indicator, (from Off) short-click 4 times without pause.
Beacon-strobe mode can be accessed from 3 short-clicks when the light is Off. Once in the beacon-strobe mode, you can double-click to cycle through different types of beacons and strobes. Beacon-strobe settings are memorized when the light is turned off and through battery changes.
Beamshots
In the above pics you saw that the H603c has no reflector or optic, however the light hits the ground not very close to my feet when I hold the light parallel to the ground.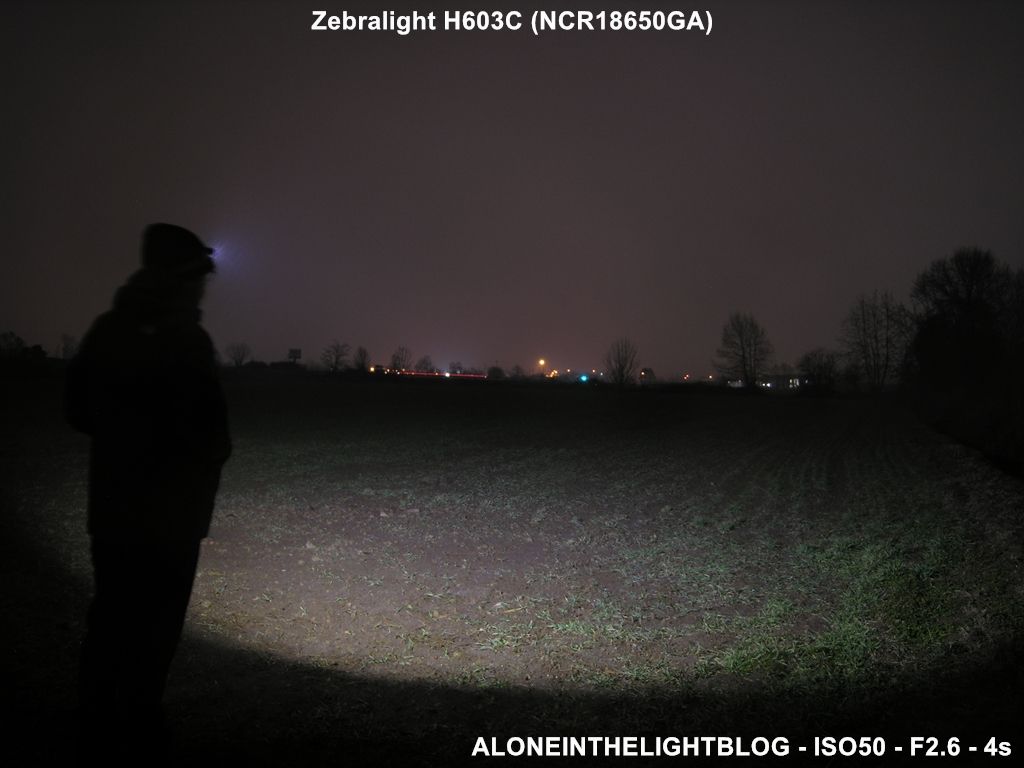 As you can see this light has no spot. Just spill.
So it means that I can rotate the light and make the light closer to me, without getting any form of hotspot or artifact near me.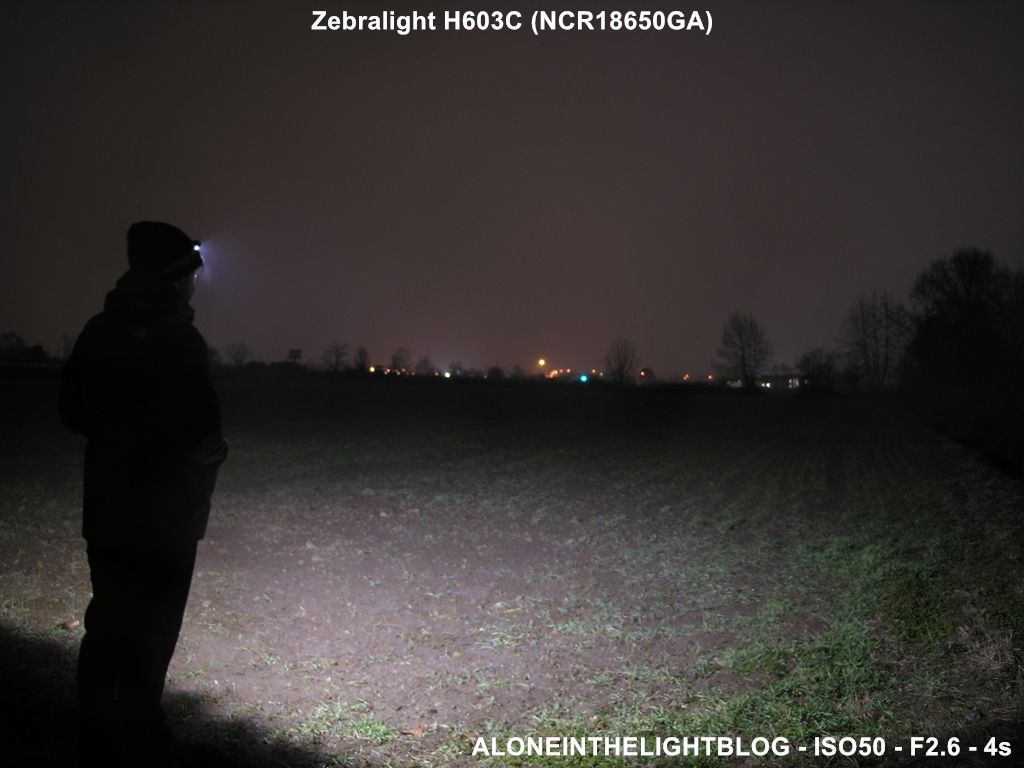 Just flood quality light all around my feet.
Output and Runtime
Now the real fun part.
This light has many levels, and temperature controlled levels.
So I had to do many testes at different temperature. Some levels have also been tested with different batteries because I found interesting results and I thought it was worth to make more tests.
Usually I start with output measurements. But I'll leave the output measurements for last in this review.
Now, the runtime plots.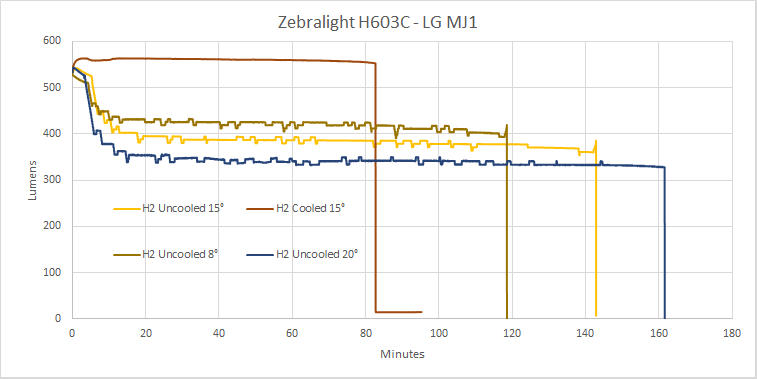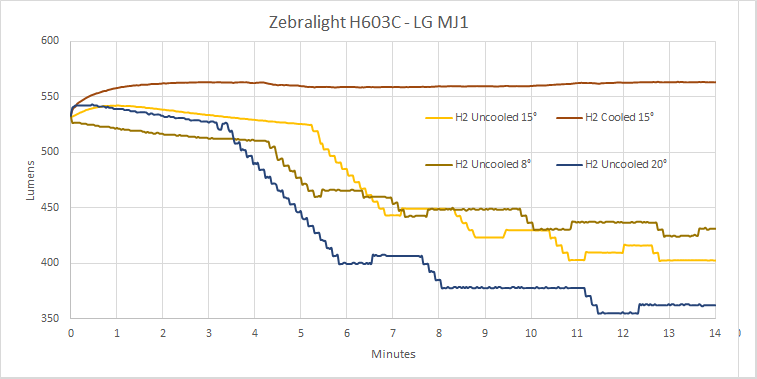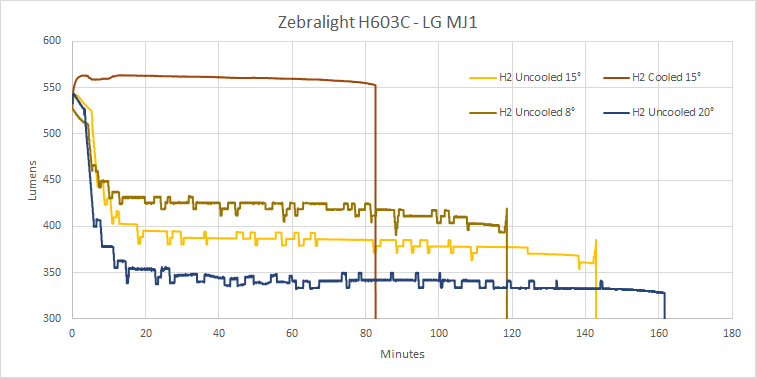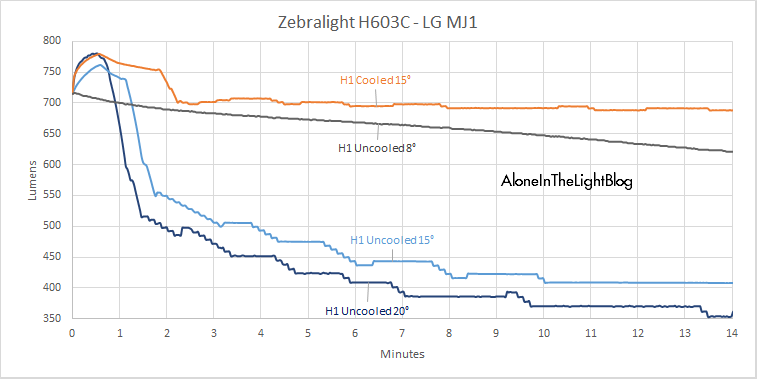 You can see it clearly here that the output does increase in the first 30ish seconds.

I thought: maybe these LG MJ1 I'm using are become old, and they do benefit of the heath generated by the sustained discharge, increasing their performance in the first minutes.
Ok, let's take a new Sanyo NCR18650GA, which has 3500mAh and a max continuous discharge of 10A, and that should represent a increase in performance compared to the LG MJ1.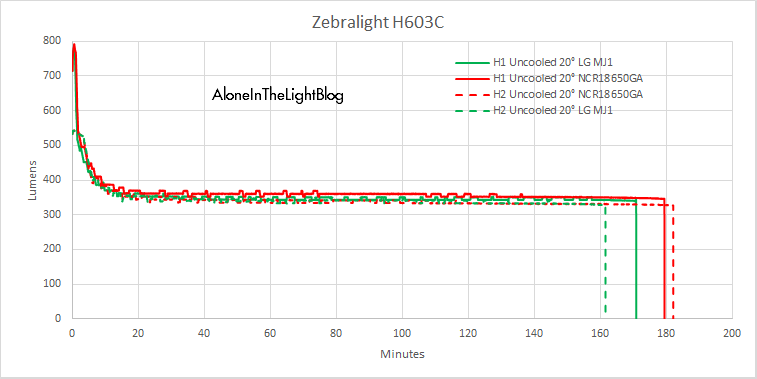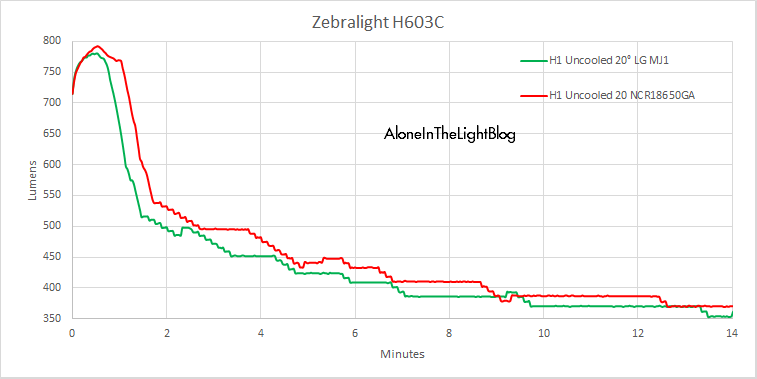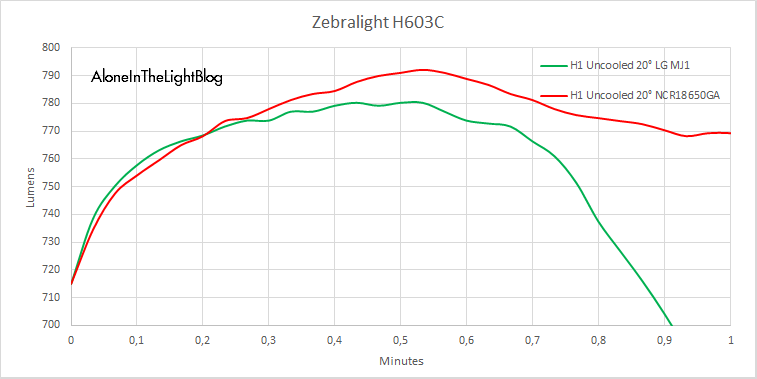 Even with the new cell the increase in brightness in the first minutes happens.
The difference between the 2 curves is completely negible (10 lumens) to the eye, and it could easily be generated by an experimental error. The runtime difference, not.
Now, here finally are the output measurements.
Usually in my test you see Specs vs Measurement. The measured value is practically the value I get at time = 0 (when the light is just turned on), and normally, this is the highest value I measure because as time passes, the output decreases. With this light, on some levels, the light actually increases as time progresses. So, In this plot I have indicated the specs, my measurement at Time = 0, and the max reading I get throughout the measuring session, both with LG MJ1 and NCR18650GA battery.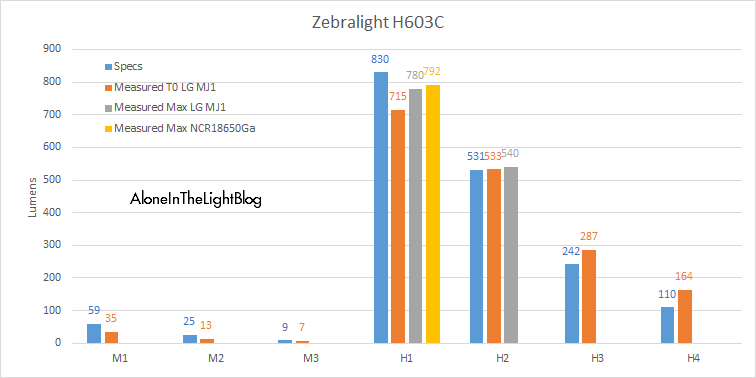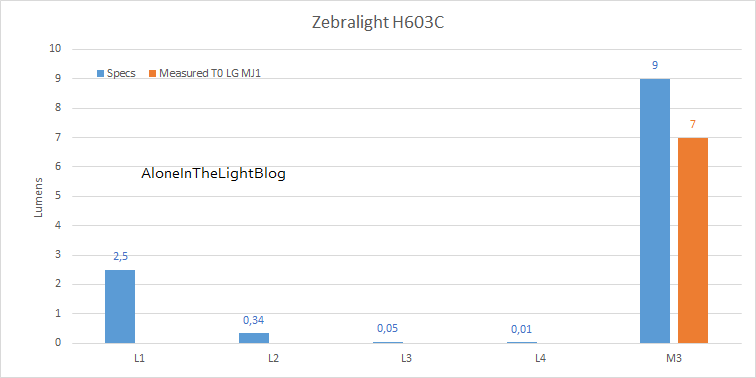 My thoughts
The light is well built and finished.
For the price, I'd like to have more accessories (at least a clip, because this light rolls really easily, a sheath, a magnetic mount), and the manual (it's just a piece of paper!).
Zebralight does probably save on the accessories and put the money on the driver, because this light does really have a great regulation at all tested levels, with a reactive thermal sensor.
The UI: as far as the actual UI, I have no problems. I like that you can access to a low and high mode from off, with a shortcut. Programming levels is easy. The included battery indicator is useful, and the strobes with different frequencies (a couple of beacon and a strobe) can be useful and are hidden.
There are several low/firefly levels: it has a 2.5 lumen level, plus several sub-lumen levels. I am a lover of firefly levels, but I believe that below a certain output, a firefly is basically just useful as a locator in the dark. With this light, you can still use the light at the lowest setting in the dark, for moving around in the complete darkness.
As far as level spacing, I have some issues.
I use the output value of the H603, for commodity.
H1 is always 1300 lumens. You can choose H2, on the low output side (170) or on the medium/high output side (360/670). No matter what your choice is, if H2 is 160 lumens, your progression from medium will be 70, 160, 1300 lumens. From 160 to 1300 lumens there as too wide spacing (8 times the brightness)
If H2 is 360 lumen, the progression from medium will be: 70, 360, 1300. There "half" too wide spacing between 70 and 360 (output increases 5 times), and "half" too wide spacing from 360 to 1300 (output increases 3.5 times).
If H2 is 670 lumens, the progression is 70, 670 (output increases almost 10 times), 1300.
I believe Zebralight should move from a 3 levels (+ 3 programmable sublevels), a system that was adopted when the max output of their flashlight was 200 lumens, to a 4 levels (+ 4 programmable sublevels) system.
As far as the beam concerns me, this will be one of the most used flashlight, not only in running/hiking/cycling, but also for all the DIY activities (where a magnetic mount would be really useful).
This beam has 2 downsides:
- This light has no throw.
This is not an issue for when you do know the path you are following, and you need diffused light to not stumble on a rock or in a muddy puddle, but if you need to take a look around to orient yourself, you'll need for sure more throw. Also, if you are moving at a high speed (aka MTB), you'll need more throw to be able to see obstacles with enough advance to be able to avoid them.
This means that in these conditions you'll greatly benefit from a second light. It can be a throwy headlamp, like a H600 or a Wizard, or a H03.
- This kind of beam feels output poor to the eye. You know that the eye is not a reliable measurement instrument for the output of lights. However, this kind of beam, without any spot, really is the trickiest for the eye. You wouldn't easily say that this light has almost 1000 lumen at the max level, and a less potent light with a spot will seem to you brighter.
If you use a 150 lumen light with a good spot and point it on your desk at 0.5 meters, your eyes will easily be "blinded", by the spot, making your pupil closer and giving you an "instinctual" lot of light feeling. With the flood beam, you can crank 500 lumens at closer distances, and this effect does not happen.
In practice, this will mean that you can easily underestimate the output of this light, making necessary carrying spare cells.
To avoid this annoying thing, I suggest to turn the light on at a low level, and then, while working and looking around, increasing gradually the brightness, as opposed to turning the light on at max setting (where you could do the same job with less light and preserve the output).
This is a very expensive beam in term of output. In addition to the last point, the flood beam will literally disperse a lot of output at the limit of your field of view. If you happen to enter in an highly opaque environment, like a coal mine (full of dark items that will not reflect the light, and countless of small angles and crypts that will prevent the light from bouncing around and travel further) or a wood (the one full of leaves, that evolved for thousands of years to better absorb light), you'll feel like your output has split in half. This happens with a great extent with non flood lights, and will affect heavily a light as flood as the H603c.
I am a bit perplex on why only Zebralight is the only flashlight manufacturer that makes this kind of flood light, available with different alimentation (AA, CR123, 18650).
I like the fact the Zebralight also makes this kind of light available in different tints, with a good NW tint and also with different high CRI tint option (H603D 5000K, H603C 4000K).
I'd like to see this light available with a warmer tint, as my Wizard HICRI that has a 3000-3300K tint, still with an high CRI value.
More tests will follow.
Thanks to: AntoLed for the camera and the luxmeter.