Well, I got this light from Skilhunt for review, I will be also briefly comparing it to my current EDC light, which is S15R(well, Im actually carrying both), so read on, how well these two compare and which is my favourite!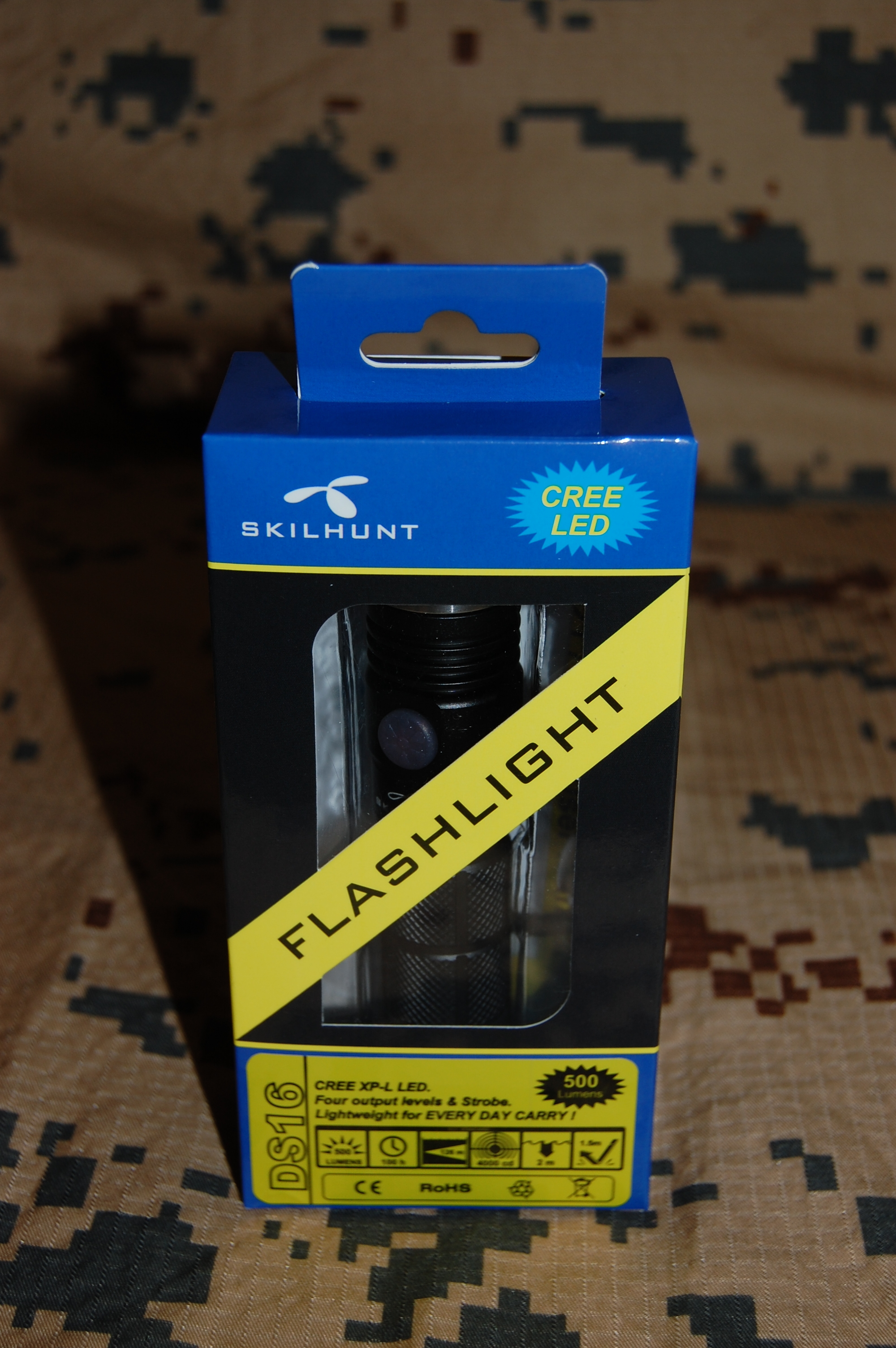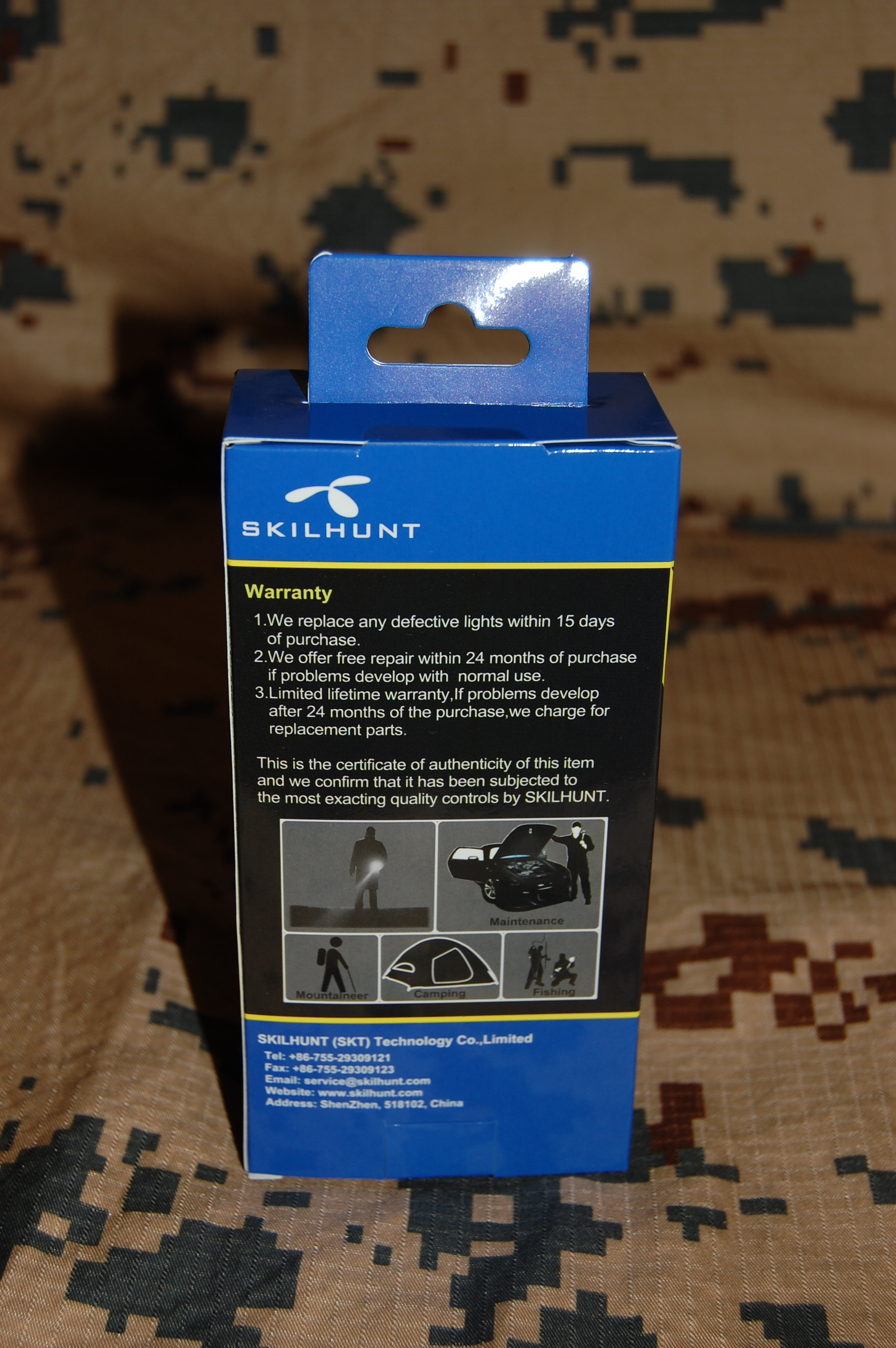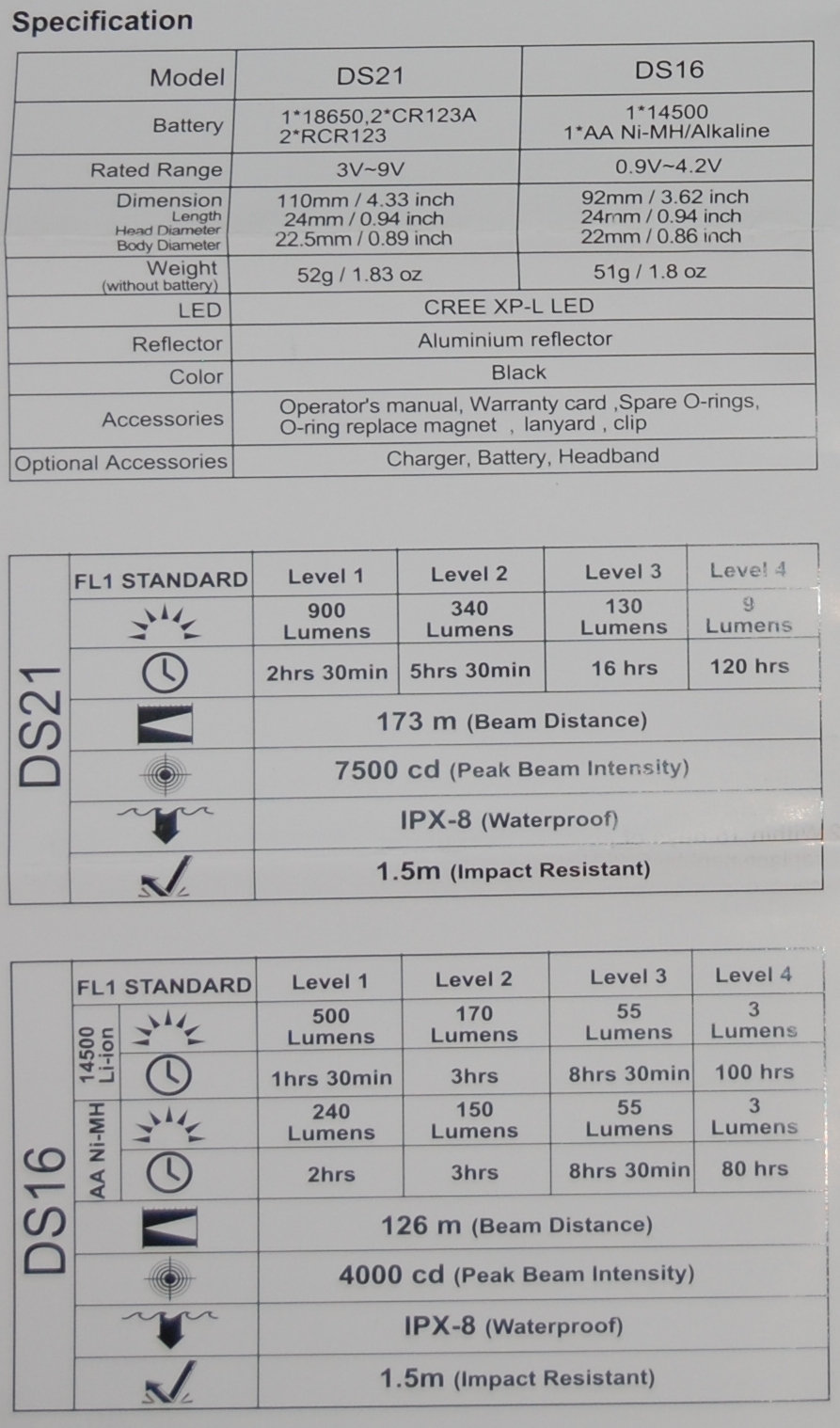 First impressions:
Typical Skilhunt design language, stands out from other lights thanks to their squarish shapes.
Light appears slightly chunky regards to my current EDC light, Olight S15.
It is slightly taller, visible thicker, with wide body and thus wider and deeper reflector.
Pocket clip can be put on both ways, so the light can be carried with either reflector up or down when in the pocket, I prefer reflector down, beats S15R in this regard. Love the look of coolin fins, really makes me believe that this light will have no problems with excess heat when used in turbo mode with 14500.
Has reverse polarity protection, however the way its implemented means that batteries with flat top or wide button top will not work here.
Whats inside the box: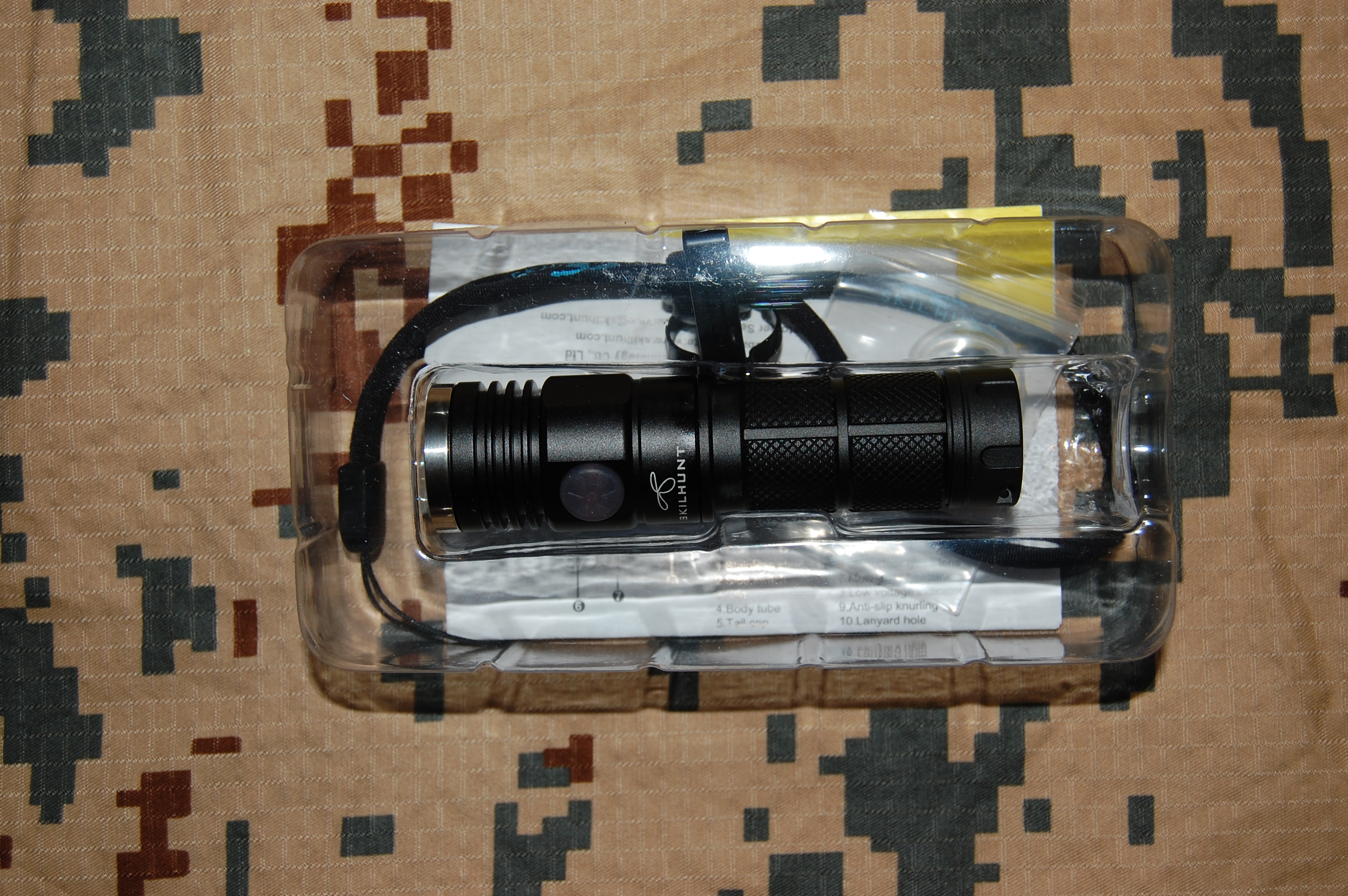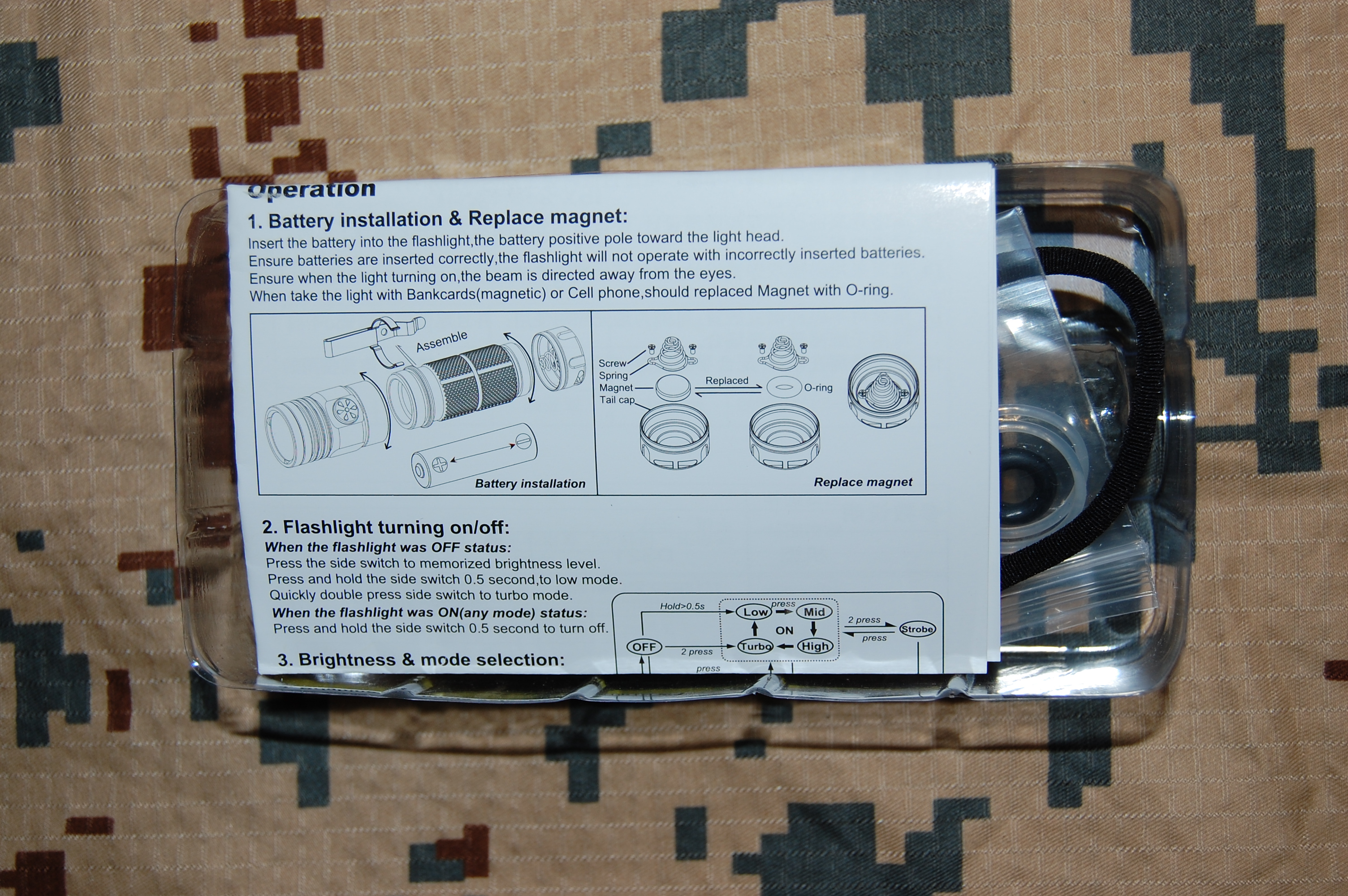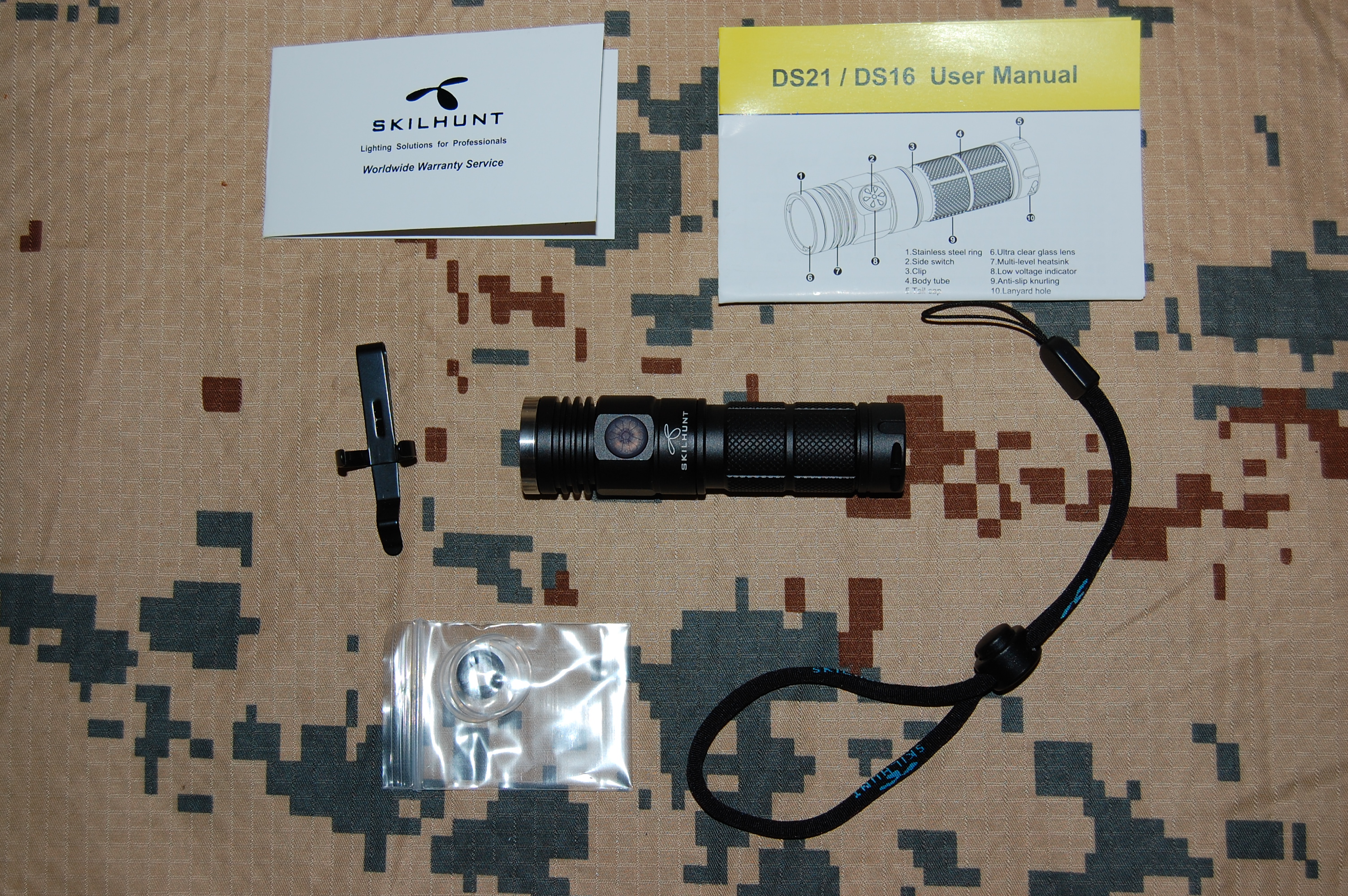 Light, pocket clip, lanyard, 2x spare o-rings and one rubber ring in case you'd like to remove its tailcap magnet and replace it with this rubber "spacer". Lanyard looks like it came from the same factory as Olight's, perhaps they are using the same factory? Anyway, it looks good.
Upon closer inspection:
Black, fine matte annodization.
Despite its larger appearance it feels surprisingly light in hand, build quality feels solid.
Pocket clip is pretty compact, looks good and locks in both positions on the light, so as I mentioned, light can be carried with either reflector up or down when in pocket. The clip is not as aggressive as on S15R, which makes daily use of it more comfortable+wont destroy pants as quick :D.
Lanyard attachment hole looks to be slightly too small for the lanyard loop to go through, I used my Leatherman to squeeze the tip of the lanyard tight and then was able to squeeze it through the lanyard hole on the flashlight. No need to picture that :D !
Will not let the water in thanks to its IP-X8 rating. I wonder how long it will take for the switch rubber cover to fail and start to let the water in?
Tailstands and thanks to its head design around switch wont be prone to rolling.
LED on my unit came perfectly centered: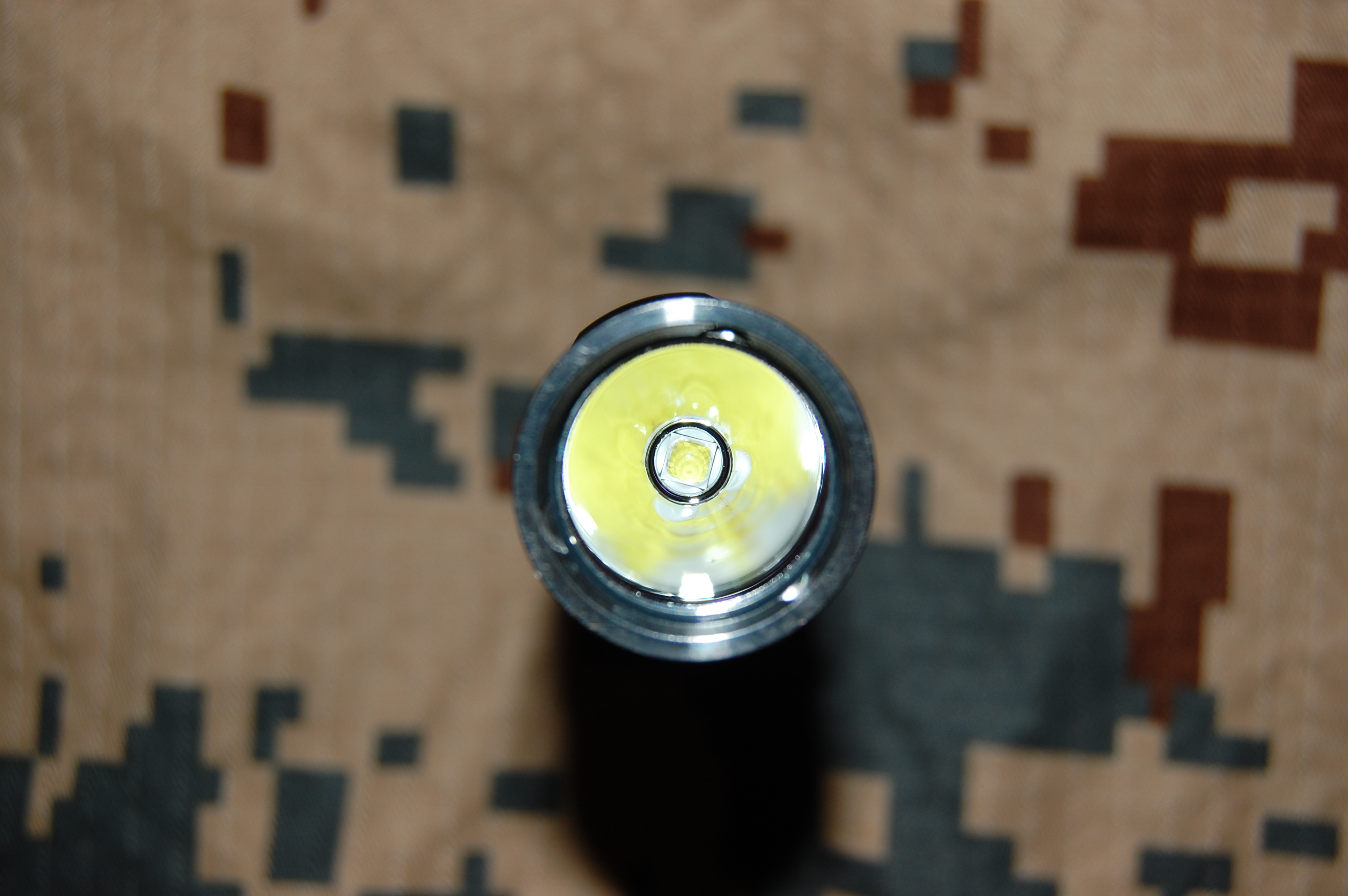 Comes in 3 pieces - head, battery tube, tailcap, all can be unscrewed with ease: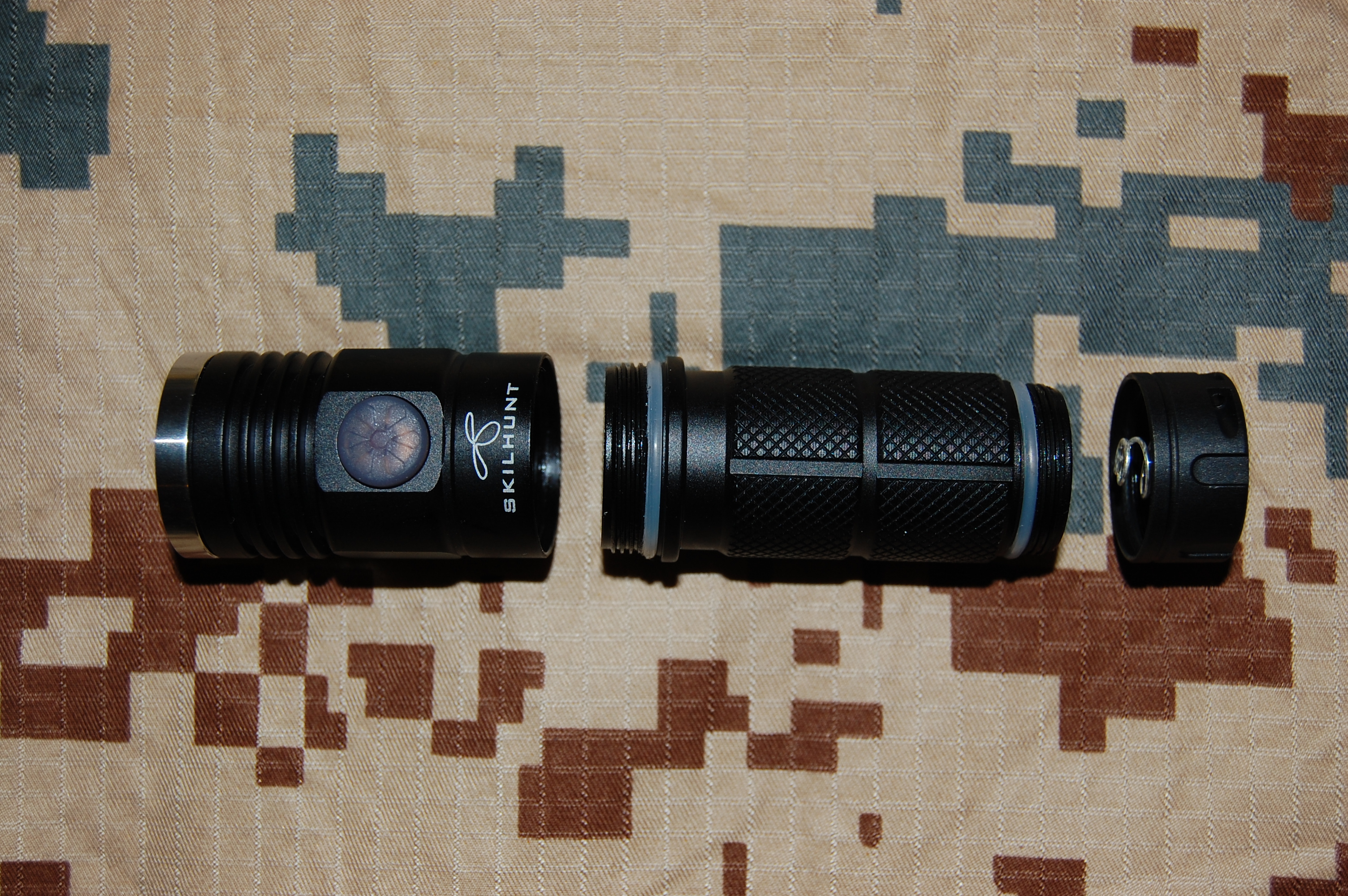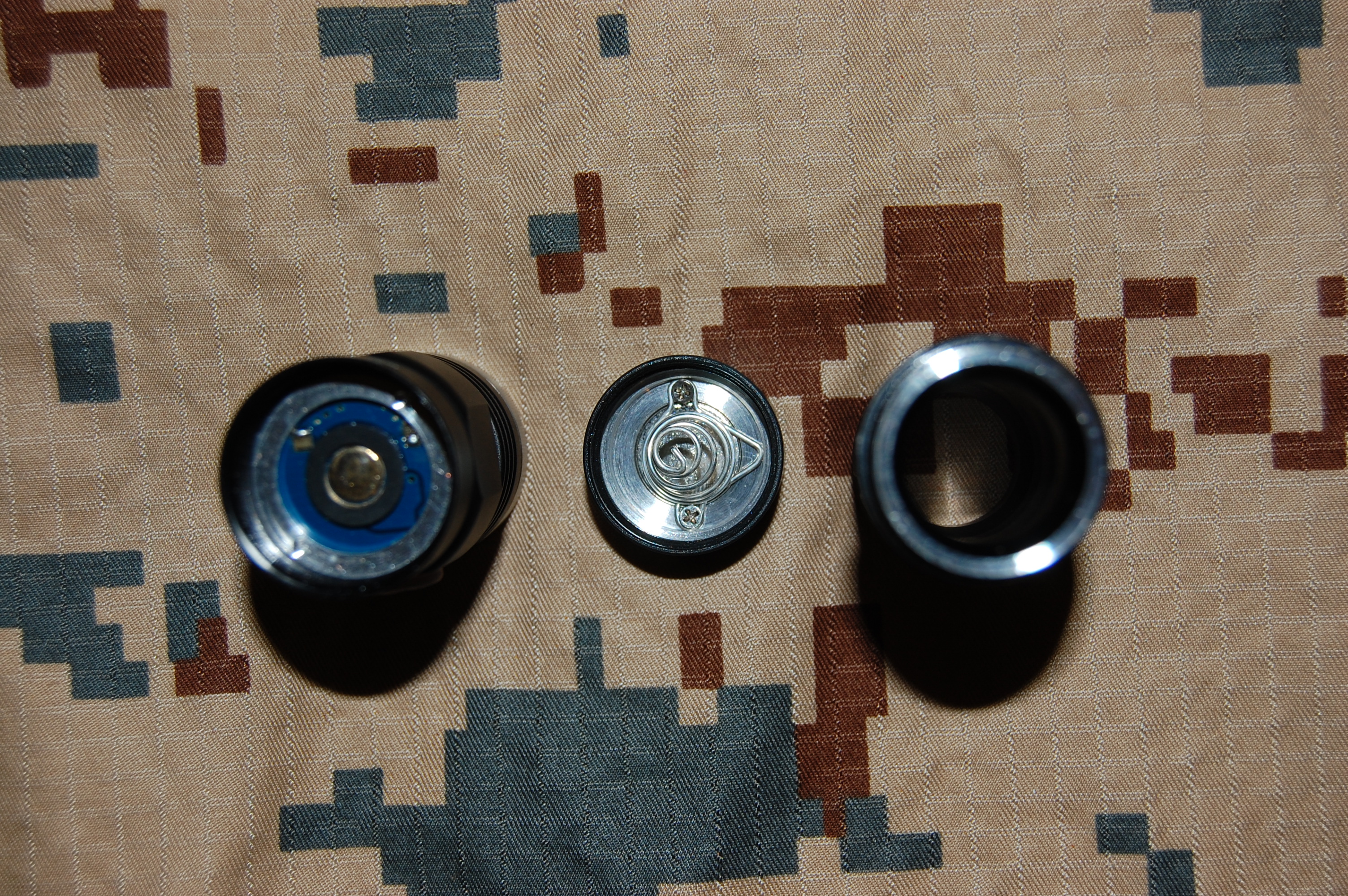 Black foam ring around positive end works as reverse polarity protection: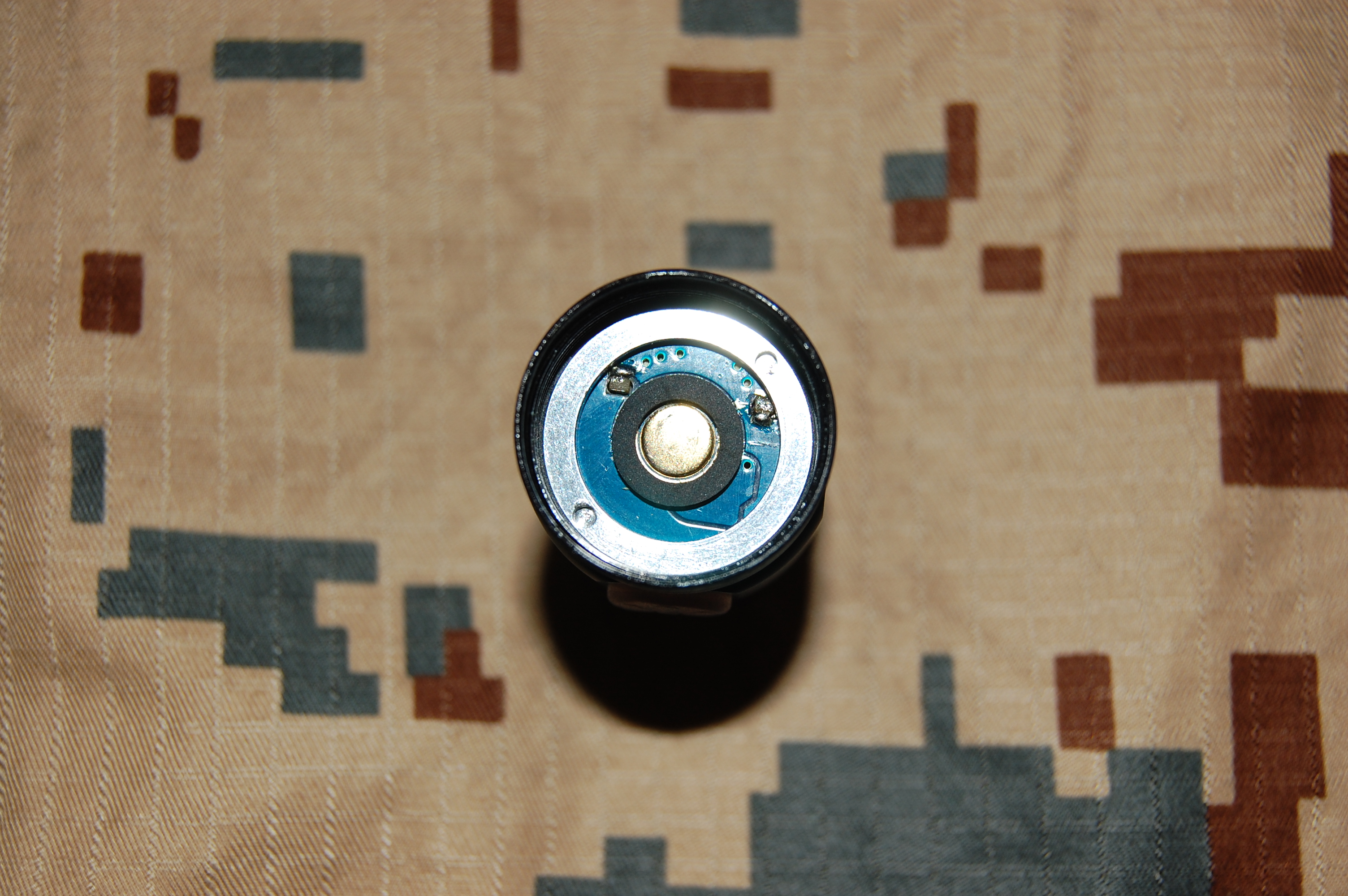 Battery tube walls are pretty thick for a light this size, thicker than on my S15R:
It was easy to unscrew the steel bezel to get access to lens, oring, reflector and LED: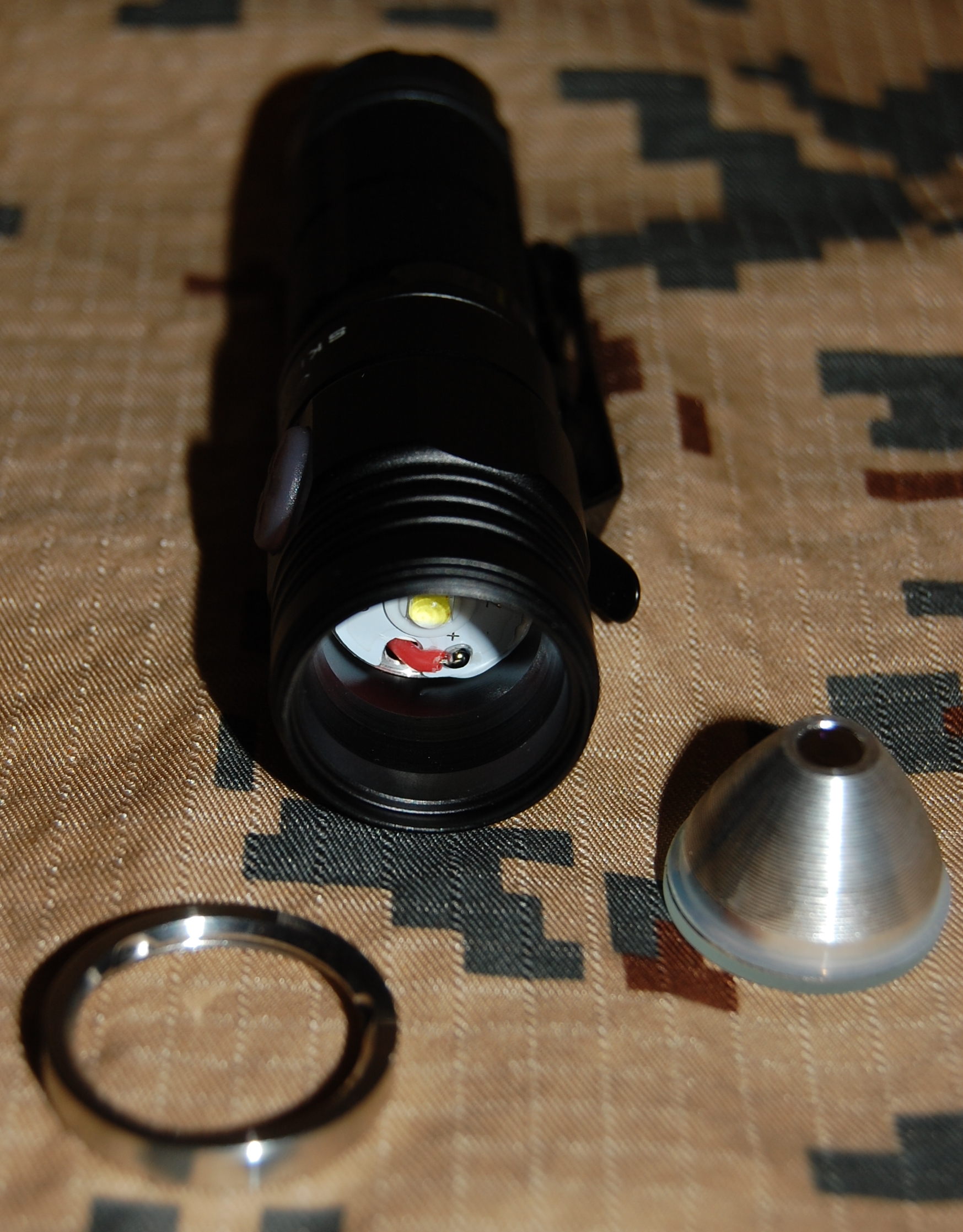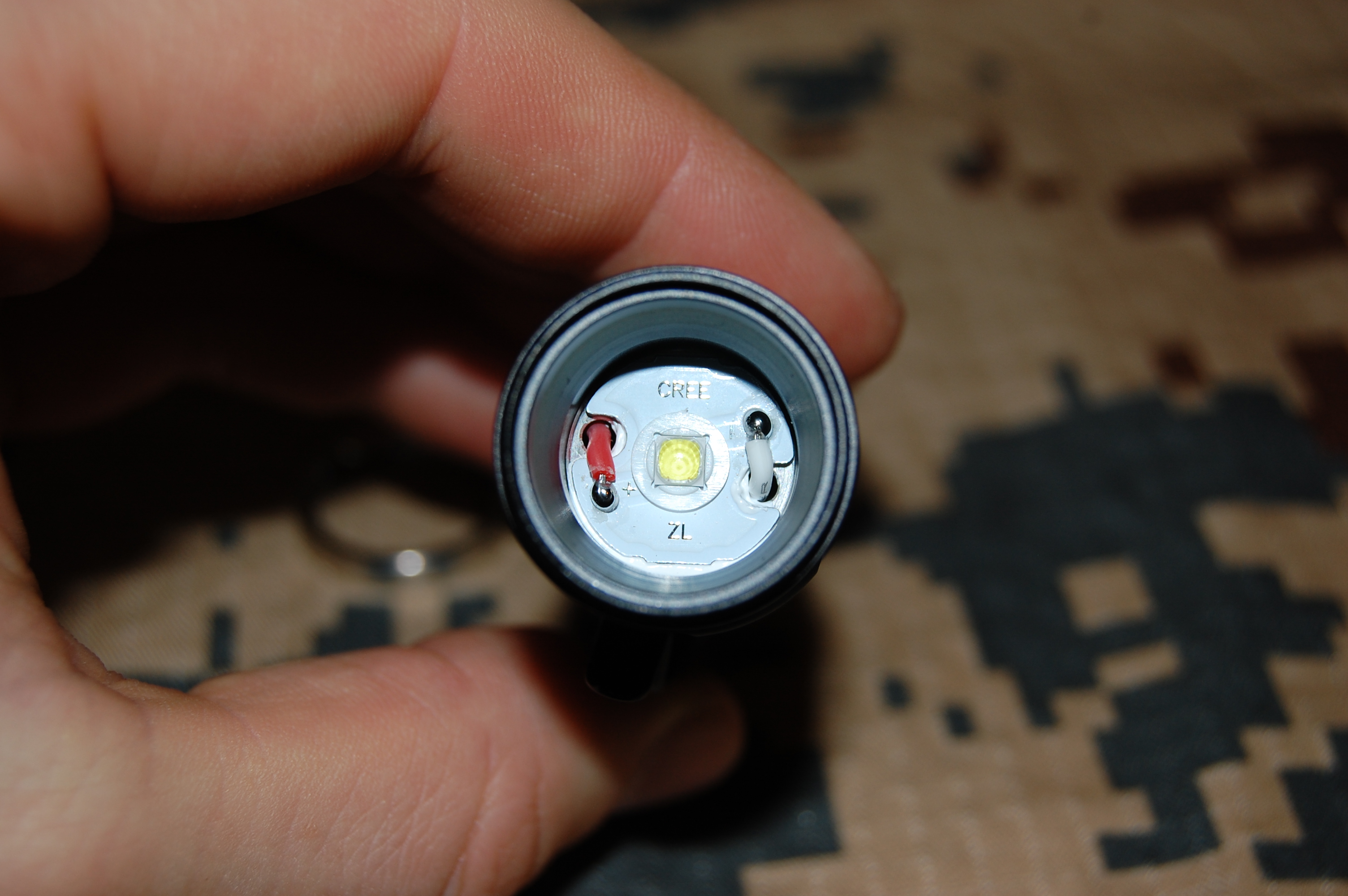 Super non scientific hands on comparison with Olight's S15R: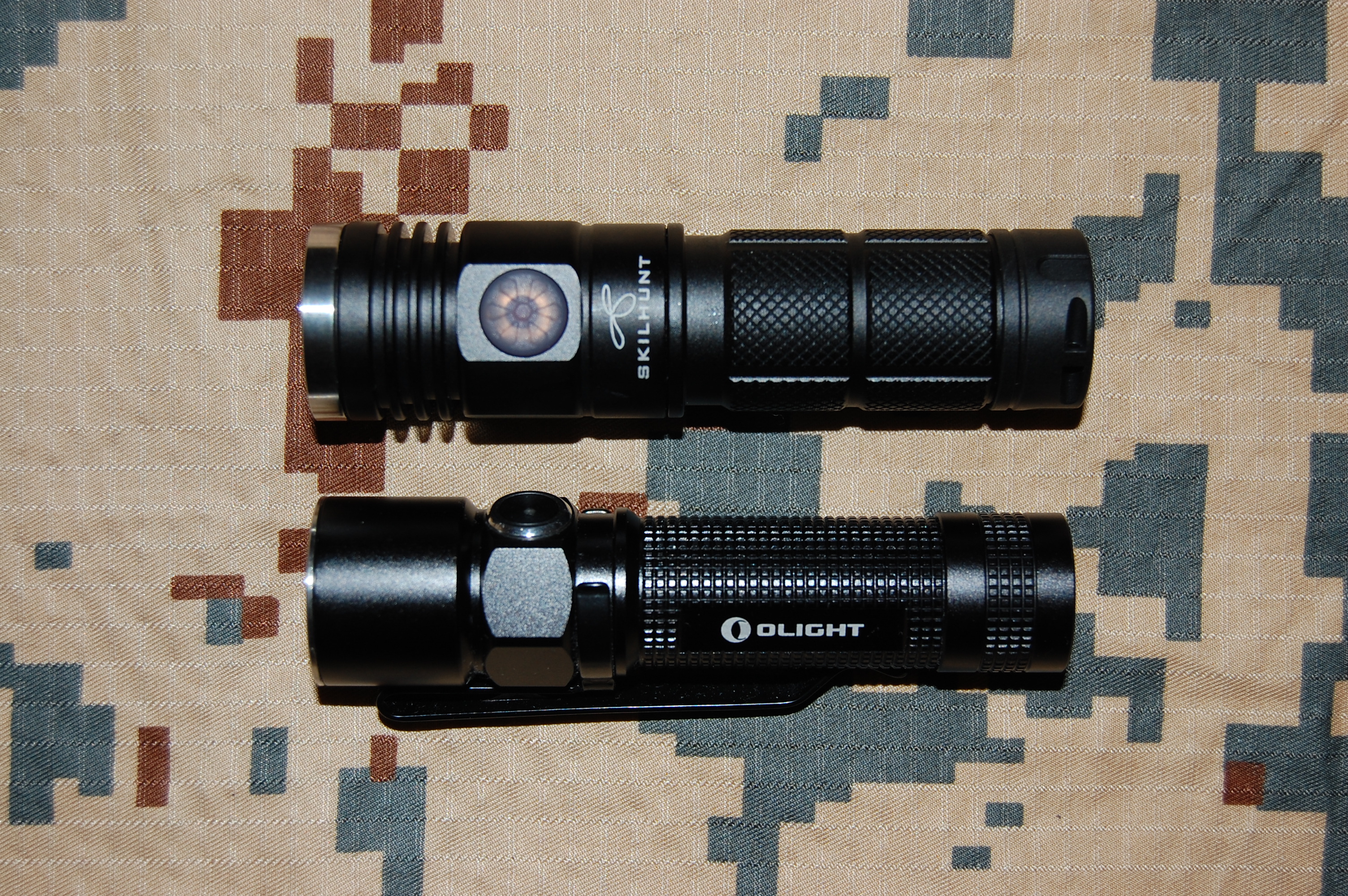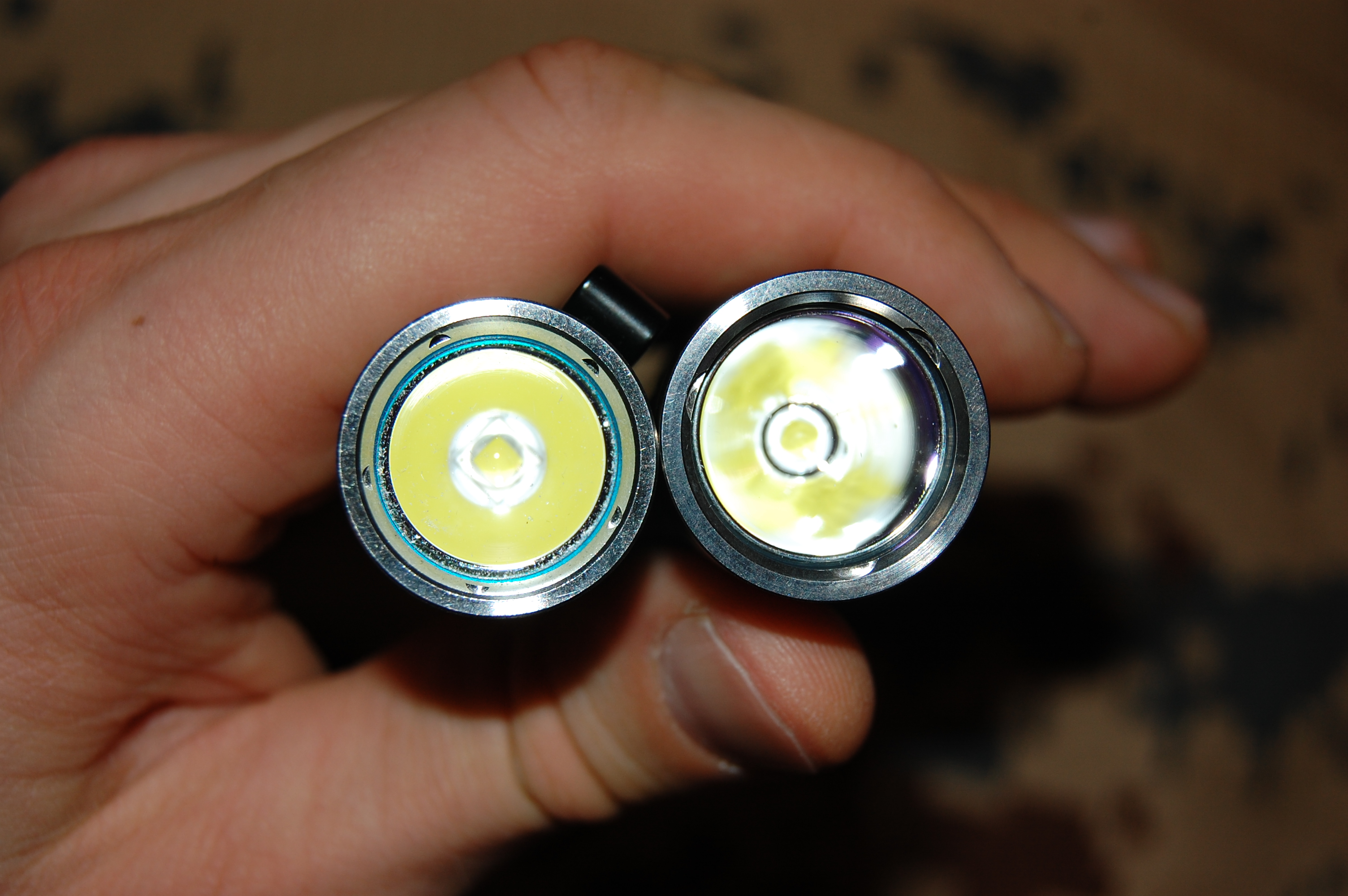 Electronic switch's button is transparent and square shape of switch is visible beneath it. It is raised above the surface of the light so some might be worried by accidental turn on, I dont have such concerns but it would be nice if Skilhunt implemented some sort of switch lockout feature in their next update of this light or simply changed switchs design. Light can be locked out by twisting the tailcap slightly. Red LED in switch will blink once when the tailcap(with battery inside the light that is) is screwed completely on.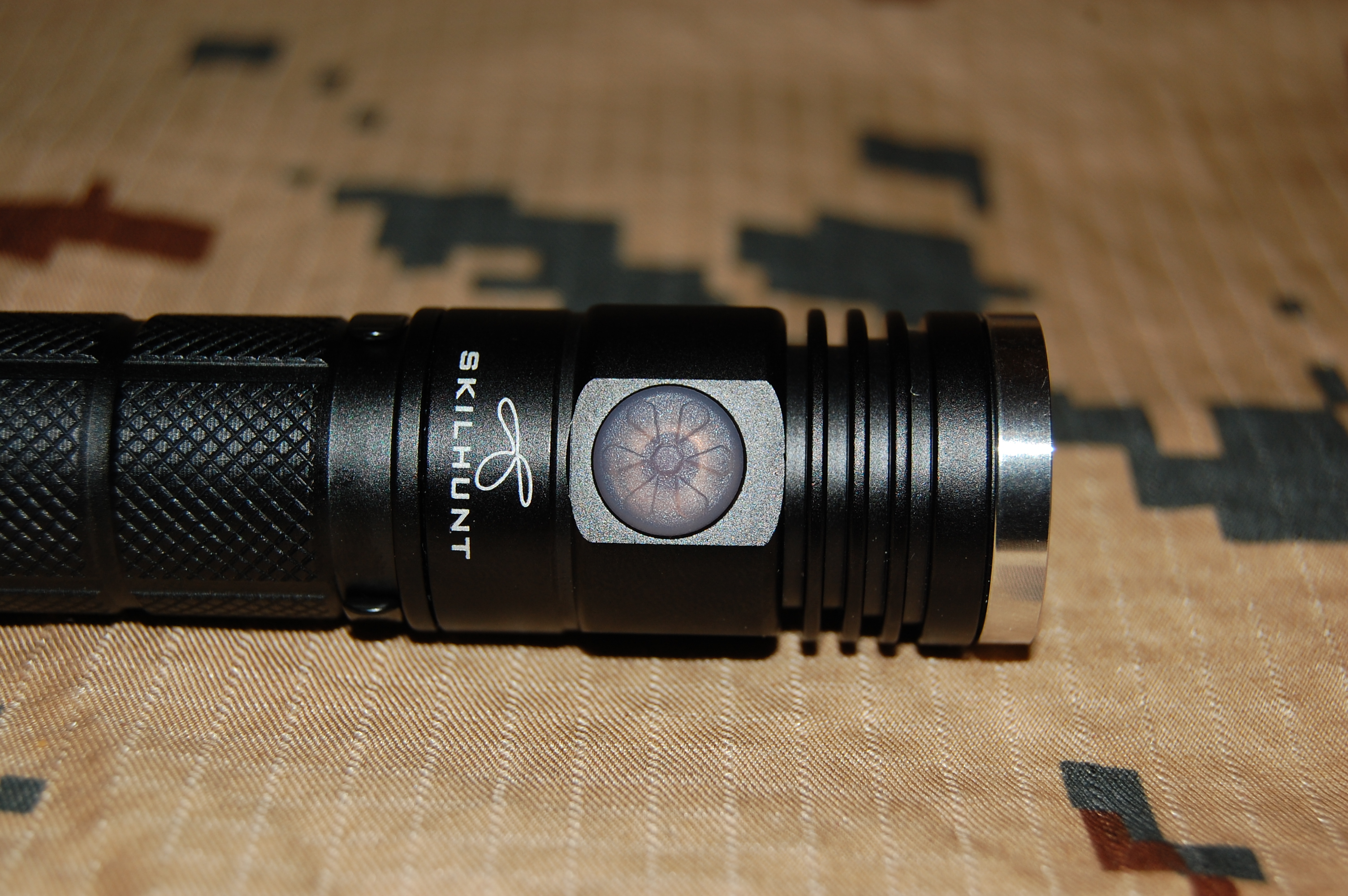 As mentioned pocket clip can be used in both positions, unlike on Olight's S15R: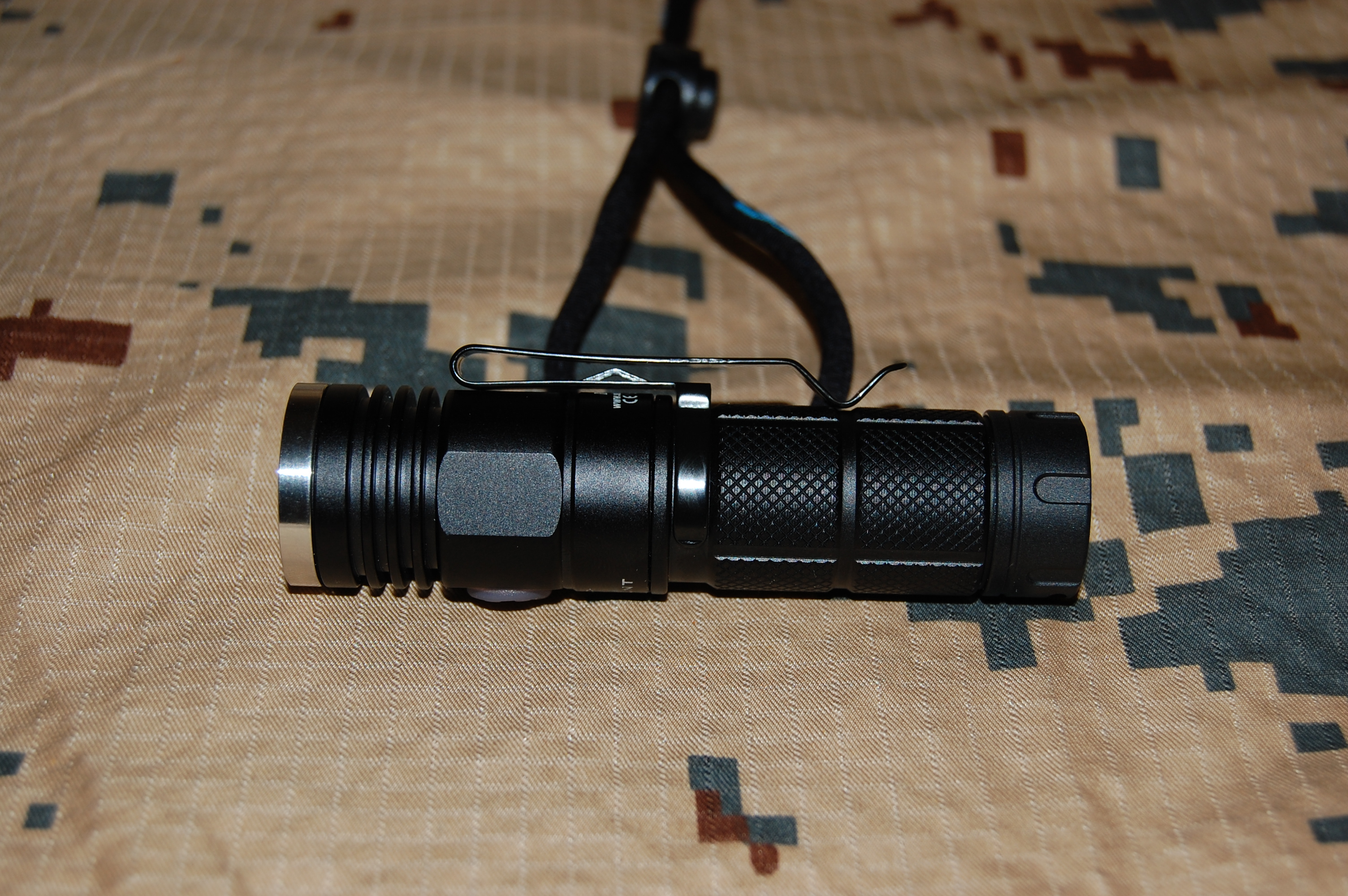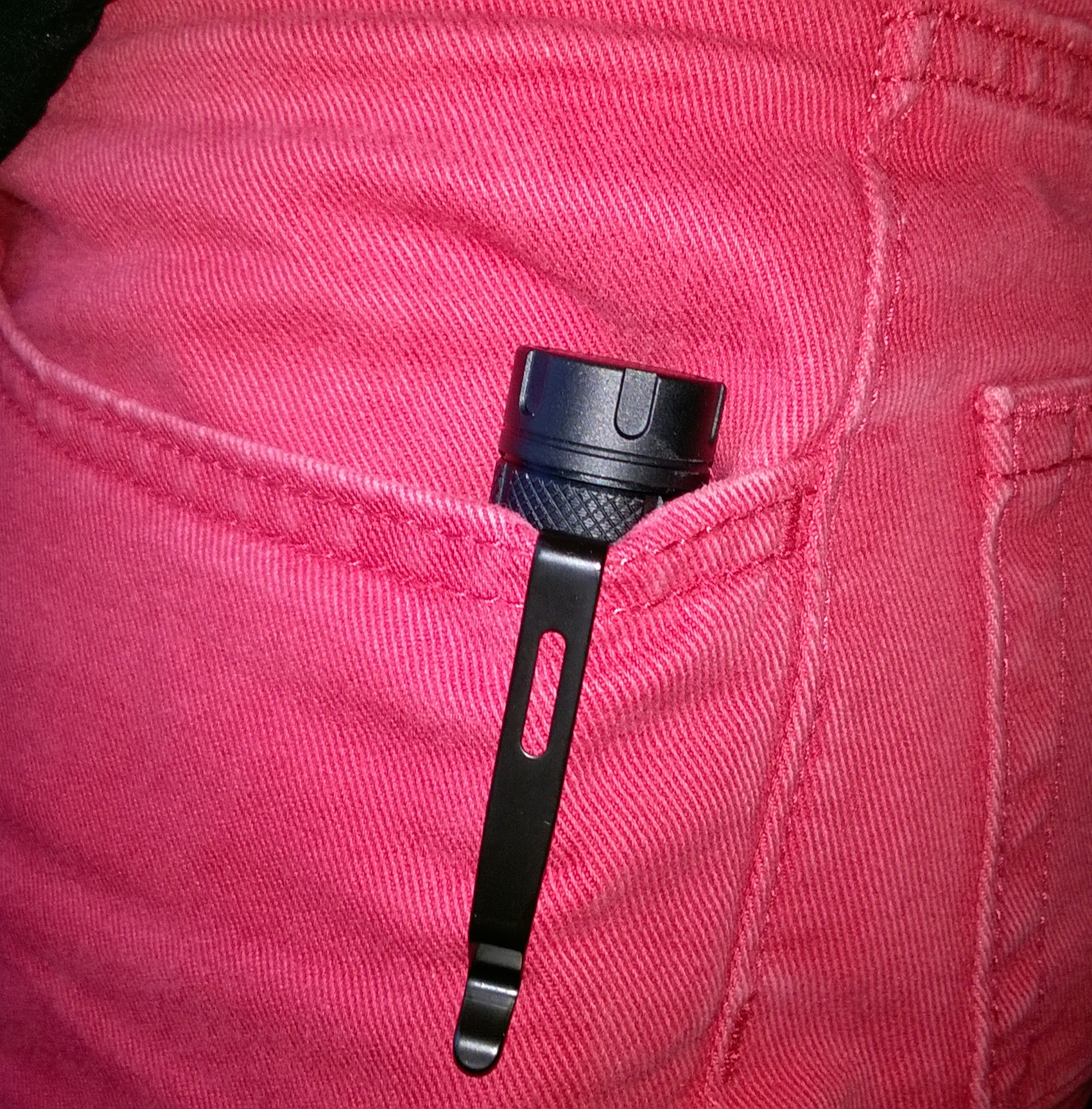 <-Thats how I carry mine, I like it better with reflector down rather than facing up.
User manual in full glory, notice that its shared with its bigger brother DS21: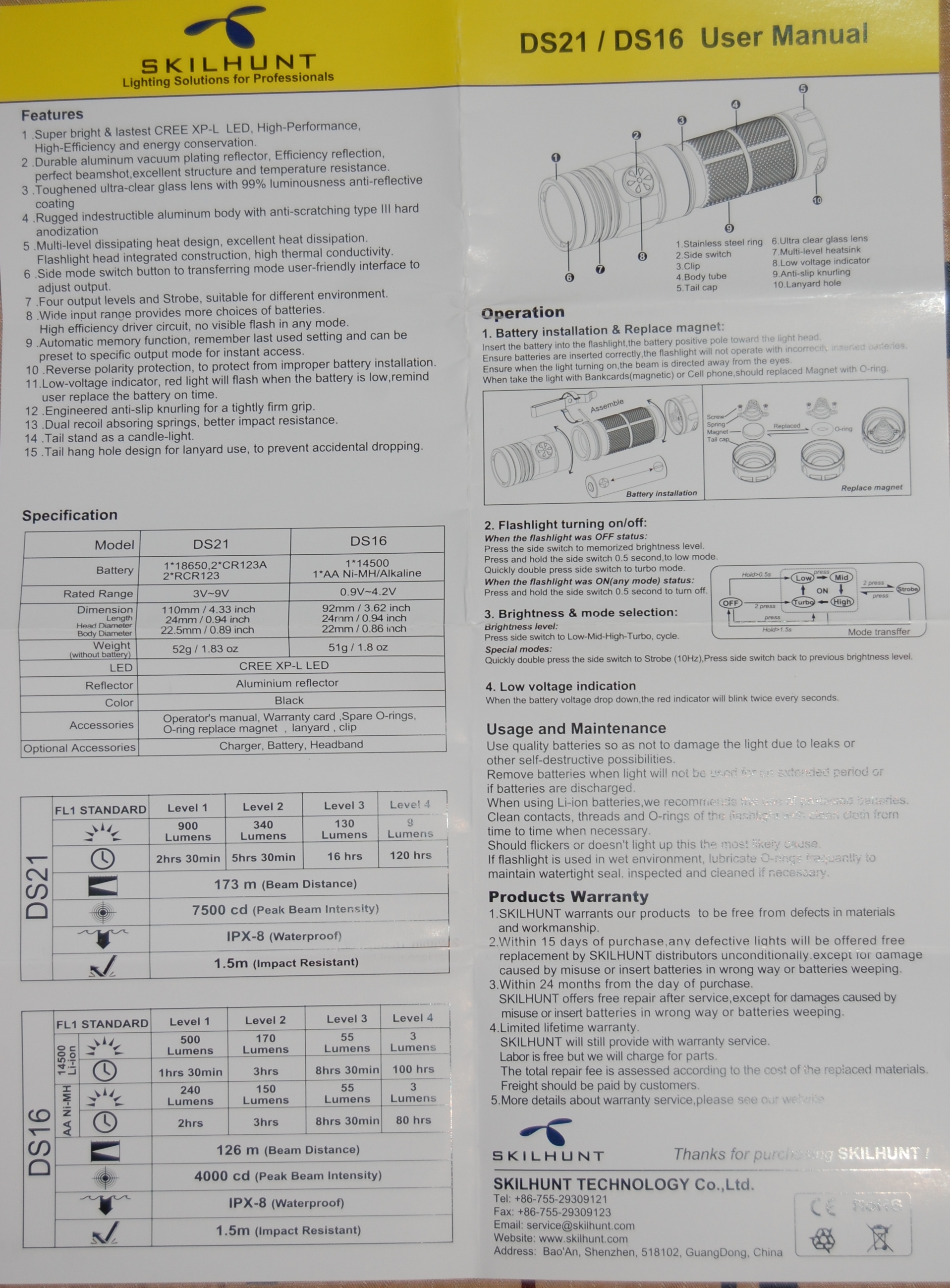 User interface:
Took me a while to re-adapt from my S15, but its pretty simple and what I wanted in my S15R in the first place(but got used to and like it now).
Starts on low, has mode memory and hidden strobe.
Single click starts the light with slight, but noticeable delay, Id say around0.5 seconds.
Single click while on brings to the next mode(sequence is low, medium, high, turbo), double click while in any mode enables strobe, single click while in strobe brings back to the last mode used before the strobe.
Double click while off turns the light on in turbo.
Long press while off starts the light on low. Press is not really long, in fact its the same ~0.5s, yet feels faster than simply turning it on in last used mode.
To turn off the light press the switch and hold for around 0.5 seconds to turn it off.
To me it feels like theres slightly longer delay when turning the light on than off, while in reality its the same, ~0.5s.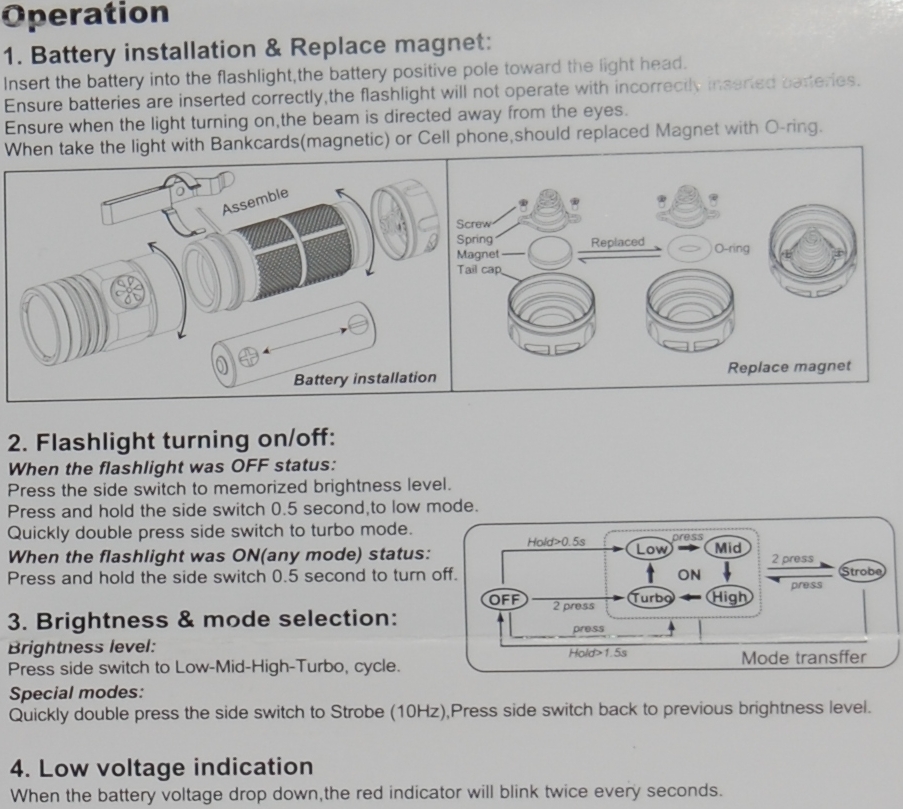 Enough with pictures, little bit about how it performs:
Heres my measurements with DMM in amp's:
14500(Olight ORB-145P07):
Low 0,01
Medium 0.09
High 0.25
Turbo 1.00

AA(Eneloop Pro BK-3HCCE):
Low 0.05
Medium 0.29/33
High 1.00
Turbo 1.15
Beam is good combination of throw and flood, hot spot is more intense than on S15R so this+higher output will give visibly more throw. Tint is cold white, not a hint of green.
Low mode could be lower, its really too bright as far as moonlight fan can be concerned
Medium, on the other hand, is spot on, love it, its less bright than medium on S15R which makes it perfect for city EDC.
Runtime on turbo with 14500 was 43 minutes at 3.27V on battery(without load) . According to Skilhunt light steps down to high after 2 minutes, I simply re-enabled turbo once the step down happened(somewhere between 2 minutes and 2 minutes and 10 seconds) so the runtime data on turbo should be less or more accurate.
Runtime on high with 14500 was 2h 38min with battery showing 3.08V without load when it shut down.
Both runtime tests ended when the lights voltage indicator started to blink and shortly after that the light switched off.
Light did not overheat neither when on high, nor turbo

. It became very warm to the touch on constantly running it on turbo, but not hot, didnt even heat up on high, I feel no heat(been running on high for an hour).
My S15R overheated so much, when I tested its maximum runtime on high, that I had to turn on fan to cool it off. No such issue with DS16.
Runtime on medium with 14500 was 8h 2min and then the light shut off, battery showed 3.0V, few minutes before shutting off the low voltage indicator kicked in.
So what is my impression of this light?
Very good runtimes, much better than on S15R
Good build quality.
Direct acces into lowest mode as well as direct access into turbo.
Does not overheat when ran on highest output for longer periods of time, design seems rather effiecient at keeping the light cool, must be those implemented cooling fins in head's design.
Medium mode is right about perfect for me and runs for solid 8 hours on my Olight's 14500 battery.
Looks like its easy to replace emitter in case someone would like to have neutral emitter or more throw out of it.
Will use both 14500 and NiMh.
Reverse polarity protection.
Low battery warning – switch will blink red twice per second when battery reaches 3.5V(using Olight's 14500 that came with S15R, voltage tested without load). I let the light run on low for about 30 seconds with low voltage blinking and then turned on turbo, the light shut off within few seconds and battery without load showed 3.18V, the light would not turn on after that unless the tailcap was unscrewed and screwed back on.
Magnet in tail cap plenty strong to hold the light onto flat surfaces even at 90 degree angle.
Water resistant.
Nays:
Low mode could be much lower.
Wont take flat top and wide-button top batteries due to the way reverse polarity protection is implemented.
Warm or neutral tint should be offered.
Other observations:
Feels bigger but not heavier in hand than my S15R.
The only build concerns are regarding switch rubber/silicone cover which protrudes and might wear out quickly if carried in tight pockets or thrown into bag with other things inside of it, only long term abuse will tell.
Extension tube for 2xAA alkaline/Ni-Mh use would be great, Olight provides extension tube for their S15/S15R light.
Skilhunt could use red LED inside the switch as a night time location light to make the light easy to find in complete darkness, similar to what Nitecore have in some of their lights. Also, this red LED should be either dimmer or rubber cover should be darker/thicker to allow less light to pass, because its plenty bright.
Conlcusion: Do I recommend it?
Output, build quality and feel of the light – yes, I like this light, I hope it will live up to my expectations and will work for many hours of use and abuse.
Would I choose it over Olight S15R? As my urban EDC light - definitely, that medium mode is just perfect for what I need it for - when carrying both of them I was reaching for DS16 thanks to its medium mode ;)! Only part where S15R wins in regards to output is its moonlight mode, thats it.
XP-L and higher output lumens on DS16 is also a good plus in my book.
The looks - well, that depends on taste so wont comment on that.
And cooling seems to be much better in DS16 than in S15R.
Thanks everyone for patience going through this review, I hope it helped ;)!