Hi is there any codes for this flashlight? I need a headlamp to round off my collection.
Out of stock at Banggood, which usually has a coupon or two.
I did not see any Amazon coupons.
I would avoid sofirn on aliexpress, the sofirn store there has been sending out fake tracking numbers and lying about stock

I bought a couple dozen Sofirn lights on Alieexpress. Their customer service and warranty service is top notch. The tracking numbers are likely not fake. You won't be able to track them until the slow boat reaches US shores and the US delivery service picks up and scan the package. Actually, I've had many items never register in the tracking system at all even after I received the items.
Bearbreeder, I understand you're having issues with Sofirn's recent sales, but you don't need to comment on every thread that mentions Sofirn…
Even aliexpress agreed that there is an issue with em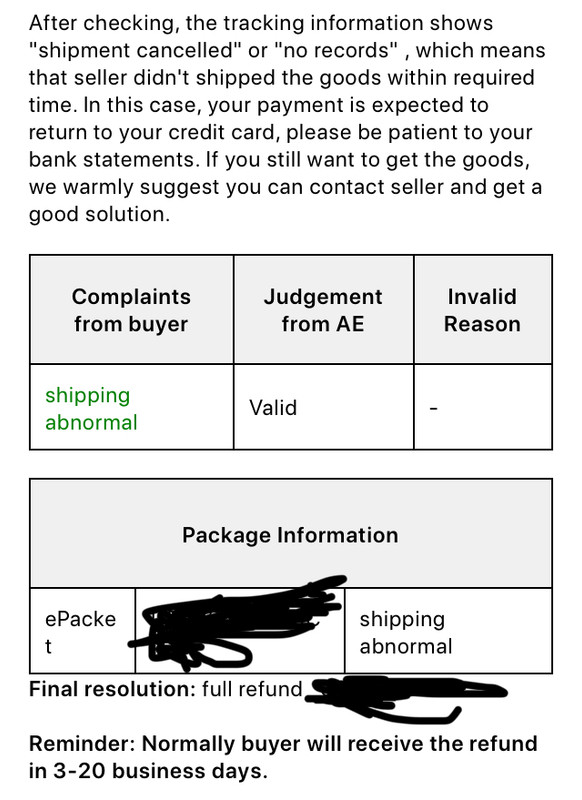 A simple warning for those wanting to buy off their aliexpress store
Quite a few folks are having issues

A week after 11-11 I bought a couple of C01S lights in two orders from their aliexpress store and they were both shipped within a day, with fine working tracking numbers. Your suggestion that the Sofirn aliexpress store is to be avoided because of your (and my) recent negative experience during 11-11 (which is not the best date to judge chinese shops by) is an overreaction and gives a false impression to others.
From a SOFIRN SELLER on their fbook group …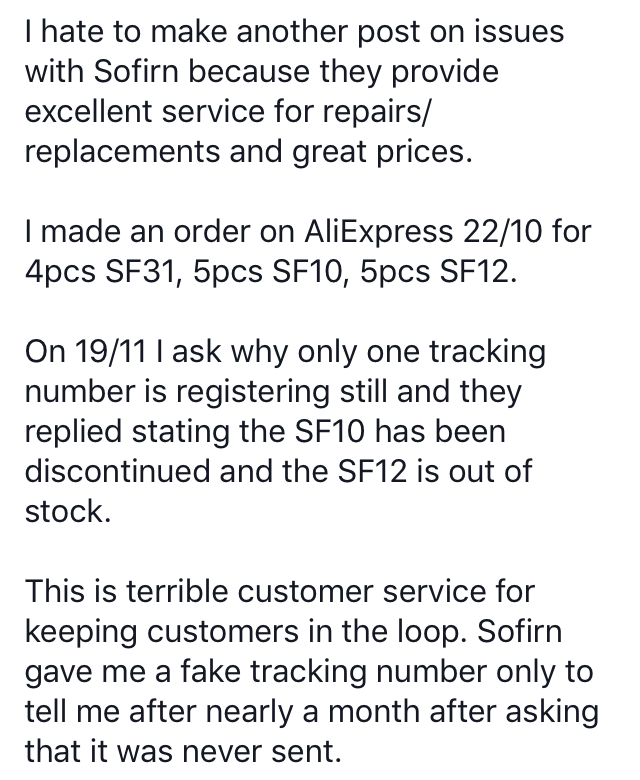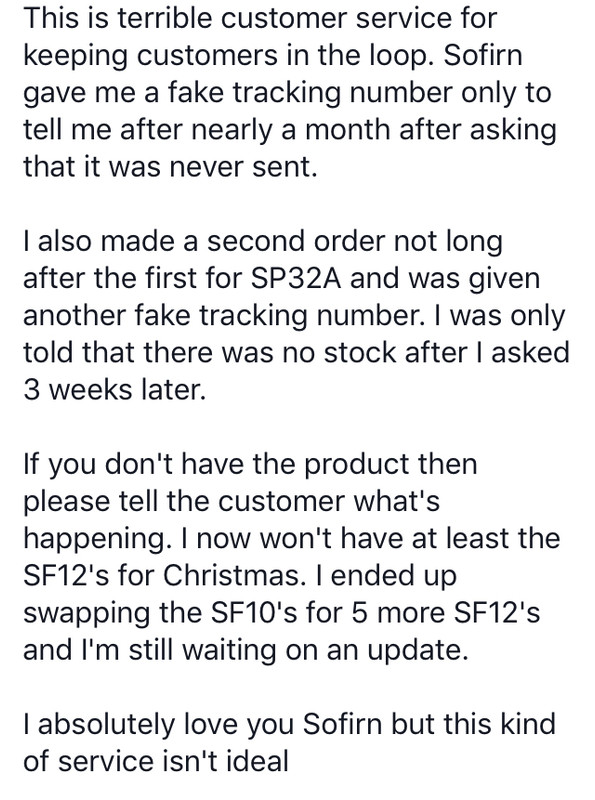 If you do want the SP40 and dont want to play games, which is a fine headlamp …
Buy it from amazon and make sure it is FULFILLED BY AMAZON

Oh hey thanks for the heads up all

qidong yang. That is a name on my purchase from Sofirn Official and Beamax Lighting. They must be the same person or affiliated in some way.
SP40 is $24.59 at their ebay store It's probably the same price or less than AE if you include their extra fees.
Mums the word

I thought "grease" is the word…
Well, actually, you can complain, but it'd just be kinda silly.

I also ordered an SP40 at the Beamax store (order date 6 december 2019), but the tracking info still is 'temporary unavailable'. You can click a link called 'you could track your order over here' but it goes into a loop and opens a new tab to the same page. Well let's see, until now all my AliExpress orders have had rather fast shipping times.
I have 7 items in 3 orders on the way from Ali Sofirn store. Tracking ends around 25.11. I hope I'll get them although I've already received all other 20 items bought on Ali on 11.11 from other sellers. What could be a reason, Sofirn's packages are slowest of all? I wonder if I'll ever get them…