Tangsfire C8 XM-L2 U3
Reviewer's Overall Rating:
★★★★★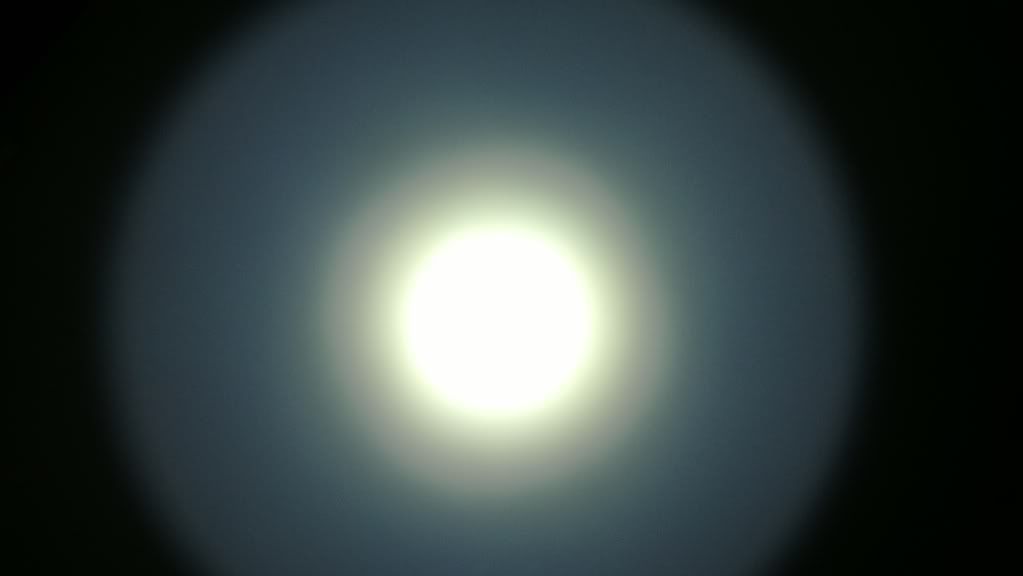 Summary:
Pros:
Nice Machining
Aluminum Pill
East-092 Driver
Glass Lens
XM-L2 U3
Tailstands
Aluminum Reflector
Cons:
None for me as a C8 format this is a really nice light.
Features / Value:

★★★

★

☆
This is a really nice light. Very nice machining for a budget light. It has the East-092 driver and on high pulls over 4 amps! stock. Has a nice glass lens. It has a good feel in the hand and is a little heavier than most of my other C8 format lights. It appears to have thicker tube walls than my others. The light starts on high every time. Which I tend to like some might not though. I give 4 stars because even though I don't think I would ever use S-O-S is actually doing S-O-O-S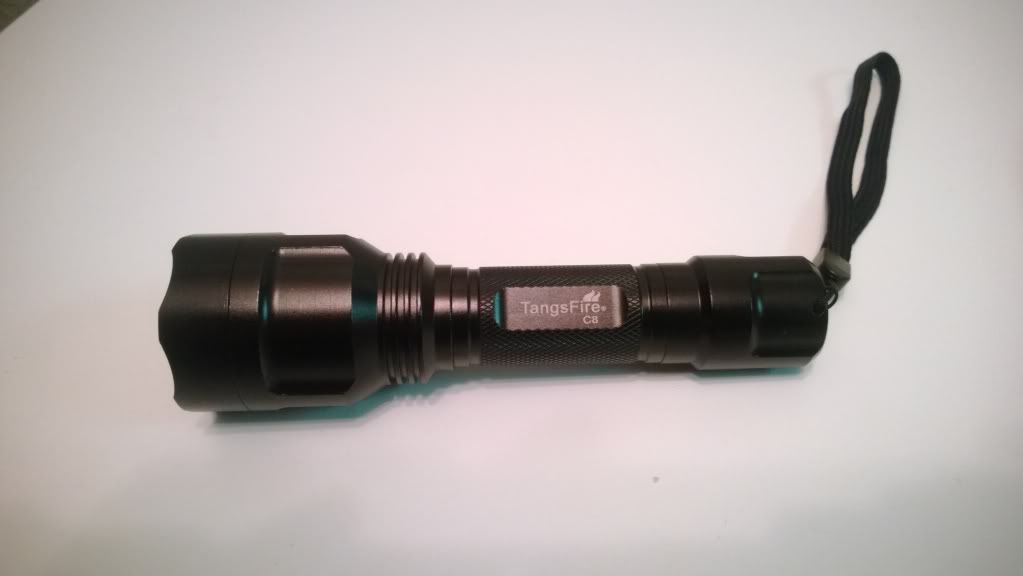 Design / Build Quality:

★★★★★
This light is built nice. Some of the cleanest threads I have seen on any of the lights I have played with. Not a single thing in the threads was actually impressed by that. The fit and finish of the light is really nice. Thread engagement is good on all parts of the light.
The o-rings seem to be the right size and you can feel them engage when tightening down over them.
The Clicky is soldered to a board as is the spring which is covered by a brass cap for a plunger style negative contact and is held in place by a heavy threaded retaining. I can't see any problems from this end of the light.
The pill is mostly a typical C8 aluminum pill, but it has an added bonus of a very nice threaded driver retaining ring, no loose negative contacts to this driver. I can't see an problems coming from this section of the light either.
The body tube is thick walled and looks really durable. The reflector is smooth and made out of aluminum its 35mm deep and 40mm wide. The LED seems to be glued down with some sort of thermal glue.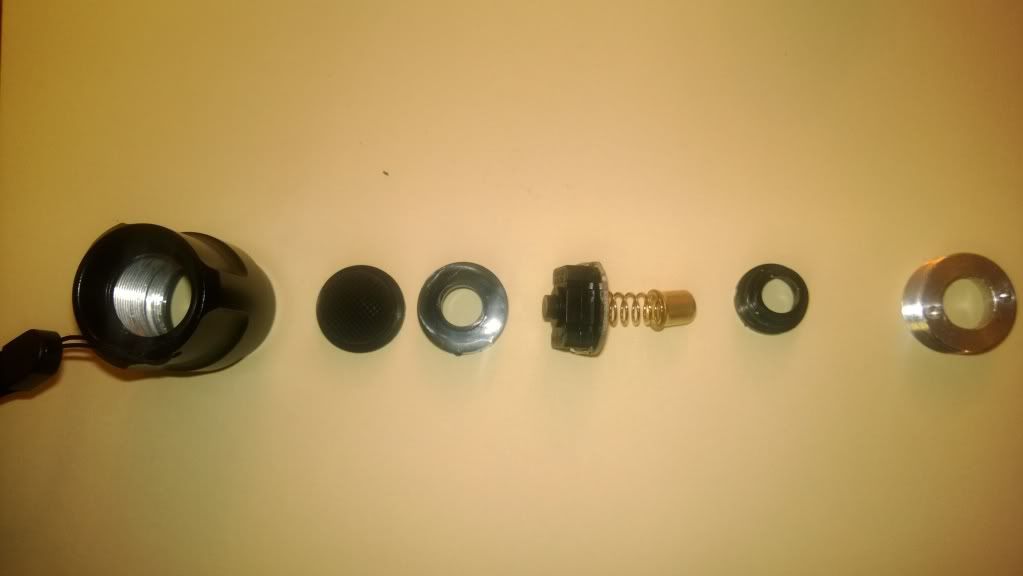 Battery Life:

★★★

★

☆
The 5 modes are pretty well spaced
Hi: 4+amps I was able to measure 4.35 amps on a sony IMR battery
Med: 1.52 amps
Lo: .29 amps
depends on your battery and light usage for the battery life.
Amps dropped before a I could get my 7yr old to get a good picture for me.
Light Output:
★★★★★
This thing is bright....did I mention this is bright ? It has a really nice beam pattern.
A nice large hotspot and then leqading off into some spill. No funny rings or any other oddities in the beam.
I use my kids ceiling to fan to check for PWM its makes it easy to see. The light has some PWM but seems to be high enough freq. not to bother me at all. I'm not really that bothered by it anyways even it some of my other lights where it is more obvious.
The tint is on the cool side. This was aimed at the celing and taken from about 1 foot off the floor.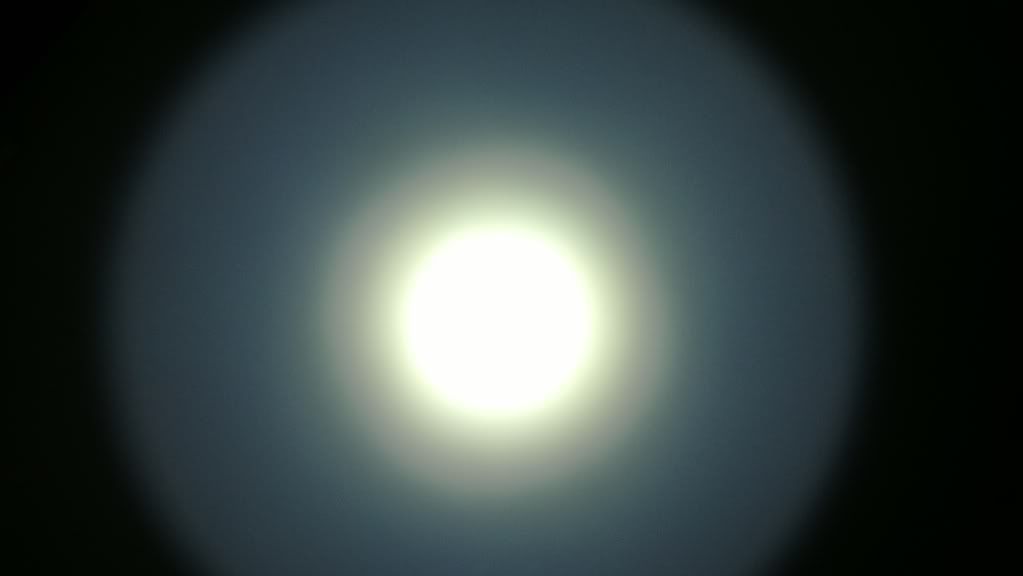 Summary:

★★★★★
Compared to my other c8's, and c12 that I have this is a very nice light. Superb fit and finish, nice threads, a good pill with retaining ring. A glass lens, A nice driver, and great emitter. Its a nice package of good parts coming together for a nice light. I think this is going to be my goto light for a while. While a little big for EDC its fits in a jacket pocket nicely for night walks with my kids. Good timing too. With xmas lights starting to go up we make some hot cocoa and head out to see them all.
Here are some specs from the website listing
| | |
| --- | --- |
| Lumens | 1300 Lumens |
| Power | 8W |
| Bulb Quantity | 1 |
| Light Color | White |
| Lightbulb Lifespan | 100000 hours |
| Lighting Distance | 100m |
| Runtime | Battery decides |
| Switch Type | Clicky |
| Switch Location | Tail |
| Lens | Coated Glass Lens |
| Reflector | Aluminum Smooth / SMO Reflector |
| Material | Aluminum |
| Color | Black |
| Dimensions | ( 6.14 x 1.73 x 1.06 ) " / ( 15.6 x 4.4 x 2.7 ) cm / (L x Head Dia.x Body Dia.) |
| Weight | 6.74 oz / 191 g |
| Battery | 1 x 18650 Battery (not included) |
| Voltage | 3.6 - 4.2V |
| Lanyard | Yes |
| Modes | 5 |
| Mode Arrangement | Hi > Mid > Lo > Strobe > SOS |