Eneloop AA HR-3UWXB 2450mAh (Black)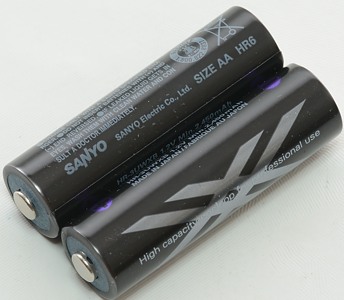 Official specifications:
Capacity typical: 2550mAh
Capacity minimum: 2450mAh
Nominal voltage: 1.2V
Fast charge: 2550mA
Life cycles: up to 500
Self-Discharge: approx. 85% capacity after 1 years


These eneloop has higher capacity and shorter charge retention time than the white version

Maximum temperature raise at different discharge currents: 1A:+1,3°C, 2A:+3,7°C, 3A:+6,5°C, 5A:+13,0°C, 7A:+19,5°C, 10A:+23,9°C,




There is some variation between the cells.
Note: Small capacity differences are much less a problem for NiMH, than for LiIon.






Conclusion

These batteries can maintain power for a long time and can also deliver a high current.
I wonder why they only have a 1 year rating, compared to the 1900mAh eneloops 5 year rating, does these batteries have a shorter lifetime?



Notes and links

How is the test done and how to read the charts