BlitzWolf 18W QC3 BW-S5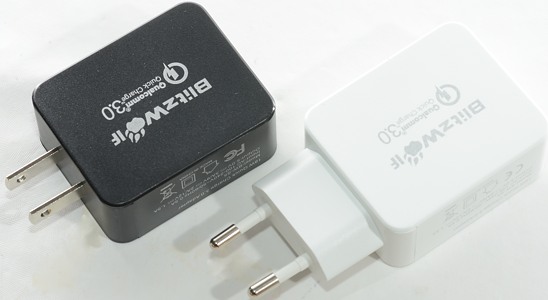 Official specifications:
Model: BW-S5

Tech: Power3S Qualcomm QC3.0

Total Power: Rated 18W (24W Max)

Input: AC 100-240V~50/60Hz 0.5A

Output: QC2.0 Mode: 9V/2A 12V/1.5A (Max)

QC3.0 Mode: 3.6-6.5V ~3A 6.5-9V ~2A 9-12V ~1.5A

Size: 55 X 46 X 24 mm / 2.17 X 1.81 X 0.94in

Color: White, Black

Weight: 65g±10g

Certification: FCC, Qualcomm QC3.0, DOE VI
I got it from Banggood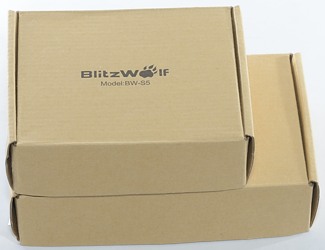 I got this charger in a fairly plain cardboard box. The square one is the US version, the other one is the EU version.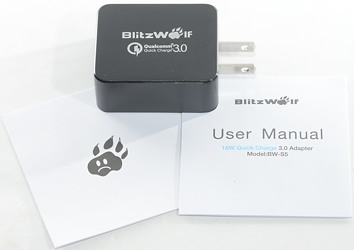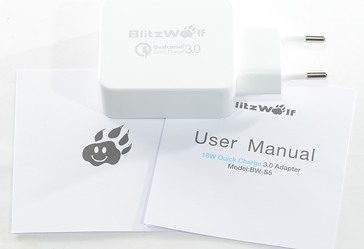 The box contained the charger and a instruction sheet.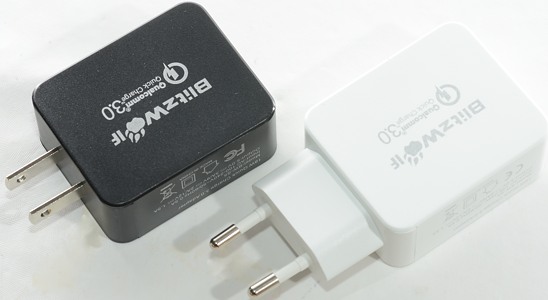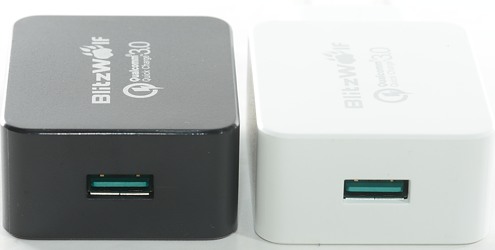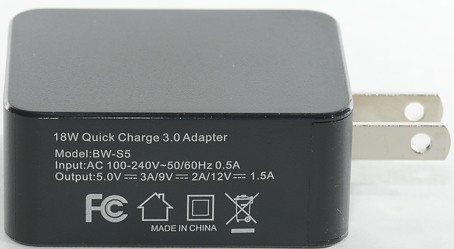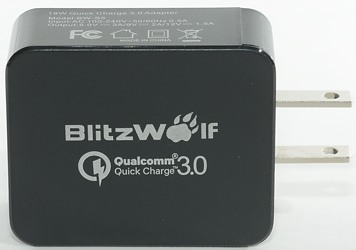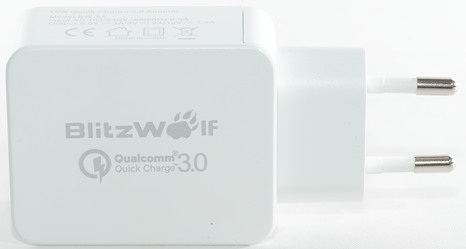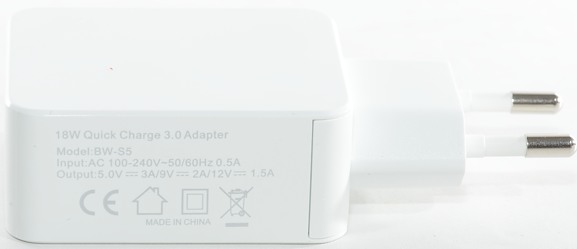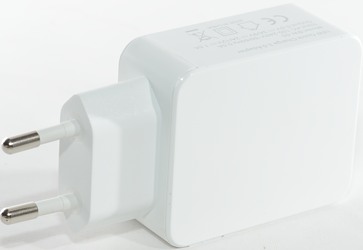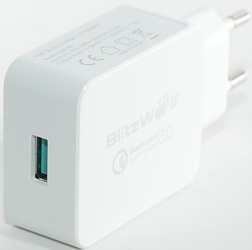 Measurements
Power consumption when idle is 0.06 watt at 230VAC and 0.04 watt at 120VAC

Usb port coding usb charger (DCP), QuickCharge 2 and QuickCharge 3

Minimum QuickCharge 3 voltage is about 3.9 volt.
The charger is rated for 3A at 5 volt and the overload protection trips at 3.5A, this looks fine.
At 9V it is rated for 2A, but can deliver 3.2A before it drops to 5 volt.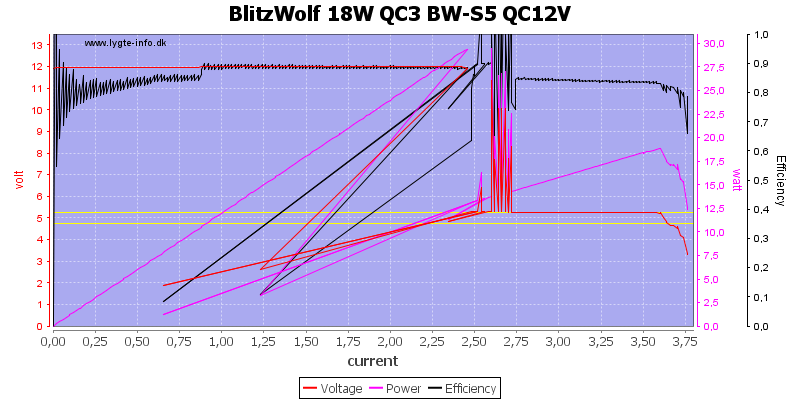 At 12V it is rated for 1.5A, but can deliver 2.4A before it drops to 5 volt.
With 120VAC mains the current limit is slightly lower, here it stars dropping out at about 2.8A, but do not quit completely before 3.5A
At 12V it is the same for both 120VAC and 230VAC.
No problem with rated load for one hour.
Here I am above rated load, I am using 2A at 12 volt, but the charger handles it fine.
The temperature photos below are taken between 30 minutes and 60 minutes into the one hour test.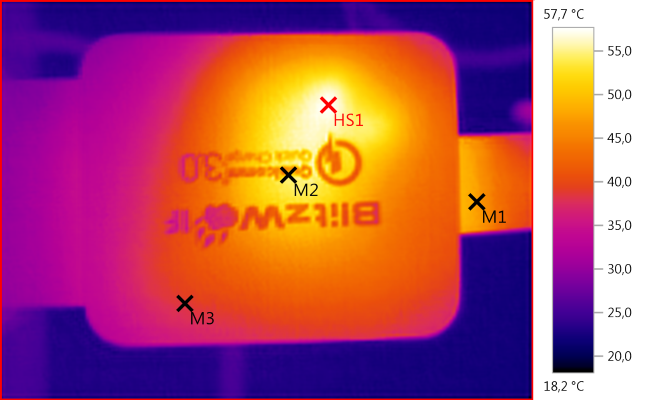 M1: 47,4°C, M2: 50,8°C, M3: 38,6°C, HS1: 57,7°C
The hot spot here is the transformer.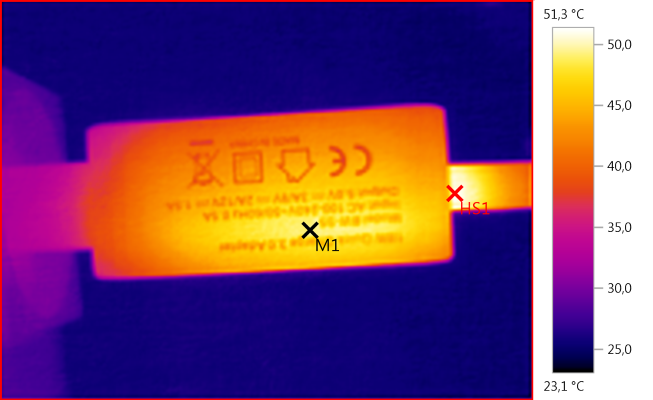 M1: 49,1°C, HS1: 51,3°C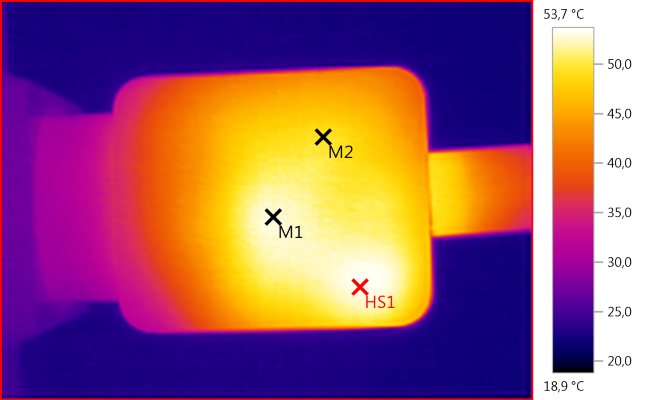 M1: 52,6°C, M2: 49,5°C, HS1: 53,7°C
HS1 is the rectifier.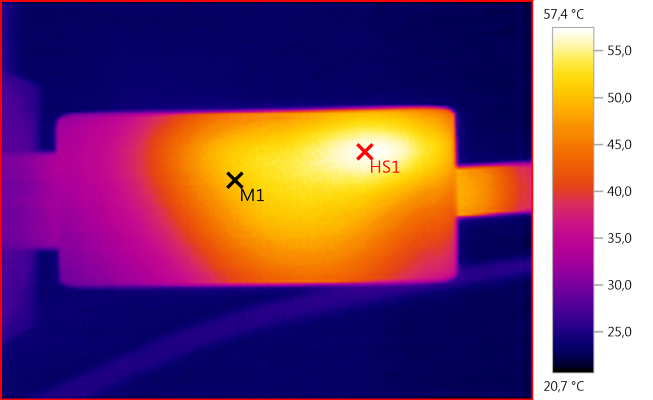 M1: 50,9°C, HS1: 57,4°C
Again HS1 is the rectifier.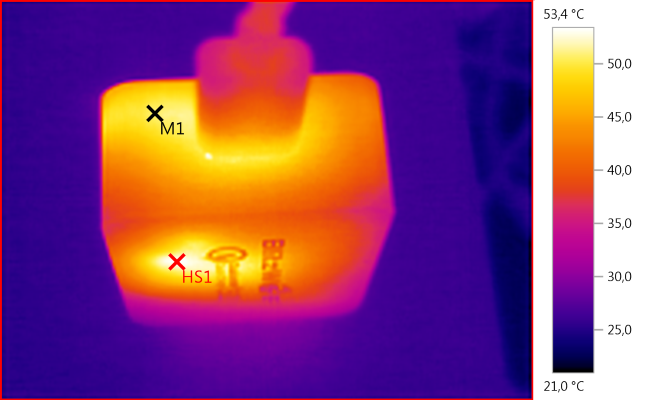 M1: 50,6°C, HS1: 53,4°C
M1: 55,4°C, HS1: 63,9°C
This test is done at 120VAC with 2A on 12V, i.e. the charger is overloaded.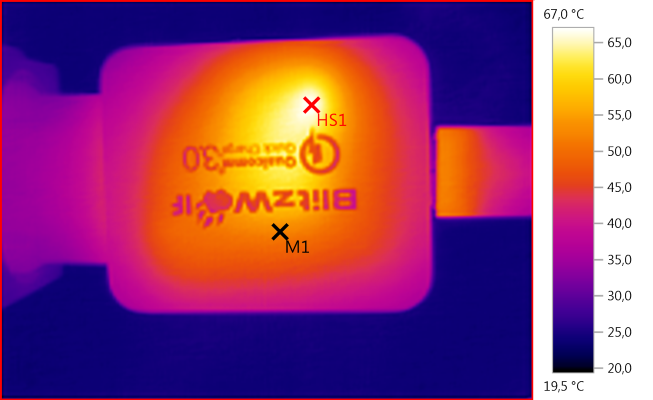 M1: 52,5°C, HS1: 67,0°C
This test is done at 120VAC with 2A on 12V, i.e. the charger is overloaded.
It is no big surprice that the traformer gets hotter when the power is increased.
At 0.5A the noise is 19mV rms and 330mVpp.

At 1A the noise is 12mV rms and 216mVpp

At 2.5A the noise is 24mV rms and 317mVpp.

At 1.2A 9V with 120VAC supply the noise is 18mV rms and 250mVpp.
I did try a couple more, they where all around the same as the ones show above.
Tear down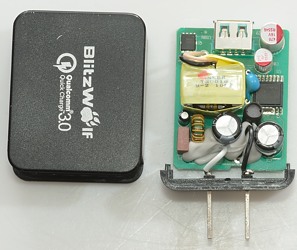 This charger was to easy to open, I just had to break the mains pins sideways with some pliers.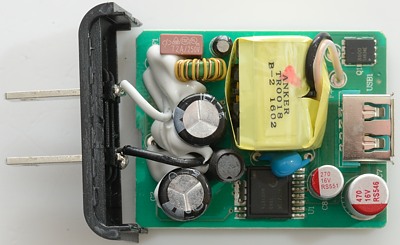 The input has a fuse and a common mode coil. There is also a inductor between the two mains capacitors. The blue capacitor is the safety capacitor.
All the switching and feedback is handled with one large IC (U1 SC1271K) and synchronous rectification with Q1.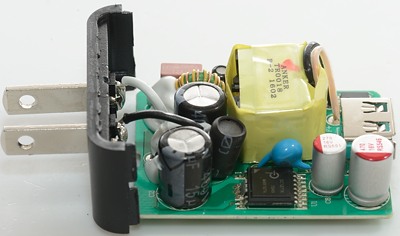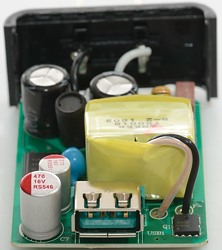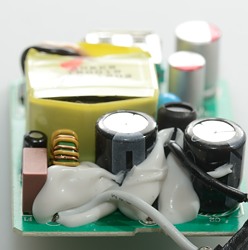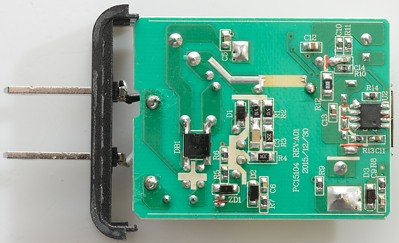 One this side of the circuit board there is the bridge rectifier (DB1) and the QC3 controller (U2 SC0163). Notice R12 (R030), this is probably used for current sense.
The safety distance looks good.
Testing with 2500 volt and 5000 volt between mains and low volt side, did not show any safety problems.
Conclusion
The QuickCharge 3 function do not deliver more power, but allows finer adjustment of the voltage, the idea is to reduce the heat generated in the phone and this way make it possible to charge faster.
This looks like a good charger with QC2 and QC3 support.
Notes
All measurements are done with the white US version at 230VAC, except where otherwise noted.
The usb power supply was supplied by Banggood for a review.
Index of all tested USB power supplies/chargers
Read more about how I test USB power supplies/charger