Energizer D 2500mAh NH50 (Silver)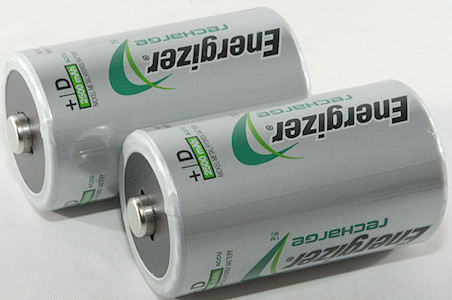 Official specifications:
Classification: Rechargeable

Chemical System: Nickel-Metal Hydride (NiMH)

Designation: ANSI-1.2H4

Nominal Voltage: 1.2 Volts

Rated Capacity: 2500 mAh* at 21°C (70°F) 500mA discharge to 1V

Typical Weight: 73.0 grams (2.6 oz.)

Typical Volume: 57.0 cubic centimeters (3.5 cubic inch)

Terminals: Flat Contact

Jacket: Plastic

Maximum temperature raise at different discharge currents: 1A:+0,3°C, 2A:+0,6°C, 3A:+1,3°C, 5A:+2,6°C, 7A:+3,6°C, 10A:+4,7°C, 15A:+5,3°C
This is low capacity D cells from one of the big brands and as can be seen on the photos the capacity is with a fairly discrete font.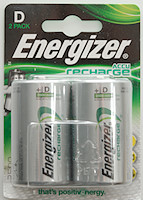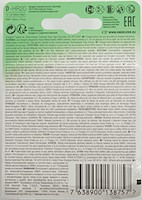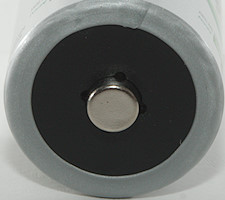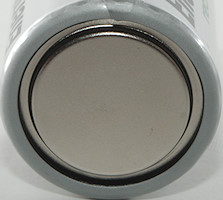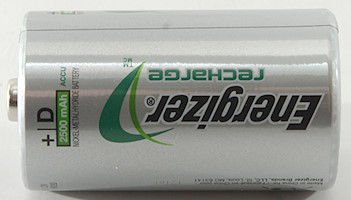 The two cells matches fairly well and can deliver the rated capacity. At high current they are considerable better than AA cells.
Conclusion
These batteries do not have more capacity than AA batteries, but are better at high current. They feel very lightweight and my guess is that they contain a smaller cell inside.
Notes and links
How is the test done and how to read the charts
Compare to other AA/AAA batteries: Alkaline/NiMH/Lithium