Power supply frontend DPS5015 50V/15A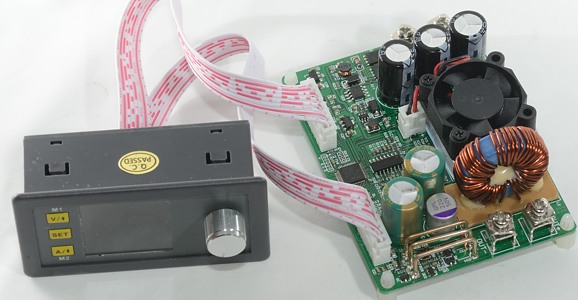 This device is the front end for a power supply, it must be supplied with low voltage DC power (Up to 60V).

Official specifications:
Input voltage range: 6.00-60.00V

Output voltage range: 0V-50.00V

Output current: 0-15.00A

Output power range: 0-750W

Product Weight: about 222g

Display module size: 79*43*41(mm) (L*W*H)

Open size: 71mm*39mm

Power module size: 93*71*41(mm) (L*W*H)

Length of connecting line: 200mm

Fixed hole center distance: 86mm, 64mm

Output voltage resolution: 0.01V

Output current resolution: 0.01A

Output Voltage accuracy: ± (0.5% + 1 digit)

Output Current accuracy: ± (0.5% + 2 digits)
I got it from aliexpress store: RD official store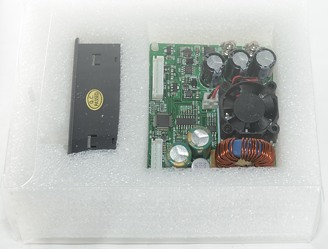 It arriwed in a styrofoam box, inside the box was the plastic box with the electronic.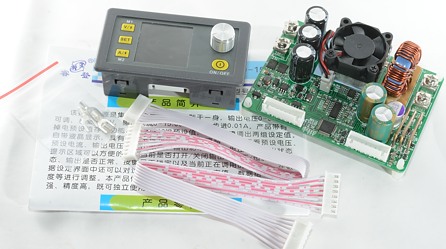 There is a control unit, a power unit, two cables, some rather small fork terminals and a manual in English and Chinese.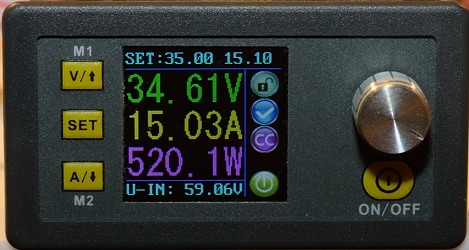 The control unit has a nice display, four buttons and a encoded that can be pressed.
The V and A buttons will enable adjustment of voltage and current with the encoded, press the encoder to select digit, when finished press SET.
Holding down V/A/SET will recall a preset, with V and A it is preset 1 and 2, with SET any of the 9 presets can be selected.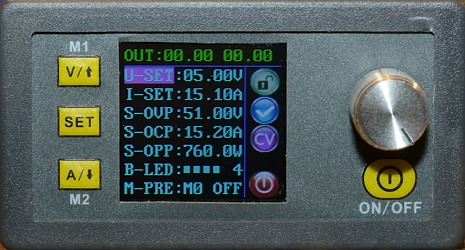 On the settings screen it is possible to define a couple of parameters: Voltage, current, over voltage, over current, over power, display brightness. The "over" settings will turn output off if they are reached.
The device has 9 preset memories. To save a preset adjust the parameters, move the marker to M0, adjust the encoded to desired preset number and hold down the SET button.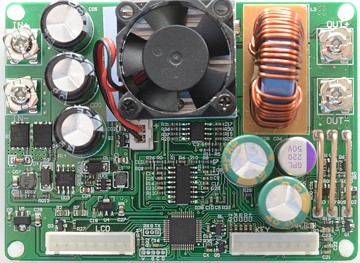 There are many parts on it: Capacitors on input and output. The input has two transistors to turn it off.
There are two internal switch mode supplies and a couple of linear regulators to power the electronic.
The main switcher transistor is placed below the fan and heatsink. Besides the output terminal is the shunt (resistor) that is used to measure the output current. On this model it is 3 wires in parallel.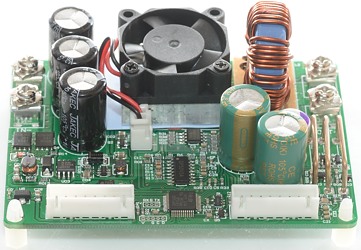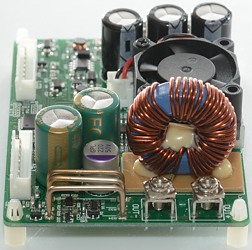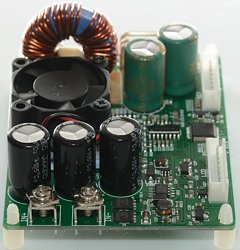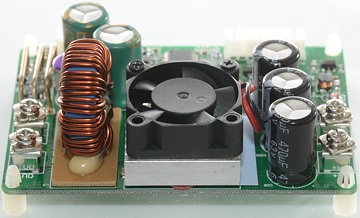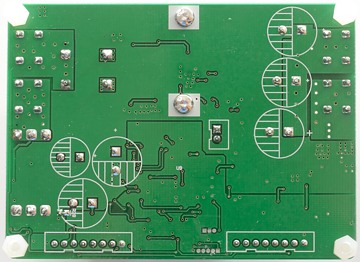 There is no parts on the other side of the circuit board.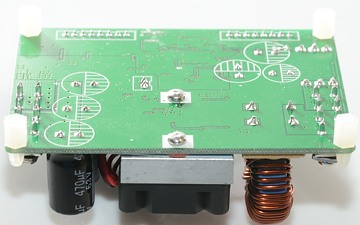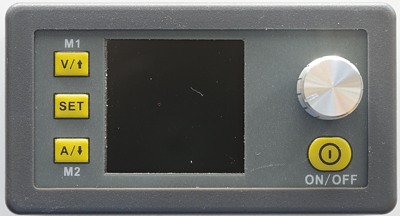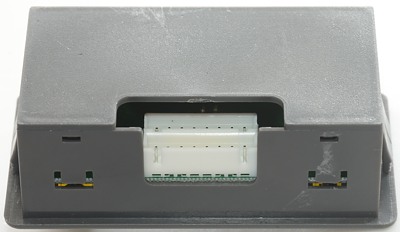 The control unit can be mounted in a rectangular hole, this makes it easy to build this circuit into a box.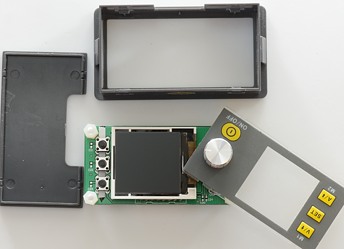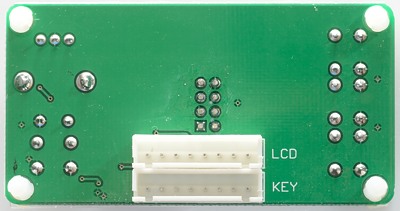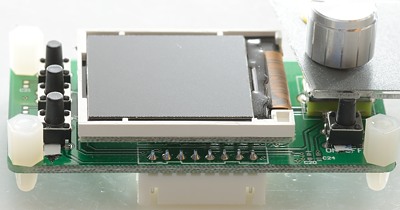 The control unit has two circuit boards, one with all the switches, encoder and connectors and one with the display.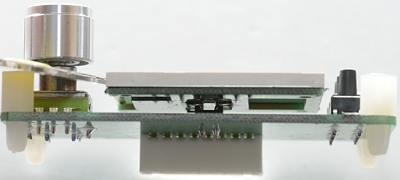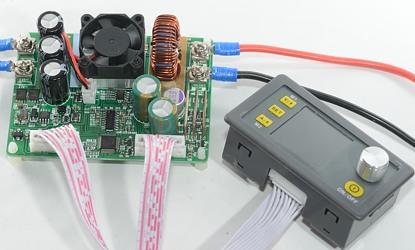 Wires connected, ready to test.
Measurements
I did a huge amount of test on this unit and will only show a few of the charts here,
I have posted more in another article
.
At 4V output efficiency is above 90% and the output voltage is fairly stable. The jump in efficiency/power consumption is because the fan starts.
Running at 60V input means slightly more power lost in the this device, but not much.
Increasing the output power means better efficiency, because its own power consumption do not increase much.
Analyzing the voltage for a couple of load sweeps shows that the output voltage varies up to 0.025 volt.
Here it is running at maximum output power and with maximum input voltage.
Running the output for full power for one hour was not really a problem, the small fan on the heatsink could easily keep the temperature down.
During a load test the output voltage varies less than 0.01 volt.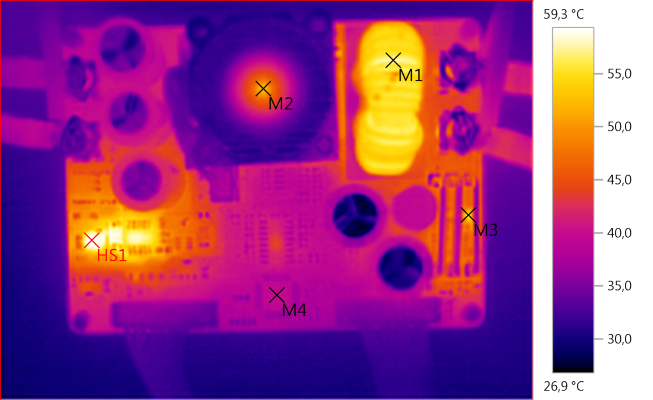 M1: 57,6°C, M2: 51,9°C, M3: 55,4°C, M4: 39,8°C, HS1: 59,3°C
One of the internal power supplies is warm, but not anywhere near too warm.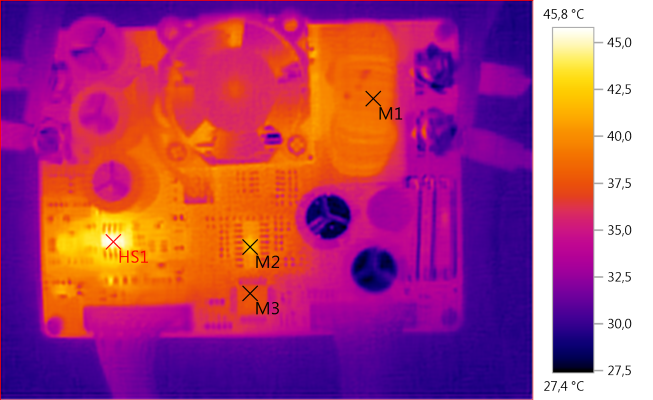 M1: 38,5°C, M2: 42,0°C, M3: 37,5°C, HS1: 45,8°C
60V in with 5V/3A output.
The 15A load is too close to the current limit, output voltage is maintained, but is fairly noisy.
The specified minimum voltage is 6V and it turns off just below that. At 4 watt output (1A at 4V) the efficiency is fairly low, because the power for the regulation and display is a significant part of the input power.
When the input voltage is close to the output voltage, it cannot maintain the output voltage.
The volt reading will show the lower output voltage, but there is no warning (Like a flashing voltage readout).
Running very close to the current limit can have problems.
Depending on input voltage it can use from 15mA and up to 75mA for the internal electronic.
With shorted output it will regulate the current.
When using it to drive led, remember to connect the led before turning power on or the capacitors will give a high current spike into the leds.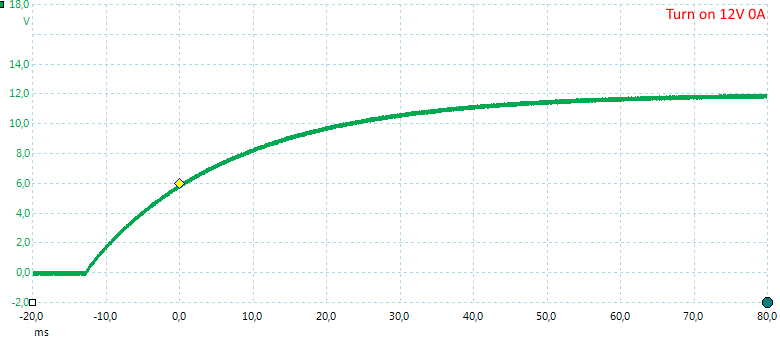 When pressing the on/off button to turn output on the voltage is "slowly" regulated up to the selected voltage.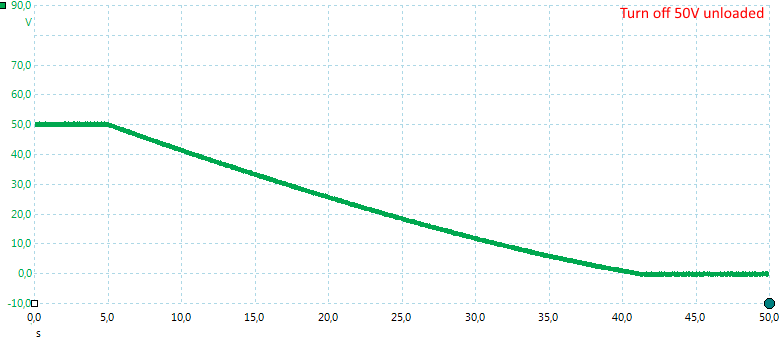 At 50V output it takes more than 30 seconds before the unloaded output has dropped to zero.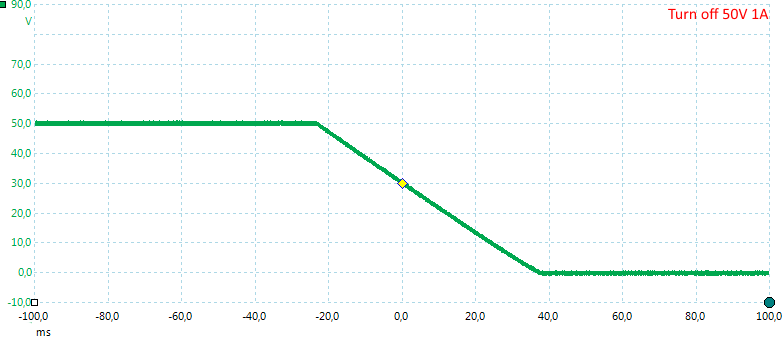 With a load it happens in a fraction of a second.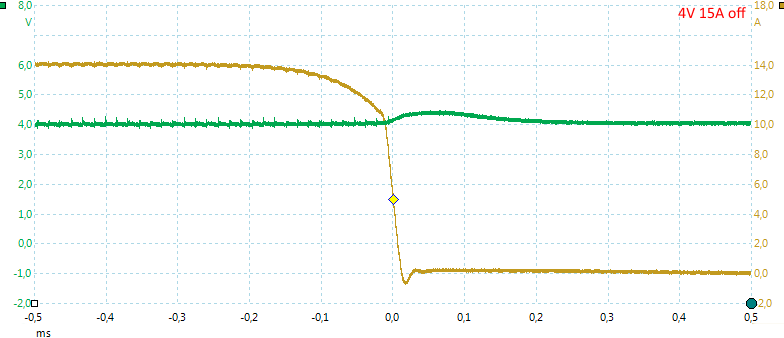 Turning a 15A load off at 4V will increase the output voltage with abount 0.5V for a fraction of a second.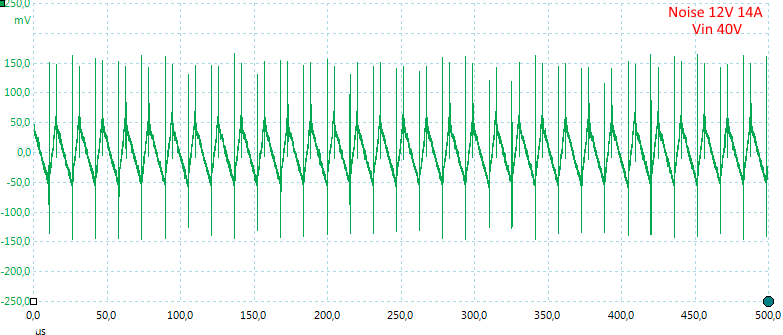 There is some noise in the output, below is the values I measured:
Noise at 12V 1A (Vin 40V) is 10mV rms and 62mVpp
Noise at 12V 5A (Vin 40V) is 14mV rms and 148mVpp
Noise at 12V 14A (Vin 20V) is 65mV rms and 300mVpp
Noise at 12V 14A (Vin 40V) is 30mV rms and 310mVpp
Noise at 12V 14A (Vin 60V) is 65mV rms and 420mVpp
Noise at 10V 10A constant current (Vin 40V) is 32mV rms and 255mVpp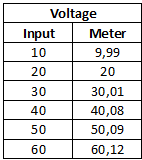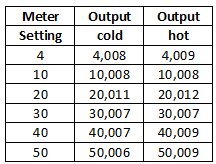 The display is precise, except the input voltage will be 0.5V too low at 10A input current.
The unit is can be used as a charger, but there is a few problems with it:
It need to be powered, or it will drain the batteries.
When output is off and the unit is powered it will drain about 1.5mA from the battery.
Conclusion
This module is very useful to build a cheap high power bench power supply with. Add a cheap switching power supply, a box, some binding posts and some work.
Compared to professional units it is missing a lot: Lower noise, both numeric keypad and encoded, 4 terminal connections, computer control, larger display. But for the price it is very good and works fine.
Notes
When using it for constant current remember never to turn it on before the led is connected