This is the new ThruNite T10 V2 EDC , sent to me for review and NO other compensation other than keeping the light.
The T10 V2 can be found at the main ThruNite site…… http://www.thrunite.com/thrunite-t10-v2-tailcap-magnetic-flashlight/
Or on Amazon site………. https://www.amazon.com/dp/B07GSS9XMZ
Light will be available in the Cool White (same as the reviewed sample) or in the Neutral White versions , at the Thrunite website at least.
The T10 V2 arrived in a padded bubble envelope with the Thrunite box inside that. The outer Thrunite box houses the metal storage case for the light and contents that come with the T10 V2.The contents include the Light itself , 2 extra O-rings , clip , user manual and the Thank you card.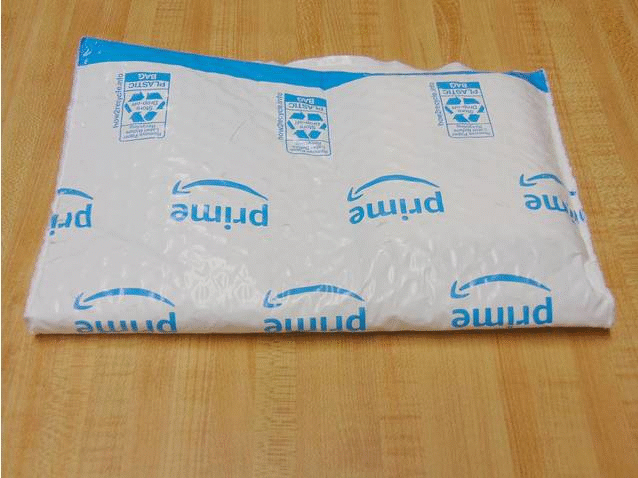 This is a dual chemistry light , meaning it can work from AA , NiMH , or 14500 cells.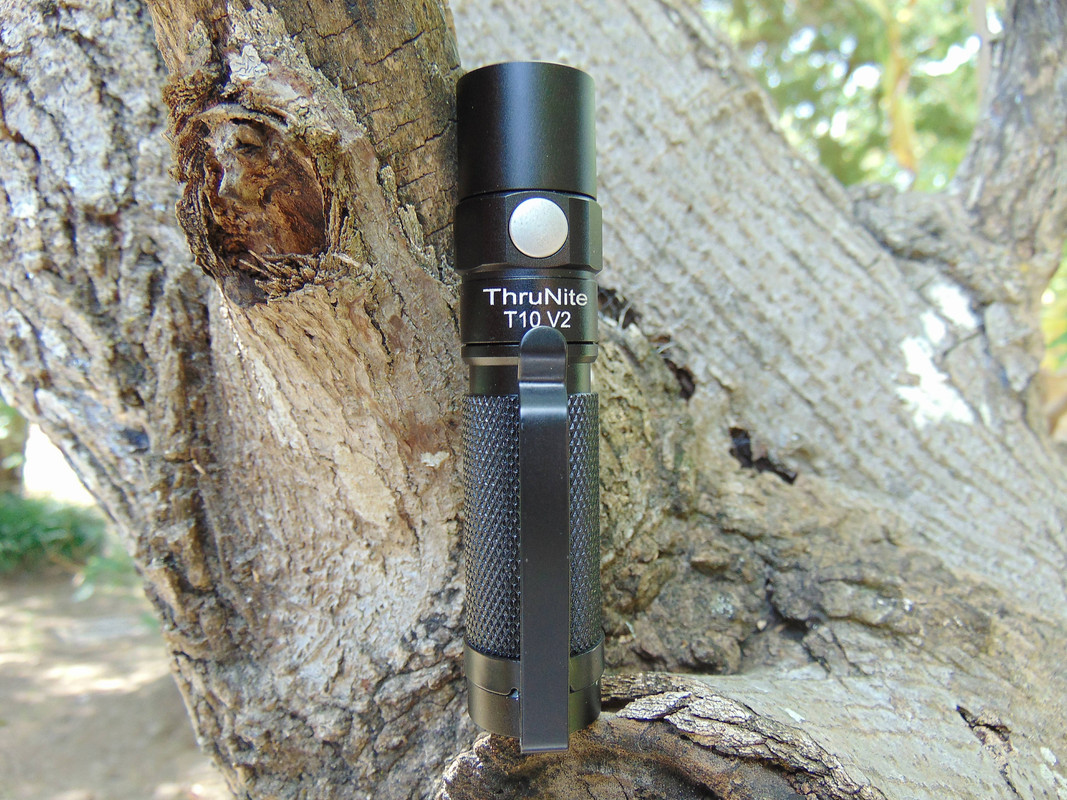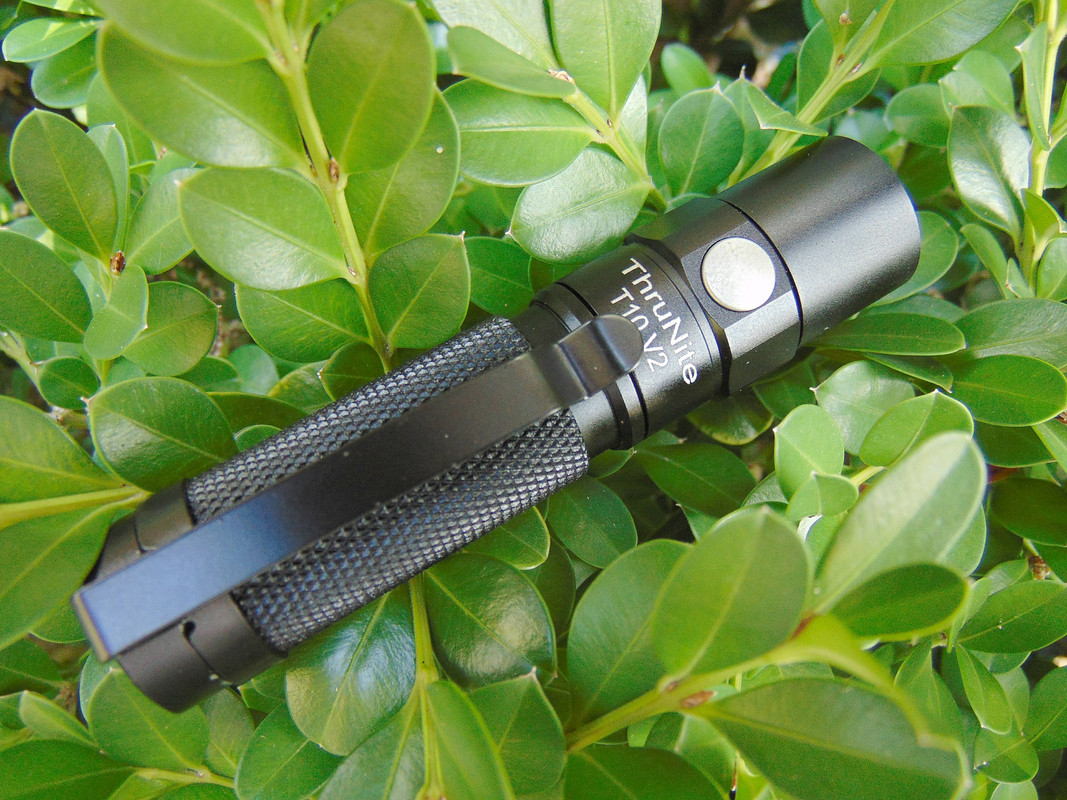 The light is pretty compact and has a magnetic tail , so it can be used hands free when stuck to something metallic. The magnet holds pretty firmly especially on a flat surface , as demonstrated with the scissors and 26650 cell in the below GIF.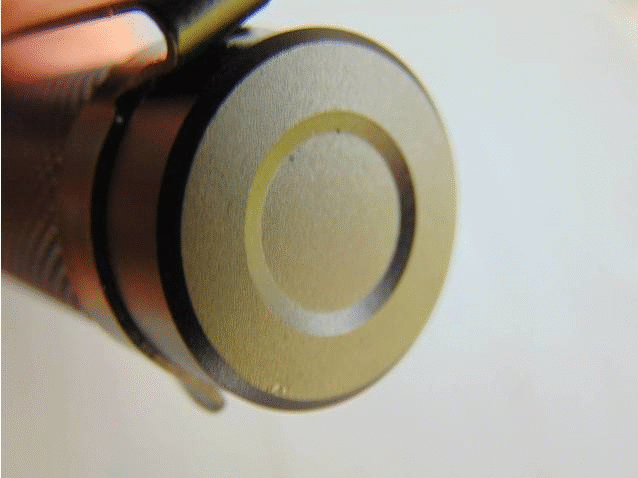 Here is the T10 V2 (left) pictured with a Thorfire TG06 s (center) and the Sofirn SP10 B (right)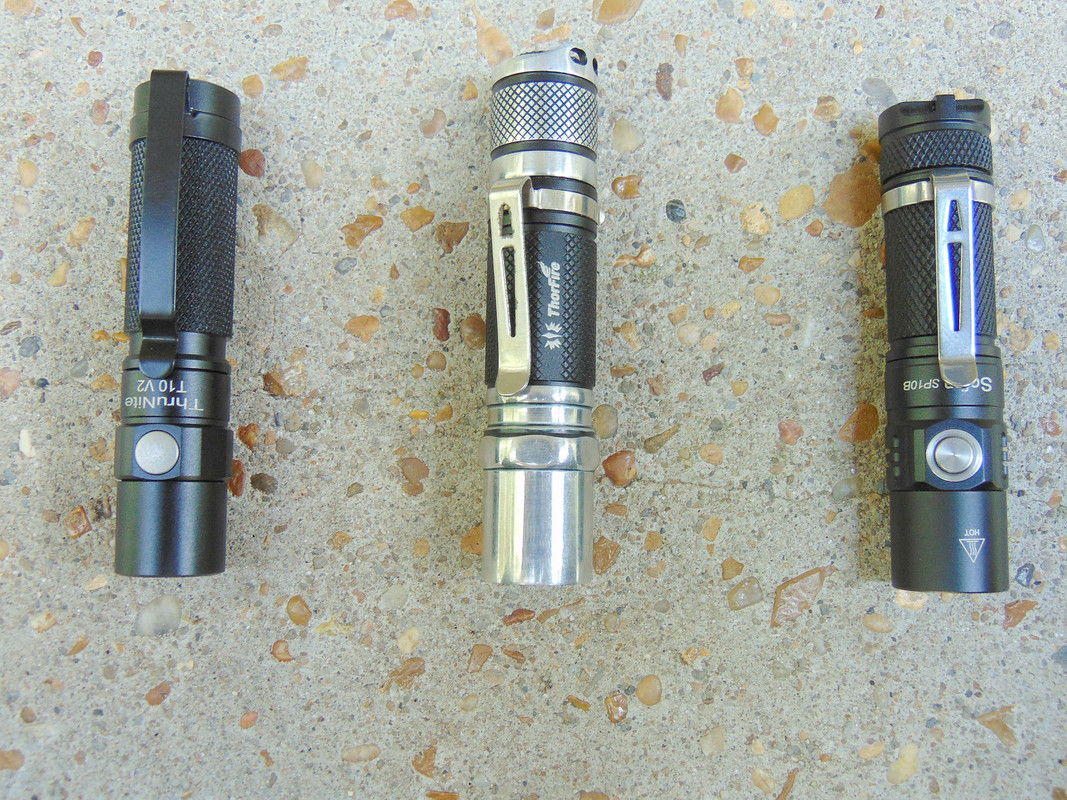 The clip can be used on either end of the T10 V2 as there are grooves at either end for that, so it can be used attaching it to a ball cap or hat as a headlamp or carried head down in the pocket. There is also an Eyelet for a Lanyard if you wish to attach one to the light.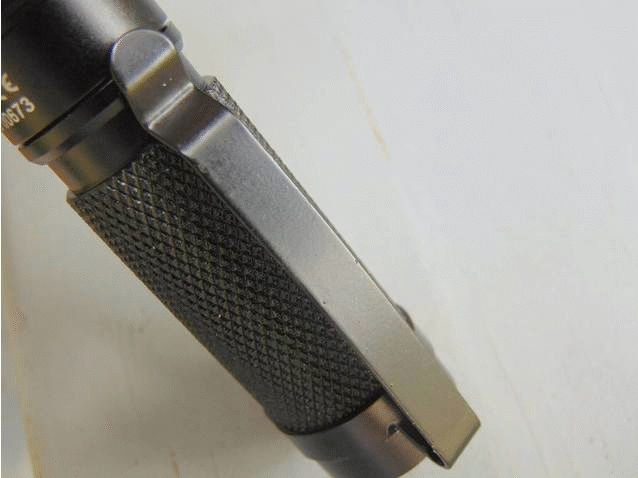 The knurling and the threads are all very well done , and the anodizing seems to be good also, as I have come to expect with the Thrunite products.

The T10 V2 uses the XP-G3 emitter (which is perfectly centered) and has a smooth reflector in it and does give a good overall beam for distance and even up close work (although not as floody as an Orange peel).
The switch is a small metallic one and looks very nice , as well as works very smoothly. The branding (etching) is also well done on both sides of the light.

The UI is pretty simple on the T10 V2 and is as follows……
A long press from OFF to get the Firefly mode (about 1 full second) from there a press of about 1/2 second to advance to Low mode and the same to advance to Medium mode from there. A quick double click gets you to the High mode and from there you can get the strobe with another double click. From any mode double click to go straight to High mode. To turn the light off from any mode a quick click is all that is needed. The T10 V2 will memorize the Low and Medium modes only and will remember which ever of those you turn the light off in.
As with many of the XP-G3 emitter lights …. The beam does have that bit of "olive" ring around the corona area when in the low mode and very slightly noticable in the Medium mode on my sample. In the High mode it pretty much disappears. I do not notice the olive colored ring in normal usage hardly at all however , but mainly notice it when white wall shining or really up close.
The GIF beamshots below will show what I am saying……All beamshots made with 14500 cell.
22 feet from White Garage door……Low/Med/High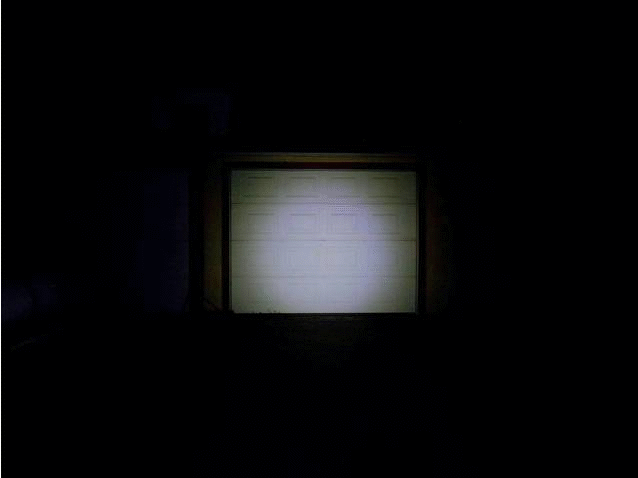 50 and 75 yards from Gate…… Medium and High Modes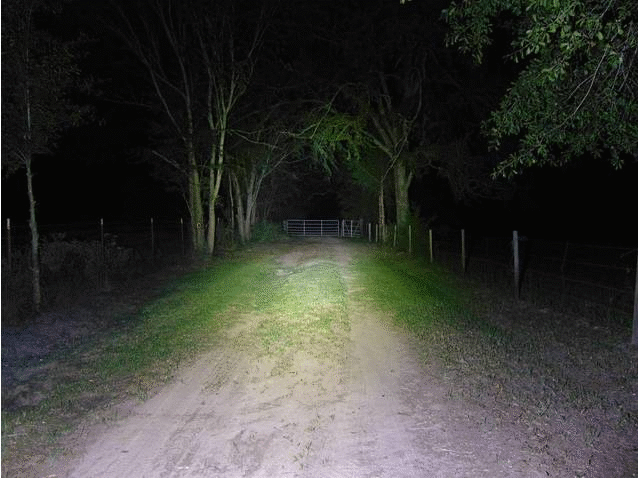 25 Yards from Gate ……Low/Med/High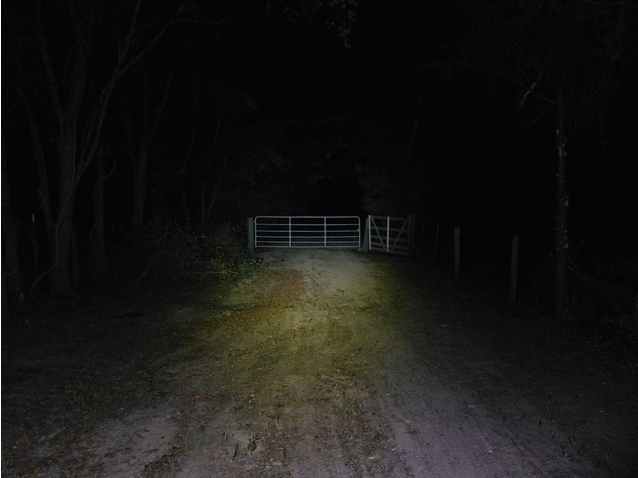 I was pleasantly surpised to see that my sample with the `14500 cell IS getting well over the listed specs (listed as 550 lumens with 14500 cell) as noted in the charts below. I got relatively close with the Eneloop pro cell.
Here are the numbers I got from my lumens testing with the NiMH (Eneloop Pro) and the 14500 (Efest Purple)


Overall the T10 V2 is a very well made light with the Thrunite quality.
The only negatives I have at all are………
I personanlly dont like the XP-G3 emitter in MOST lights because of the olive colored ring that is present around the corona.
2) the clip , while made sturdy , does not sit close enough to the body of the light to hold firmly. This was brought to the attention of Thrunite and acknowledged as a potential flaw and hopefully measures are being taken for future clips.
I simply tweaked the clip on my sample to make it sit tighter to the body , so really not that big of a deal to me.
This light is listed as having an OP reflector on the Thrunite site also , but in fact does have a smooth reflector.
For those that may not want to watch the whole video , but want to see the outdoor live comparison with the T10 V2 and the Thorfire TG06 S , that starts at 10:36 of the video timeline. Just to note , I used 14500 cells in both lights for all beamshots and the live footage.
Video followed by listed specs…………
https://www.youtube.com/watch?v=dYs5lfLL3Iw&feature=youtu.be
Product Description
The T10 V2 tailcap-magnetic flashlight is the upgraded version of T10. It adopts the latest CREE XP-G3 LED to make output up to 550 lumens when it is driven by one 750mAh 14500 battery, or 180 lumens when it is driven by one 2450mAh AA battery.
Features and Specifications
•Cree XP-G3 LED with a lifespan of 20+ years of run time.
•Uses one 2450mAh AA battery or one 750mAh 14500 battery(not included).
•Max output: 180 lumens with 2450mAh AA battery OR 550 lumens with 750mAh 14500 battery.
•Working voltage: 0.9V-4.2V.
•Output & Runtime (Tested with 1*2450mAh AA Battery):
◦Firefly (0.5 lumens /49 days)
◦Low (5 lumens /2.1 days)
◦Medium (35 lumens /8 hours)
◦High (180 lumens /95 mins)
◦Strobe (180 lumens /200 mins)
•Peak beam intensity: 1035cd.
•Max beam distance: 64 meters.
•Waterproof: IPX-8 (2M).
•Impact resistance: 1.5 meters.
•Size: 87mm (Length) x 19mm (Diameter).
•Weight: only 40g (without battery).
•Accessories: Spare O-ring x 1, Pocket Clip x 1.
•Compact design fits comfortably in your pocket, backpack, or anywhere else you keep your light.
•Magnetic tailcap free your hands. Be perfect for any hands free mechanic work.
•Reverse polarity protection design to protect from improper battery installation.
•Aircraft-grade aluminum body with premium type III hard-anodized anti-abrasive finish.
•Toughened ultra-clear glass lens with anti-reflective coating.
•OP reflector gives perfect flood.
•Removable pocket clip for easy to use.