Banggood was kind enough to allow me a coupon code. If you would like to purchase these at discounted price of $49.95 Click here for purchase And use coupon code b21108.
It's a great light, I have really put it through wringer since I posted this review and had no problems at all.
Today I will be reviewing for you the Rofis TR20. The light was provided to me by Banggood.com for my honest and unbiased review. I will in no way speak of or infer that a product is better than it is. What you read will be the truth and my honest opinion. With that said let's get on with it.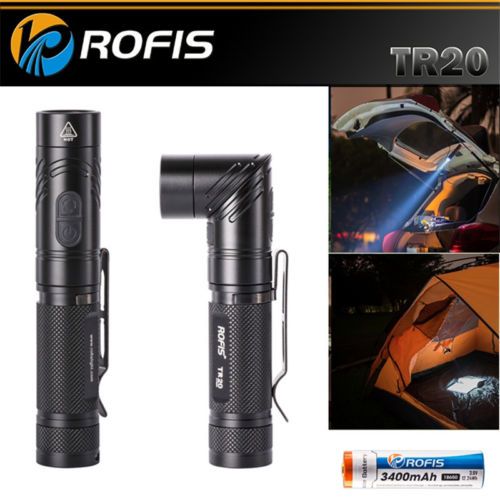 About a month ago, I reviewed the cousin to the TR20 the KR20. I will be comparing some of the differences in the two lights as well as some beam shots from both and maybe one or two others in this same size and power ratings.
First up… What's in the box.
Package included:
1 x Rofis TR20 XP-L HI V3 LED Anglelight Flashlight
1 x 3400mAh 18650 battery
1 x lanyrad
1 x holster
1 x o-rings
1 x USB cable
1 x detachable magnets tail
1 x spare USB port cover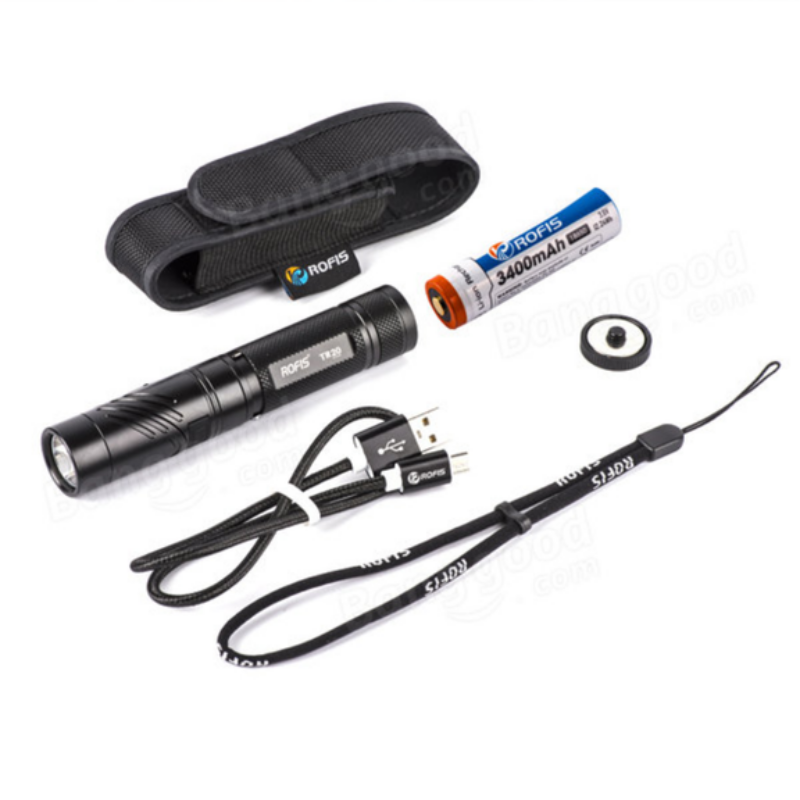 Just as in the review of the KR20 I really like the fact that they include a spare USB port cover. On any product that has a rubber USB port cover, once it has been used for a while it begins to wear and does not seal very well. Rofis makes sure that you have a spare when that time comes.
The other thing that I like is the 18650 included. I am sure that Rofis does not manufacture these. My guess is that the same with most other flashlight/torch manufacturers they simply have the cell wrapped with their name. Often a lot of lithium ion cells that are included with a flashlight are at best below average. Most never get close to their capacity rating. So far, the Rofis cells have tested very well. The capacity is very close to the advertised capacity, and they have no problem at all pushing out plenty of power.
Just for the record the 18650 that came with the TR20 being reviewed today tested as follows. I put it through two rounds of testing, first time was before it was used then again after I had been using the light for about a week.
Here are the results from both testings.
1st testing
Capacity 3239 mAh
mR (impedance) 96
4.2V on charger. 4.194V on my DMM
2nd testing
Capacity 3264
mR (impedance) 97
4.198V on charger. 4.144 on my DMM
The first is very close to the advertised 3400 mAh capacity and the second is even closer. With a few more full cycles and it will probably be at or very close to the advertised capacity.
Now description and features stated from the manufacturer.
Features:
Adjustable-head flashlight, multi-functional usage
Detachable magnets tail
Utilizes a XP-L HI V3 LED
Maximum output of up to 1100 lumens
Boasts a peak beam intensity of 10850 cd and a throw distance of up to 206meters
Innovative single button offers access to six brightness levels and three special modes
High efficiency constant current circuit provides max runtime of 200 hours
Integrated power indicator light displays remaining battery power
Power indicator's secondary function displays battery voltage
Charging module with a micro USB port charges Li-ion batteries rapidly
Direct access to ultra-low output or ultra-high output
Reverse polarity protection prevents damage from incorrectly inserted batteries
Constructed from aero grade aluminum alloy with HAIII military grade hard-anodized finish
Waterproof in accordance to IPX-8 (two meters submersible)
·mpact resistant to 1.5 meters
Tail stand capability.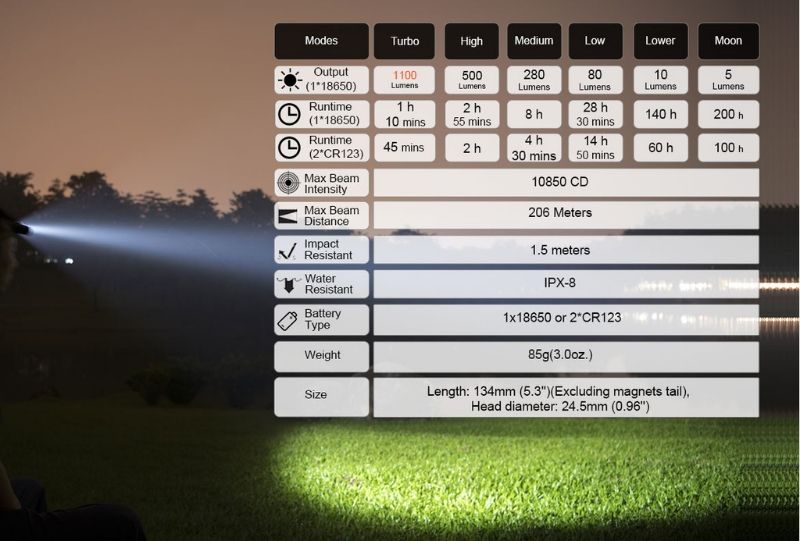 Of these features, here is what I like and what sets this model apart from most lights currently on the market.
Anytime a Cree emitter is used, for me that is always a good thing. In this case the Cree XP-l HI V3 (by the way that is also the emitter used in the KR20). A magnetized tail cap, and it is strong enough to hold the light without having to be concerned about it falling. The included lanyard can also be attached if you choose to. And if you prefer not to have the magnet on for one reason or another, you simply just unscrew it from the base of the tail cap.
Of course, the fact that it comes with a very nice woven type USB cable so you can re-charge the 18650 cell almost anywhere, I recharged it a couple of times from a small 5000mAh power bank. I prefer to charge my lithium ion cells in a dedicated charger but it is good to have the option of a built-in charger if the need arises.
The belt clip is reversible. I never like to carry any light with the optics facing up so a reversible belt clip gives you the option that you may prefer. I do wish the belt clip placement had been thought out a little more. If you happen to use the belt clip like I do which is to clip in to my pants pocket keeping he light inside of my pocket and the clip just keeps it in place, then where they have the clip positioned regardless of which direction you turn the clip a large part of the light is left sticking out. Not a deal breaker, I just wish they had put a bit more thought into it. I have been using the belt holster that was included. Both Rofis lights that I have included a better than average holster and they seem to hold up very well. I carried to the KR20 to work for well over a month now and that holster gets pulled and snagged all the time and no problems.
Let's get to one of my favorite features. They call this model and angle light because it is just that. You can twist the head of the light just above the power and mode buttons and it pivots or turns to a complete 90-degree angle, or you can leave it set anywhere from straight to the 90-degree angle. This comes in extremely handy of you happen to do the kid of work I do. I must get into some very tight places at time to repair or inspect things and being able to just stick the base of the light to a metal beam or plate and then angle the emitter in the direction I need it is reason enough for me to purchase this light. It also reminds me of the days of the old GI lights. When I was younger and Boy Scouts was something most young men took part in, we used those old plastic angle lights. Yes, I have been around awhile but that's another story.
Learning to turn the head to the angle is a little tricky at first but once you stop trying to grab the light with both hands and just muscle it and figure out that all you have to do is take a couple of fingers and get it started then just turn it to you desired angle it really is pretty easy. I may make a very short video after I get this posted showing how easy it is to move the head and post it later. This is my favorite feature. All you have to do is first off the directions are almost impossible to understand, they make it sound like you can grab it and twist it and that is it. Well it is going to be very hard if you try to wrap your hands around it and try twisting it. The easiest way I found is almost the opposite of what the directions say. Sometimes things do not translate out very well. With the light straight hold the base of it with one hand and hold it so that your thumb is on the USB connection cover. If you look right above that USB connector you will see the bottom of the cutout. Hold it pretty firm and then reach up with your right hand and use just maybe your thumb and first two fingers and pull the head of the light to the right. Once you get that first little twist started the rest is pretty easy to figure out. You can really move the head with just a couple of fingers.
Power measure with my DMM. Rofis list the light modes as follows. Ultra-low, low, medium, high, and turbo. There is also a special moonlight mode that you can activate but, I did not measure it for this review.
Ultra-low .05A 24 lumens
Low .15A 82 lumens
Medium .42A 220 lumen
High 1.38A 530 lumen
Turbo 2.89A 1050 lumen
Turning the light on and off and cycling through the modes is very simple.
The power button and mode button are both side clicky. Press and release the power button turns on the light. (bottom, the mode selection is right above it) To cycle through the different brightness levels just press and release the mode button. When you reach the level that you want to leave it on it has a memory function just press and release the power button and that will turn the light off, and when you turn it on again it will be at the same mode or power setting you left. If you turn it off in high, then when you turn it on again it will come on in high. For instant turbo just press and hold the power button a d in just a touch over a second you activated the turbo. From there you can choose to cycle through the modes again using the mode button or simply turn it off by clicking the power button. If you use the instant turbo function and then just use the power button to turn it off it will still have your last saved mode if you turn it on normally. In other words, let's say you leave it set to low so each time you turn it on the mode is set to low. For some reason, you need to turn you light on but at its brightest. As said above press and hold the power button until the light comes on it will be in turbo when it does, holding the power button activates the instant access to turbo. When you turn it off as long as you did not cycle through the modes then the next time you turn it on it will still be set to low. For the moon light function it works the same way but instead of the power button you would press and hold the mode button. In a little over a second it will turn on in mood light mode. Same as above as long as you do not cycle through the other modes and just click the power button to turn it off your original setting will still be saved. It is the same as most just a little easier on this one with the buttons so close to each other. For the strobe mode double click the mode button, to turn it off just click the power button. Nothing to it. There is a lock out function to keep from accidently turning on in your pocket.
It is a well-made light with a very good emitter, that is small enough to carry as an EDC but enough power to light up whatever you may need. It is an excellent light to have for work spaces and you need extra light. It comes with everything you need including a very good 18650 battery and USB charging. The head of the light can be moved as far as a 90-degree angle. I honestly can't find anything other than the belt clip to complain about. I would buy it and I would recommend it for anyone looking for a light that can be used as a normal EDC or one they may need at their job like I do. For now, this will be my EDC at work.
Here are a few beam shots, sorry about the slight fog.
TR20 at highest setting 40 yards.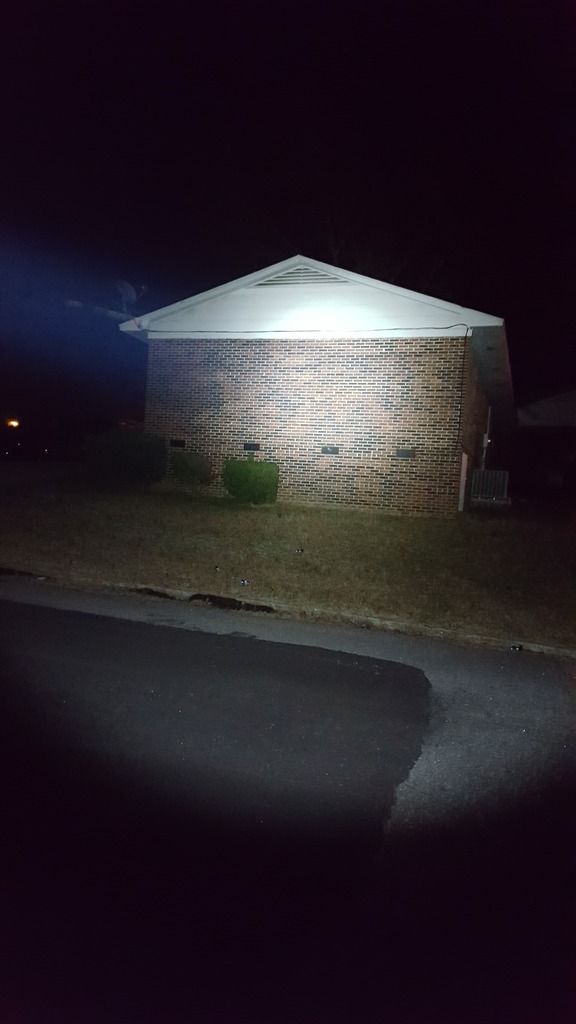 And the KR20 also highest setting. Same distaance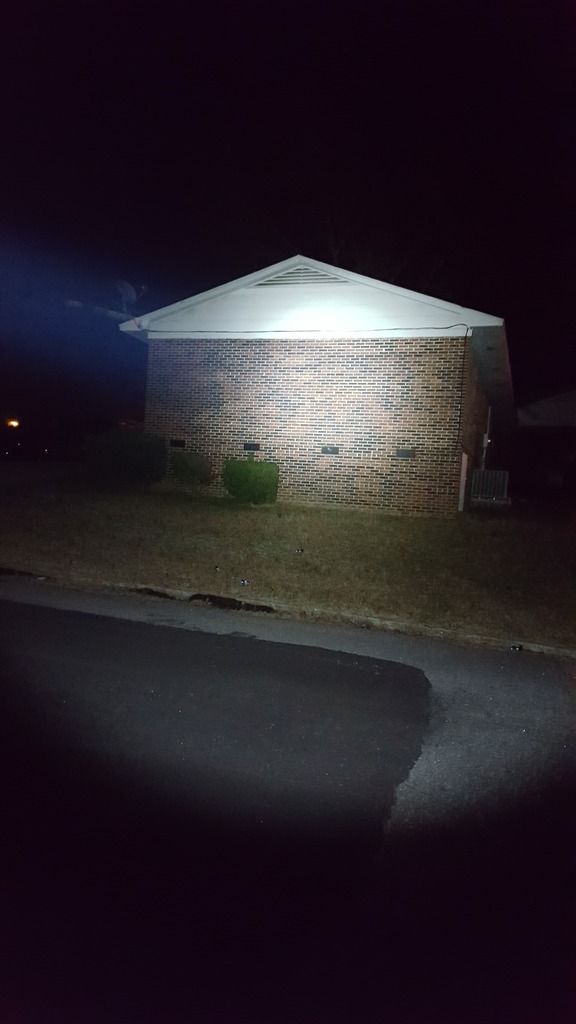 This is the TR20 this time at twice the distance about 71 yards. Keep in mind without the flashlight that is all pitch black.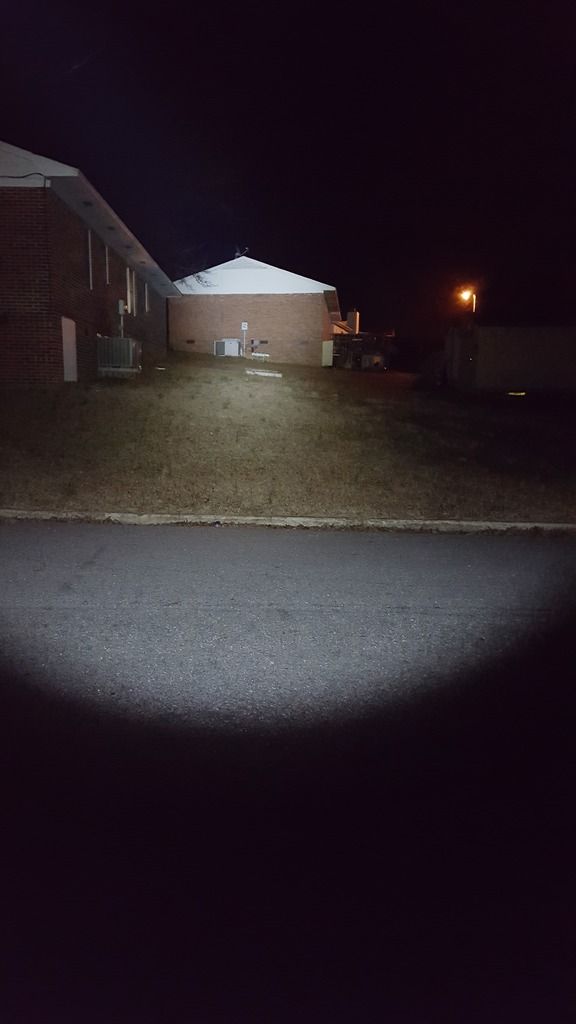 KR20 highest setting same distance.
Now some real distance this tree top is 80 yards This is the TR20 Highest setting.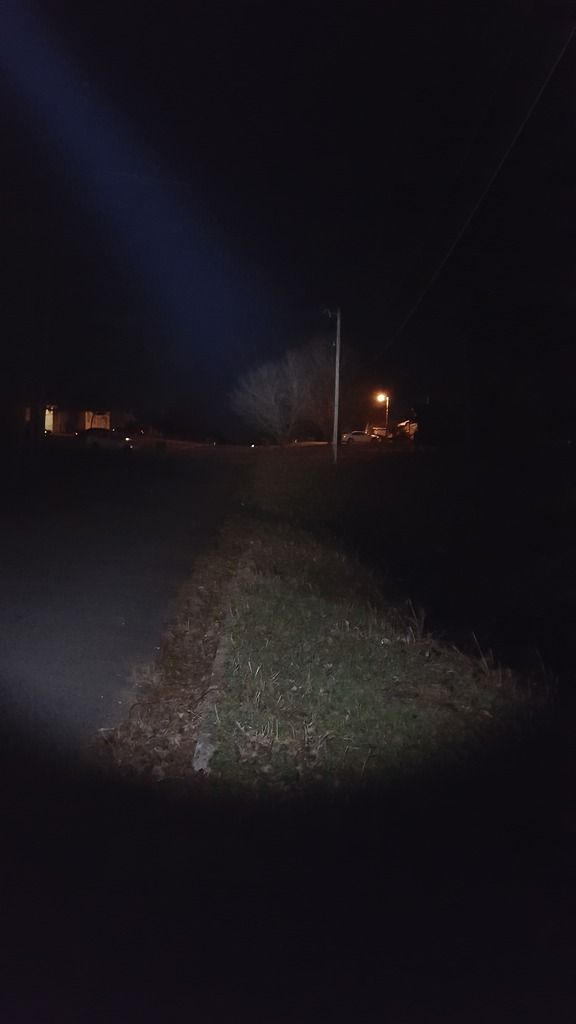 Here is where you can see the KR20 throws better same distance highest setting.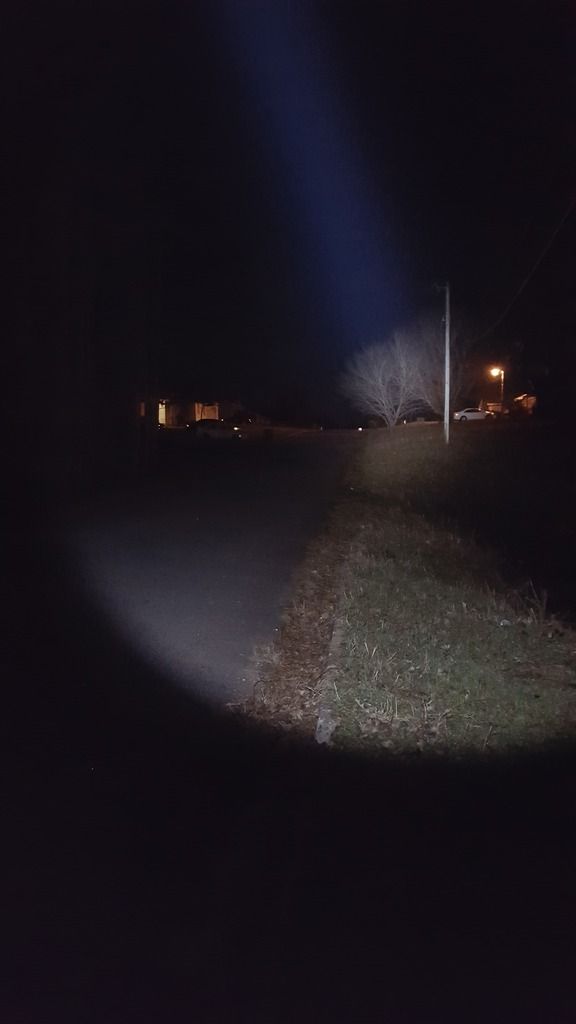 Last set, this is well over 100 yards TR20 highest setting, this is a good distance for any light with a reflector this size.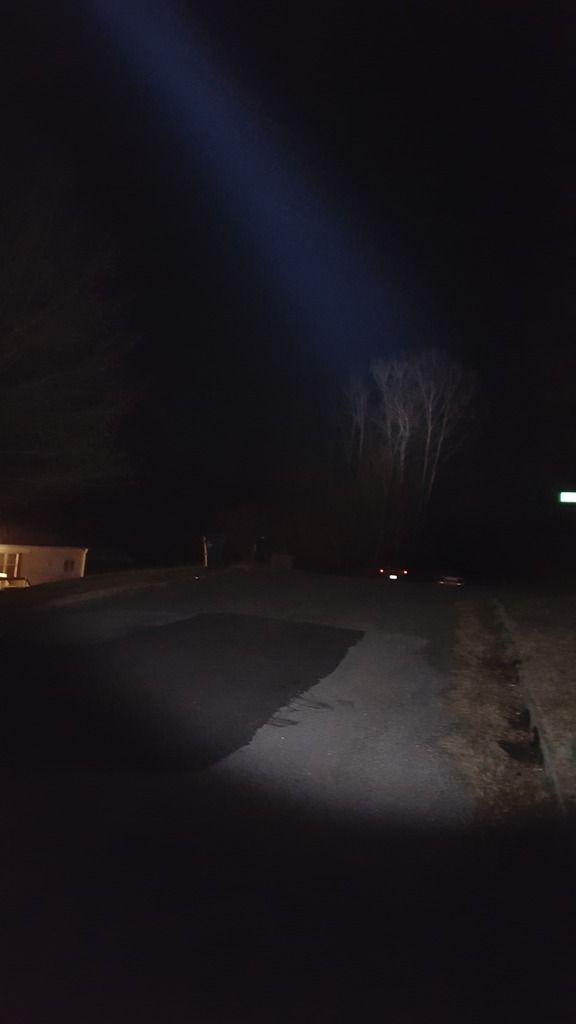 KR20 same distance and highest setting.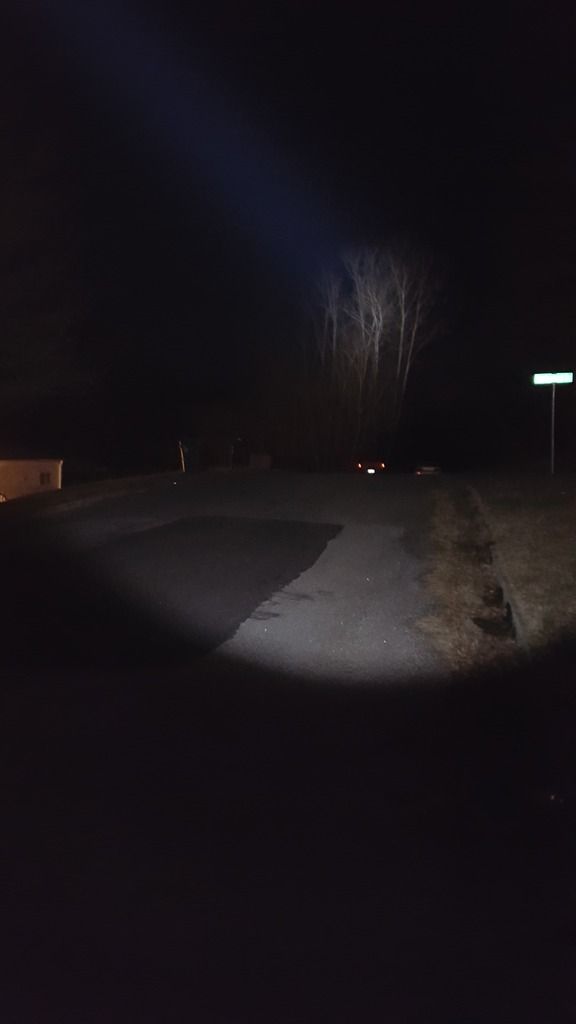 All of the surrounding light you see are from only the light I am shooting at the time. No other flashlights at all were on so all of that is from these Rofis lights.
The TR20 is a great all around light. Can be used as an EDC with no problem, easily used in maintenance work environments I have used both of these Rofis lights on my job, the KR20 is a bit bigger so I will be using the TR20 at work for awhile now. It comes with everything you need, even a quality 18650 cell and nice quality belt holster all of that and you can rotate the head 90 degrees. You will have yourself a good quality light that should last.