This is the WowTac A2S Headlamp sent to me for review from Wowtac and NO other compensation other than keeping the light I am reviewing.
Light can be found at the Amazon site ……….http://www.amazon.com/dp/B071HW5XQH or on the main WowTac site ………… https://www.wowtac.com
10% off using this code from Nov26th (5am PST) thru Dec. 25th…… https://www.amazon.com/gp/mpc/A377G7VTDVHXFG
They also have a Facebook page I was asked to mention…….https://www.facebook.com/wowtacflashlights ( ALL links are NON Afilliated)
I was also asked if I could mention the Amazon Promo they have……."LEAVE AN HONEST REVIEW FOR A5 ON AMAZON, qualified to get one FREE A1 flashlight or one 20% one-time coupon, suit for all our items, contact review@wowtac.com to get in.
You also get A 2 year maintenance warranty from Wowtac on their lights.
Now on to the review………
Wowtac has been around for a couple of years now and although they do not have tons of lights out there , the ones they have so far that I own ( i think all but the A5 so far), have all been of surprisingly good quality for a "budget light". They do receive Technical support from ThruNite and I personally feel alot of the Thrunite quality shows in the wowtac products.
The A2S is a right angle headlamp , with headband . Extra O-rings USB charging cable , rechargeable 3400mAh cell and instruction booklet included. It all came very well packaged with the outer Amazon box , large bubble wrap and the smaller Wowtac box inside that. For the "budget" price and with included 3400mAh cell and charging cable , it seems to make a really good deal on this one.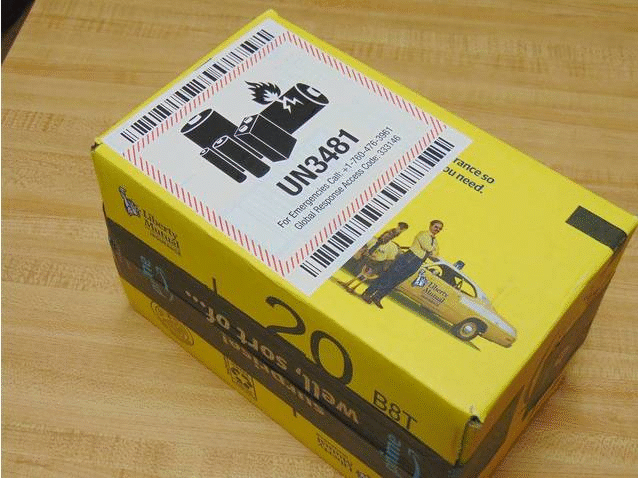 The light itself looks and feels nice to me. The Knurling and anodizing is all well done and I did not find any bare spots , pin pricks or thin spots.
The Branding (etching) is also well done on the light.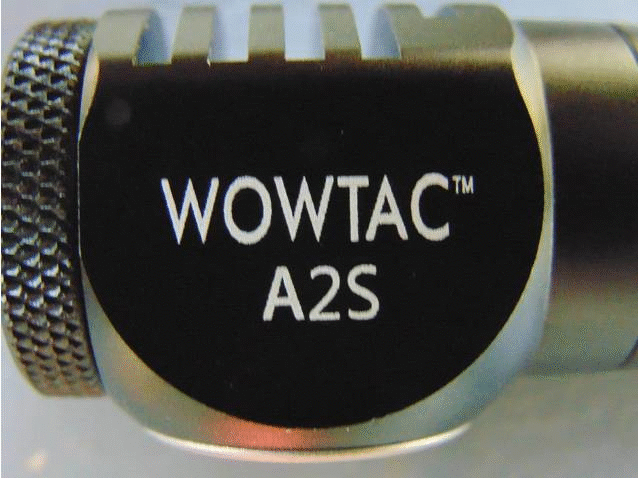 The light alone and with the headband…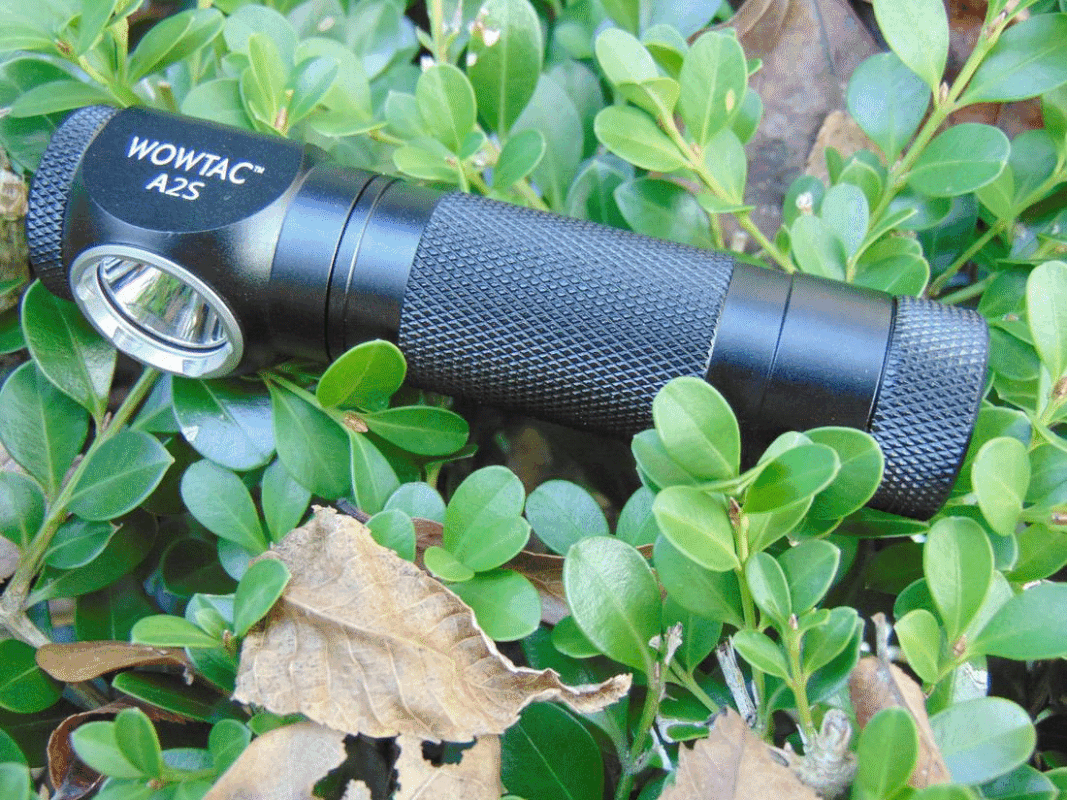 The included cell……….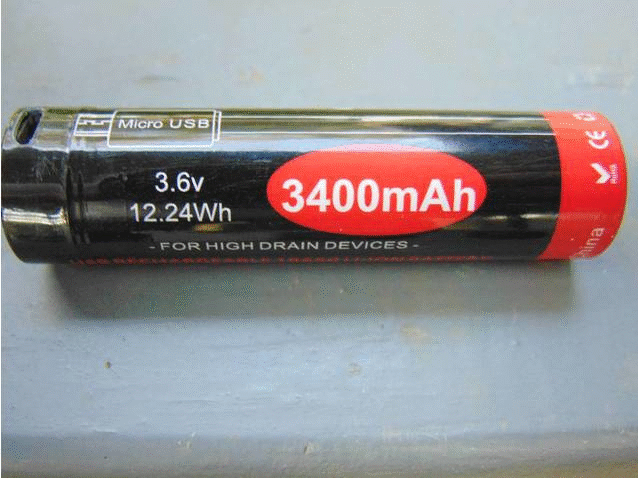 The reflector / bezel , again remind me of looking at a Thrunite product and all are very well made on my sample (s). ( received 2 of them)
The end switch and ring are well done with really nice knurling there also.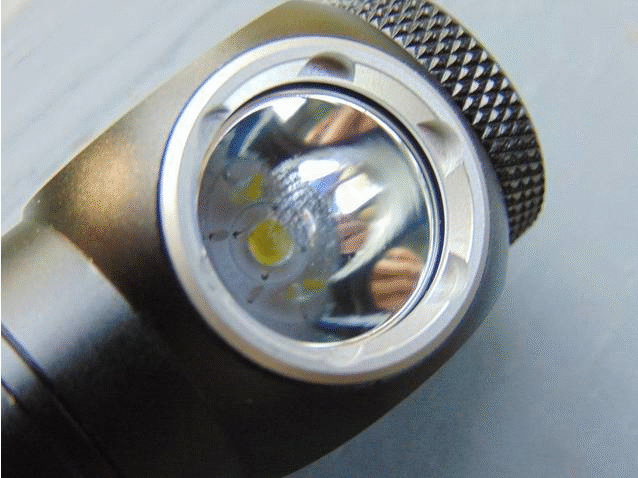 All of the threads are well cut square threads on the light.

The XP-L V6 emitter is well centered in the reflector and the AR lens is crystal clear. What fins there are on the light are well done.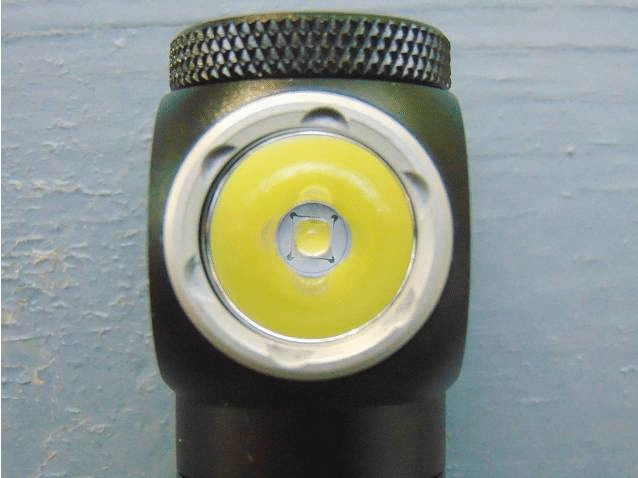 Size compared to the Olight H2R Nova and Thrunite TH 10 V2…………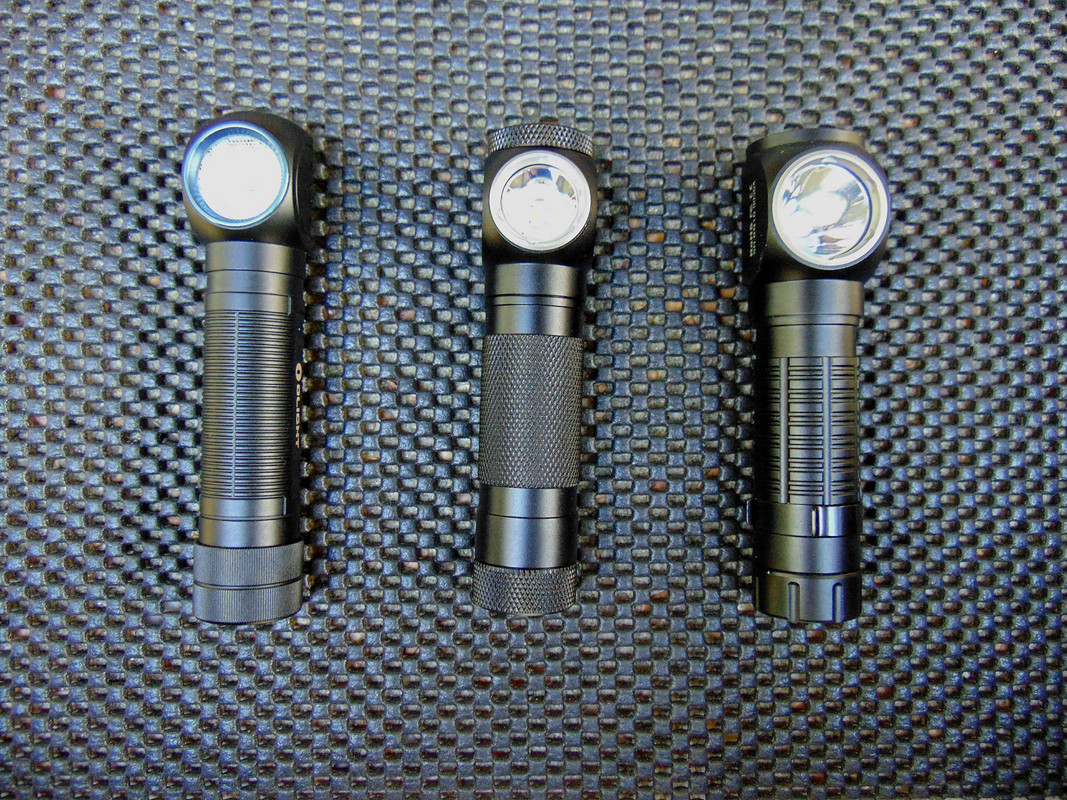 I know with the XP-L emitters , they usually have the egg yolk or greenish cast to them , but I was surprised with the sample (s) I received (cool white) as to how it does not have near that greenish cast in it like I am used to seeing with most of the XP-L emitters. Maybe I just got lucky with these 2 lights? You will be able to see what I mean in the beamshots and outdoor live video if you watch that part. If not , there are some GIF's with the beamshots further down in the review.
Also one thing I noticed with this light , is that even though they are using the USB rechargable cell , the Protected cells (such as the Panasonic NCR18650B that I tried) actually work well and maintain good contact. All of the previous wowtac lights I have , seemed to loose contact and flicker , or change modes when bumped decently using anything other than the Wowtac branded rechargeable cells. This light DOES in fact seem to work well with those longer protected cells however.
I did do a submersion test (water resistance) but I did not film that , as I tied the light off on a string and dropped it off the side of a pier down at the pond and had forgotten to take the camera with me (DUH). I tunred it on in firefly mode and dropped it over the edge at about 4 1/2 to 5 feet deep. The light was working fine when I retrieved it about 2 hours later. I found no indication of water getting inside the light anywhere. I do need to note I put a decent amount of silicone grease on the threads before I did the water test , as there was very little when I got the light.
For the drop test (impact resistance), I did it while I was out doing the live footage for the video , comparing the Thrunite TH30 and the Thrunite TH10 V2 headlamps. I dropped the A2S on to the concrete from about 5 feet high (1.5 meters) and the first drop it turned off , but I found it had landed on the switch button and came back on fine when I hit the switch. The second drop the light went off again , came back on for a second , then would not turn back on again. I came back to the house and found the CELL was the problem and NOT the light. I changed out the other A2S cell I had and the light worked fine again. I think the circuit inside the cell itself broke , as the light I dropped works with the other cell I checked it with. (as shown in the video footage).
Here are the beamshots……
3 feet Firefly and Low…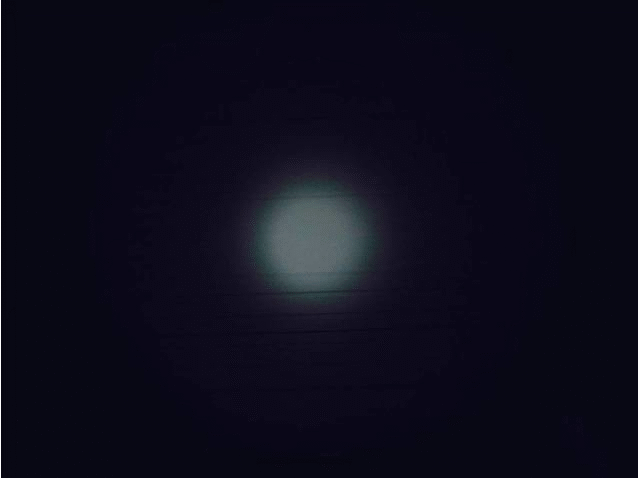 10 yards— Medium / High / Turbo…

Gate 50 yards— Med / High / Turbo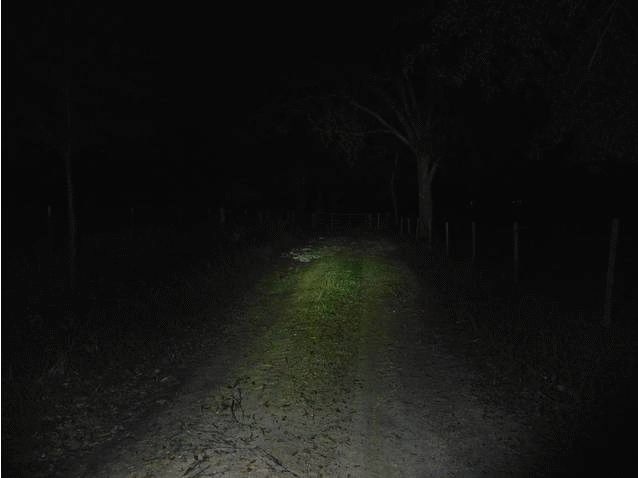 Garage 70 yards — Medium/ High/Turbo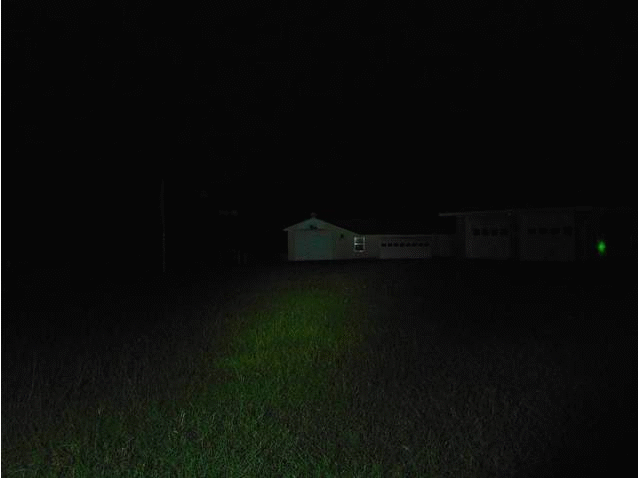 Gate 75 yards— High / Turbo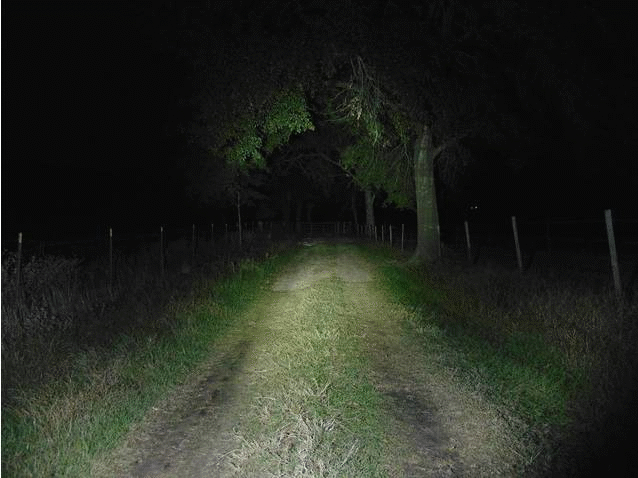 Gate 100 yards —Turbo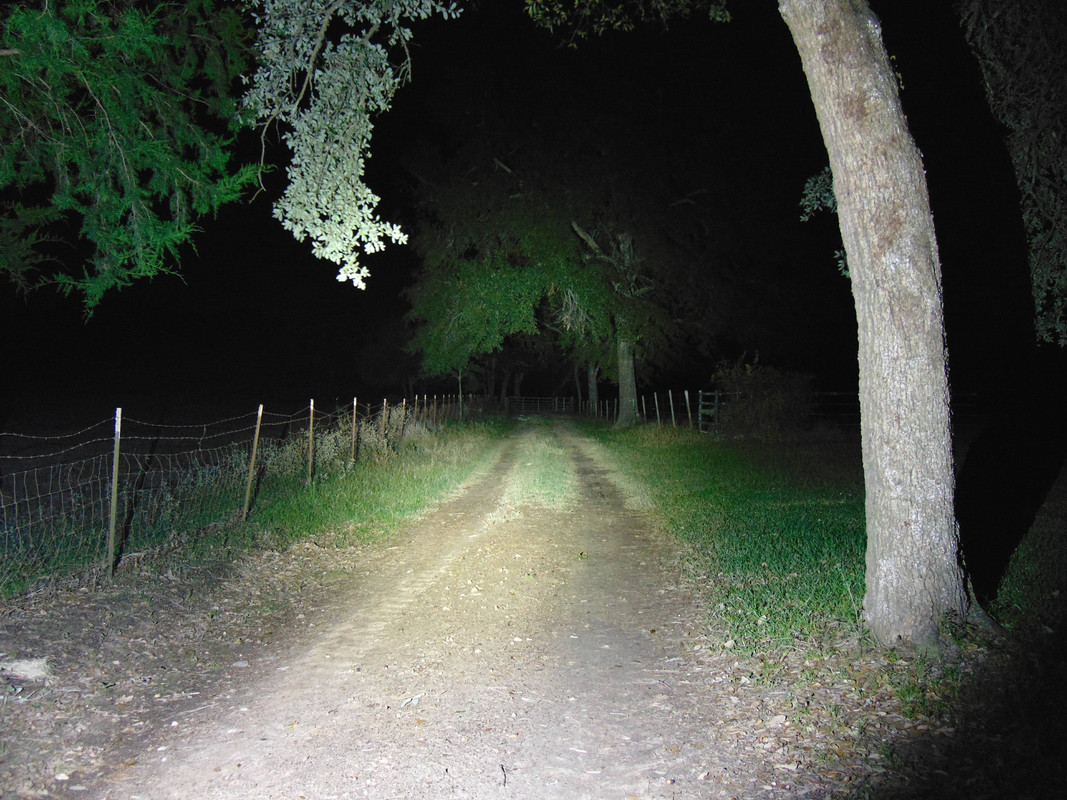 Here are the Lumens / Amperage and Runtimes from my testing…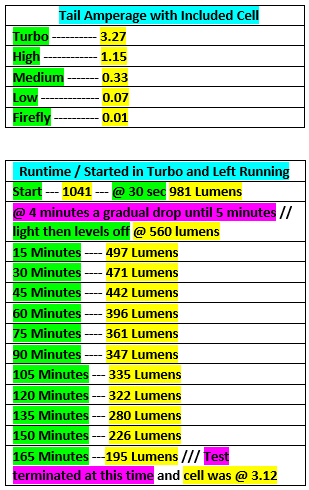 Overall for the price and what you get with the cell included , I think this is a great little light , even if it is not the most high powered light out there, it does serve well and has a pretty long runtime.
For those who may want to se the drop test and results and/or the live footage comparing the A2S with the Thrunite TH30 and Th10 V2…….those start at 10:35 and 17:15 of the video timeline.
Video followed by the listed specs……….
https://www.youtube.com/embed/S7W_wR7WTU0
High-performance CREE XP-L V6 LED with smooth reflector produces a defined small focused light pattern, making A2S has a useful spill and flood to optimize your field of vision.
• Features 5 lighting modes with extra hidden SOS: Firefly; Low mode; Mid mode; High mode; Turbo mode and SOS for long range vision & long-lasting use.
• Push button on/off switch sits on right side of headlamp, one-handed adjustment from 0.3 to 1050 lumens. Push button switch also retains memory of light output at any of the low, mid, high modes.
• Weighing only 3.8oz(without battery) with adjustable elastic headband, A2S made with aircraft grade aluminum with waterproof IPX-7, which can be used in all weather condition from all angles.
• Extra Bonus: A2S headlamp can be taken off as a handheld flashlight, with a length of 4.17 inches. 1x USB Rechargeable 18650 3400 mAh included and 30 days worry-free money back; 2 years limited warranty for headlamp; 1 year limited warranty for battery.