Sometimes if you want something 'just so,' you just have to do it yourself…
The update: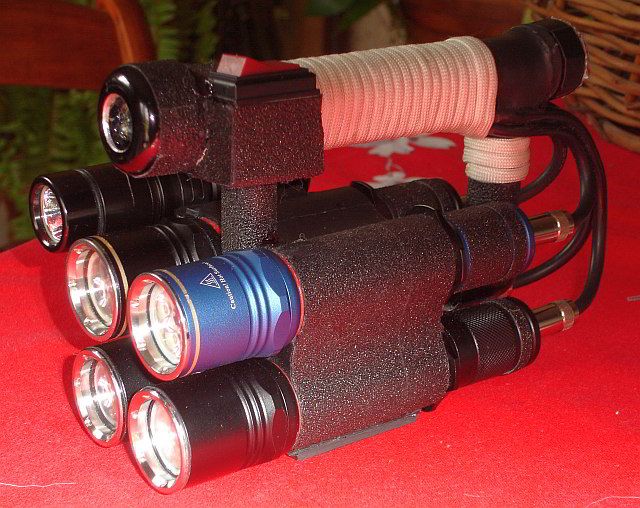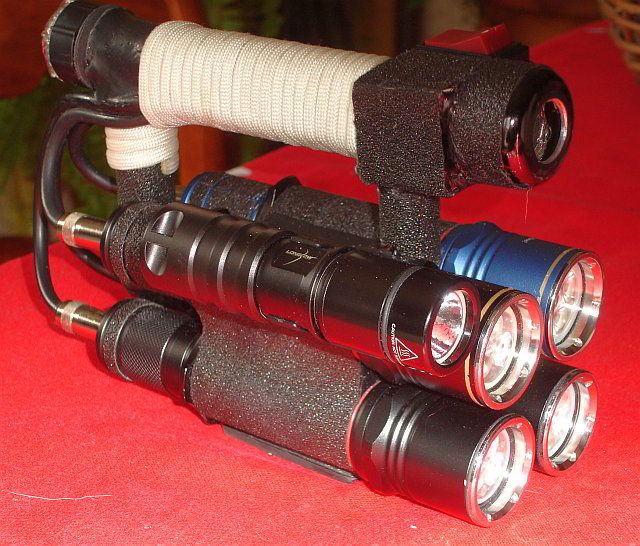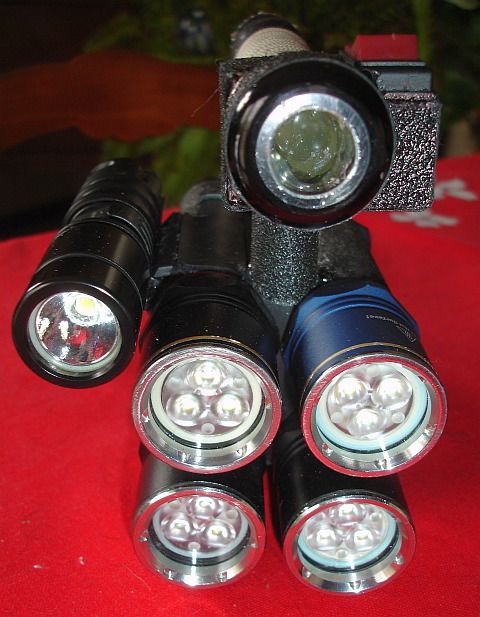 Improvements: New wiring. Changed jacks to RCA type-better contact. New paracord wrap. De-fuglified the switch area. Added vertical stiffener. Added an outrigger light (Longbow, modded with an XM-L and a 105C driver) for use as a dedicated strobe. Yes, I feel much safer and need a nighttime strobe for walking 3 dogs. Can't see it much in the pics, but I also added a little wackerific red flasher to the rear so comatose drivers see me from the rear. Plus, added a tailcap from a C Mag on the handle. (had it drilled out for a tailcap switch from a previous mod.) Right now I'm trying to come up with something to put in the hole or cover it.
The outrigger light is a Longbow, made in ~2003-4. Best source of info on that would be a CPF search. Very short-lived company that came and went, but the lights were beyond high quality; really excellent.
Much happier with this now! Or, how poor modders manage without rich boy toys, like a lathe!
The Gadget is designed specifically for night dog walks. Cops'll probably think it's a nuclear device and check me out this time when they see the thing!
(End of update, previous post below)
The fugly first try: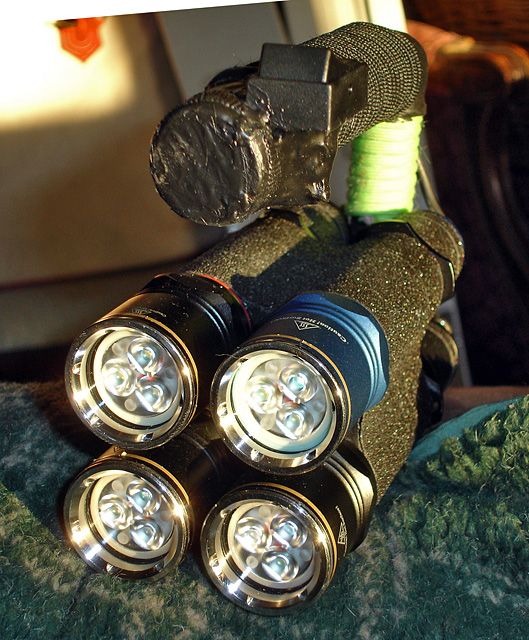 The holder is made up of four copper pipe pieces soldered together and covered with 3M non-skid tape-favorite stuff for no-slip gripping. I fabbed the handle out of PVC pipe; all I had on hand. The cigar grips (from greedbay) hold the lights in place. I modded the tailcaps to take 1/8" audio plugs/jacks (all I could think of for wiring) and wired them parallel to the switch from the parts drawer.
The lights are four of the neutral XPG triples I built a couple years ago-AMC 12-chip drivers with LED Supply 400K triples. They are not slaved together, but work fine in unison with the single switch, set up for L-Mid-Hi. Hosts are L2P's. Carclo optics are all medium frosted. Hosts are wrapped with a layer of aluminum from a disposable baking pan, just enough to snug the lights for heat transfer.
Is it a hack job? YES. All hot glue, plasti-dip, crazy glue and JB Weld, but it's solid and works! I still need to come up with something to make a tripod mount for it.
The idea is to run them at the mid setting and cut down on heat instead of using a single light on high. The thing throws out a tremendous, beautiful neutral flood with a frightening amount of light that'll probably light up a football field. And the beauty of it is that I can swap in any Solarforce host I want.
The only real chore is unscrewing things to charge batteries, but I'm not complaining!
I named it the Gadget in honor of the code name for the atomic bomb in WWII. It's about that bright!
Rich
—
"I am the flashlight king! I can light anything!"