Review/Test of XM-L Multi-cell Circuit Board, 3A, 5.5-12.6V
Driver is from Intl-outdoor.com, but he does not sell it anymore.
Official specifications
Suitable for 2*18650 to 3*18650 batteries or 26650 batteries
Suitable for 1 LED, or even 2-3 LEDs in series
Input Voltage: 5.5v-12.6V
Step-Down(Buck) driver
Current: 3A
Constant current
Modes: High-Medium-Low (100%-30%-5%)
PWM: 3900Hz
PCB diameter: 19mm
Contact board diameter: 21mm
Height: 9.5mm, 15mm with the contact board.
Leads: 24AWG
Tinned leads
Thermal management, overheating protection 55-60C
Low voltage protection
Memory function
Thermal pad included (5mm thick)
Protection functions:
Flashing 1 time every 5 seconds - High temperature
Flashing 2 times every 5 seconds - Low voltage
Flashing 3 times every 5 seconds - High temperature and Low voltage
Measurements
Tested with: 1, 2 and 3 Cree XM-L2 in series.
Diameter: 21mm and 19mm
Height: 10mm
The driver can be used with 2 or 3 LiIon batteries in series.
The driver has high, medium and low.
PWM is at 1kHz
Switcher frequency is about 460kHz
The driver has memory, the actual mode is stored when the light is off for a short time.
A fast off/on will select next mode.
Medium duty cycle 48% at 1 KHz
Low duty cycle 9% at 1 KHz
High 1xXM-L2
The driver has very good stabilization down to 5.5 volt, where it warns about low battery. This warning is only useable for two cells.
The efficiency is not that great with 3 cells, but gets better with two cells.
Up to 4 watt is lost in the driver.
The led as supplied with 13 watt and 3.6 ampere. This current is to high for the led and can be a problem.
Running the test in reverse, i.e. slowly turning up the voltage, shows that the driver starts at about 4.8 volt.
The current to the led is very smooth, only a small amount of the buck converters frequency can be seen.
Low voltage warning is two flashes, but it is only useable for two cells.
Medium 1xXM-L2
Medium is about half the current of high, in my opinion it is a very high medium level.
I do not measure the led voltage, but assumes it is the same as in high, this is necessary to do the power and efficiency calculations.
The led has about 6.3 watt in medium.
The driver uses pwm to set medium level and the duty cycle is 48%, this matches the 50% current very well.
Low 1xXM-L2
In low the current is 0.35A.
The power to the led is about 1.2 watt.
The driver uses pwm to set low level and the duty cycle is 9%, this matches the 10% current very well.
High 2xXM-L2
This driver can also drive two leds in series.
With two leds in series, the driver does some funny stuff, just before it goes out of regulation. As can be seen on the curve I measured a peak current of 4.25A.
The loss in the driver goes down with two leds.
And power to the leds is double up, i.e. 25 watt.
Medium 2xXM-L2
In medium the current peak can also be seen.
The over 100% efficiency is, of course, not correct. This is because the fixed led voltage is wrong, when the input voltage gets below about 7.5 volt.
The medium mode is about 12 watt with two leds.
Low 2xXM-L2
The current spike is also present in low mode.
The led power is about 2.3 watt.
High 3xXM-L2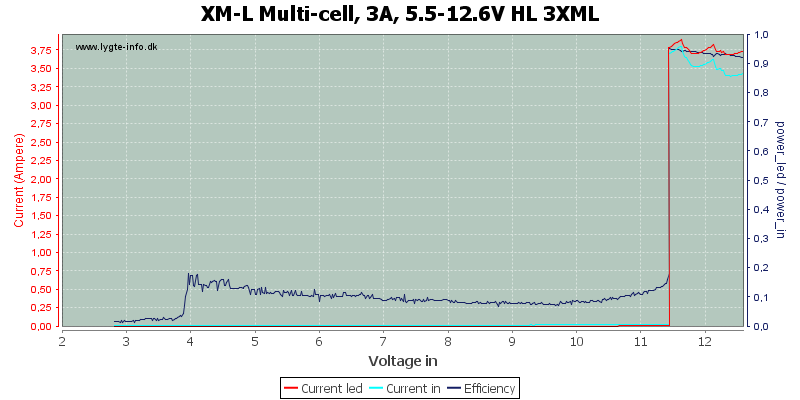 This test did not work as expected. The driver delivers a bit more current than the leds is rated for and either that or an even higher spike killed one of the leds.
The led is rated for 3A, but the actual current was between 3.75A and 3.9A.
This terminates my test of this driver, I am not going to risk more leds
Conclusion
The driver has good stabilization for one led, but does supply to much current. The low battery warning can only be used for two batteries.
Using it with 2 or 3 leds, does increase the risk of blowing the leds, due to the current spike just before going out of regulation.
Notes
How do I test a led driver
List of all tested drivers