Pic at end of post. Also on CPF.
I finally got around to doing some Mag mods at last. They were fun but not the easiest lights to work on. Once I got the TK70 and NIMH cells, the floodgates opened! Here goes:

(BTW, all lights are XM-L T6 with variously configured Shiningbeam drivers FYI) I can't afford these super drivers that would send me to bankruptcy court! All 3 lights have UCL's.

Left: 2D. Dropin started life as a dim 3X Q5 from a Trustfire. I gutted everything and swapped in new emitters. Added a 2X stacked parallel SB driver setup that delivers ~7.5A on high. Ground threads at top of dropin to make it fit in the head. Fortunately the dropin hits the barrel of the light so I did thermal grease there. Not much contact area but better than nothing. About as bright as my Skyray triple. I run it on four sub-C NIMH's. I really wanted to put this in a 3C body but didn't have another. I spritzed the reflectors with Krylon Crystal Clear, held far away, to diffuse the beam as I use this for walking. Has hotspot but not a distracting one.

Middle: An experiment but I love it! 3C "Linger" flooder. I took two bare emitters and flowed them onto one 16mm star next to each other. This setup was in a Trustfire C2 (got too hot fast) but I found that the TF pill fit perfectly into a copper plumbing sleeve and the lights went on to do this mod, as the sleeve in turn fit right into the C mag tube. So I tapped it into the Mag, and jammed the Trustfire pill into the copper sleeve. Hack job but works fine. Driver is a Shiningbeam stacked with 5 extra 7135's and delivers ~5A on one IMR 18650 rigged in with a plastic sleeve and spacer I made up. I fitted the original Mag reflector and used Krylon matte coat to dull it. This light is another wonderful walking light as it has almost no hotspot (slight) and evenly floods a huge area in the immediate vicinity where I don't have to keep panning back and forth. I wanna do another one with XML neutrals-that'd be the cat's meow!

Right: My baby! First off, many thanks to Techjunkie (CPF) who put up with my ranting and raving while getting this thing working. I followed his instructions, using 3 Shiningbeam drivers, stacked, wired in the same way as his Everyman's Mag. The problem was, I was trying to use 3 cells instead of four as I really wanted to get this into a 3D body. Not to be-as soon as I added the 4th cell everything came alive. I used Ledil MC-E reflectors on a heatsink from the Sandwich Shoppe. (the few they have left) As a cosmetic touch, I fashioned a plastic trim piece to cover the spaces between the reflectors from an old credit card, sprayed flat black. The brightness of this thing is insane, easily keeping up with the TK-70 but much floodier with a really big hotspot with nice gradual transition-just how I like it. I run it on four Tenergy D's, the ones from the TK70. Runs almost 10A on high, turns everything into daylight!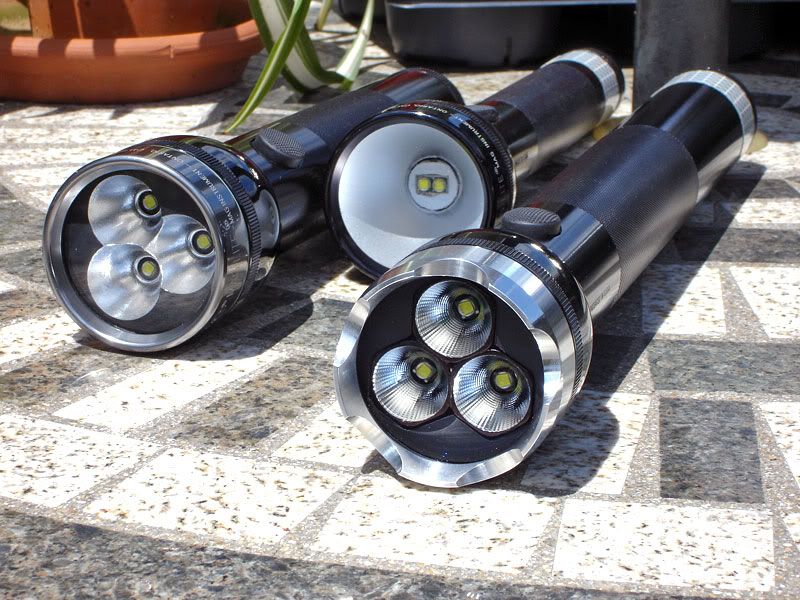 Enjoy!
Rich
—
"I am the flashlight king! I can light anything!"