This driver is a derivative of the AxxDD-SO8 series.
It is intended specifically for multi-cell e-switch applications where the "Zener Mod" would normally be employed. As we've discussed in the past, the "Zener Mod" is terrible for momentary lights. It has a giant parasitic drain and can pull your cells down to damaging levels in a matter of days. Therefore it's inappropriate for things like e-switch MT-G2 bedside table lights.
The solution is also well known, but nobody has gotten around to making and publishing DD or 7135 drivers which feature it… an LDO regulator of the LD2981 / MIC5235 / LT1761 / TS5205 style. I slapped this together very quickly this evening, so it may not be functional or beautiful.
All design goals from A17DD-SO8 have been maintained.
Many of the LDO regulators which fit this footprint have reverse battery protection, so I have removed the polarity diode. Clearly if you use an LDO without polarity protection you do so at your own peril.
This does not eliminate parasitic drain on the cells. It only significantly reduces it. I am not aware of any momentary light which does not have at least a small amount of parasitic drain.
A17DD-SO8+LDO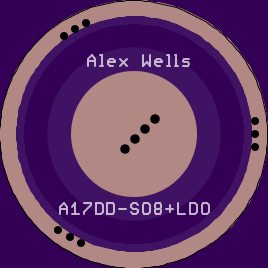 https://oshpark.com/projects/BfnsDVc4