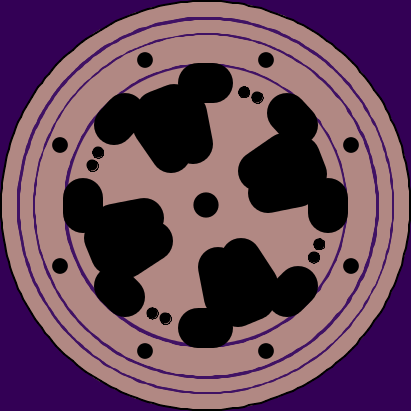 "~~**v13 - https://oshpark.com/shared_projects/VI4y6Ihm**~~"
EDIT: See post #14 or later for current version.
This is the latest major revision of my multi size contact board. The contact boards we traditionally used waste a lot of space and typically do not allow you to make what I consider a clean install. It also affects your ability to properly cool anything which heatsinks onto the ground ring.
As an alternative I suggested an adapter ring style board, like this:


26mm to 20mm
From there I fleshed the board out with tabs to allow (relatively) easily filing the inside to accommodate a 17mm driver or a 20mm driver. I also added guide rings to allow filing down the board from the outside for 26mm, 24mm, or 22mm. If you want 23mm you'll still have to eyeball it


26mm to 17mm
The current revision, v013, has a four-spoked center area which is attached to the the actual ring with [my attempt at] break-routing tabs. I used two 0.7mm vias to create the break areas. The center of this section has a 1.6mm (~1/16in) hole for use with a dremel mandrel. You can easily use it with a larger mandrel by drilling the hole out to your desired size. At that point you just press your file against the board and go!
A friend of mine suggested this change after I showed him the design, I think it's a good idea. The implementation may not yet be perfect.
The thread to check about earlier versions of this board is Cereal_killer's 26mm board request thread. Pics of a MK1 22mm to 17mm board are here.