I thought I would take some measurements and share them comparing 3xAAA carriers, 4xAAA carriers, and 26650 cells.
Some 26650 lights also state they will run on 3xAAA's (example: SkyEye F13, Poppas W-878 or Ultrafire Version). Some 26650 lights state they will run on 4xAAA's (example: UltraOK HD2010-looking light on Ebay). It has been my inclination that many lights that are 26650 sized could run on 4xAAA's (at least NiMh, possibly alkalines for a short time). I believe 3xAAA's could be used at times, but 4xAAA's would help overcome some voltage sag. I'm unsure how the extra voltage comes into play. These lights run on medium or low wouldn't cause too much voltage sag and I suppose some drivers handle the additional voltage better than others. I'm not sure how much of a risk it is to try 4AAA's in a 26650 light, so proceed to do so at your own risk.
My measurements were taken with the only 4xAAA carrier I have (from the Ebay Ultra OK light listed above), a 3xAAA carrier that came with the Poppas W-878, a protected Trustfire Flame 26650 (from FastTech), and an unprotected King Kong INR raised-top from Int'l Outdoor Store. I measured at various spots looking for the largest measurements. Carriers were loaded with Rayovac NiMh pre-charged cells. If I remember correctly, the 3xAAA carrier has it's widest measurement with cells loaded, but the 4xAAA carrier is widest at the diameter of the carrier itself.
3xAAA Carrier: 22.2mm
4xAAA Carrier: 25.5mm
TF Flame 26650 Protected: 26.3mm
King Kong INR 26650 Unprotected: 26.35mm
I also took a couple measurements of inside battery tube diameters of two 26650 lights (smallest diameter measured on each):
Ultrafire HD2010: 26.9mm
Trustfire A8 (BLF Edition): 26.7mm
As you can see, 4xAAA carriers (assuming other carriers are not much wider than mine) should fit in 26650 sized lights with little rattle. The 3xAAA carriers rattle a lot inside 26650 lights (my Poppas W-878 for example as seen below).
Some photos:
3xAAA on the left, and 4xAAA on the right:
Again 3xAAA on the left, and 4xAAA on the right: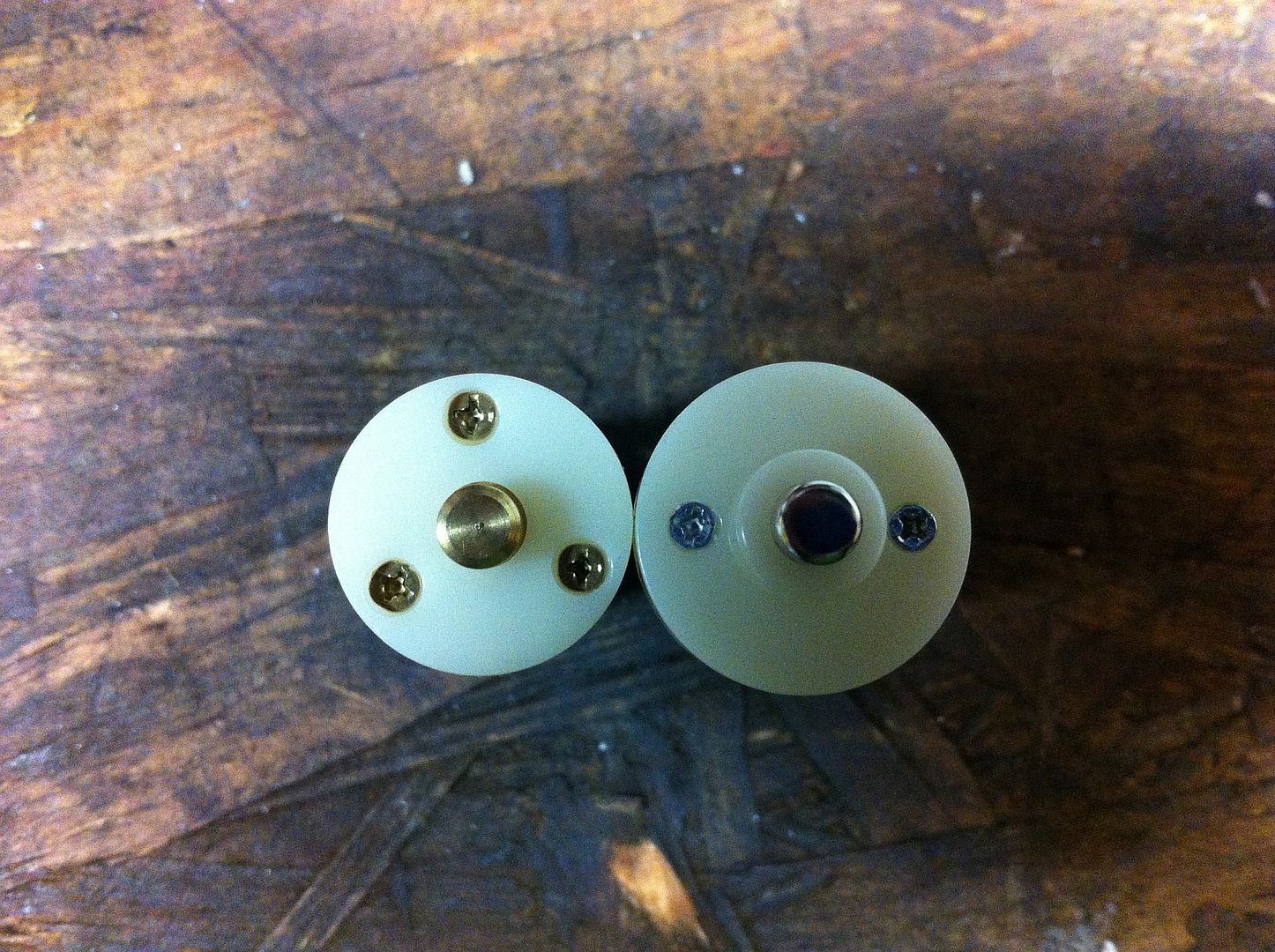 4xAAA alongside TF Flame & King Kong:
Showing the slop of a 3xAAA Carrier in a 26650 light:
I am not proposing we all run our high-powered 26650 lights on 4AAA NiMh's instead. I am simply saying that 4xAAA NiMH's are a viable alternative, especially for non-flashaholics or people that can't be trusted running Li-Ions. They also provide an alternative in a situation where you don't have access to 26650s, or are unable to recharge them (i.e. out camping where a camp store or local shop has AAA's available).
Any thoughts? Would anyone like to provide input about the voltage issue (i.e. voltage of 4xAAA alkalines being used in low or medium mode)? I know the Poppas W-878 uses a driver which is direct-drive on high and I don't know how it would do with 4xAAA alkalines or NiMh's (though I suspect they would sag enough to not be an issue).
-Garry