I just received the Convoy 3x21A SFT-40 6500K today, paying full price (no free review sample or discount, etc.). I haven't bought a Convoy light in quite a while but I do own, and sold quite a few earlier Convoy's. Many of the new models are re-labeled older models, but with different LED's and drivers, so I wasn't too impressed with many, since I've modded most Convoys with drivers and LED swaps to my liking anyway.
Some first impressions:
overall excellent quality - clean outside and inside the reflector, fit and finish is there
threading is Convoy quality (excellent)
nice SS bezel, AR treated lens, nice threads, nice anodizing, good grip, relatively heavy
interesting there's nothing included, except for the flat top adapter, but no lanyard, no spare o-ring, no manual
The SS bezel has softened edges, except where the notches are for fitting a tool - very sharp edges at all 4 of these machined out notches
The dimensions and weight as listed, match up well to what I measured:
69 mm head diam, 158 mm length, 570g w/no batts, 777g w/batts
If I don't compare the beam to other lights, I would say the tint is pretty clean, and a decent white. But side by side with ~5000K LED lights, it does have some green/blue coloring that shows, but no tint transitions like you see in the CREE xxx.2's.
This light has deep reflectors, reducing the overall flood area width but brightening it up as well. You can see that in some of the beam shots below. They did a good job in maximizing the reflector widths in bringing the outer edges of the reflectors right to the bezel, but they could have been made even bigger by increasing the overlaping which reduces the walls between LED reflectors. Other multi LED reflectors are designed that way and it seem to work well.
I haven't seen much in measurements or specific details on the driver on the new Convoy's, so I thought I would delve into that here, and add to this OP as I learn more. From the start I found Simon's listing intriguing, spec'ing lumens, throw and amps, but adding verbiage like "theoretical" and "for refence only", so making it as non-committal as possible.
References
Interesting review of 3X21A w/SFT40 (in Mandarin): https://www.bilibili.com/video/BV1kw411R7jm(link is external)
Beamshots start around 11m 30s. Credits to TLF member helicoil who frequently discovers latest news on Baidu.
Measurements
For the amps measurements, I only used a single cell, a charged 30T solder top without the battery tube, so the spring loss's are not included, but with 3 cells, the amps would probably be higher than 1 cell. This is all on the stock light, out of the box.
Amps at tail of the 30T cell:16.8 amps
lumens: on charged 40T flat tops w/adapter: 5515 at start, 5220 at 30 secs (mauuka calibrated #'s)
throw: taken at 5 m indoors: 286 kcd (1070 meters)
parasitic drain: 32 uA (nice and low!)
Comparison with a couple old lights of similar size, the FandyFire SP03 and SupFire L1: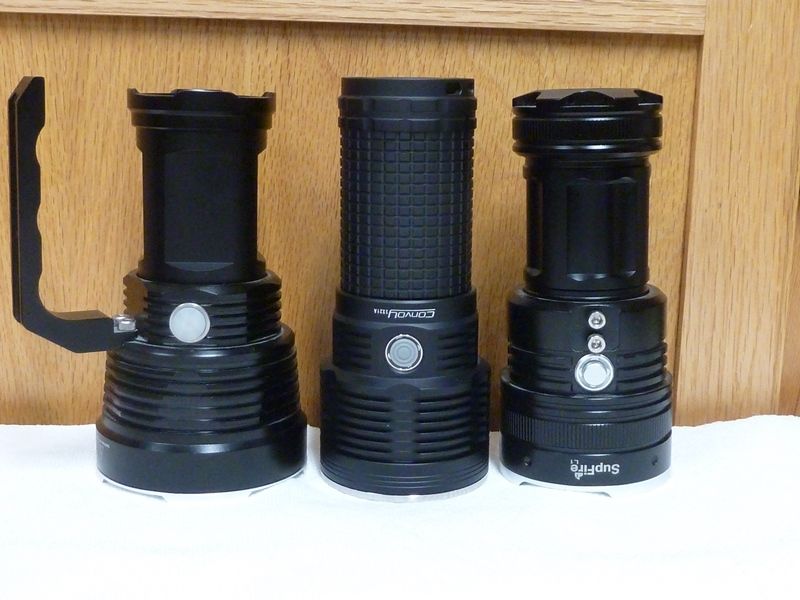 It's quite large compared to a standard BLF Q8: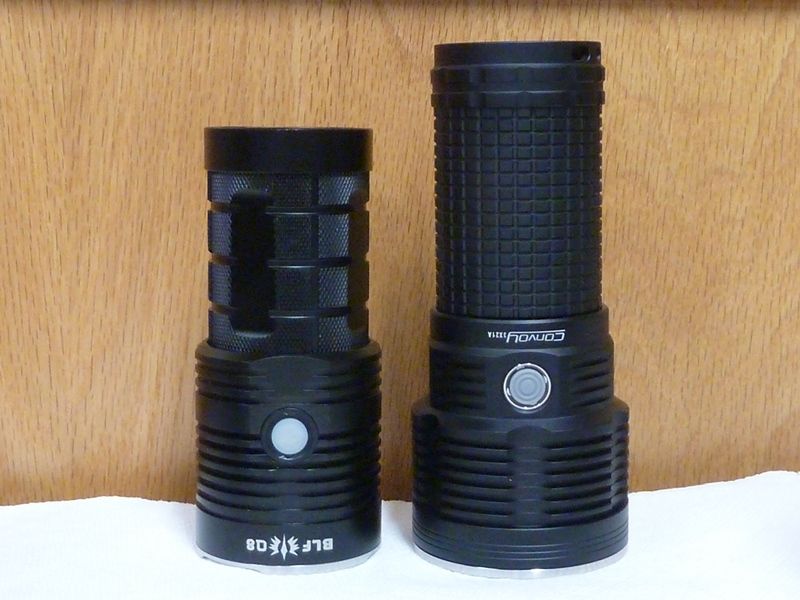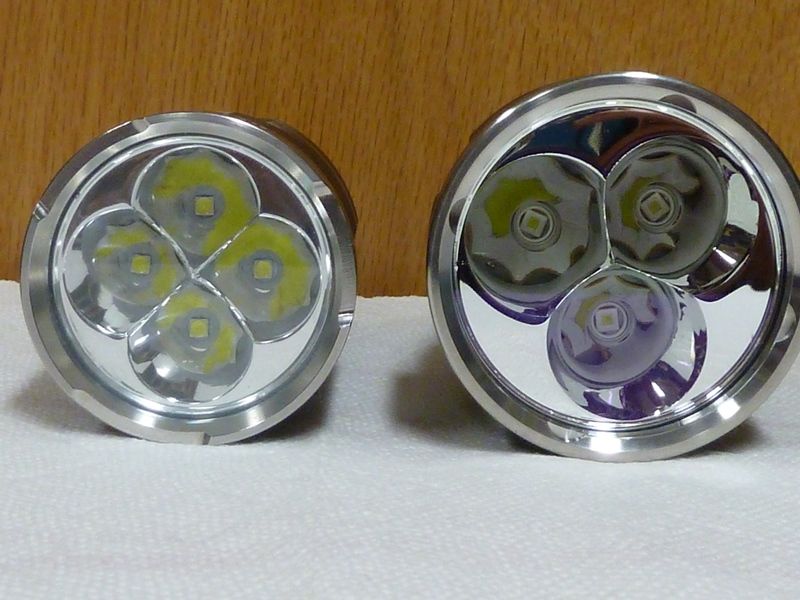 Comparing the Q8 XP-L V6 3D, ~5000K, (left) with the 3X21A (right). This is where it gets dicey. Clearly the SFT-40's are showing green in these pics, maybe a little more than in real life but I can't deny the green can be seen: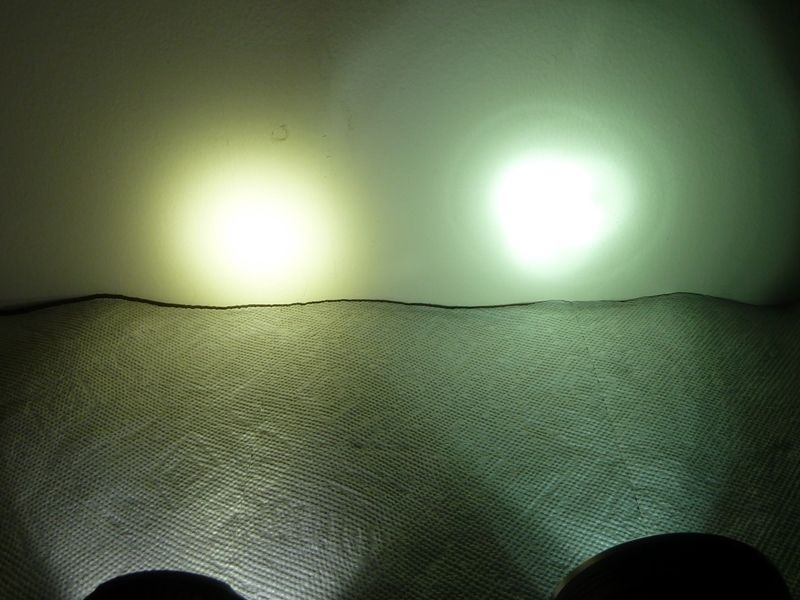 By themselves, Q8 first:
Now compared to a SST-40 6500K light, BTU PK26 on left: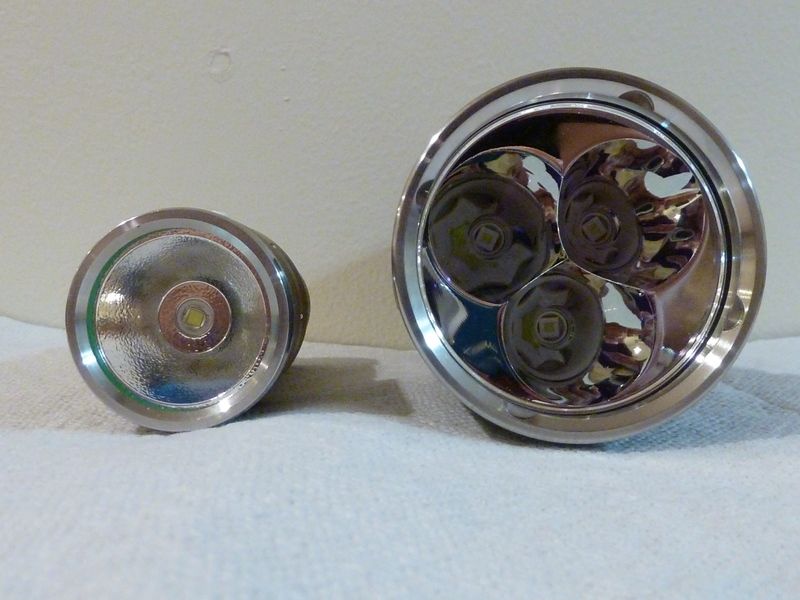 The PK26 always looked blue white to me in this light, but the 3X21A is still showing a strong green. It really doesn't look that green green as the pics are showing: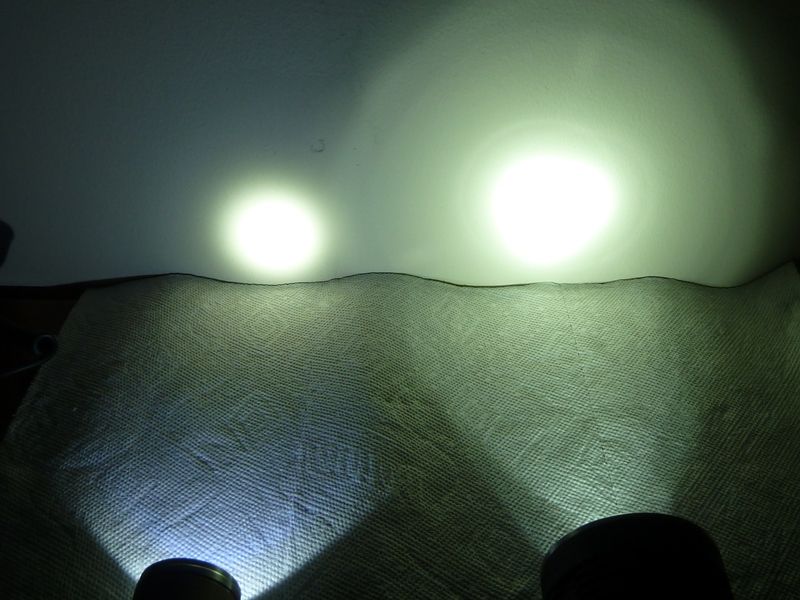 The 40T's are about as tight as possible, still the tube is slightly wider than a 4x18650 setup: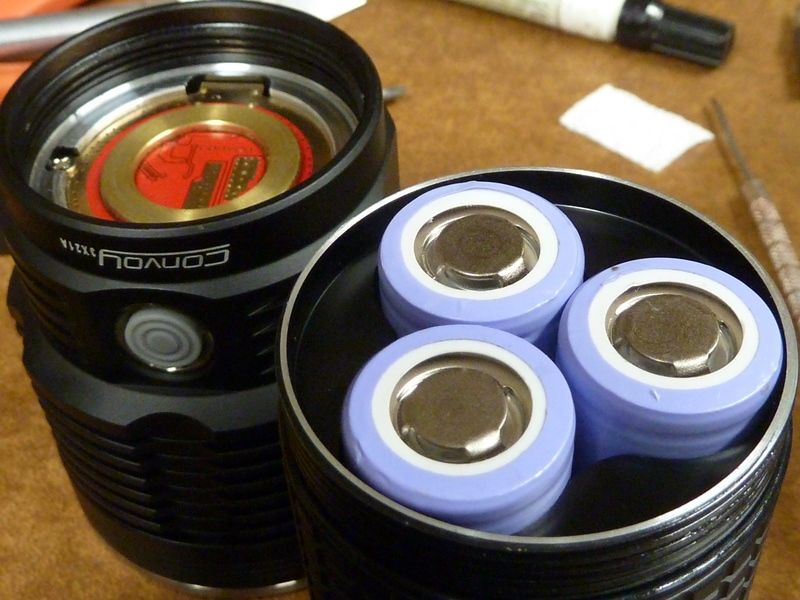 The driver - really like what's done here to make it easily accessible, removable. 2 screws in recessed positions, easy as could be. No driver wear (like on a Q8) since the battery tube makes contact to the bare aluminum of the housing. I really like this simple design: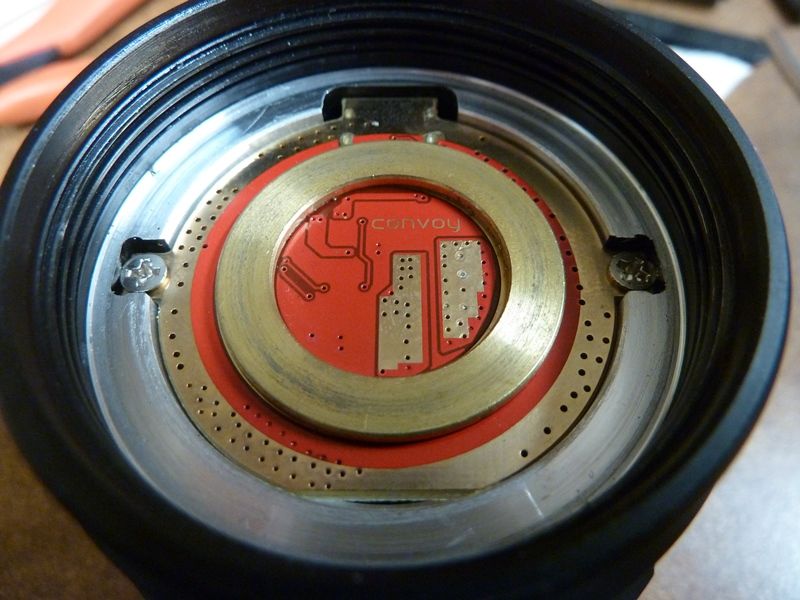 The driver shown below - didn't have to remove any wires to get this picture, just tilted it out. Interesting design. I believe the 2R2 coil is part of the USB charging circuitry. The 4 FET's in parallel is the most I've ever seen in a driver - this is probably the main high amp circuit. There's probably a low amp circuit as well, but I didn't trace it fully yet. What's obvious here is those two low value big resistors (0.02 ohms) sitting between batt- (ground) and the ground input to the FET's - these resistors act as an amp suppressor to limit the max amps. Of course my first thought is to simply jumper the resistors out to boost the amps, because ~17 amps for 3 SFT-40's is limiting. There could be easily 24-27 amps feeding the LED's, and lumens in the range of 6500 instead of 5200, and kcd would get an equal bump in percentage as well. Also the springs don't look like quality springs - bypasses need to be added. The bypasses alone should boost amps based on this driver design, unless there's some current sense resistor circuitry I didn't notice.
The LED wires are thick ones, I'm guessing 16 AWG - this is well chosen.
I'm not a fan of this UI. It's ramping is clearly linear and goes way too fast at low levels and way too slow at high levels, so my preference in modding this light would be to add a piggyback driver and remove the driver components off the board, trying to keep the charging circuit in tact. It looks do-able at this point.
I did test 40T's with solder tops and no adapter and actually got slightly lower output #'s. This could be from a difference in cells, or perhaps with the adapter there's a bit more spring compression that lowers the spring resistance. More evidence bypasses may get a nice bump.
The adapter I got is pretty beat up. I had to trim some plastic slightly covering the brass buttons to ensure good contact. Here's what it looks like, cracks and all, out of the box. Though it looks pretty bad, it's still usable, and I have enough 21700's with solder tops to not use the adapter anyway:
I'm not fond of the dimples in the center of the brass buttons. I'll sand those out. The more surface area of contact, the better.
Both sides have the dimples.
That's it for now. I'll be adding more info, and modding details.