I need some help in fixing cheap-but-good headlamps.
Background
I live off-grid, and spend a lot of my time outside, even in the dark. I cook outside except when the rain is too heavy, and I don't let darkness stop me.
LED headlamps have been the best tool ever for this, and they are amazingly cheap.
My first find was these Q5 headlamps, using 3XAAA batteries. They last a long time between charges, and despite being cheaply-made they are amazingly durable. At US$6.90 a piece, they are a fraction of the price of the grossly inferior lights available in the shops, and cheap enough to keep a stash of them to give them away as presents. The AAA batteries allow the use of alkalines, or nice safe NiMH rechargeables.
A few months ago I discovered some Cree XM-L headlamps for only about US$15. These are astonishingly bright. On their lower setting, they are like as bright as I could possibly want for cooking, and at full power they turn an unlit shed into daylight. The heads are fairly tough (survived lots of bumps), and the whole thing fits comfortably on my head. When they work, I couldn't want better (tho a low-output mode would be a nice tweak).
The problem
The XM-L lights have a design flaw in the battery carrier. The contacts are not springs at either end, just thin metal folded downwards (which you can see it in the pictures on the advert, below).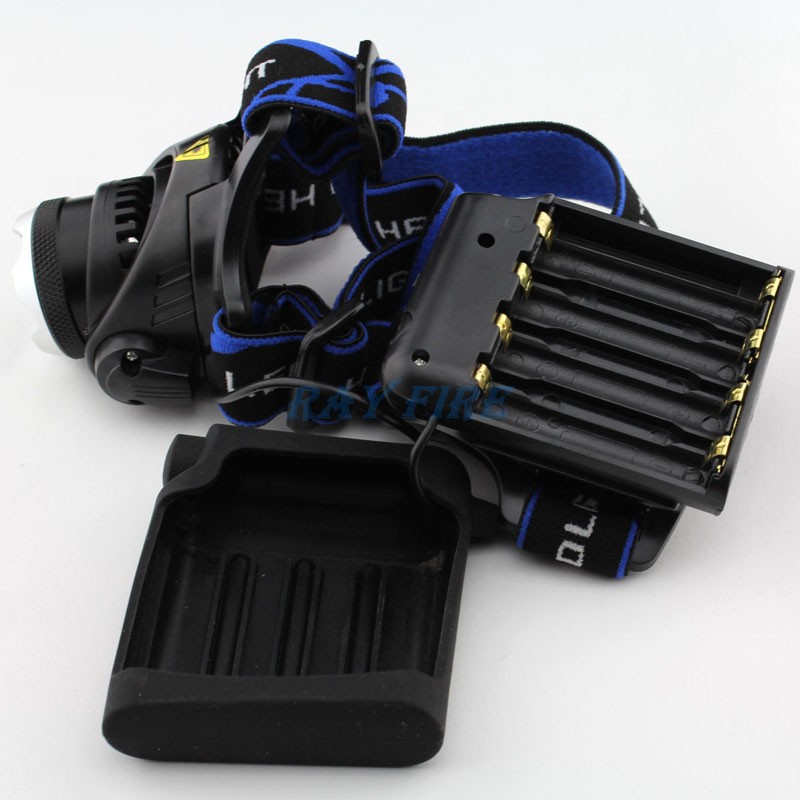 So after several changes of my NiMH batteries, the folded metal contacts start to fatigue, and then break off, killing the light. Part of me says that this is to be expected with such cheap lights, but the rest of me says that there must be some way of fixing this one weakness in an otherwise excellent headlamp.
The best idea I have had so far is to break off all the folded metal contacts, and replace them at each end with springs. However, after breaking off the folded metal, the total clearance between battery ends and contact board is only about 6mm … and the smallest spring I have found so far are these 7mm diameter/10mm height springs from FastTech. Trying to squish a pair of 10mm springs (one at each end) down to 6mm seems to me to unworkable.

So I'm not sure what to do. Buy the 7*10mm springs and cut them down? Find smaller springs from another source? (Where?)
Alternatively, any suggestions on where I could buy a separate 4XAA battery holder with built-in switch and driver?