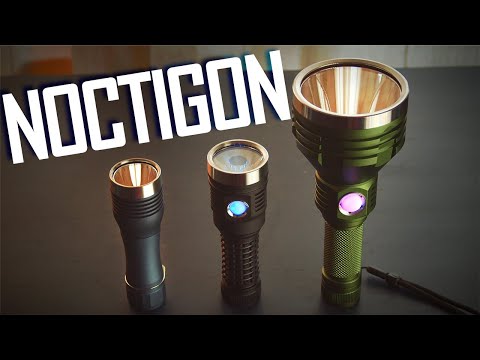 Here is a video I put together comparing the three (currently available) throwers from Noctigon. - The KR1, the DM11, and the K1.
Note this comparison doesn't cover the DM1.12, as the throw channel in that light is identical to the DM11.
This video is a more general comparison of the three different lights, with a discussion of the available LED options.
A couple things I wanted to note:
The Wurkkos TS30S is seen briefly in this video to show off the Luminus SBT90.2 - While I didn't discuss this light in the video, it is one that I highly recommend as it offers the SBT90 while coming in at $70-90, depending on sale price. It's an Anduril thrower with a FET+7135 driver that fits right in between the DM11 and K1 in terms of size, and I would recommend it over the K1 with that LED, as it has a much nicer form factor in my opinion.
Rather than the SBT90.2 in the DM11, I recommend the Emisar D4SV2 with 4x Osram CSLPM1 (W2) LEDs, as it will provide a very bright (5k+ lumens) and throwy (100kcd) beam with great neutral tint and 5700K color temp. It's less expensive than any of the Noctigons with an SBT90.2. It will probably also be available in a boost driver variant.
This video doesn't really go into the advantages of the boost driver. While it does offer better efficiency, in the case of these single-emitter lights the driver is tied to the choice of LED, so it's not going to be a primary deciding factor for these lights. However if Hank ever offers a buck driver, things will change…
---
Beyond just this video, I wanted to put together a more thorough list of these lights' actual specs, as measured by other reviewers. In the second post of this thread, I'm going to list the three lights and their specs which every LED option that I can find measurements for, with links to the respective reviews.
If you have any light/emitter combo not on the list and can take measurements, please contribute in the thread below! This will hopefully be helpful for anyone looking to compare the various lights with detailed info.