Single-sided dual-channel driver board for 4x 7135 and OTC.
Q1 is connected to Pin5, Q2-4 are connected to Pin6. See here for the single-channel version HQ4S.
This driver replaces the Nanjg101 and NanjgAK47 driver, removing the stars, but allowing dual channel and an OTC that does not obstruct the ATtiny13A. Greatest advantage is the Oshpark option of 0.8mm PCB, giving extra room in tight lights.
The board is slightly oversized (17.6mm) to compensate for the 0.3mm missing copper on the edge of Oshpark boards. The result now is a 17.6mm PCB with a copper GND ring of 17.0mm (and the need to file down the board in most cases).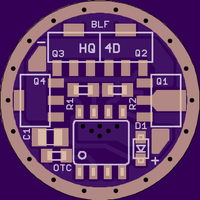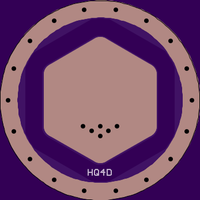 .
.
.
Partlist
MCU: ATtiny13a-SSU
Q1-Q4: AMC7135
D1: Schottky ~0.25V, SOD-323
C1: 4.7µF, X5R or X7R, 0805
OTC: 1µF, X5R or X7R, 0603
R1: 19.1k, 0603, (see comment)
R2: 4.7k, 0603, (see comment)
.
Annotations
The circuit follows the Nanjg drivers, so the resistors for low voltage protection and C1 are behind the diode. A Nanjg can be used for harvesting parts, although R1 and R2 in my board have a 0603 footprint, but the stock Nanjg105 resistors (0805) do fit if soldered carefully.
Other combinations of R1/R2 should work, if you either keep the ratio of ~4.06 (I use 33k and 8.2k) or adapt the LVP values in the firmware.
The AMC7135 #1 (Q1) has a large solder pad under the GND connector for better heat-sinking to further minimize the risk of a flickering Moon mode.
You can use either 350mA or 380mA current regulators (Q1-Q4), but I recommend 350mA at least for Q1, as these seem to be more reliable in low PWM modes.
The 7135s that you can buy or harvest can behave quite differently at low PWM levels. I get consistent results for a chosen combination of frequency/PWM-level when I use regulators as identical as possible. I already stock a certain batch seperately only to use them as Q1 in dual-channel drivers.
.
.
Back and Front: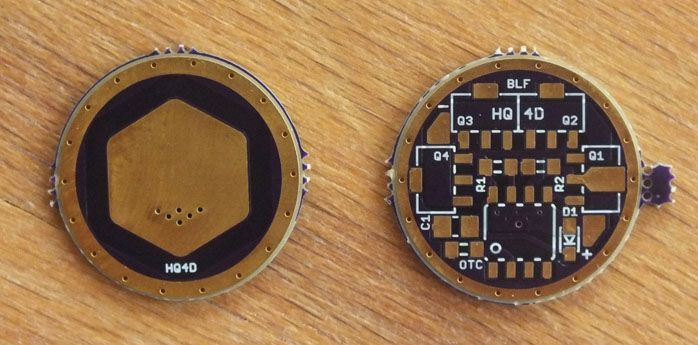 .
.
Size comparison of the 0.8mm PCB with a 1.6mm board (earlier version):