Just checked. Seems to be available now
Checking Banggood the Astrolux S1 flashlight is not in stock but can still be ordered.
The coupon code of 8a955d reduces the price by 15% which drops it down to $25.46
Astrolux S1 (Not an Aff Link)
The coupon also works for the BLF A6 CREE XPL 1600LM 7/4modes EDC LED Flashlight 18650 which drops the price down to $25.46
Received my S1 yesterday from Banggood, and it was missing the 18350 tube - just a block of foam in the cutout area where it should have been. Not really concerned with it, since I mostly ordered it for the actual light and don't have any 18350s to use with it anyway (yet), but it was a bit disappointing. Guessing it is something they add to the box before shipping the light and someone just forgot to drop it in there.
Reported it to their Customer Service with a few pictures, so just waiting to find out the root cause.
Edited to include the response…
Received an email within 24 hours offering to send me an 18350 tube. All good.
Thanks! I was able to order it now.
Good to see the prompt response with positive action. Banggood have proven to be a very good seller.
I received my S1 a few days ago, but I´m pretty indignant about what I got.
1.) Got one broken o-ring (not a real problem).
2.) The emitter is pretty much out of center.
3.) The UI is not working properly. The S1 was delivered switched to group 2, but when I switch to "med" there is "low" again. Another short click brings it to high. There is no way to switch to "med".
Changing mode to group 1 and memory mode is not possible. Doing 16+ short presses does not lead to "blink blink".
I do have the BLF Kronos X5/X6 and don´t have any problems changing modes with them.
I contacted the seller, but there is no response yet.
Is this a known issue ? And just in case, what can I do about it ?
Hi JPL, Sorry to read your issues. As you have done please contact Banggood and discuss the issues. I've not personally heard of the problems you describe, possibly someone else has who can assist with the query re the UI. I'd also recommend checking the thread on the BLF A6 troubleshooting BLF A6 FET+7135 Light Troubleshooting and Mod thread. It may include a similar experience. I'll do some checking too, and advise if I find a similar issue and answer.
Hi, I have lurked here for a long time it this is my first post. Having just ruined my dqg 18650 by trying to glue the switch back into place I have ordered the s1. Just wanting to see from other k members if they have been hit by customs charges. I got it for £18 ish. So hoping it may slip through
Welcome to BLF Gst, I hope you enjoy your S1 when it arrives and hopefully you dont incur any customs fees

I also had some issues with mine, and it turns out it had a lighted tailcap switch fitted, this interferes with OTC.
how do i memory to ON? its still OFF:)
Thank you Rolz for checking as well. I did read the BLF A6 troubleshooting thread, but could not find anything matching my problem yet.
I've done some searching and not found any mention. Possibly PM Toykeeper for opinion
You need to turn the flashlight on. Then tap/half click the tailcap switch 15+ times. You'll then enter config mode as per the image below. Once ini config mode you'll see 2 blinks in one lot and then a second time. After the second lot of 2 blinks turn off the flashlight. On restarting you should have activated memory mode.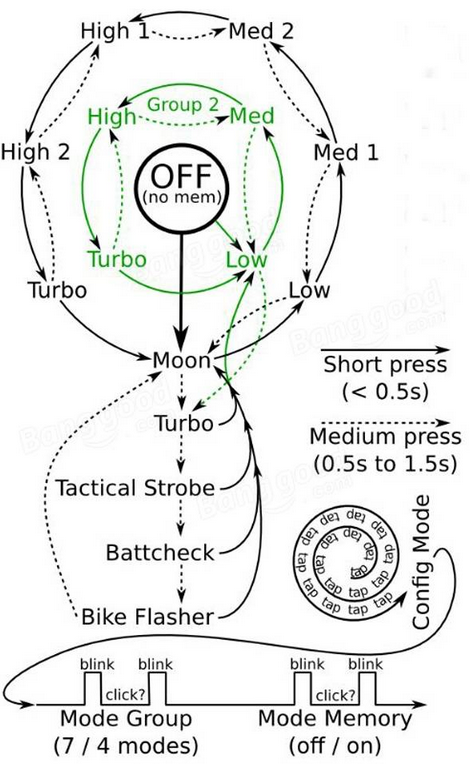 Wasn't it 16+ short clicks/tabs ?
Thanks for pointing this out. Just checked Toykeepers details on the firmware and it's described as per below. So probably yes to 16 taps. I'll update the post to suggest 15+
- Short tap rapidly a bunch of times (15+ taps, or until the light stops turning on) to enter soft config mode.
Is there a way to get it to turn on each time to turbo with just one click?
Yes, put it in mode memory = ON mode.
turn it on and put it in TURBO mode.
shut it off
when you turn it back on it should come on in the last memorized mode, which would be TURBO.
TURBO gets hot real quick so be careful.
Take care,
john.
I just recvd mine yesterday after a 37 day wait from banggood.
played with it last nite, really nice flood beam.
I really like that you can go backwards in output modes with a long press of the switch.
I did get the short tube for the other battery type, it was in a separate bubblewrap container,
not in the box with the torch.
for the programming modes I short pressed the switch 16 times
the torch will then blink twice and pause then blink twice again.
after the FIRST SET of 2-blinks shut off the torch to choose between mode
GROUP-1 which is,
moon
low
med1
med2
high1
high2
turbo.
(mine came delivered in mode group 1)
or mode GROUP-2 which is,
low
med
high
turbo.
after the SECOND SET of 2 blinks, shut off the torch to choose between,
MODE MEMORY OFF (mine came delivered in memory off mode)
or
MODE MEMORY ON.
I had to re-enter mode programming(re-do the 16 short presses).
after changing each mode.
Hope this helps someone.