This is a review of the Blitzwolf BW-ET1 flashlight. It is a pocket-sized light that takes a variety of battery types in the AA size. This includes alkaline, NiMH, lithium primary, and lithium-ion 14500.
The light was provided by Banggood for review purposes. You can find the light on their site here, it is presently on a flash sale for $24.50:
There is also a video review of the light I put up on youtube, here: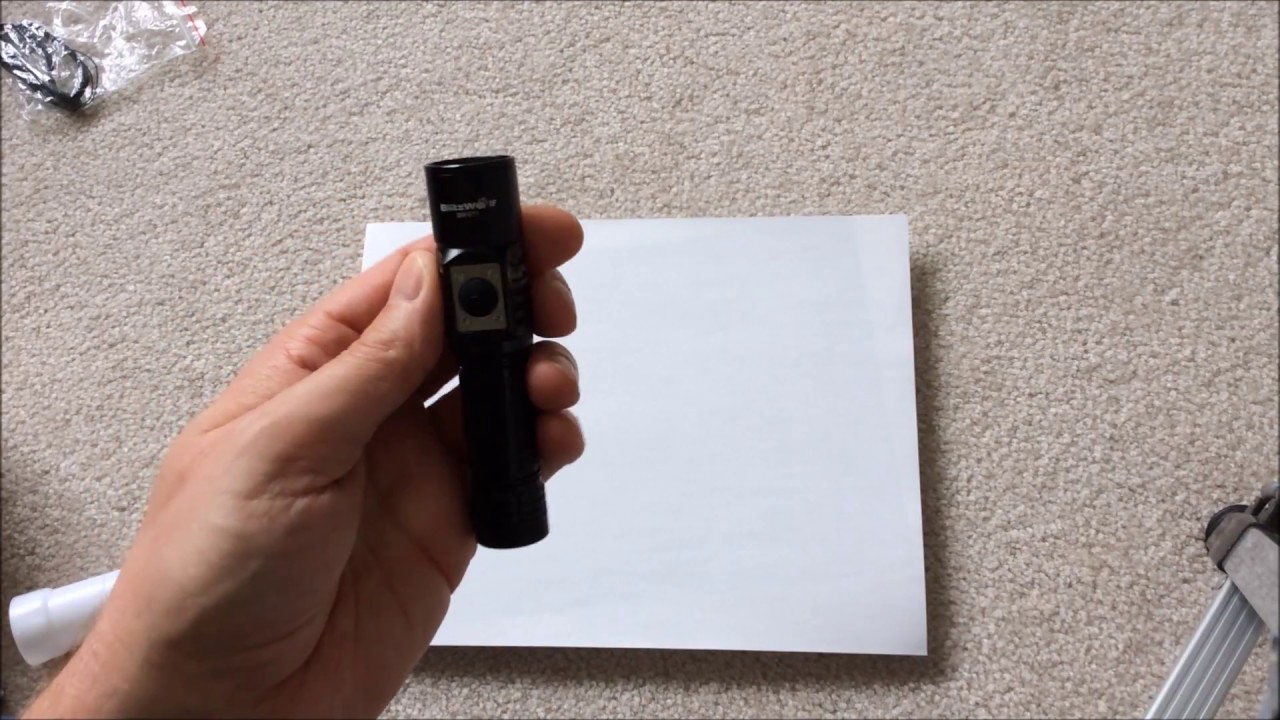 Overview:
I had not previously heard of the Blitzwolf brand, but some research shows it has a few other models in their portfolio that are generally well received. The BW-ET1 is well-made and seems durable. It comes with the usual specs for waterproof and drop-proof you expect, type III anodizing, etc.
I'm not sure this light is aimed at flashaholics, at least not on a AA battery. It does perform much better on a 14500 battery, so I suggest flashaholics consider that battery type. Nevertheless, it does have a couple of useful and fun features.
My sample of the light has a neutral white Cree XP-L LED, listed as a XP-L V6. It is an efficient LED that gives good run times.
Note that I am providing my own outputs and runtimes which I measured, not what is listed in the official specs. Although, they are reasonably close.
The light has "stepless dimming", meaning that you can ramp the output of the light anywhere from 1 lumen to 500 lumens, by pressing and holding the switch. The chosen output level is memorized. This is a fun feature to have, and is implemented well in this light.
The light can optionally take two AA batteries for longer run-time, using a battery extension tube. Note that two 14500 batteries is not supported, as this exceeeds the voltage range of the light. I like that the light takes any kind of battery chemistry, however, only a lithium-ion 14500 battery gives you access to the high output levels. AA batteries provide a useful amount of light and longer run-times, but lower maximum brightness.
A strong magnet in the tail of the light, plus an included diffuser for the light, makes this a good light for providing full area illumination where hands-free use is required. Some might use it for repairs under cabinets, but I think this really makes it a great light for using in a tent when camping. Stick it to some metal on a pole at the top of your tent, stick on the diffuser, and you have an overhead light that will evenly light up your whole tent.
Without the diffuser, the light provides a somewhat floody beam that is typical of what you would expect in most 1xAA or 2xAA lights. Good for a general-purpose flashlight. The diffuser turns it into a 360 degree light source.
An overview of the specs follow. I give more details later in the review, as well as a comparison to other lights. You can find the manufacturer's specs in the site link above. In this review, I give my own measurements, not the manufacturer's. They're fairly close, however I find the manufacturer specs are a little over-stated for maximum brightness (600 lumens vs my 500 lumens).
Pictures follow these specs.
Modes: Infinitly variable between moonlight and maximum. The light has mode memory, but not across battery-changes. You can switch to maximum at any time with a double-click. Triple-click for strobe and SOS.
LED: Cree XP-L, 4300K neutral white in my sample. I believe the production run of the light is supposed to use 5000K (perhaps a bit higher output than I tested).
Tint: 4300K neutral white.
Lens: anti-reflection coated. Very well protected by a deep bezel. I like this protection for drops, since an unprotected lens is easily cracked if you drop a light the wrong way.
Size: 107mm long, 24mm diameter.
Weight: 66g without battery in 1xAA config, 88g in 2xAA config.
Construction: Black anodized aluminum. Waterproof (2 meters) and drop-proof (1 meter). Good grip on body. Threads are nicely cut and came lubricated. Lanyard ring (lanyard included), or pocket clip. Feels solid and well built.
Battery type: 1xAA or 2xAA NiMH, lithium primary, or alkaline. Or, 1x14500 lithium ion.
Output: Max 150 lumens (AA), or 500 lumens (14500). Low 1 lumen (either battery type). Stepless for everything in-between. Graph included below. Output is flatly-regulated, except for a pre-programmed step-down from max.
Run-time:
Max (AA) - 4 hours on a 1900mAh Eneloop, but because of a step-down this is mostly at a 75 lumen output. 9 hours run-time on 2xAA.
Max (14500) - 1.25 hours, though the step-down means that most of this is at a 250 lumen output.
Moonlight - 250 hours.
Note that the latest specs list the light as having some form of thermal regulation. I did not see this on my light (it is a timed step-down), so perhaps the production run added this feature. Feedback was provided about this some time ago, so they had time to make some changes.
Throw: 1300/4500 candela (AA/14500). This represents a throw of 70/135 meters, to 0.25 lux.
Heat: No issue on AA battery. Light will get warm on 14500, but a 3-minute step-down prevents overheating.
Beam pattern: Typical of what you would expect in a light this size. It's a fairly floody beam, but has a nice hot-spot.
PWM: I could not detect any PWM either with my eyes or with a high shutter speed camera. If it uses PWM, it is very high frequency.
Tail-stands: Yes. Also includes a magnet in the tail (which can be removed), that is quite strong and solidly holds the light to any steel surface.
Extras: A diffuser that can turn the flashlight into a lantern. Lanyard, spare o-rings.
Misc: Very low standby current (11 microamps).
Operation:
Very simple interface, using a single electronic side switch. Click to turn on, click to turn off.
To set a desired output, with the light on simply hold the button to ramp up and down, and let go when you reach the output you want. The light tells you with blinks when you are at minimum, 50, and 100 output.
Double-click anytime to temporarily set the light to max. Double-click (or turn off) to reset the light back to your programmed light level.
Triple-click for some flashie modes. Strobe is first, then press-and-hold for SOS. Thankfully, these modes are not memorized, and you won't accidentally activate them.
You can optionally lock out the light by slightly unscrewing either the head or the tail (due to anodized threads). Though, because of the very low tail-current and solid switch, there's really no reason to do this.
My impressions:
Pros:
- The interface is simple.
- The stepless output level of the light is a nice feature, and you can choose whatever output level you want.
- The included diffuser cone turns this light into a nice camping lantern.
- Tail magnet is strong. Generally, I don't find much use for magnets on lights, but coupled with the diffuser it makes it very useful.
- Neutral white tint.
- Well made. Waterproof, drop-proof. Though, I've come to expect this as standard, it's still worth mentioning.
- Flat regulation. After the step-down, the light runs at a near constant output until the batteries are almost dead.
- Efficient LED. About 150 lumens/watt out-the-front.
- Supports a wide range of battery types.
Cons:
- Needs a 14500 to get high output, so I think the light was designed with lithium-ion in mind.
- The step-down on a AA battery shouldn't be needed. This is only required for 14500.
And now, for some pictures.
Box and contents:
The light itself:
Configured as a 2xAA light:
The diffuser:
The magnet in the tail:
The output graphs: