Produces 110K Lux @ 10 meters thanks to a huge 95mm reflector
Hey folks,
I'm not exactly sure if this type of light is very popular around here, but I thought I'd post about my new addition to my light collection. Perhaps someone may be interested in this.
In addition to the more traditional flashlights I like to purchase, I also like hand-held spotlights, so I'm always looking around for something new and interesting, and most importantly, affordable.
For me, this new Digital Projector Spotlight was something I loved the look of and simply had to have it. Seeing the huge SMO 95mm diameter aluminum deep reflector designed for throw, with a Cree XM-L T6 sitting behind it, a battery pack wired in parallel yielding 7500mAh of long lasting power (I hope), and an anodized aluminum body, I had to purchase not just one in this gold color, but I also purchased one in red color from a different retailer which I haven't received yet.
This one shown was purchased from Banggood.com from this link: http://www.banggood.com/Wholesale-Cree-T6-Super-Digital-Projector-Rechargerable-Miner-Lamp-Diving-Flashlight-p-55884.html
I've never purchased from them before, but I can tell you if there service is always this good and fast, I'll be buying from them again, I assure you. I ordered this light on 12/31/2012, and it arrived today 1/14/2013. On this particular sale, they didn't offer tracking, so I never actually knew when it would show up. But a total of 15 days is pretty good if you ask me. So the slow boat really wasn't so slow afterall…LOL
The spotlight was shipped in the original retail box, the box was well wrapped in foam, and that was then covered with two separate plastic bags. The light arrived in flawless mint condition, the SMO reflector is beautiful with no finger prints or anything with a real glass lens. As far as I can tell, this light may have just hit the market in late November 2012, but I know they are very freshly new because the proprietary battery pack was fully charged when I received it. Typically, I stopped purchasing any lights with proprietary battery packs, but with this one, it's wired in parallel, so if the pack starts to give out, it'll be a breeze for me to change it out with some Redilast batteries or something.
I suspect this hasn't been a popular light due to the fact they have it listed, among other things, as a diving light, which it is NOT, but it's great for anything else requiring a tight spot beam.
Listed below are the manufacturer specs:
Specification:
Product Name: CREE T6 Miner Lamp Diving Flashlight
Model of LED: CREE XML T6 LED
Material: Aluminum alloy
3 Modes: high / low / strobe
Straps: Yes
Charger: YES
Color: grey+gloden
Size: 20.4cm lenght x 12cm diameter
Weight: 1300g
Capacity:7500mAh
Charging time:8-12H
Charging voltage:5.5V
Working time:8-10H
Features:
The altitude does not exceed 3000m
The ambient temperature 25 +40
The average relative humidity of not more than 95%
Super bright CREEXL-M T6 LED flashlight.
Heavy duty & durable, impact resistant.
High tech bright LED with extremely long working life.
High quality can be used for more than 100,000 hours, which eliminates the trouble of replacing the lamp
Charge:
When the luminance decreased obviously,please use the light distribution for the lamp charger with charge.
The first charging plug is inserted into the lamp charging socket,and then access the 110-220V city electric.
When the charger is the corresponding instructions from bright red to bright green battery is enough,can remove the charger to stop charging,charging time is about 10-12 hours.
Must be in accordance with the outer packing tips of the proper charging method for charging.
Note:
It's not professional diving torch,which is tested no exposed to more than 3meters under water.
Common used in water downpour, jungle searching,shallow water work,etc.
Package Included:
1 x CREE T6 Miner Lamp Diving Flashlight
1 x Charger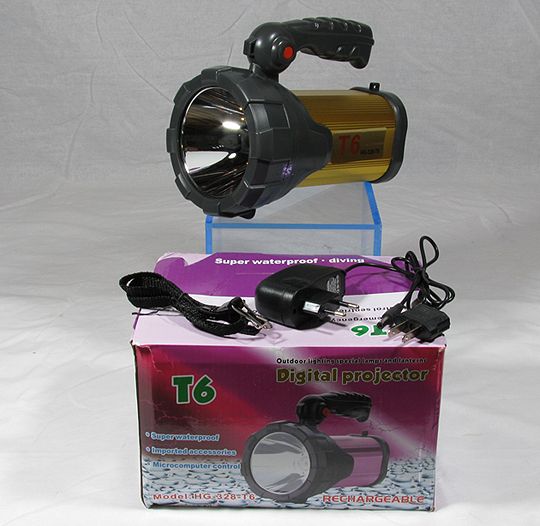 Banggood was also nice to include the charger adapter for USA.

I always like to include a hand-hold for scale purposes when showing a new light to the forum.

The light has an ever slightly rounded base, but still tail-stands great. You can also see the
red "Thumb" power/mode button. Modes are Low-High-SOS, no mode memory and you must
cycle through all modes to turn off.

Standing on its bezel to show the rear charging port with the soft silicone cap flipped open.

For the reflector size scale, from left to right, Skyray 9x T6, Digital Projector 95mm, Small Sun Zy-T16, Fandyfire HD-2010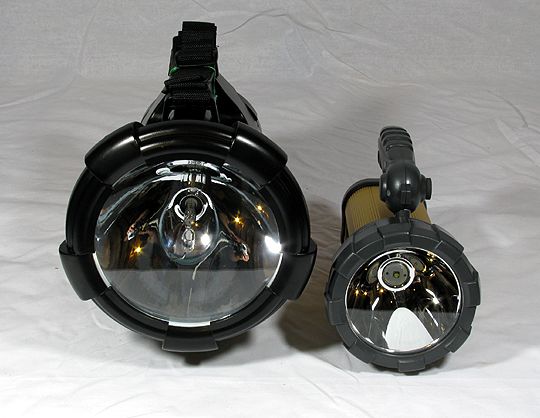 Yeah, the Vector Power On Board has it beat in the bigger catagory.
Here are some beam shots against a couple of decent lights most can relate to.
Camera settings were as follows: Manual exposure, 1 sec, f/2.8, ISO 80. Other than size, no manipulation was done.
Distance is approximately 80-90 feet.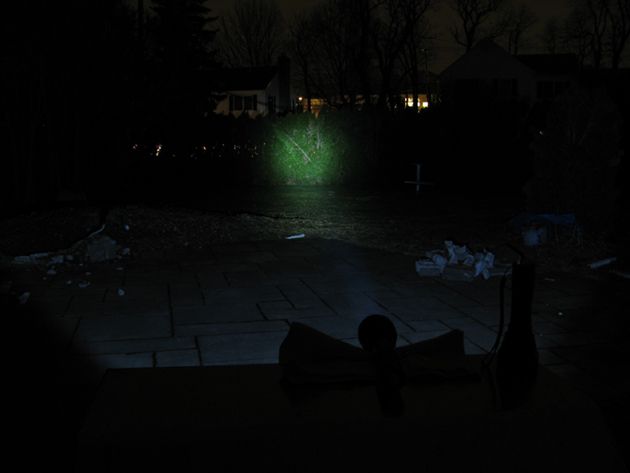 Small Sun ZY-T16, 2 x 26650 Trustfire batteries configuration.

Fandyfire HD-2010, 1 x 26650 Trustfire battery.

Digital Projector Spotlight - That's what I call a spot beam.