A few words for Manker E02 :
"L" shape design that together with a reversible clip and a sufficiently powerful magnet in the tail, offers us an almost infinite possibilities of use: it is comfortable in the hand, on a table, hooked in trouser pocket, shirt, a cinch Of a backpack, side of the car, refrigerator, any small field house, tent, ….
*Specifications :*
Emitter: Cree XPG3 LED or Nichia 219C LED
Maximum output: 220lumens
Maximum beam intensity: 760cd
Maximum beam distance: 55meters
Working voltage: 0.6-1.8v
Water proof: IPX-8,2M
Impact resistance: 2 meters
Magenet talicap
Driver: Most efficiency constant current circuit
Material: Aircraft-grad aluminum body
Surface treatment: Premium Type III hard-anodized anti-abrasive finish
Lens: Toughened ultra-clear glass lens with anti-reflective coating
Dimensions: 72mm (length) x 20mm (Head diameter)
Weight: 32gram (without battery)
Accessories: o-ring *1, lanyard *1, user manual *1, pocket clip *1
Brightness levels & runtime:
Moonlight 0.6lumens 84hrs
Low 16lumens 10hrs
High 70lumens 2hrs
Turbo 220-70lumens 3min-1.8hrs
Strobe 220lumens
First Look / Unboxing :
Flashlight coames in a simple grey box :
Package Contents:
1 x Manker E02 Flashlight
1 x Lanyard
1 x Clip
2 x O-rings
Extended View :
As you can see , it has the emitter on the side (like a headlamp someone could say) :
Flashlight in hand :
Pretty small size , length is about 74mm and max diameter on the head is ~2cm :
Weighs 49 grams with battery and clip :
Here is a comparison pic too with a Lumintop tool AAA :
As you probably noticed , it has the e-switch on the top :
And the emitter , a cool white xp-g3 , paired with OP reflector and AR coated lens :
It has a magnet on the tailcap , that can candle the flashlight's weight fine :
Tailcap . It has a pcb and a small spring on it :
Threads , anodized and well lubed :
Driver's contact side . Driver is held with retaining ring :
It has a clip , that can installed both ways . It's really strong , hard metal actually :
How it works (&modes) :
Modes : Ultra low \Low – Medium – High and hidden Strobe – Sos – Beacon mode
From off :
Single click (short) turns light on , on the lowest mode
Longer click turns light on , on the last used mode (not available for low mode , because you can access it with short click)
Double click turns light on High (you enter hidden modes)
From on :
If you are in a regular mode :
Single click cycles between (Low – Medium – High - Medium - Low)
Double click and you're on High
Longer click turns light off
If you are in a hidden mode (turned flashlight ON with double click) :
Single click cycles between (High - Strobe – SOS – Beacon)
Longer click turns light off
And here is a manual provided by Manker :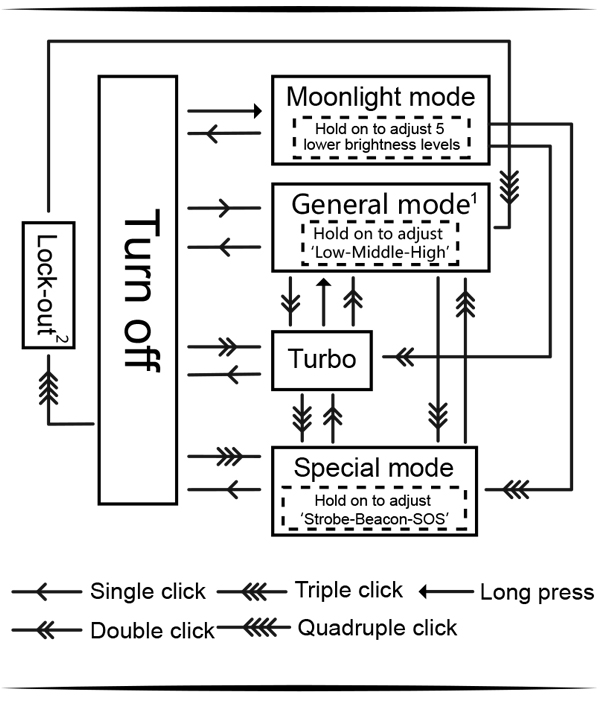 Beamshots :
Wall shot :
Outside beamshots , wall is 5m away :
Control shot :
Medium :
High :
Measurements :
Ikea Ladda 900mAh / Eneloop :
Stand-by current (parasitic drain) : 0,009mA
Lumens :
Low – Sub lumen modes / 1.5lm / 4.5lm
Medium – 17 lumens
High – 209 lumens
Intenisty : 380cd
Conclusion
It's surely the brightest AAA flashlight i own , pumping 200 lumens from the xp-g3 , which i think is a clever move . "L" Design is smart ,and that way the flashlight can be clipped on a shirt or a backpack with the included clip (which is hard) . Quality is good , and anodization seems pretty durable . Magnet is a nice feature too .
Will update with more details .
Flashlight was provided for Review purposes by Manker .