Link to Program Generator Spreadsheet
Introduction:
This is probably the best charger on the market because of how configurable it is and how you can have its four slots doing different jobs simultaneously. However, unless you already know a lot about batteries, it can be hard to know if your programs make sense even after reading the official manual.
This is the guide I wish existed when I got my charger.
Quick Start:
Find the datasheet for your cell. Duplicate a worksheet of the same battery type (e.g. a LiIon program sheet) and change the inputs to match you cell specs. At minimum, you need to put in the cell capacity.
I copied and pasted many notes from the official manual. You can hover over relevant spreadsheet cells to view them. For example, all of the program parameters have notes you can view.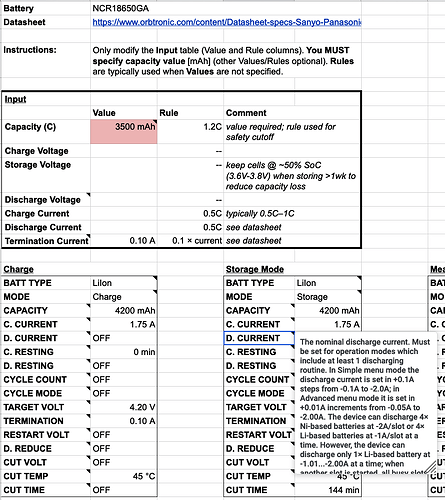 ---
please ask questions, nit pick (no matter how pedantic), and contribute/suggest. i have no personal experience so far with 'refreshing' NiMH, so take a look at that especially.
i only have a couple of programs so far to serve as templates. once people are satisfied with that, i can add more. i'd also be open to adding other users as editors on the google sheet.