Energizer Ultimate Lithium AA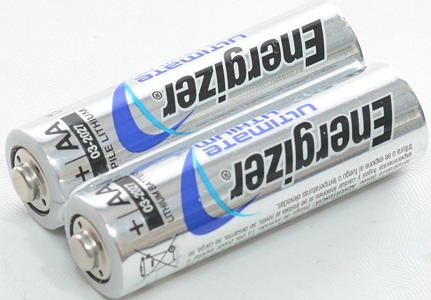 Official specifications (The second part of the specification is from datasheet):
Last up to 9x longer in digital cameras (versus Energizer® MAX®. results vary by camera.), which means 9x less waste
Weigh 1/3 less than standard alkaline batteries
Perform in extreme temperatures from -40°F to 140°F
Hold power for 15 years when not in use
Leak resistant construction
Classification: "Cylindrical Lithium"
Chemical System: Lithium/Iron Disulfide (Li/FeS2)
Designation: ANSI 15-LF, IEC-FR6
Nominal Voltage: 1.5 Volts
Storage Temp: -40°C to 60°C (-40°F to 140°F)
Operating Temp: -40°C to 60°C (-40°F to 140°F)
Typical Weight: 14.5 grams (0.5 oz.)
Typical Volume: 8.0 cubic centimeters (0.5 cubic inch)
Max Discharge: 3.0 Amps Continuous (single battery only) 5.0 Amps Pulse (2 sec on / 8 sec off)
Max Rev Current: 2 uA
Typical Li Content: Less than 1 gram
Typical IR: 90 to 160 milliohms (depending on method)
Shelf Life: 15 years at 21°C


This battery handles load very well. Notice that the unloaded voltage for lithium batteries is 1.8 volt.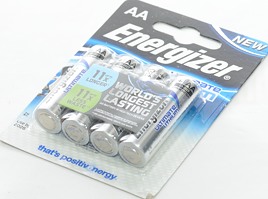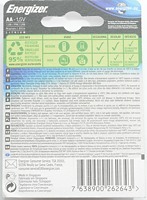 I am not that impressed with the 11x longer specification, you must compare to some really bad batteries for this to be true.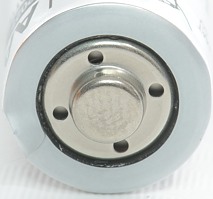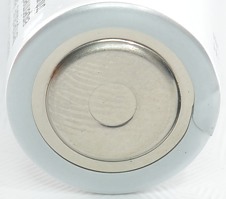 Up to 1A the capacity is nearly constant and even at 3A it can deliver energy.
The 3A curve starts with a dip, then it raises again, when the battery gets warm.




Due to the higher voltage, it has more energy than alkaline.


Conclusion

This battery is very impressive at high current, but at low loads it is not much better than alkaline batteries (Except it does not leak). The batteries have a very long storage time and can be used in very cold weather.
These batteries cannot always replace alkaline, some equipment depends on the weak high current ability of alkaline!



Notes and links

How is the test done and how to read the charts
Comparison of AA battery chemistries