Dear god this will take a month to list, at least.
Atlas C57 (Ti/CF)
Nitecore MH12GTS
Foursevens/Fellhoelter TiBolt
FW3T
FW3A
Reylight TiLan
Eagtac D3A Ti
Surefire Titan Plus
Lumapower LM21
Maglite Solitaire (with led upgrade)
Reylight Copper Pineapple Mini
Thrunite Ti
Astrolux A01
Maglite 4D (w/Terralux TLE-310 drop-in)
.
Forgot about this little guy, always on my keys.
Jetbeam Mini-1
My big collection of flashlights

Wow! You can brag of being able to use your whole collection at once, with one hand

My 18650 / AA / AAA collection that are worthy

AAA:
Fenix E01
Inova XS 2012
Sofirn BLF C01S
Ultratac K18 2017 Brass
Ultratac K18 v2019 SS Nichia 219C
Maglite Solitaire LED
AA:
Nitecore MT10A
Zebralicht SC53w
Sofirn SP10B
Fenix E12
Ledlenser P5.2
Nitecore LA10 CRI Nichia 219B
Fenix LD41 MK1
18650:
Nitecore SRT5
Sofirn SP32A
Nitecore EC21
Zebralight SC64w HI
I have procrastinated listing my lights here, but I decided to go ahead and do so, while both me and the human race are still alive.
1. Four-Sevens MMU-X3. Oct. 2014, 1,600 lumens. I did well selecting my first real light, this permanently classic item will be forever beloved by flashoholics. In its time, this light boldly demarcated the division between lights that were smaller than it, and lights that were larger than it.
Nice beam profile, too. There is no way that I could have picked a better item at the time.
2. Niwalker MM15. Nov. 2014, 5,233 lumens. Selfbuilts' review of this item had me utterly transfixed for weeks. I could not take another contented breath until I had it in my hands. No classic collection is complete without this ground-breaking hand-held floodlight.
3. Eagletac SX25L3 kit. Feb. 2015, 2,375 lumens, 317 meters. I got this because Selfbuilt always included it in his comparative tables in his reviews, and because of its power/size ratio. I love its "gadgety" feel and I also love the Eagletac build style/quality.
4. Noctigon Meteor M43vn XP-L dd. June, 2015, Approx. 7,400/8,400 lumens. Oozing gob-loads of cachet, this light will forever have its place at the pinnacle of true classics.
5. Thrunite TN36UTvn. Jan. 2016, 13,400 lumens. The ceiling bounce monster of its time. I edced it for a few months. That's how excited I was about it. My most "beat up" light, from work horse use.
6. MM15 MBvn. Feb. 2016, 9,000 lumens. The must-have successor to the original ultra classic MM15.
7. Olight S2 Baton. Feb. 2016. 1,000 lumens. I edced this light for four years until very recently. Much used, never a bobble.
8. Acebeam EC50vn, May, 2016; 3100 lumens. The item for max power in its size in Spring 2016.
9. Eagletac MX25L4Cvn XP-L pdt kit. July 2016, 5,000 lumens. Nice beam profile, provided by the four non-overlapping reflectors. A great looker, too.
10. Fenix TK75vnQ70. Aug. 2016, ~16,000 lumens. I used it every night for a few months, and I am thrilled by it every moment.
11. Acebeam K70vn. Sept. 2016, 2,471 lumens. Autumn 2016 is when I surprisingly became amazed at dedicated throwers. I bought it just to have such an item, and I instantly became thrilled at what the beam does.
12. Acebeam X65vn. Dec. 2016, 11,500 lumens. I became super excited as soon as its specs were released months before the light itself was released. This light  has the beam performance that I always wanted from other lights that just can not do what this can do.
13. TN42 vn. Feb. 2017, 2,400 lumens. The logical successor to the K70.
14. P60vn Quad XP-L HD 2 cell host Cryos Cu head. March 2017. 4,300 lumens from a light in its size class: Not bad at all.
15. Acebeam X65vn. March 2017, 11,200 lumens. Not being content with the first one that Vinh got, I needed another one of these superlative beam generators for my other hand. Combined beam from both is amazing.
16. Manker MK34vn spec 5. April 2017, 7,650 lumens. In its time, it was the item that had the perfect balance of max power for its size.
17. TM06Svn XHP50.2. May 25, 2017, 9,800 lumens, In its time, it had the perfect balance of max power and runtime for its size. One of two modded thusly.
18. Acebeam X45vn XHP70.2. June 19, 2017, 25,000 lumens. I requested and received the KG Tuning specimen from Vinh. I used this light nightly  for 2.5 years for routine chores at the community meeting hall that I operate.
19. Imalent R90TS. July 16, 2019. 36,000 lumens, 1750 meters throw. 18x XHP35, 8x 21700 Samsung 40T, two fans. Beam profile similar to X65, but with a little more throw and some more beam width, and some more spill, with more lumens on the target at given range, but in the form of a larger hotspot. Currently the King of Power Throw. Huge beam performance and well-tempered beam profile from a very big light.
20. Acebeam K75vn. Sept. 3, 2019, 6,300 lumens, 2,500 Meters, 1.57Mcd. The logical successor to the TN42. More throw, and more beam width than TN42.
21. Imalent MS18. Oct, 21, 2019. 18 x XHP70.2, 100,000 lumens. Huge power from a very big light. Currently the King of Flood.
22. 47s MMU-X3vn 3 x XHP50.2, Dec. 17, 2019, 5,500 lumens, 346 meters, 30Kcd. A true classic, brought up to current speed.
23. Nitecore TM9Kvn, 9 x stock XP-L2 6500, Jan. 6, 2020, 9,500/268 meters. My first "tactical" light, whatever that means, but that is not why I bought it. Power to size ratio is why.
24. Nightwatch NSX3vn Jan 27, 2020. Stock 3 x XHP 50.2 8,000 lumen, 375 meter, 35Kcd. A red hot screamer for its size. Throw is best of numbers 22 through 25 inclusive, too. I am so excited about this lights' beam performance to size ratio that I ordered three more. Even though this item is in a smaller size and performance class than the X45, I am using it for nightly chores around the facility instead of the X45, just to put it through its paces.
25. Nitecore E4K vn, Jan. 30, 2020. Factory 4 x XP-L. 4,000 lumens, 261 meters throw. Compact 21700. This item still receives plenty of ink on the forums, two years later.
26. Emisar D4V2 vn, Feb. 22, 2020, quad W2.1, 4,020 lumens, 429 meters with throw optics. Single 18650. Midway size between S2 Baton and E4K. After four years, this is the replacement for my super trusty S2 Baton.
27. Lumintop FW3Avn triple W2.1 Feb. 28, 2020, 2,800 lumens, 425 meters throw. Currently the most compact high power single 18650 flashlight, I think. The firmware has more personality than most of the people that I know.
28. Lumintop FW4Avn, quad W2, throw optic. April 13, 2020, 3,850 lumens, 456 meters throw. Currently the most compact high power single 18650 flashlight, I think. Picture perfect emitter alignment, providing for picture perfect beam pattern.
29, 30 and 31: Three Lumintop FW21a Pro Vn, May 26, 2020, single 21700, triple XHP50.2. 9,500 lumens, ~350 meters throw. The next big thing in the Lumintop FW series.
32. and 33: Two Imalent MS03, June 15, 2020. Triple XHP70.2. Single 21700 protected usb-c, or with large solder blob. 9,535 lumens, 313 meters. Smallest triple XHP70.2, I think.
34. Mateminco MT07 vn 7 x W2. June 16, 2020. 8,000 L, 678 M, 115KCD. Very attractive combination of power, throw and size.
35. Astrolux (Mateminco?/Sofirn?) EC03 July 9, 2020. 21700 3 x XHP50.2, 6700 lumens, 303 meters. Factory specs appear to be under reported. Smooth, ample reflector wells and ample SS bezel impart good looks. Much tighter hot spot than other single 21700 3 x 50.2 lights.
36. Noctigon KR1vn SBT90 single 18650 July 24, 2020.
37. Emisar D18vn 18xW2 3x 18650 July 24, 2020. 15,500 lumens, 748 meters throw, in a 3 x 18650 package.
38. and 39: Two more Astrolux(Mateminco?Sofirn?) EC03, August 4, 2020.
40. Astrolux MF05 SBT90.2 8 x 18650 August 24, 2020. 5,000 lumens, 3,162 meters.
41. BLF GT94 Oct 19, 2020. 4 x SBT90.2, 8 x 18650 button top. LOP. After a four year wait, the first light that has both more throw and more lumens than the X65.
42. Another BLF GT94 Nov. 13, 2020. 4 x SBT90.2, 8 x 18650 button top. Smooth. Arrived 14 days after I ordered it. This one is so I can have one in each hand, and feel the exhilaration.
43. HK90vn driver VNX2. Nov. 14, 2020. 3 x 21700 40T solder blob top, 3 x SBT 90.2. 14,000 lumens; 1732 meters.
44. Another HK90, from FM BG. Nov. 19, 2020.
45. Mateminco MT90 Plus vn, December 4, 2020. 5,500 lumens, 2.84 Mcd, 3,371 meters throw.
46. Another Nitewatch NSX53vn, Dec. 24, 2020.
47. Imalent MS06vn, Dec. 24, 2020. Small boost.
48. Astrolux (Mateminco) FT02S Dec. 28, 2020. Single 26650/21700/18650. 4 x XHP50.2 from a single cell. 11,000 lumens, 546 meters.
49. Lumintop FW21aPro Vn 3 x 90.2, March 2, 2021. de lens, 8,500 lumens, 486 meters.
50. Acebeam X50 8 x XHP70.2 3 x 21700 pack. Sept. 9, 2021. 40,000 lumens, 800 meters.
51. Mateminco MT70 Mini single SFT55.2 single 18650/21700/26650 Oct. 1, 2021. 6,800 lumens, 1,428 meters.
52. EC06 3 x 50.2, 16,000 lumens, up to 26,000 runaway lumens. 566 M. Dec 22, 2021. Ordered Nov 27 2021 from BG.
Possibly next, if me and the human race survive long enough: Acebeam X65GT, Acebeam W60, Fenix LR80R.
List of lights that I have ever sold or traded: None. I gave two new FW21aPro vn to friends.
I had (and still have) a few "first" flashlights. 3 x D cell Maglight, Brinkmann 2 x AA led, Mini-Mag 2 x AA, True Value Rayz 1,000 lumen 9 x AA, Coleman C-Tac60 600 lumen XM-L2 18650, Snap-On BCF.950BL 5 x blue led 2 x CR123, etc.
8 months later…
Also, a Boruit D25 and Skilhunt H04F RC NW on it's way

That's one heck of a purge.
That must be additions to the collection.

Huge collections , you guys are all awesome!
.
.
I only have two for now :
Convoy S2+ , grey, XML2
Convoy S2+ , desert tan, XPL HI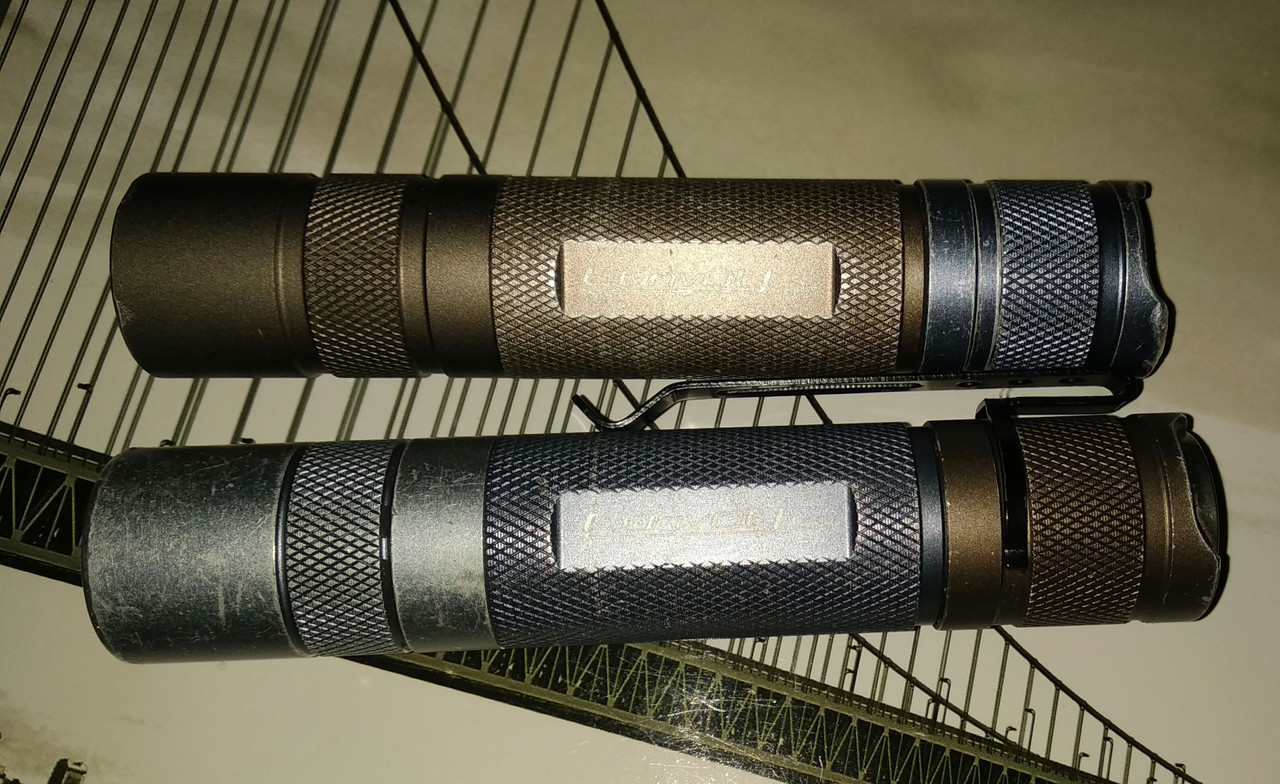 .
.
.
New Convoys are in shipping, hopefully will arrive in the next few weeks :
S2+ , orange, XPL HI
S2+ , grey, SST40
M4U , black, XPL HI, 26650, USB built-in charger
.
.
.
I had another Convoy, BD06, it's lost/misplaced unfortunately.
Here is an overview of my _past _and current set up :
- Fenix LD12 (Cree XP-G2 125lm) [given to father as present]
- Nitecore MT06 (Cree XP-E2 R2)
- Nitecore Tube (?) [given to mother as present]
- Fenix UC02SS (Cree XP-G2)
- Nitecore MT06MD (Nichia 219B*)
- Convoy S2+ 18650 (Luminus SST20 4000K*) [given to friend as present]
- Convoy S2+ 18350 (Luminus SST20 4000K*)
- Convoy M2 (Cree XPL-Hi 5000K)
- Convoy T2 (Nichia 219c 4000K*) [given to friend as present]
Ekoras S8 (C8 body) (Luminus SST40 6500K)
* CRI>90
some parts are coming (soon?) to make a S2+ 18350 with a LH351D emitter
Funny story. I have an Inova XS. That's it. That's the only flashlight I own, until the Sofirn order I just made gets here

So, what I usually do when I need a light source is I either grab the headlight off my bike (a 200 Lumen Lezyne, which has never disappointed me — I'm told it has Cree emitters, but that information never meant anything to me before) or a two mode "Kootek" music stand light which actually works pretty well as a flood, even if I look like a dork when I walk around with it. I like this Kootek a lot for its intended purpose (it lives on my piano).
Anyway I really like the Inova XS that I've had for a very long time, and have taken for granted, and I went to buy another one. To my disappointment, guess what I couldn't find?
Anyway, on the way from China now is a Sofirn order with a C01R, SP36 BLF Anduril, and SC31 Pro, and I also have a Wurkkos FC11 and a Lumintop Tool AAA on the way.
I had a power outage the other day and realized that I'm not prepared.
Oh, I don't count these. In a box of other junk there's a 2AA Maglite where I crushed the bulb somehow. and there's some sort of tailswitch thing that has the brand of a battery company, which must have come in a 5-pack from Costco at some point, and 4 out of 5 of them quit working at some point. There's probably a 5 D-Cell Radio Shack freebie from the 70s in a storage place two states away, if that counts.
Yeah, I'm looking forward to getting that SP36, and I'm happy that it steered me here to this forum and to Reddit r/flashlight.
I started collecting in 2017. Here is my list.
Eagle Eye 85W HID
Xtar Meteor
Nitecore MH20
Nitecore MH27
Nitecore HC30
Nitecore EC11
Nitecore TIP
Nitecore TUBE
Nitecore TIP SE
Nitecore TUP
Olight M22
Olight X7 Marauder
SkyRay King 6 completely mod
SkyRay King 4
Astrolux BLF A6
Astrolux S41S
Astrolux K01 Copper
Astrolux MF01 Mini
Astrolux S43S
Astrolux FT03
Ultrafire 5pcs
Trustfire 3pcs
Convoy L6
Convoy C8
Convoy C8+
Imalent DN70
Imalent DN35
Thrunite TN40S
Thorfire S70
Klarus XT11GT
BLF Q8
BLF GT
Emisar D4
Emisar D4S V2
Sofirn SP10B
Lunintop EDC05 2pcs
Armytek Wizard PRO V3
Acebeam X45
Acebeam L30
Nightwatch NSX3A
YOOTOO SD2
YOOTOO SD3
Lumintop GT MICRO
Amutorch XT45
Sofirn C8F
Fireflies E01
Lumintop FW21 Pro
Maglight 2,3,5 and 6 D cell,
Streamlight TLR 2
Surfire Scorpion
AA lanterns 2pcs
3C cell lantern
Gerber Multi pen light
a few Home Depot flashlights
a few rechargeable work lights for my vehicles
2023 update to my collection from August 2020.
Astrolux EA01
Astrolux EC03
Astrolux FT02S
Astrolux EC06
Convoy C8+ Orange SFT40
Convoy L7
Fireflies PL47
Lumintop AA tool White
Lumintop X9L
Manker MC13
Nitecore NU32
Nitecore NU50
Rovyvon A8
Sofirn HS20
Sofirn HS05
Sofirn D25S
Sofirn D25LR
Sofirn IF22A
Thrunite TH20
UCO Lechi X4
Wurkkos ST10
Wurkkos ST11
Wurkkos HD20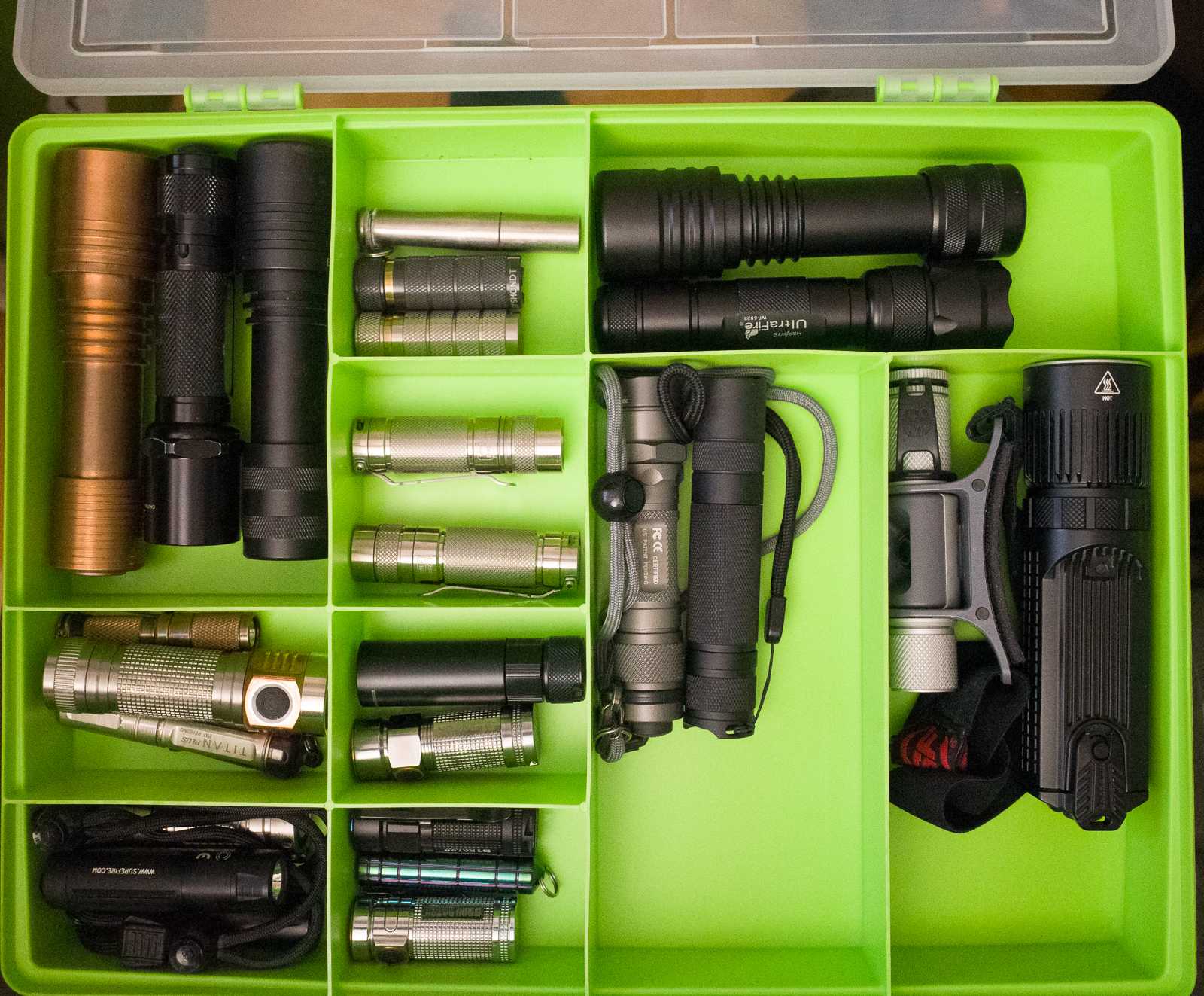 AAA
AA
CR2
Muyshondt Aeon Mk II
Muyshondt Aeon Ti
CR123
Surefire L1 LumaMax
Surefire 6P (sole incandescent light left, primarily for use as a CRI reference)
Eagletac D25C Ti LE
Eagletac D25C Ti LE clicky Nichia 219
Olight S1 Baton
Olight S1 Baton Ti
Olight S1 Mini Ti
Olight S1R
Surefire Titan T1A x2
Surefire Minimus Vision headlamp
Sunwayman V10R Ti+
18650
Emisar D18
Astrolux MF01S UVC
FW3A x4
Elektrolumens EDC-MCE
Elektrolumens EDC-XML custom in copper
Elektrolumens EDC-XML clicky
Zebralight SC600FcIV+
Zebralight SC600FdIV+
Zebralight SC64c LE
Emisar D4 Ti SST-20 4000K CRI 95
BLF Q8
BLF GT Mini
BLF GT70
Nitecore SRT9
Convoy S2+ UV
Eagletac D25LC2 click Nichia 219
Eagletac SX25L3
Some no-name Chinese light with a red LED for astronomy use
Misc
Nitecore Tube
Nitecore Tube UV
Nitecore TIP CRI (my EDC)
Nitecore TIP2 CRI
Nitecore NU25 headlamp

These are just aquired in the last year. My intention was to sample the latest offerings with as few purchases as possible, without any two torches being functionally identical. Missing from the lineup is an Anduril BLF Q8 which disappeared in transit. But then I wouldn't have the SP36.
From left to right: Convoy M3 3000k, FW3A (SST-20 4000k) Sofirn LT1, SP36 BLF, Convoy S2+ (4C) Convoy C8 (4C) Convoy S2 UV, Luckysun Wildtrail D80v2 (XHP50.2 5000k), On The Road M3 Pro (5A), Sofirn C8F (LH351D 2700k).
Banggood dropped the price on the FT03 and MF01 Mini so I have those currently on the way.
My collection (as of today). Started on January 15th, 2020 with the Thrunite T10 II.
Waiting on a few more lights to come in at the moment.

MODEL
Amutorch YOOTOO SD3
Astrolux EC01 (XHP50 CW)
Astrolux EC03 (Not Pictured)
Astrolux FT03 (xhp50.2 6500k)
Astrolux FT03s (SBT90.2)
Astrolux FT03-MINI (Red NM1)
Astrolux FT03-MINI (Blue NM1)
Astrolux FT03-MINI (Green NM10
Astrolux MF01 MINI (sst20 5000k)
Astrolux MF02S (xhp70.2 CW, DD)
Convoy L21A (CULPM1)
Convoy M21A (CSLPM1)
Emisar D4SV2 (sst20, 5000k)
Emisar D4V2 (brass, W2)
Haikelite HK04 (sst40, 6500k)
Lumintop F3WA (sst20 4000k)
Lumintop FW21 PRO (xhp50.2, DD)
Lumintop X9L
Noctigon KR1 (W2)
Noctigon KR4 (sst20, 5000k)
Olight I3EOS
Thrunite T10
whoa… we have the same exact fw3a! neat! nice collection by the way.
Reserved until I dig them all out.
Thanks, it was the cheapest model for a while at Banggood and a nice colour so definitely the logical one to get if you wanted one with SST-20s.
My MF01 Mini is also silver although I went for 4000k.