ThruNite MCC-4 charger

Has anyone any experience with these as yet ?
I've searched, yet not seen any reviews upon them here.
Looks like it can automatic select between 0.5A and 1A charger current.
I wonder how it will compare with the Xtar XP4 and NiteCore i4.
I like the look of this more than XTAR's offering. It's the screen!

Somehow I think XTAR omitted the in-built mains supply because of heat issues in the i4.
There are no buttons? No Ni-MH refresh??
I love ThruNite's attitude:
Of course it's compliant!
I was missing a picture with 26650 batteries in it: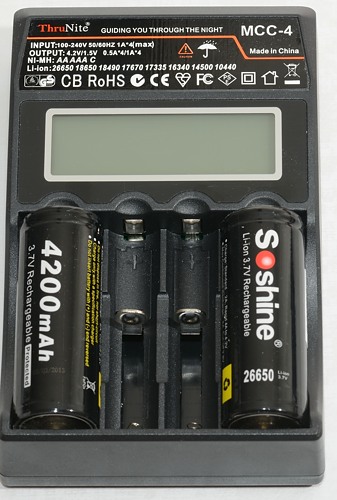 I take it that this is a new discovery then and no one actually owns one ?
Interesting charger, yet the price isnt.
For 40$ and given their lack of QC on their lights I wouldnt risk spending 40$ for charger with such limited set of options, so what that it has screen?
Ok, it has higher charger current than i4, thats it.
only 89.95 with 6 pieces of thrunite 2600mah batteries!
wow what a deal
NOT.
i wonder if this charger will accept 18700 sized cells
That might be why my i4 never gets hot - it came with the wrong mains plug so I used a spare 12V adapter.
Has anyone tried this charger yet?
I want a charger that can charge at 1A for my 18650s.
I currently have an Nitecore i2 and i4 but they don't charge with enough current especially the i4 when I put 4 cells in it. I was looking at getting the Xtar VP1 but if this will charge 4 cells at 1A I would much prefer that!
I find the charger sold on ebay, it can charge 1A battery, you can go to the store to look it.
Thanks for that. I have seen them on eBay but I haven't heard anything about them yet so was checking to see if anyone had something to report about them.
Maybe I will just buy one and be the guinea pig. They are pretty cheap anyway.
Cheers!
maybe you can contact the ebay seller, hope they can eliminate your worry
Looks like either official rep or shill?
Fullfine, his posts look like hes from Thrunite but doesnt want to admit that :D!
Do you work for Thrunite?

I don't see a charger all I see is a poll about what I want in a charger???
I am happy to spend a bit more if it is worth it. But literally all I want is a charger that will charge 18650s and 16340s and I want to be able to charge the 18650 at 1A at least. Being able to do more than that is not really of much concern to me so you would need to convince me why it is worth spending more on something else?
But you have i4 charger though! Do you use it? You may shudder at the ML-102 but if it's small enough I may carry it. I don't know if I would want one made of aluminium! :bigsmile:
How will you know who's voted ?