almost no blade…
just a 1.5" blade in a 20 year old leatherman micro
maybe i would use a blade more if it was better, but as it is, i probably get that one out about once a year
my flashlight, probably 50 times a day
wle
Asymmetric flipper G10 version:

I dusted off my forgotten Brother 1607 for this Sunday:

Bugout clone with aluminium handle:

Today I carry a Twosun TS127 in S90V blade steel. I also have a TS127 in 14C28N blade steel. About as good as an EDC knife gets for $71 (S90V model), and $40 (14C28N model)
I'm still trying to figure out how to post pictures on this site. When i do figure it out, I will post some.
Bottom knife is a Ka-Bar BK7 with custom scales
Second from bottom is a Twosun TS127 in S90V. I dyed the scales so to be red and black, original is orange and black.
Third is a Twosun TS127 in 14C28N. I dyed the scales to be green and black, original was light gray and black.
Then a Ruike P155 I dyed dark sapphire blue, was tan colored.
Bestech Warwolf at the top I dyed burgundy, was tan colored.
!
!
Is this ROXON worth the price? Usable scissors?
Ok, I EDC these two the most. I think I finally took a decent picture of the TS127's. Please be patient with me and my multiple posts of pictures. I have it fine tuned now, and will minimize my pic posts going forward.
!
!
I find it easiest with imgur to go to the album and just right click the picture and "copy image address". Then I use that link with the "Insert image" button here on the forums. I also use the "Relative width" option set to 30-50% rather than setting the dimensions. It comes out without that frame around the image, and works better for phone screens… like this (quote my post to see how I formatted it, but don't post it again):
The S90V version looks pretty!

How do you like the handle? Isn't it too thick?
Thank you for the information.
The S90V handle is a little thicker than the 14C28N variant, because they use a wider back spacer on it. I wear a size large glove, and I find the S90V model to be a perfect fit and the most comfortable of all my EDC knives. Even if my hands were a little smaller, the S90V would still be a great fit.
The TS127's are awesome folding knives: the action, the build quality, every aspect of its design, and materials are awesome.
[/quote]
Is this ROXON worth the price? Usable scissors?
[/quote]
Yeah I think so . I've used the scissors a lot and they have kept sharp so far .
Thanks, that's good to hear. The TS162 in S90V with similar blade style is also on my wishlist. What do you think about that?
The TS162 looks every bit as awesome as the TS127.
I see that the blade shape on both are similar because there is a lot of belly, and both have the same wonderful jimping on the thumb ramp. The thumb ramp on these sets them far apart from other budget knives I've handled. Your thumb is locked onto the thumb ramp. Best thumb ramp I have ever used. Awesome!
It looks like the TS162 uses the same size and design backspacer as the TS127 S90V which is a nice chunk of titanium that is jimped to match the aligned thumb ramp. Awesome!
The carbon fiber part of the handles on the TS162 and TS127 S90V are real, solid, thick, and perfectly crafted CF. Some manufacturers offer carbon fiber scales on their budget line, but they are thin laminate stick-on, slippery JUNK!!! More of a down grade from G-10, or even worse than fiberglass reinforced nylon handles when it comes to feel, appearance and grip. The G-10 / carbon fiber combo on the Twosuns are awesome.
The TS162 looks amazing, and a youtube review that posted yesterday shows that the TS162 has the same awesome action (opening / closing) that all my Twosun knives have. They feel like knives costing hundreds of dollars. As good as my Ruike, and Bestech knives are, Twosun is on another level up. Heads up, once you handle a Twosun knife, you may become addicted to them,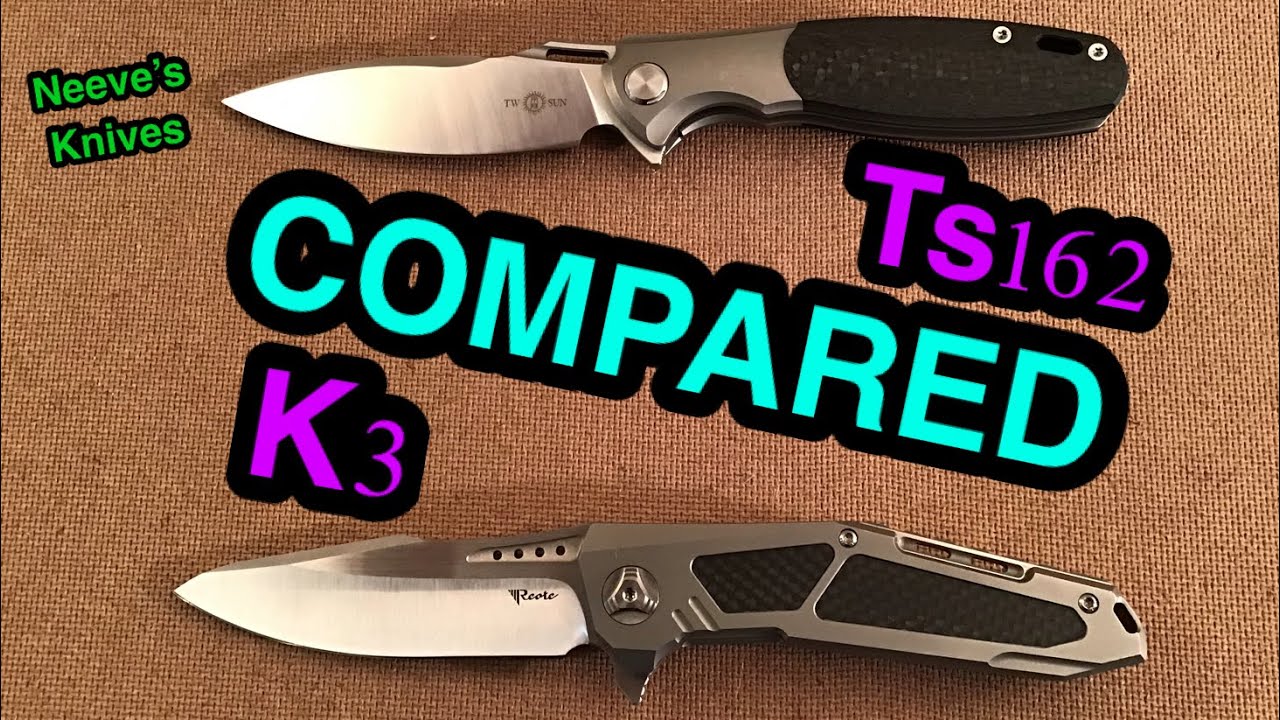 I'm carrying a GoComma. That's right. This little "might be D2" darling got such high praise here that I had to see for myself. This is only day 1 but after a week or so, I'll start putting a review together.
Big

on this for the moment, as what was previously selling below $100 USD (some as low as $75) is now selling at about $150 USD, some as high as $178 USD. Seems a lot of people have caught on and are bidding it up.

I'm hoping this is a surge that will abate so that in January pricing will be back down to what it once was.
Then the black friday price on Ali will be better: $91.99 for the TS127 in S90V and $33.39 for the 14C28N version with select coupons. The question is do I really need the premium version at triple price.