Check their ebay stores. You can often get older knifes with a nice discount with bidding.
**
I wanted one knife for my collection that has a super steel like S90V, so I set my max price at $85 in my head, and played the waiting and bidding game. I got my S90V blade for $71, nicely under the maximum price I set. If you have no interest in owning a super steel knife, consider the 14C28N with G-10 scales. It is an awesome knife for $40 or less.
A better price than going rate, but I'm no hurry. I think I'll wait until after the holidays when there may be some left-over inventory not moving. $75 would tick my box.

The one great thing about the knife market is that better steel & designs keep coming up, forcing older ones down the price slope. Plus, in time, gently used examples become available that can be snapped up for less too. The only ones that seem to go up are limited editions that become coveted or short run unusual examples that get high attention.
As I see the holiday season is not the best time for the "waiting & bidding game" at least it requires much more patience what I lack most of the time.

Sanrenmu 9015 with 12C27 blade today:

Was carrying my beater 5.11 Scout Folder today. Used it to scrape a bit of mastic from the grout lines i was finishing at home today. Then used it to baton some cedar when i started a fire in the stove to warm up the library.
Custom fixed blade by a local bladesmith.
Took this with me on winter holiday trip. Tucked in my checked-in bag, no problems. Love the portability (2" blade).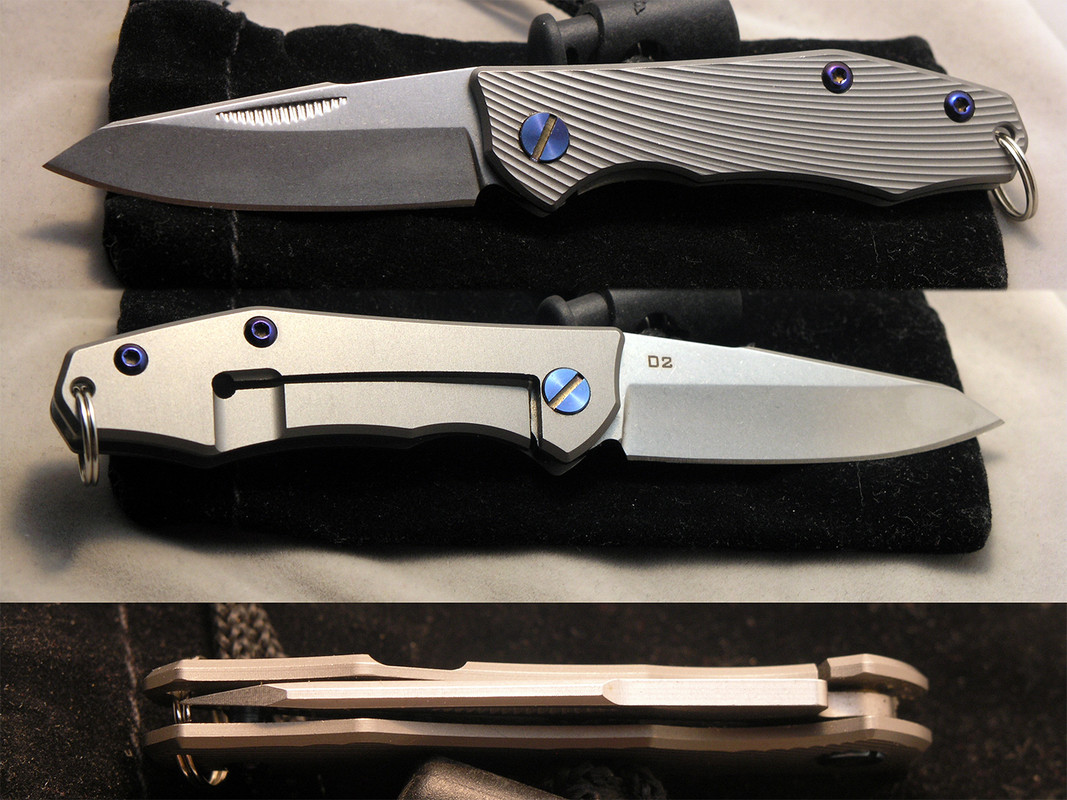 My spare Micro USB cord plug was a little too thick for insertion in a device here, so I took out the blade & trimmed off some plastic. It cut through the hard plastic like butter. Just beautiful.
Extrema Ratio BD0 R copy:

Just got it in today, but a Benchmade 940 Osbourne in S30V.
I just love the green scales and reverse tanto blade profile.
Chris
Had my Spyderco Para2 S35V blade resharpened, so I carried it today.
Bought it early on when I first got into knives, because, hey, who doesn't have or want a Para2. Meh, not worth the price.
I carry a CTS-204P PM2 everyday and it handles everything I throw at it, and I'm hard on my knives. I have a couple of CRKs and I prefer my PM2s.
For fixed blades, I carry a Busse Mean Street Ergo, Assault Shaker, or Skelly Warden. They are very sharp prybars
Generally I carry a PM2 in M390, BUT as of recently my EDC knife of choice gravitates to the spyderco smock it gives you the feel of a gentleman's folder with its classy carbon fiber scales and unique flipper tab that DOESN'T protrude out the back of the knife while still retaining the ability to deploy the blade via "spidey flick".
I've had this for a couple months now. I really like it! Blade is strong & feels like it should be genuine D2 steel. For the price, I could've picked up a decent Sanrenmu or Ganzo, but not at this size. It's what I'd consider the perfect pocket knife. Small enough to easily tuck in your jeans coin pocket.
What is this one? Very striking.
Thanks. It's a no-name D2 I picked off eBay from a Chinese seller. While there are lots of Chinese sellers peddling mediocre knives, lots of poor copies of expensive knives, there are some that create their own designs that are quite decent. This one won't win awards on deployment speed (it is fully manual—no flip or flick), but it locks nicely. Makes it very easy to leave behind the larger knives that might pose issues with law enforcement out in public.
Noname knifes are all fake steel (its 8cr13mov or worst). Unless its from a good brand like Two Sun or Kizer. But the titanium is real because you can't fake it.
That declaration is false. I'd say "many" are weaker steel than advertised. You have to do your homework to find what is authentic. Toddshoe has done a great service by reporting back on knives he has bought, validating quality. I went by his impressions to find a great bargain knife that is true D2 steel. Btw, I also used "no name" in an off-hand way—really mean obscure Chinese name I can't easily pronounce or readily remember.