- The production run has started. They will produce 250 with XP-L-Hi and 250 with SST-40 5700K.
- Here some vids from the Factory: Tailcaps fresh out of the machine , Tailcap gets Milled, Tube fresh out of the machine, New Tube threads (more will follow)
- Driver will be send to Lexel for checking (They tested the driver directly wired to a Chinese 13A continious discharge cell at 4V and got 7,2A)
- Reflector LED hole is adjusted to 9mm to make space for the SST-40 (LS will send 2 centering rings with the light. One for the SST-40 and one for XP-L-Hi size leds so later modding is easier)
- Color is not decided now. I try to get a list of possible colors (if possible pictures) so we can open a poll and see what most people like.
Here the pic from testing the driver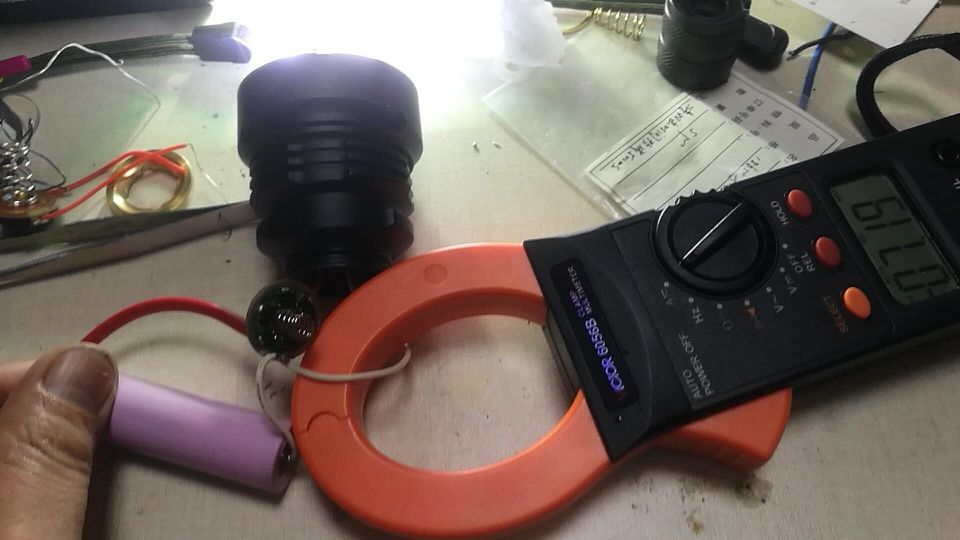 Here a to do list
- 1. Tailcap change so the light can Tailstand (
)
- 2. Threads change to square threads (
)
- 3. Changes to make space for 20mm driver (slightly bigger tube) (
)
- 4. Changes at the head retaining ring to make sure it will not come loose (
)
- 5. Internal changes of the head to help with heatpath and dissipation (thicker shelf, walls, deeper finns) (
)
- 6. New driver designt by Lexel with Bistro UI (in work)
- 7. Upgraded reflector to get best throw /check for possible TIR (they want to test it when samples come in)
- 8. Reflector LED Hole rezise from 9,5mm to 7mm (
)
- 9. Small adjustments on the front to get better sealing (will mark it on the picture) (
)
- 10. New springs
- 11. Making sure unprotected and long protected batterys fit (tube length) (
)
I got some new drawings. There is still some small things that must be changed. But i thought i upload at least one new pic (the others that show the internals will follow!)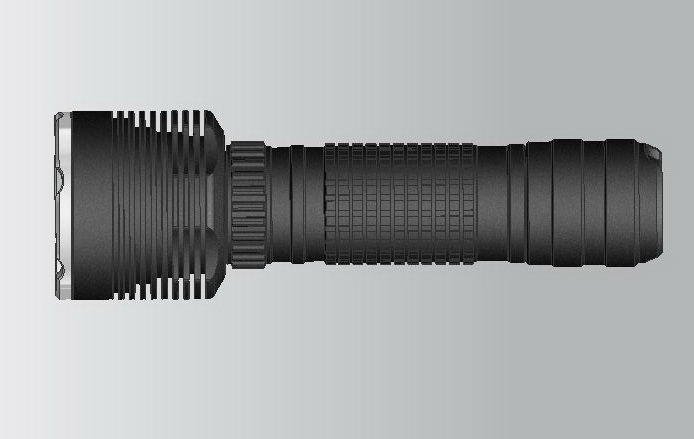 Maybe not the best form for Tailstand (a bit unstable) but looks very nice and will feel good when you hold the light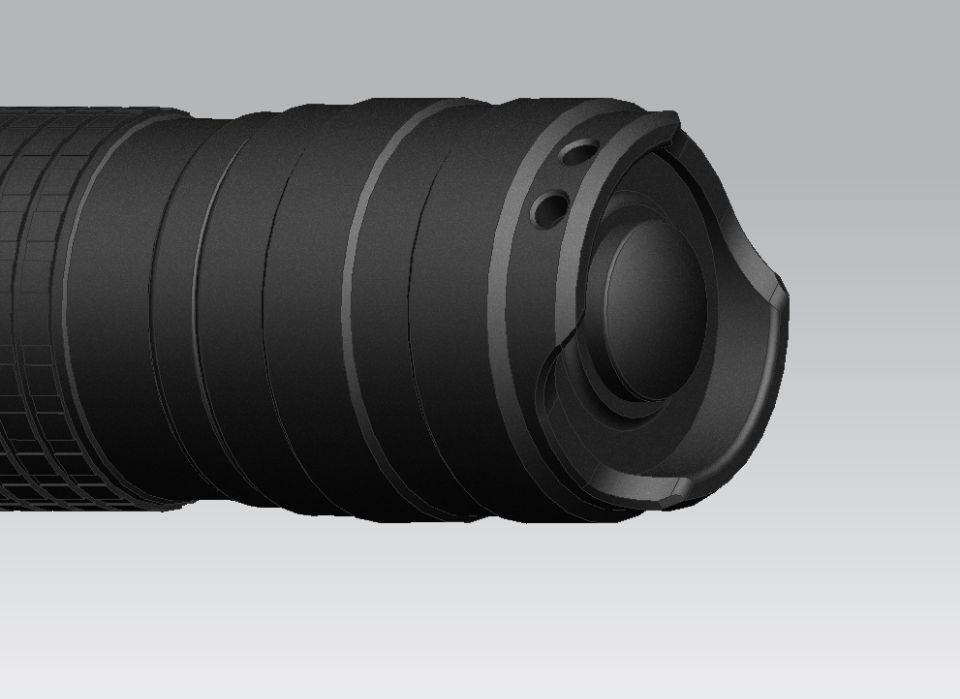 And here a Pic of the internal structure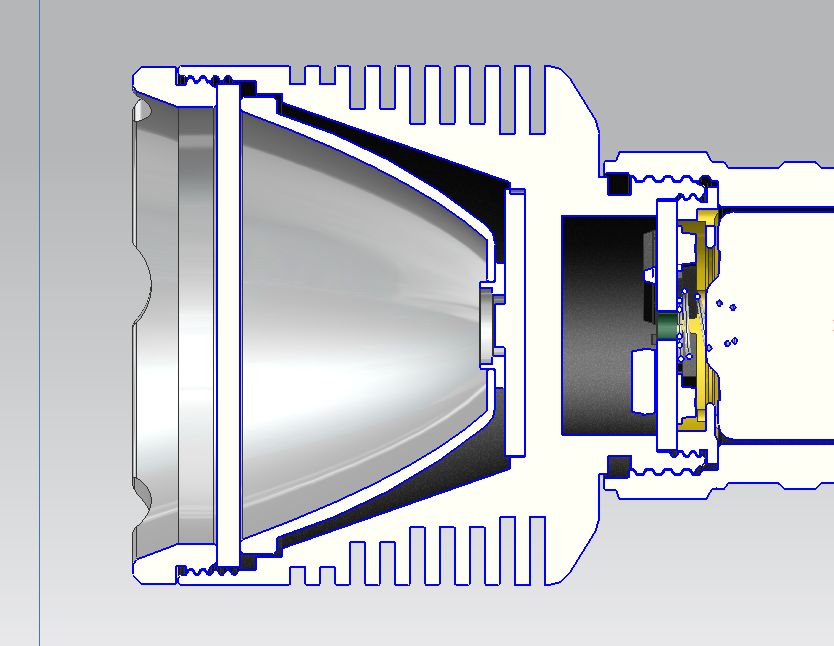 They shorten the front a tiny bit so the o-ring gets compressed a little bit more. Original the front o-ring was sitting to loose. Now it will seal much better.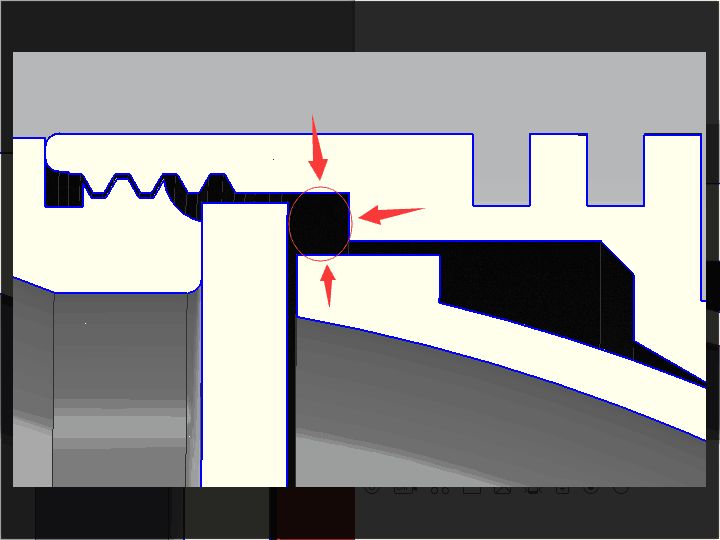 Today i got the mail, that all the old BLF-D80 are sold.
Now they would like to make new ones but they would like to know what we want to see.
I can not say if they will do everything we want but maybe we can get a few things done.
So let me know what you would like to see.
I think :
1. New drver. Fet + 1 or something similar with Bistro UI
2. New LED (XPL-Hi for the big market, some High CRI option for BLF)
3. Maybe a change in battery size (21700) / head size (propotional increase). That should also increase the throw and heat handling capabitities. I am not good with designing a new look so i am not trying (but if you think you can do it let us see what you have in mind).
4. Double springs like the Blue Springs
5. Option to buy it as a Host (my prefered option
)