I do!
Works in hardware.
Today I found a 4 port USB wall charger. 8.4A!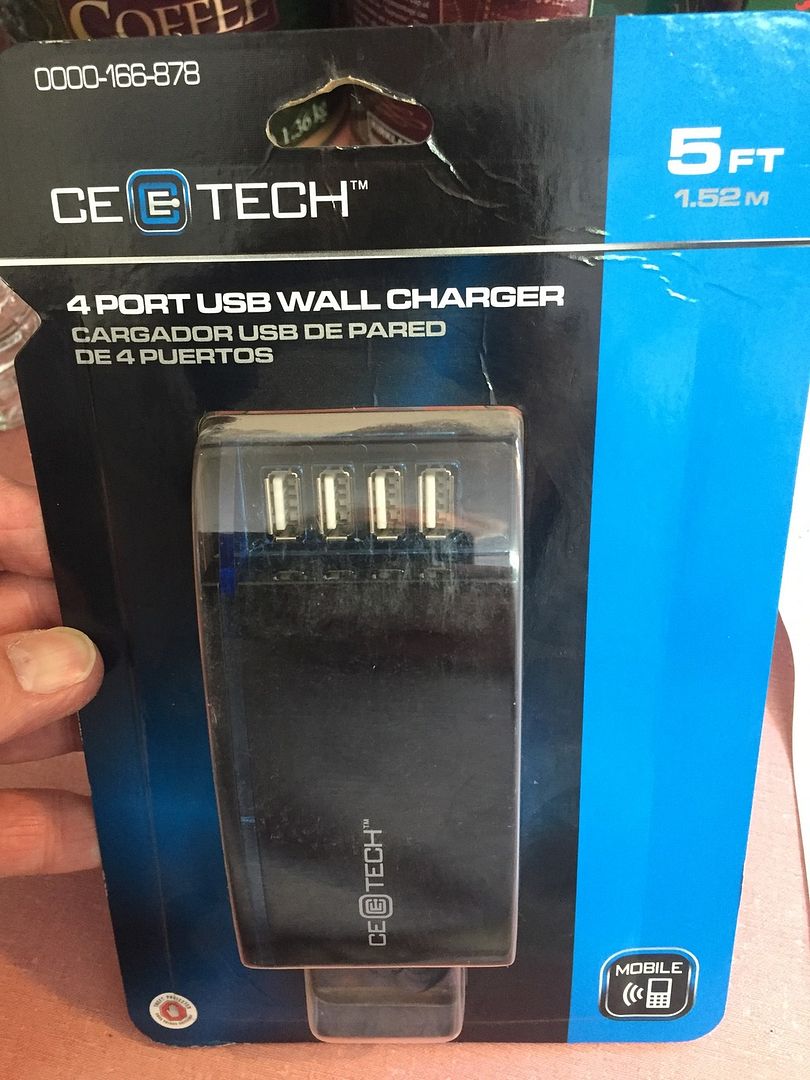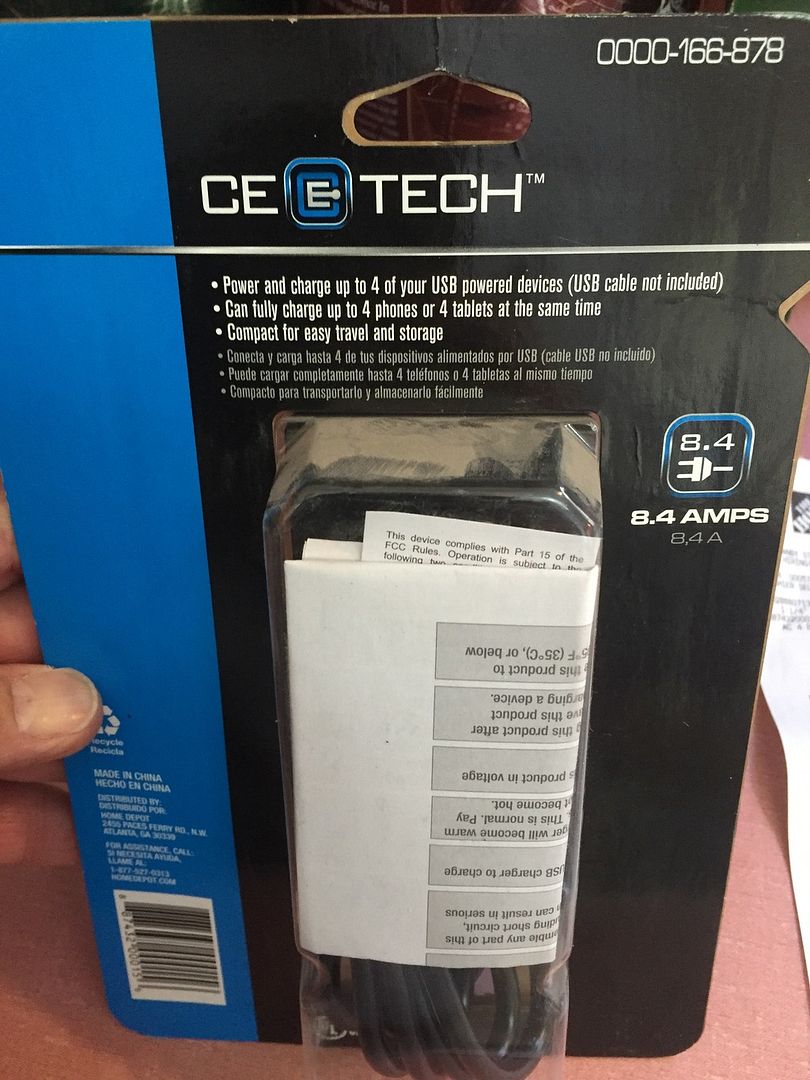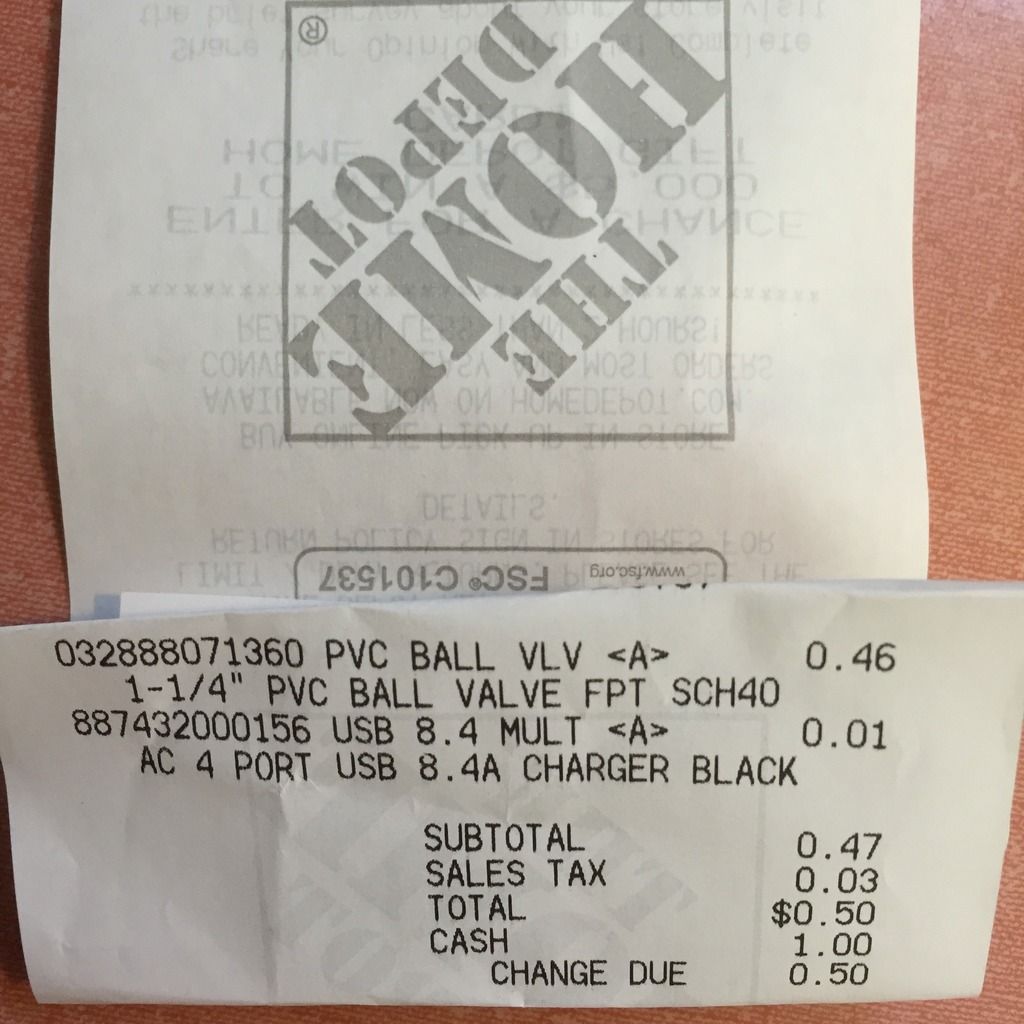 The other day I saw my first 1¢ item. A leftover from Christmas. It was a holiday projection light. I would have grabbed it but the employee in charge of stocking the clearance items took it into a back employee only room, I'm sure for himself. I was a little disappointed. Oh well.
http://www.homedepot.com/p/DEWALT-Rapid-Heat-Ceramic-Glue-Gun-Sticks-and-Clamps-Combo-DWHT74986D/206291530
I saw this in the store, mis-placed, and thought how it was odd that it was a package of clamps and a glue gun, which don't really have much to do with each-other…
Because it was mis-placed I did not know the price and did not bother trying to find it…
But then while searching Home Depot for power tools that I may need (and finding really cheap tools, cheaper and better than Harbor Freight, by searching with price low-to-high and showing All Products), and I found the product.
This is actually a really good price considering that the cheapest glue gun at Harbor Freight is $10, though it's small; and the clamps are about $3-$4 dollars each and low quality… This is name brand stuff and the gun is larger.
For those who don't know, or do sort-of know but haven't noticed, Home Depot sells cheap tools just like Harbor Freight… but they are hidden….
You probably know that Home Depot sells more items online than they do in-store. They sell a lot of items that they don't sell in stores (but they can ship to store for free, allowing you to get the benefits of buying online without the problem of shipping costs).
There you can find cheap tools that are not sold in-stores.
To find the cheapest tools, first search the tool you want (example: jigsaw). Click "All Products" (even though you have kind-of already selected that…) so that you can change the order of the listings. Choose "Price Low to High" (or something like that). You'd probably get accessories (for example jigsaw blades) so refine the search by selecting the "Power Tools" department or whatever department your desired object hides in. And there you go; you'll be rewarded (hopefully) by a list of wonderfully cheap quality name-brand tools.
Most notably, by using this method, you can find a basic Skil Reconditioned 3.2amp Jigsaw for $15, which is probably better than the 3.2amp jigsaw at Harbor Freight for $25 (which has bad reviews).
I found that for many cheap power tools you'd find at Harbor Freight, you can find a similar name-brand one at Home Depot for less, but with much better quality. (Sometimes a little more but still worth it).
However, some tools are a lot cheaper at Harbor Freight, for example a Heat gun. You can get a heat gun from harbor freight for $8.87 with a coupon, but at Home Depot, the cheapest appears to be $20.
So now you know… Harbor Freight is often not the best (same as Dollar Tree and everything else). This is a good reminder that all stores have a mixture of the best deals and items that are better elsewhere, and that you should always search everywhere before buying something you need.
But… that $15 jigsaw tho… I like that a lot :bigsmile: I hope it's good though.
poiihy,
There are LOTS of stuff on clearance right now at 75% off (the "3" price)
Ones that are dated at 11/5/2015 (Nov 5, 2015) could go to a penny any day now.
Before I post some of those deals that I got at the "3" price I thought you would get a kick out of this oldie but goodie!
This Massachusetts store is trying to sell the Light Almond speed control switches for 25% off. The same ones you got for a penny LOL


They crossed out the barcode on the back so they would have to be rung up manually. I did a price check of the barcode underneath and they come up "item not found"


Now some stuff totally worth it at the "3" price, 75% off


This 40 piece bit set was $24.97, now $6.33 but hard to find.


included is a long magnetic extension that goes for $7.97 on it's own.


This 40 piece bit set with the 10X logo is not to be confused with another 40 piece set with a 30X logo. That one still is $24.97


Also this 14 piece drill set is $4.33. The largest drill is 1/2" and are of better quality than the HDX bits.


In Massachusetts I found 10 more of the light controls hanging on a post just as you see. They were marked at $6.97, reduced from $7.97. They never even saw the "6" or "3" price. I knew they would ring up for a penny, and they did.


I am thinking that this happened because they were not were they should have been and when it came time to pull them off the floor they couldn't be found.
Another penny item

These tool bags at $2.88 were a bargain. I grabbed as many as I could in my bare hands and brought them up to a cashier. When they saw what they rang up for, other cashiers ran and got the rest.


BTW, I had the service desk check all other stores in the area and they were all sold out.


Walking through stores, I would have to guess that there are over 100 items at the verge of going to a penny and getting pulled.
Lastly, I found a box with 2 - 24V Ryobi chargers in it. On the box was written a note with a Sharpie pen that said "found these behind stock and don't know what they are for"
I took the box to the department head and explained that I knew what they were for, a 24V string trimmer that was clearanced out last year. I asked if I could buy them cheap, real cheap, as they had no value to HD. A half hour later (while I was scrounging around the store) they came up to me a told me that as long as I bought something I could have them for FREE. So I decided to buy the $40 network cable termination tool that I listed earlier and had been seeing in ALL the HD's for $10.03.


Now I need the boots and connectors. I have already found 2 packs of the boots at Lowes for 50 cents, now to find the connectors cheap

But then I also found 2 spools of 100' cat5e cables with connectors for $3.75 each. Funny how it goes, isn't it?
Hmm. . . I bought a set of Milwaukee drill bits awhile back to have some "better bits" but mine are junk, won't even begin to drill through steel.
-Garry
Wow!
Haven't actually tried these yet. I think I need to so a simple test. Ryobi vs HDX vs Milwaukee. I will put them thru their paces, I will be the Drill Sergeant!
So how much time after something goes to a 75% off, "3" price, does it drop to a penny? About a month?
Wow! Those prices… especially the tool bag! I want one! :love: I could really use a tool bag…
Also, I found two good priced items on clearance. One was a pack of four everready economy (I think it was) flashlights, two smaller ones and two bigger ones, for $4, with cells included. That's $1 per torch with the cells included.
Second one was a pack of 10 Husky T allen keys for $5, so that's 50¢ per tool.
I think it was this one but it was $5 on clearance in store.
http://www.homedepot.com/p/SAE-Metric-T-Handle-Hex-Key-Set-10-Piece/205300302
Usually 3 weeks or so but there is no definite time. All I can say is those 11/5/2015 dates are due at any time.
An example of one that breaks the mode is this one I came across in the same store. Date on the tag is 04/28/2014! Yet it scanned for $3.83 :_(

Yeah those 4 flashlights include batteries and the cells alone are worth the $4 and those allen keys are also a good deal.
Tool bags are good…………
I used one of them to make an ethernet cord making kit. Ethernet tool with wire and boots. I still need to locate the plugs on sale somewhere.
I have 5 of those bulbs in cool white, nothing special
Ahhh, but at a penny they WOULD be special to me

LOL!
Being a minimalist i strive for fewer possessions, but i still think about the $50 clearance 23.6in IPS monitor i should have bought
I know the feeling - that sort of missed deal can really get under the skin and stick with you sometimes.
dchomak wrote:

JasonJ wrote:

So how much time after something goes to a 75% off, "3" price, does it drop to a penny? About a month?

Usually 3 weeks or so but there is no definite time. All I can say is those 11/5/2015 dates are due at any time.
An example of one that breaks the mode is this one I came across in the same store. Date on the tag is 04/28/2014! Yet it scanned for $3.83
I can't find any rhyme or reason to the timing. Most of the time, it has to be about 3 months before it goes to a penny. I'm thinking the individual store can over ride the price change if they so desire.
Usually about 3 months from the DOB on the yellow tag. Also about 3 weeks from the first appearance of the "3" price
Then again sometimes this happens. This bag of 25 bungee cords with 4 ratcheting tie downs started at 19.88. Then it went to $10, that's when I posted it after having bought 1. Then they went to $7 and I bought 2 more. Ironically yesterday I used them all up securing stuff in my van getting ready for a trip. This morning I went to HD and ran into this!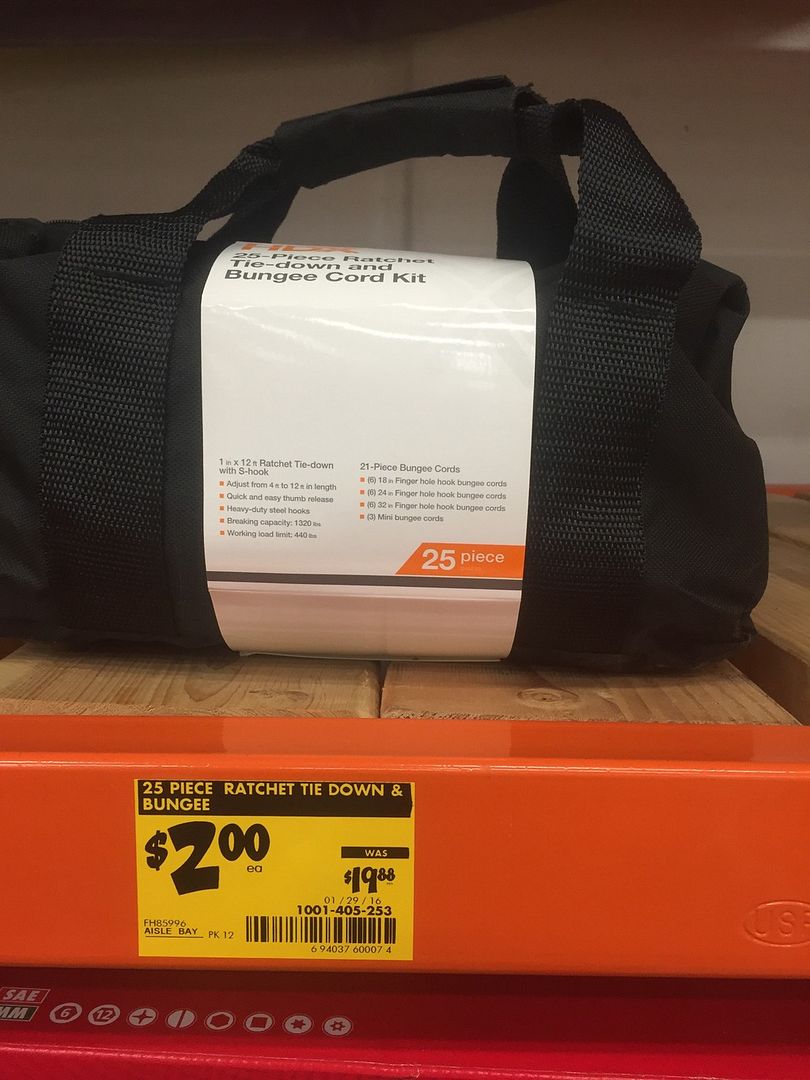 There were 2, I am now "bungee rich"
For some reason these never saw a "6" price nor a "3" price
Update! The $15 jigsaw I mentioned is now on "Clearance" for $13.50. Which is nice but does that mean that this product will soon not be for sale anymore?


I hope not, or it would be really annoying because it's out of stock!
Speaking of which, all of the cheapest tools are out of stock!


To get in on this deal ya gotta be quick.
Right now I am in Ohio helping a friend remodel his bathroom. Of course we have to visit his HD every day. This 18V hedge trimmer has been reduced from $99 to 75.06 for a couple of months now, so I figured it was due for a "3" price for a reduction of $75% any day now. I have been keeping my eye on them and today they turned. $25.03 and includes battery and charger.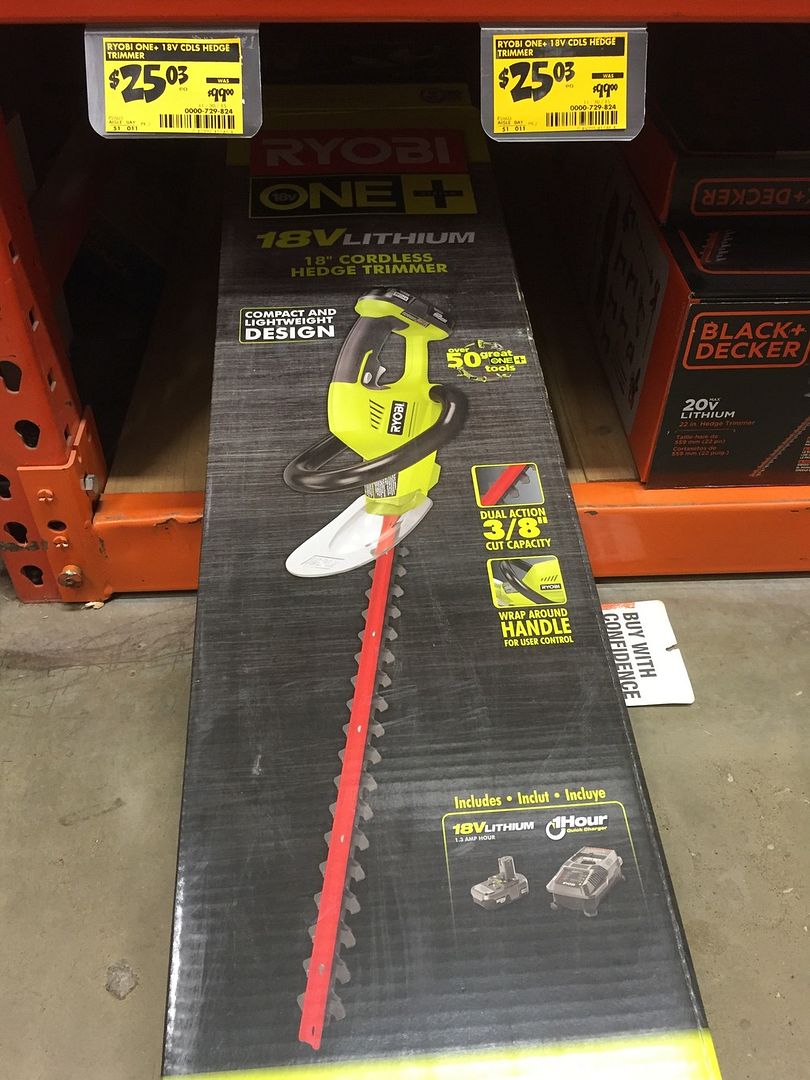 have you ever seen anything this big go down to 1 cent?
Stopped at my HD on the way to work today. Didn't seem to have any. Only the newer 22" model and the 40v Model were out. Thanks for the alert anyway dchomak. You the man!