Here are two of my 17mm version 8 series ATtiny1634 based drivers, the F-2 and F-4, suitable for triples or quads.
F-2 is a single sided board with 2 x 7135 and FET: https://oshpark.com/shared_projects/YbI2Xoco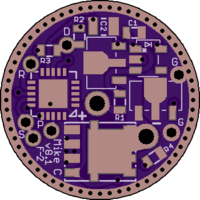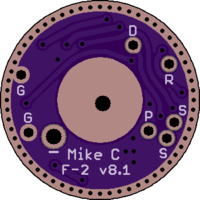 F-4 is a double sided board with 4 x 7135 and FET: https://oshpark.com/shared_projects/xTjUowgj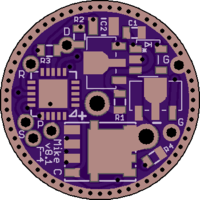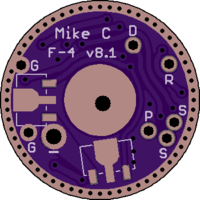 Any number of the 7135s can be turned on in constant current, and one of the 7135s is PWM:ed for steps in between. Personally I don't PWM the FET but I put on on a 16 bit counter PWM pin so it can be PWM:ed.
They are compatible with off switch, dual switch and E-switch configurations, and with E-switch only the parasitic drain is about 0.1uF (utilizes the 1634's low power sleep options). If cells didn't self discharge, a fully charged cell would last several hundred years. Off time is done with OTSM and measurable off time is about 15 seconds with a 47uF capacitor.
I have basic firmware working, and am working on porting my ATtiny841 firmware which as low and critical voltage monitoring, temperature monitoring, several UIs to choose from, ramping modes, and basically any setting is programmable by button presses (all switch configurations). I've also implemented a few different types of user levels, where the lowest level won't let the user do anything except change user mode (which should be virtually impossible to do by mistake). Firmware will be shared if there is any real interest in these boards. Flashing firmware is done acupuncture style as described in the next post. I use AVRDude which supports the ATtiny1634.
I can also offer built, flashed and calibrated according to preference if there is interest. Price would depend on how many where interested as I normally don't buy components in larger bulk.
I'll be doing a giveaway for a couple soon as I have received funds to do it.
A component list for 1S drivers:
R1: 4.7 ohm, 0603.
R2: 0.1 ohm to 1K, 0603.
R3: 3K, 0603.
R4: 100K, 0603
C1: 1uF, 0603
C2: 47uF, 0805.
Diode: 323.
MCU: ATtiny1634 MU (4x4mm QFN package).
I don't use the voltage divider for voltage readings in 1S lights which is why the value of R2 is flexible. There has to be a resistor there or the OTSM power off detection won't work. For 1S E-switch drivers the R2/R3 voltage divider isn't needed at all, but resistors are cheap so I put 'em on so the driver can be used in any kind of light without hardware changes.
This is about as far as I'll go until there is any interest and someone actually orders bare boards for fully built drivers. I've shared boards before on request and in the end no one actually ordered or built any, so this time around I won't bother with a complete write up unless there actually is some real interest. It doesn't matter to me weather they are of interest here or not, this is just a hobby for me and I use these drivers in lights I build for myself and other cave/mine explorers, so development will continue regardless.
Other drivers of the v8 series include 17mm with 10 x 7135, 20mm with 16 x 7135, Convoy L4 with 14 x 7135, SRK, TY-T08 (FET + 8 x 7135/A705) and a couple of dual LED headlamp projects. In all cases any number of the 7135s can be turned on for constant current, using PWM on a single dedicated 7135 for brightness levels between the 0.35A constant current steps.