Manufacturer specs (my comments in red)
Model: SMALL SUN ZY-C10-S
LED: Cree Q5

*dubious...looks like a counterfeit CREE

Lumen: 260
Color BIN: White
Total Emitters: 1
Battery Configurations: 1 x 18650 rechargeable battery (not included)
Voltage: 3.6-4.5V
Switch Type: Clicky/Clickie
Switch Location: Tail-cap
Modes: 3

(sort of)

Mode Arrangement: Hi

(814mA)

> Lo

(170mA)

> Strobe
Zooms from throw to flood beam (variable beam intensity)

Zoom style: Push/Pull

Carrying Strap Included
My additional specs:
Price: $14.90 USD from Manafont
Lens: Plastic

Thickness: 10mm
Outer Diameter: 38.22mm
Inner Diameter: 33mm
Focal Length in Flood: 19.5mm
Focal Length in Throw: 32mm

Head Diameter: 44.5mm
Body Diameter: 25.3mm
Tail Diameter: 29.1mm
Total Length in Flood mode: 157mm
Total Length in Throw mode: 170mm
Current Draw (Panasonic 18650 at 3.76V):

High mode: 814mA
Low mode: 170mA
Strobe mode: unknown (to me)
Initial impressions of the Small Sun zoomer:
NEGATIVES:
Quality is definitely cheap
Counterfeit CREE emitter
Plastic lens
No lens gasket
No thread lube
driver press fit into pill
Memory works as far as it remembers the last mode you were in and starts on the next in line.
Lens almost comes out far enough to get a perfect die image
Lens came pre-scratched to save me the frustration of doing it myself.
Threads are too few
POSITIVES:
Body has not one minute ding or blemish on it
Anodizing is pretty decent, smooth & consistent
Huge lens makes a tiny and extremely bright hotspot in throw mode - nearly half the size of the SK68 and much brighter.

Can't wait to beef up the pill and put an XM-L or XR-E R2 in it with a better driver.

Switch feels decent enough
Orange tailcap boot that's not paper thin or cheap feeling.
Tail stands
Came with lanyard.
Packaged well in lots of bubble wrap.
CONSTRUCTION:
BODY:
Typical Chinese budget construction on this one. Threads could be a little more plentiful but are average, I suppose. They came unlubed and dry. Plenty of aluminum used with very thick head and tail cap. O-rings at either end of body and on the head for the bezel are thick and would definitely help make it water resistant if not for the slide tube lacking any o-ring (metal ring provides friction between body and sliding head) and also a lack of o-ring between the bezel and head.
The head is very beefy and has some fins but since the pill threads into the battery tube it does nothing to help with heat sinking ability. The body did come with no scratches or dings and the anodizing is even and consistently smooth.
The tail cap is very heavy and has a decent feeling switch. The spring is soldered to the switch PCB and has a nice solid end soldered to it instead of the usual hollow brass cap that usually sits on the spring tip. The switch is held in place by a massively thick, threaded retaining ring. Extremely solid assembly. The switch boot is orange silicon and is just the right thickness with proper feel without the usual thin flimsy feeling most lights in this price range have.
OPTICS:
The lens is plastic, not glass as advertised. It is, however, possibly the largest diameter aspheric lens on any budget light and boy does it work (more on that later)!
The emitter is supposed to be a Cree XR-E Q5 but I believe it is a counterfeit/clone. The emitter is off center inside its lens ring and dome. The die image cast is not like any other genuine XR-E emitter I have. That being said...it still works well.
ELECTRICAL:
Driver appears to be a generic POS without memory. Turn it off and when you turn it back on it will be in the next mode in the sequence (H/L/S) and is very annoying. It is also press fit into the aluminum pill and not soldered. The pill itself is long but very light and thin. I haven't removed the driver or emitter yet but I am positive it is the usual hollow budget pill.
PERFORMANCE:
In spite of the poor quality of the individual components, as a whole sum it totally rocks!! Comparing it to the main budget F2T standard (Sipik SK68 with 14500 cell) it smokes it in every aspect except flood diameter. In throw mode the die image is 1/4 the size of the Sipik's and WAY brighter!! Flood mode is smaller but is very smooth and even. I believe I forgot to mention that the flood is also WAY brighter than that of the Sipik. I can't wait until it gets dark out so I can do some outdoor testing. I am looking forward to modifying this baby but haven't decided what emitter to use when I do. I was first thinking an XM-L was called for but I worry that in spite of the large lens it might do better with something like an XP-G R5 driven at 2A. I am open for suggestions.
FINAL THOUGHTS:
This is not a high end torch by any means and it does embody almost every negative characteristic a budget light can promise until...
...you insert a battery and turn it on! If you like Flood-to-Throw torches this one is an absolute MUST! Even if you are mildly curious about it, for the low price of $14 shipped I can honestly recommend you not pass this one by. Here are some pictures to demonstrate and remove any doubts...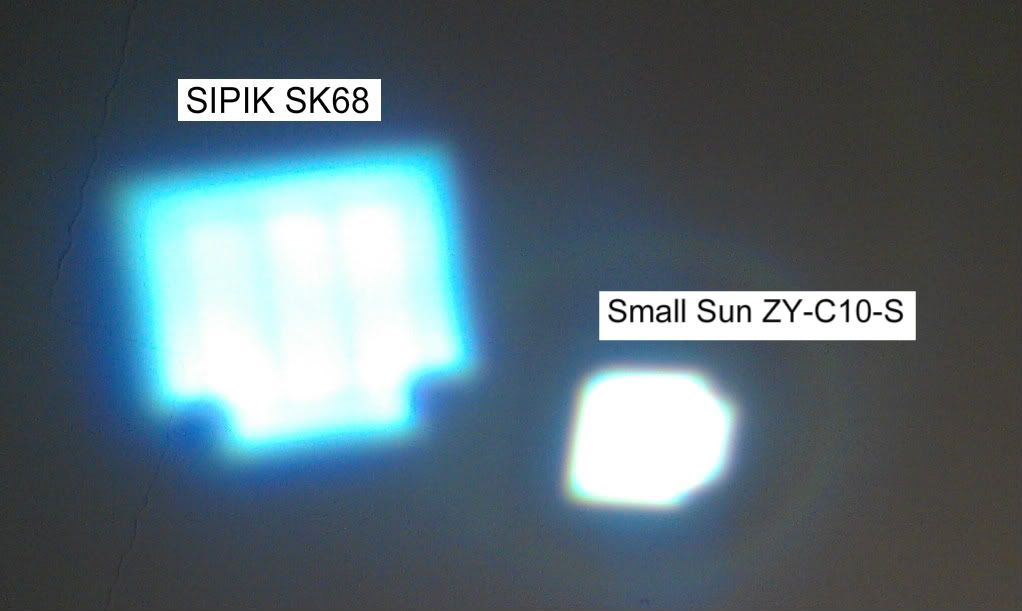 Here are some more pics of the light together and broken down to parts.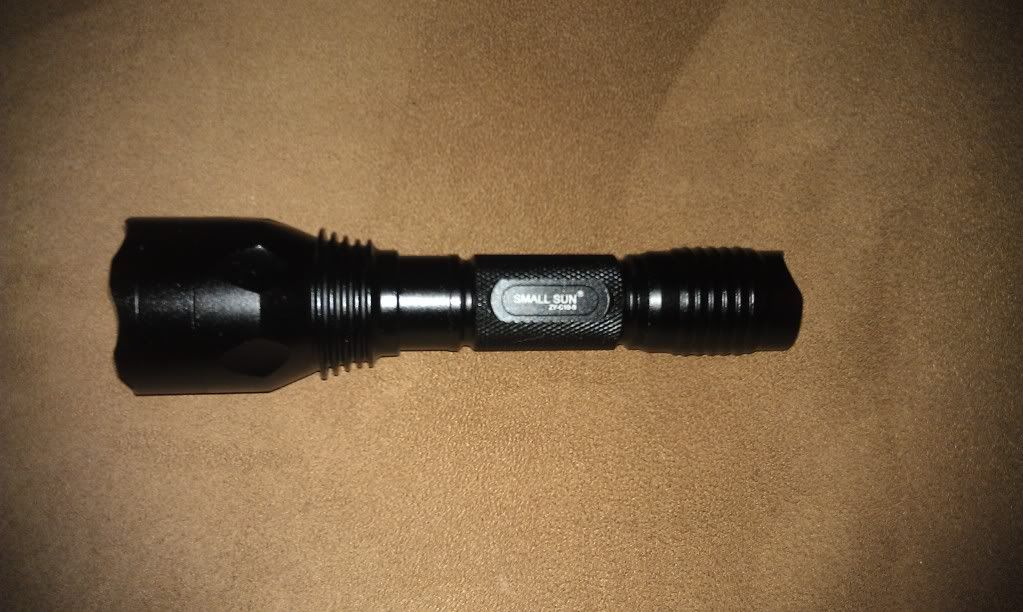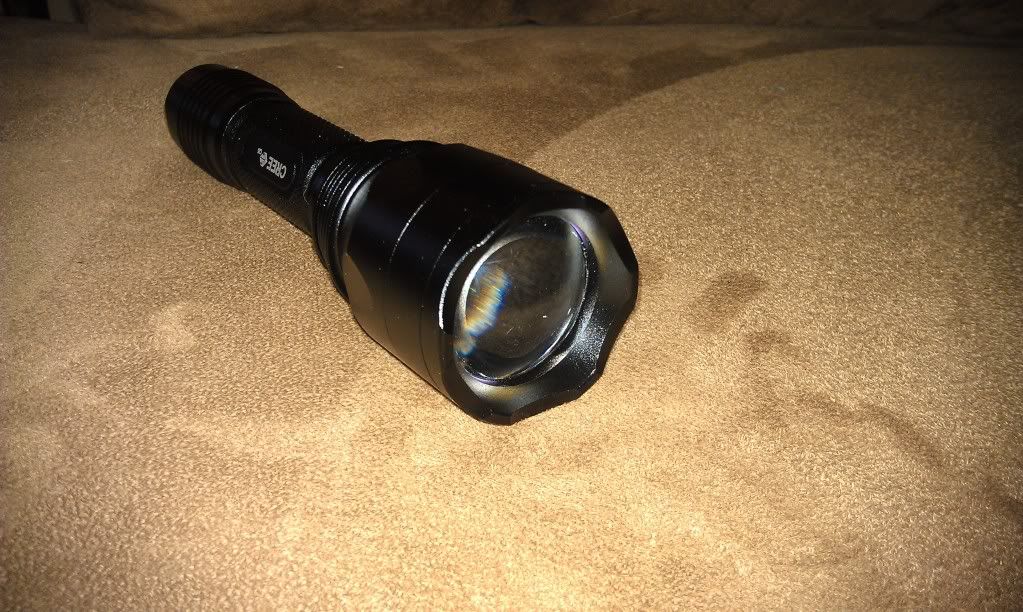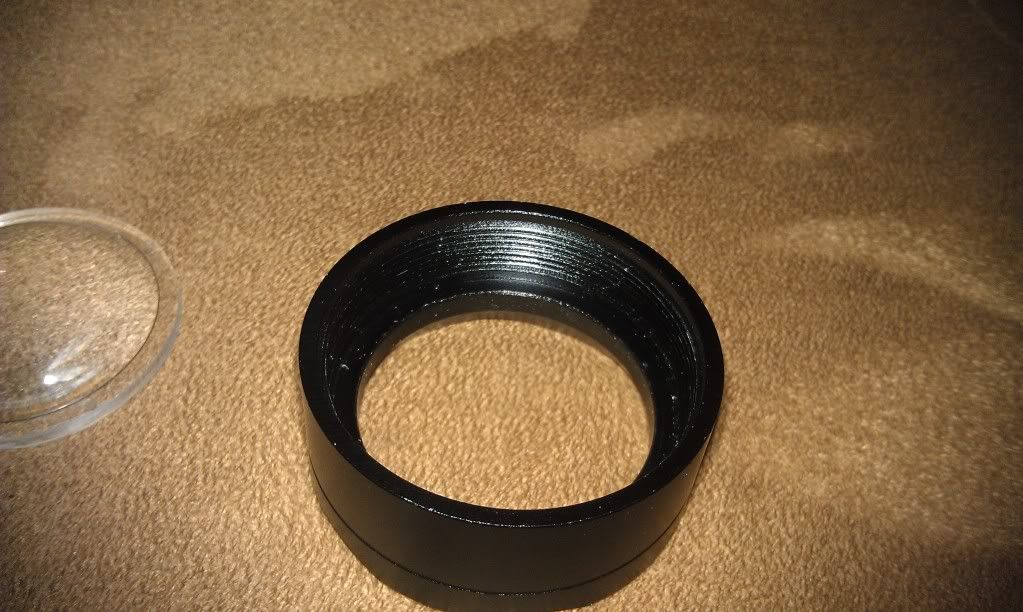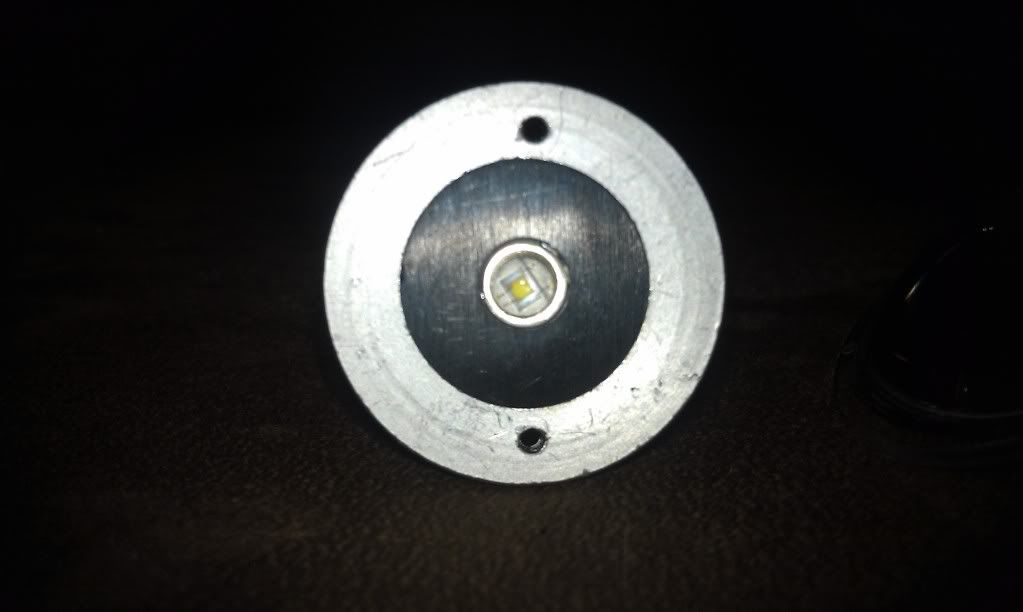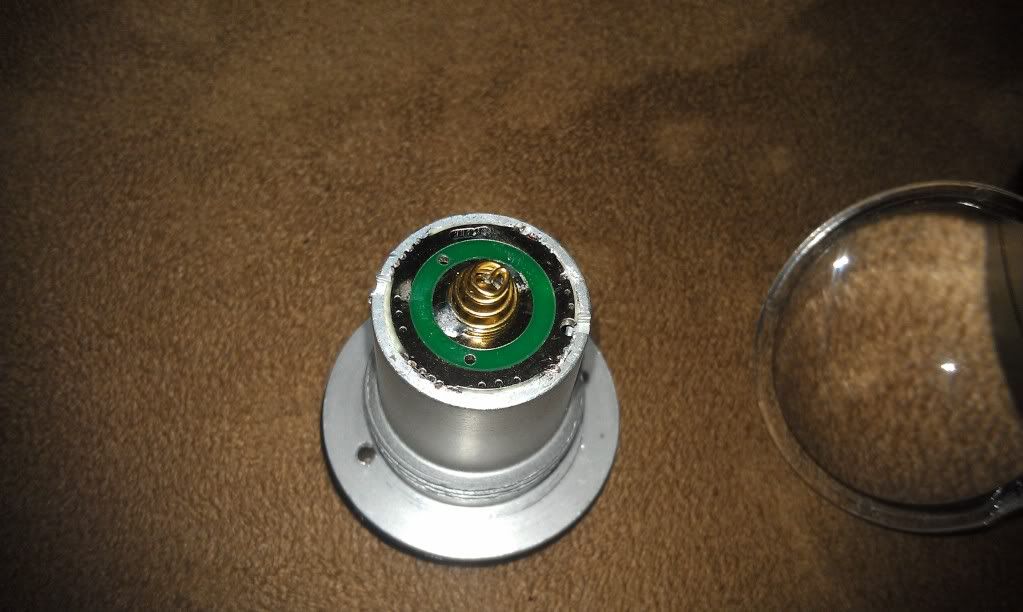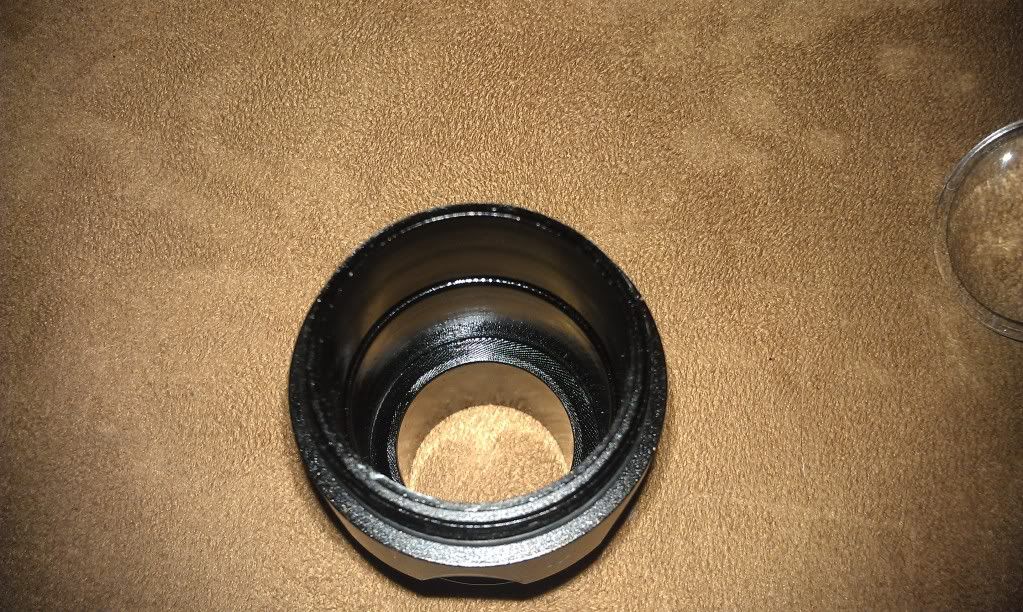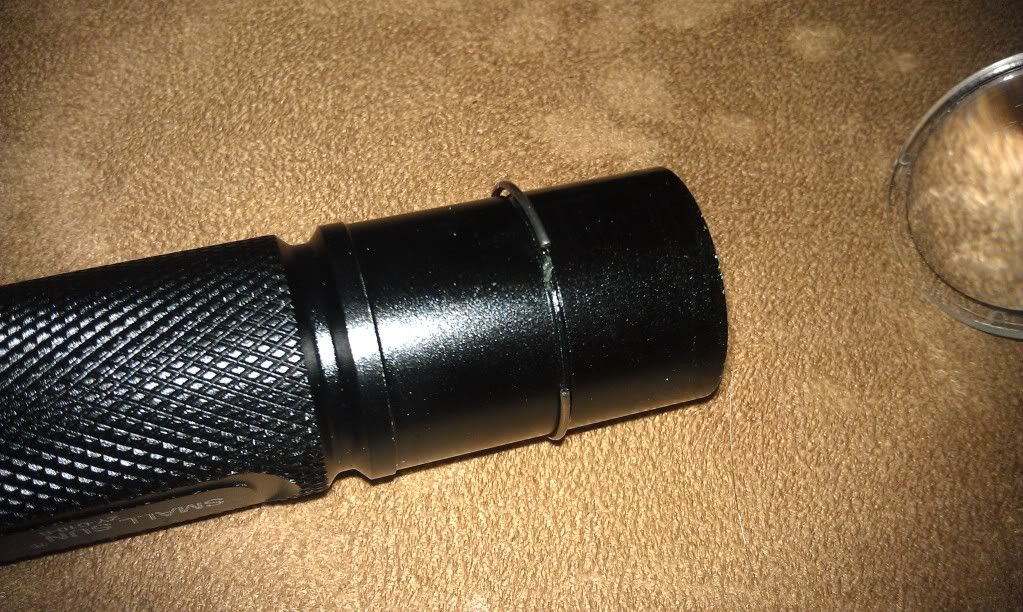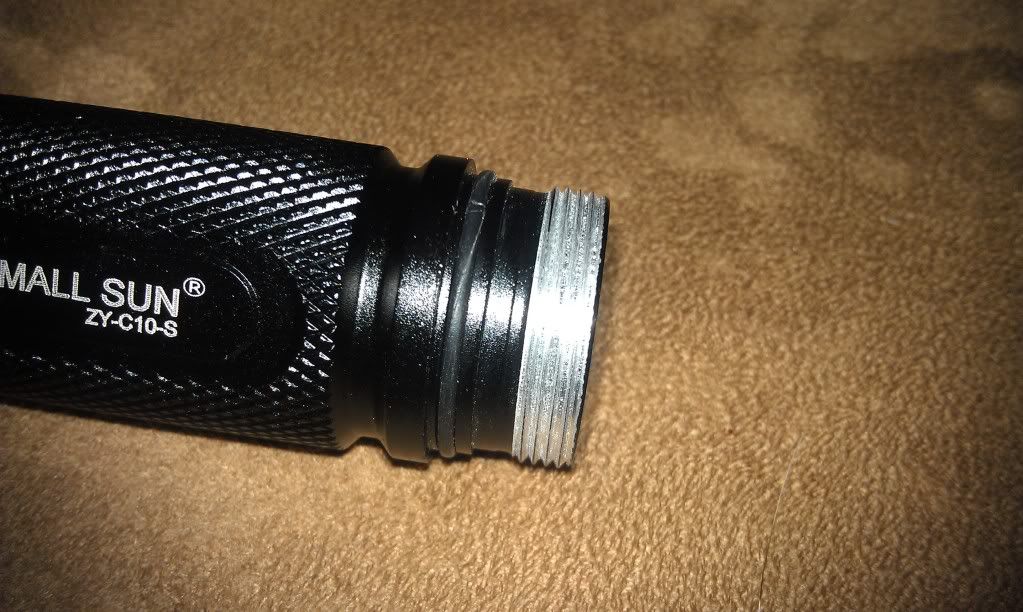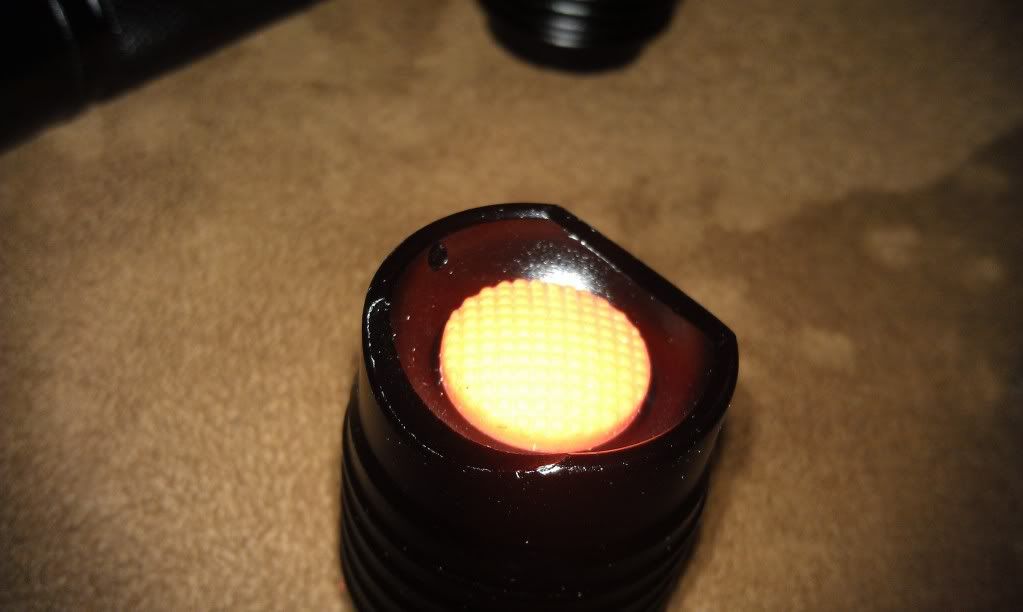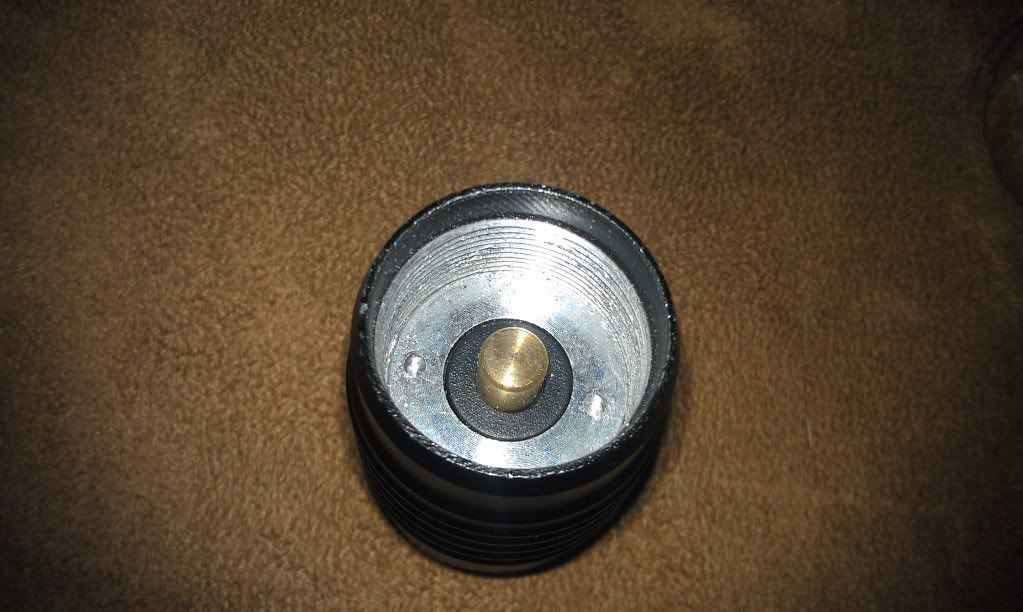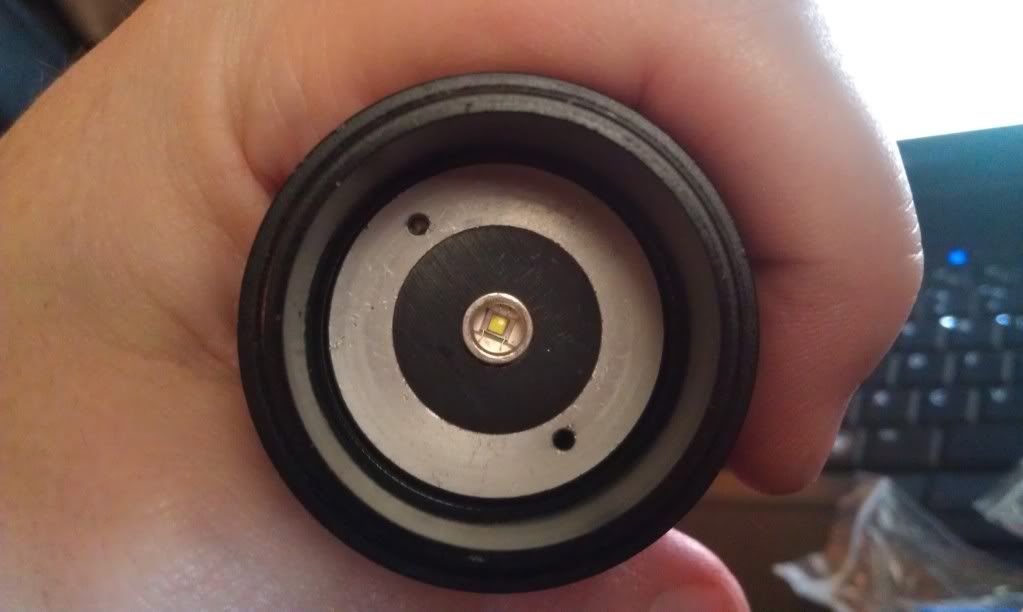 And one last reminder of how the ZY-C10-S (left) blows away the SK68 (right) and this pic doesn't begin to do justice to the difference in brightness...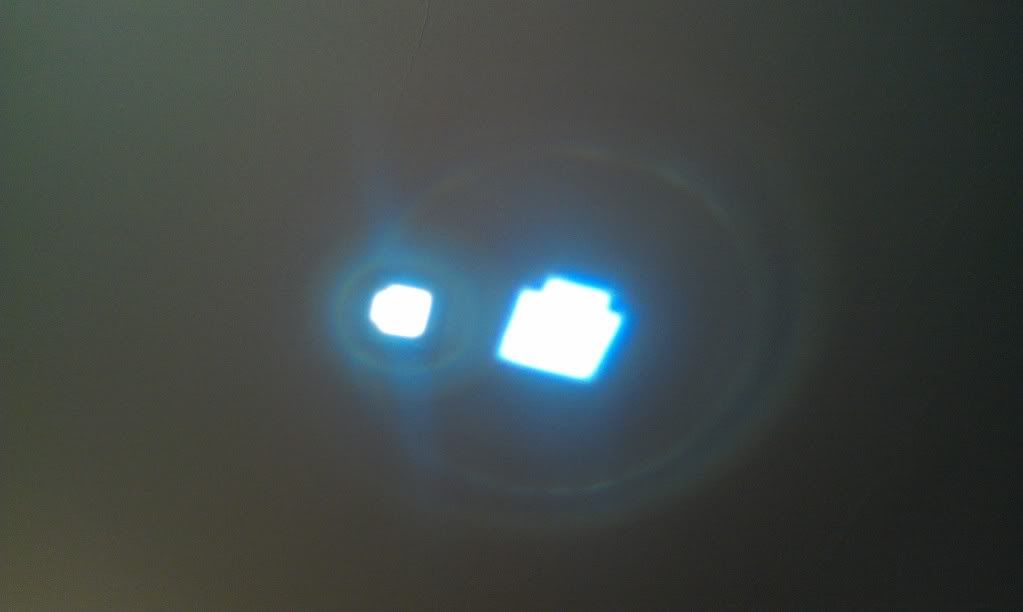 Hope you enjoyed the show, I'll be here all week! Don't forget to tip the servers.
Johnny