Hi BLF!
This is my review of the Supfire G20.
The flashlight was bought for 16,92€ from SupFire Official Store at AliExpress (non-affiliate): Page Not Found - Aliexpress.com
Shipping took 7 days

I made a video explaining how it works and below, in the written review and photos, you can find some other details.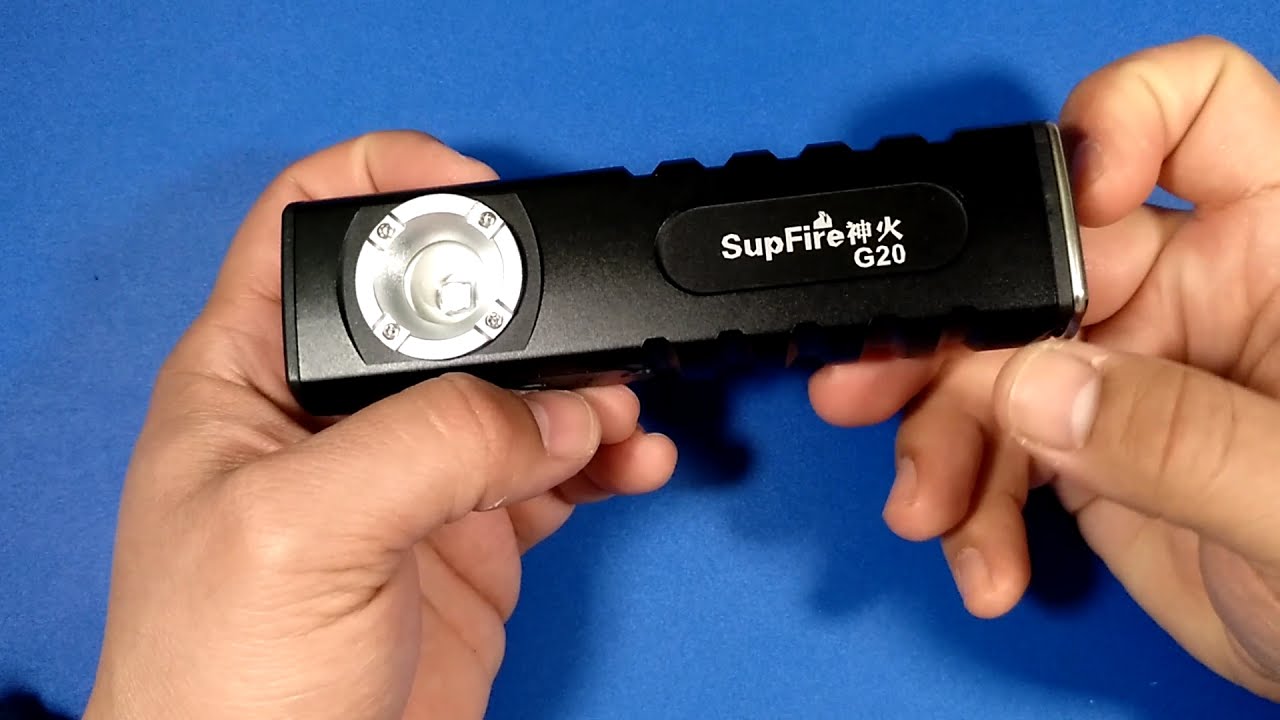 Disclosure: Don't look for measurement of runtime, candela, lumens, or even Amp draw while charging or discharging!! This review doesn't have that!
---
GENERAL SPECIFICATIONS
Body Colour: Black
Material: Aluminium
Front Emitter: XP-G2 (Cool White)
Side Emitter: Nichia (Neutral White, High CRI)
Other emitters: Red Laser diode
Front Lens: Plastic
Side Lens: PMMA Convex
Battery: Built-in 3.7V 18650 2000mAh
Upper Switch: Electronic Switch (for red)
Lower Switch: Electronic Switch (for the front and side LEDs)
Low Voltage Warning: Yes (through LED indicators)
Max runtime: 6 hours
Max beam distance: 120 m
Max output: 500 lumens
Candela: NA
Waterproofness: IP44
Impact resistance: NA
OTHERS:
- Rechargeability via USB-C
- Powerbank function
---
THE FLASHLIGHT
If you read my other reviews, you know that I normally call the first section as "PACKAGE AND FLASHLIGHT". But this is not the case because the package of the flashlight were 2 bubble plastic bags


And I am thankful for that, because I don't have space to put more fancy boxes of flashlights

Besides the Supfire G20, there was a USB to USB-C cable and a small SF card. Nothing more, nothing less!
I was surprised, but after inspecting the flashlight, everything was OK, so I was relieved that the flashlight was OK!
I decided to buy this flashlight after seeing it at AliExpress and knowing it has 2 led sources + 1 red laser

I searched for some reviews online and I found 2 or 3 videos showing how it worked.
These videos caught my attention, especially because:
a) I didn't see any PWM, which for me was the "go for it" indication, because I guess most of us mock and have (funded) mistrust against some "Fire brands"; so, seeing an example of non PWM lights among these is a good thing (at least this was my thought);
b) it has ramping UI (no not like Anduril or Narsil, but better than those "stepless dimming" UIs).
Besides that, the fact that the G20 has a red laser that I can use to play with my aunt's cats, was the cherry in the top of the cake :heart_eyes: It is more powerful than those keychain lasers using LR44 button cells, and can be used longer times (until the cats get tired

).
What to say about the flashlight?
It is good, better than I expected, but it is not 100% perfect, and it was not supposed to be. Not for this price.
It is heavy, really heavy, and robust, but it has some frailties, namely in the head and tail, where the thick aluminium gives place to "thick and though" plastic parts.
I do like that it has a front and side LED and the laser, which allows reaching different ranges, even if the flashlight is not extremely "powerful".
Actually, I don't think it really has 500 lumens, I would say that it reaches between 300-400 lumens on the front LED. As for the lowest levels, they reach 2 or 3 lumens, but I cannot measure it accurately.
Overall, the G20 is a multifunction flashlight, once it has:
- Front cool white led, under a SMO reflector
- Side high CRI Led, under a convex optic
- Red laser pointer
- Powerbank function
- Magnetic tailcap
- Hook in the tail
Powerful pocket clip (really :o)
Besides this, it is rechargeable via USB-C and has 4 led indicators for the battery and charging status. These are located above the 2 e-switches located in one of the thinner sides of the flashlight. Opposed to it, there are the charging/discharging ports, covered by a good silicone cover.
The magnetic tailcap is not the strongest one, and in some positions the flashlight – being so heavy - , may fall (side led to towards the floor) :zipper_mouth_face: In others, it holds pretty well (side led towards the top or to the sides). It also holds well when the flashlight is put upside down in the vertical position.
The grip is good, the flashlight feels well in the hands. The switches can be located well, despite you need to remember in which side they are in, specially because the silicone cover to protected the USB ports also has a similar texture. They are reactive and act well when pressed.
As for the battery, being only 2000mAh, it will end your juice pretty fast! I didn't deplete it yet though and I used it for a while already

Let's take a look at the light!
Top and bottom photos. These are the plastic parts, which I consider to be more fragile if the flashlight falls, despite this is hard plastic. It felt to the ground from around 1m and did few damage, nothing broke, but bruised.

Some details on the top and on the tail (hook) and side. I didn't dismantle the tailcap and the side led…yet

As for the head, I am not sure if I will take that risk.

As for the charger and powerbank function, the USB-C charging/ USB discharging ports are located in one of the thinner sides of the flashlight, covered by a silicone cover.

When charging, the indicator led corresponding to the charging level will blink. I didn't discharge it yet to see if they turn red, so, so far, I only saw then in green!
Also, I didn't make a full charge to see how it acts when the charging is finished. There is no way to measure the battery voltage/charge, so the led indicators are the way to verify it.

When discharging, while used as powerbank , the side leds will be ON, as well.
The powerbank function allowed charging both a flashlight (with built-in charger) and a battery (via the Olight UC charger). I also experimented it on the cellphone and it was charging too.
Sorry, no values for current IN or OUT :zipper_mouth_face:
And now, let's check the weight and dimensions. Yes, it is heavy and bulky. But I guess it has some thick walls. If I can I will show it later!
As for the Magnet, Hook and Pocket clip, they allow using and carrying the flashlight in different ways.
The magnet is better when using the side LED towards the top or the sides, as mentioned above, or with the flashlight upside-down.
The hook is good to use the flashlight…hanging! That's its function so it will work for that. The hook can be pulled easily but it doesn't come out of its place accidentally, which is good.
As for the pocket clip, it is probably one of the strongest clip in a flashlight I ever had/seen. It allows carrying the flashlight inside or outside the pocket and provides good, if not excellent, retention.
---
USER INTEFACE AND RUNTIMES
Well, this part is quite simple.
As for the runtimes, the only data provided by the manufacturer is:
- 4h for the side LED (on minimum level)
- 3h for the front LED (on minimum level)
NA for the Red laser
As for the User Interface:
Upper Switch: activates the red laser (always momentary, and can be used simultaneously to the other LEDs)
- Lower Switch:
single click: activates the front led
1.1) press and hold: ramps the front led up and down
2) 2 clicks: activates the front led and then the side led
1.1) press and hold: ramps the side led up and down
NOTE 1: the ramping in each LED can be reversed in direction without needing to reach the top or bottom levels, meaning, you don't need to go all the way up/down to reverse the ramping direction
NOTE 2: when reaching the top/bottom, there is a blink to mark the ramping limits.
NOTE 3: the front and side LEDs always start on their max power, independent of the last used level.
---
+ FLASHLIGHT COMPARISON+
To verify how big the G20 is, I picked some "common" size flashlights. See for yourself

Vs Fireflies ROT66 GEN 2
Vs Wuben TO50R
Vs Astrolux Powerbank (21700 cells)
Vs RovyVon E300s
Vs Convoy S2
---
BEAMSHOTS
Taking a look a the beams produced by the Supfire G20, we will have a floody beam produced by the side LED, and a narrower beam, with hotspot, produced by the front LED.
As mentioned above, the front led is CW and the side led is NW and High CRI, according to specs (and judging by the Nichia Led). I cannot confirm this, however.
But I can say that the side led is quite pleasant and seems to have good colour rendition.
There is no visible PWM in any level, on both leds.
NO PWM
Front led: Min & Max

Side led: Min & Max

—————//////////—————
BEAM PATTERN
Front led: Min & Max

Side led: Min & Max

Laser
From above and in front of a wall!
Front LED


Side LED


Red laser

—————//////////—————
OUTDOOR BEAMSHOTS (MAX ONLY)
I decided not to do min and max beamshots, because the minimum levels are not visible in the photos, only in front of the camera.
Also, I am not putting the red laser photos here as they are harder to see. The laser reaches 30-40m well, but after that, it is harder to track, even in the dark. It is not one of those powerful lasers, so it cannot be captured as well as my green one

Front LED vs Side LED
16m (house)

20m (wall)

30m (stone wall)

45m (house)

I also did a "tint" comparison outside

On the left there is the Supfire G20, and on the right my OTR 311 with Luxeon V2 4000K.
Front LED


Side LED

---
OVERALL APPRECIATION
Time for the overall appreciation and it is quite positive, I can say. Some of the less good aspects where mentioned above but I will focus them below as well.
What I liked?
- multifunctionality: 2 leds, 1 laser, magnetic tailcap, hook, powerbank function
- USB-C rechargeability
- high CRI floody side light
- ramping UI on both leds, without needing to reach the top/bottom to reverse the direction
- no PWM
What could be improved?
- battery: the capacity could be improved, allowing to better runtimes on both LEDs
- magnetic tailcap: a stronger magnet would be adequate given the weight of the flashlight; some positions cannot be maintained due to the lack of strength
- front led: a better tint or even a better overall option (tint and CRI) would be better
- weight: although it also means robustness, it is quite heavy either as a multifunction or work light , and really not good for EDC
- accessibility to mod: although the bottom has some screws, the head doesn't have, so I doubt it can be easily accessed to modify the LED or eventually to change the battery itself. TBE (to be explored)

- LEDs always turn ON on max output: it would be nice if they could be turned ON in different levels, which could be memorized
- package and information: well, a package to protect the flashlight and avoid scratches on the lenses, and a user manual or something providing more information would be useful. I know, it is not needed, but would be cool for presentation purposes

- IP rating: being only IP44 leaves a bad taste in mouth and some doubts about it's usability on rainy or dusty conditions.
—————//////////—————
And that's it !
Leave your comments or questions if you want to!