Hi BLF!
This is my review (video + written) of the Wuben D1 flashlight!
The flashlight was sent by Wuben for review with no other compensation than keeping the flashlight and accessories. Thanks Cindy and Wuben!
The light is not yet on sale. I will add the link later on, when it is available.
I will do my review in an unbiased way, as I normally do, being it gifted or bought!

---
VIDEO OVERVIEW
As usual I made some mistakes on the review (namely about the flashlight parts - see comments and see the written review below) and eventually others, but here it is!
NOTE: the video was done without the support of an User Manual, which I received later (digitally). So the information on the written part will be more accurate and complete.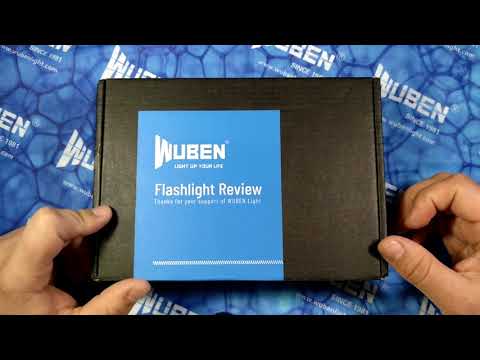 ---
GENERAL SPECIFICATIONS
Body Colour: Black
Material: Aluminium
Emitters: Osram P9 (Cool White) Cree XP-L Hi 6500K
Optic: Textured / Clear TIR
Battery: 18650 (eventually CR123a)
Switch: Electronic Side Switch
Max runtime: 150h
Max beam distance: 130m
Max output: 1100 lumens
Candela: 4200cd
Waterproofness: IP68 (2 m underwater for 1h)
Impact resistance: 1.5m
Low Voltage Warning: Yes (detailed below)
Reverse Polarity Protection: Yes (but not specified)
---
PACKAGE: Flashlight and Accessories
First it has to be mentioned that the packaging I received from Wuben is a "sample", which is not the final version packaging. Therefore, this box will be different from the one in the retail version.
I received a black cardboard box with foam inside that acts as cushion for the flashlight and accessories. Inside I found: Wuben D1 flashlight, an unbranded USB-C rechargeable/powerbank 18650 3400mAh battery, a USB to USB-C charging cable, a Wuben branded lanyard, and 2 spare o-rings.
As I mentioned before, there was no User Manual; it was sent to me later, by e-mail, by Cindy from Wuben. The manual will also be included in the retail version.
Wuben D1 Flashlight
Looking at the D1 flashlight, what can be said?
- compact 18650 sized flashlight (between a Skilhunt M200 and a Olight Warrior Mini)
- great knurling pattern on the battery tube that provides good grip, along with the pocket clip
- magnetic tailcap (eventually removable)
- dual direction, but non-reversible, pocket clip on the head (in a specific groove)
- textured & clean TIR Optic, similar to the one used in the Wuben H3 (and also similar to the Fenix E20 V2.0)
- doesn't seem to use a glass lens
- eventually uses an OSRAM P8 or P9 LED (cool white) Cree XP-L HI 6500K
- can be disassembled in 3 parts (head, non-reversible tube, tailcap)
- takes button top and flat top batteries, because it has a spring on the driver (+more on this later)
- rubber cover on the e-switch, with transparent W, to allow seeing the inner indicator LED
- threads are triangular, unlike the normally squared/trapezoidal threads from Wuben
- stainless steel bezel
- springs are not as thick as seen in other lights but are strong, specially the one in the tail
- great black matte anodizing, typical from Wuben as well
- "engravings": D1 and HOT in the head; logotype and battery polarity in the tube; serial number, CE and others on the tailcap
- the tailcap has a lanyard hole
Some points I can also focus now about its use and looks:
- the Wuben logotype + the battery polarity indication engraved on the tube are not aligned with the switch, being this an aesthetical issue more than of use (see the flashlight's 1st photo);
- the switch button protrudes a little bit, which is enough to locate it with the thumb, even if the clip – which stays in the opposite side – is not being used. Also it makes a "click" when pressed and responds well to the clicking and pressing actions;

- light feels well in the hand, and is versatile, capable of being easily operated by thumb or index finger;

- the magnetic tailcap is not as strong as, for example, the TO50R, but it does stick well to flat and even round surface, and it holds the flashlight in place without issues;

- the lighted switch can be activated (fainting) or deactivated, acting as location led, which is bright enough to locate the flashlight in the dark but dim enough so that it doesn't bother night vision;

- the pocket clip allows deep carry, with the head up, and that way it can also be used in a cap as headlamp; while using it in the other direction, it doesn't allow deep carry, but can still be clipped in a bag, shoe, or other place. The retention is not the strongest (unlike on the Wuben E05, which has the same type of clip, but that is a smaller and lighter flashlight).
Being a relatively small flashlight, it is not a complete lightweight flashlight, revealing to be sturdy enough despite thinner than, as example, the TO46R. I didn't make beating test, but it felt to the ground more than once, made a small chip, but kept working well!
Accessories
About the included accessories, I'll start from the lanyard.
It is similar the ones that Wuben normally includes in their packages, black and white, Wuben branded, and its with adjustable .
In the D1 it can be attached to the flashlight tailcap, or to the pocket clip, in different places:

As for the User Manual, I'll present some screenshots from the digital document sent by Cindy.
It is well written, has information in different languages (13 to be more specific), but lacks some information or specifications:
1 – doesn't specify about Reverse Polarity Protection
2 – isn't clear about if this D1 flashlight can use 2xCr123a batteries (see the Battery Recommended part), which I think is important
3 – doesn't specify the working voltage
4 – doesn't mention the type of LED
(click to see full image)
The charging cable included in this package is not a simple USB to USB-C cable: it also has an extra USB port on the side where another USB cable can be attached to use the battery as powerbank.

Last but not least, the included battery itself.
It arrived with a blue plastic protection on the – pole to avoid discharge or accidental activation.
It is a 3400mAh 18650 battery, rechargeable through a USB-C cable. Although unbranded this is supposed to have the reference of Wuben ABT3400T. It has a slightly raised button top, it is longer than other protected batteries I have (due to the charging port).
Around the button top it has inner indicator leds: when charging it will blink red, when charged it will be a constant red, and when the flashlight is used as powerbank, there will be a constant blue light.
I am not sure if the battery will have some kind of warning when it is almost discharged, and this is not specified in the User Manual.
It is also mentioned that the total charging time should be 4 hours, at 5V/1A. Discharge rate while used as powerbank is also 5V/1A .
It arrived charge up to 3.41V, I used a charging cable to charge and left it there for a while, and it finished at 4.14V. I didn't use a charger yet to see which is the finishing voltage.
When placed in the flashlight it protrudes out of the tube dimensions, specially when compared to an unprotected flat top battery.
NOTES:
- the manual states that it is recommended to use a battery with protection circuit and not an unprocted one
- it also states – although not completely clear (for me) - that CR123a (3V) battery can be used with caution. I assume that it can take 2 x CR123a 3V batteries, making a total of 6V
last, it states that RCR123 and 18350 batteries shall not be used (I assume when used in pairs, as that would make 8.4V instead of 6V.
---
LOW VOLTAGE WARNING
As mentioned before, its is not stated if the included battery has any kind of information about it's level.
Despite this, the Wuben D1 has a way to indicate when the battery needs to be charged (or eventually replaced, in case one is using CR123a batteries)
This is the User Manual diagram, which is general and not specific for one or the other type of batteries that can be used.
- 5s constant blue when the voltage level is above 90%
- 5s blinking blue when voltage is between 90 and 40%
- 5s constant red when the voltage level is between 40 and 15%
constinuous blinking red when the voltage level is below 15%
I didn't have any drained battery to check how low the battery needs to be to activate the constant or the blinking red indications. Will post later when I have that information.
---
USER INTERFACE and OUTPUT vs RUNTIME
USER INTERFACE
The Wuben D1 interface is similar to the Wuben E12R that I reviewed some time ago.
It has 4 regular modes: Moon > Low > Medium > High
It also has 2 blinking modes: Strobe and SOS
It has memory for the last used regular mode.
From OFF
*Press & hold – enters Low
*1 click – turns ON
*2 clicks – enters Stobe
a) another 2 clicks enters SOS; another 2 clicks enters Strobe; …
*3 clicks – activates/deactivates the W switch LED indicator
*4 clicks – locks/unlocks the flashlight:
- a) while locking the light blinks 3 times
- b) after unlocking, the light turns ON in Moon level
c) if the switch is pressed while locked, the switch will blink 3 times
From ON
*Press & hold – advances in the sequence Moon > L > M > H > Moon >…
*1 click – turns OFF
*2 clicks (if in Moon, Low or Medium) – enters High
- a) when in High, 1 click turns OFF
b) when in High, 2 clicks enters Strobe
*2 clicks (if in High) – enters Strobe
- a) another 2 clicks enters SOS; another 2 clicks enters Strobe; ….
b) when in Strobe or SOS, 1 click enters High
*3 clicks – activates/deactivates the W switch LED indicator
NOTE: if the power is disconnected physically while the flashlight is locked, when reconnecting power, the lock-out will be lost.
CONSIDERATIONS: Despite there are some things I don't like in this UI, I do like the possibility to access the lowest level (Moon) from OFF, and the 1 click for ON/OFF.
At the same time, I am not fan of:
- 2 clicks from OFF to Strobe
- 2 clicks from High to Strobe
not having direct access to HIGH from OFF
OUTPUT vs RUNTIME
The User Manual presents the relation between these 2 parameters (and other information).
I did a small 6minutes test to check the drop in output. Although I cannot say how many lumens the flashlight produces , I can tell that during the first 45seconds, the output decreased substantially when in High. After that , it was stable throughout the rest of the (small test I did).
My guess, seeing the information from Wuben, is that the max level will be around 1100 lumens, then decreases to a lower output maintained during 30 minutes and then decreases again to a lower output (eventually 400 lumens or below) for 2.5 hours.
About heat produced, during these 6 minutes the light didn't get warm above 35ºC.
Don't take this as an official statement or scientific test. It was made with a luxmeter and IR thermometer, but didn't meet any parameter other than illustrate how the flashlight behaves.
In any case, the lower level to which the "High" dropped, is plenty for outdoor illumination even if not for long range.
---
FLASHLIGHT COMPARISON
Taking a look how the D1 compares to other flashlights in terms of size:
Vs TO46R

Vs T050R

Vs E05 (old version)

Vs Gecko E61

Vs H3

Vs Convoy S2+ 18500

Vs Olight Warrior Mini

Vs Lumintop FW3A

---
BEAMSHOTS
The Wuben D1 doesn't present PWM in any of the modes.
Similarly to the recently reviewed Wuben H3 headlamp the TIR installed in the D1 and the LED it has below produce a more floody beam, although there is a marked hotspot, without noticeable tint shifts (which is probably due to the textured edges of the TIR optic).
I think the LEDs used in these 2 Wuben lights are different, because on the H3 there is a more visible transition between the hotspot and the spill, a more pronounced corona. This seems to be a larger LED, eventually.
Also the hotspot on the D1 seems more "roundish" than the "squarish" of the H3.
I hope to have some outdoor beamshots soon. Meanwhile here are some indoor ones and some tint comparison between some flashlights.
The Wuben D1 is on the left side

Vs Olight Warrior Mini (SST40 + TIR)

Vs Wuben H3 (Osram P8 + textured/clear TIR)

Vs Enogear SS (Luxeon V2 3000K + pebbled TIR)

Vs Wuben TO50R (Samsung LH351D 5000K + quad TIR)

About CRI the Wuben D1 (left) is probably 70CRI and the TO50R (right) is 90CRI.

---
OVERALL APPRECIATION
I will write here what I wrote to Cindy from Wuben, as part of my feedback for them.
My general appreciation is pretty good, namely:
1 - Good ergonomics of the flashlight, that fits well in the hand and provides good gripping due to the body knurling
2 - Really great anodizing and fit & finish, flawless


3 - The magnetic tail is very handy, and is a big plus in this light too
4 - I do like the type of beam - although it is not "common" - specially because it doesn't have any tint shifts (yellows or greens)
5 - The battery that serves as powerbank is a great idea and I find it very useful too
6 - I like the "click ON / click OFF" and also the "press & hold" to access the lowest mode
7 - I like the stability of the HIGH mode, even if it drops during the initial ~45seconds
8 - Overall performance seems to be really good, as Wuben usually does

As this is a sample, I would like to make some suggestions for final product improvements:
1 - Align the Wuben logotype/battery polarity engravings in the tube with the switch button when the tube is all tighted in;
2 - Include a User Manual (I know you will do it to provide data about the light

)
3 - I would like that the pocket clip could also be used from the tail towards the head, allowing it to be deep carry, of course
4 - The User Interface: I think it would be preferable for users to have a double click to Turbo from ON and OFF, and always have a triple click for strobe, either from ON or OFF (I know this would imply changing the clicks for the breathing switch and the lock-out, but this is the most critical point to me in this and in other recent lights, as the E12R)
And this is it. The rest you've read it above

Leave your questions or comments if you want to and stay tunned for the outdoor beamshots very soon (I hope) . :THUMBS-UP